Photo by Uriel Soberanes
If you've read Part 1 of this series, then you're aware of Epic Games' risky strategy to bypass the Google Play Store and launch their hit game Fortnite Battle Royale for Android through an Android Package Kit (APK) download on their website.
Based on our assumptions of how much organic traffic app stores drive, we introduced a framework for analyzing how this decision might impact Fortnite's overall conversion rate (CVR) and revenue. This framework took into consideration the high-friction nature of the APK download process and the lack of discovery they would have received through Google Play's top charts and search.
Now, the question is what this means for the future of the mobile app industry. Other global publishers with brand recognition similar to Fortnite's may begin to question their own launch strategies, and subsequently the necessity of relying so heavily on app stores that control distribution. But as we've seen, attempting to bypass the major app stores, no matter how successful or profitable the brand, could mean a significant hit to conversions.
If there's one thing we know for certain, it's that this decision has ignited a conversation about the app store commission fees and whether major developers need to abide by the traditional app store models to be successful and reach a global audience.
In Part 2 of our series, we're breaking down the impact Epic Games' controversial decision could have on Apple and Google's long-established models for distribution and monetization as well as its possible implications on the mobile app ecosystem as a whole. Before we get started, though, here's a look at why Apple and Google have become the app store giants they are today…
The Two Major App Store Players and Their Competitive Advantages
For developers looking to launch a new app or game, the app store platforms have clear competitive advantages—they control (and simplify) the conversion funnel and enable mass distribution to millions of people around the world.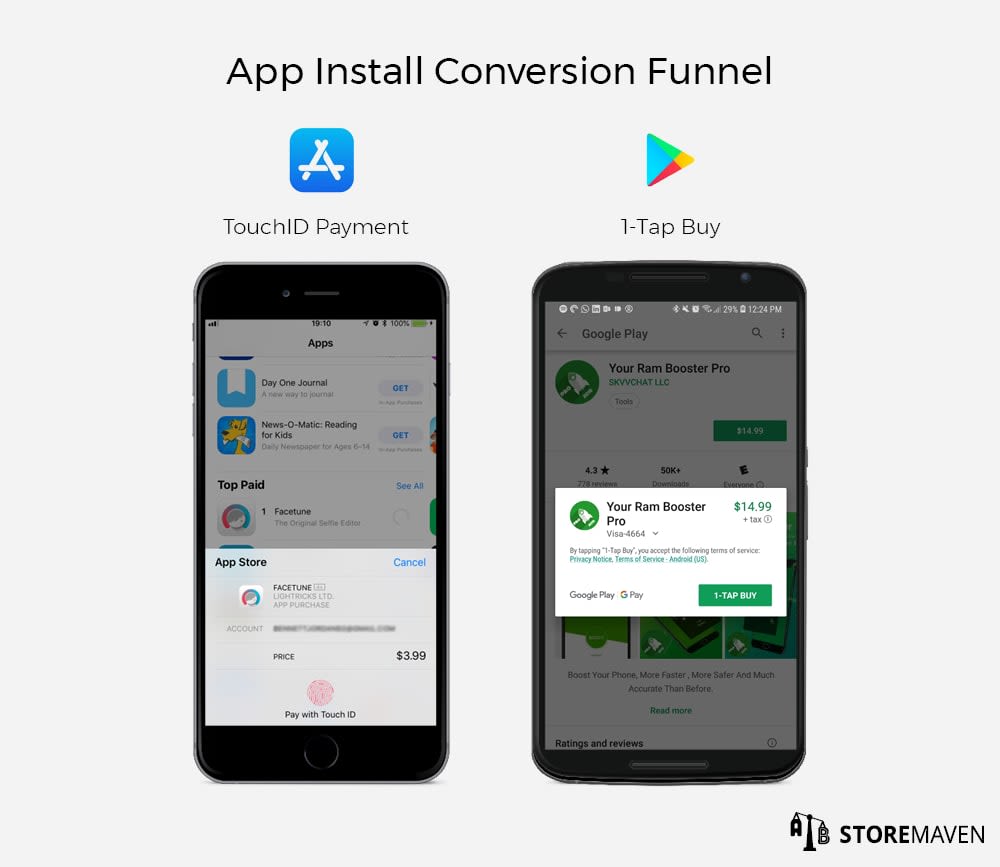 First of all, the app stores create a quick and seamless conversion funnel for smartphone users. Apple developed features like TouchID and FaceID to seamlessly enable app installs and in-app purchases with little to no friction. Similarly, on Google Play, users can install apps or make payments with simple actions like 1-tap buy, a quick fingerprint scan, or via password entry.
Comparatively, the APK download process for Android devices is much sloppier, with numerous steps and warnings from Google about possible security threats users are vulnerable to when downloading outside of Google Play. Although developers avoid Google's 30% fee by enabling installs outside of the Play Store, requiring users to spend extra time and effort to download an app leads to a drop in installs throughout this higher-friction funnel.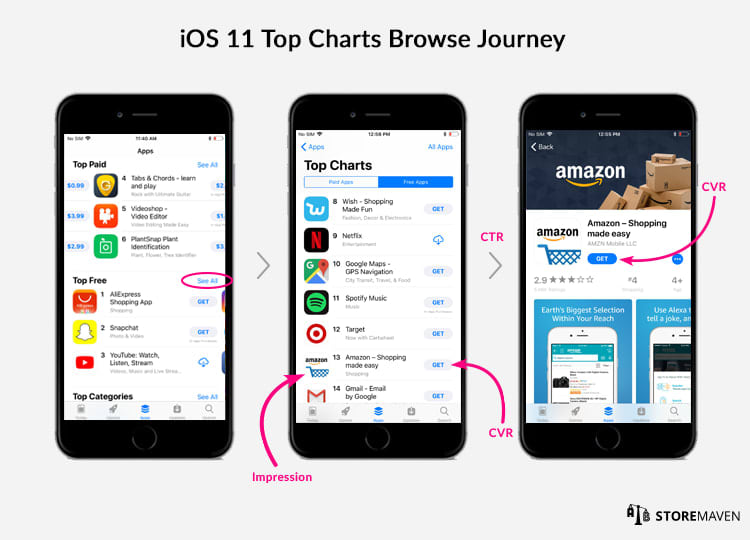 You also can't overlook the app stores' power of distribution. As of last year, Google announced they had over 2 billion monthly active devices, and Apple has sold over 1.3 billion devices, which represents a significant amount of potential installers. This wide reach for developers is seemingly unparalleled by other distribution platforms, and both the App Store and Google Play grant them access to an audience they would not usually have the opportunity to reach. As you can see from App Annie's data above, the app stores are clearly effective in distribution as they've both facilitated billions of downloads around the world.
Plus, app stores are responsible for an average of 60% of app discovery and are a huge driver of organic installs. This is due to users discovering apps or games through browsing featured pages, top charts, and navigation tabs as well as through search.
Based on these factors, one can argue that the platforms earn their 30% fees. For one, Apple and Google built the foundation for an entire mobile app ecosystem that enables independent and established developers alike to immediately reach a global audience. Apple has even created a suite of software tools (e.g., Xcode, ARKit, etcetera) to aid developers in making apps and games for the iOS platform. Along the same lines, Google built Android Studio and Android Jetpack with software components that help developers easily create apps for every Android device. Not to mention both platforms have rigorous security checks that ensure every app on their respective stores is free from malware.
Although the app stores offer these key advantages, it's clear that their necessity is being questioned. Given Epic Games' decision to bypass launching on the Play Store altogether, let's analyze how a similar strategy from other major app publishers might (or might not) threaten Apple and Google's current app store models.
Increase conversion rate up to 28% with the ultimate screenshots guide

Potential Impact on Apple's Closed Platform
Apple's closed wall strategy is deeply rooted in their DNA. Ever since the App Store launched 10 years ago, Apple has required developers to submit their apps for approval to ensure security is up to Apple's standards and to maintain control of which apps are allowed in the store. Unlike Google, they don't allow users to download apps from outside of the App Store, which has proven profitable. For context, the App Store continues to outpace Google Play in revenue, with $22.6 billion in worldwide gross app revenue compared to Google Play's $11.8 billion.
Once Apple added support for in-app purchases and subscriptions within apps, they insisted that any transactions made inside the apps also had to be made through an Apple iTunes account. This gave developers two options—either pay Apple's 30% tax on every payment or degrade the customer experience by adding bulky payment funnels that would deter conversion. A majority choose the former, but as you'll soon see, the latter option might not seem so far fetched…
Despite the controversy sparked by Fortnite, there are no signs of Apple changing their model. If anything, this decision might only serve to reinforce their closed platform strategy. With no alternatives to Apple's proprietary distribution platform, both independent and large developers must go through the App Store and pay the fee if they want access to millions of potential installers. In Fortnite's case, Apple received a hefty $54M. If you pair this with the market's increasing privacy concerns and software security risks, it's hard to imagine Apple ever straying away from their closed (and clearly profitable) approach.
While Apple claims to have paid developers more than $100 billion since the App Store's inception, there are still those who oppose their 30% fee. Other than developers putting pressure on Apple to lower the fee, the U.S. Supreme Court is scheduled to hear an appeal of an antitrust lawsuit filed against Apple by consumers that targets its commission fees and monopolization of iOS app distribution.
Now that a major player like Epic Games is taking a stand against Google Play's "tax," can this further ignite a movement to reduce the App Store's 30% fees? Some people think so. But as long as Apple is able to maintain their closed platform, they're unlikely to budge.
The one area they do have vulnerabilities, however, is their subscription business model.
Apple's Push for Mobile App and Game Subscriptions in the App Store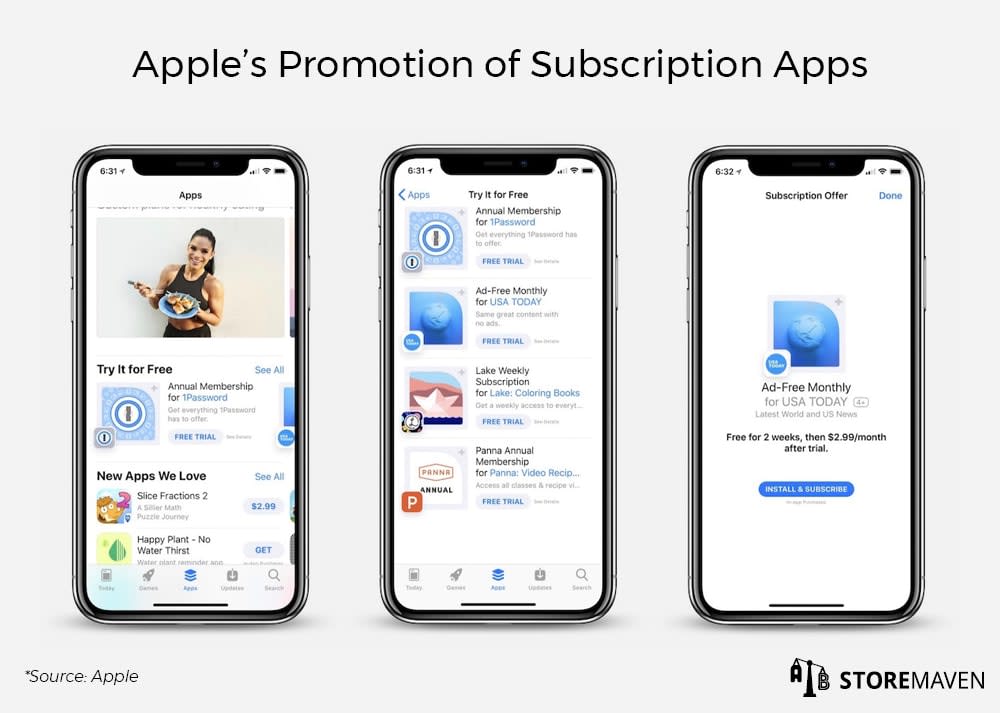 It's no secret that Apple has been pushing for developers to adopt a subscription model. They even featured subscription apps on the App Store earlier this year as further promotion.
Rather than one-time app purchases, they reportedly want developers to make recurring draws on customers' accounts. This decision is most likely motivated by Apple's desire for developers to create higher customer lifetime value (LTV), which in turn keeps the mobile app ecosystem vibrant and valuable to consumers. Instead of selling high-quality software for a few dollars or trying to squeeze as much profit through numerous in-app purchases or ad monetization, developers using subscription models will have sustainable and regular income that they can then invest into maintaining quality apps.
With subscriptions, Apple receives a 30% cut on the first year of a subscription, and then this decreases to 15% each subsequent year. This fee reduction is Apple's way of enticing developers to choose this model over in-app purchases. Plus, Apple makes it extremely simple. They facilitate subscription payments as smoothly as they handle the install funnel.
Apple CEO Tim Cook has said that paid subscriptions from Apple and third parties have now surpassed $300 million. But, this amount is much less attributable to most apps. The majority of this revenue most likely comes from large streaming companies like Pandora, HBO, and Netflix. This could be a huge threat to Apple since these content giants, similar to Epic Games, are now rethinking the way their mobile payments are handled.
Major Mobile Publishers Threatening Apple's Lucrative Subscription Model
With nearly 30,000 subscriptions available in the App Store, Apple has an extremely profitable and stable revenue stream. This number certainly stacks up well when you look at how many subscribers some of the major apps have. To provide some context, Netflix has 125 million subscribers, Hulu has 20 million, and Pandora has 6 million paid subscribers.
The millions of combined subscriptions represent a significant amount of profit potentially going directly into Apple's pockets, so what's stopping these global content giants from taking payment into their own hands? Not much…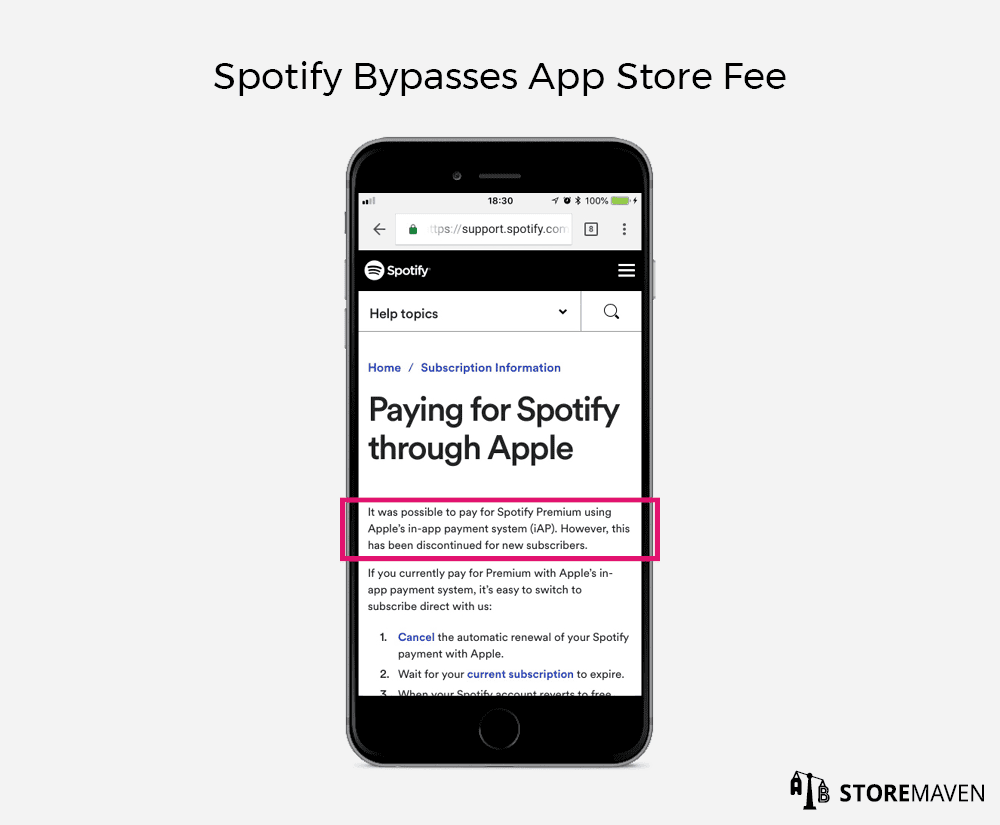 Spotify, which boasts 83 million paid subscribers, has already set a precedent for fee avoidance. Their website clearly explains that paying for Spotify Premium using Apple's in-app payment system (iAP) "has been discontinued for new subscribers."
And they're not the only ones trying this strategy out. Netflix, one of the highest-grossing apps on iOS, recently began a test in 33 countries in which new or lapsed subscribers are redirected to the mobile web version of Netflix to log payment details instead of going through Apple.
So, to what extent might this impact their installs and mobile sign-ups?
Let's start with the fact that these large companies, like Fortnite, already have established user bases and wide brand recognition, so they don't need to rely solely on the App Store's distribution platform. The one area that may experience harm is mobile conversion. In our last post, we estimated that Fortnite would see a 40.8% hit to their installs by going the APK route. For that reason, it's not too much of a stretch to assume that a similar high-friction mobile website funnel could also lead to lower CVR for some subscription apps. But Netflix, like Fortnite, isn't a mobile-exclusive (or even mobile-first) product. Even if they receive fewer sign-ups through mobile, they're still likely to see sign-ups on desktop.
However, it's important to note that with subscriptions, customers tend to make the one-time purchase and then "forget." Their bank accounts are automatically charged each month, and no further action on their part is needed. Since it's just a one-time purchase, established developers seem willing to risk a sloppier funnel. And with the high-intent users that companies like Netflix and Spotify have, they will likely see a healthy amount of subscriptions despite the tedious funnel.
For most apps, though, this isn't a sustainable or relevant strategy. Netflix, Spotify, and even Hulu and HBO Now have the clout to try going this route. For independent developers, and especially for apps or games that are reliant on microtransactions, creating an alternative payment funnel outside of the App Store would be an impossible model and create a significant hit to CVR.
Potential Impact on Google's Open Ecosystem
Google, on the other hand, have more openness on the Android platform. Some even believe that the Fortnite situation could be healthy for Android's brand awareness, as it demonstrates their flexibility. That's not to say they make it easy for someone to download an APK outside of the Google Play Store. As you read in our previous post, Google put up intimidating prompts and security warnings as barriers, knowing that a more complicated user funnel significantly harms conversion and requires a tech savvy audience to fully trust the app developer. This, they hope, will discourage developers from publishing outside of the Play Store.
Plus, Google didn't waste any time exposing a major security flaw in Fortnite's APK funnel. While the issue has since been fixed, it does bring to light a significant problem with bypassing Google Play. It puts millions of devices at risk for malware or hacks, which not only deters developers from using this launch strategy, but also dissuades Android users from making their devices vulnerable. For many, it's not worth the risk.
Epic Games CEO Tim Sweeney has since spoken out about the rationale behind his controversial decision. While Sweeney is a public advocate for open platforms that give developers the freedom to engage in commerce directly with consumers without middlemen, he believes the 30% fee "is disproportionate to the cost of the services these stores perform." He's willing to risk the hit to CVR and a high-friction install funnel in order to avoid paying the app store "tax."
As is the case with the App Store, a majority of developers don't stand a chance without the Play Store's help with distribution. But should Fortnite's strategy succeed, users will understand that APK downloads are legitimate. Most importantly, though, it could set a precedent for other large mobile publishers with established and loyal audiences to adapt this approach.
Could Facebook be the Next Google Play?
With Fortnite educating a huge market on the ability to download outside the Play Store, it's also not a stretch to think that other companies with similar distribution power could come in with their own model or marketplace for downloading APKs. The main player in mind? Facebook.
In fact, Facebook has already created a budding mobile game ecosystem within its platform. First launched in 2016, their Instant Games platform lets developers build mobile-friendly games using HTML5 that work on both Facebook and Messenger, instead of requiring users to download native apps from the App Store or Google Play. According to Facebook, every month more than 800 million people play games on Facebook.com and on Facebook-connected devices.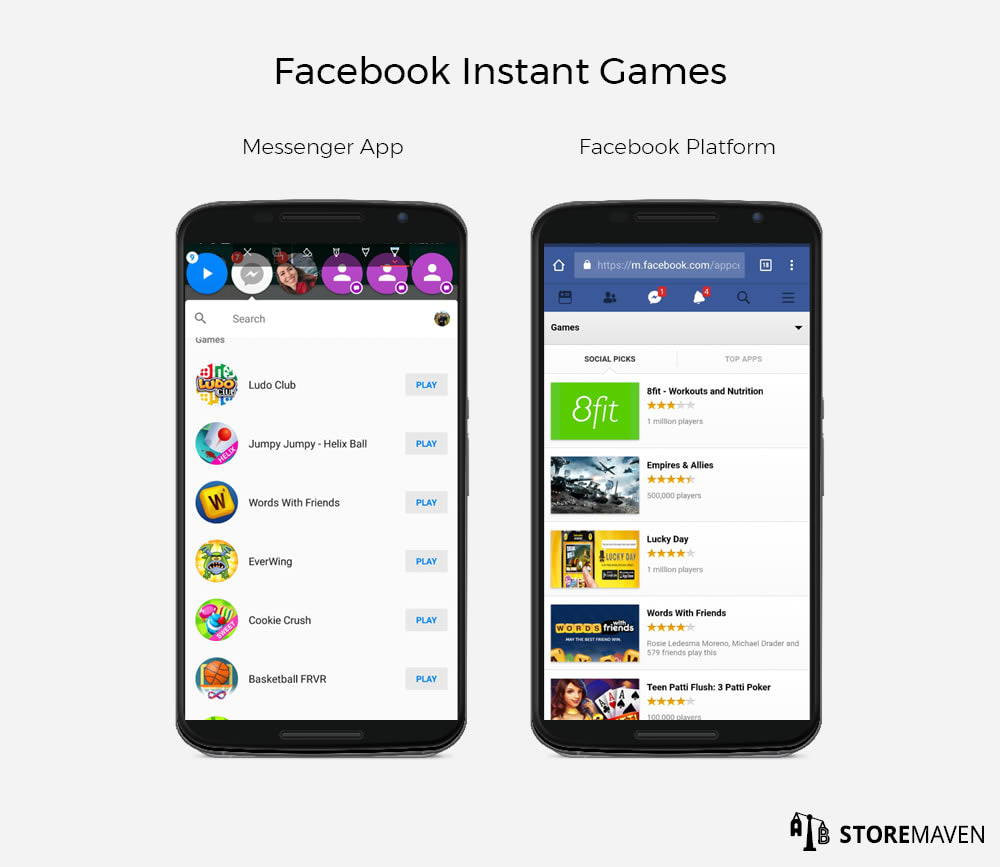 In addition to getting users to spend more time on Facebook's platform, Instant Games provide Facebook with new revenue streams as they begin moving into game monetization. Originally only available to a few select partners like King, Warner Brothers, and Zynga, Facebook opened the game marketplace to all developers earlier this year and have developed tools like an ads API and enabled in-app purchases to create monetization.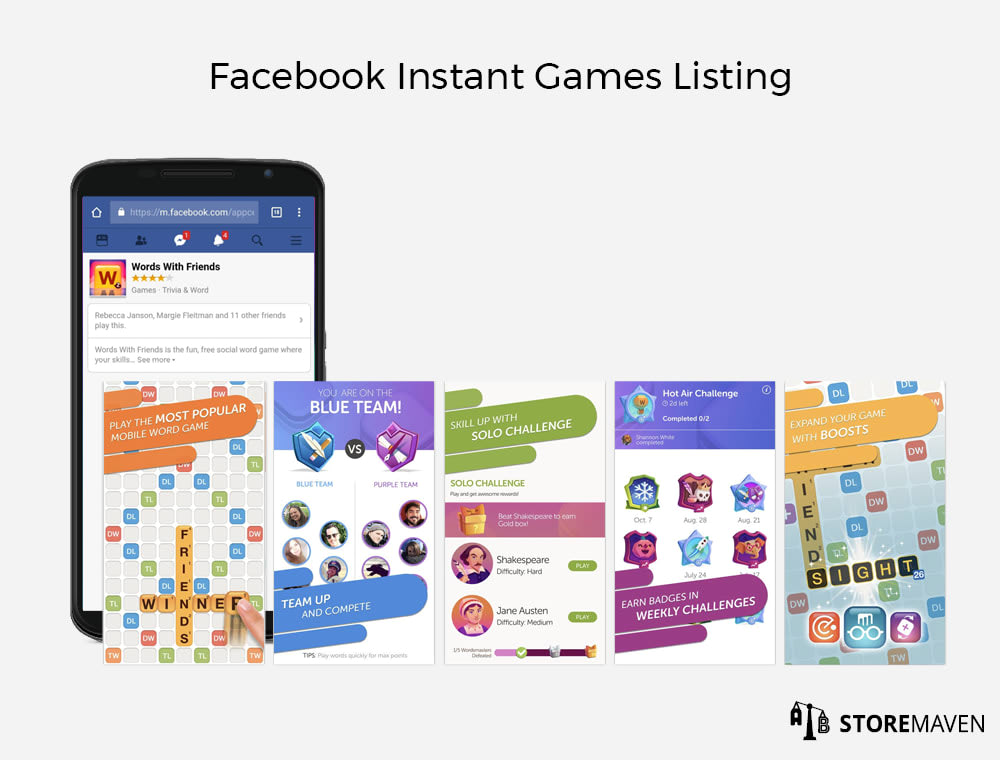 Facebook even has its own App Center with game listings that showcase creative assets and descriptions of each game, which is strikingly similar to information you can find in a Google Play Store Listing. Plus, they already have the foundation in place to efficiently manage payments, as they've demonstrated through their easy-to-use payment system in the Messenger app.
Given their power of distribution and scale, Facebook is likely the only platform with solid infrastructure to compete with Google as a marketplace. First of all, they have already established themselves as a discovery platform. They also have the tools to develop resources that can reduce friction in areas like in-app purchases. Instead of small, 200MB-limit Instant Games, they could potentially offer any mobile app or game to the over 2 billion Facebook users around the world directly via APK download.
Should Google be worried?
For now, Instant Games is a great workaround, but they currently don't have the hardcore games that appeal to most of the high-intent gamers that install from Google Play. Even if they did expand their options, Facebook is still extremely cautious with endeavors like this since they're particularly conducive to public scrutiny regarding user data and security.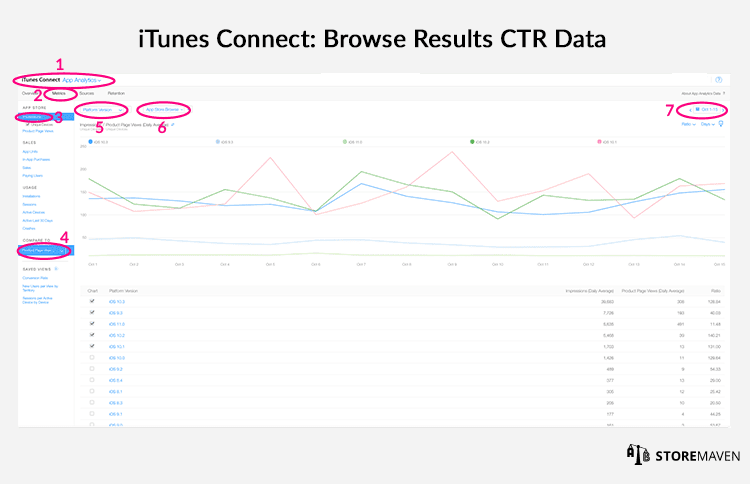 Most importantly, though, Instant Games are exclusively available within the Facebook and/or Messenger apps, both of which you can currently only install from Google Play. This means that all in-app purchases are under Google's domain, and they still receive a 30% cut on all transactions (as you can see in the image above). For this reason, Facebook has decided to forego their 30% share on Android and only take a cut on games played on desktop in order to keep the economics strong for developers.
Facebook can consider becoming its own distribution platform only when people become accustomed to and comfortable with downloading APKs. However, the conversion funnel would still be a disadvantage in this case, and it's not yet clear whether a launch strategy like Fortnite's is a risk worth taking.
Get the ultimate ASO conversion rate optimization eBook
Everything you need to know about icons, screenshots, videos, app reviews & ratings, localization, and seasonality.

Final Thoughts
At the end of the day, the common thread that ties together each of the situations we discussed above is conversion.
Epic Games' main issue with bypassing Google Play is the possible hit to conversion, which opens the opportunity for them to greatly enhance conversion on their website and give legitimacy to the APK download process. With Netflix and Spotify creating an entirely new payment funnel outside of the App Store, it means they also must optimize their mobile site conversion funnels to ensure they're as smooth and efficient as possible to avoid losing subscribers.
While one odd move by Epic Games won't make or break Google Play's revenue (Google still made about $11.8 billion in revenue in the first half of 2018), and a few mobile publishers bypassing the App Store subscription fees won't immediately change Apple's current model, it ignites an interesting discussion. It all comes down to the extent these companies are willing to create friction within the app store funnels in exchange for the opportunity of a bigger return.
If there's one thing we do know, it's that it will be interesting to see how this situation plays out. Will Epic Games eventually put Fortnite on the Play Store to open the game up to even more users? Will Google be ok with that?
Will other global publishers test their luck and make their Android apps available only through direct APK downloads, thus opening up the opportunity for Facebook to establish itself as a marketplace?
Or will developers stick to the status quo and continue relying on the App Store and Google Play for their app distribution and efficient conversion funnels?
Only time will tell…