How to get featured on the App Store
One of the facets of app store optimization (ASO) revolves around improving the discoverability of your mobile app or game. Simply put – your app store featuring. You have two main outlets to distribute your mobile app: the App Store and the Google Play store (excluding emerging app stores that mostly thrive in East Asia). You want to make sure that the maximum number of users who are looking for an app or a game similar to yours can find it.
The way that users find apps in the stores is by either searching for them using the store's search tab or by browsing the store's featured pages or top charts. Although these users are categorized as organics, they do not fall from the sky and are always a result of marketing initiatives.
In the case of users browsing the app stores ("Browse" traffic on the App Store and "Explore" traffic on the Google Play store), you have two main levers to pull.
The Top Charts – getting ranked higher on the ever-changing charts.
Featuring – getting featured on the various placements of the App Store and the Google Play store.
In this article, we'll cover everything you need to know about the second lever: featuring, in the Apple App Store. Stay tuned for the Google Play edition.
Why the App Store feature apps?
In order to get featured on the App Store, you must view the App Store from the perspective of the Apple team themselves. Apple simply wishes to provide its users with the best iPhone experience they can, and apps are a big part of that experience. So, Apple has a vested interest in making sure that users discover and install the highest-quality apps out there to amplify the value of the iPhone.
Starting with the release of iOS 11, Apple embraced the "curation" approach, in which they employ a team of App Store editors who create content for the Today tab, as well as maintain featured sections in the Games and Apps tabs.
The editors are also in charge of writing stories that add more content around specific apps they feature. Stories are visible from the Today tab, as well as from the Search Results page for certain queries.
So, the first step is to reverse the question you're asking. Instead of asking how to get featured on the App Store, ask, "what would the editors want to feature?"
How does the App Store team decide which apps to features?
The App Store editors don't share exactly what specifications they use and how they choose apps and games to feature. That being said, there is a clear common thread that goes through all products they feature.
Above all, the editors are looking for products that will make Apple and the iPhone look great.
Recently, Apple published a few guidelines that they take into consideration. This is not a checklist, but it'll make sure we understand how the editors view featuring.
Stories
When creating stories for the App Store, the editors talk about apps that have a unique story: for example, a behind-the-scenes look at how a developer launched an app that disrupted an industry or how an app helped a customer solve a unique problem.
Apps
When considering what to feature, the editors look for high-quality apps across all categories, with a particular focus on new apps and those with significant updates. Factors that editors consider include:
User interface (UI) design: the usability, appeal, and overall quality of the app
User experience (UX): the efficiency and functionality of the app
Innovation: apps that solve a unique problem for customers
Localizations: high-quality and relevant
Accessibility: well-integrated features
App Store product page: compelling screenshots, app previews, and descriptions
Uniqueness
Get the ultimate ASO conversion rate optimization eBook
Everything you need to know about icons, screenshots, videos, app reviews & ratings, localization, and seasonality.

Types of featuring on the App Store
The Today tab
The Today tab is the most visited page in the App Store. All users that enter the App Store (except via an ad or a link straight to a product page), land first on the Today page. This is an constantly updated feed of stories and app features.
The Games and Apps tab
These tabs are the app/game specific tabs of the App Store. In both, there are several lists that the App Store team curates.
Some of these lists are always there (for example, New Games We Love) and others are seasonal.
Although these tabs get less traffic than the Today page, they still get very high volumes of visitors. Those who do visit these pages generally have a higher intent (as they are looking for a specific game or app).
Stories
Stories appear in the Today page or on the Search Results page and are based on the editors decisions to feature an app.
Stories can be app-specific and cover only a single app or they can be a collection of apps or games sharing a certain theme as the editors encourage users to discover more apps and games.
Why does getting featured on the App Store matter?
In the pre-iOS 11 App Store, being featured could have resulted in a massive increase in traffic that translated, sometimes, to millions of new installs.
In the current App Store layout and structure, featuring does drive an uptick in impressions of your app listing, but not all featured placements are created equal.
Getting featured on the Today page will lead the most impressions but of the lowest quality audience (it is simply all App Store active users in the featuring period) so conversion rates will be lower. Getting featured on a more specific list on the Games/Apps tab will lead to fewer impressions but of a higher-quality audience, meaning the conversion rates will be higher.
Based on our research, we identified cases in which getting featured led to a minimal increase in installs.
Nonetheless, the burst in impressions (and hopefully installs) is a path you should nurture, but it's important to understand the potential value of it and manage expectations (no, it won't get you a million installs). Managing "featuring" as a track of your ASO activities can significantly add to your growth, so as long as you do it properly (and spend a proper amount of time on trying to get featured, matching it to the potential value), it's obvious that there's value to capture.
According to a case study from Headspace, they experienced anywhere between a 15%-350% increase in Browse App Units when they were featured, depending on the placement.
The impact of getting featured is dependent on:
The placement of featuring
Placement is either on the Today tab or the Games/Apps tabs. Within these placements, there is a direct correlation between how high up your app is on the list and the number of installs it'll drive.
The type of featuring
Second of all, the type. Is it a collection of apps? Is it a long list where you ranked last?
There are numerous cases in which apps were featured and experienced almost no increase in app units (new installs).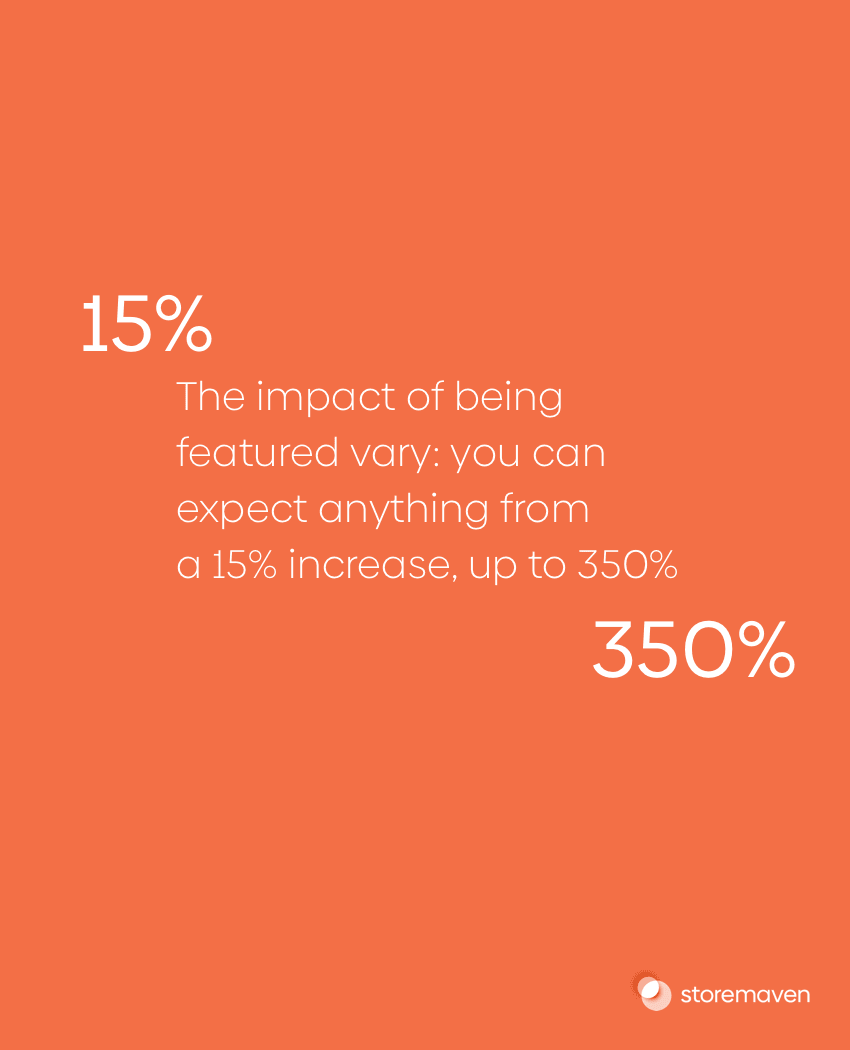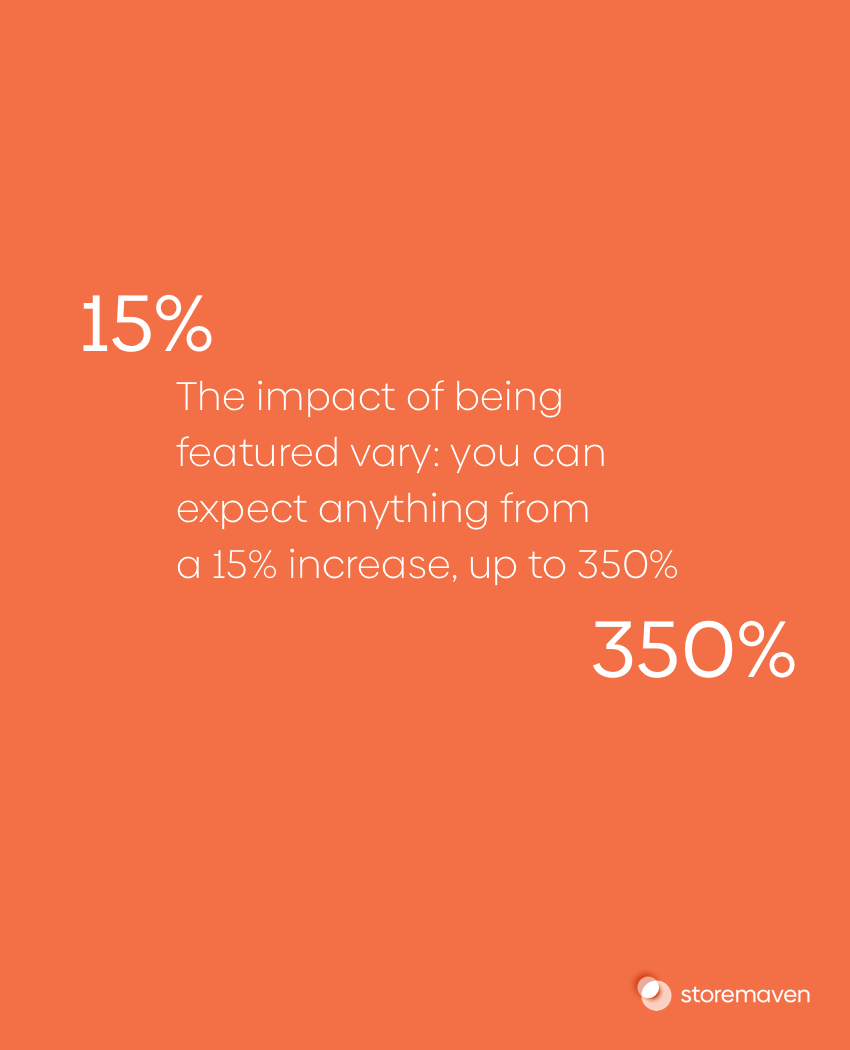 The relevancy of the featuring
A great case study comes from Phiture's work with Headspace on featuring. They learned that when Headspace was featured in a relevant story in the Today tab, relating to their core value proposition (a story about relaxation), they got a 100-150% increase in app units from browse traffic; meanwhile, when they were featured in a less relevant collection (for example, a collection of apps for biking), they experienced a much smaller increase of 15-50%.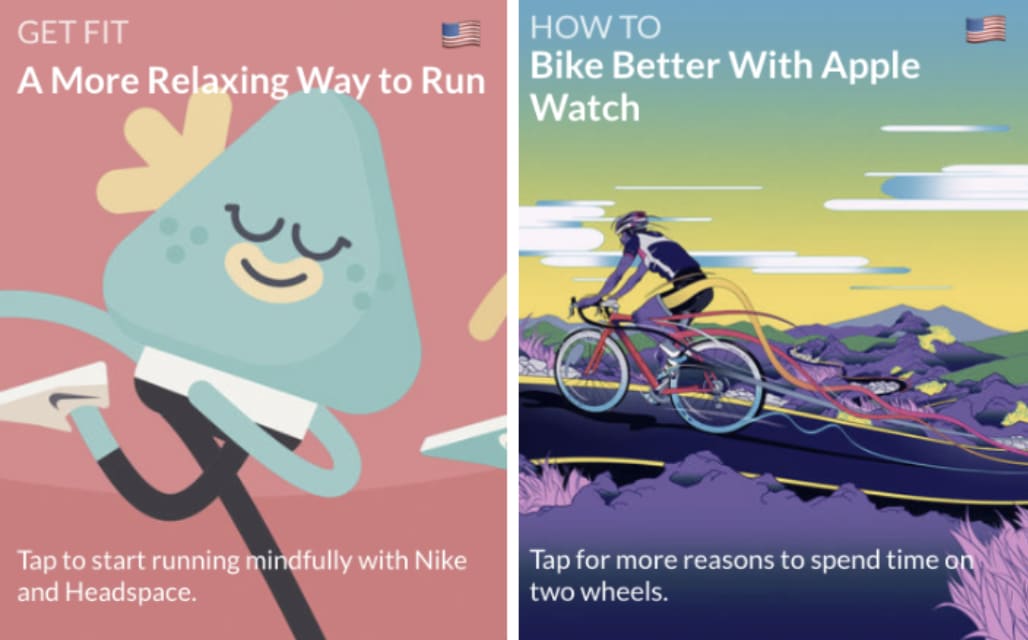 How to get featured on the App Store: A framework
Step 1: Making sure you have what you need to get featured in the first place
We highly discourage you from spending numerous hours trying to get featured by reaching out to the App Store editorial team, sending more and more content to Apple, and trying to get the team's attention in any way before you are confident your app is feature-worthy.
To do that, ask yourself the following questions:
Does the app have beautiful, extremely high-quality UI and UX?
Does the app utilize the most recent iPhone technologies?
Did you localize your App Store product page to the different locales you're targeting?
Does the app include accessibility features?
Does your App Store page include optimized and effective creatives and messaging?
Does your App Store page command high conversion rates based on the benchmark?
Do you have an interesting story to tell?
If the answer to these questions is yes, you're ready to attempt to get featured. But, if the answer is no to any one of these questions, your efforts might be a waste of time until you fix the underlying issues.
Step 2: How to get the App Store editors to notice you
Now that you're ready to get featured, you need to make sure the editors notice you. Here's what you need to do, and you can be as creative as you can:
Making sure that the editors notice your app or game in these ways will be beneficial, but it doesn't mean that they'll select you. And, even if they do, you don't get to choose which placement you want.
The rule of thumb here is to invest as much as possible in step one to increase the chances that you're qualified. Specifically, invest in preparing a story that the App Store editors will love. The better you prepare, the better chance of getting featured in a more desired placement.
Increase conversion rate up to 28% with the ultimate screenshots guide

Featuring and App Store creative optimization
One of the most common mistakes we see app marketers make is to invest significant time and resources in trying to get featured without investing enough thought to conversion rate optimization.
There isn't anything fundamentally different in working on getting featured than running a mobile ad campaign. Both efforts lead to an increase in product page impressions. For both efforts, it'd be a fool's errand to not think about how you convert these impressions to installs.
To increase product page conversion rates, you need to employ a creative optimization strategy that understands what drives your audience to install an app.
Given that featuring usually leads to very broad traffic landing on your App Store page, you need to understand what messages would convert this broad audience.
A great way to do that is to run App Store page experiments, using a solution such as Storemaven. With Storemaven you can run an experiment, testing different hypotheses for what will convince a broad audience to install your app or game. We wrote extensively about how to run these experiments here.
After optimizing your App Store page and ensuring your creative assets appeal to a broad audience, you'll be able to capture the maximum value of being featured. If not done properly, you might get a lot of impressions, but the messaging on your product page may alienate this broad audience.
For example, let's take a photography app. Showcasing advanced features of your app that only experienced photographers will know, but new users who want to get into photography might be discouraged or overwhelmed by, could significantly hurt your ability to drive install growth.
As mentioned before, it's not rare to see cases in which an app was featured, received significant impressions, but experienced almost no increase in installs.
Make sure that as you prepare to be featured, you think about the entire funnel.
Summary
In this article, we discussed everything you need to know about how the App Store approaches featuring, the potential value of being featured, and what it depends on. We also provided a framework for maximizing your chances of getting featured.
Lastly, we covered the importance of optimizing your App Store creatives to ensure you're able to convert that additional increase in traffic for a broad audience.