This is a guest post by Andrew Konovalskyi, Lead iOS Developer at Heatherglade Game Studio in partnership with AppFollow.
. . .
Interest in mobile games is high, but so is the competition for game development studios. Get popular enough and you're in high places like the Apple Featured Tabs and Collections, the magical place where it's raining new users. To get there you need to have a solid app store strategy on game launch.
In this article I'm going to share a few awesome things that will help you along the way:
The experience of setting up the app store optimization process for multiple markets
The steps I followed to do that
The ASO tools I used to get there.
To make your next game launch in the App Store successful, buckle up and read on.
Why does ASO Matter?
In layman's terms, App Store Optimization is the process of improving your app or game visibility in the App Store.
Your game visibility is determined by many factors, among them are app title and subtitle, average rating, user reviews, localized app page, and some others. All the things that help users find you while searching for something similar.
What's more, the App Store algorithms take into consideration the Clickthrough Rate (CTR) of your game (downloads and installs, in other words). It's not enough to be visible in the App Store, the game should catch the user's attention to be successful. You must get them to install the game.
How we jump-started ASO for our brand new game
Once we at Heatherglade got down to preparing a new gaming app for release on the App Store, we spent some time making sure we'd done everything possible to make sure potential players discover it.
Some developers prefer to rely on luck and wait to see the keywords App Store will automatically use to position their game before getting down to ASO work. Not a good approach.
We knew we had to dig into the principles of ASO for the App Store. Here are the steps we followed:
We started off by optimizing our new game for English and Russian-speaking audiences
We did app store keyword research – discovered the most popular search queries and implemented them into our game metadata
We monitored our competitors and learned what keywords and CTA's they use
We checked the results of our ASO efforts every now and then and kept on improving by selecting new keywords and CTA's
We made our gaming app available in other countries and optimized it for local languages
The last step brought forth the most surprising outcome. Our reach and user numbers swelled unlike anything else we've seen before.
Russian and English-speaking players found our game by searching for it in their own language. Players from China and Brazil, for instance, couldn't do the same.
We understood that couldn't ignore this problem and miss a great opportunity to increase our game's downloads in the App Store.
So we went ahead and localized our game for more than 50 languages and performed ASO for all of them. That got us a bump a great headstart in terms of downloads and visibility.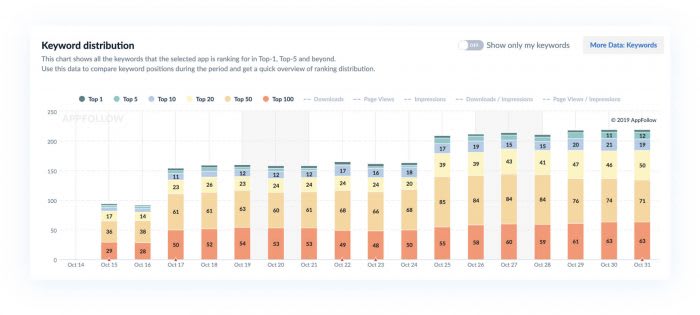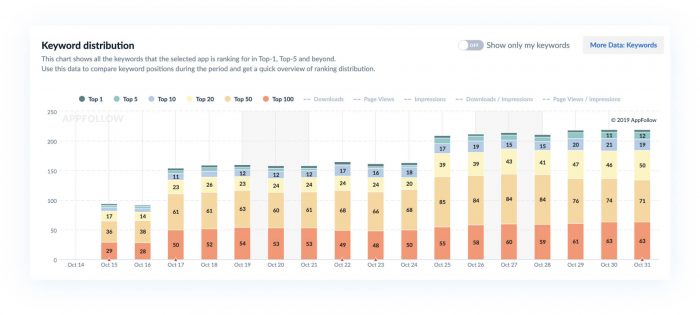 The number of keywords our game ranked for after localization. Source: appfollow.io
Get the ultimate ASO conversion rate optimization eBook
Everything you need to know about icons, screenshots, videos, app reviews & ratings, localization, and seasonality.

Which markets should you localize your game for?
According to AppAnnie research*, the countries with the most app downloads in the world are China, the United States, Russia, India, and Brazil. Optimization for US and Russian markets only means you're missing out on about 90% of potential users in other regions!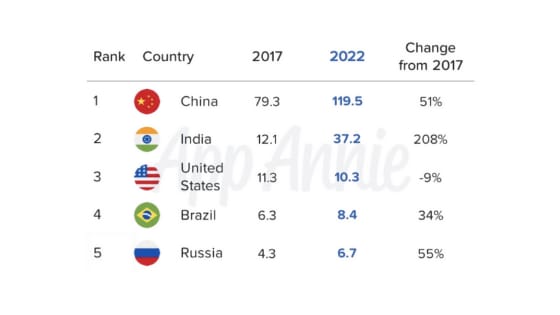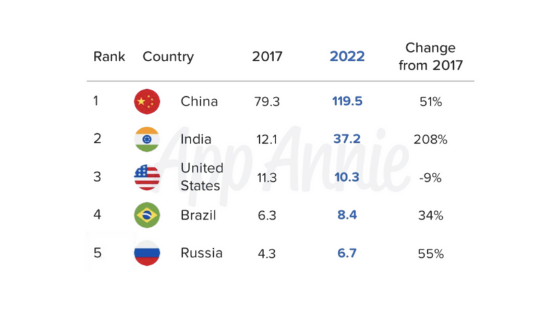 Emerging markets are a goldmine game development companies should not overlook. The fact that India is on track to three-fold growth in mobile app downloads by 2022 hints that revenue from app downloads could be sky-high on that market. Harnessing this trend can be a great way to increase advertising revenue. However, if your intention is to encourage users to make in-app purchases, you should look into optimizing your app for China, the United States, Japan, South Korea, and Germany. These are the in-app money-maker markets.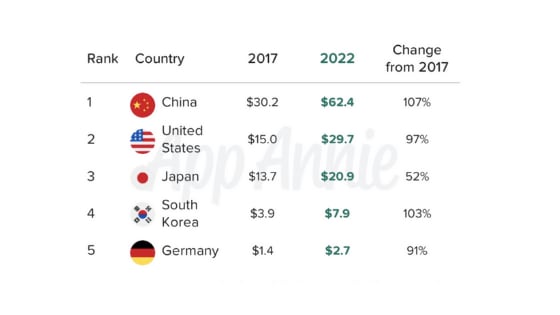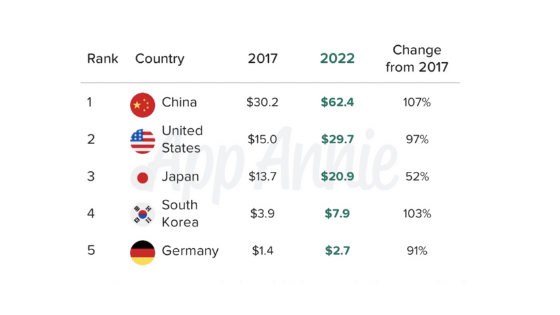 ASO can be very promising in establishing a worldwide presence. The Apple search engine loves localized apps and you have a lot more opportunity to get some spotlight in the App Store featured tabs.
How to localize your game for ASO
Keyword research in Arabic, Korean, Chinese, Japanese and other languages you don't speak can be intimidating. If you focus your efforts on one market, even the one with the largest number of App Store users, sooner or later you will end up hitting a limit.
It's only a matter of time, and the sooner you start expanding your app to a global level the more chances you have to get ahead of your competitors.
Here's how we localized for ASO step by step:
We checked download stats for our app and competitors' apps in different countries to determine which markets were worth going after.
We did keyword research in the targeted languages. (Scroll down if you can't wait to find out how we did it!)
We performed the minimum viable localization to trial our gaming app in new markets without committing to full localization. The MVL included:
App title, subtitle, and keywords;
Screenshot annotations and CTA;
App description (short part of the description visible on the game page in the App Store).
How to do keyword research in languages you don't know
So, how do you do keyword research in foreign languages that you don't know? You do it the same way you do it in your native language. Plus Google Translate.
Yes, I mean it. Most ASO tools you use to find the best keywords for your app in English offer this service in many other languages.
1) Translate your most strategic keywords
To collect a semantic core for a new language, the first step would be to translate top performing keywords from English or your native language.
Let's translate a few keywords for our gaming app's description:


Now we've got our first list of keywords in Portuguese. Pretty easy, right? To define the semantic core you will need to translate around 20-40 keywords.
2) Test your translation
While these keywords work well for us in English-speaking countries, it doesn't mean that their literal translation is popular in Brazil as well.
The next step would be to check these keywords for relevance and popularity. We tested each word using the AppFollow Keyword Research tool and deleted the ones with low popularity scores: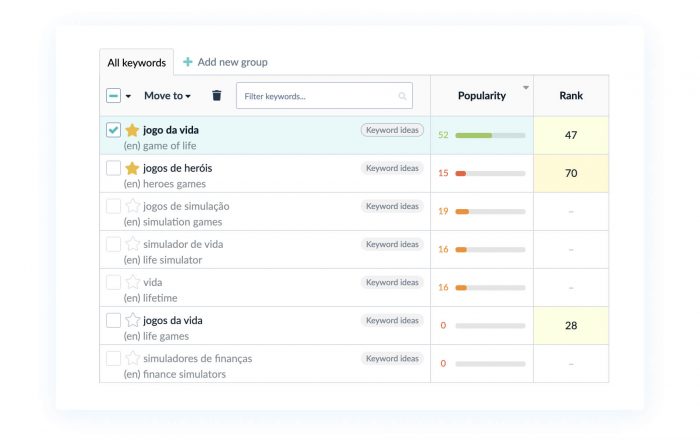 3) Gather suggestions
After translation tests, we studied competitors already ranking for these keywords. We checked their titles, subtitles, and descriptions and found more keywords for our list.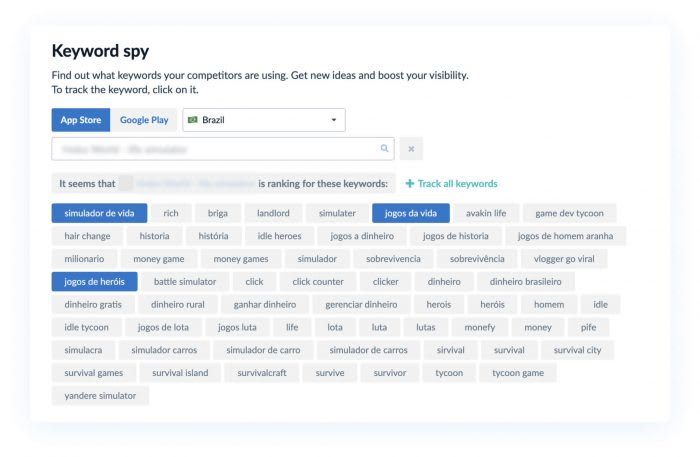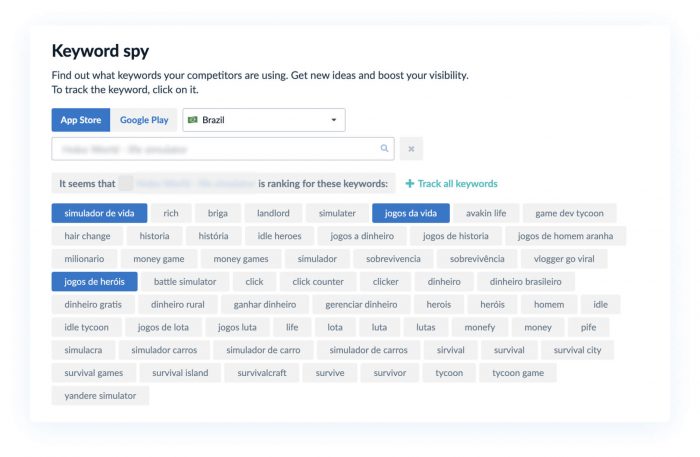 Then we used the Keyword Suggestion tool to expand our semantic core.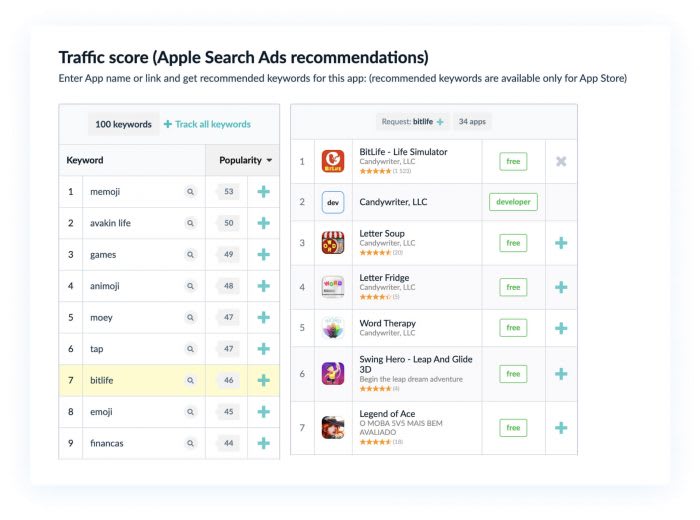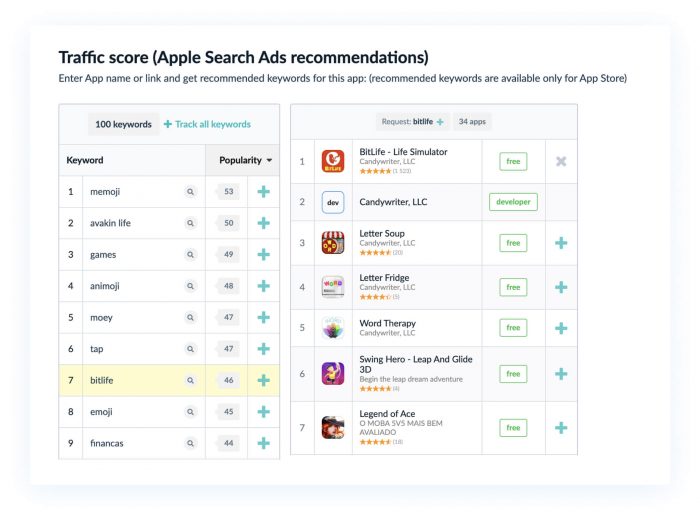 Never miss an update in the Mobile Growth industry with Storemaven's newsletter
Join 10,000 mobile marketers that stay on top of their craft

4) Prioritize and implement keywords
After we had identified a comprehensive list of keywords that are relevant to our gaming app, it was time to choose the best.
We sorted all of the keywords by their traffic score and selected the ones to implement into our game title, subtitle, keywords, and screenshots CTA.
This approach to ASO localization works for Portuguese and any other unfamiliar language. If you want to be more confident about your localized app page, you should find a professional translator to help you out. But don't forget to check all of the keywords with ASO tools so they match popular search terms.
. . .
If you are planning a new game launch or looking for ways to get more players, then consider localization. Your gaming app can easily end up flourishing in a foreign climate.