The goal of every app developer is to increase downloads. As you've spent countless hours perfecting your app, why wouldn't you want it to reach as many users as possible? Unfortunately, a user-friendly solution alone will not ensure a high number of downloads. An effective mobile user acquisition strategy is also necessary.
Mobile app user acquisition is a dynamic and highly competitive field. If you play your cards right, it can be extremely rewarding. Taking calculated risks and experimenting with new and/or underused channels can drive a lot of revenue.
Our article will help you choose the right mobile acquisition channels to help you acquire users for your app and succeed in your mobile growth plans for 2022. Use the tips, tricks, and best practices listed below to develop a winning mobile user acquisition strategy.
What is Mobile User Acquisition?
Mobile user acquisition (UA) is the process of marketing a product or service in the hope of acquiring new users.
Mobile App user acquisition is any strategy that's been specifically designed to generate app installs. This is usually achieved via advertising campaigns and/or promotional offers.
User acquisition is essential for your app because without UA finding and converting new users into paying customers is extremely difficult. Given the current level of competition in the app stores, it isn't recommended to rely on app store organic reach alone. Planning an effective app user acquisition strategy uses data to pinpoint successful trends and patterns and eliminate the guesswork that often results in wasted ad spend.
It is important to note, accessing the mobile app data can be challenging at times due to the lack of transparency in the app ecosystems. Understanding the true source of an app install could be extremely difficult at times.
How is Mobile User Acquisition Measured?
The most important metrics for acquiring users to your mobile app are the number of installs and install rate. These two metrics are by far the easiest way to tell if your app is something that people find valuable, and therefore whether it has a shot to be successful. However, it is also important to consider other metrics that deal with cost. These include:
Cost per install (CPI): This is becoming increasingly expensive, not an efficient way to gain valuable users.
Lifetime Value (LTV): Calculated profit that a customer will bring your company over time
Cost per action (CPA): The cost of getting a customer (old or new) to convert
ROI: Are the users you acquired making you money? Making purchases in-app?
Cost per 1000 impressions (CPM)
Conversion rate
Customer acquisition cost (CAC): Total acquisition costs divided by total new customers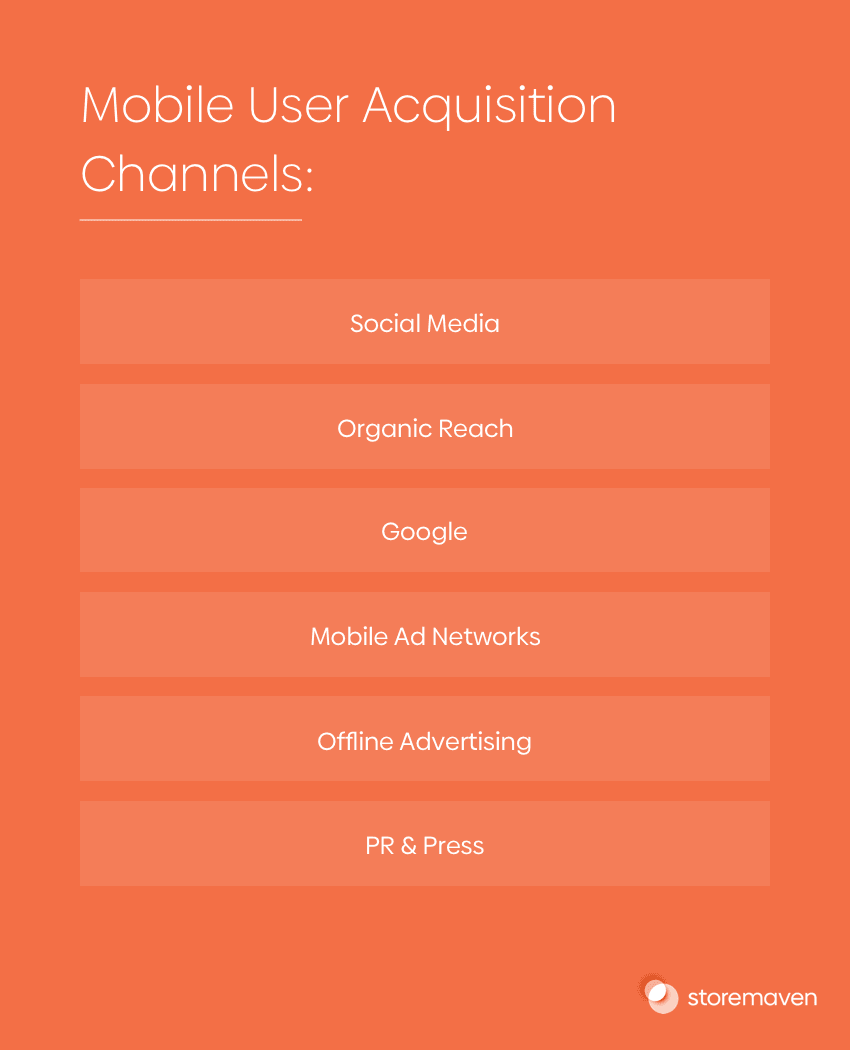 Top 6 Mobile User Acquisition Channels
There are many ways to promote an app and gain new users. We've outlined six popular mobile app user acquisition channels below. Each has a proven track record of success when used correctly. Your job is to analyze each one and decide which best fits your goals.
The mobile user acquisition channels we'll cover are:
Social Media
Google
Mobile Ad Networks
Offline Advertising
PR & Press
Organic Reach
1. Social Media
Social media is one of the most popular mobile App UA channels — with good reason. It can be extremely effective for user acquisition when used properly. Facebook, in particular, is a great tool for finding and attracting specific demographics of people. That's why it owns almost 31% of total mobile ad spend across devices.
Facebook gives app developers several ways to find high-quality users. By automating the targeting process of mobile install campaigns Facebook allows UA teams to optimize their targeting in a few different methods:
Value Optimization Campaigns: A Value Optimization (VO) Campaign is an ad campaign that tells Facebook to only target users it deems likely to reach a certain user-value figure. This figure is usually measured by spend within the app. VO campaigns use AI to help eliminate wasted ad dollars.
App Event Optimization Campaigns: An App Event Optimization (AEO) campaign targets users who are most likely to perform specific actions within an app, such as completing a level or finishing the registration process. Facebook's AI technology is used to optimize ads for this specific purpose.
These two advertising capabilities make Facebook an extremely effective platform for user acquisition. Unfortunately, they also mean Facebook can be expensive to use as the competition for ad inventory is intense, which leads to a constant increase in the cost per install. Additionally, a hyper-targeted focus on certain user types could result in missed opportunities. By only concentrating on specific demographics, you'll miss out on potential growth opportunities by broadening your reach and finding new audiences for your app
Snapchat, Twitter, and TikTok are also used for user acquisition. These networks each have ad platforms that will allow you to target specific users who are likely to download your app.
One of the added advantages of using social media channels is that the traffic is much less likely to be fraudulent, a problem that haunts many in-app ad networks.
Paid promotions on social media can work extremely well for mobile user acquisition purposes, which is why it's the most popular UA channel for most apps and games as it rakes in more than 30% of all mobile ad spend globally. But don't forget about the organic potential of these networks as well. By exposing your audience to your ads you also increase brand awareness that can drive branded searches for your app in the App Store & Google Play.
We'll talk more about organic reach in a later section of this article.
2. Google
Google is another effective channel for user acquisition for mobile apps. The mega-company has a large portfolio of platforms that app developers can use to reach their target audiences including:
Google Search: Google is the most popular search engine in the world. By implementing SEO best practices and creating AdWords campaigns, you can get your app in front of a huge portion of your target market.
Google Play: Google Play is the app store owned by Google. It currently has 2.87 unique apps in its library, which is quite a bit more than the Apple App Store has. Your target audience can be reached on Google Play via organic search and through Universal App Campaigns (UAC). More on UAC below.
YouTube: People around the world watch over 1 billion hours of YouTube videos every single day. That's a lot of screen time! By creating YouTube videos and ads, you can market your app to millions of potential users. YouTube ads usually drive higher brand awareness (and then organic branded searches in the stores) as they work more as TV ads than direct response ads
Google Display Network: The Google Display Network allows app developers to display ads on over 2 million different websites and reach 90% of internet users around the world. Talk about a great reach. By crafting a compelling ad that links to your app's product page, you may be able to drive a lot of targeted traffic.
Google Discover Ads: Google Discovery ads are shown to 800 million Google Discover users, a customizable feed that Google's AI technology will automatically populate with news items and stories of interest. Create Discovery ads and reach users with your app.
As mentioned, Google owns its own ad product named Universal App Campaigns (UAC). The ad platform is similar to Facebook's and automates the targeting and bidding process for users. It then dynamically serves ads to the users who represent the most value across all Google properties.
It's not surprising that Google owns 33% of total mobile ad spending across devices.
The potential downside to using the Google ecosystem and UAC to promote your app is that it can be difficult to understand exactly where your ads were placed and which ones drove the most value.
3. Mobile Ad Networks
Mobile ad networks allow app developers to purchase ad space inside other apps. Essentially, they act as the middleman between advertisers and publishers looking to monetize their apps via mobile advertisements. The kind of ads that you can purchase through mobile ad networks includes an interstitial, banner, video, and playable ads.
Here is a quick list of the top mobile ad networks:
Despite their lofty claims, mobile ad networks often drive lower quality traffic than other user acquisition channels. This is because in-app advertisements often feel intrusive. When a user is using a specific app, they generally aren't interested in hearing about other solutions, incentivized ads (that are gradually disappearing from the world) also work to lower the quality of users as users are forced to watch them and incentivized to install.
Additionally, the mobile app network landscape is plagued by many different types of ad fraud including invalid traffic (IVT), click spamming, and ad stacking.
Still, a well-designed and carefully analyzed mobile ad campaign can drive a lot of traffic to your app and increase your number of customers. It's a viable mobile user acquisition channel — just one you need to fully understand before using.
4. Offline Advertising
Offline advertising encompasses any and all non-digital advertising efforts. This includes radio and TV ad campaigns, billboard displays, and print marketing strategies.
It may seem inconceivable to you to use offline marketing tactics given the fact that our world — and mobile UA, specifically — is now so advanced. Offline strategies do present numerous marketing problems to app developers. For example, it's very hard to measure the effectiveness of a TV commercial. That doesn't mean that you can't assess the impact of such a campaign on your growth by measuring for example the volume of branded searches and organic search installs in the App Store & Google Play following the campaign.
Offline advertising does have its place. By creating the right campaigns, you can skyrocket your app's visibility and brand awareness for a relatively modest cost.
An offline component to your mobile user acquisition strategy for apps will also help you balance out other hyper-targeted marketing tactics. While it's generally beneficial to target a specific group of people with your app marketing efforts, doing so could mean missing out on potential users who, for one reason or another, don't quite fit into your ideal user persona. An offline campaign will give you the chance to reach these folks as well.
5. PR and Press Coverage
PR and press coverage is another mobile user acquisition channel that's often overlooked, which is unfortunate because the right publicity can really boost the awareness of an app and greatly increase its organic downloads in both the Apple App and Google Play stores.
Getting PR and press coverage for your app involves contacting journalists, bloggers, podcasters, review websites, and other content creators and asking them to promote your solution to their respective followings.
We won't lie, this process can be quite time-consuming when done correctly. But again, you'll have the opportunity to really improve your app's performance if you utilize this channel. On the plus side, the cost of contacting press outlets is quite low.
Keep these three things in mind when using this mobile app user acquisition channel:
Personalize Your Pitches: A mass email sent to 100 bloggers and podcasters probably won't be very effective. The key to a proper PR and press coverage strategy — and the reason this channel requires a significant time investment — is to personalize each and every one of your pitches. Research the outlets you plan to contact and speak to them about the way a story about your app will benefit their audience.

Target the Right Outlets: Not all media outlets are considered equal when it comes to PR and press coverage for your app. You'll want to target bloggers, podcasters, and other content creators who serve early adopters, i.e. folks who are most likely to try an app before it becomes popular. This demographic will help you generate word-of-mouth marketing and grow your app's organic reach.

Create a Media Kit: Lastly, you'll want to build a full media kit that you can send to various media outlets. Your kit should include a bio of your company, the reason you created your app, any success your app has already achieved, the current size of its user base, and interesting screenshots, videos, and images. These extra details will help media professionals create top-notch content about your app.
6. Organic User Acquisition & ASO
Finally, we have organic user acquisition. This mobile user acquisition channel includes App Store Optimization (ASO), content marketing efforts like blogging, video creation, and social media posting.
App Store Optimization (ASO)
ASO should be viewed as a User Acquisition channel. After all, it falls under the definition of a focused effort to acquire new installs by executing a set of closely related actions.
Discoverability
ASO helps your app get discovered by more relevant users by improving your keyword and category rankings, winning featuring placements, and more.
Find out more about App Store discoverability here.
Conversion Rate Optimization (CRO)
ASO also helps to amplify everything else that you're doing by improving the install rates for users from all sources, be it a paid UA campaign or users finding your apps through the platforms themselves.
Read more about how to improve your conversion rates in the app stores.
Content Marketing
By building a loyal following of targeted users through content, you can then direct them to your app product page and encourage them to download your solution.
Organic marketing tactics are especially effective when combined with paid efforts.
For example, you could drive traffic to your website with top-notch blog posts that rank well in Google search results. You could then encourage email list signups in exchange for access to an in-depth ebook that expands on the ideas covered in your blog posts. Lastly, you could run a paid retargeting ad campaign on Facebook that targets the users on your email list and directs them towards your app's product page where they can download your solution.
Here are two tips to help you succeed with this mobile user acquisition channel:
Know Your Target Audience: This UA channel only works if you have a firm understanding of your target audience. Who does your app serve? What's their gender, age, job title, and income level? Now create content specifically for this demographic.
Make Use of Smart Banners: When you use banner ads to complement your organic marketing efforts, make sure they include deep links. That way you can easily direct users from your website directly to your app's download page.
It's important to remember that organic marketing campaigns take time to succeed. Don't expect to write a blog post one day and see a jump in app downloads the next.
Additional marketing channels
One of the most important things to recognize is there is no one formula that will work for everyone, and there are some channels worth mentioning that can benefit your specific business:
Web to App
Mobile websites are the number one source of app installs that many marketers don't talk about. Branch research shows that if you have a top website, you'll have a top mobile app. By using tools, like smart banners, to creatively and seamlessly take your users from your mobile website to your mobile app, marketing teams can efficiently increase their native app users.
Video ads
According to eMarketer, digital ad spend will reach $82 billion in 2017 and video will account for 15% of that. Mobile video consumption is increasing 100% every year, and 30-second mobile video ads have an 88.3% completion rate. Video content is becoming more and more popular; it wouldn't be surprising to see video ads approach social media as the top UA strategy over the next few years.
Email
Email remains a key component of a marketer's toolbox. With up to 70% of emails opened on mobile, there is a huge opportunity to drive users to your app. Deep linked emails are essential for positive user experience on mobile and can drive users directly to a piece of content inside of a mobile app. And research shows that $3,000 in revenue is lost for every 1 million emails sent without deep linking.
How to Choose the Right UA Channels For Your App
We just covered six mobile user acquisition channels. Now the question is, which one(s) should you use? The answer completely depends on your app and marketing strategy. But here are a few tips to help you choose the right channels for your unique business.
What's Your Budget? Do you have a lot of funds to invest in UA? Or are you working with a shoestring budget? Your answer will determine which channels you invest in. Scaling UA spend on all networks requires a significant investment and ad spend.

What's Your Level of Expertise? Facebook ads can be a great way to drive traffic to your app product page and acquire new quality users. But the platform is complex. If you've never used it before, you may want to consider starting with a different channel. The same thing goes for all mobile user acquisition channels mentioned above.

How Much Time Do You Have? Some channels can result in new users almost instantaneously. Others take time to develop. How much time do you have to wait before you see an uptick in customers? While organic campaigns can be incredibly effective, they won't immediately impact your business in a significant way.
Now, try to find the perfect balance between your budget, level of expertise, and time frame. These are the channels you should concentrate on — at least initially.
As a final note, we recommend focusing on just one or two mobile user acquisition channels to start. That way you don't spread yourself too thin. As you master each channel, feel free to experiment with more, test the results, and optimize your strategy accordingly.
A Mobile User Acquisition Channel Matrix
To summarize everything we've covered in this extensive article, we've created this Mobile User Acquisition Matrix, which you can download and use. We encourage you to study the graphic and keep it handy when determining which acquisition channels your app company will invest in.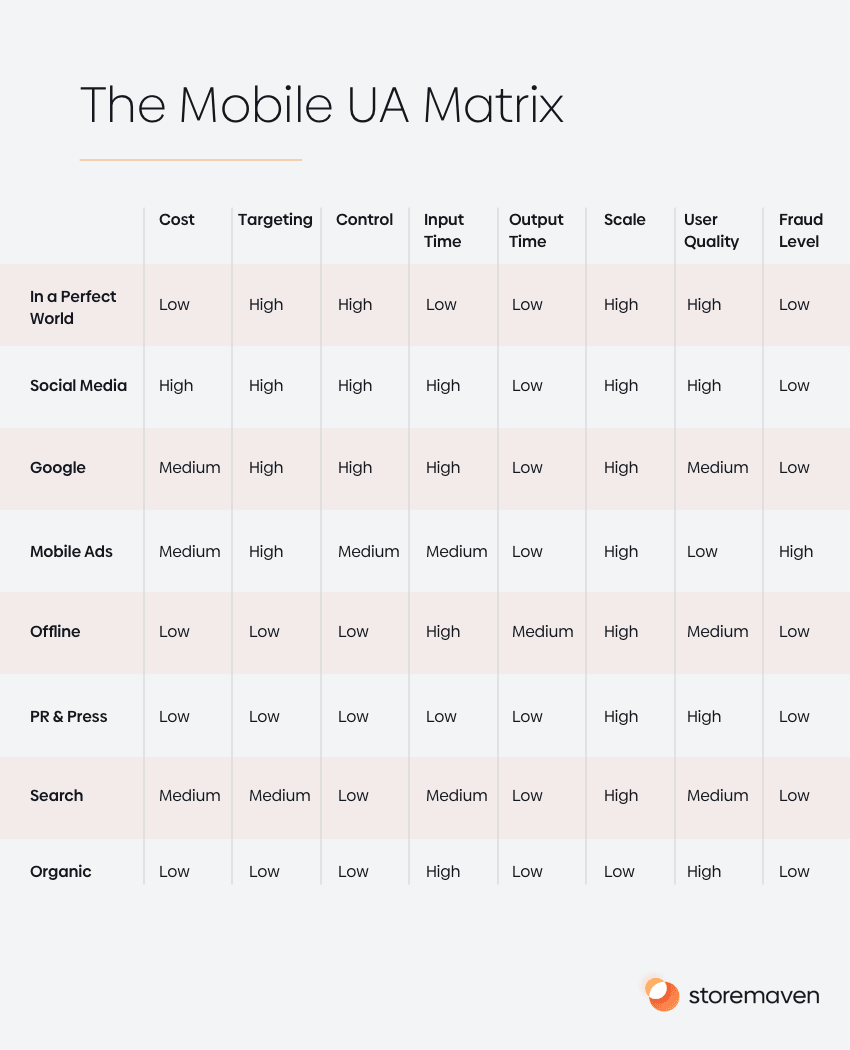 Get the ultimate ASO conversion rate optimization eBook
Everything you need to know about icons, screenshots, videos, app reviews & ratings, localization, and seasonality.
The Role of ASO in Your User Acquisition Strategy
Before we wrap up, let's address the role of app store optimization (ASO) in your mobile user acquisition strategy.
ASO marketing strategy effects UA in two ways:
Proper ASO can drive organic traffic to your app product page. In fact, app stores are the top option for app discovery. By choosing the right keywords, placing them in the right places, and ensuring your entire app product page is optimized, you can drive traffic to your app without any other marketing strategies in place.

Effective ASO can enhance every other mobile user acquisition channel. Your Google ads and PR campaigns can drive traffic to your app's product page. But they can't convince users to actually download your solution. By optimizing your app pages in the Apple App and Google Play stores, you'll increase your conversion rates and ensure the traffic you generate turns into paying customers.
ASO is essential to your mobile user acquisition strategy. Be sure to optimize your app store pages before driving traffic to them and you'll find more success while reducing your UA cost.
Wrapping Up: Boost Usership of Your App
Your app may be the greatest thing since sliced bread, but if nobody uses it, what's the point? Fortunately, you can boost the users of your app by developing a mobile user acquisition strategy. Simply choose the right channels for your business. Then begin experimenting with each of them and optimizing your approach accordingly.

We've shown you how to acquire users for your app. You can boost traffic, downloads, and revenue for your app. Follow the tips, tricks, and best practices outlined in this article and you'll be well on your way to success.
Questions you might have..
A mobile app acquisition channel is a "place" from which you can acquire new users by means of, usually, running a paid ad. Some of the most popular channels are Facebook, Google. Snapchat, Tiktok, and various mobile ad networks such as Unity and Iron Source.
There are many different growth channels to use in order to attract more users to your app. Not all of these channels are paid. Attracting more users organically through App Store Optimization efforts can help drive significantly more growth than paid channels. According to Apple, about 65% of installs in the App Store occur after a user search natively within the App Store app.