This is a guest post from AppFollow's CEO & Co-Founder. AppFollow is a product management tool for accelerating global app growth and increasing customer loyalty.
A creative icon and promising name might make your app stand out in app stores search results, but before users even consider installing your app, they will go and check the average rating and reviews. Numerous studies on the correlation between user feedback and app installs have come to conclusions that every review and star counts.
Although ratings and reviews are the greatest drivers of conversion, every app owner knows that getting closer to a five-star rating and digging out of negative reviews is quite a challenge. The good news – it is becoming technically easier to monitor and manage ratings and reviews, and doing it will definitely be worth the hustle long-term.
For those looking to increase their app installs, this article offers a detailed overview of elements to track, in particular, ratings, badges, featured (or helpful) and negative reviews, and a variety of optimization tactics that would work for app businesses of different sizes. If you are new to App Store Optimization, I guess you want to start doing it properly to see the first positive results.
Overall App Rating
Ratings are the stars that users leave on app stores in order to share their experience using a particular app. Both the App Store and Google Play show the overall rating in the search results and on the app page. Regardless where users come to your app page from – search results, a website, an ad, or another app, they will see your app rating immediately.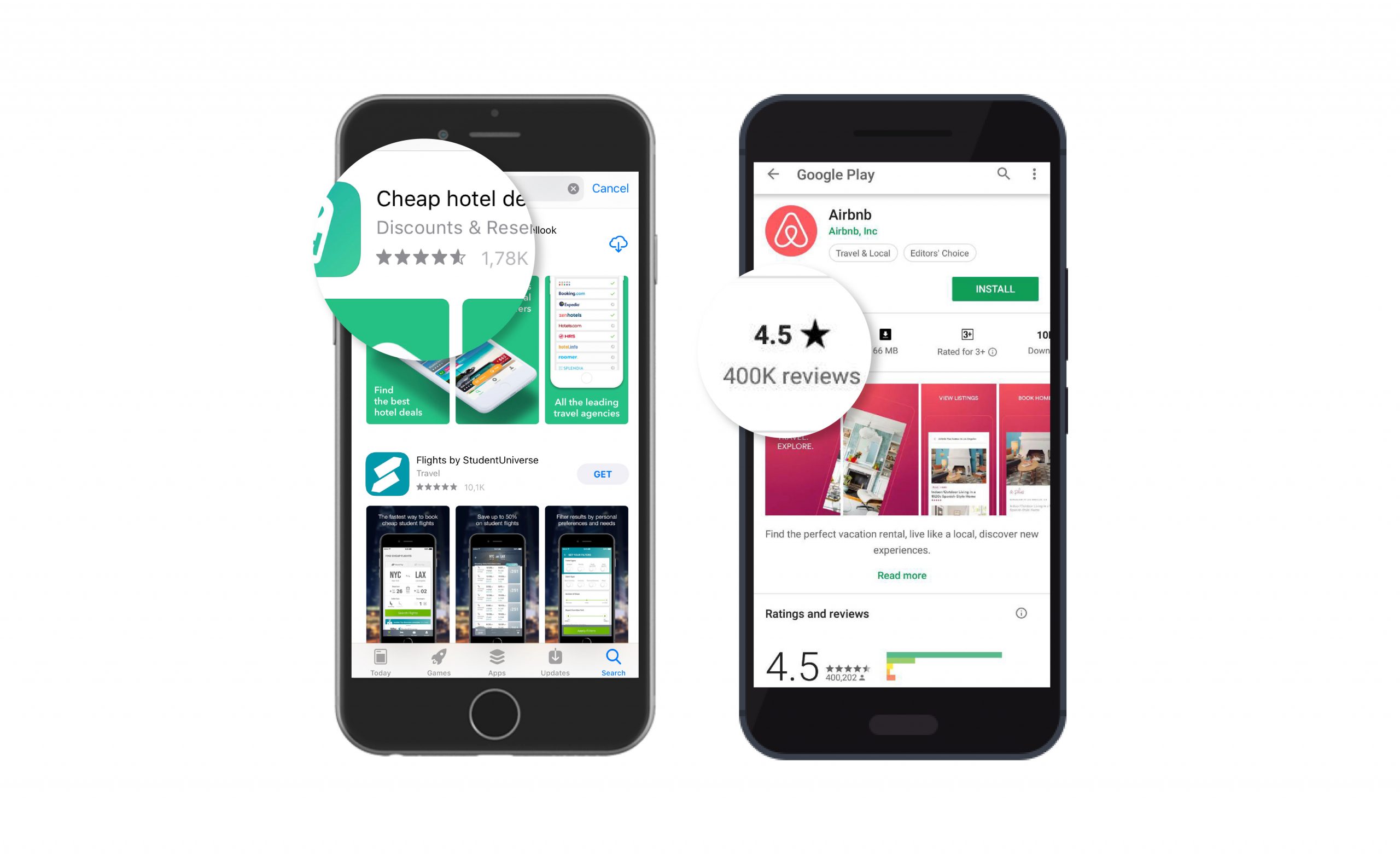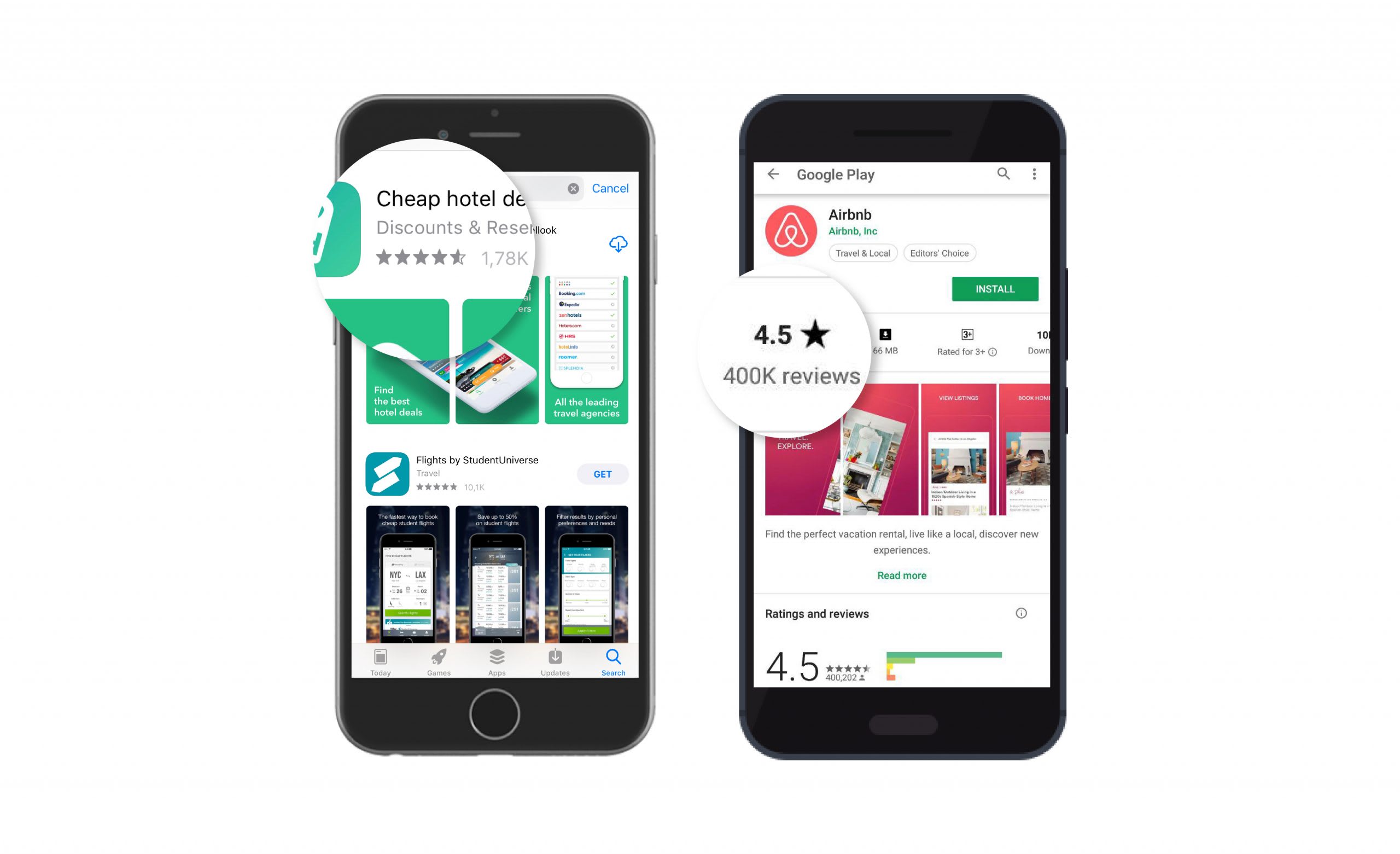 App stores offer the rating system to provide assurance to potential users that other people like the app, as well as give them a little help choosing from millions of apps available. Apptentive's research shows that apps with three stars lose half of the potential downloads, whereas apps rated one – two stars lose almost every download. In other words, getting closer to five stars is vital if you want to boost your organic app installs.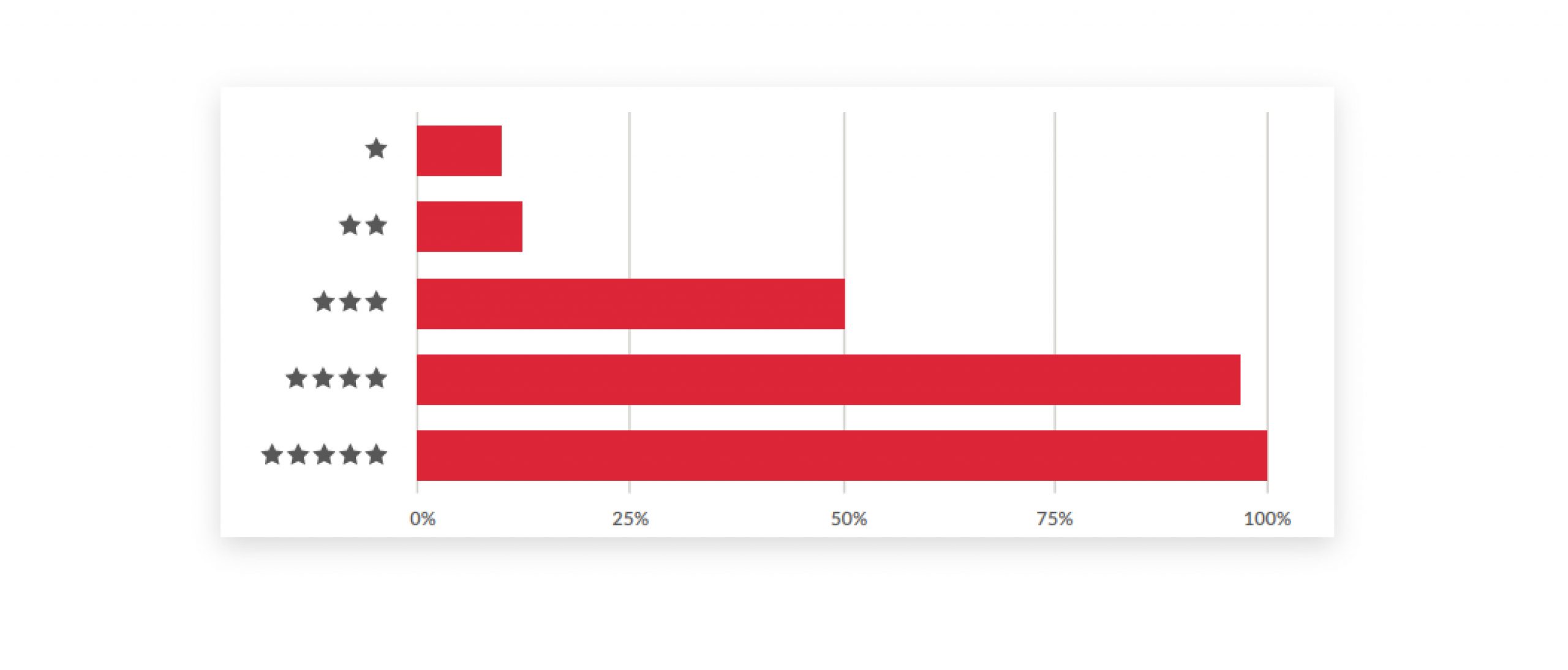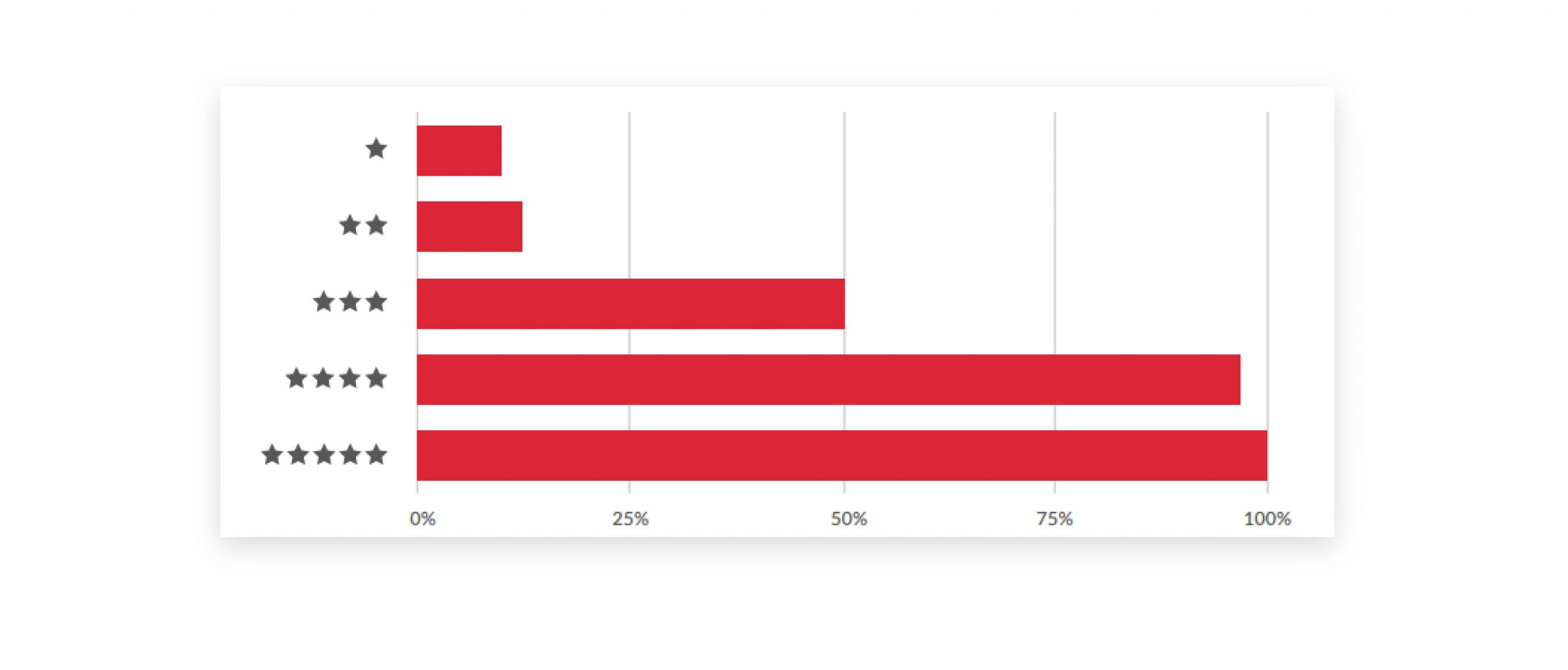 How to improve your app rating?
Use in-app rating requests for iOS and customized request for Android
Happy users are less likely to rate an app, while unhappy ones will rate your app one star and write a review detailing their complaint. For iOS, you can fix it by sending in-app rating requests using StoreKit framework. This method allows users to rate your app without leaving it, which helps increase the number of ratings and reviews dramatically. However, embedding an in-app rating feature increases your chances of getting both positive and negative reviews. Timing is key when considering to implement the in-app rating requests in order to get more positive ones. Don't interrupt users while they are interacting with your app – for example, playing a game or writing a note.
Although in-app native rating requests are available only for iOS, you can create customized requests for Android.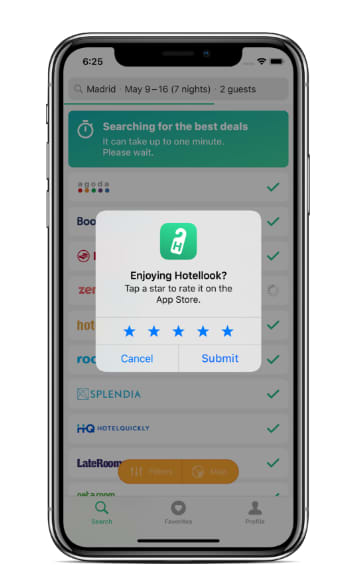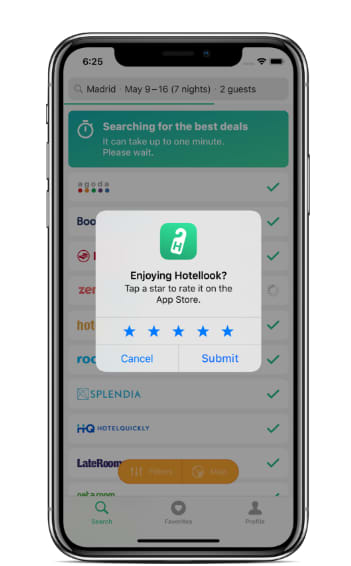 Reply to all apps reviews. Especially, the negative ones
Communicating with users and addressing their issues and requests will not only help you improve the product but also reach higher rating and install conversion rate. Generally, users tend to change the rating for a higher one if they got help fast. Simply put, when it comes to app reviews, response time should be quick – reply before unhappy users uninstall your app!


Reviews monitoring is also the best way to detect bugs not noticed during testing when you have a brand new app or launch a new feature. Be detailed in your replies and inform users when you've fixed the issue they reported. Don't hesitate to ask them to update their review and the rating they gave to the app.
You can track reviews via App Store Connect and Google Play Console, or use services such as AppFollow to get reviews from both stores in one place, analyze them and reply to them instantly. If your app has loads of reviews daily, you can use tools for semantic analysis to identify review topics and issues and speed up the process of resolving them.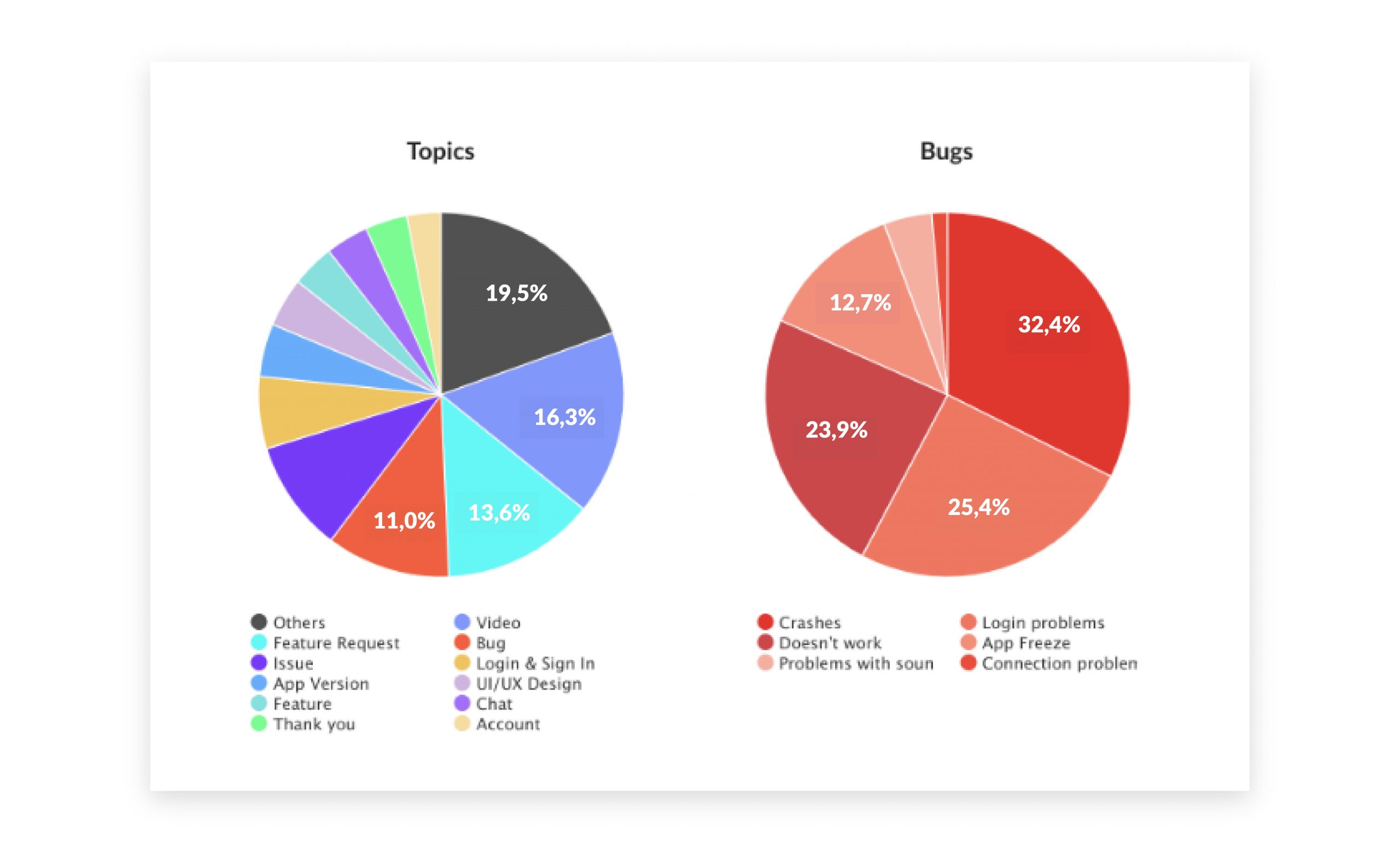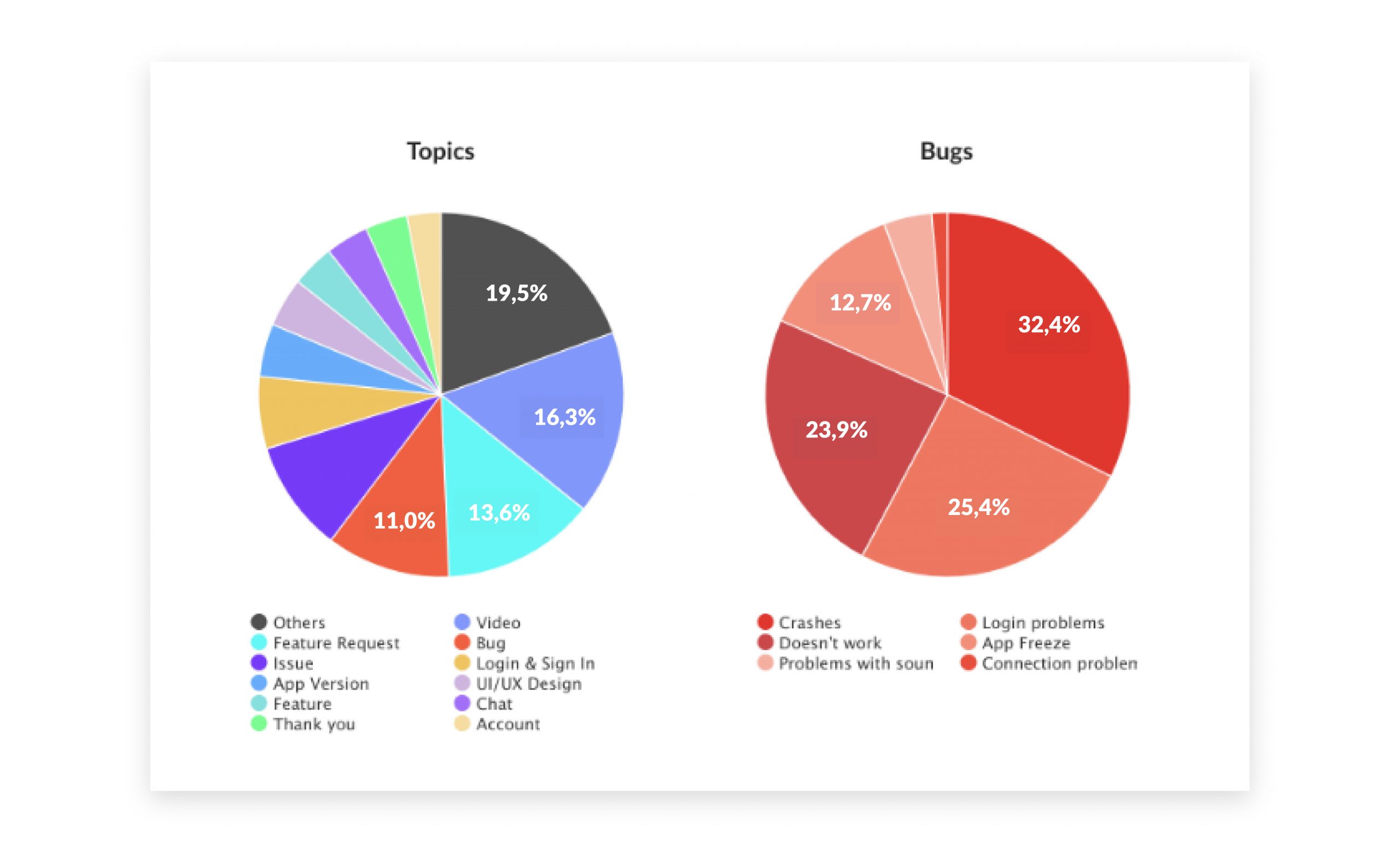 Report spam and extremely negative reviews
The App Store and Google Play have algorithms to identify and remove spam reviews. According to our findings, Google Play deletes up to 90% of paid reviews.
To accelerate the process and get removed from your app page reviews that look like spam faster, you can report a concern to the App Store or Google Play. It usually takes up to two weeks for a concern to be considered.
You can't remove all negative reviews from your page this way and some of them will stick around forever, but the good thing is you can clean up those reviews that affect your install conversion rate the most.
Featured reviews
Featured reviews are the first reviews users see on your app page and they have the strongest effect on users' decision to install the app. So it's vital that they are for the most part positive.
Both the App Store and Google Play show the most helpful reviews for the app lifetime in this section. However, recently we've noticed that the App Store started featuring only the most recent reviews. It's still not clear if it's just an experiment or a step towards the real-time updates of featured section.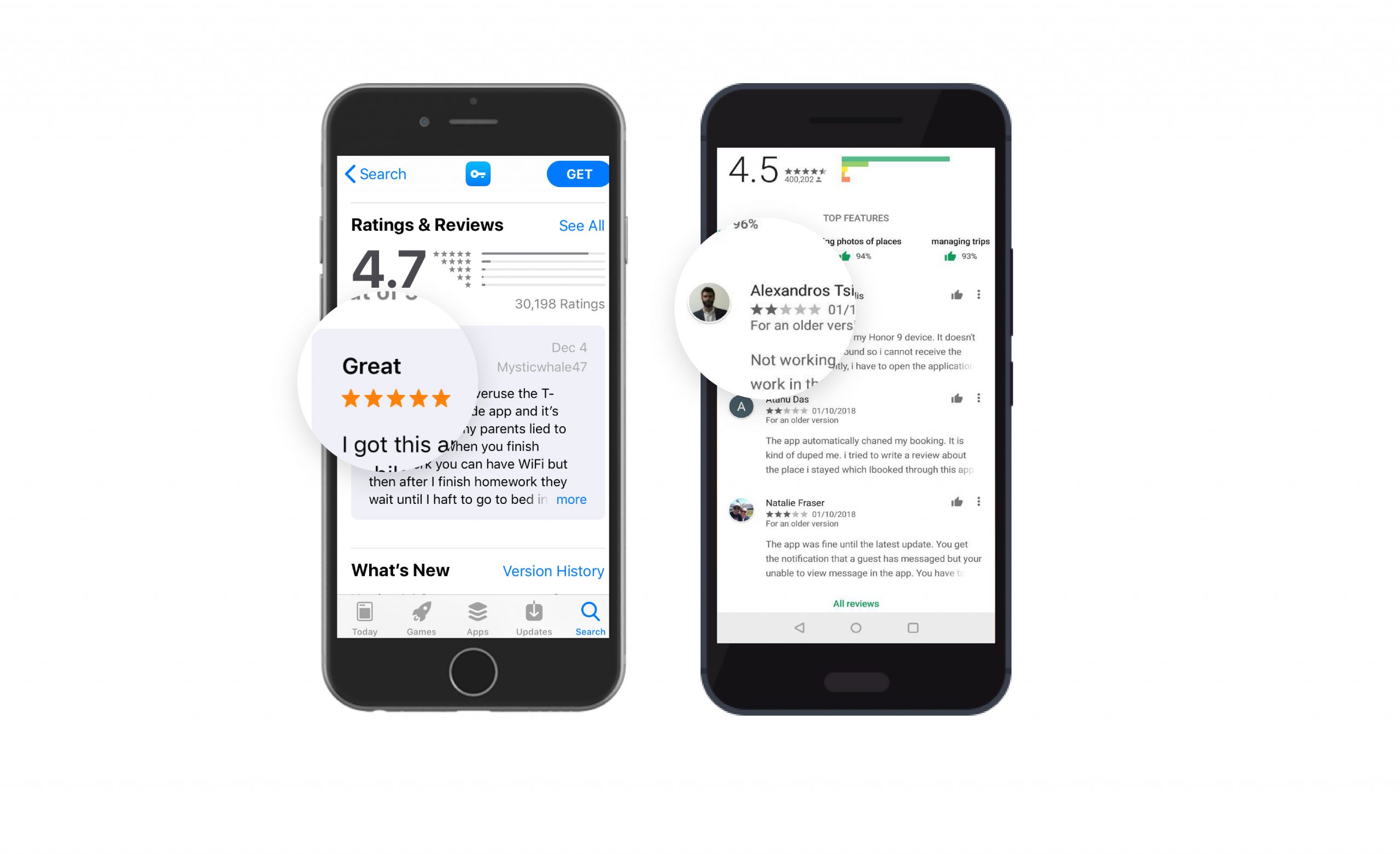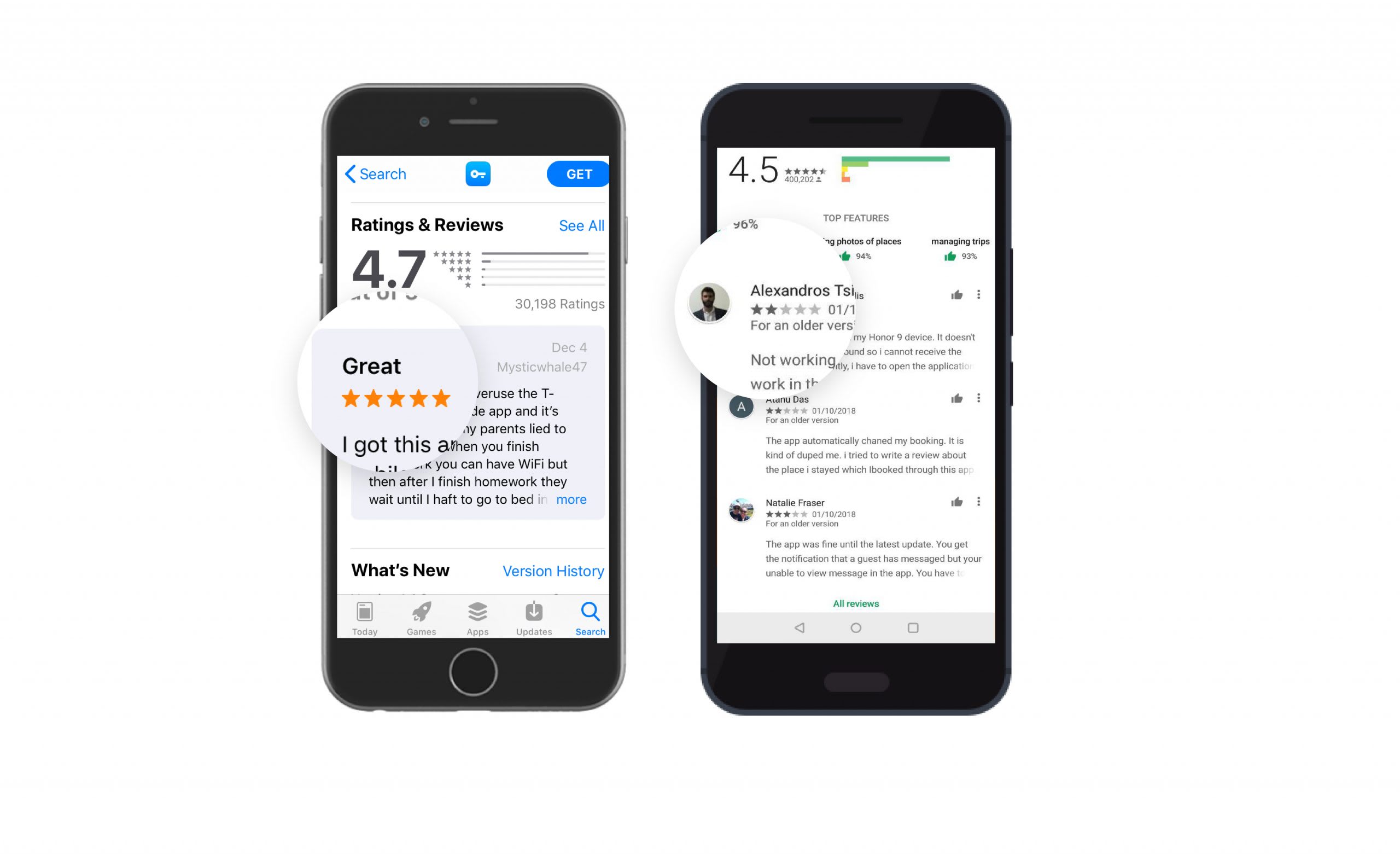 How to level up your work with featured reviews?
Reply to all featured reviews
Make sure you don't leave a single featured review without attention. In case a review is just a brief 'Love it ????' note, reply to it anyway. It will be a good indication for the app page visitors of your cooperation with other users. They will know that they can always contact you in case they have a billing issue or experience other problems with your app, and get help.
Monitor featured reviews for key markets
For the apps available in multiple countries, it's important to remember that featured reviews will be different for every location and most likely will be written in a local language. Track reviews from different countries and work with them separately to improve the install conversion rate for a specific market or a group of markets.
There are a lot of tools available that could do all the boring monitoring work for you, and send you over featured reviews only from countries that matter the most for your business.
Report spam and extremely negative reviews
Although both Apple and Google continuously monitor reviews left on their stores and remove suspect ones, unfortunately, some of extremely negative and offensive reviews remain there and sometimes make their way to the featured section.
Again, to reduce the effect of such reviews on your app install conversion rate report a concern to the App Store or Google Play as soon as you notice them. According to our experience, 80% of reported reviews are usually deleted afterward. Once the negative content is deleted, new users will be more likely to install your app.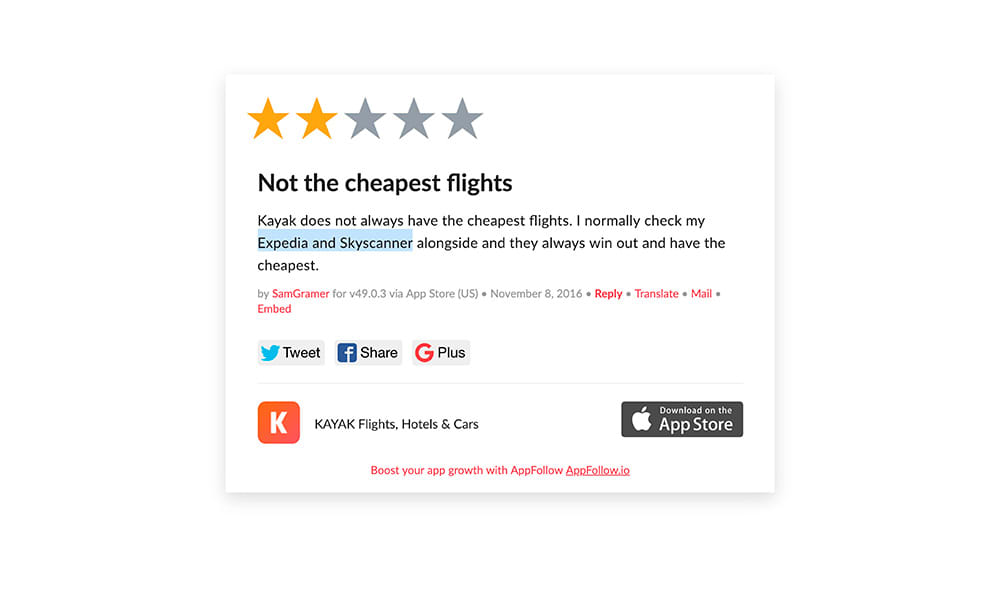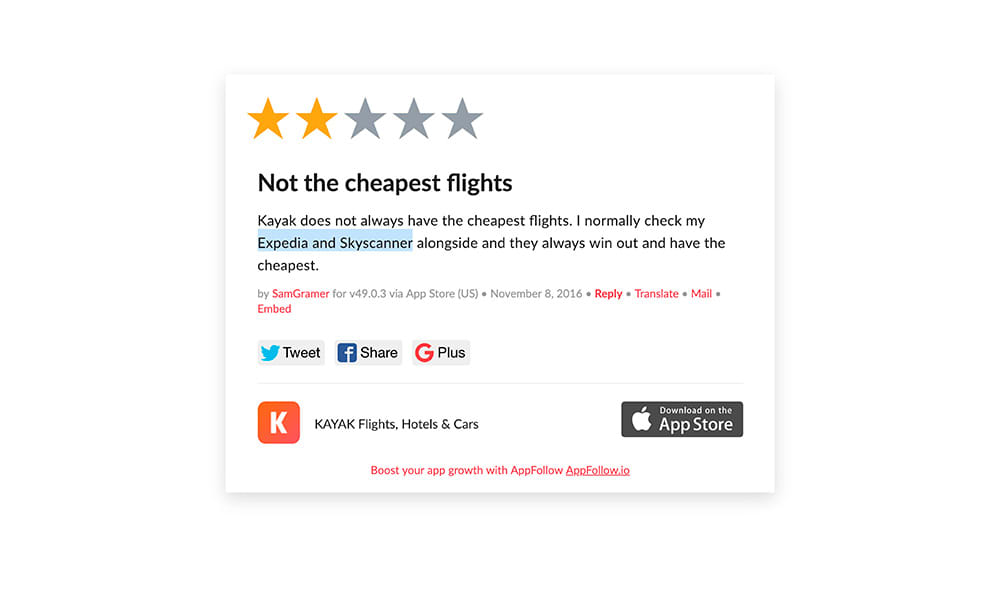 Badges
The App Store and Google Play encourage developers to build really extraordinary apps and reward the top-notch ones with the Editors' Choice badge. For lucky apps, the coveted badge is not only a seal of approval from Apple or Google but also a boost in installs for a long period of time.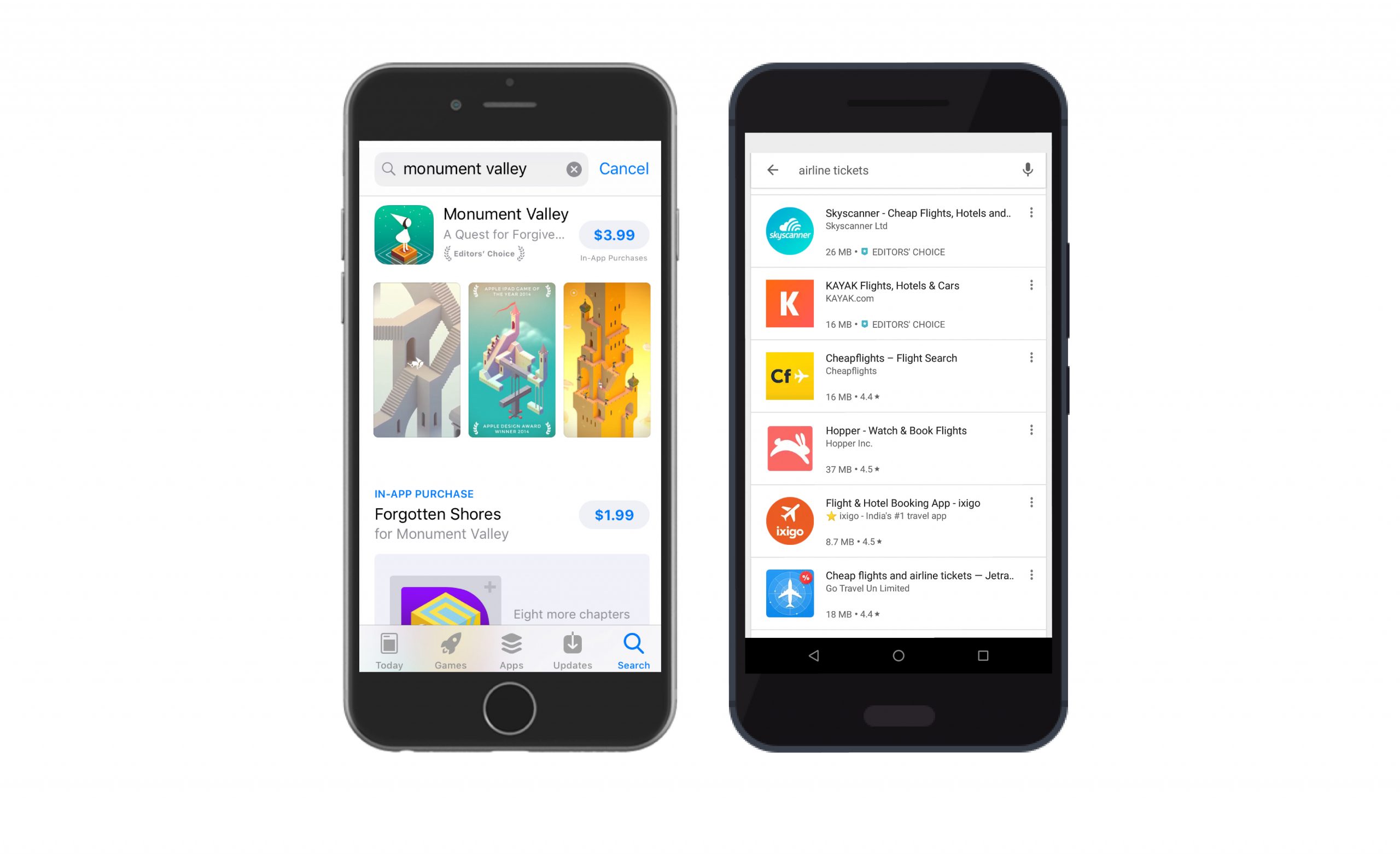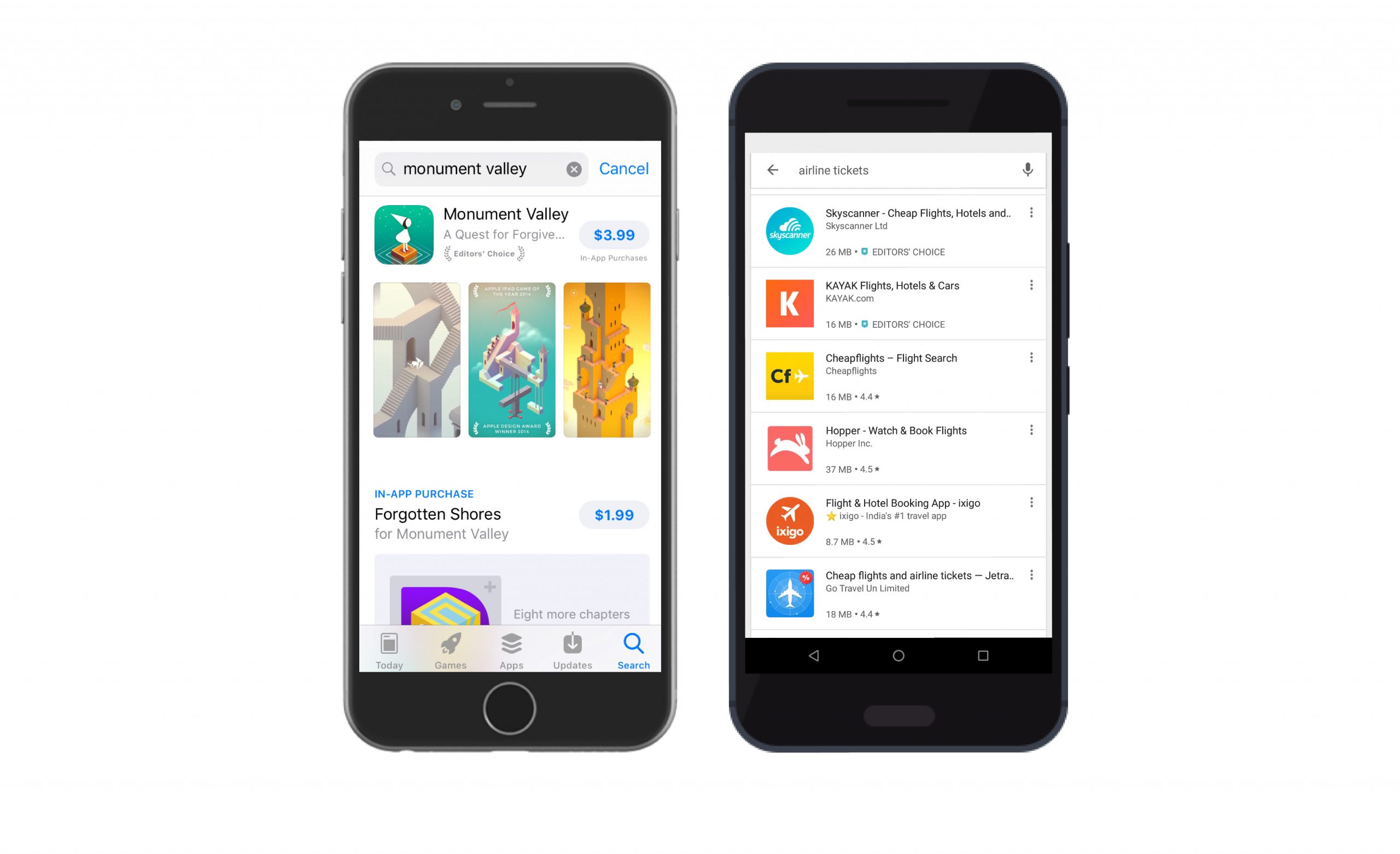 There are no shortcuts to get Editors' Choice reward; only creating the incredible user experience and applying iOS and Android new features and best practices will help your app get noticed.
When aiming to be selected by Editors, give extra attention to rating and reviews; according to multiple resources, they will be considered by Editors along with app search volume and install/uninstall rate.
App Size
Surprisingly to many app owners, app size can take a hit on installs and damage your app rating and reviews as App Store and Google Play have limitations for downloads over a mobile network. Currently, users can't install apps over 100MB from the App Store and 150MB from Google Play without Wi-Fi.
These days when everyone wants everything 'right now' and mainly while on the go, users usually won't wait for getting Wi-Fi to download your app and will opt to download a more easily accessible competitor.
Besides the fact that the app size can demotivate people to download your app, there is a risk that your app rates will go down, and every negative review will decrease your ranking and conversion rate further. To avoid it, optimize your app size so potential users can download it anytime.
Summary — Develop, Listen, Improve
Even though negative reviews accompanied sometimes by a single star rating are frustrating, all the extensive work done by app developers would be worthless without that vital element of the development process — users' feedback.

There are literally no apps on the stores with no negative reviews. When they are approached quickly and carefully, they could be turned into positive ones and help boost the install conversion rate. That is why we encourage you to implement the tactics above and organize your workflow for reviews monitoring and replies.