I chatted this week with seven marketing leaders of the world's largest mobile brands and game companies, and it got me thinking about something.
The folks winning right now aren't those obsessed with getting back the level of measurement they had before, they know it isn't coming back. They're not letting the lack of deterministic measurement and attribution confuse them and steer their efforts towards only what they can measure.
The folks winning know their audiences so deeply.
They know where their audiences spend their online time.
They know why their audiences install their apps and games.
They continue to do the things that influence that audience to download their products.
Can they measure with 100% accuracy how many users each marketing effort drove? No way.
But can they have a really good sense of the incremental KPI growth their efforts are driving and validating that it's growing their audience accretively? Absolutely.
Loss of deterministic attribution doesn't mean you need to experience loss of marketing sense (which is where the "I'll only do what I can measure" approach will take you). You simply need to change your approach to how you determine that things work or not.
What else non-mobile growth'y is happening? My 2yo just learned to say "poop" and I now get audio messages on WhatsApp throughout the day of her saying "poop". Life is a beautiful thing.
The mobile audience growth stack for 2022
With the help of top mobile marketing experts we know, as well as C-level leadership from some of the most valuable companies in the mobile industry, we've spent the last several months working on imagining the future.

One thing kept on coming up, which was, "We have to ensure that we can grow your audience profitably in 2022 and beyond, and we need an alternative to how we grew until now (based on IDFA and user-level data in UA)."

So after a lot of work, we put together the Mobile Audience Growth Stack for 2022, which is basically the three pillars you need to get right if you're to grow your audience in our new reality.
The MAGS is based on having frictionless access to all relevant data so you can explain easily what influences audience growth, make the right decisions, and know where to deploy your capital&time in order to maximize that growth.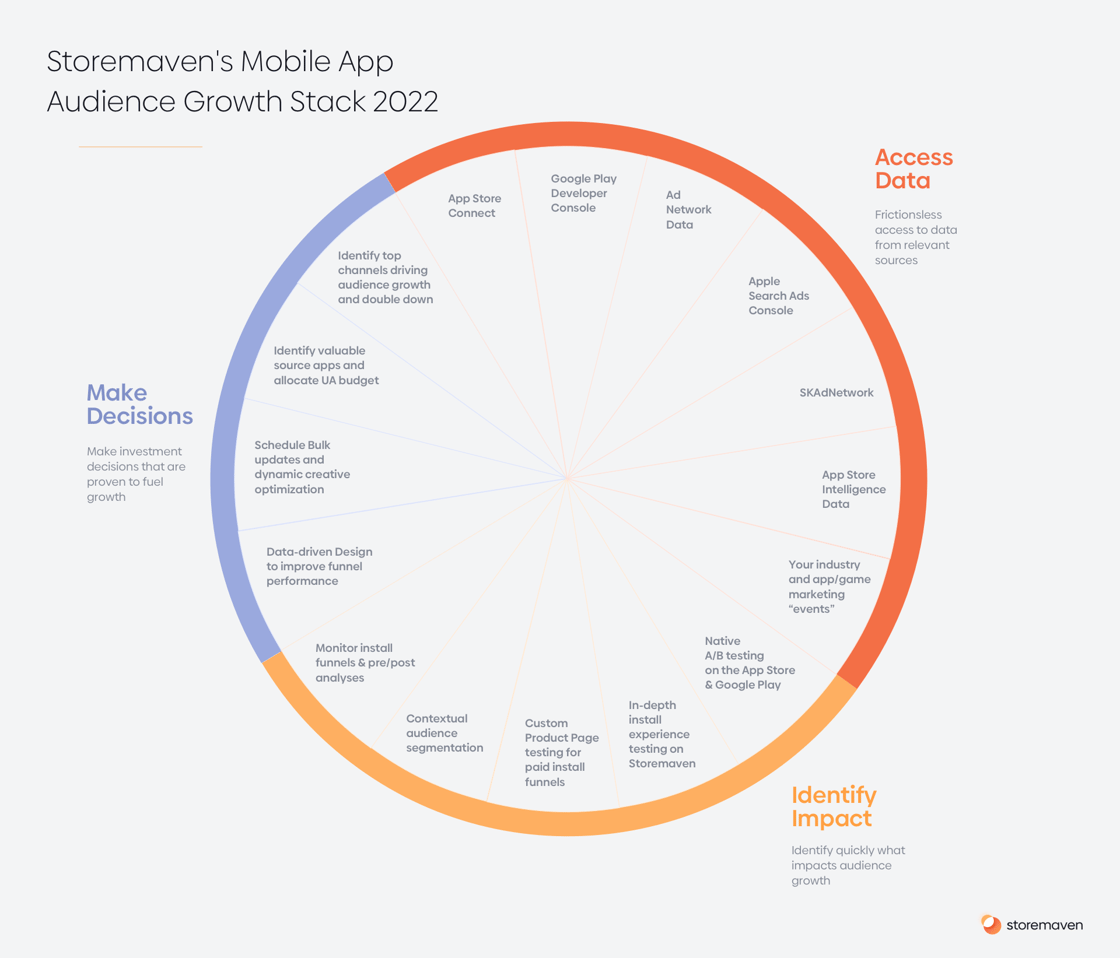 This article explains the technology and the processes you must put in place to have an "engine" that allows you to know what to do to grow your app audience through organic & paid efforts.

Read the full article, the Mobile Audience Growth Stack for 2022.
Welcoming 2022 with Singular, TikTok, Forbes, and more
While we're on the subject of self-improvement, I believe it'll really serve you well to get the industry's perspective on how the recent privacy and App Store changes will affect marketing moving forward.
And what better perspective than from the folks leading the industry with innovating tools that will help you navigate this new landscape?!
Join us for a special webinar next week, Dec 8th, with Singular's CEO Gadi Elyashiv, and experts from Tiktok, Tinuiti, Digital Turbine and Forbes.
I'll be there as well.
We'll be tackling everything from the loss of IDFA, SKAdNetwork, Measurement, Contextual Marketing and Creatives, App Store capabilities and more.
Here's the webinar recording.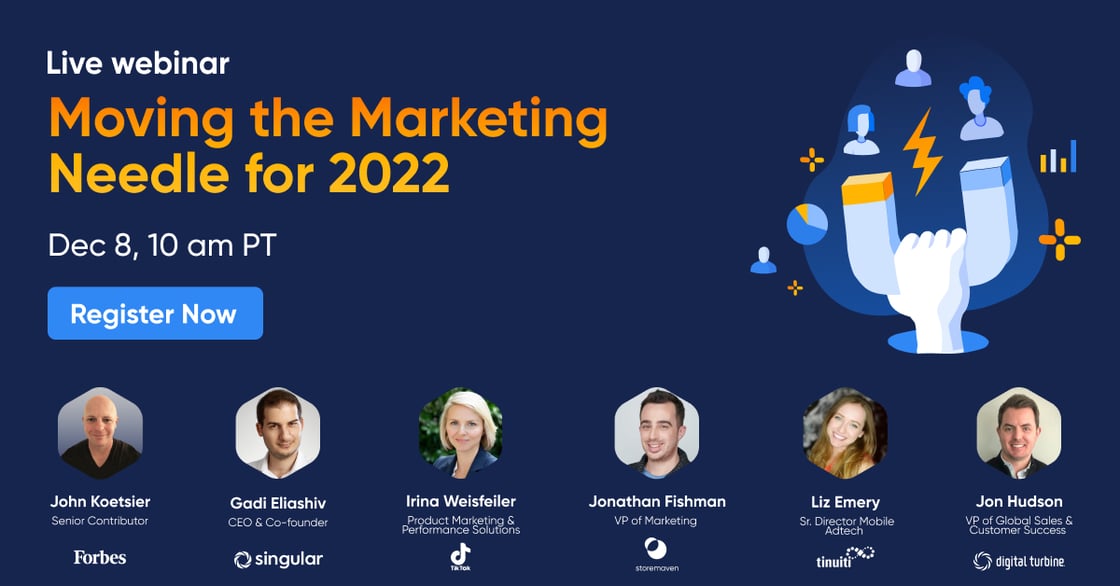 Updating in full speed, now with cohorted data
Apple is updating App Store Connect, quietly, with new data, filters and dimensions.

I'm waiting for the situation to unfold before we'll put together a guide on exactly what was added and how to use it to be a better mobile marketer.

Meanwhile, I can tell you that the most exciting data capability that was just added to App Store Connect was the ability to measure KPIs for cohorts. So for example, you can get a breakdown of the sales that all users who installed on November 1st have generated by source, down to web and app publisher level.

This is a huge step by Apple that will allow you, as marketers and UA folks, to get the nearest thing to true ROAS on a cohort level you can, by looking at cohorted sales by sub-publishers and analyzing their contribution and audience quality.

This will allow you to "aim" much better your UA budget at the source apps, networks, and campaigns that yield the most quality and the highest sales-generating users.

Moreover, a cohort view can help you answer questions such as, "What was the value of my last feature?" by measuring the sales that the cohort you acquired, via the features, generated over time.

If you want to unlock this data and start leveraging it to better understand your mobile marketing performance or your UA performance, the Storemaven team has already made it available through our data feed. So feel free to book a call with our experts to discuss how you can access that data for your team.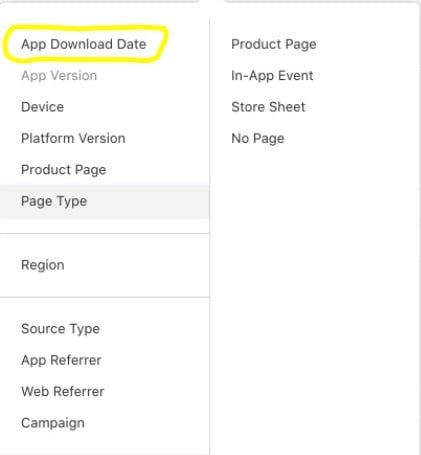 Netflix is challenging the distribution model
I've already told you that Netflix launched mobile games on the Google Play store that are accessible through the Netflix app. The way they did it, to align with Google Play guidelines, is that their app acts as a "catalogue" of games. When a user taps on one of the games, they are sent to an actual app submitted separately on the Google Play Store.

And now, Netflix is taking this to the App Store with the same model. Users will discover these games through Netflix, and will be sent to the App Store product page to download that game that was submitted separately.

This is a great move for Netflix which makes a ton of sense as they branch out to provide their audience (the whole planet, basically) with more stuff to do when bored or waiting for a new season. "Play Stranger Things game while you wait for the next season of Stranger Things!" Because Netflix will publish these apps and own them, they'll slowly have a "content-fortress" that keeps users in their ecosystem for longer.

Switching sides here, think about the lucrative funnel of users Netflix will create for these mobile games. These are people in the perfect state of mind to discover a new game ("Ugh, there's nothing to watch on Netflix, what shall I do with my life?") Netflix in itself is so big that their DAUs alone are around 90M in their app. The entire App Store gets about 500M users each week, which means Netflix is probably not very far from getting that type of traffic on a weekly basis.

In the Netflix games catalogue, they can promote games how they see fit, and there's way less competition, meaning a game appearing in Netflix for all users could get more traffic landing on their product page than any other source. Plus the quality of these users will probably be extremely high.

This is a great example of contextual marketing, creating a funnel around a core motivation (relieving boredom in this case) between Netflix and mobile games. It will probably result in Netflix's games ruling the top of the charts (if they fully promote them within their app).

As a mobile game marketer and UA person, it should get you thinking about which apps and in which unexpected places you can find a high-quality audience and create a similar funnel?
The games that'll grow the most in the upcoming user-level-dataless era will be those who'll be able to find and reach high-quality audiences wherever they are, instead of relying on hyper-targeting.

You can do it too. Just switch from "I don't know where these high-quality users are coming from, I trust Facebook to deliver more and more of them" to "I need to understand which apps and games can drive high-quality traffic to my product page and make that happen."

This brings me to a shameless plug which is — Storemaven's Funnel Analytics solution — which does just that. If you want to learn more, check it out here.