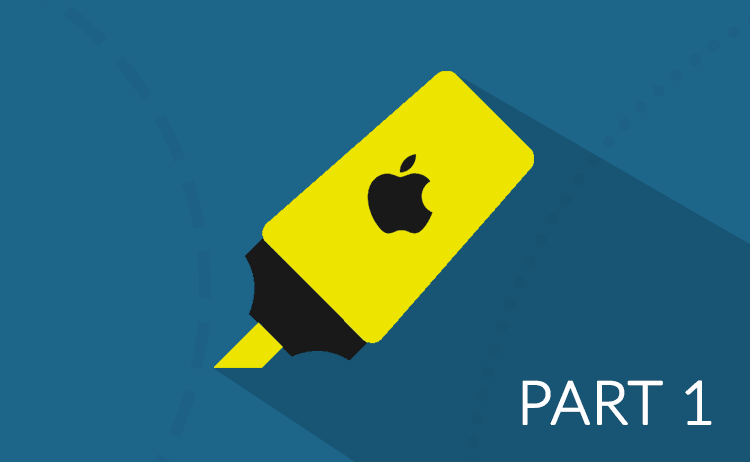 How To Get Featured in Apple's App Store (and How to Maximize Being Featured)
Why Apple Features Apps
There's a powerful dynamic between developers and Apple's App Store – the App Store business makes Apple billions of dollars annually, but would account to zero without developers building great products on top of the iOS platform. Not to mention, that an iPhone by itself is worth far less without applications to highlight the capabilities of its hardware and operating system.
These are just a few of the many reasons why Apple strives to maintain a healthy relationship with the developer ecosystem and to help developers grow their app business. The primary tool at their disposal is leveraging featuring options in the App Store – giving your app a quality stamp from their editorial team, and putting your product in front of millions of daily active App Store visitors.
How to Get Featured in the App Store
With approximately 14,000 new apps launched every week, the chances are slim for just any developer to get featured, but there are definitely efforts that can better your odds. Besides having a great product that users love (spend time on, pay to use, and rate 5 stars), it's important for developers to think about Apple's considerations as they decide to feature your app:
Does your app have a unique user experience?
If your app is truly original you have a better chance for success with users, and with Apple
Does your app take advantage of Apple's latest software and hardware releases?
For example, apps that support Apple Watch, 3D touch, beautifully rendered photos from the phone's camera, and that incorporate Swift programming are more likely to be featured than apps that do not leverage these hardware and software opportunities
Are you generating significant revenue for Apple?
If your business model relies solely on in-app ads, Apple does not take a cut from your revenue. While there are other considerations you must take into account while building your business model and strategy, remember that Apple benefits from an in-app purchases model, Apple Pay integration, a paid app model, or a subscription model (none of which are mutually exclusive)
Does my app page stand out from a visual perspective?
Having very unique marketing assets not only appeals to users, but also stands out as Apple's review team looks at your product
Do you have an existing relationship with Apple representatives?
Maintaining relationships and having a strong network is still key
If you're interested in reading more tips on how to get featured, read this great post by OneSky. Following these steps does not guarantee you'll get featured, but will put you in the right direction!
Needless to say, make sure to follow Apple's guidelines for creating a great app product page
Different types of featuring and how to maximize each
There are a couple of ways that Apple features apps: placing them in the featured tab, and giving select apps a unique app page that gives more of a branded feel.
In the first part of this post, we'll review the "featured" tab and what you should do to make the most of it.
The "Featured" Tab
The featuring that generates the largest volume of installs is when your icon is placed in the central and default "featured" tab in the App Store, placing your app center stage for hundreds of millions of Daily Active Visitors.
As you break down the different components of the "featured" page, take note of the following:
Apple divides this page into categories that are either relevant to current events or simply very popular categories, while some sections remain constant such as "New Apps We Love" and "New Games We Love"
The featured page and its different sections get refreshed on a weekly basis! For example, this August (2016) Apple was promoting apps that are relevant to the Olympics, Back to School and have Apple Pay baked into their product
There are unique featuring sections for different categories as well. These pages follow a similar structure.
The top of the featured page typically includes a rotating image gallery with feature banners, and below are new apps and games App Store editors love.

Taking advantage of being featured in the featured tab
Naturally, being in front of such a staggering audience will get people to discover your app and will get you a spike in traffic. But to maximize the potential of being featured, it's key to take the following actions:
Optimize your Icon to increase visitors to your app store page- In order to increase CTR to your app store page, you must design an Icon that stands out among your competitors. The

StoreMaven

platform enables you to test your Icon in the context of your competitors. In a "list test" (as we call it), we create a landing page of "Top 10" apps in your industry, listing you and competitors you would like to test yourself against. We show

app title

and Icon. By sending traffic to this page, you have the chance to optimize your Icon in the context of your competitors, keeping you one step ahead.
Optimize your app store page to increase

install

s- A good ASO strategy always strives to optimize the ROI target in both variables of the equation: CTR and CVR. While a list test may help you increase visitors to your app store, the bottom line is whether or not your store page did a good job convincing the user to download the app. Each and every element of your app store has a role in telling the story of your app. By testing different store variations in the

StoreMaven

platform, you can boost your app store conversions by an average of 20%-45%! Here are our 10 killer app store tips to knock your conversion out the park!

Summing Up
Appearing in Apple's featured tab is a great opportunity to increase brand awareness, but brand awareness on its own can only get you so far. To maximize this opportunity, we recommend testing your Icon to optimize CTR and testing your app store to increase conversion.
Make sure to read our next post, where we'll elaborate on the featured app page (as in the store shown below), its special design and how to utilize it to massively drive up conversions.