A quick glance into the shopping category tells us most apps still ignore one of the basic rules of app store optimization: What is successful in one platform will not necessarily work in the other. Here are 3 tips shopping apps must follow
….
Here's a fact that won't blow your ASO mind:

Using Google Play creatives in the Apple App Store can lead to a 20-30% decrease in installs.
But apparently, this fact might be mind-blowing to a lot of shopping apps as they often incorporate a one-size-fits-all approach by using the same creatives in both stores. This drastically hurts their conversion rate and also diminishes the potential effect of other app store optimization efforts.
The data-driven way to avoid this CVR hit is to be specific; test and customize for both platforms and implement ASO strategies based on those results. If you're confused, don't worry, we've got a comprehensive guide on how to choose the right ASO strategy for each platform.

But for now, we'll just stick to why.
ASO Tip #1: Respect the Differences
Every good idea starts with anecdotal evidence. Look at the world around you and what do you see? Humans. Lots of them. Weird ones, fun ones, smart ones, dumb ones. All types. And different groups of people behave differently. If you run a quick survey throughout your company chances are they'll be similar to ours and many others. Most of the iPhone users are sitting in your business departments and most of your Android users will be sitting in your technical R&D departments.

Now, this obviously isn't scientific research but it does make you think. Why is it so easy to generalize about which phones appeal to which groups of people? Because Apple and Android users have basic general differences. They are not the same audience.

These people (smartphone users) are your users, your audience, and they behave differently in the app stores because they are different. In sum, different platforms attract different personas.
Apple users are more homogenous: one company with the same core product line. Their devotees stay loyal, upgrading their iPhone version regularly for years. The majority of Apple users can be found in tier-one markets, they spend more per app and are more engaged with the app content within the stores.
Android users, still the vast majority (~71% vs ~29% for iOS according to NetMarketShare, although iOS still leads in the U.S.), come at most times from developing countries, from areas of lower-income, lacking the same infrastructure and experiencing connectivity issues far more than their iOS counterparts.

In all other marketing campaigns, you aim your message based on the specific persona you're trying to target. The app stores are no different.
Using the same creatives for both personas on both platforms is more than just a faux-pas, it's a crucial business mistake.


ASO Tip #2: Consider the Video
Google is currently going through a product page revamp and they are finally allowing videos to autoplay for the first time. This might not seem like a big deal but this change will have a tremendous effect on your ASO strategy.
Just recently, when a store listing includes a video, a play button was sitting over the feature graphic (the thumbnail image for a video is referred to as the poster frame) and visitors who click to watch were viewing a YouTube link within GP.

Google has been speaking about changing this for a while and finally seems to be acting on this promise. Instead of being exposed to the poster frame, visitors who have autoplay turned on will now be exposed to the video content itself.
Due to the rollout of autoplay still being shrouded in mystery, as well as potential connectivity issues, personal autoplay settings, and various unknowns around video looping or static final frame, the poster frame you choose to show is still a vital asset to test and optimize.

Below you can see a good example how product pages of two established shopping brands, Walmart and Etsy, used a poster frame image that doesn't resonate with the non-autoplay feature on GP; either hiding the logo, the text, or a key design element. As mentioned, this issue is probably solved now.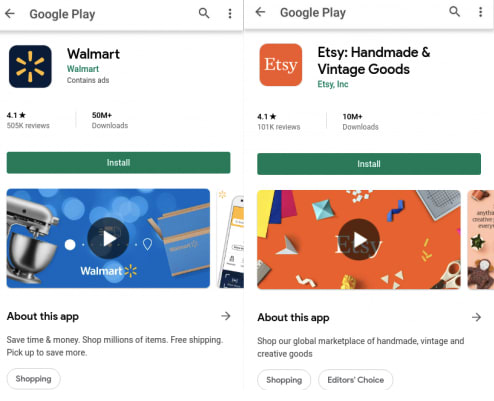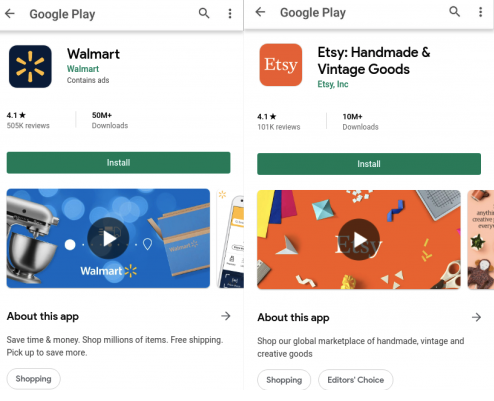 Even so, remember to always treat your poster frame as a standalone screenshot. The poster frame is an important creative consideration as you begin to build your video since it is taken directly from your video assets. You should make sure it aesthetically and effectively convey your app's strongest USP.

Another thing to consider when focusing on optimizing the video can be explained by this graph below: This data shows how view rate decreases by about 50% within the first 10 seconds of watching a video on GP. The rate of decrease is not so different for iOS. The take here? Put every great idea you have out there right at the start, and don't hold nothing back, as only fractions of your users will ever see how your video ends.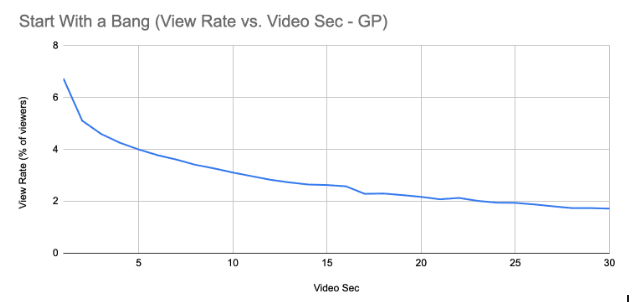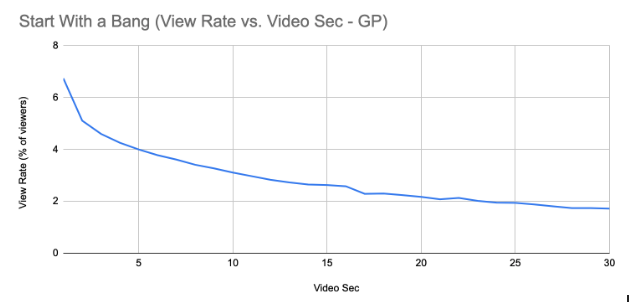 Remember, unlike Apple, Google doesn't restrict video content to only portray actual features of the app or game. This Wild West approach means you can go nuts here as even a general promo video will work. This pivotal difference should inspire developers to be creative and make the most of the opportunities the platform differences allow.

Different video requirements and restrictions combined with different audiences means developers should take advantage of this opportunity and create separate videos for each of the two platforms.

ASO Tip #3: Look Over the Horizontal
Yes, landscape is the horizontal or wide orientation and portrait is the vertical or tall one. The two layout orientations are – tell me if you already heard it – completely distinct.

A trend that we see in the shopping industry is that developers take their vertical screenshots from iOS and paste them into GP. Due to the difference in the product page formats, the sizing of text on GP becomes very small, oftentimes too small for users to read at a glance. But if you've made this mistake, you're not the only one. Look at these examples from Groupon and Poshmark that reassure you that you're not alone.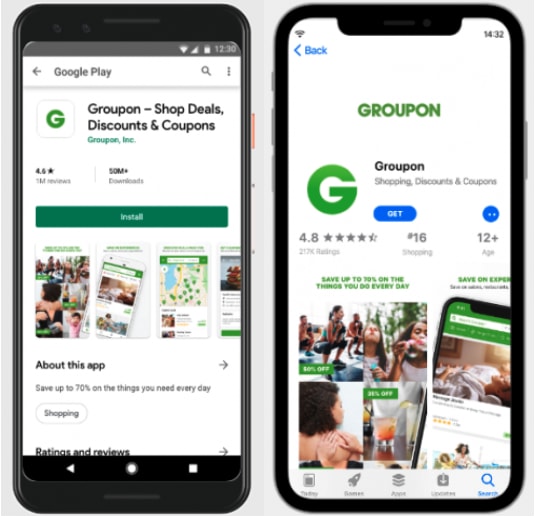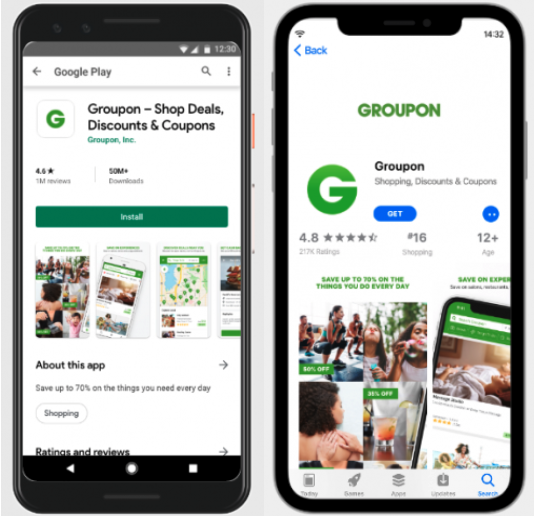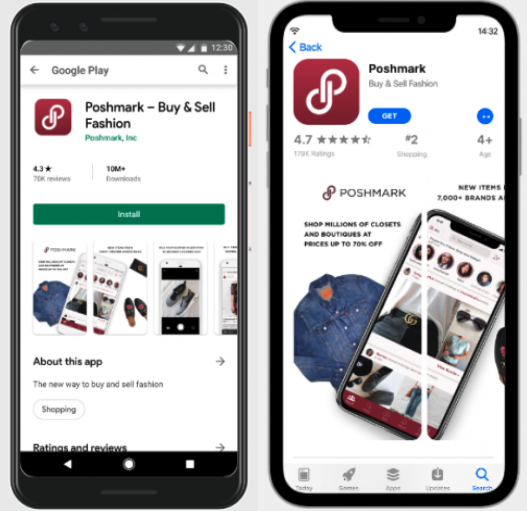 Using the same creatives here in these examples makes the GP product page less powerfull than the iOS one, as key messages don't reach the users.

Besides the layout, be aware that the image resolutions are different as well. Screenshots, icons, videos, poster frames and other page artworks, all have different requirements. Bookmark this guide to help you with all the numbers and pixels you need to remember (and then you won't).
Five things you must know about Custom Product Pages

In conclusion:
The three tips mentioned here are just a few examples of why unique ASO strategies are vital for each platform. Analyze and optimize each according to your users' behaviors and preferences and avoid a one-size-fits-all approach to app store marketing. Otherwise, you're just wasting time and money and moving away from your main goals.
For more ASO tips, start here or request a demo with a Storemaven expert.