What is App Store Optimization?
App store optimization, or ASO for short, is the science of improving the performance of an app store listing. It is all about applying the scientific method to mobile key performance indicators (KPIs) that are related to the app stores.
The three major aspects of ASO:
Conversion rate optimization
Keyword optimization / improving discoverability
Measurement
These ASO KPIs usually relate to:
Number and quality of installs
Number and quality of app store impressions
App store conversion rates
These three KPIs lie at the heart of ASO, and each has developed into its own specialty and practice.
Why is app store optimization important?
Understanding the importance of app store optimization is beneficial for creating a successful ASO campaign and understanding the ASO process. In order to learn app optimization, let's first delve into three reasons why ASO is important.
1. Getting ASO right gives companies a compatative advantage
There are about 2 million apps In the Apple App Store and even more on Google Play, and new apps are being added daily. At the same time, the number of large mobile app development companies, both in games and in non-games, is getting smaller. The way this economy is evolving is similar to many other economies: a small core holds most of the value.
That said, paid UA for an app isn't a magic bullet for success. Without understanding users and their motivations to install an app or a game (which is what ASO is truly about), these UA dollars will go down the drain as developers wouldn't know what exactly made their app successful.
On the other hand, companies that get UA right for their app are the only ones that have a real competitive edge for app optimization in the app stores: many developers call this a distribution advantage.
2. The app stores are becoming the only place to obtain a distribution advantage
The app stores are packed with great games and apps that have never gotten more than a few thousand installs. The problem with competing in the app stores today is two-fold:
It's not about the app
With the production value of apps and games on a constant rise, it's becoming harder to differentiate your product solely on the usability front—by improving the UX/UI. There will always be a competitor that does a good enough job in creating a viable alternative.
It's not about UA
If the product itself isn't unique enough to succeed on its own merits, many companies turn to UA expertise for a differentiating factor. If they can't create a superior product, they'll focus on better reaching their audience through paid advertising. This has created a generation of UA experts building sophisticated models and audience segments in a race to acquire better quality users for a lower cost than their competitors. The problem is that Google and Facebook, the duopoly that controls the digital advertising market, is quickly democratizing user acquisition. They have developed the most sophisticated UA algorithms for optimizing campaigns that everyone can access, including your competition. UA, as a differentiating factor, is harder than it's ever been.
If it's not the product or paid UA, how do you create a distribution advantage?
A distribution advantage is a clear and defensible attribute (or a set of attributes) that allows one company to distribute their app to the market faster, broader, and in a more cost-effective way.
This means that when you put App X versus App Y, and the former has a distribution advantage and they compete for the same audience, App X will be able to get their app to more users faster than App Y. They'll reach a significant user base more quickly and ultimately control their market. It's a simple model that relies on being the first solution presented to interested users, and then adopted.
This is what companies tried to do by creating superior products and investing in a superior in-house UA team. But now, that is not enough: the playing field has leveled and so the only way to get that advantage is through successful ASO and app store marketing practices.
3. At the end of the day, it means understanding your audience more thoroughly than your competitors.
You need to understand what actually drives your users to install your app and leverage that knowledge to create better converting app store assets for superior conversion rates.
Benefits of improving your app conversion rate:
A larger percentage of your audience will install your app after landing on your page, either from organic search or browsing the app stores.
A larger return on ad spend (ROAS) when acquiring users through paid ads.
If your conversion rate is 20% and your competitor is 10%, you'll be able to get twice the number of users for every dollar you spend on ads. You'll also be able to afford to outbid your competitors.
This superior performance will result in faster growth which will in turn result in higher rankings on the top or category charts and better search rankings. This will amplify your advantage over the competition, leading you to quickly cater to a much larger user base, even if your resources are similar (same UA budget, similar quality products).
Takeaway? The most successful mobile developers today are those who best understand their audience.
But wait, there's a lot to uncover here. Let's go back for a sec – where did ASO start?
History of app store optimization (ASO)
1. How ASO started
App Store Optimization all started when Apple released the IOS App Store with around 500 initial applications on 2008 July 10th to be exact. The number of apps grew exponentially and today there are just shy of 2 million available applications.
Google Play (then called Android Market) was introduced on October 22nd 2008, trailing Apple by only a few months. Today Google Play hosts more than 2.5 million apps.
Both Apple and Google app marketplaces offered a new business model and attracted millions of mobile app developers. Similar to the start of search engines, the competition was fierce. In order to get users to install your app, you first had to get them to find your app amongst the myriad of options, then hope they'll actually choose to download your app.

Thus, the practice of ASO was born in efforts to increase app discoverability and app conversions.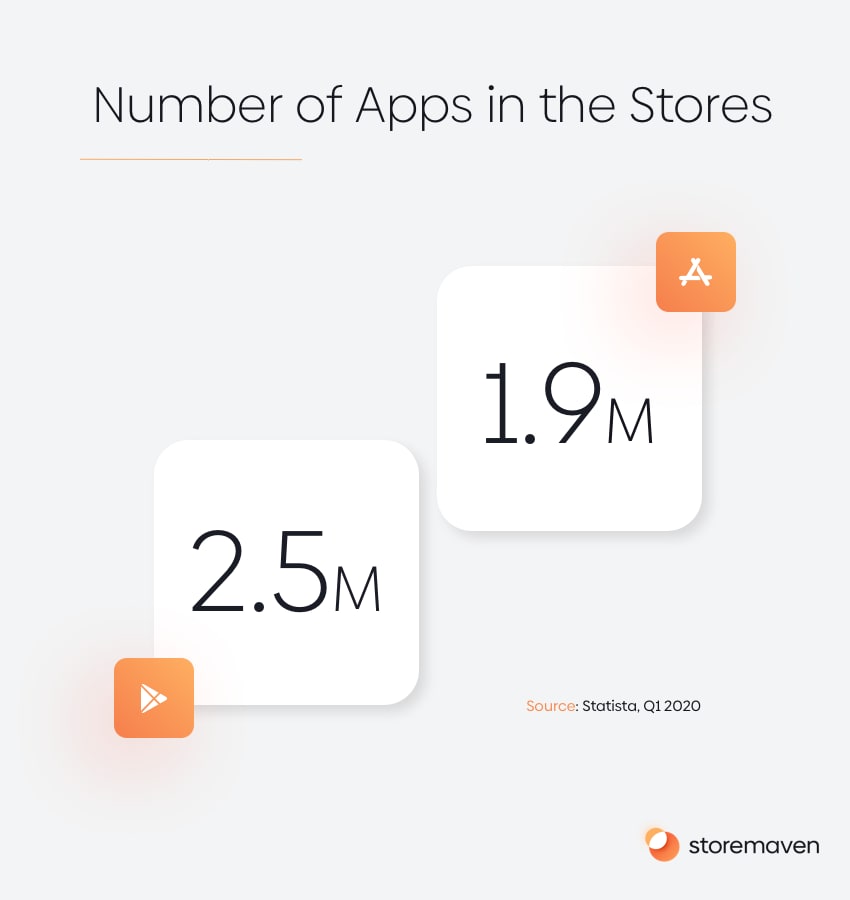 2. The evolution of ASO strategies
Thomas Petit, mobile growth and Apple search ads expert, summarized the evolution of ASO in his keynote speech during the 2019 ASO conference in Berlin, breaking it down into two stages ASO 1.0 & ASO 2.0. Each stage is characterized by its own ASO strategy. It can be said that we are now entering into the ASO 3. 0 era with the launch of iOS 15 and the new ASO strategies that will ensue, although only time will tell.
ASO 1.0 – In 2009, shortly after the stores started to grow, a few early adopters started to spread the term ASO. This initial era of ASO was characterized mostly by focusing on keywords in the most simplistic way (taking inspiration from Search Engine Optimization (SEO) at the time).
The entire app store optimization strategy then could be summarized in two steps:
Add keywords to your app title
Fill in your app keyword field
The competition in the app store was still slim and only a few app developers dabbled in any ASO practice, so even making the smallest change in efforts to optimize your app would positively impact your app store ranking.
Beyond optimizing an app bases on keywords, developers and publishers understood that featuring their app was also a key element in better performance and visibility. According to Petit, back in the early 2010s, a week-long featuring could have resulted in around 3 million installs. This led many app developers to flood Apple's app store team with feature requests, giving the Apple App Store a mythical King-Maker aura of omnipotence that further attracted developers to appeal to the team directly.
In addition, given the still-underdeveloped app store algorithms, 'black hat ASO' was on the rise with many companies acquiring cheap incentivized traffic (for example, users that got paid to install a game) in order to have their app climb the ranks, increasing visibility, and therefore increasing organic uplift.
ASO 2.0 – The fast leap: just a few years into the future, ASO started to pick up as an established practice with every serious app developer worth their salt deciding to consciously and purposefully tackle it in one way or another. With the evolution came a more developed ASO strategy.
The major developments of ASO 2.0 have been:
Pay to play—with Google Play and the App Store offering paid placements, you can directly acquire users natively in the store.
A more holistic view of ASO, mostly correlated to the ways that users find and install apps:
Search – no longer does an ASO strategy involve sitting in your office and coming up with keywords out of thin air or guesstimates based on various "app store intelligence" tools. Success in search today involves both an organic keyword strategy amplified by a paid search.

Browse – improving browse performance involves a unique partnership between the paid user acquisition (UA) strategy and metadata improvements, as well as strategically achieving featuring in the right placements.

Referral – analyzing and learning different user audience segments coming in through various UA channels and figuring out what is the most effective messaging and creative strategy to use with each in order to maximize quality users in the app.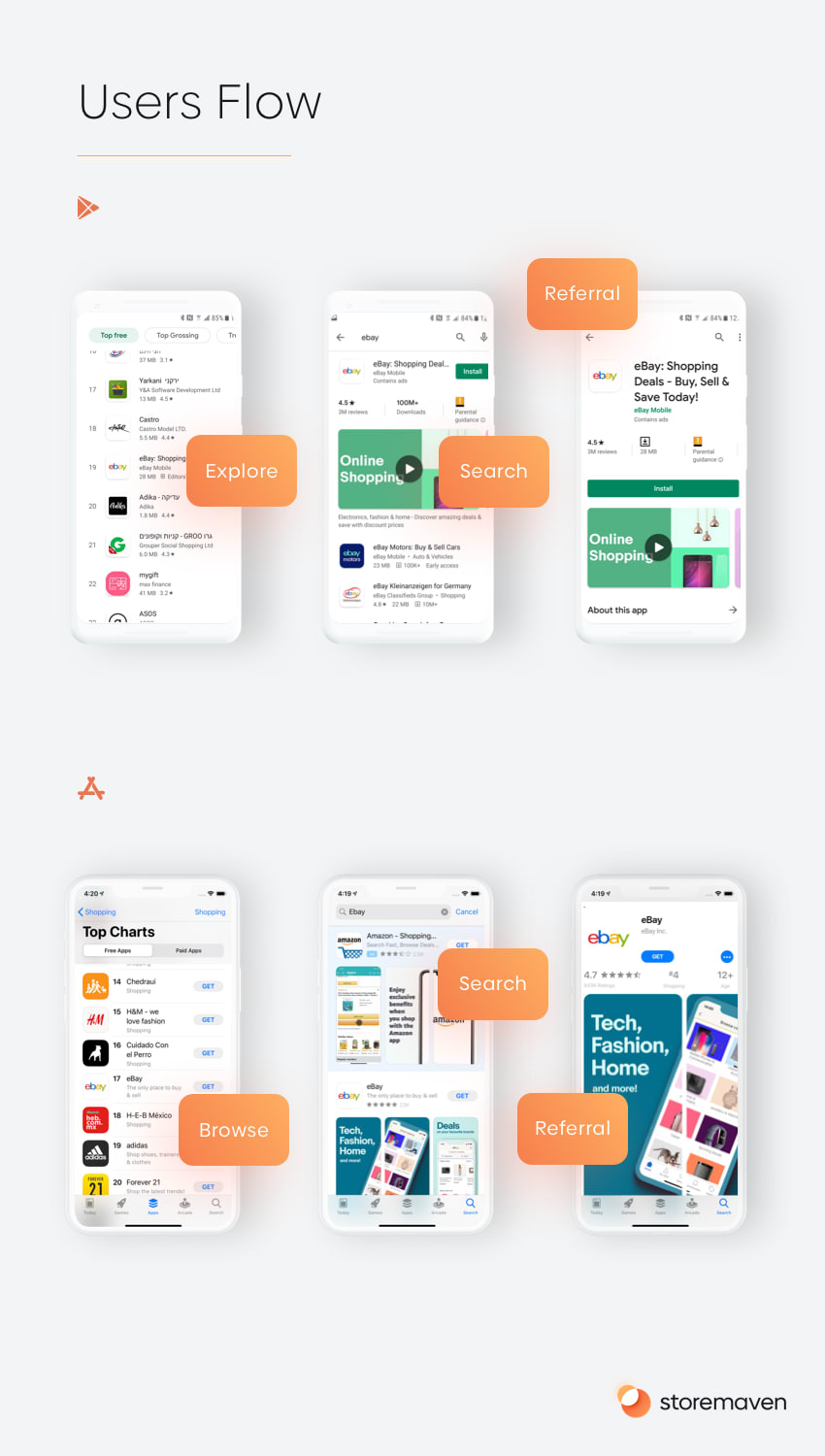 The invisible thread that goes through all three pillars is app conversion rate optimization (CRO), the practice of improving conversion rates for an app across all the above acquisition channels. As the competitive landscape becomes more crowded and keywords become a much less effective way to garner a competitive edge, it is those companies and teams that can successfully optimize their app conversion rates that will climb the ranks, acquire users for less than the competition, and grow faster.
ASO 3.0 – Are we in a new era of ASO with the release of iOS 15? Apple just may have revolutionized ASO with the introduction of Custom Product Pages. Now companies have the ability to create separate product pages in the app store that are tailored to individual audiences. Only time will tell if this is a new era in ASO, but we have a feeling it might be. As we evolve into the 3.0 era, we'll keep you updated on the newest strategies for ASO in 2022 and beyond.
Today, ASO is one of the most strategic elements in any mobile growth team.
3. ASO vs SEO
Why App Store Optimization is Nothing Like Search Engine Optimization
The initial phase in ASO closely mirrored SEO techniques, but the ASO practice has evolved since then.
The Similarities:
Success in SEO for the Google search engine involves creating great content. Similarly, to be successful with ASO, you have to have a great app as your base.
The Differences:
CRO (and the click-through-rate) in Google is reliant on text elements, whereas for the App Store and Google Play, these are only one part of the potential impactful elements, and they are significantly less impactful when compared to the visual ones (screenshots, videos, etc.).

Google, and the web itself, is a much more open ecosystem than the app stores, as there are many external factors that affect success in SEO (backlinks, page load speed, the value provided on a page, etc.). The app stores themselves are a much more isolated system making it much harder to be successful, as there are fewer factors in your control and the competitive landscape is flatter.
For example, anyone can add the keywords 'golf' to their title and metadata. There could be literally 100,000 developers doing that. That's why success in ASO will always involve eliciting better user engagement on your page and better conversion rates.
In summary, SEO is based primarily on text with various external factors that impact success. In ASO, success involves improving conversion rates and by better-conveying messages through creative assets, a skill set that not all SEO people possess.

You can read more about the ASO Vs SEO: Where Do We Stand in the Battle of Optimization?
---
How to do ASO
Now we are going to delve into how ASO works, by looking at the two traditional pillars: discoverability optimization and conversion rate optimization. So you know how to do ASO for your app, it is helpful to understand these two pillars.
1. App discoverability and keyword optimization
The practice of app discoverability optimization has several factors that account for all the ways of increasing organic impressions for your app store page: namely, search impressions and browse impressions.
On average, of all users who install apps, 65-70% are coming through app store search and 15-20% are coming through browsing the app store. Together, they make up the vast majority of installs in the stores so the practice of increasing your search and browse impressions is a crucial part of your growth. Remember that an app that isn't ranked in any chart, will get no browse installs at all, and for other apps, who have a lot of paid traffic, paid installs can reach up to 50% of all installs. So it's important to understand these numbers solely as a rule of thumb.
Search funnel optimization
Definition: The practice of researching, selecting, and implementing keywords in your app's metadata for the purpose of improving the number and quality of keywords your app ranks for.
Search traffic is considered to be more targeted and of higher quality than browse, as it represents two distinct personas:
Branded Search – users that are searching for your brand directly
Intent Search – users that are searching for a solution to a problem (even if the problem is boredom and the solution is a game)
Learn more about How to Improve Your App's Discoverability with our Keyword Optimization Guide
Search ads
In addition to optimizing organic search, developers can amplify their search traffic with paid ads targeted to specific keywords, ensuring they rank #1 for those keyword searches.
You can read more about Search Ads.
Browse optimization
Category ranking
This involves improving rankings within specific category charts. One of the top factors affecting all rankings is the daily first time install volume of an app, which could be increased by increasing UA budgets
Top charts rankings
Similar to the category charts, the top charts show the overall most popular apps or games in the store. As with category rankings, daily install volume is a large contributing factor.
Featuring
Other than the charts themselves, many browse users also find apps and games through various featuring placements in different parts of the store. Find out more about how to get your app featured here.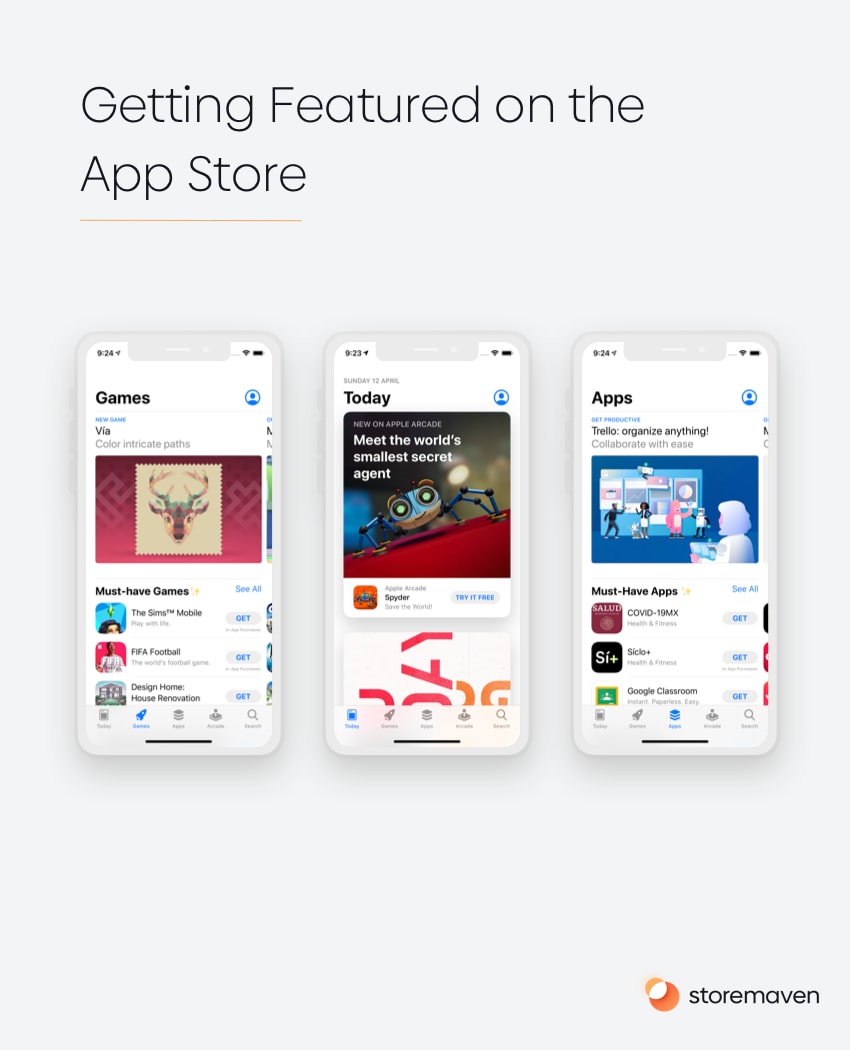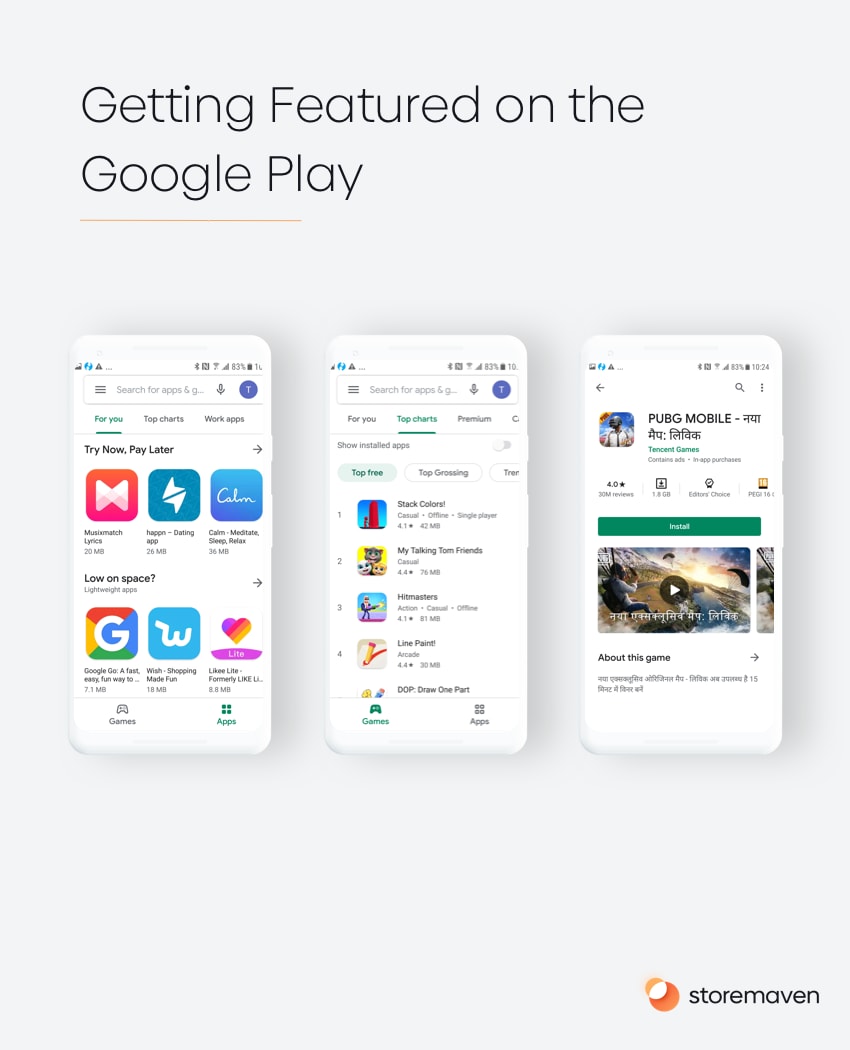 Not all featuring placements were created equal. Some of them will lead to significantly more app impressions and installs than others. It all boils down to context.
If you get your app featured on the 'Today' tab in the App Store, all users coming into the store (in that particular Geo) are exposed to your app listing. But, naturally, chances are slim that a random user who automatically opens the App Store ad and lands on the 'Today' tab would be interested in your app. Getting featured on the Games tab or the Apps tab leads to lower impressions but a higher chance these impressions will convert into app installs.
Getting featured on the app store usually results in a decrease in conversion rates. This is because conversion rates are calculated as installs divided by impressions. So, if impressions increase but installs remain the same, you'll see a decrease in your conversion rate.
2. App store conversion rate optimization (App Store CRO)
Increasing app impressions (eyes on the page) is only half the job. In the app stores, users make decisions extremely fast: users spend only 3-6 seconds looking at your app page before deciding whether to install or to move on. And moving on, in most cases, means moving on to your competitor's app.
This makes the practice of CRO in the app stores one of the most strategic growth practices for any mobile developer.
Why conversion rate optimization (CRO) is more impactful than keyword optimization
Simply put, there's nothing that can stop all developers in the world from padding their metadata with the words they wish to rank for. For example, there will be tens to hundreds of thousands of apps trying to rank for the word "taxi." Simply including that word in the app metadata won't actually help you rank for that keyword with such stiff competition.
That said (and more on this to follow), one of the most impactful factors that affect ranking is user behavior. The higher the number of users who search for a specific query, tap on an app store listing, and then install that app, the bigger the likelihood of ranking higher for that particular query. First-time installers are key to this.

Apple has publicly stated that there are more than 42 factors affecting search rankings and results, but user behavior is notably the single most important.
Changing the rules of the game: iOS 15 and ASO
It might or might not have come with Apple's insight, but the most recent update, iOS 15, is changing the ASO game. Prior to iOS 15, there was one App Store product page per company. With the release of iOS 15, it will now be possible to create specific, targeted product pages for different target audiences. That means companies that do not put the effort into creating personalized product pages for their paid traffic will be left behind their competitors.
For a complete guide to navigating Apple's new changes, visit our iOS 15 Preparation Hub.
App Store vs. Google Play: Similarities and differences
1. The importance of downstream metrics for Play Store ASO
In the past few years, Google Play has been playing catch up (albeit successfully) to Apple when it comes to the app stores, from auto-playing videos, emphasizing the screenshot gallery, to a cleaner design of the app store page. (However, with the new iOS 15 changes, we can expect Google to be making some changes to the Play Store.)
Google (with a clearly superior search engine expertise) also has a much more developed search function within their store. In order to improve your app's performance in Google Play, you need to consider not only the metadata and user behavior (conversion rate on your page) but your downstream metrics.
App quality, measured by crashes and app not responding (ANR) events, significantly impacts the discoverability of your app through search and on the charts. Retention also plays an important role.
2. The importance of app personalization for ASO
Google Play also has a more sophisticated personalization engine than Apple. This means that you as a developer have less control over your browse impressions. Also, the factors that determine whether you'll be promoted through personalization are varied and unknown. From Google's comments on the topic, we know that by creating a good product (with good downstream metrics), maintaining great reviews and ratings, along with a stellar app store performance (conversion rates), you'll also improve your exposure through personalization.
The Apple App Store is also attempting to add personalization into the way users discover apps, but it is several steps behind Google on that front for now. Currently, the App Store does feature several sections that are personalized (such as the 'apps you might like' section), but they're much less prominent. We can imagine that the new iOS 15 release is fulfilling this attempt to personalize the user experience. With the option to create 35 different custom product pages for paid traffic, users will now be able to discover more tailored apps for their personalities.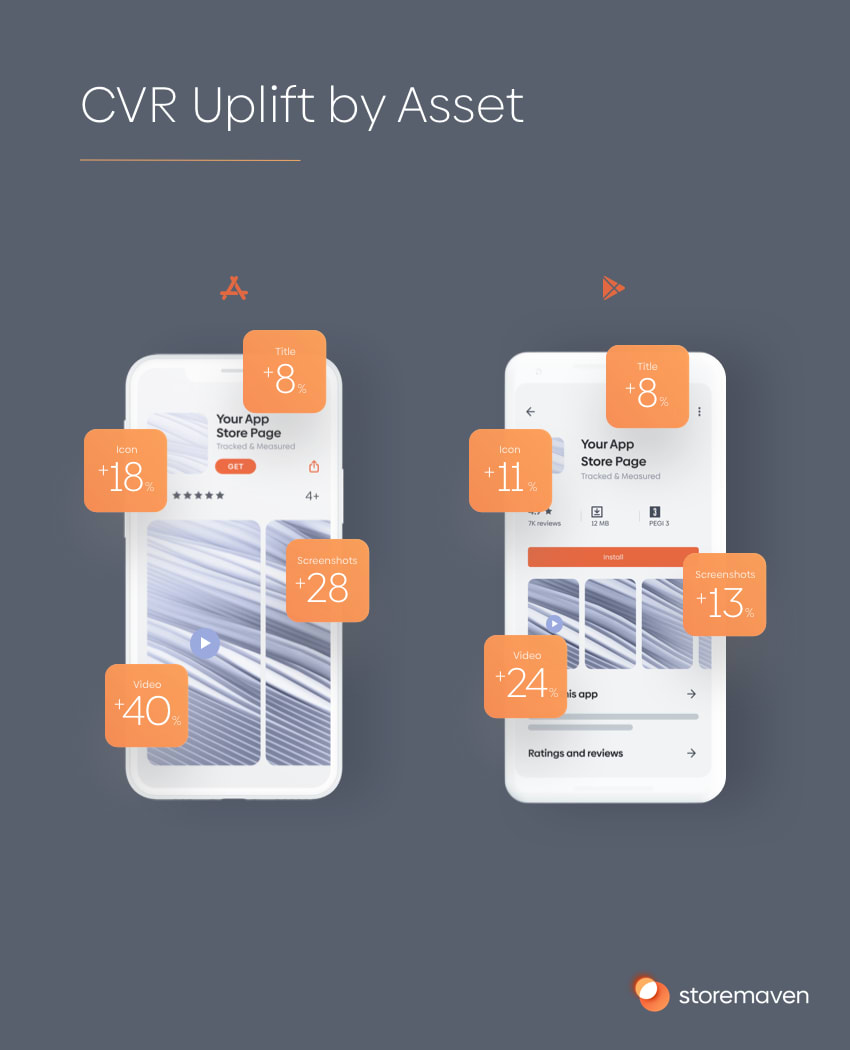 3. Android users are different than iOS users
It's no secret, Android users are inherently different from iOS users. You can see this reflected in the fact that the IOS App Store accounts for the majority of mobile app revenue, while the vast majority of app installs happen on Google Play. Therefore, app store optimization for Android is significantly different than that for Apple Store ASO.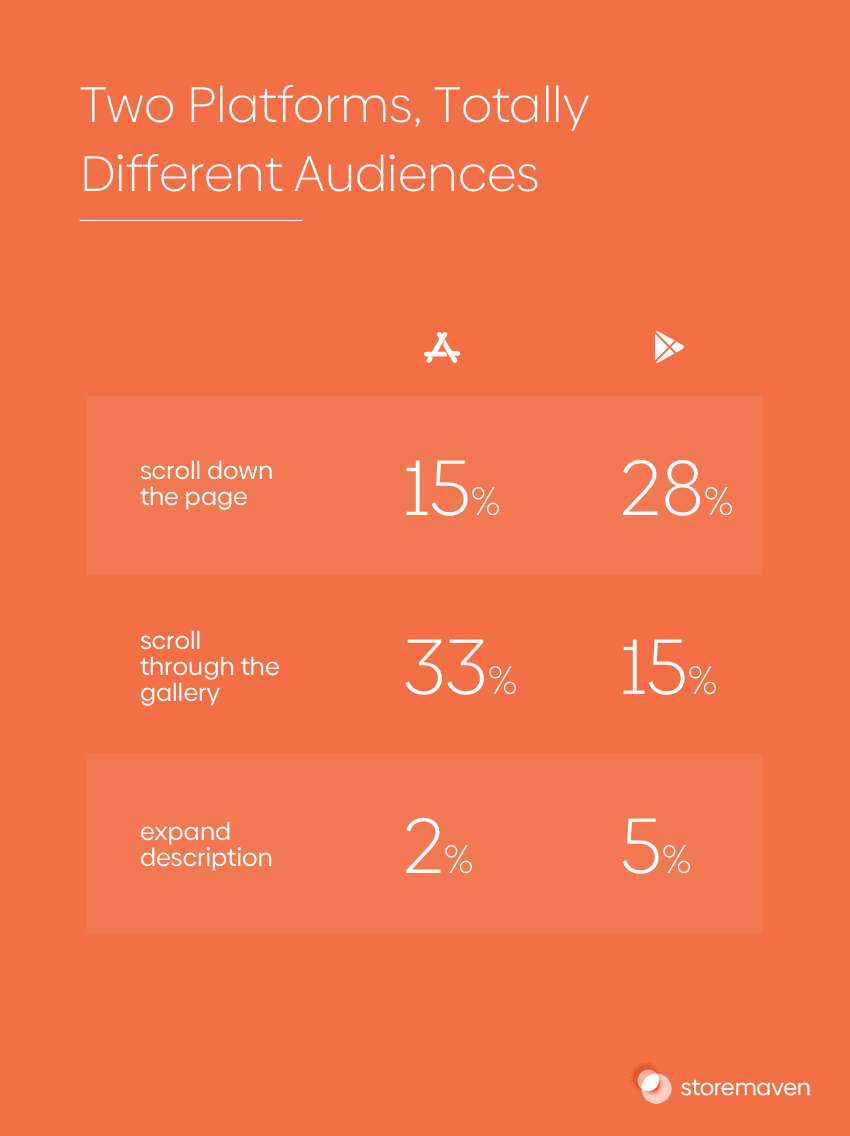 You can read more extensively about the distinction and our analysis of the differences between the App Store and Google Play in regards to ASO here.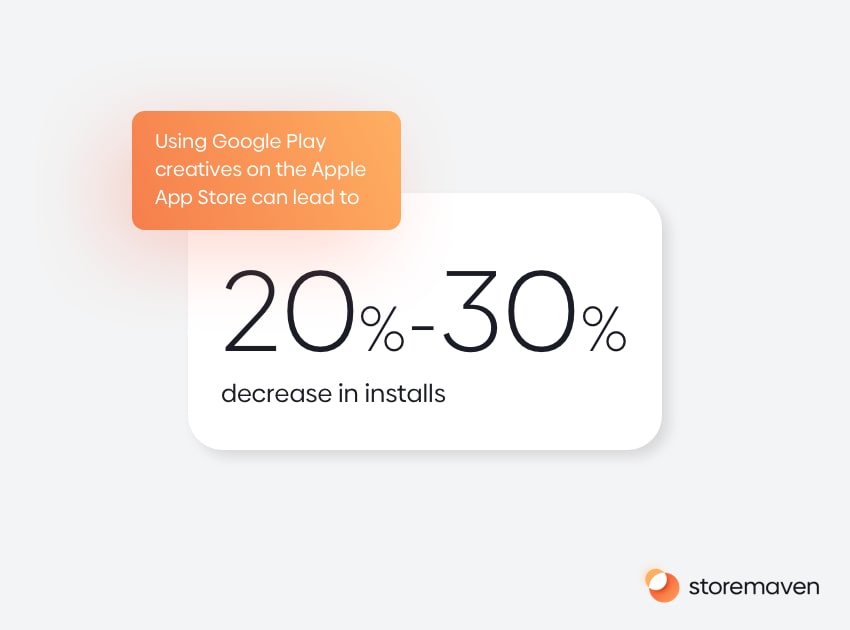 4. The importance of each element changes according to layouts
Even though the stores have gotten more similar in recent years, there are enough differences in the layout to dictate different user journeys and behaviors on each platform.

This means that users landing on a Google Play page and users landing on an App Store page will be exposed to different elements (in different configurations) before they make any decision.
User journeys are different – In order to optimize for conversion, you need to optimize the effectiveness of your messages and creatives for the order that users are exposed to them in their journey.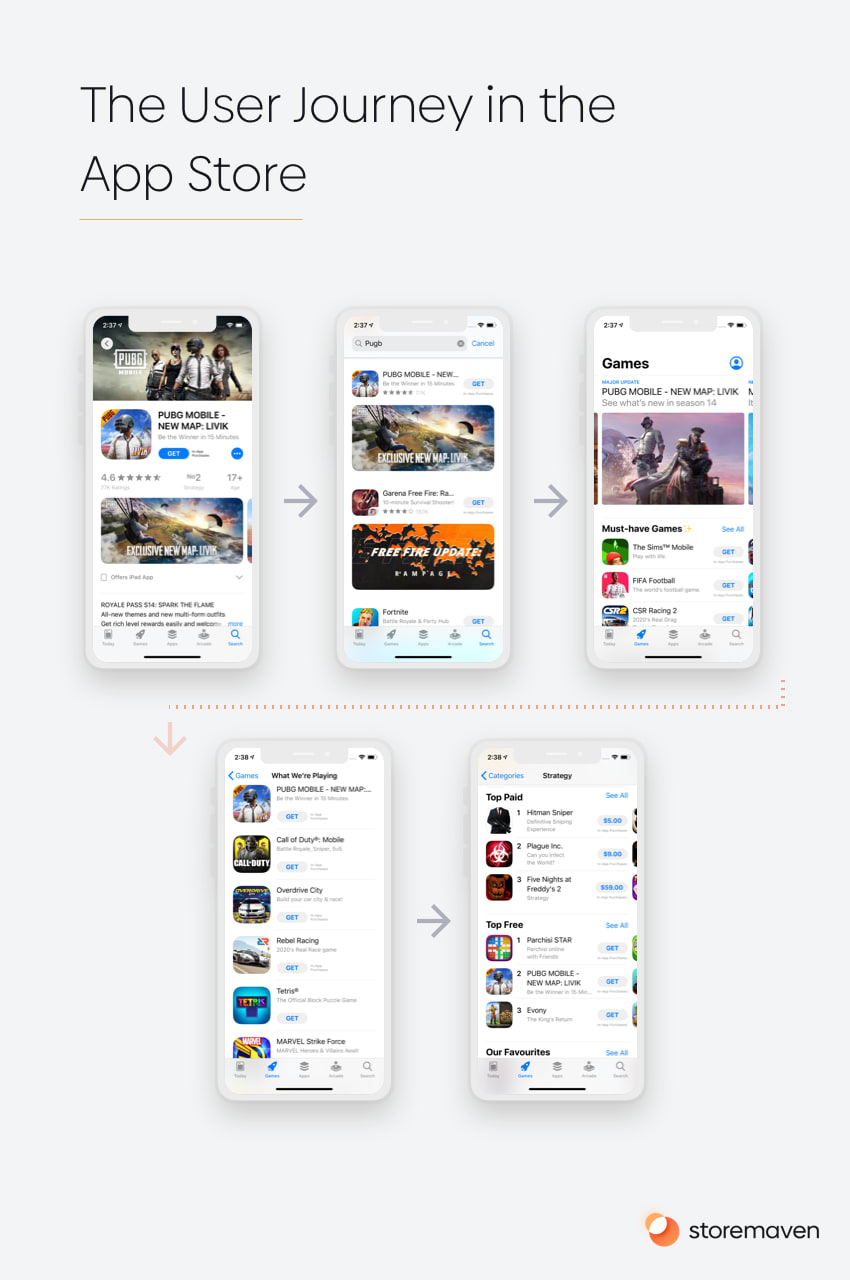 Best Practices: Conversion rate optimization in the App Stores
This section will now look at some ASO best practices for CRO in both app stores, so you can increase your app store optimization for both Apple and Google Play. Our 11 tips will help with advanced app store optimization.
Understand app creative assets in the app stores
Optimize text elements
Utilize app reviews and ratings
Choose a relevant app category
Use app store locations and culturalization
Competitive landscape
Update your app creatives frequently
Aim for smaller app sizes
Account for seasonality
Leverage audience testing
Understand your app's user behavior
Now we'll review these 11 app store optimization best practices one-by-one.
1. Understand app creative assets in the app stores
On the web, businesses can control how they package their messaging on their own websites. They can build and craft webpages in order to create the most opportune and effective setting to convert potential clients. Compared to the freedom of hosting your own webpage, the app stores pose many restrictions. They provide extremely limited flexibility to developers and marketers so an understanding of the intricacies and nuances of the app stores' layouts and options are vital to app optimization.
Which creative elements appear on an Apple App Store page?
There are four main journeys that users can take to find an app in the store. In each flow, creative assets play an important role. All creative assets in the search results page, the top charts page, and in the featuring page stem from the creatives you upload to your app store page.
List of App Store page elements that are in the developers' control:
Icon
Title
Subtitle
App preview video
Screenshots
Description
In-app purchases
Which creative elements appear on a Google Play page?
Just like in the App Store, the Google Play store also has four main journeys users follow to find and install new apps.
List of Google Play page elements in the developers' control:
Icon
Title
Promo video
Screenshots
Short description
Long description
In-app purchases
What is the first impression and why is it the most important section of your App Store and Google Play page?
Hundreds of millions of users sampled on the app stores showed us this important data: less than 30% of users ever go past the first impression frame of your app store page. The first impression frame is the area 'above the fold': in other words, what users see when they land on an app store page before they scroll either vertically or horizontally.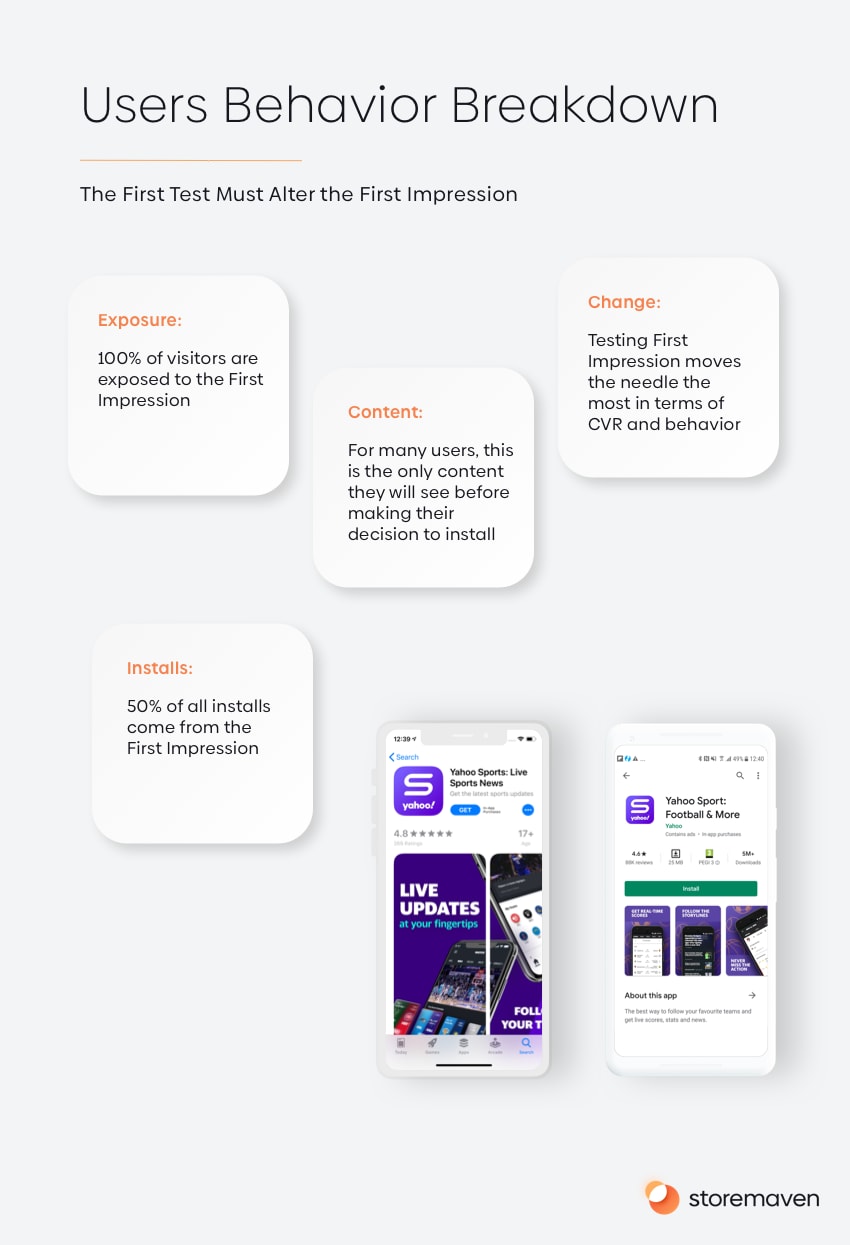 As this area impacts 100% of users (and for ~65% of them, it's the only thing they'll be exposed to), focusing on the elements that appear here will always be the first priority of any creative ASO strategy.
a. How important is an app icon for ASO?
According to data that we collected and analyzed from millions of users sampled on StoreMaven's app store a/b tests, we learned that the icon is one of the most important elements in the store (although not with the highest potential for conversion rate improvements).
An icon can improve conversion rates by 12%-18%.
An icon is the most prominent creative asset for your app
The icon is the one asset that appears in all app store users' journeys: in the app store page itself, the search results page, top charts, and featuring placements.
Although the icon isn't the most prominent asset (from a visual hierarchy standpoint) on an app store page (where it competes with the screenshot gallery and potentially a video) in the other flows (search and browse) it has much bigger importance.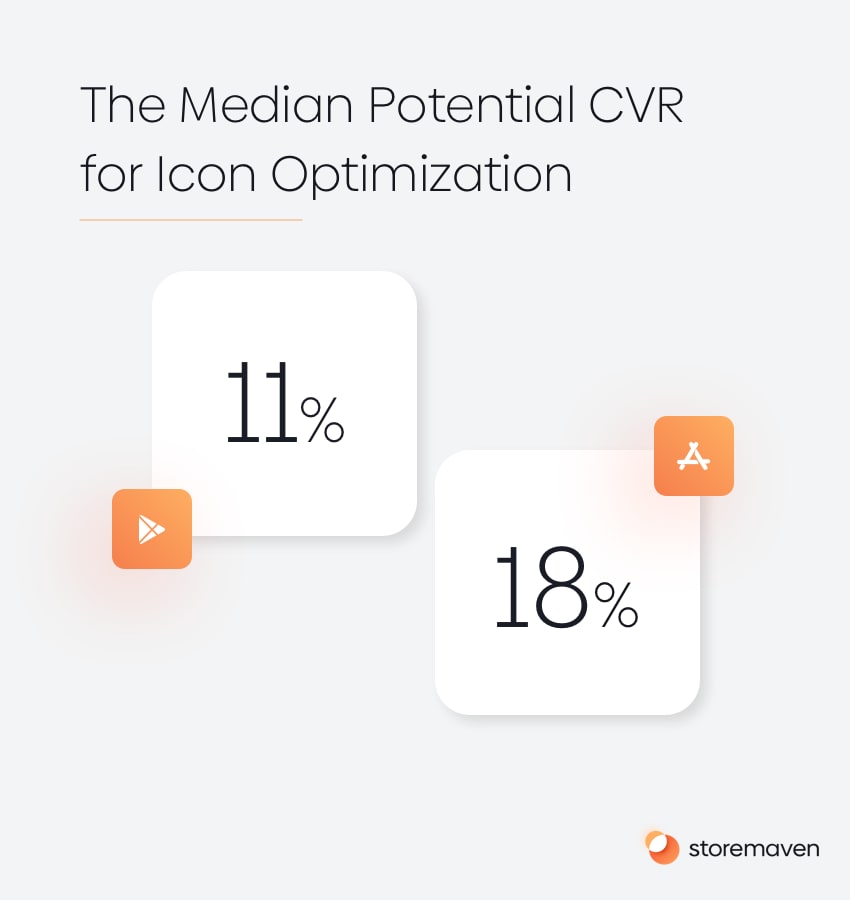 Don't forget the impact on re-engagement
Interestingly, the icon is also the only creative asset in the app store that lives outside of the app store. As the icon appears on user's devices' home screens, changing it can and often will impact re-engagements. Simply put, users see a new icon on their home screen which gets their attention and leads them to open the app, offering a unique opportunity to re-engage inactive users.
What is the optimal app icon strategy for ASO?
After analyzing the impact of thousands of icon tests, StoreMaven has created a framework to thoroughly develop a strategy for testing app icons for the purpose of improving conversion rates.
Among the most important things that need to be considered when developing a strategy for your icon is the core messaging you want to convey.
For example, if it's a game, there are several messaging directions to test, such as highlighting a strong character from the game, a game item (car, gun, etc.), the game's brand (if it has brand power), and more. If it's an app, similar messaging questions arise.

Read this extensive guide by Storemaven about how to research, plan, and execute a great icon testing strategy to find the optimal one. For a full list of icon guidelines, check out our Google Play icon requirements and iOS app icon requirements.
App Icon do's and don'ts plus six steps to testing

b. How important is the screenshot gallery for ASO?
What impact can screenshots have on conversion rates in the app stores?
Screenshots are usually where users' eyes go to try to understand your app or game. Users expect the screenshot gallery to quickly give them all the information they need about the app or game to decide whether to install your app or not.
In both app stores, almost 100% of users view the screenshot gallery, but that's limited to the part of it that is visible in the first impression frame. Usually (depending on device screen size, whether there is a video presence or not, and on screenshot orientation) users see 1-2 screenshots in the App Store and 1-3 in the Google Play store.
As you can see from the graph above, the percentage of users who scroll through the screenshot gallery is relatively small. This means that within the screenshot gallery, not all screenshots were created equal. The first two screenshots should convey your strongest value proposition.
Are Google Play and the App Store very different?
The App Store has put a lot of emphasis on the screenshot gallery, which takes (in most devices) more than 60% of the screen.
In the Google Play layout, after a mid-2019 update, the screenshots take only 25% of the screen size, rendering them extremely small and hard to understand—all small UI elements and captions become almost impossible to read and understand.
This difference dictates a different design strategy for each store: simply applying screenshots from iOS to Google Play, or vice versa, will result in illegible images that fail to convey your main points and drive users to install.
How to use screenshots to tell your app story?
When planning the most effective screenshot gallery, you need to consider several factors, such as the design style (showing real people, UI screenshots, art, etc.), the gallery orientation (landscape vs. portrait), the screenshot order, the legibility of the screenshots and captions, and more.

Check out Storemaven's extensive guide for optimizing screenshots for the app stores.
Check out Storemaven's Complete Guide to iOS 15 Custom Product Pages to learn more about how to use screenshots, preview videos, and text to personalize your app's product pages in the App Store.
c. How important is the app preview video for ASO?
Let's bust the ol' myth
There's a tale among app developers and marketers when discussing app store videos. About half of all marketers claim they're a must in order to increase conversion rates, while the other half swear they hurt conversion rates.
The truth is—and this is based on cold, hard data—that it depends…
When thinking about creating a video for your app, you mustn't ignore these three pivotal factors:
Geography – there are certain geographies where people are much more reluctant to watch videos in general, with auto-playing videos being a harsh enemy for most people on an expensive data bundle. Many users in countries with slow internet connections also developed a habit of ignoring videos because it takes them a long time to render and play.
Audience – there are audiences that are simply less receptive of video as a medium: it depends on your app category, how users in this category make decisions, and how much time they're willing to invest to make that decision. If users' patience is low, many of them will very quickly stop watching.
Video Quality – last but not least, you should consider the video quality itself. Many marketers try videos and then conclude that they don't work and hurt conversion rates. That could simply be the result of trying out an unoptimized video in the store.
How do users engage with app store videos?
To understand how to capitalize on the opportunity of auto-playing videos in the store, you need to first understand how users interact with videos in the app stores.
Auto played videos are watched by more than 85% of users (it's not 100% because it takes a few moments to start playing which allows some users to 'escape' the auto-playing video by scrolling through the gallery or the page). Also, a low percentage of users turn off auto-playing videos in their settings.
The average watch rate of a video on iOS is 6-8 seconds, and on Google Play it's 4-5 seconds.
Only 20% of users watch videos in full.
From those users who do at least start to watch the video, about 30% end up installing the app, showing the conversion rate potential of a video.
Planning and testing a great app store video
Given the usage characteristics of videos in the app stores, it's important to understand that similar to the screenshot gallery, you want to have your strongest messaging at the beginning of the video. It's not a film: it's a short clip that should be treated more like a few moving screens than a feature film.
2. Optimize text elements
We wrote a comprehensive article on how to optimize your text elements. Check out our Complete Guide for Writing the Perfect App Title, Subtitle, and Description.
a. How does the app title affect ASO?
The app title is another creative asset that appears in all user journeys in the app stores. The title itself, although a text element that is less effective than a visual one, has a 5-7% conversion rate lift potential. In the App Store you are allowed 30 characters and in Google Play you have 50 characters to use as a title.
Other than using the title to add keywords you would like to rank for, you have to think about the title as a converting asset: a strong app title will convey to users not only the name of the app or the game but what is it about (unless it's extremely well-known and the brand name is the message). For example, if you have a game with a mysterious title such as "Bunny-Palooza," other than knowing that there is a good chance bunnies are involved, users won't actually know much more. Adding "RPG" or "Adventure" to the title will quickly signal to users what type of game this is.
b. How does the iOS app subtitle affect ASO?
The subtitle, which exists only on Apple's App Store, is a less prominent text element which makes it less effective for improving conversion rates. That said, the subtitle also appears in the search results page and the top charts and can act as an addendum to the title.
So, like the previous example, if you would like to convey to users that this is a PvP (Player vs Player) shooter game, you could do that by highlighting that fact in the subtitle.
c. How does the description affect ASO?
First, always keep this in the back of your mind —users don't like to read. There is a negligible percentage of users that ever read the description, usually 1%-2%. Always focus on making the short preview (the part that is always visible) clear and detailed, but do not spend too much time or resources on perfecting it. Instead, use the asset for its other purpose: to be read by the algorithm and used for keyword optimization (in the Google Play store). Optimizing the text for users to read is by far the least effective way to spend time and money when thinking of increasing conversion rates.
3. Utilize app reviews and ratings
Reviews and ratings are the social proof elements of the stores. Although mobile marketing usually discusses them together, they're actually different. They have a different impact on conversion rates based on where and how users see them.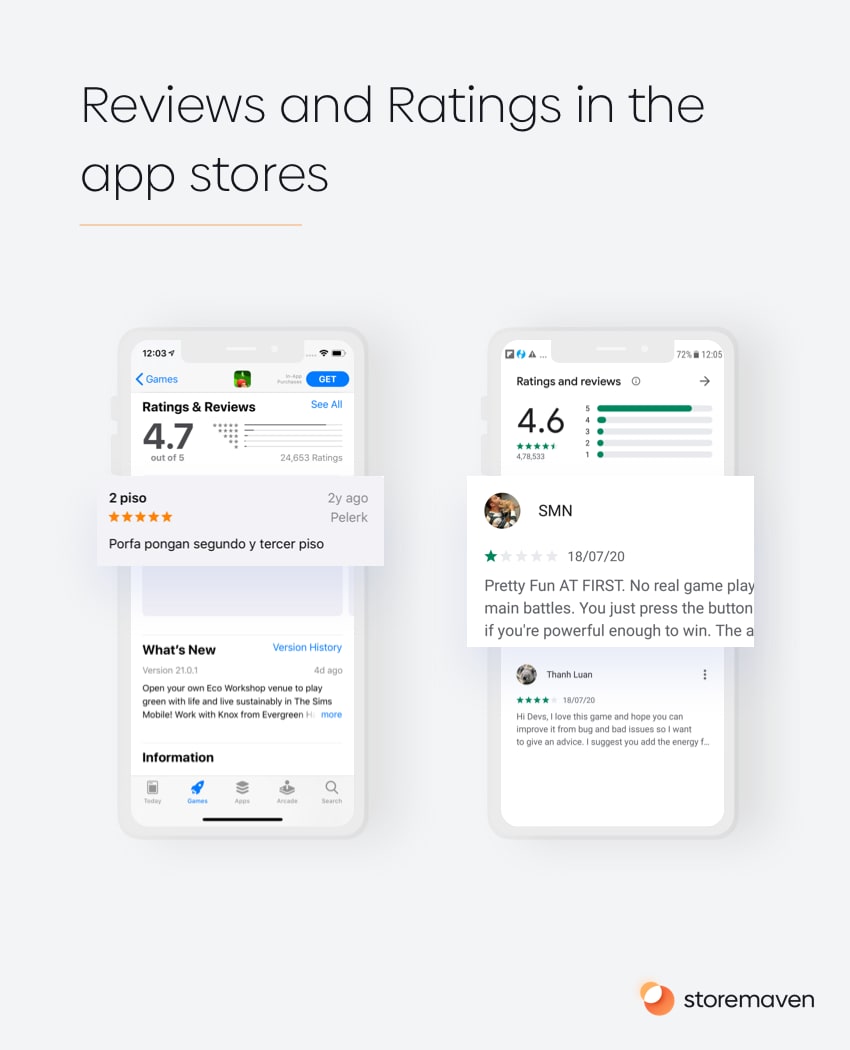 a. How do reviews affect ASO?
Reviews affect conversion rate optimization in two ways:
The number of reviews—as the number of reviews appears in the first impression, it can act as a piece of social proof showing how many people have actually used and reviewed the app. Especially in iOS, where the number of installs is not specified, it's the only hint for users as to whether this app is popular or not.

For that 20-25% of users who explore the page by scrolling vertically, the reviews are one of the first elements they see. In the Google Play store, reviews get much more respect by sitting in their own widget, with the top review as well as the most critical review highlighted for users to read. In iOS, the reviews are featured in a review gallery on the bottom, based on Apple's algorithms. Users can click to view all reviews on a separate screen if they wish.
Reviews (both positive and negative) have a strong impact on users who are exposed to them. Although there is not much you can do about reviews once they go live in the stores (other than replying to them), there is a certain best practice you should follow day-to-day.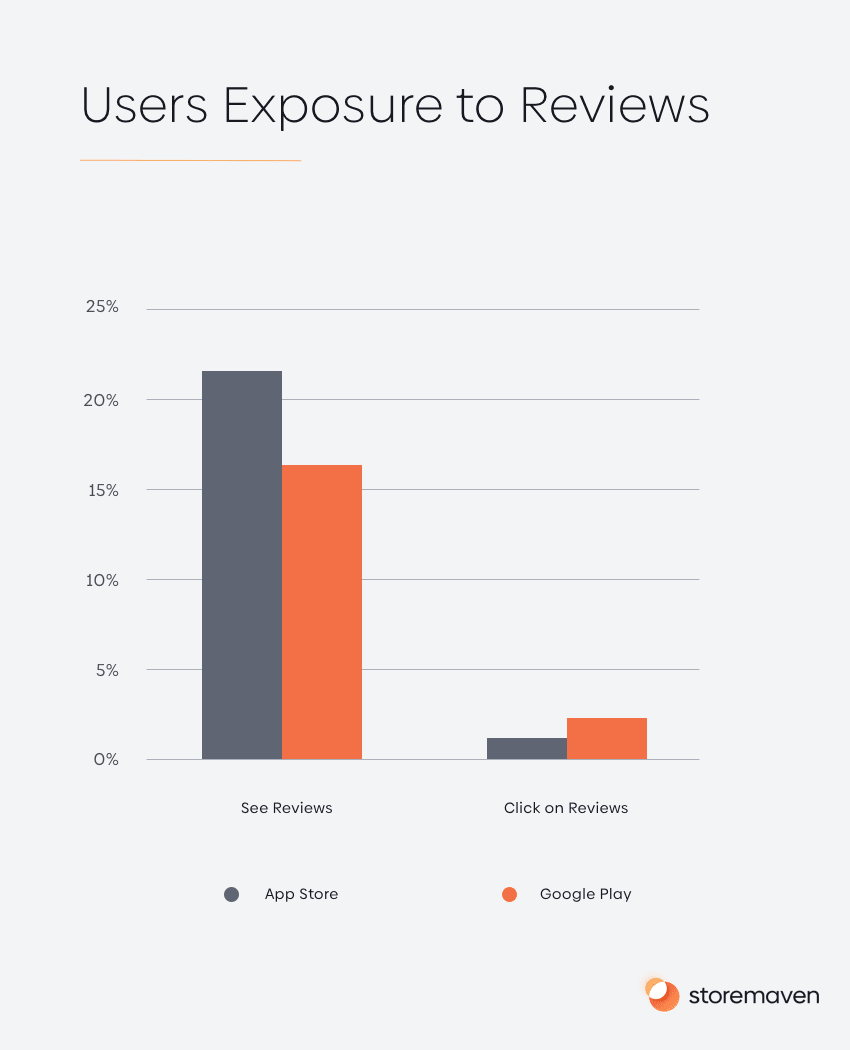 Check out this guide about how reviews and ratings affect your app install conversion rate.
b. How do star ratings affect ASO?
Ratings are interesting. In both stores, they go from 1-5 and signal to users the quality of an app. Getting these ratings relies heavily on collecting reviews and ratings through the app itself (many use the native option).
Storemaven recently completed a series of tests in which all the creatives were kept the same and the only thing that's changed is the rating score. This is what we learned:
A rating of 5.0—the perfect score—leads to lower conversion rates. Interesting right? We are suspicious creatures by nature, and a perfect score seems, well, fake, and signals to users it could be a case of "too good to be true."

A rating between 4.0-4.9 is the sweet spot you want your ratings to be. An important thing worth mentioning is that there's no real difference between 4.1 and 4.9.
But, once ratings fall to 3.99 and below, conversion rates start to drop. Dramatically. Ratings under 4.0, from our observations, are inherently associated with low quality, and the lower you get, the lower your conversion rates will drop—exponentially.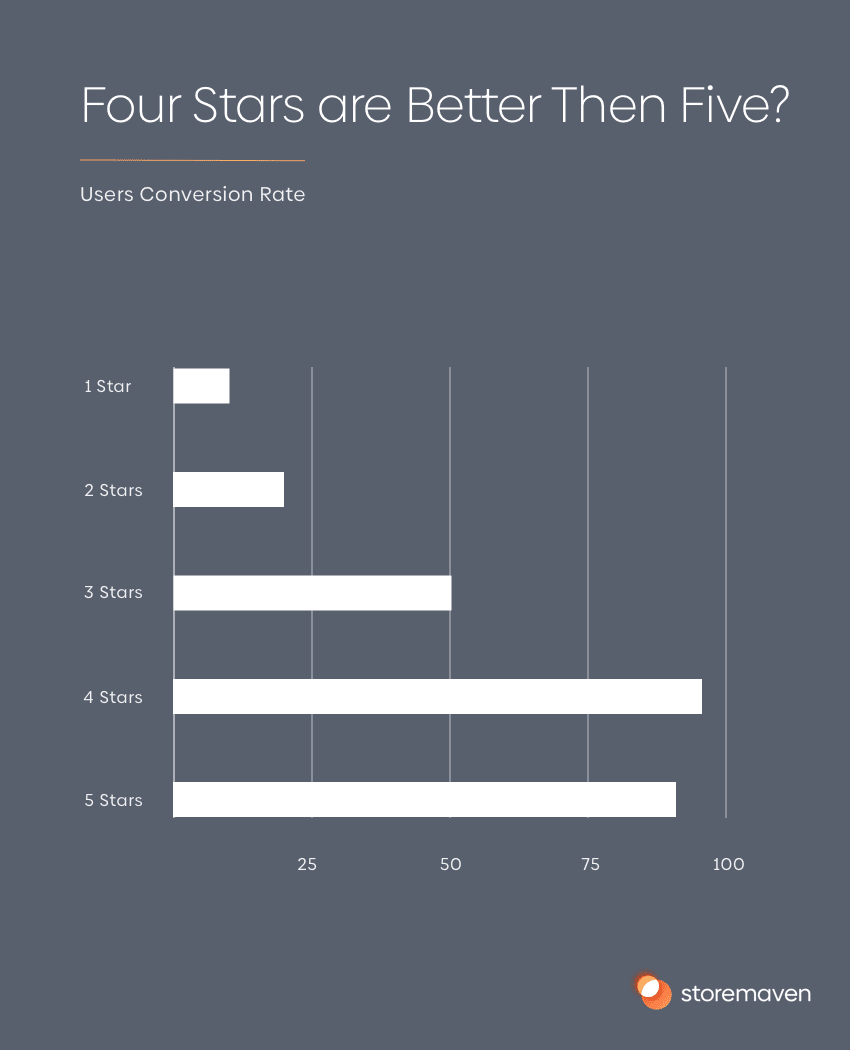 Getting positive ratings always depends upon having a great product, but there are still best practice mechanisms to ensure you're maximizing the positive ratings you collect and minimizing the negative ones.
4. Choose a relevant app category

What is the impact of choosing an app store category on ASO?
Similar to adding a category name to the title or subtitle, choosing a category means a category name will appear in the first impression. So, if you have an RPG puzzle game, and you choose to appear in the RPG category, you may communicate to RPG-oriented users that this is a game for them, but more casual puzzle game players may be alienated.
Although this is a textual element with minimal impact on conversion rates, when fine-tuning an ASO strategy, it's worth analyzing the potential categories you could belong to and assessing their impact on conversion rates.

We wrote an article about the implications and strategy behind choosing a category here.
5. Use app store localizations & culturalization
Before we go into the weeds of localization and culturalization, we have to first define them:

App Store Localization is the practice of taking your app store listing and changing the language to the local one. That language can appear in the title, subtitle, description, or even captions within a video or the screenshots.

App Store Culturalization is the practice of adjusting your ASO marketing messaging to the local audience, be it through visuals that appeal better to that audience or simply using different value propositions that connect better with them.
We wrote an extensive guide about how to master localization and culturalization in order to boost your CVR. Check it out here.
a. How to use localization to improve ASO
The first step is understanding which geographic areas are the most important for your app. A very common mistake many marketers make is simply embarking on a comprehensive project to localize every bit of their store presence in every country.
Prioritizing plays a big part here—determining carefully which countries have the most potential to move the needle on growth is the key to localization.
At the end of the day, if your product itself doesn't fit a local market (for example, no translation within the app) investing in proper localization could be a fool's errand that could result in negative reviews (as users will expect a localized app and find an English-only version).

When localizing your app store listing, you have to remember that it isn't as simple as just hiring a freelancer to translate the copy—each language has its own quirks and the probability for embarrassing mistakes is obvious. When in doubt, hire locals to adjust your copy and messages to that specific audience.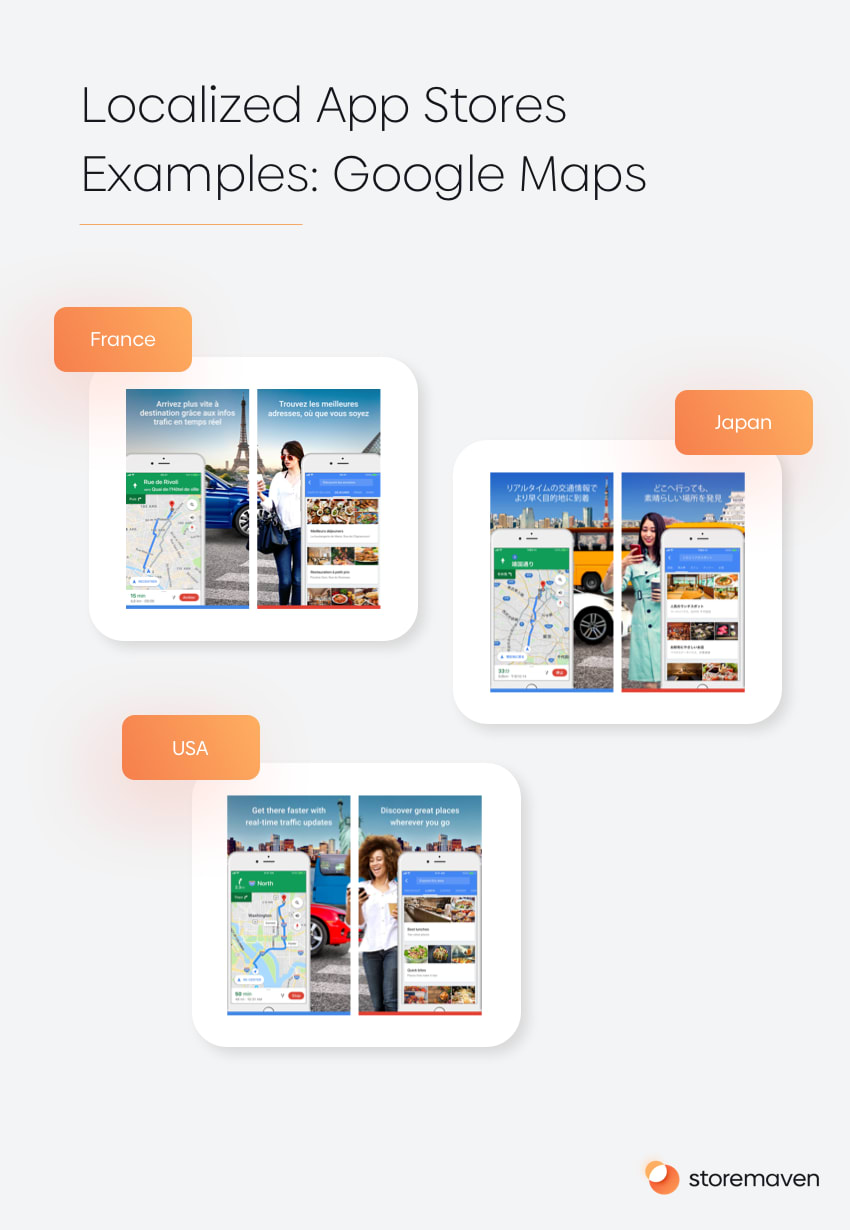 b. How to use culturalization to improve ASO
Culturalization, on the other hand, requires a much bigger investment to get right. That said, it also holds the highest conversion rate potential.
Culturalization Level 1 – at the first level of culturalization, marketers change the people or landscapes that are portrayed in the visuals to local ones. Using local models and showing domestic views (for example, a photo of the Eiffel Tower instead of the Statue of Liberty).
Culturalization Level 2 – at the second level, culturalization involves understanding the unique ways that a local audience is using an app. The other side of that coin is to understand what features or benefits a local audience values the most and then placing them front and center on your app store page.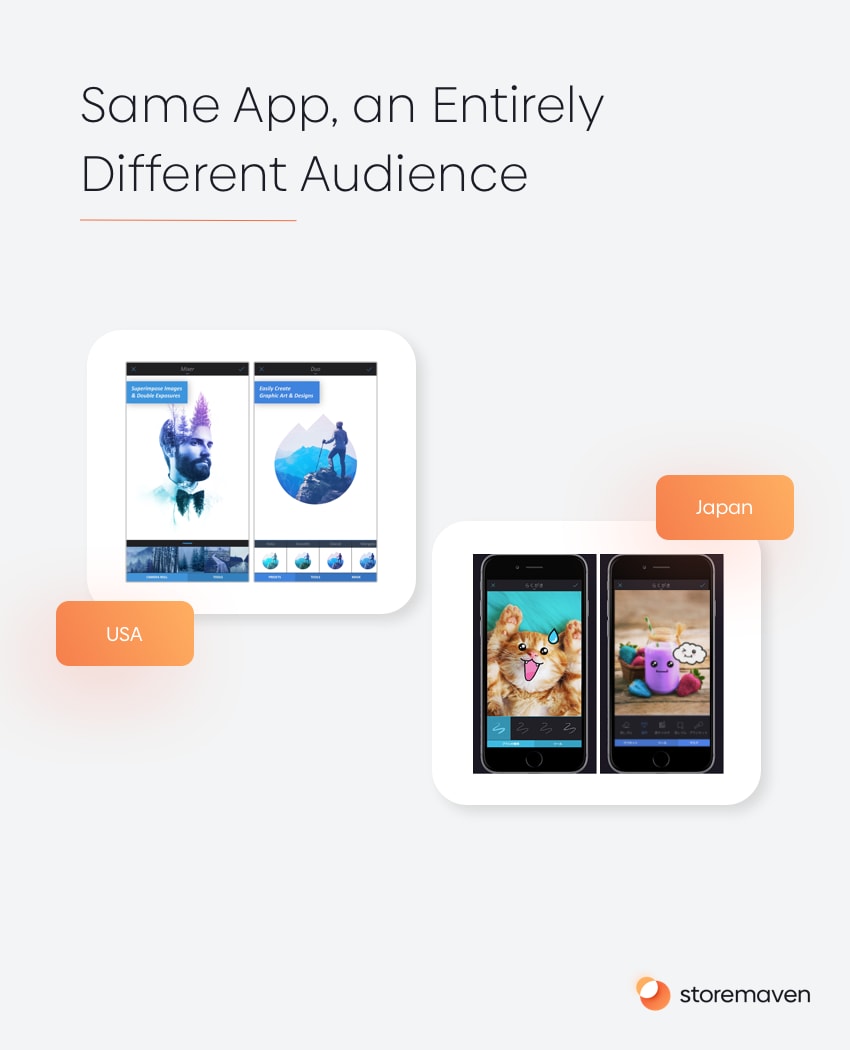 Culturalization Level 3 – eventually, combining levels 1 and 2 with a reference to local cultural events and seasons make for the highest level of culturalization. For example, imagine marketing a messaging app during the Ramadan in Malaysia by highlighting ads where locals are texting each other in screenshots and using a value proposition like "stay connected with your loved ones during Ramadan."
Getting localization and culturalization right isn't easy but could lead to significant increases in conversion rates in local markets. Many global brands use these ASO marketing techniques to attract locals by signaling that they value them as a unique audience.
6. Competitive landscape and ASO
a. What is the impact of competitors on your ASO?
The app stores are not an air-tight environment. Your competitors are constantly competing for the same audience as you, and every user dropping from your app store page is likely to visit one of your competitors, giving them an opportunity to 'steal' your installs.
From an app store conversion rate optimization perspective, it's critical to monitor your competitors' app store creative strategies to understand what users are likely to see when researching which app to install.
For example, if a user is looking for an app to book a trip and is searching for "travel," they are exposed to 2-3 different apps with different messages. Understanding how your messages fit within the competitive landscape in the store could lead to significant opportunities (or risks) for your conversion rates and open opportunities for differentiation.
b. How to research your competitors' ASO
Your competitors (most of them) are always updating their app store creatives and messages. If your competitor puts out a new offer (I.e. "Get $10 with your first order") you want to know about it as soon as it happens and ensure you respond to it.
Following your competitor's app store creatives in multiple countries can be hard to do, but using one of the ASO tools (such as Mobile Action, App Annie, or Sensor Tower) to create custom alerts and follow changes will make it easier.
c. How to improve app store conversion rates by taking the competition into account
Although it's easy to fall into the trap of thinking about app store conversion rate optimization in a vacuum, the reality is often much messier. When users are browsing the app stores, or searching in them using a certain query, they have something on their minds. They are looking for an app to solve a certain problem or pain. Even feeling bored and looking for a new game can be viewed as a pain that users are trying to alleviate.
This means that these users will usually be exposed to multiple apps before they'll make a choice. Some of their journeys will be through different charts and featuring placements, and some of them will be through the search result page.
Let's imagine each user has their own "intent to install" meter. With each exposure to an app store listing, the user's intent to install either goes up or doesn't budge. If the messages are convincing enough, the intent to install will go up and will cross the threshold that's required for them to actually take action and install. Now bear with us—If this moment happens before a user lands on your page, there's no chance they'll install your app. If a user lands on your page and you fail to lift their intent to install above that threshold, they'll move on and one of your competitors will get that install.
At the end of the day, the organic users' market for your category is limited at any point in time, and if we assume every user searching for an app installs either your app or your competitors' app, it's a zero-sum game.
Try to portray your user's potential journeys. Step into the mind of your users and go into the app stores. See-through which apps that journey takes you. Then, carefully analyze the messaging strategies of your competitor's apps. Think about how you can intelligently use messaging that makes you shine and more unique than the competition. What can you show that will immediately 'close' users once they stumble upon your app in their journey?
7. Update your app creatives frequently
a. How often do mobile app publishers update their apps?
There are a variety of apps and games in the stores, and each one has its own unique product that requires different levels of maintenance, but most top developers (that have an established and large dev team) update their apps between 1-4 times a month.
Not each update is significant—some of them focus on bug fixes and security updates, while other updates can include the launch of a new and exciting feature. But an important difference to consider is that in the Google Play store you can update your store creatives without uploading a new version, while in the iOS App Store you cannot.
When thinking about your creative update roadmap, you need to ask yourself these questions:
What are the major features that we should highlight through the creatives?
What's the iOS version update roadmap and how can I sync with it to update the creatives?
b. How often do mobile app publishers update their app store creatives?
Before we dive into this question, why should you even update your creatives? Can't you just optimize once and leave the creatives there? Well, no.
According to our research, mostly from the advertisement space, all creatives are eventually susceptible to conversion rate decay. That decay is a result of the same audience being exposed to the same messages over and over again. At some point, you'll have converted most of the users that you could with that message, and the rest of your audience—the resistant part of it—will need a stronger, different message to be convinced.
In addition, your competitors are updating their creatives and messaging, which can make your older creatives look weaker and less up to date. As we discussed, a part of a users' app exploration journey usually involves viewing multiple app store listings, and when the creatives in that journey change, the effect will necessarily change.
Lastly, the design trends in the store evolve pretty quickly, and falling behind can convey to your audience that your app isn't at the cutting-edge of its category.
This means that if you don't update your creatives regularly, you'll experience that conversion rate decay which will impact your ability to drive growth, turning it into an uphill battle.
According to our analysis of store updates, the bottom 5% of developers update their creatives only once a year, but the top 5% do it more than 19 times a year. The average developer updates creatives 7-8 times a year to avoid that decay.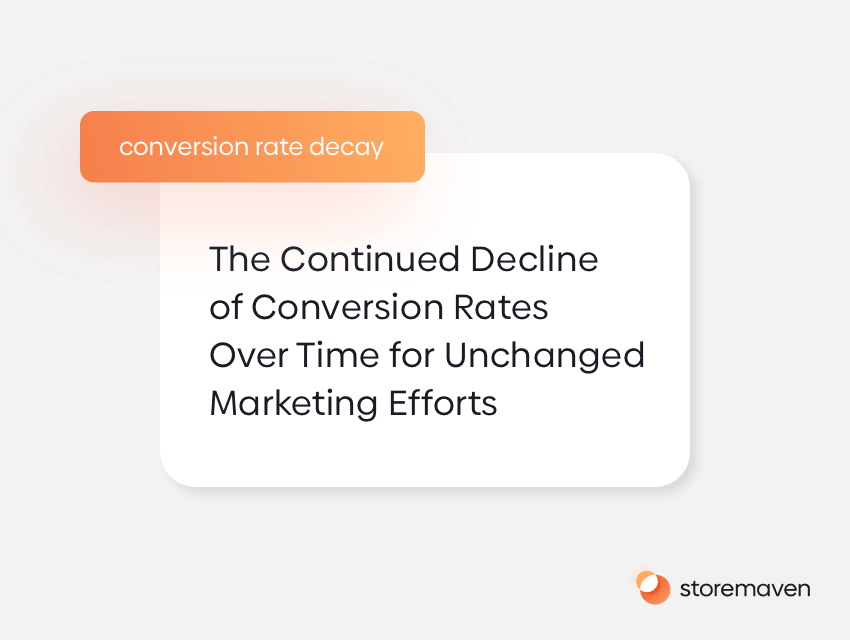 c. How often do mobile app publishers test their creatives?
As Storemaven has insight into most of the industry's testing frequency, we have a unique data set that could shed some light on how often you should test your creatives. We also track Google Experiments worldwide to identify live experiments of Google Play creatives.
According to our analysis, we found that the top 5% of developers run more than 18 tests a year and the bottom 5% run only one a year.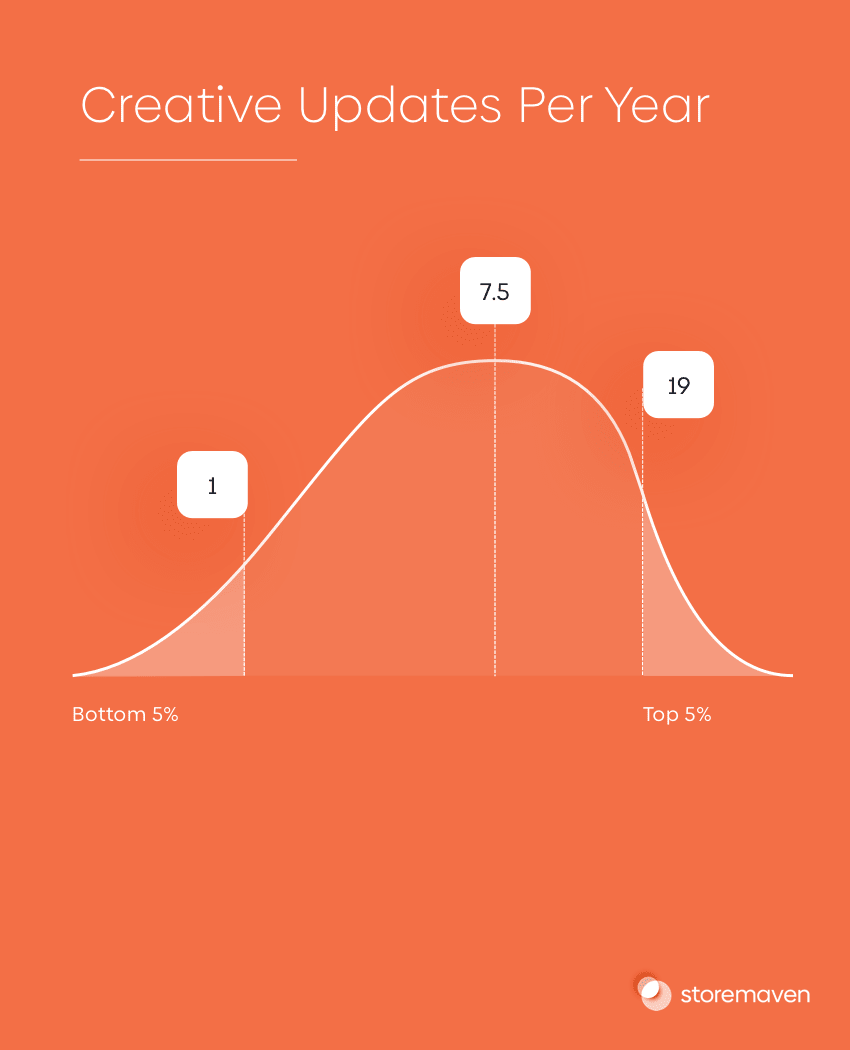 The average developer runs 11 tests a year.

As this shows your competitor's creative updates and testing behavior, it should give you a good benchmark for how your updates and testing roadmap should look to stay on top of the ASO testing curve. However, with the emergence of iOS 15, we suspect that app publishers will be testing their creatives much more frequently. The ability to create up to 35 different product pages will indeed change the need and frequency for testing.
For more ways to stay ahead of the ASO testing curve, check this guide.
8. Aim for smaller app sizes
According to an analysis done by Segment in 2016, the effect of mobile app size on downloads is negative—there is a decrease of 0.45% in conversion rates per MB increase.
That said, this correlation, which was stronger in the past, has been weakening since iOS 13 was launched in September 2019. With it, Apple removed the cellular limit altogether. This is part of a larger trend of increasing cellular network speeds and increasing device storage space.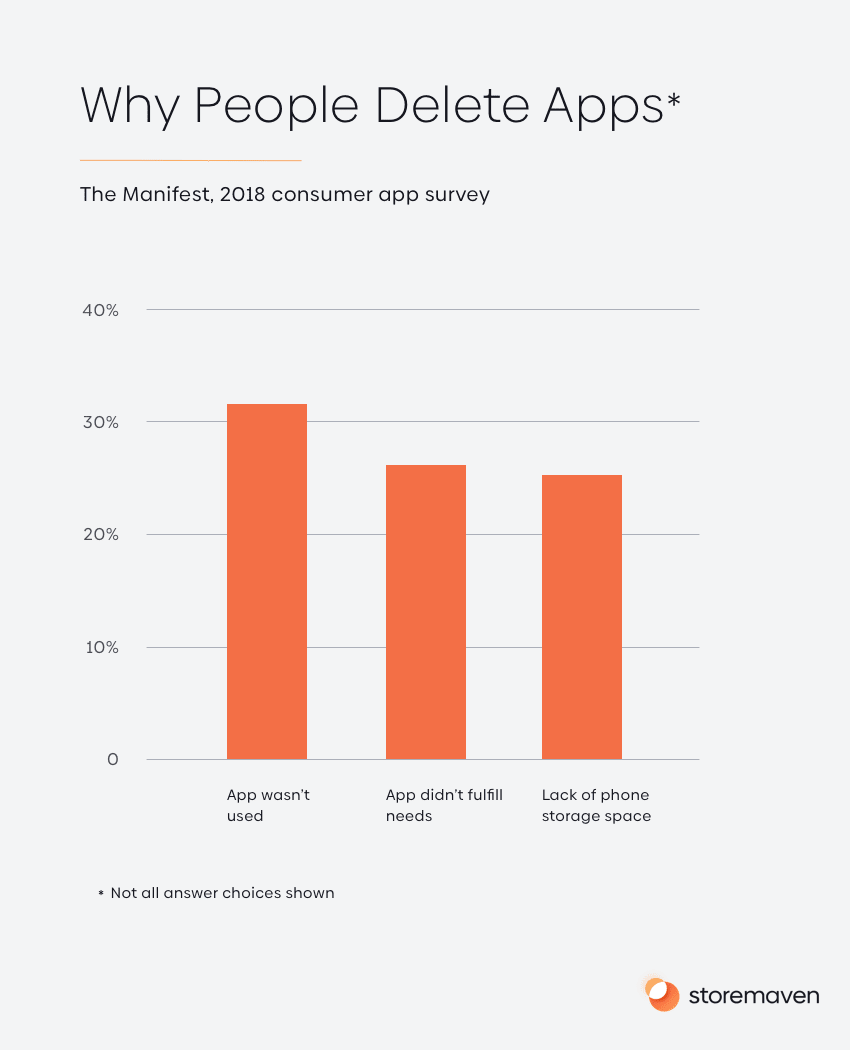 In any case, there's quantifiable evidence that larger app sizes lead to lower conversion rates. To make sure your ASO efforts are optimal, flag the need for a lower app size to your dev team. Check our app size guide here.
9. Account for seasonality
a. How can holiday seasonality leverage improve ASO?
The effect of seasonality can be significant. As a mobile marketer, you have a unique opportunity to plan out seasonal creative updates to increase conversion rates, but this also poses a risk.
The potential impact of seasonality on app store conversion rates
According to Storemaven's data, when a mobile marketer updates an app store listing with partially seasonal creatives (for example, a seasonal icon), it could harm conversion rates as it creates a disconnect between what users expect to see on the rest of the page and what they actually see.
This problem goes even deeper. We also found a correlation between using seasonal app store pages when the apps themselves have no unique seasonal content and engagement metrics. As users are lured into the app expecting to see unique holiday content, they quickly get disappointed and abandon the game/app.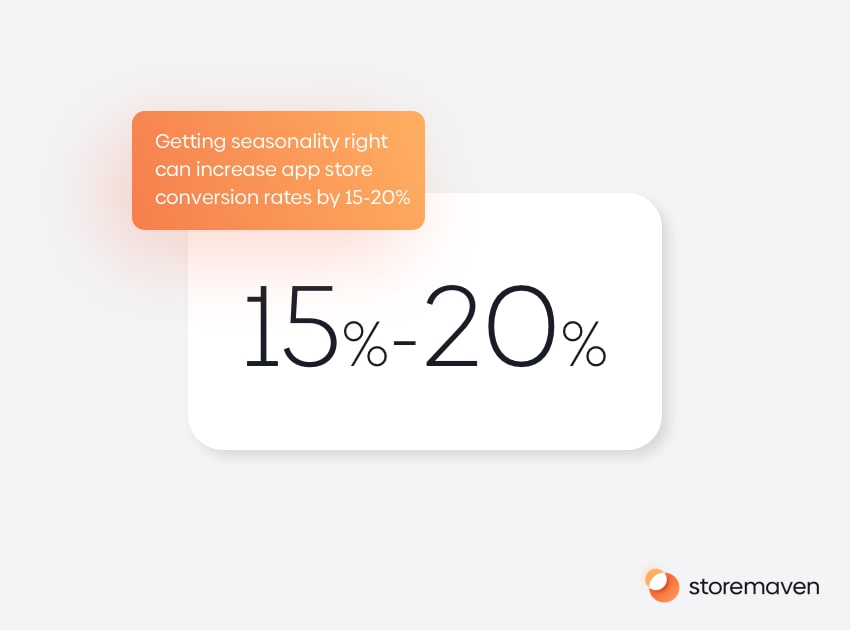 Combining localization and seasonality
Both seasonality and localization go hand in hand. Different countries (usually) mean different holidays. So, while in the US you take into account US national and Christian holidays, in other countries you should plan according to the local calendar.

An example we already shared is relevant here—highlighting Ramadan and how features of your messaging app are helpful for that holiday in Malaysia ("connecting with your loved ones during Ramadan").
b. How can you leverage industry seasonality to improve ASO?
Holiday seasonality is not the only type of seasonality.
Each app has its own category, with its own type of seasonality. Two clear examples are the shopping category and the fitness category.
With the shopping category, a major chunk of transaction volume happens in the period leading up to December and Christmas when people are in the market for gifts for their loved ones. For the past several years, Black Friday and Cyber Monday became global phenomena and not just in the US.
In the fitness category, January, and Q1 in general, is the strongest period of the year as people are making all sorts of New Year's resolutions.
Using these category-specific seasonality messages are time-sensitive, but highly powerful. For example, a shopping app that highlights an aggressive offer for Black Friday campaigns through the app store creatives. The iOS 15 update will now allow for much more flexibility in creating personalized, seasonal messages.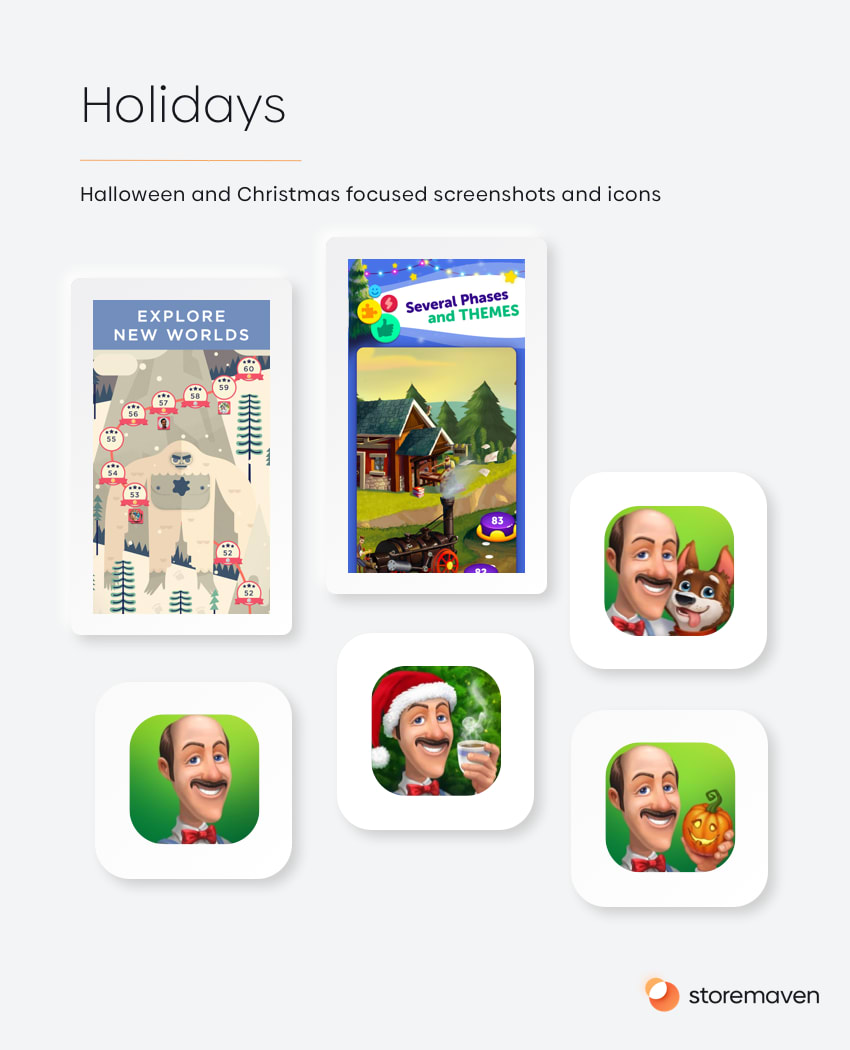 10. Leverage audience testing
a. Why is audience testing for ASO important?
Until now, app publishers have had only one app store page per Geo/localization. Unfortunately, this reality leads many marketing teams to the wrong conclusion that there is no point in optimizing for specific audience segments, as everyone sees the same page.
That couldn't be further from the truth. Especially now, with the introduction of iOS 15.
Every app/game marketing team has, or should have, a clear segmentation of their audience and a great understanding of which type of segments usually drive value (in the form of good downstream metrics, retention, lifetime value (LTV), return on ad spend ROAS, etc. and eventually revenue) and those which don't.
It's clear that these segments are inherently different. Different users have different preferences, and the motivations that drive them to install a game/app is different.
The smartest mobile marketing teams in the world test their app store creatives, carefully analyzing how different segments of their audience responds to different creative messaging strategies (read more about app store testing methodologies below).
At the end, the ultimate growth KPI is quality (positive margin) revenues, and making your app store page more appealing to the highest value segment should be your North Star, even if this means that your page converts less for a low-quality segment that drives little to no revenues.
b. Audience testing for ASO in the era of algorithmic user acquisition
As Facebook and Google become more sophisticated with their user acquisition (UA) optimization algorithms, UA is becoming a more level playing field.
This means that the days of handcrafting unique audience segments are soon to be gone.

In this reality, when you're driving an audience with unclear characteristics (demographics, interests, etc.), it's crucial to keep ahead of the ASO algorithm by always testing your creatives to ensure conversion rates are high, as the platforms (Google and Facebook) are optimizing your audience in a 'black box.' For more on this subject, check this piece.
11. Understand your app's user behavior
Users in the app stores can behave in one of two distinct ways (sometimes the same person can show different behavior depending on the creatives and messages they see on an app store page).
Decisive users – users that are exposed only to the area of the app store page that is above the fold before they make a decision. They don't interact with the page at all before deciding whether to drop or to install. It takes them about 3-6 seconds to make a decision. They make up roughly 60-70% of all users.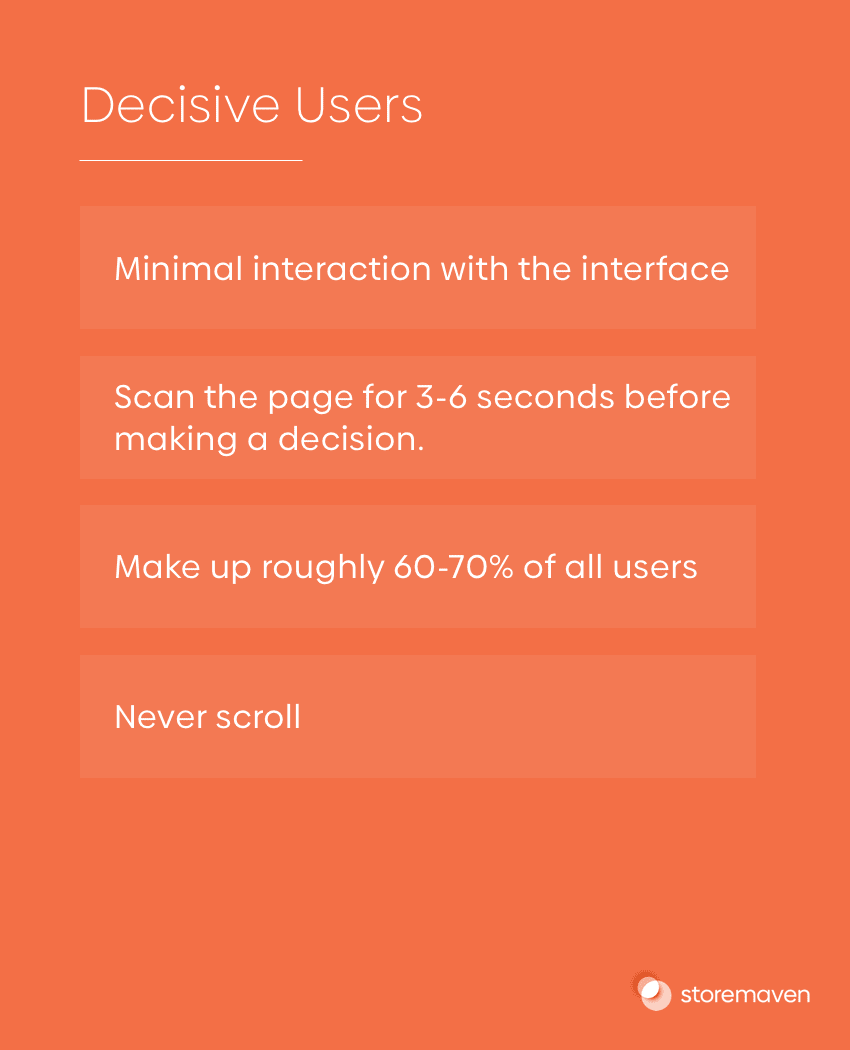 Explorative users – users that take some more time to explore the page, scroll through the screenshot gallery, or down the page before they make a more educated decision whether to install or drop from the page. It takes them about 6-12 seconds to make a decision.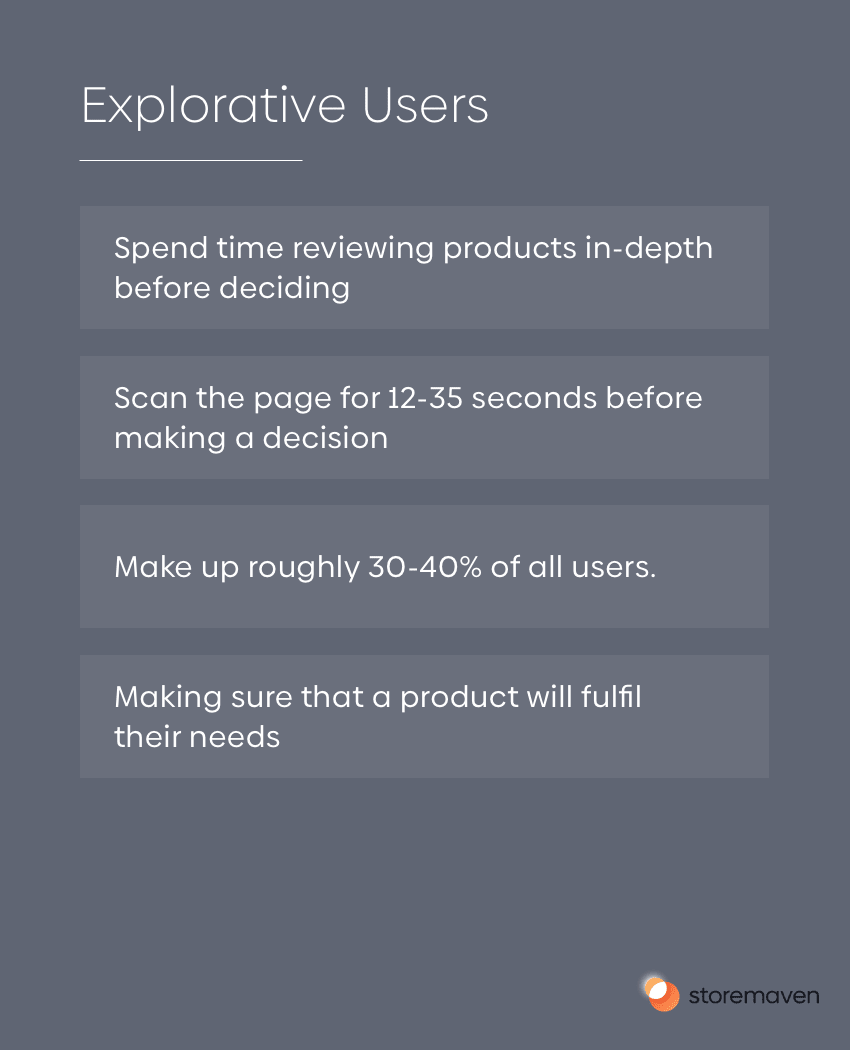 Most users are decisive (slightly more on iOS) as you can see in this chart:
a. Decisive users
Which elements affect decisive users when they decide to install or drop?
Decisive users are exposed to 'above the fold elements':
iOS App Store
Title
Subtitle
Icon
Video (if exists)
1-2 first screenshots
Google Play Store
Title
Icon
Video (if it exists)
1-3 first screenshots (Depending on the resolution of the screenshot)
Improving anything should first start by identifying the top opportunities. For app store conversion rates, this means focusing initially on the first impression elements in both stores, as 60-70% of users will never go past these elements before they decide.
b. Explorative users
Which elements affect decisive users when they decide to install or drop?
Explorative users are exposed to:
More video content (if it exists)
Additional screenshots (by scrolling right through the screenshot gallery)
Description
Reviews
The most impactful elements for explorative users are by far the visual ones. According to our data, only 0.5%-2% of users ever tap to read more of the description, and only about 2% of users engage with the reviews.
That said, after optimizing the first impression, it's crucial to focus on these elements as the explorative users are usually more valuable. Think about it, they know more about the product before they choose to install, and they care more about what they are about to install.
This is exactly why we found a positive correlation between explorative behavior and downstream metrics.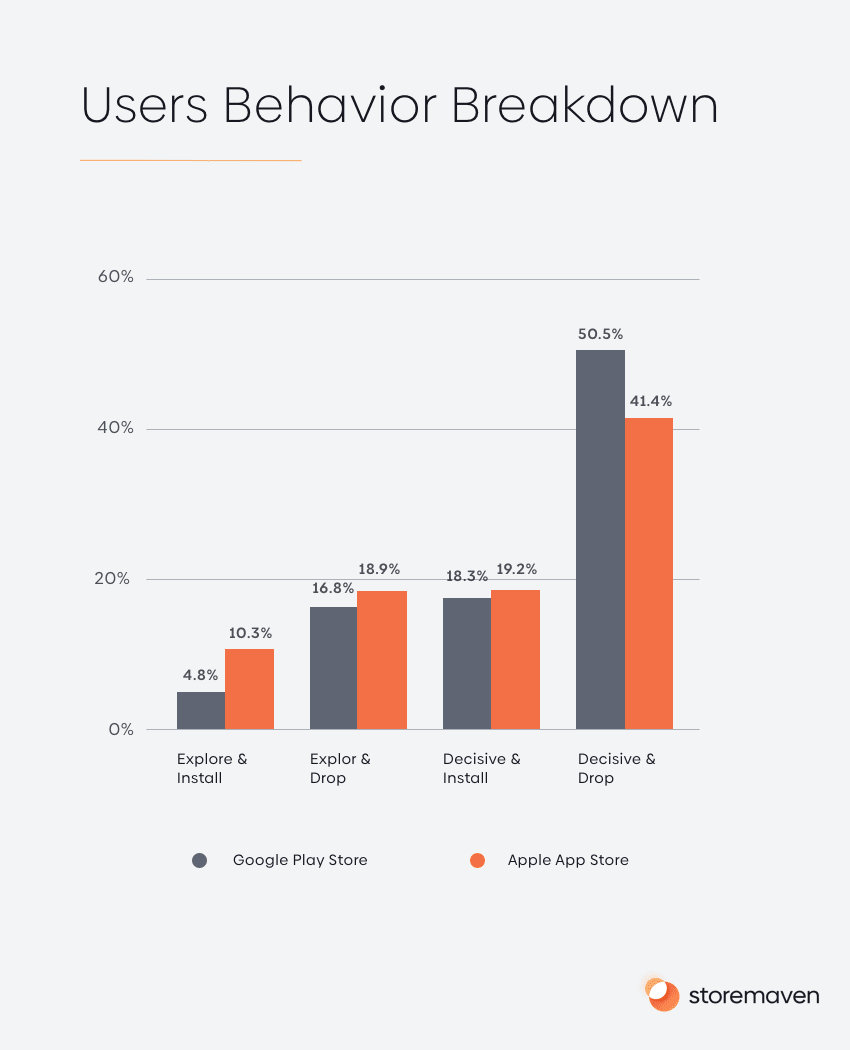 App Store behavior benchmarks
We wrote extensively about every type of behavior in the app stores. You can find Storemaven's full guide on the subject here, where you'll get a full understanding of how users interact with the app store pages, which will help you drive your app store CRO strategy.
In summary, this section has presented 11 ASO best practices for both the App Store and Google Play Store. Utilize these tips to increase your app store optimization.
The art of app testing
A/B testing in the app stores is challenging as the platforms themselves (Google and Apple) are shy about providing data to developers about how users interact with their pages.
Without this crucial information, it's extremely hard to improve conversion rates. Try going to one of your colleagues who works with the web (but not the app stores) and ask them to optimize a homepage with no analytics about how users are behaving and interacting with it.
Even though there are no native ways to get that data, there are several ways to test your app store creatives. Let's go over all of them.
a. The different ways to test your app store creatives and increase conversion rates
I. Pre/post-testing
Intro
The most basic way to test creatives is to update the store and then attempt to analyze the impact on conversion rates before and after that change. The industry calls this methodology a pre/post analysis.

Advantages
The advantage of performing a pre/post-test is that it appears to be free of additional testing costs. That is pretty much the only advantage of this method.

Disadvantages
There is more than one downside to Pre/post testing:
Difficult to measure – This method can't be categorized as an A/B test, as it isn't testing two variations across a single population. The test is done over a long period of time (usually, a pre/post-test will try to compare the performance of two weeks before and after a change). This means that you're comparing apples to oranges as the audiences that reached your page in a specific two week period could be totally different than the one that reached it two weeks after (this can be the result of a different UA mix, getting featured, being ranked higher or lower on the charts or for keywords, and more). This makes any comparison of conversion rates in the two periods extremely difficult.

Lack of data – This type of test doesn't provide any data or insights into how users interacted with your page differently as a result of the different creatives, significantly hurting your ability to learn and get actionable insights. For example, you may have tested an icon that got users to explore your page more (as it piqued their interest), but they stumbled upon a marketing message in screenshot 4 which convinced them to install. You'll never understand that with a pre/post-test. The most common mishap of this methodology is that marketers who practice it will, at some point, remove the converting asset without even knowing it. In the example above, a logical next step (without having data) is to test the screenshot gallery, which will bring conversion rates to square one.

Real install risk – Implementing low-performing creatives in the app store is an extremely risky practice. Imagine you're running a pre/post-test and you've implemented creatives that lowered conversion rates by 25%. For a full two weeks (or until you stop the test and revert the change), you'll experience a 25% lower install volume, hurting your ability to hit KPIs for that month, quarter, or even year. Testing in the live app store environment will always carry that risk.
II. Google Experiments
Intro
Google released its own native A/B testing tool for the Google Play store that allows developers to test most of the different visual and text elements on their page. That said, Google Experiments does not provide any app store page user engagement data.
Advantages
Google Experiments is free to use, and it is defined as an A/B test (although there are many unknowns as we covered extensively here).
Disadvantages
Google Experiments holds quite a lot of disadvantages:
Only for Google Play – The results are true for Android users and the Google Play page layout (where users are exposed to different elements than on an iOS App Store page).

No audience testing – Google Experiments can only drive all users to a test without segmenting users from different traffic sources or demographics.

Lack of data – Similar to pre/post testing, you get no data about how users behave and interact with a page, leading to a lack of actionable insights.

Real install risk – Google Experiments is still done in the live environment and can drive significant decreases in actual install volume.
III. Replicated app store testing
Intro
Replicated app store testing is the practice of using a paid ad (for example, a Facebook ad) to drive a user sample into a replicated app store page that looks and feels exactly like the actual store.
This experience is hosted through a mobile web landing page which allows providers to track user behavior the same way that is done on the web.
This allows mobile marketers to run both real A/B tests (as opposed to pre/post tests) as well as getting behavioral insights that lead to actionable insights, which can be implemented in the real store and drive conversion rate uplifts.
Advantages
Replicated app store testing allows mobile marketers to get everything they need to drive growth in the app store. This rich data can be segmented by audience and allows any marketer or ASO person to know exactly what messages would drive the highest install rate for the users they care about.
Thinking from first principles, when trying to optimize conversion rates, there are certain elements or building blocks that will waste your precious time if you don't get right. These elements are:
Accurate data & actionable insights – other methods, although seemingly cost-effective at first glance, usually generate little to no actionable insights. Add the fact that although there is no direct fee to pay (for traffic or for an a/b testing tool), losing significant traffic as a result of the test (by having an unoptimized version for your live traffic for the duration of the test) means the alternative cost of the test is usually measured in the potential loss of thousands or tens of thousands of installs.

Statistically valid test – this method ensures that the data that feeds into the tests is actually representative of the audience you're trying to optimize for, and it thus ensures the test is conducted in a valid way.
Disadvantages
Traffic cost – Similar to actual live store traffic risk highlighted in the two previous methods, running a sandbox test requires sending dedicated traffic to a replicated app store page (where users can't actually install the app). This means each test carries its own traffic costs.

Solution cost – As these solutions are offered by 3rd party companies, they come with a SaaS license fee.
Book a Storemaven demo to witness our testing solution in action.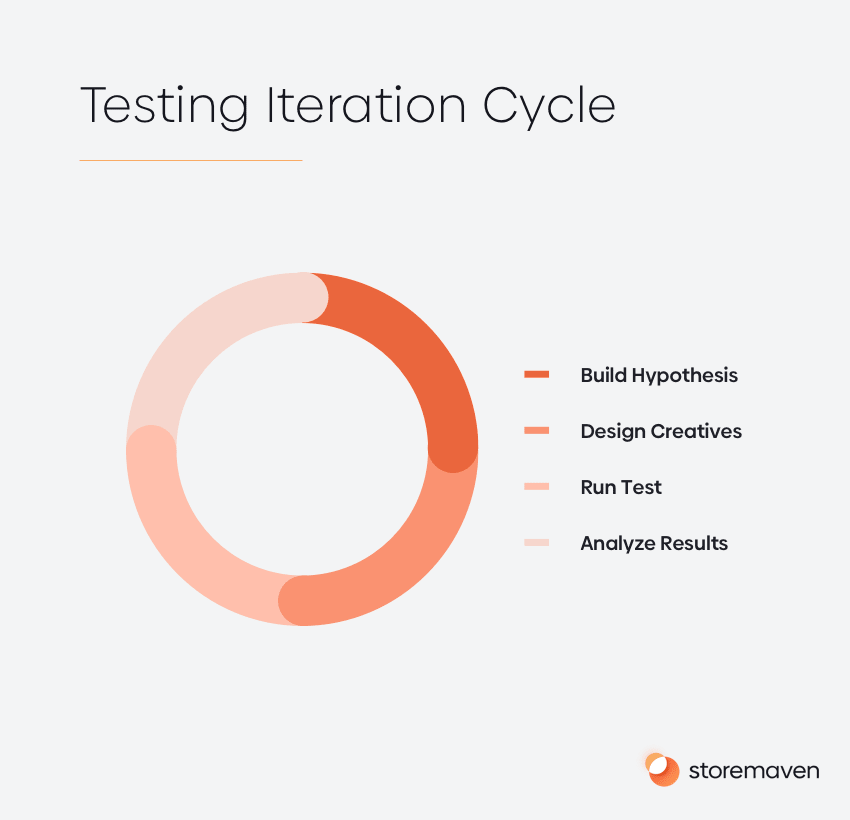 IV. Creative Sets Testing
Intro
Creative Sets is a feature launched by Apple in 2018, allowing developers to run A/B tests for their search ads. As search ads can be text-only or with screenshots, Apple increased the limit on the number of screenshots in the gallery to 10, allowing different "sets" of screenshots for different variations of search ads to be tested.
Advantages
This is a great ASO tool to optimize ROAS of search ads to ensure you get a higher tap-through rate. But, after a thorough analysis of the usage of this tool in the industry for the past year, we found that it is not a good proxy for increasing conversion rates on an App Store page.
Disadvantages
This is mostly driven by the fact the experience and type of creatives a user would be exposed to when visiting an App Store page are different than what they'll see on a search ad.

Read more about it here.
b. Pre-launch ASO
The role of ASO when developing a new mobile app or game
When developing a new game or app, many underestimate the importance of getting the app store pages right. Think about it: would you develop any new product without taking into consideration the distribution channel?
This is even more important when the app stores are the only way to distribute apps and mobile games. What if you could measure how your potential audience responds to your product before it's released? If you'll discover that the market isn't that thrilled about the product, you can still change it before it's out and improve the chances it'll be a hit.
Many game and app developers already leverage app store testing before they launch their products for two main reasons:
Adjust and fine-tune the game/app development – by testing and measuring the likelihood for a potential user to download your app/game (app store conversion rate) with its current set of features, you may discover that the top feature the development team has been working on lacks market appeal.

Optimize ASO app marketing messages prior to launch – the first few months after a game/app's launch are crucial for its growth. If app store creatives are optimized and conversion rates are low, that'll impact the performance of paid UA campaigns. There's a good chance the UA team will quickly flag that the ROAS for the new game/app campaign is below target. That'll lead to less spending on UA and will make it even harder to promote the game organically through better rankings on the charts and for keywords.
In order to ensure the app/game launches with optimized conversion rates, you can test app store creatives prior to launch through a solution such as StoreMaven. So how does it work?
Given that testing your app store assets through a sandbox environment is done separately from the actual app stores, there's nothing stopping you from creating a page for a hypothetical product that is not out yet.
In this type of test, when a user hits the GET/INSTALL button, they'll be redirected to either:
A post-install survey which gives you a unique opportunity as a marketer to gather insight from a highly targeted sample.

A landing page to announce the future launch of the app/game and to collect the potential installers' emails so once the app/game is out, you can notify them directly.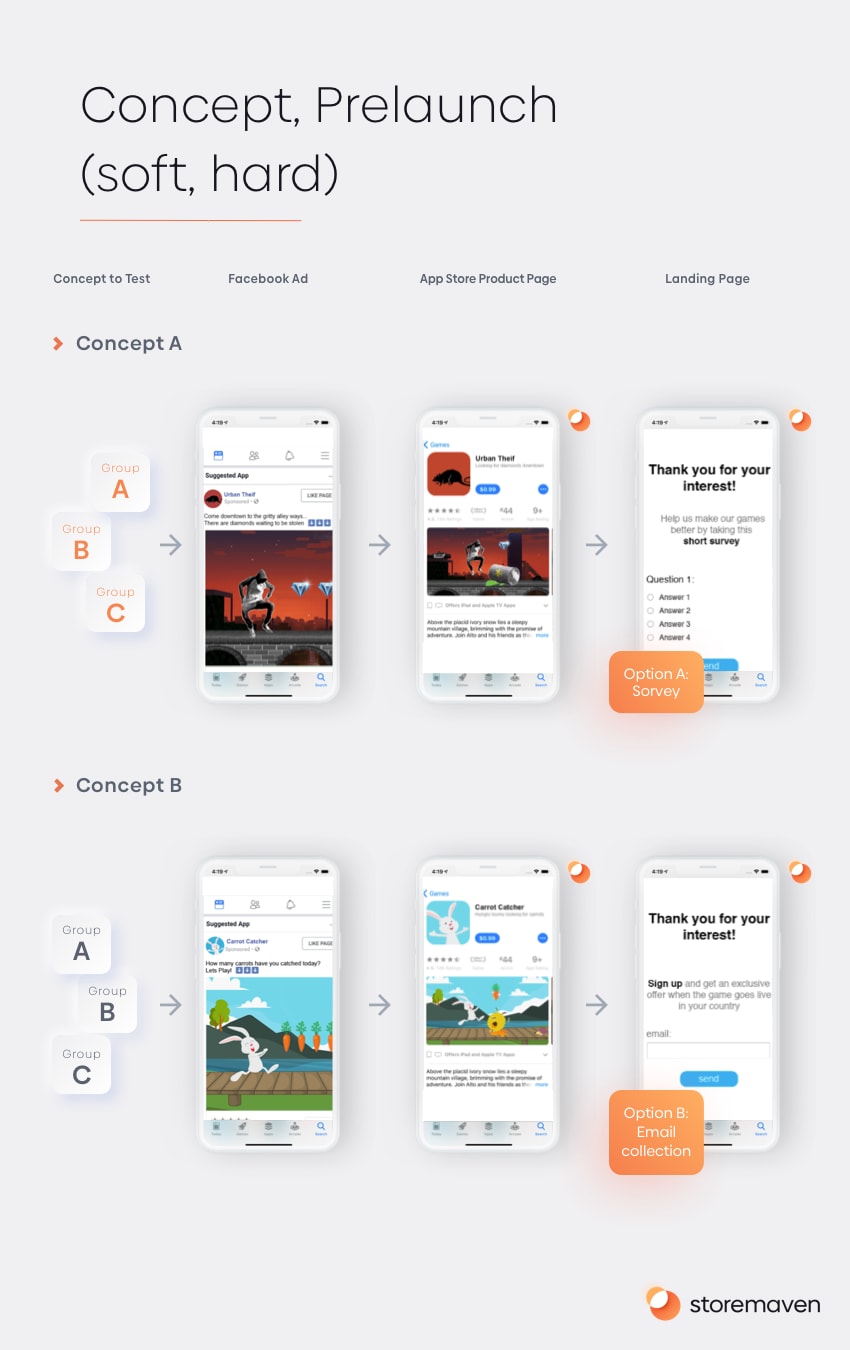 I. App Store concept testing
The first phase is testing broad and radically different concepts for your game or app. This is more popular for games than for apps (as apps have less flexibility with changing the entire concept of the app pre-launch). This means testing whether the game concept you're thinking about should be a racing game, a match-3 game, or a strategy game.
Moreover, you can test different themes for that game. Should your match-3 games be themed as a space game, a western, or be set in the future? Read more about app concept testing here.
II. App Store Pre-launch testing
After the concept of the game is set, you can continue to focus on optimizing the marketing messaging strategy for the game/app. Which features and benefits should you highlight and how?
This is done by developing hypotheses around what would get users the most excited about the game/app and designing app store assets (screenshots, videos, icons) to convey these hypotheses.
Five things you must know about Custom Product Pages

Improving app store discoverability: Apple App Store ASO & Play Store ASO
App store optimization is different depending on whether you are doing ASO for an android app or for iOS. In the next few sections, we'll look at some characteristics of app discoverability for doing apple app store optimization or Google app store optimization.
1. iOS App Store ASO
The way that users discover apps in the App Store breaks down to several main user journeys:
The browse journey – users that visit the App Store and find apps through the Today tab, the Games tab, or the Apps tab (through top category charts). Within these tabs, the App Store editorial team curates lists and collections of apps, as well as features certain apps and games in their own story. When users find an app this way, they discover an app through the browse journey or, in other words, by browsing the iOS App Store.

The search journey – users that visit the App Store search tab and search for certain terms or keywords. These can be branded keywords (typing a brand name) or more general genre keywords (typing "word games"). After searching for a certain term, the user is presented with the search result page showcasing the apps that rank for that keyword. With the iOS 15 update, users will be presented with different product pages depending on the keywords they search for.
In the App Store, the most effective levers to improve discoverability are:
Getting featured – getting noticed by the App Store's editorial team to be featured in one of the collections or featuring placements. This can happen naturally as the editors constantly look for great apps, or it can happen by submitting a request to the App Store's editorial team.

Choosing the right keywords – the first step is to conduct ASO keyword research and choose a combination of keywords that'll bring significant and quality search volume. After identifying the list of targeted keywords, implementing them in the metadata in an optimal way ensures your app is qualified to rank for them.

Search ads – using Apple search ads, you can gain significant visibility by appearing at the top of search results for your target keywords.

Improving ranking performance – Apple considers about 42 factors when determining which apps to display for each keyword. One of the most important factors is user behavior, which provides Apple with a sense of which app is more popular and loved and would provide the user with the best experience. App units, or first-time installers, are one of the most important metrics they take into account, measuring the velocity (growth) of first time installs an app is getting. This means that conversion rates for first-time installers is key to improving the chances you'll be ranked for your target keywords. You can influence the velocity by levergaing paid UA campaigns focused on new installs.
2. Google Play Store ASO
In the Google Play store, discovery happens through:
Explore – users who visit the Google Play store and find apps through the 'For You' tab, editorial lists (recommendations) as well as featured collections (i.e. strategy games you'll love).

Search – similar to the App Store, users on Google Play can search for terms and get a results page displaying the apps that rank for them.
As opposed to Apple's App Store curation approach, the Google Play store is much more reliant on personalization and algorithms that aim to find the best app for each user, be it on the 'For You' tab or the personalized collection.
This means that in order to effectively improve discoverability, you need to improve the metrics that Google Play factors into its algorithms.
The most effective way to improve discoverability are:
Getting featured by the editorial team.|

Improving your metrics – the Google Play team publicly shared what they take into account when determining which apps to display to users through the search or explore journeys:
a. Good in-app user experience
Have you thought about your UI and if your app has intuitive navigation, controls, and menu access? Do you have a good first-time user experience, overall polished design, and enough content to keep users engaged for the long term?
Quality guidelines: meet user expectations and maximize your exposure opportunities by testing against the quality guidelines for different platforms.

Testing tracks: release early versions of your app to gather early user feedback and make improvements before the full release.

Engaging content: build loyalty and sustainable app engagement by satisfying your users' needs

Ad placement: for apps with ads integrated, ensure a good user experience by choosing the right ad format and placement throughout your app.
b. Strong app stability and technical performance
Have you considered whether your app has good overall technical performance and if it is power-thrifty, responsive, efficient, and well-behaved? 42% of users who leave a 1-star review mention stability or bugs.
Android vitals: review the Android vitals dashboard to see how your app is performing on core vitals metrics including crash rate, ANR (application not responding) rate, excessive wakeups, and stuck partial wake-locks in the background. Look at developer-selected peer benchmarks to see how you measure up to others in your category. Exhibiting bad behavior in Android vitals will negatively affect the user experience in your app and could limit your exposure opportunities on Google Play.

Pre-launch reports: identify where your app has problems to ensure you're presenting the highest possible quality to users upon launch. The pre-launch reports use automated tests on real devices that can identify layout issues, provide crash diagnostics, locate security vulnerabilities, and more.
c. Effective store listing page
Last but not least, a quality app also means having an effective and accurate listing page. Does your page make a great first impression? Does it clearly and accurately communicate the value and intended use of your app?
Best practices: use strong creative assets, including your app title, icon, screenshots, and video, along with a clear and informative app description, that provides an accurate representation of your app. To improve discovery opportunities, we suggest all pages have a video (set to public or unlisted and non-monetized) to inform users about your app, and for game developers to provide 3 or more 16:9 aspect ratio screenshots.

Ratings and reviews: monitor your user ratings and reviews and respond to negative reviews where possible. When receiving a reply from developers, users increase their rating by +0.7 stars on average. Paying attention to ratings and reviews will be increasingly important as we roll out the new rating score in August 2019. This will place more weight on your most recent ratings in the Google Play store.

Store listing experiments: Google Play officially recommends running tests on your product page, which hints to us that they consider conversion rates as a metric when determining ranking and discoverability.

Custom store listings: tailor your marketing messages to specific user groups based on their country, install state or even pre-registration. This is a great way to highlight key features and updates best suited for existing or lapsed users.

Localization: take advantage of Google Play's worldwide reach to identify key markets, translate your app store listing, and even run store listing experiments to optimize for each country.
Mobile user acquisition and app store optimization
1. Why App Store optimization and paid user acquisition go hand in hand
In many companies, Mobile user acquisition (UA) and ASO are separated, with each team in charge of a different aspect of growth: paid growth or organic growth. But the truth is that the relationship between the two may be closer than you think.
2. How UA can benefit ASO
Let's take a look at paid UA first. As one of the ASO team goals is to improve discoverability, the team tries to improve its ranking for keywords and in the top charts.
As we saw in the previous section, the factors that determine keyword and chart ranking on both stores include the volume of first-time installers an app is getting.
So by combining UA with ASO efforts, a campaign that is designed to maximize the number of first-time installers can be executed with the purpose of improving rankings as opposed to the direct value these campaigns are usually measured on: the ROAS metric which shows the revenue from users who installed by tapping on an ad generated while using the app.
Thinking holistically about this, a first-time install campaign can contribute a lot of value to rankings by driving significant volumes of organic search and browse/explore installs that were never exposed to the ad.
Another aspect can be branded search. To improve the volume of branded search, one of the most effective methods is to run ads. By running these ads on multiple channels (Facebook, TV, YouTube, etc.), users get exposed to the brand, and some of them, instead of tapping on the ad, will eventually search for the brand name in the App Store or Google Play without going through the paid ad channel.
Measuring the value of UA in this way (by looking at the true ROAS, and not the direct ROAS) can significantly improve the ASO team's ability to drive results.
3. How ASO can benefit UA
The ASO team can also help the UA team by working with them to understand which audiences they are driving to the app product pages on both platforms (App Store & Google Play).
As the UA team looks at ROAS as a measure of ad success, they are deeply invested in lowering the UA cost (cost per install, or CPI).
One of the most common issues hurting CPI is low conversion rates on the App Store or Google Play product page. As users end up on the product page to install an app after tapping on a mobile ad, the lower the conversion rate, the more users you need to drive there and the CPI will be higher.
With the help of the ASO team running experiments and testing how users from different paid UA channels respond to the product page creatives, the UA team can experience higher conversion rates for their paid campaigns and lower the CPI, which will, in turn, increase the ROAS.
Benefits of App Store Optimization
To summarize, in this extensive guide we've discussed the ins and outs of how to do app store optimization. We've looked at the differences of ASO for both the App Store and the Google Play Store, which affects app optimization on Android and iOS.
There are many benefits to doing ASO – getting a competitive advantage over similar apps and games, improving CVR, bringing better, more suitable audience to your app, audience that monetize better, cutting acquisition costs and more.
But the main thing to remember is this: with over 2 million apps on each one of the stores, it doesn't matter how good your app or game is, it needs to be found. ASO is what puts your app in front of the tens of millions of mobile users, prevents it from being removed from the stores, and helps you achieve its true potential.
Conclusion
You've reached this far? Congratulations. If you went over this guide carefully, you are more than ready to start your journey down ASO lane. We reviewed the basics like:
What is app store optimization
Why ASO is important
How to do ASO
How to craft an ASO strategy
App store optimization best practices
App Store ASO and Google Play ASO
This ASO guide is meant as a resource for you to dive deeper into the different aspects of App Store Optimization and to help you maximize the growth your ASO efforts are driving.
As the App Store and Google Play are changing rapidly with updates and new features, as an ASO professional you should always stay on top of these changes. We update this ASO guide frequently to reflect the industry's ongoing changes to ensure you can count on it to improve every facet of your app store marketing.
We hope you've enjoyed it and find it valuable as you work to become a better ASO expert.