Summary
This step-by-step guide explains how to create a Facebook campaign that will direct traffic to a mock-up version of your app store page
StoreMaven's platform will collect data on user behavior and conversion from this mock app store page
Once users click "Get" or "Install," they will be redirected to the real app store page
Getting Started
Go to Facebook's Ads Manager
Create New Campaign, Ad Set, and Ad
Create Campaign
Click the green "+ Create" button


Once you click on "+ Create," you will be redirected to the screen below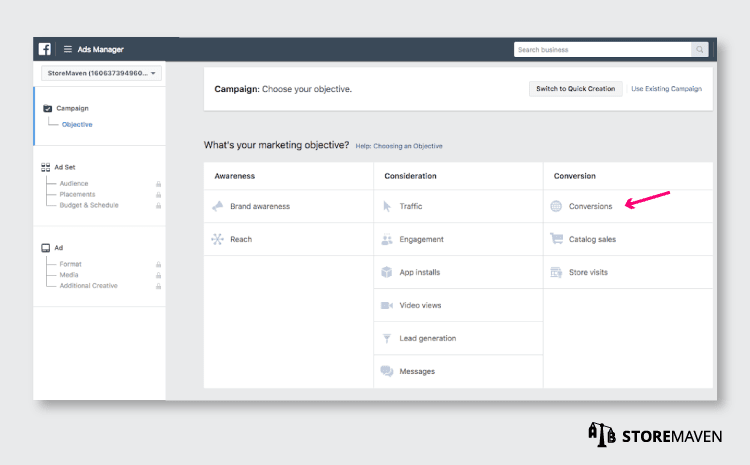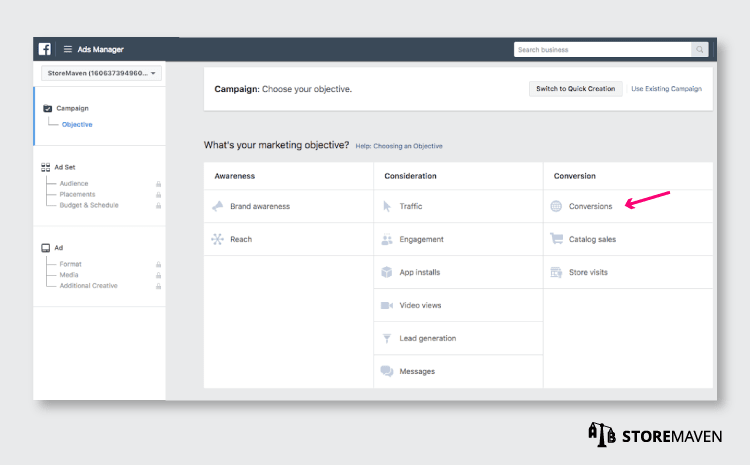 Click on "Conversions"
Name your campaign under "Campaign Name"
Select "Registrations" under "Key Result" dropdown
Click on "Continue"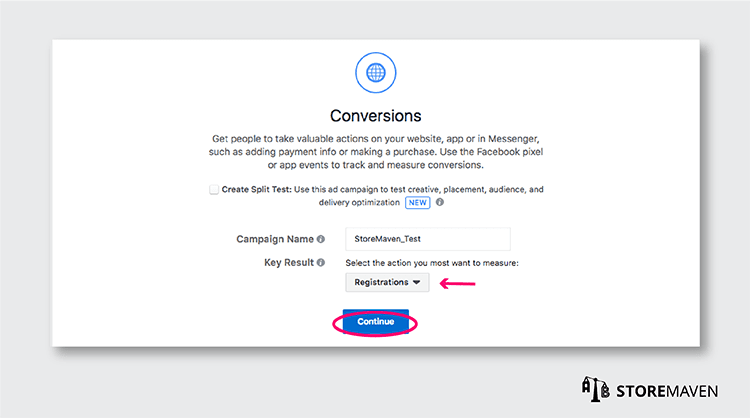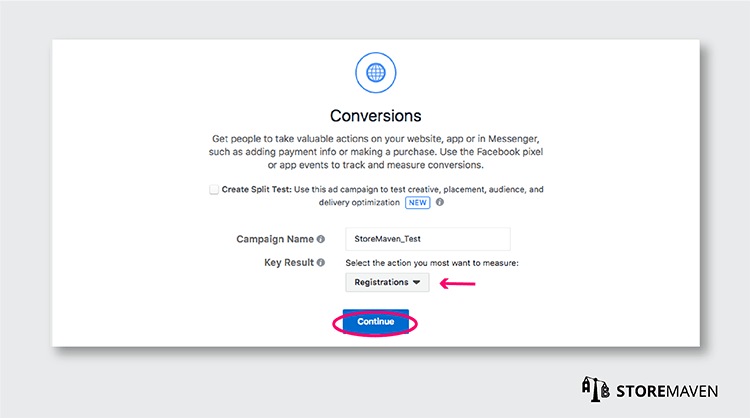 Create New Ad Set
Under "Create New Ad Set," name your Ad Set


Under "Conversion," select "Website." Then, in the box under "Website," you must select a conversion event. In our tests, the default event is typically "Complete Registration." However, you may choose a different event as long as it matches the one you used in your test set-up on the StoreMaven platform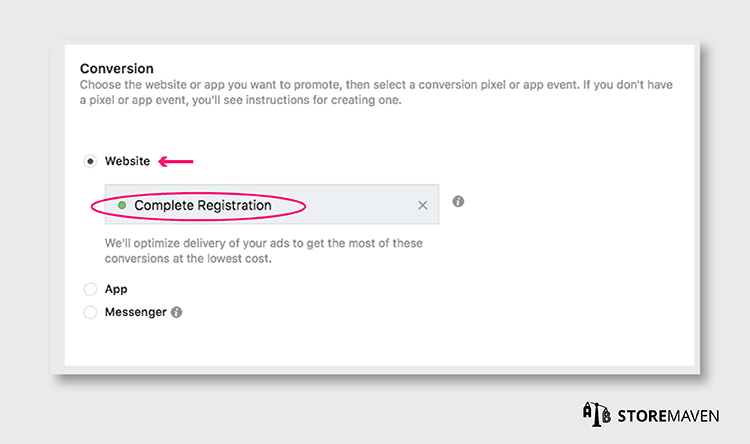 If you've already created a pixel, you can skip the next step
Create a pixel
If you do not have a predefined pixel, you can create one. In order to do so, click the "Ads Manager" tab in the top left corner of the Ads Manager dashboard and select "Pixels"


When you click into "Pixels," you will be redirected to the screen below: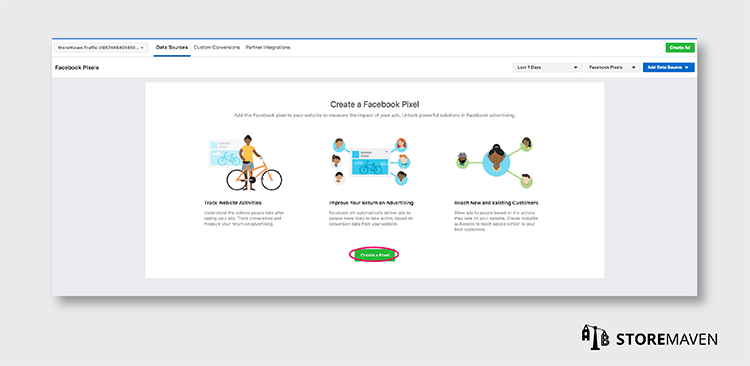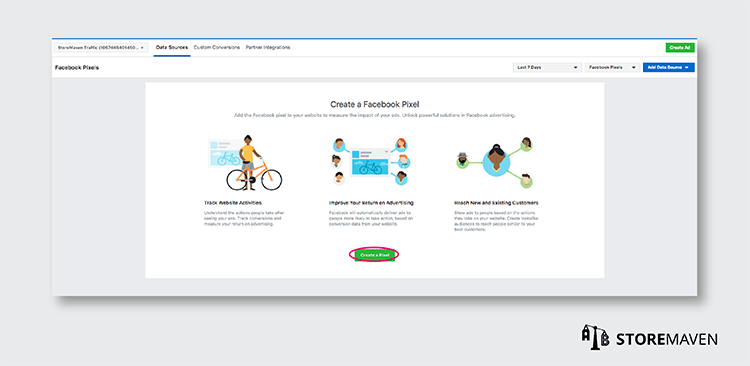 Click on the green "Create a Pixel" button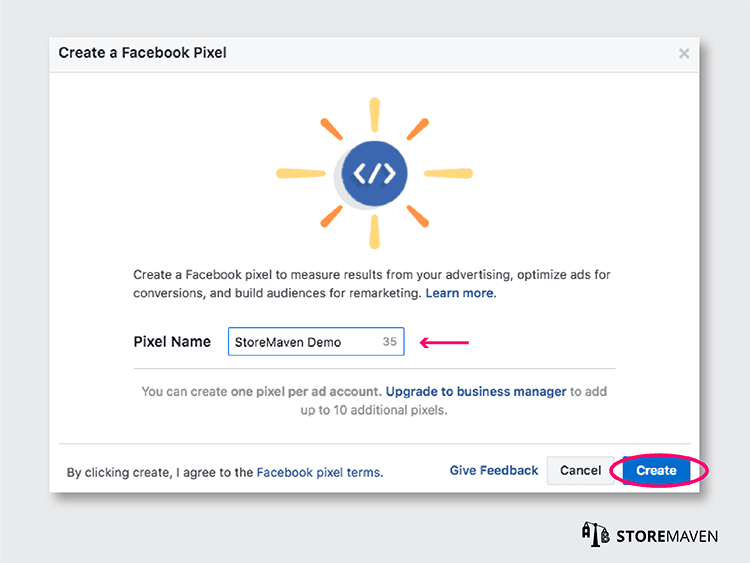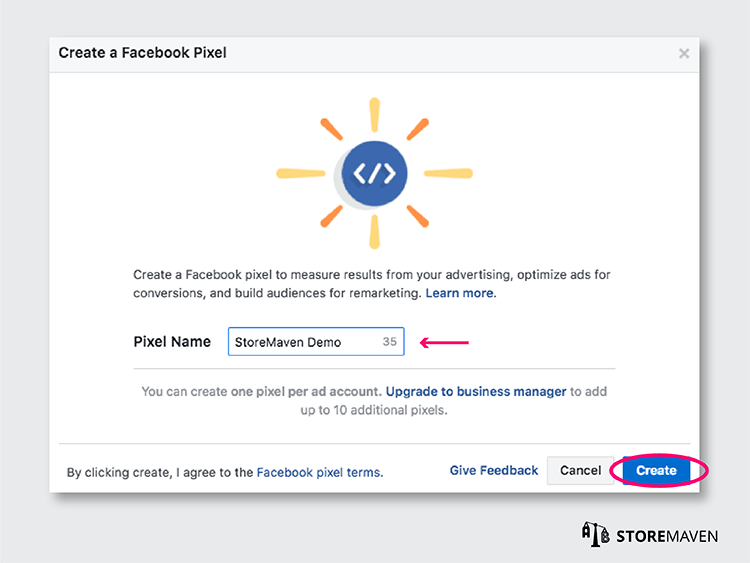 Give your pixel a name and click on "Create." The following window will then appear: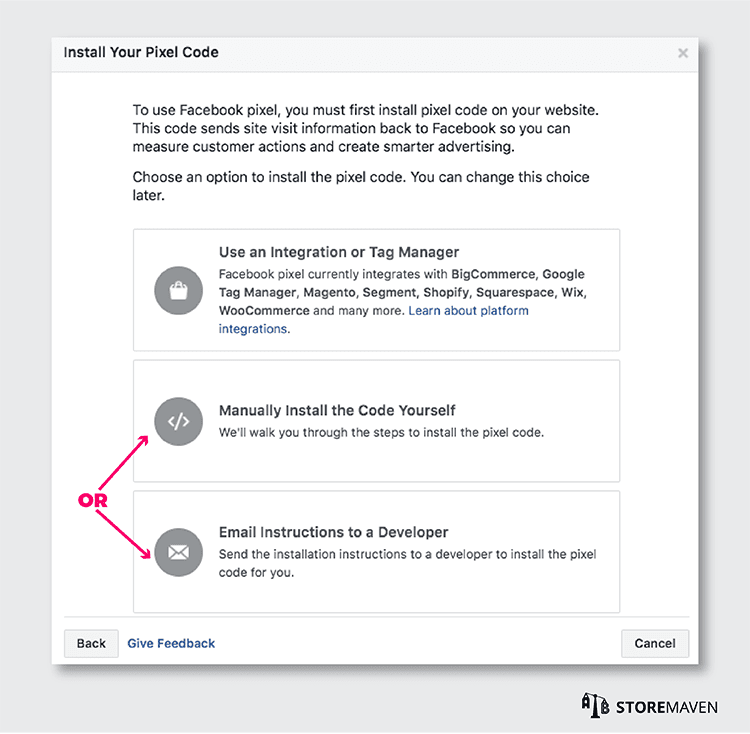 Select "Email Instructions to a Developer" and type in your StoreMaven ASO Consultant's email OR choose "Manually Install the Code Yourself"
Option 1: Email Pixel to StoreMaven Consultant
If you choose to email the pixel to your StoreMaven ASO Consultant, the window below will appear: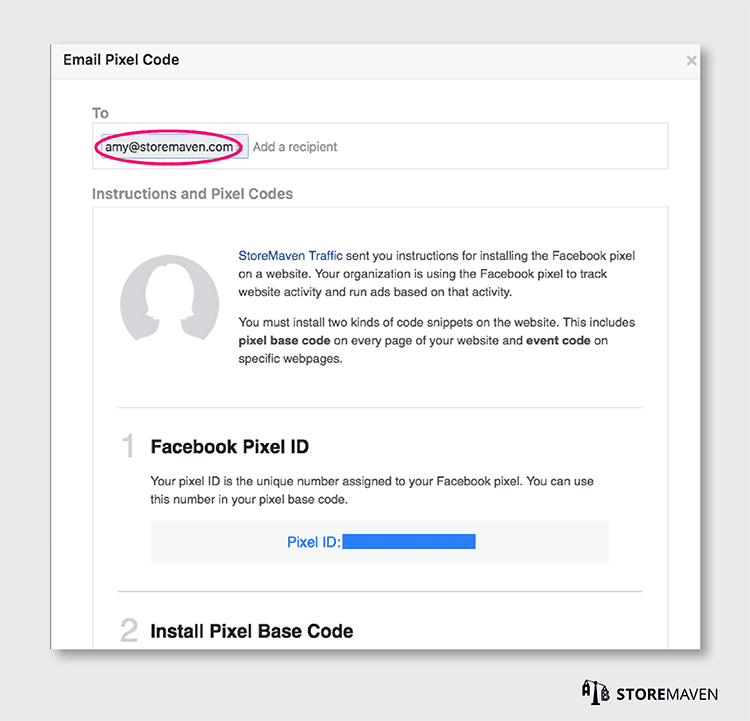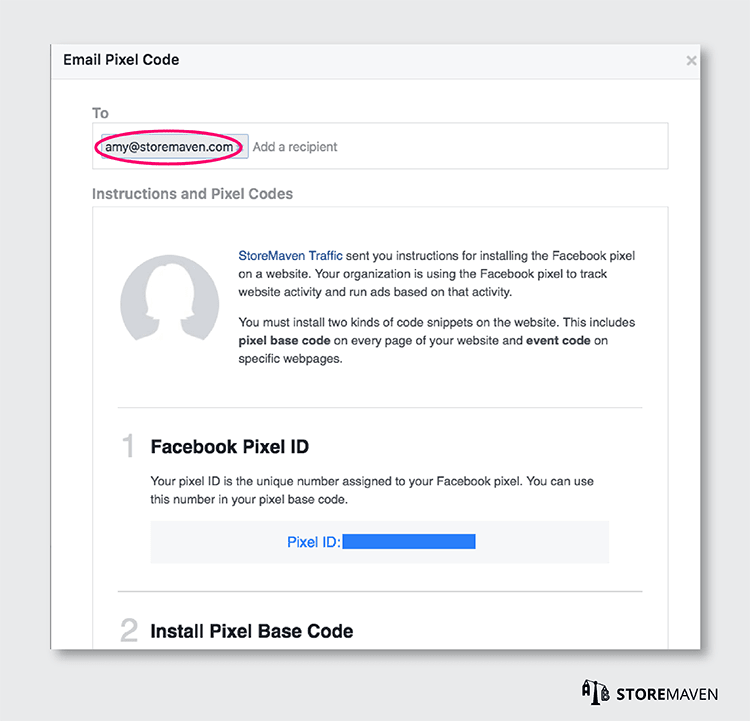 Input your ASO Consultant's email, and scroll down to click "Send"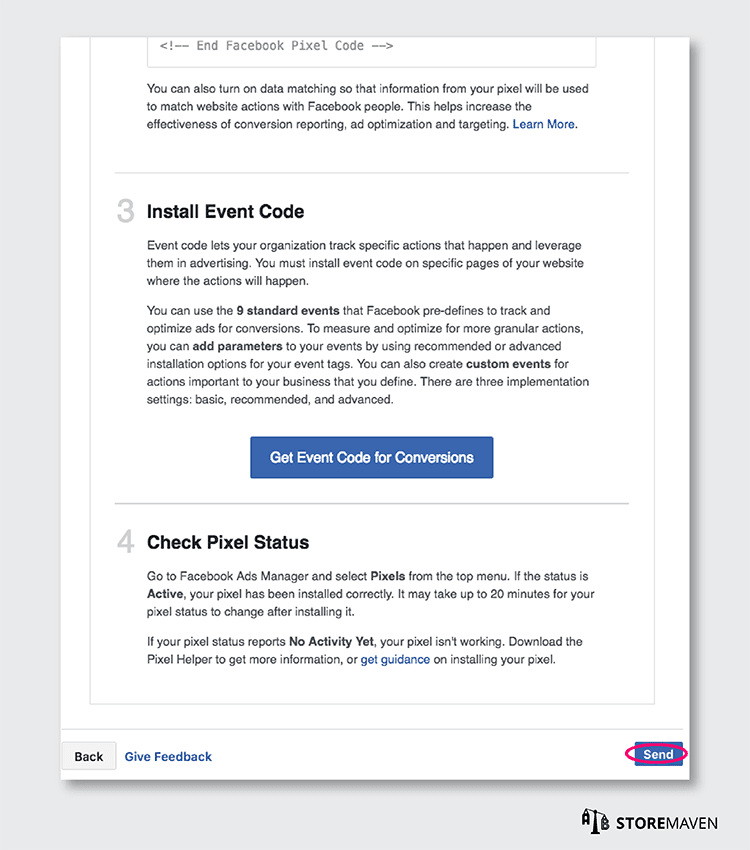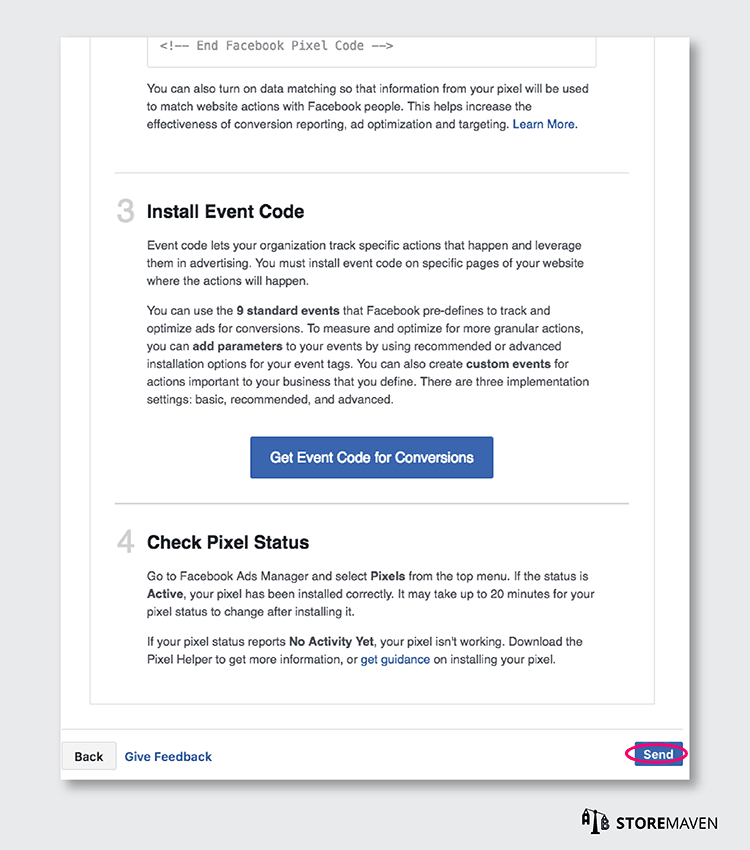 Option 2: Enter Pixel Manually
If you choose to manually install the code yourself, scroll down to Section 2 of the page as shown below. Copy the code, and click "Continue." You will then need to add this code into the test set-up on the StoreMaven dashboard.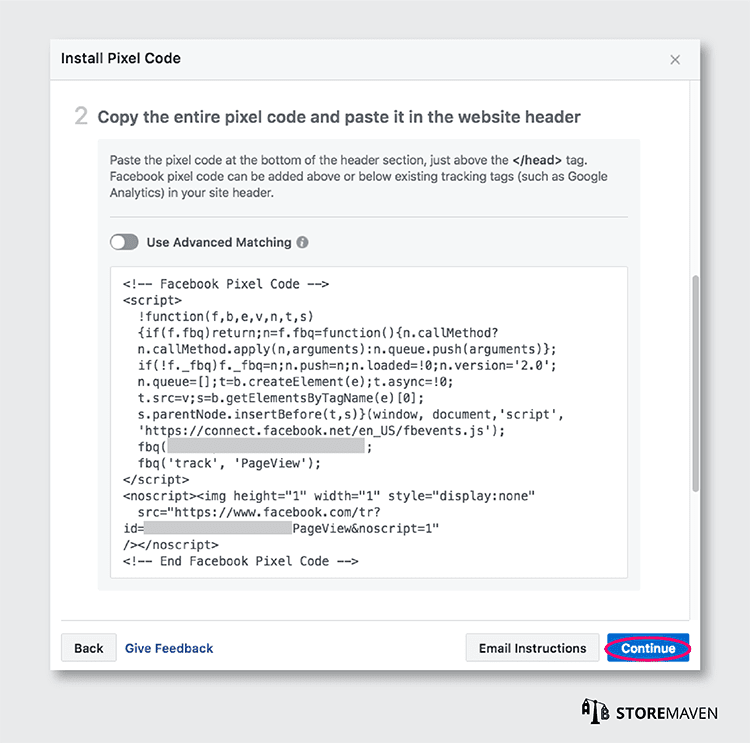 Add Pixel Code to Storemaven Dashboard
Go to your StoreMaven dashboard and open the relevant product for this pixel


Click the green pixel icon on the top right corner of the relevant app page
Choose pixel type as "Facebook"
Enter Pixel Code by pasting the pixel code you copied from Facebook Ads Manager
Choose conversion event (make sure it's the same conversion event you chose in Facebook's Ads Manager page)
Click "Done"
All tests created under that product will now automatically be implemented with the pixel
If you'd like to disable/change a pixel for a specific test, you can do so by editing its details: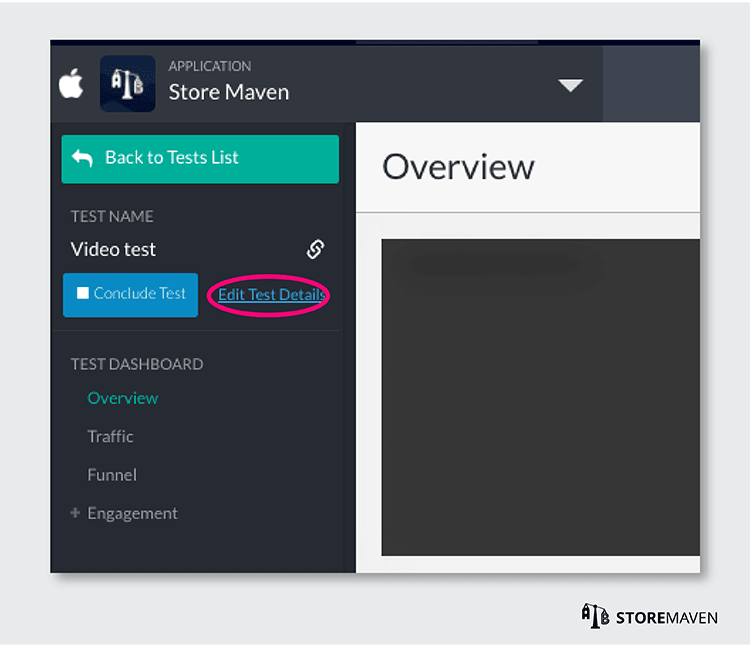 Click "Show Advanced Settings"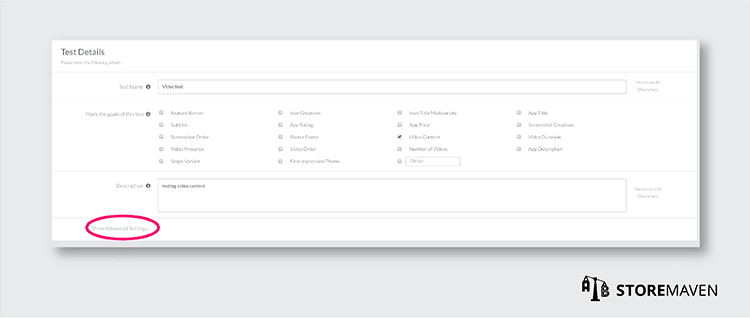 The last settings feature is the "Conversion Pixel" for which you will follow the same instructions written above



Continue creating your Ad Set
Once your pixel is configured on the StoreMaven platform, you can return to creating your Ad Set within Facebook and pick one of the available default events
As mentioned before, select "Website" under "Conversions" and click the box that says "Please select a conversion event." We recommend selecting "Complete Registration"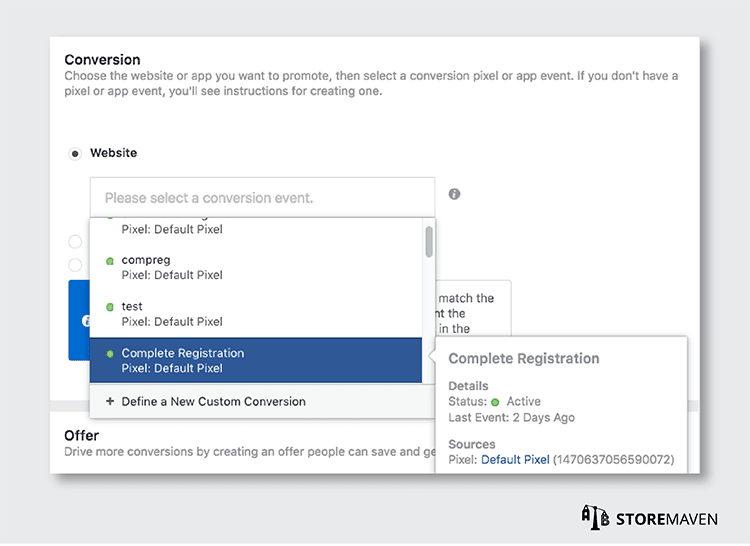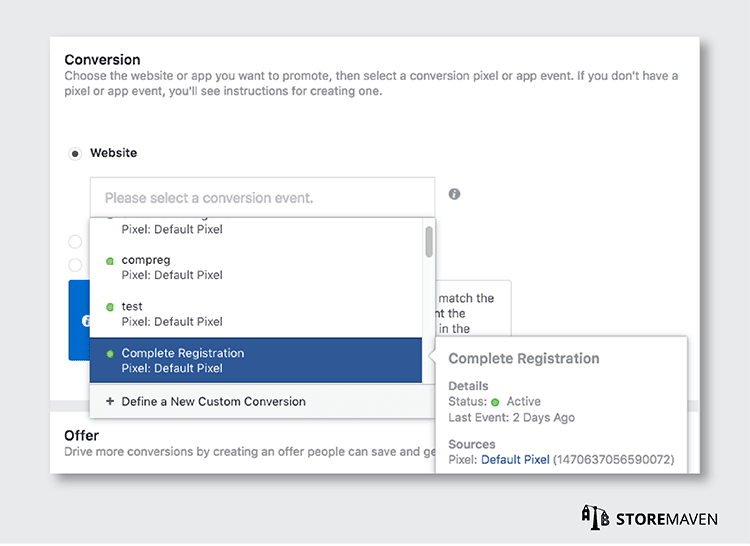 Audience
In the "Audience" section, fill in the details according to the audience you will be targeting in your campaign
At the bottom of the Audience menu (next to "Connections"), click on "Add a connection type." Then click on "Apps" and select "Exclude people who used your app"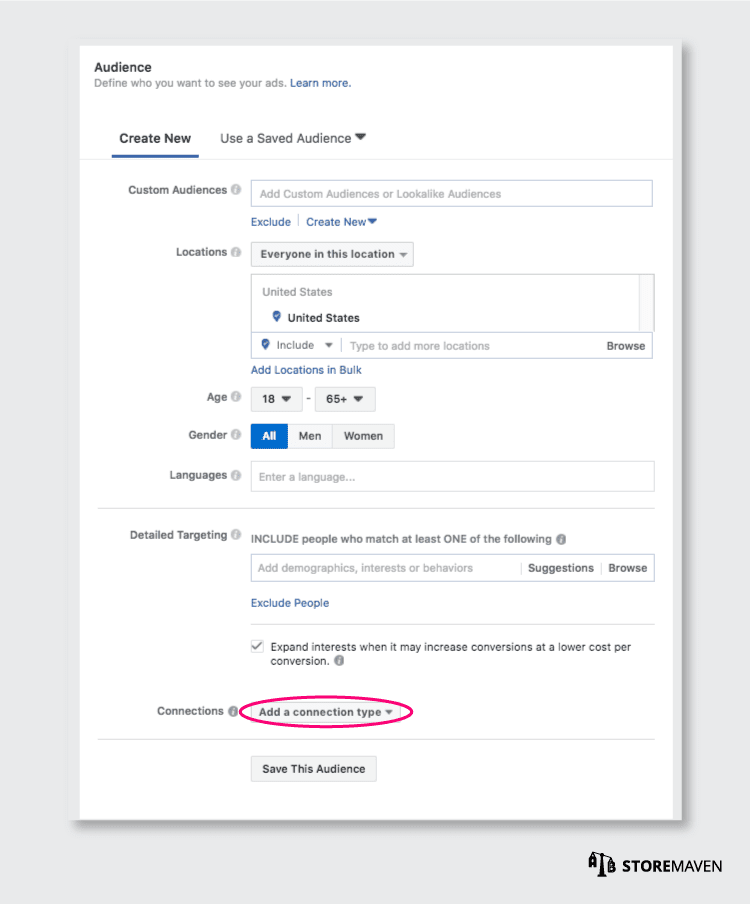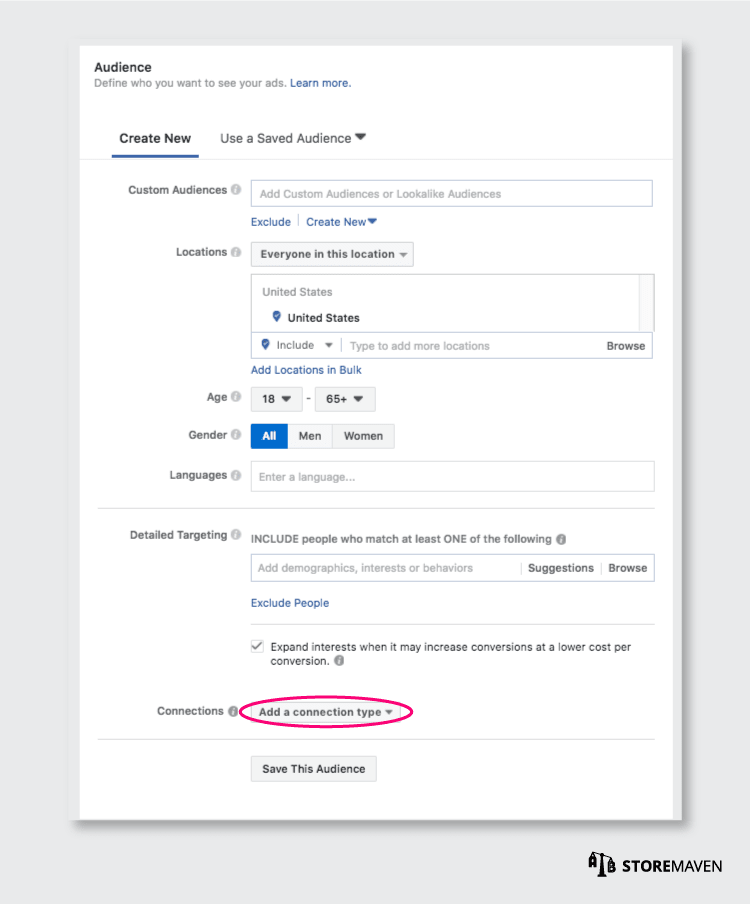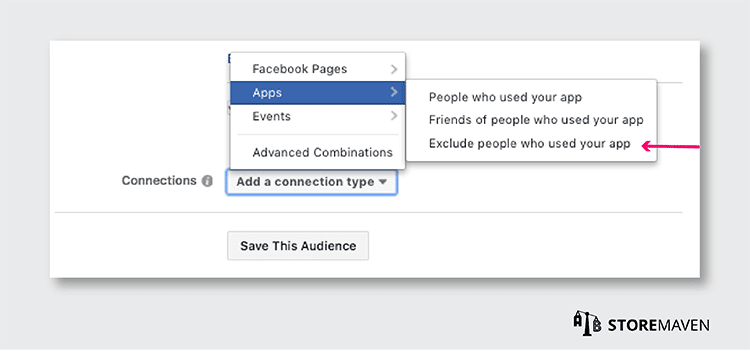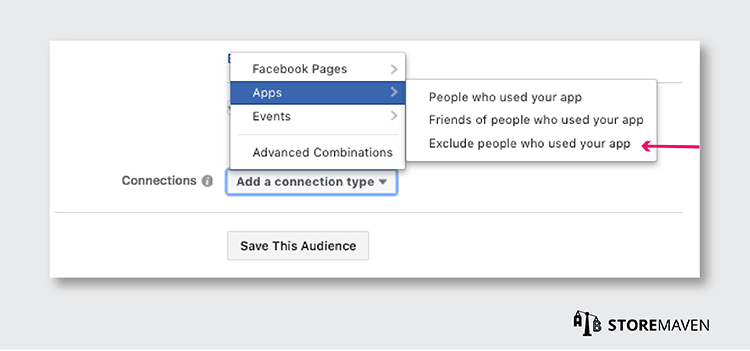 Placements
Within the "Placements" section, select "Edit Placements"
Under "Device Types," choose "Mobile Only"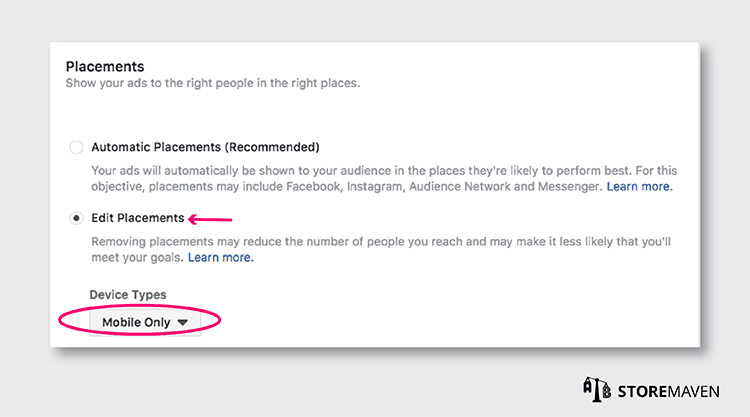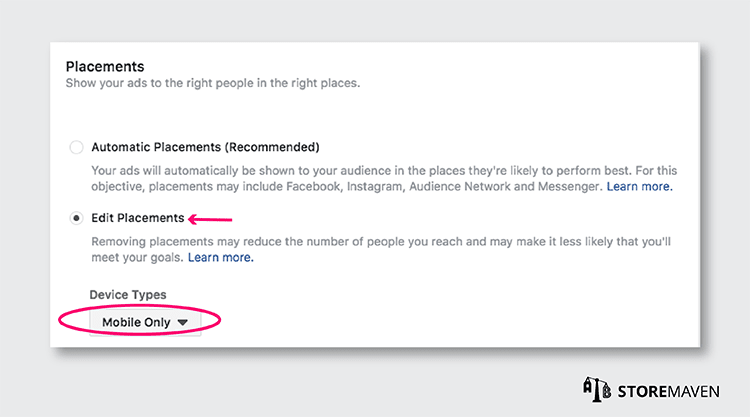 Under "Platforms," select the various platforms you will be targeting on Facebook

Please note that by using Facebook's "Audience Network," your ads will show in approved partner mobile apps and mobile websites that are part of Facebook's Audience Network
Users that come from Facebook's Audience Network platform have the following characteristics:

Pros: Lower CPC in comparison to Mobile News Feed users
Cons: Lower Install Conversion rates in comparison to Mobile News Feed users

Read more about how to effectively run Facebook campaigns for a StoreMaven test here!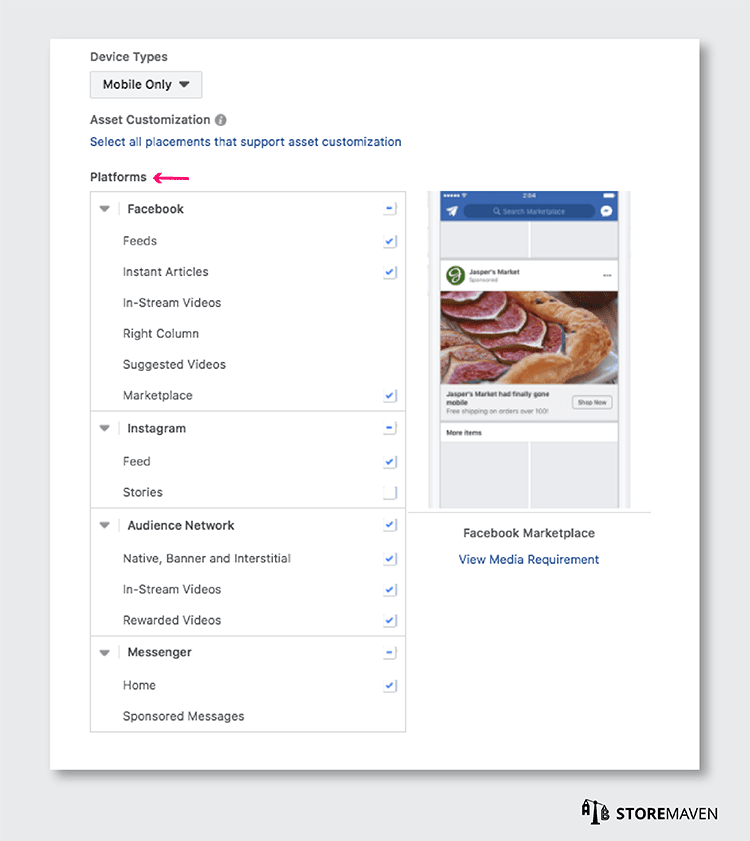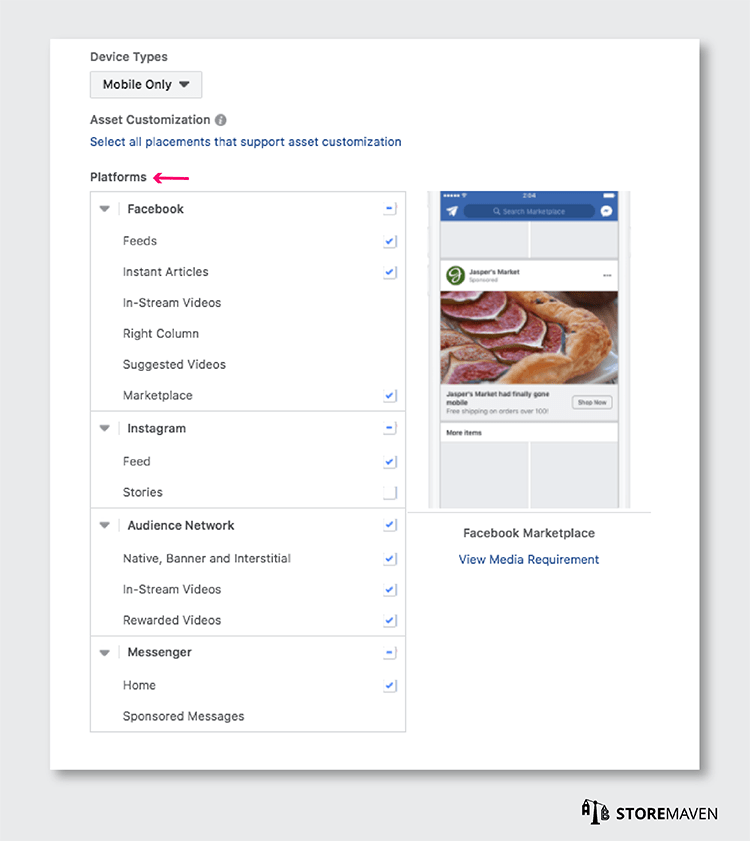 Under "Specific Mobile Devices & Operating Systems," select the platform you are testing on (either Android or iOS)
Once you have selected the right platform, exclude any devices that are not phones

For Google Play, choose Android devices only and unselect "Android Tablets (all)"
For iOS, choose iOS devices only and unselect iPads and iPods

In the example below, we have selected iOS phones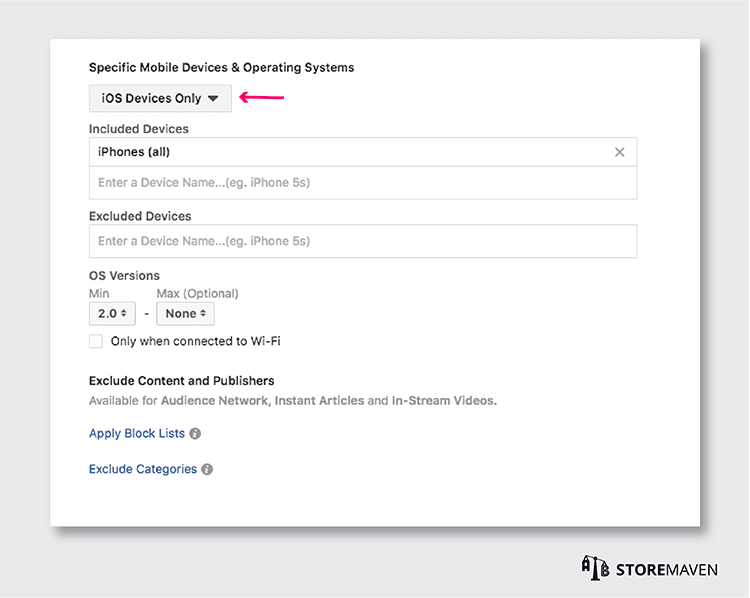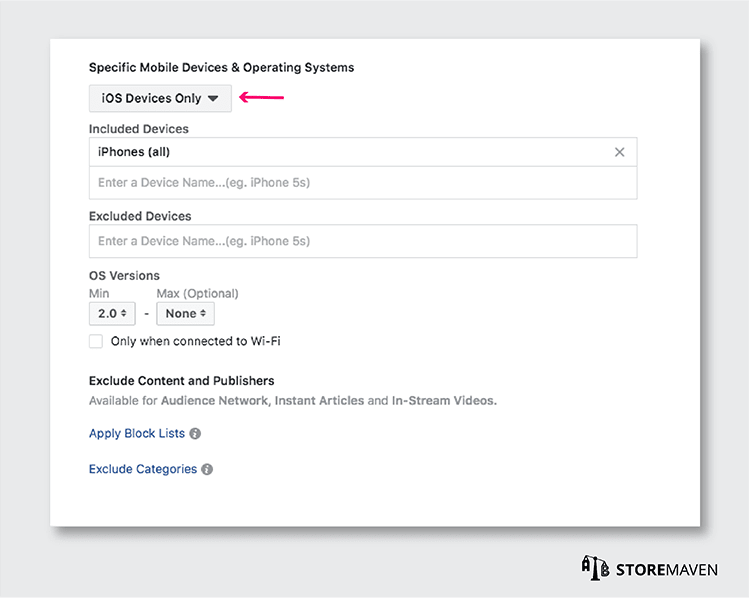 Budget & Schedule
Input daily budget
Schedule the start date for your campaign
Under "Optimization for Ad Delivery," leave "Conversions" selected
Under "Conversion window," we recommend selecting "1 day click"
In "Bid Strategy," leave "Lowest Cost" selected
Click "Continue"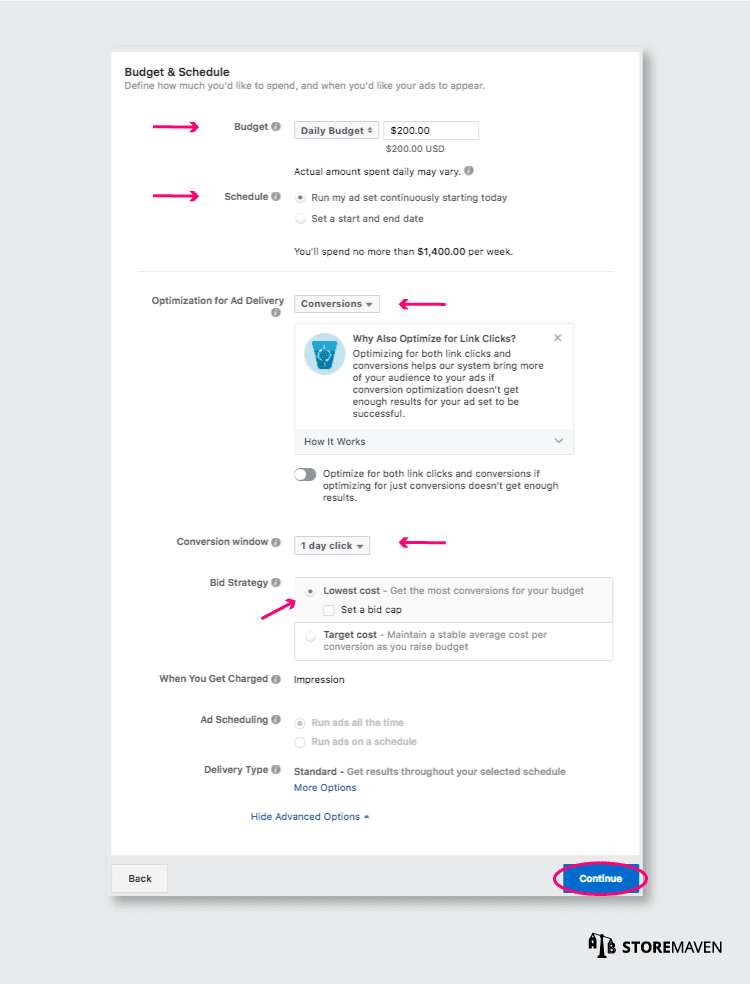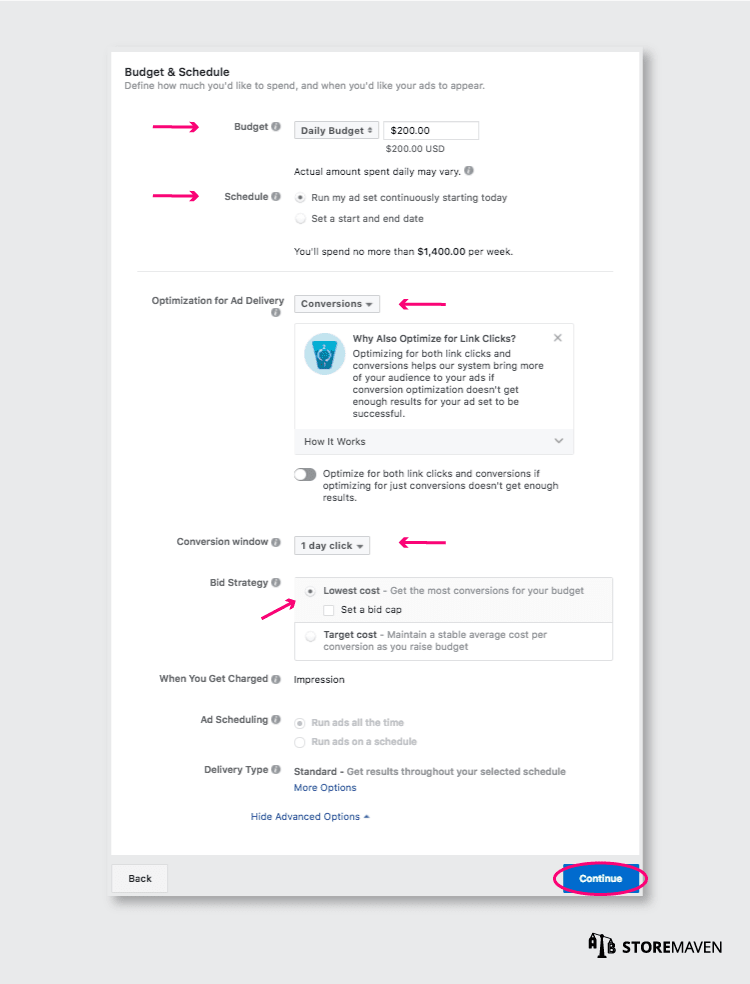 Create Ad


Under "Identity," select your Facebook Page. If relevant, select your Instagram Account as well


Under "Format," choose how you want your ad displayed. In this example, we have selected Single Image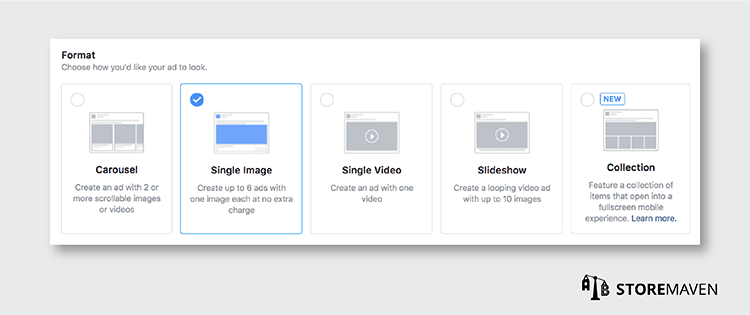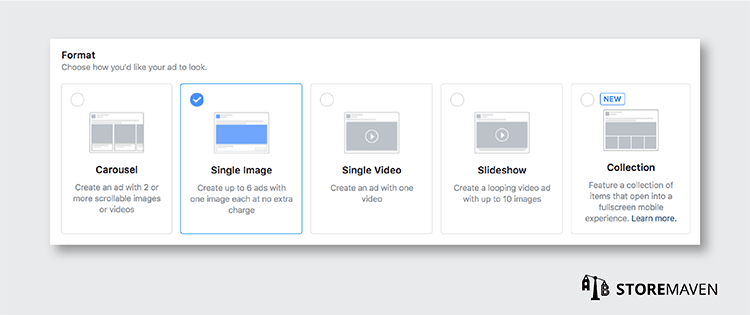 Upload your image(s) or video ad
Under "Links," add your StoreMaven test URL. If you are targeting different audiences and would like to collect data on the CVR and behavior of these new targets, paste the URL with the relevant parameter here. If you need assistance setting-up different URLs, please contact your Storemaven ASO consultant
Input your Text and Headline
Under "Call to Action", select "Download"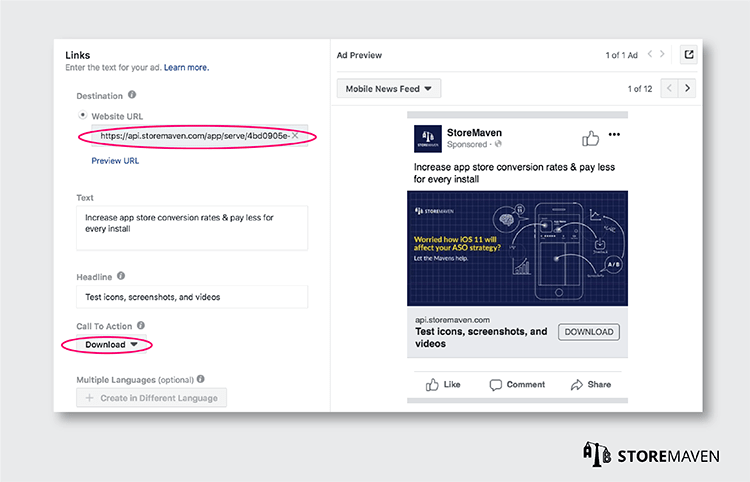 Under the "Advanced Options" dropdown, there's an optional space to enter an additional description of your app in "News Feed Link Description"

Leave "Conversion Tracking" section as is

Please note that Facebook will review your ad image to ensure that it complies with their image text guidelines. We recommend referring to the Facebook Ads guide to ensure your ad complies with their requirements. You can also refer to Facebook's image text check to determine how much text is in your ad image and its potential impact on your ad's reach.
Upon completion of all relevant fields, click "Confirm" at the bottom right corner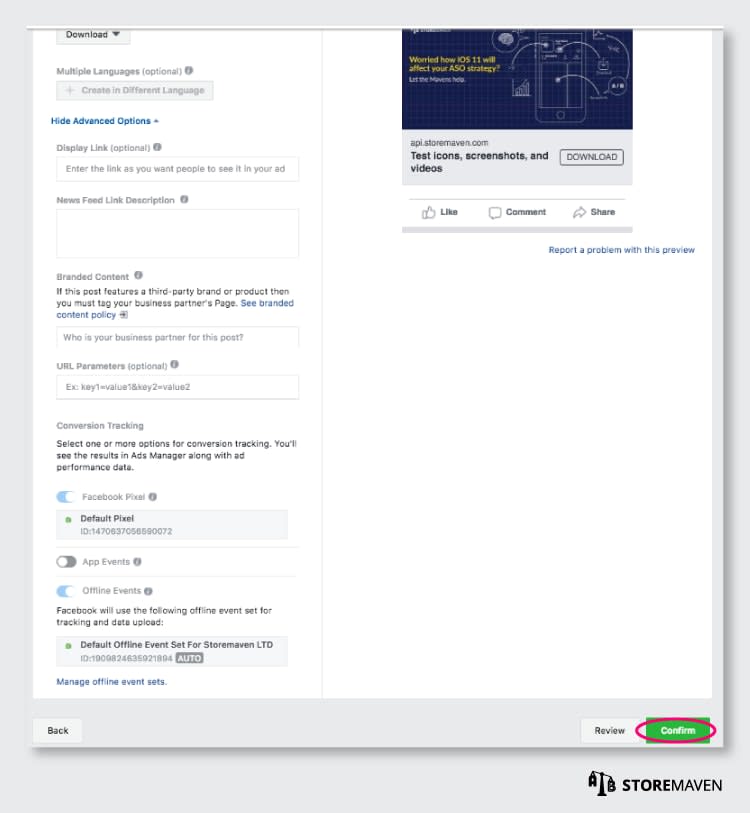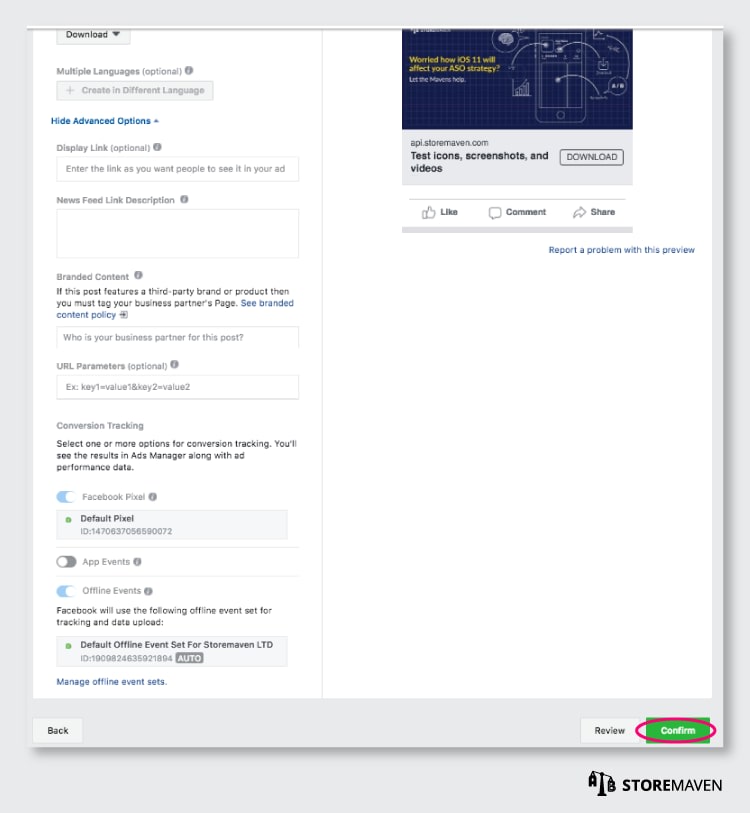 After you click "Confirm," you will be redirected to the page below: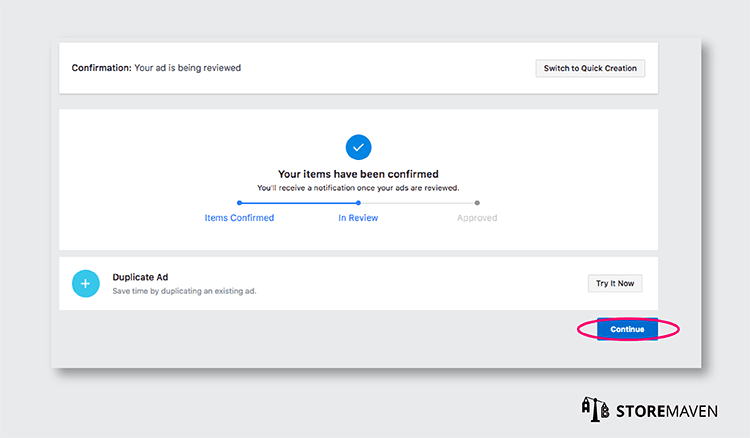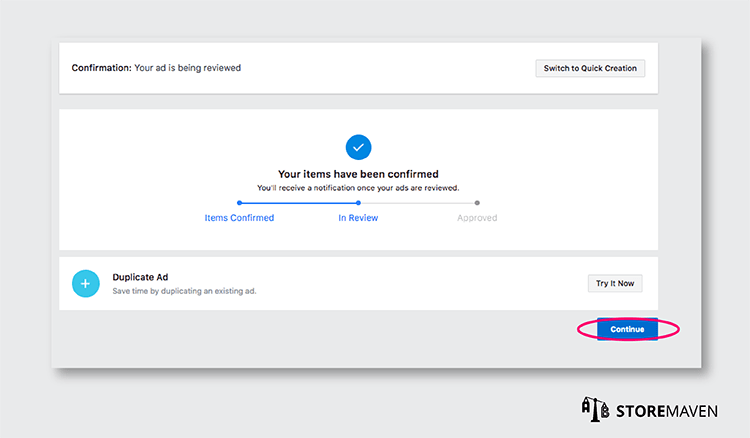 Click "Continue"
At this point, your campaign will now be active once it is approved!
Never miss an update in the ASO industry with Storemaven's newsletter
Join 10,000 mobile marketers that stay on top of their craft

Confirm campaign is active
Return to your Ads Manager page
Click on your campaign
Click on your ad sets
Make sure your campaign is scheduled to start at the desired time
Once Facebook approves your ad and ad set, your ad campaign should start delivering
Now you are ready to launch your Facebook app store testing campaign with StoreMaven!
Have any questions? Email your StoreMaven ASO Consultant or [email protected]!