For the past year or so, Google Play has been taking steps towards what many would call the "holy grail" of mobile marketing in the app stores – a unique app store page with creatives and messaging customized per audience and traffic source.
Unlike web marketing, mobile marketing efforts have been significantly limited as brands were forced to select one app store marketing strategy to appeal to their entire user base, regardless of user characteristics or flow to the page.
About a year ago, Google announced its intention to provide customized store pages which would enable mobile brands to display customized Google Play Product Pages to different localizations and grouping, beyond the default country-language selection.
Google also mentioned that it is testing whether it makes sense to provide mobile apps with the option to customize their app store page for different kinds of users. This could mean presenting a different page depending on whether users already have install
ed the app or would-be first-time install
ers.
While neither of those customization features has yet been released, Google is still toying with page customization. Just last week, during a casual chat in an app store marketing slack channel, Andre Kempe, founder of the app marketing agency Admiral Media, revealed an interesting proposed development within the Google Play ecosystem. The StoreMaven
team took an in-depth look at this likely upcoming feature in order to uncover more information about this pivotal moment in the mobile marketing industry:
What is the proposed change?
According to the slide below, we are still somewhat left in the dark, as Google has still not released any official content about this proposed change. However, we do know that for Google Universal App Campaigns (UAC), it looks like Google will enable customization of your Google Play Product Page First Impression per campaign.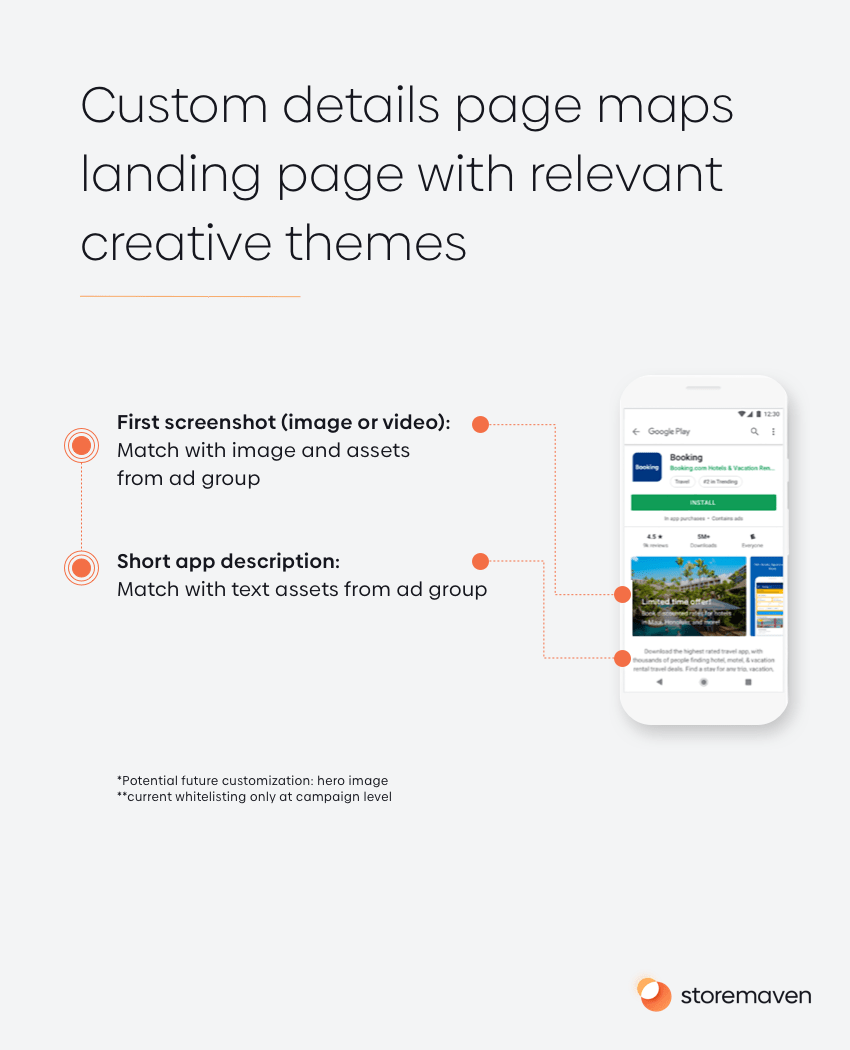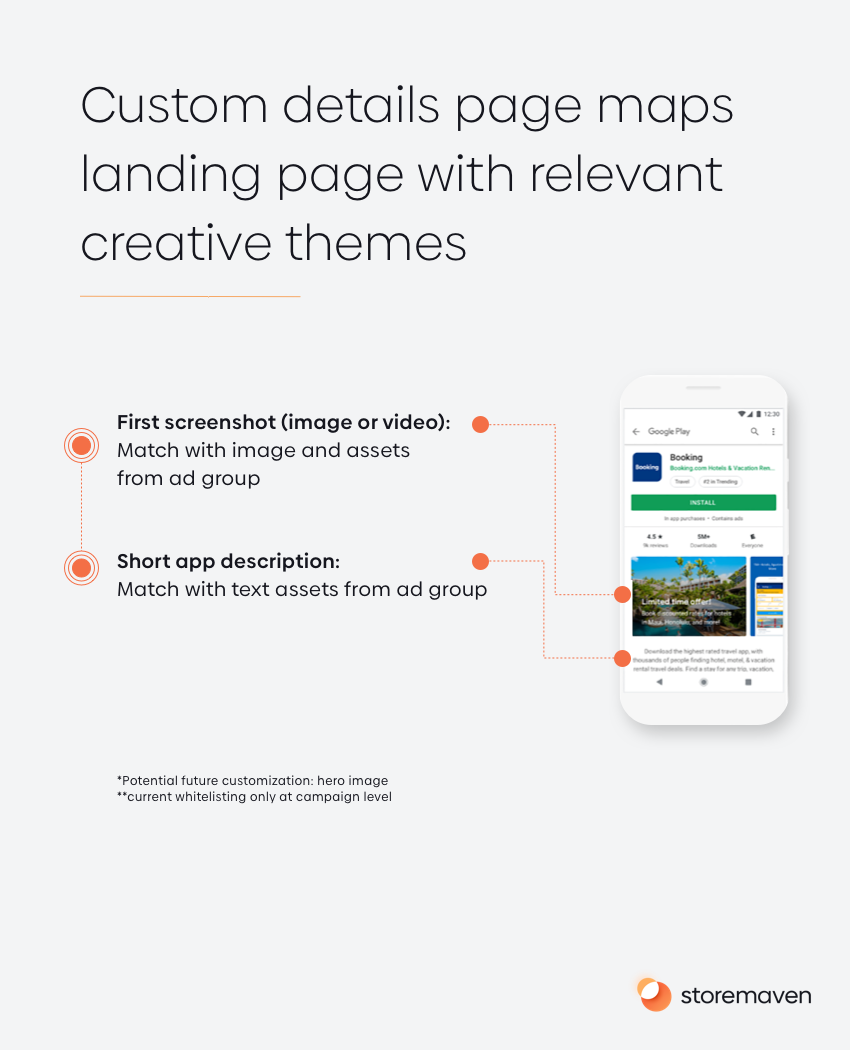 This would mean that on a campaign level, you'll be able to change the first screenshot
/video poster frame, as well as the short app description
, and align these creative sets with the campaign ad creatives.
Why is this significant?
Through our rich body of testing app store marketing creatives and analyzing the interaction of the ad creatives and the app store page creatives, we have come to understand how critical it is to consider the full mobile marketing funnel when developing a strong performing and effective mobile marketing strategy. A cohesive mobile marketing strategy is key and some major marketing pitfalls to avoid include:
Ad creative and Product Page creative mismatch can significantly drive up the cost per install/desired action, often doubling the cost. Users are influenced and primed by the messaging they are exposed to in the ad creative and this impacts how they interact with the product page. A design, messaging, or brand dissonance can cause you to lose users at the users' key decision point in the actual Play Store, rendering your valuable user acquisition and branding efforts less effective.
Marketing repetition can harm conversion rates. Sometimes mobile brands will show the same messages or creatives in multiple placements along the mobile marketing funnel, which can actually decrease conversion rates by 20%-25%. While it is important to maintain brand consistency, it is key to introduce different messaging and concepts to users as they go along the user journey in order to ultimately convince them to decide to install
your app as well as to best inform users on what they can aim to do within the app post -install
.
A Custom Details Page (CDP) as named by Google, if done right, could enable mobile marketers to consider and better map out the fuller mobile marketing funnel for UAC traffic, specifically.
By using a CDP, a mobile brand's UA team can create campaigns that direct users to a customized First Impression that better speaks to users' interests. For example, if a photography app knows that its younger users prefer the social aspects of the app, whereas its older users prefer the professional photography features, its UA team can create customized funnels to better resonate with each demographic and their specific interests.
What about The App Store?
The closest semblance that Apple has to customized mobile marketing is its creative sets feature within Apple Search Ads. In February 2018, Apple increased the number of screenshot
s that mobile apps could include in its App Store Gallery
to ten. Following that update, a few months later Apple introduced Creative Sets, which is a Search Ads Advanced Feature. This feature enables mobile apps to leverage the additional screenshot
s in order to create more ad variations, which can be aligned with specific keyword themes and audiences.
However, it is unlikely that Apple will follow suit with Google's update and enable a customized product page, especially as the review process is manual and time-intensive.
When will we know more?
The short answer is we don't know. Google Play tends to announce features without a clear timeline or much visibility regarding the roll-out plan. We are keeping a watchful eye out for any changes and will of course update accordingly.
Never miss an update in the Mobile Growth industry with Storemaven's newsletter
Join 10,000 mobile marketers that stay on top of their craft

So what can app store, mobile marketing, and user acquisition folks do now?
This bold move by Google Play and the UAC team shows us that Google is aiming to provide more flexibility and autonomy to mobile marketers in order to improve their mobile growth objectives, which ultimately of course benefits Google.
Given how the Google Play ecosystem has evolved over the past few years, it would not be far-fetched to believe that Google will continue to develop and release features that will allow developers to exercise more flexibility and customization within the Play Store.
In the meantime, we recommend that you gather more information about your audiences in order to start thinking about a customized app store marketing strategy by user groups, whether it's related to source, demographics, interests, or behavior.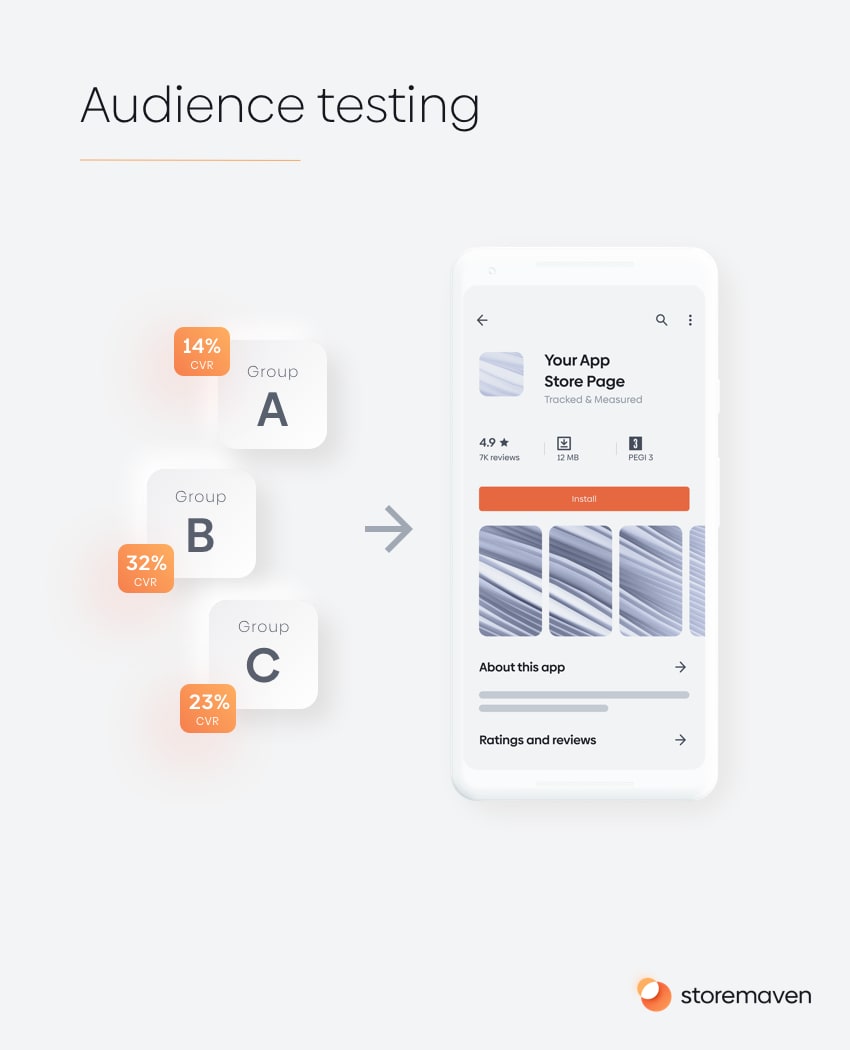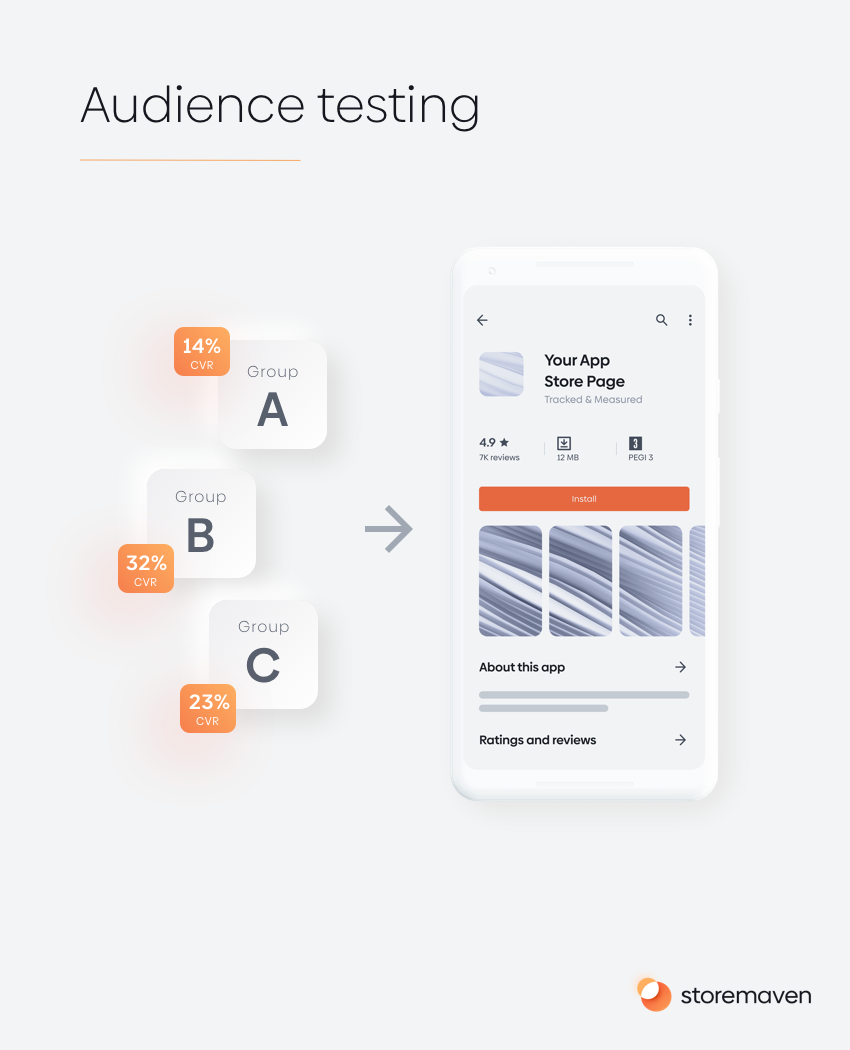 StoreMaven's testing platform equips mobile developers with the ability to test certain messages and mobile marketing flows by audiences; this kind of testing will best prepare you for the upcoming change as well as enable you to develop a more informed and ultimately, more effective mobile marketing strategy.
Contributor: Amy Hilman