Google Play Search
Google Play Search is an organic traffic source that includes all users who find an app after searching for a query or keyword in the search bar in the Play Store. What is Google Play Search
Google Play Search is an organic traffic source that includes all users who find an app after searching for a query or keyword in the search bar in the Play Store. These are high-quality users due to their intent; they're searching specifically for a brand or using a keyword that they know will lead them to the desired app listing. It's this 'purpose' that makes this type of traffic worth so much to app developers/marketers- if anyone is likely to engage and invest with their app, it's this traffic source group.
There are a few ways to search for an app listing. Using 'Branded' keywords means a user intends to engage with a brand they know and want to find, for example 'Nike' or 'Candy Crush'. Or a user can search for a game / app via 'genre keywords' (the category that best describes an app) which relate to the type of app they're looking for, for example a user looking for a game may search using the keywords 'Educational games' or 'Driving games.'
In the search results page, Google Play users will see app icon and app name only, which is less than the App Store which shows app name / icon / subtitle and screenshots (or video if there is one.)
Why Google Play Search is Important
A leading target for marketing strategies is to increase traffic to a product page in order to generate organic downloads, which makes search traffic a crucial aspect to the process.
Google Play search traffic drives a large portion of app installs. These users are engaged and are of high quality, so not to tap into the source is a wasted opportunity. Users arrive at an app listing either via branded or genre keyword searches; they've come at no direct expense e.g via responding directly to an ad campaign nor have they found the app they're intending to when browsing. To repeat, not to tap into that is a wasted opportunity; app devs / marketers should be looking to acquire as much of this traffic as possible. We know that the higher an app ranks for relevant keywords (and other factors such as reviews / ratings / install rates etc) the more visibility it has, so for an app that ranks highly, it will be more visible in the search results for specific keywords. All of this (and more) can be analyzed using Google Play Console which shows how an app is performing. Having a data-driven platform to inform app devs / marketers which traffic source a user comes from, can provide invaluable insights into the behavior of users in the Search traffic group.
Google Play Search and ASO
Search is a traffic source in Google Play that ASO teams are always looking to increase. Organic traffic coming to an app listing that's optimized is a great way to see an increase in installs. This isn't always an easy move seeing as the competition is fierce; more and more experts are optimizing as effectively as they can in order to direct as much Search traffic to their app listings.
Of course, Search traffic arrives at an app listing (having searched for it with meaning and intent) that doesn't convert to an install; this is where ASO teams need to do their best work, strategizing a response to understand what on a product page failed to convert a user to download, and why.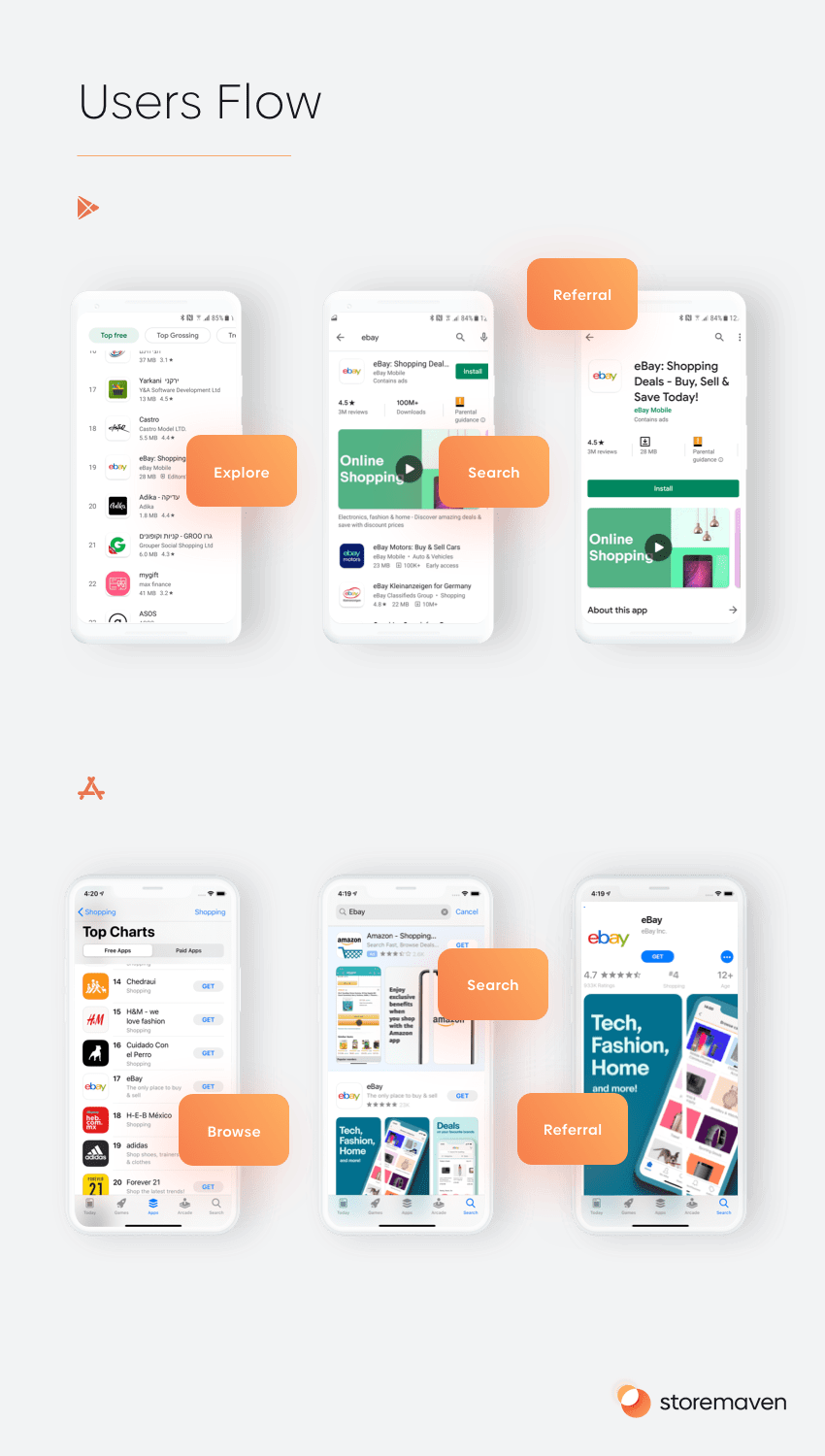 App Icon do's and don'ts plus six steps to testing
Related Terms
Google Play Explore

Google Play Explore is an organic traffic source that includes all visitors arriving at an app listing while exploring and navigating.

Google Play Product Page

The Google Play product page is the landing page for a mobile app or game distributed and published on the Google Play store.

Google Play Short Description

The Google Play short description is a sentence that'll appear in the first impression of your Google Play product page below the screenshot.