Google Play Creatives
Google Play creatives are all the visual elements that appear in a Google Play product page. What are Google Play Creatives?
Google Play creatives are all the visual elements that appear in a Google Play product page. These include:
Each app store page can have up to 10 screenshots in its gallery and up to three app store promo videos that will appear in the first, second, and third slots of the screenshot gallery.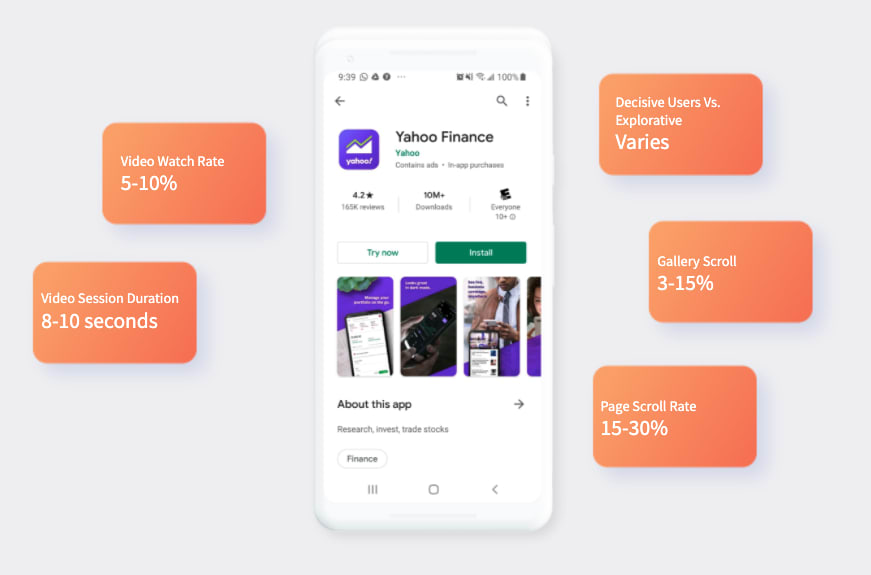 Requirements for Google Play Creatives
Check out our full app store screenshot guidelines to find all Product Page Artwork Requirements for the iOS App Store and Google Play. For Android, read our Google Play app icon guidelines. For iOS, check out our complete iOS app icon requirements guide.
Why App Store Creatives are Important
In the app stores, users make decisions at an extremely fast pace. In fact, about 70% of all users make a decision whether to install an app or leave the product page after 3-6 seconds. We call these users Decisive Users.

With such a short timeframe, app store creatives play a significant role in conveying to users why they should download and install a mobile app or game.

The most powerful tools ASO and mobile marketing practitioners have in their arsenal to influence that decision and maximize the conversion rate on their app store product pages are the creative elements.
App Store Creatives and ASO
App Store creatives appear throughout the user journey, for both paid and organic traffic. Creatives play a role in organic traffic coming in from Top Charts or Featuring placements (browse/explore traffic), as well as paid traffic coming directly to an app store product page from an ad.

Given that app store creatives are the main tool to influence the install decision, an entire pillar of ASO is dedicated to creative optimization.
Is your Screenshot Gallery properly optimized to drive conversions? Get help designing a gallery on Google Play
Related Terms
App Store Screenshots

App Store screenshots are the main visual element within the App Store product page.

App Store Icon

The app store icon is the only creative element that appears throughout the user journey in the app stores.

App Store Creatives

App store creatives are all the visual elements that appear on an App Store or Google Play product page.