App Store Pre-Launch
App Store pre-launch is a phase in marketing directly before the launch of a new game or app. What is App Store Pre-Launch
App Store pre-launch is a phase in marketing directly before the launch of a new game or app. At this stage, the app has been beta-tested and is, for all intents and purposes ready, so the pre-launch phase focuses on refining and optimizing the marketing messaging for an App Store product page in preparation for the actual launch.
It is important that all the creative (icon/imagery/videos) and marketing messages (title/description) used on an App Store product page are 1. prepared to scale and 2. in line with what would drive initial users and early adopters to install the app. This is to accommodate the large number of impressions that come from an increase in discoverability which an app's product page may receive post-launch.
Why App Store Pre-Launch is Important
An optimized product page is one of the key factors to increase the chances of an app ranking at the top of the results. To appear as a featured app and to reach the top of the searches, this all relies on a solid product page and without using the App Store pre-launch phase for optimizing the messaging, once launched, an app would certainly see lower conversion rates than its potential
An app developer has only one chance to launch in the App Store which means having all ducks in a row; a clear and succinct ASO pre-launch plan is vital, as is a fully optimized product page. This is important for any app, but especially one that already has buzz around it (which is a whole marketing strategy in itself). Once users visit an optimized product page, an app will be able to gain significant ground using existing momentum to make a splash in the App Store at launch, maximizing install velocity, thus increasing visibility and growth early on.
App Store Pre-Launch and ASO
The goal for the pre-launch phase is to lay the groundwork prior to the app launch. Optimizing the creatives such as video/screenshots/icon and marketing messaging like keywords/title/description on an App Store product page will maximize traction and growth to improve organic downloads when launching an app.
To take the guessing work out of choosing the most converting creative and messaging, an ASO platform like Storemaven that has a data-driven understanding of the market can test a number of variants to optimize an app's product page. Storemaven's experts will offer informed insights for increased conversion rates based on the evaluation of the competitive landscape and past tests ran by top mobile brands. For an app developer going it alone with pre-launch ASO, it's important to research what and how a competitor with a similar product launched and continues to market their app.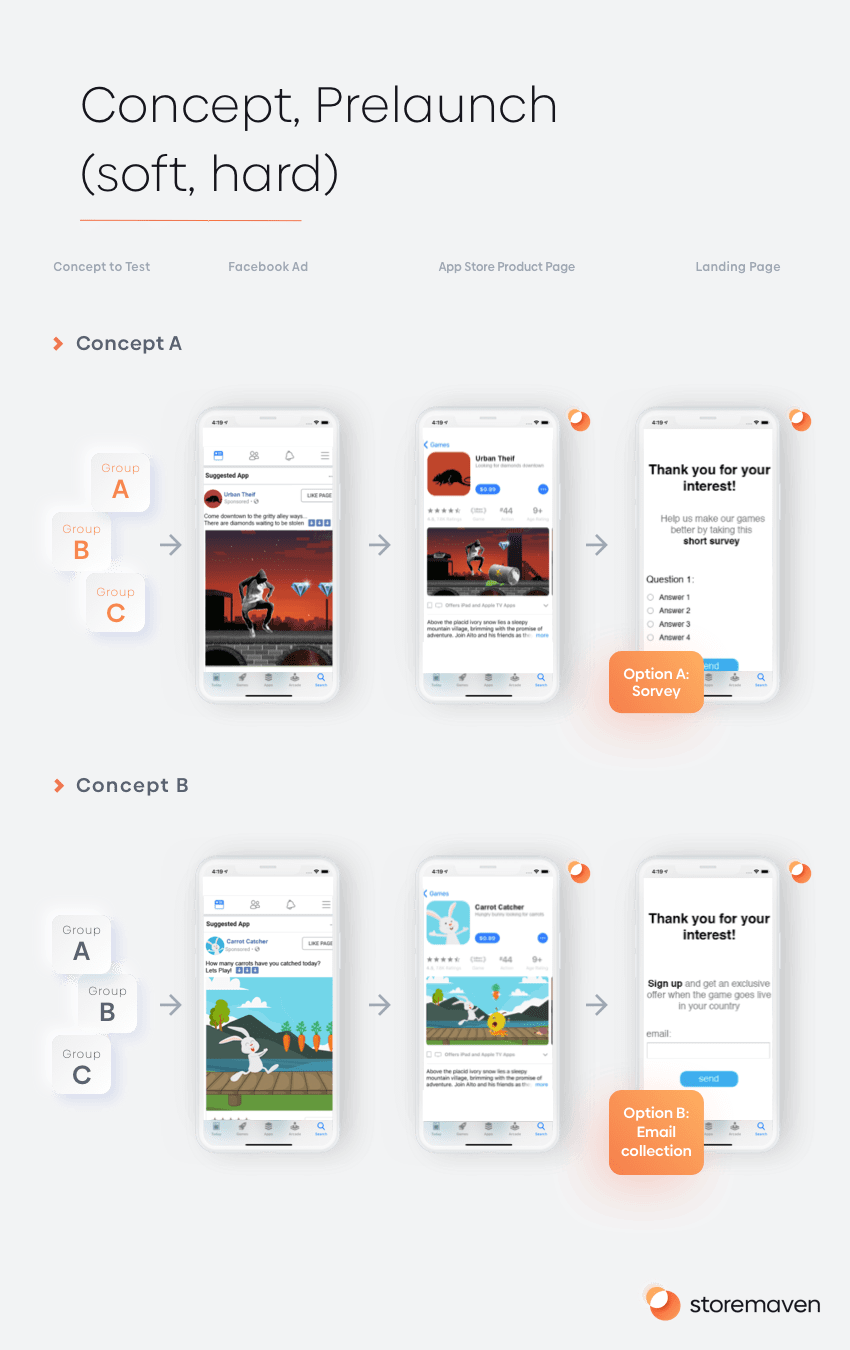 Related Terms
App Store Icon

The app store icon is the only creative element that appears throughout the user journey in the app stores.

App Store Creatives

App store creatives are all the visual elements that appear on an App Store or Google Play product page.

App Store Ratings

In the App Store, each app gets a rating of 0.0-5 which is based on users' opinions.