Two weeks ago, if you asked people around the table if they knew what FaceApp was, they'd have thought you'd mispronounced FaceTime. But by now we are all very familiar with the seemingly overnight viral success of FaceApp. A couple of years ago it trended for a short period before it slowly sank into oblivion only to reemerge in a flame of glory in the last ten days.
So what's up with that?
It's not often that we see this type of growth in the App Store, especially in recent years where climbing to the top of the charts requires significant UA budgets, strong IP, and a comprehensive mobile marketing strategy.
I sat down to try and analyze what happened; how did it achieve that level of 'overnight' success and what can we as mobile marketers learn from it. I'm focusing my analysis on the Apple App Store but this growth story happened cross-platform on both stores.
Let's dive in.
Firstly, they got the basics right.
Nothing of what you're about to read here would have worked unless the app itself got two very important things right.
Quality. FaceApp had a high-quality core feature that was backed by superior technology. Put simply, the wildly popular aging feature is extremely polished and well done. The output image seems so realistic it can take you back. If that wasn't the case, the willingness to share it would have probably been very low. It takes a lot of development and expertise to reach that level, and FaceApp achieved that before they ever started to market the app.
Inherent Virality. The feature itself, processing and 'aging' of portraits and selfies, is designed to go viral. No one really cares about how you'll look when you're old, people care about the reactions to said old age, especially if one seems to age really well (we don't think all those full heads of hair are entirely accurate). This increase the app's K factor exponentially. (The K factor is the metric which indicates how many additional users are brought in for every new user install.)
Without these two key factors, the strategy FaceApp employed would probably never have been so effective.
Get the ultimate ASO conversion rate optimization eBook
Everything you need to know about icons, screenshots, videos, app reviews & ratings, localization, and seasonality.

A global growth strategy fueled by influencers
For the purpose of this analysis, I used several intelligence tools like App Annie, Mobile Action, and AppTweak to track brand and term mentions across the internet, including social media.
Step by step, the full picture was revealed.
First, I looked at the shape of FaceApp's growth and it seems that it came from almost nowhere. Prior to July 10, it wasn't even on the charts and then, in a matter of days, it exploded across dozens of countries.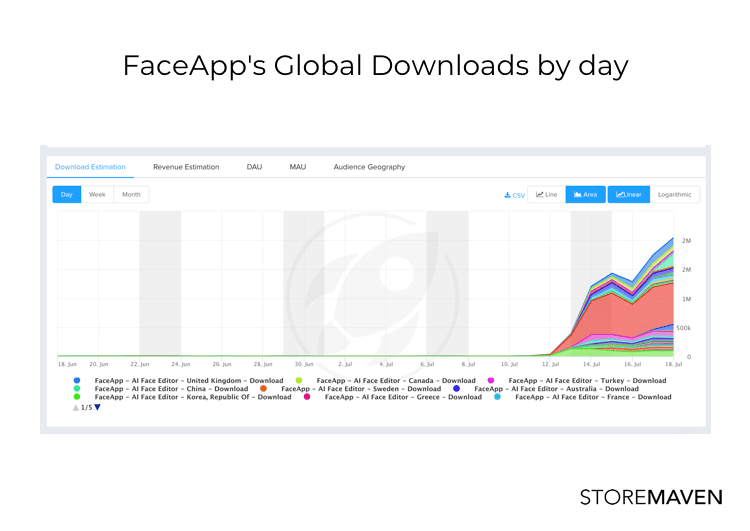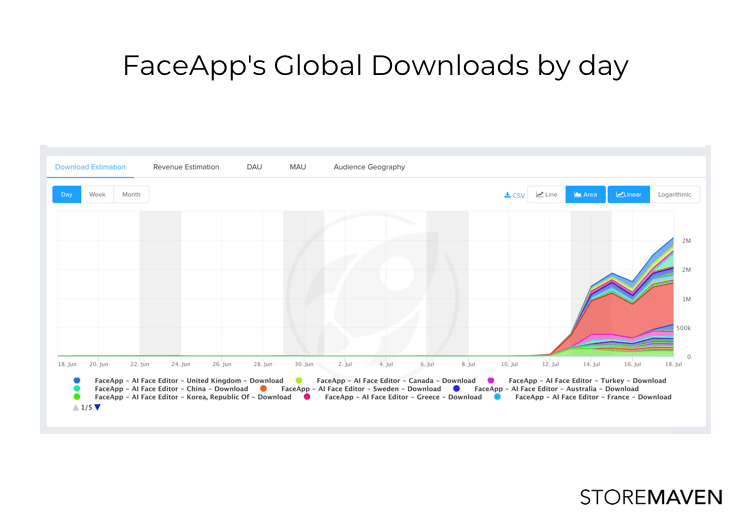 But could this have been driven by a great UA campaign?
Nope.
Now, this type of growth doesn't just happen. It was too global and sudden to be gradually driven from the bottom-up. There had to have been some outside factor that was driving users to the store; either paid user acquisition on a massive scale or something else entirely.
A quick look at ad intelligence solutions showed that FaceApp only ran two ads on AdMob for the past 30 days. These ads are running only in small markets and not the core markets where it exploded.
FaceApp also currently runs Apple Search Ads for only six keywords in the US but, as spend is kept pretty low, they still aren't receiving meaningful traffic from this channel, according to Mobile Action.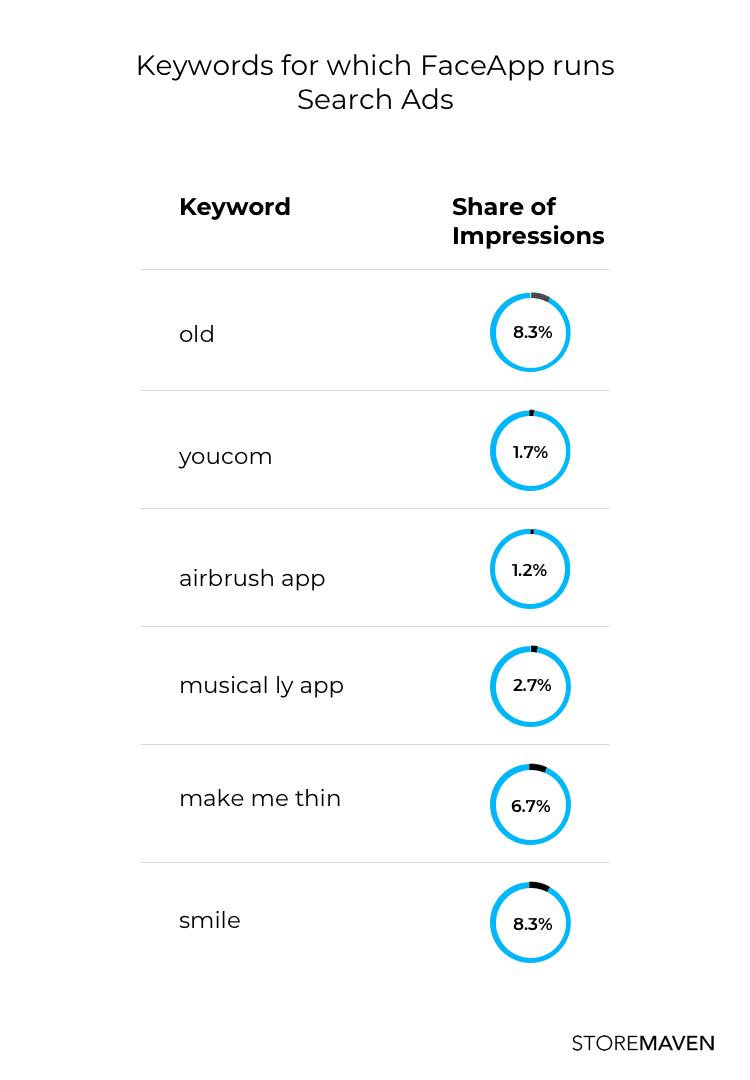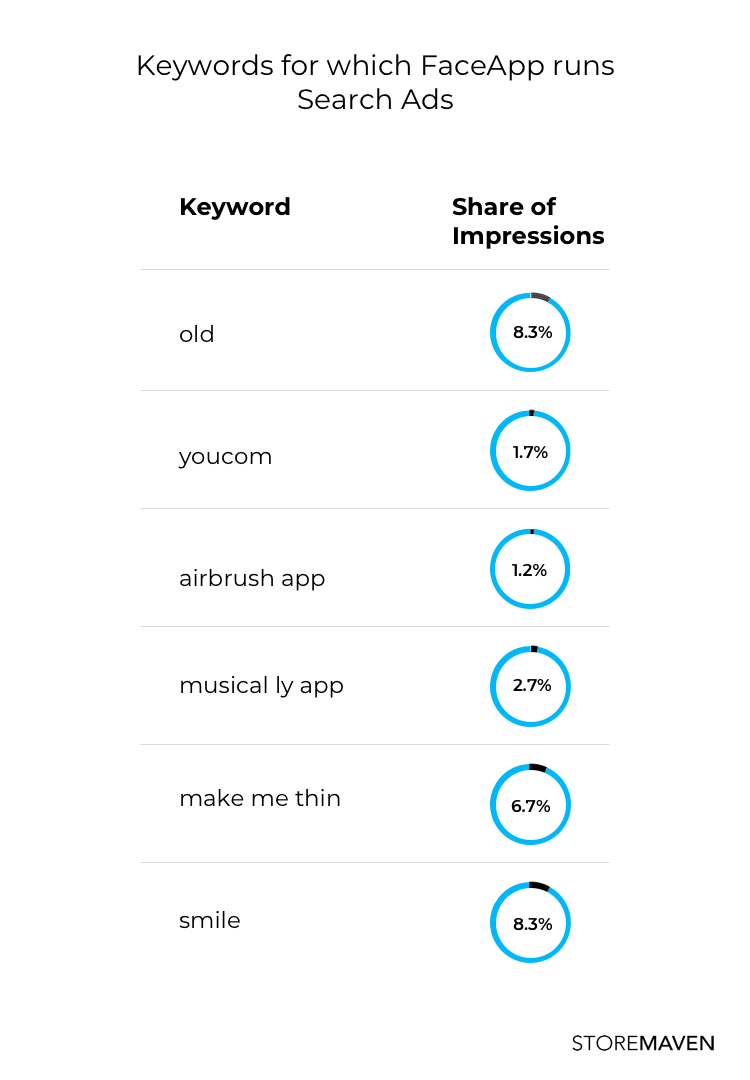 These findings quickly killed the theory that FaceApp might have paid its way to the top of the stores.
In any case, assuming a $1.50-$2.00 blended Cost Per Install, given that FaceApp had approximately 8.3 million installs on iOS and 5.6 million installs on Android in the last 10 days, it would have cost them about several million dollars in user acquisition spend to achieve the same growth for 80 countries (reaching the top of the charts).
Is this a case of good ol' Influencer Marketing?
About 10 days ago, the birdies started chirping and #FaceAppChallenge began to pop up on social media channels.
As marketers, we're wise enough to know that this term didn't just randomly appear but was likely seeded by the FaceApp team themselves.
Growth has been wide and global though, so I tracked the course of this geographic growth.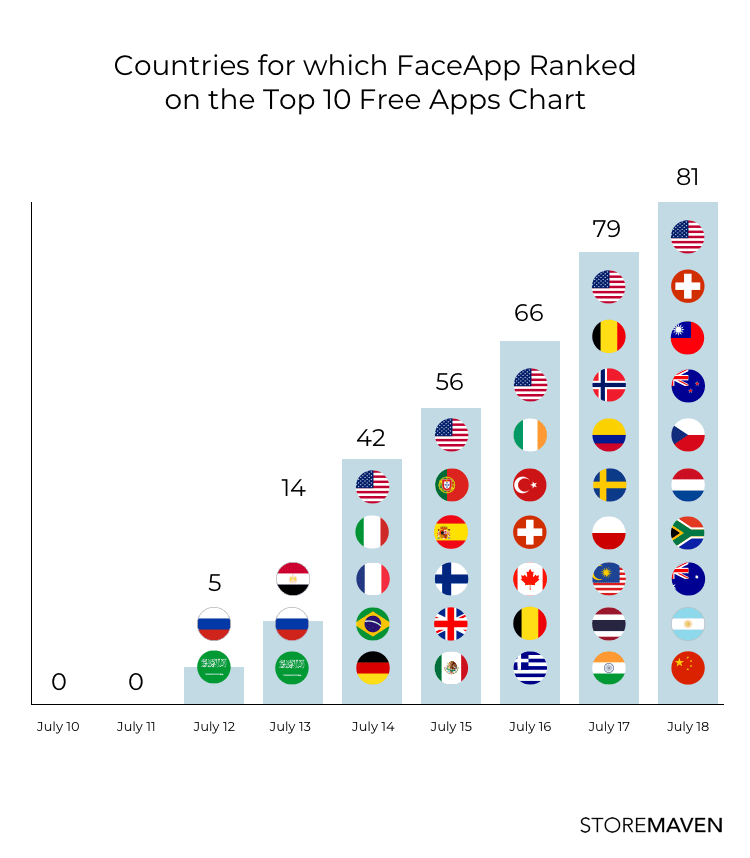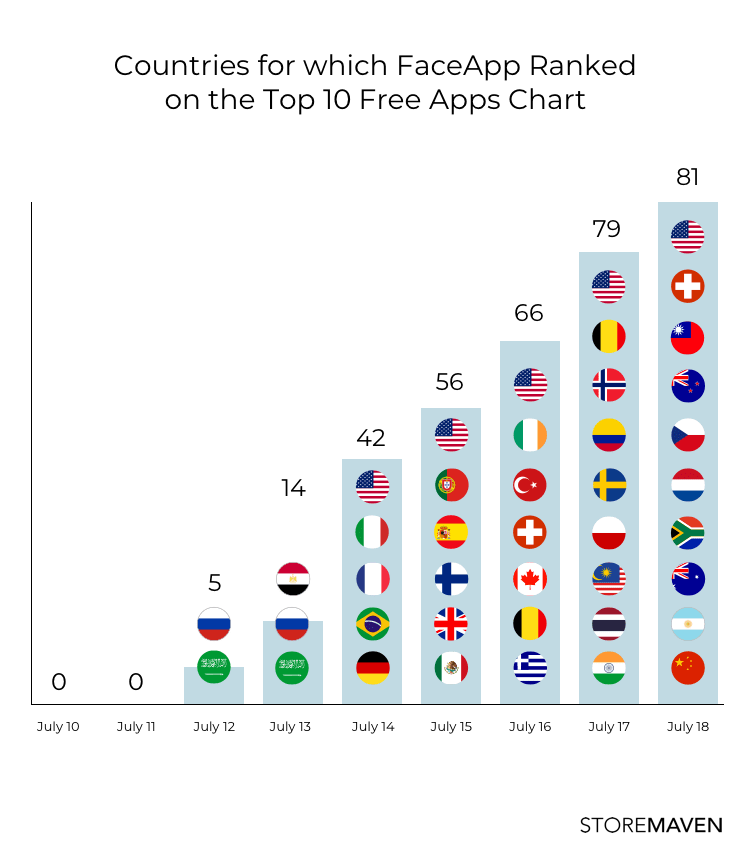 Phase 1: It started with non-Western markets
As we can see, FaceApp didn't even appear on the charts for any country prior to July 12th. Then suddenly, it appeared on the Top Free charts for 5 different countries — all non-western.
By scraping the web for different brand and term mentions, I discovered that on July 11th and 12th several significant influencers in the Arab world started sharing the 'aged' images of their high-profile regional sports celebrities.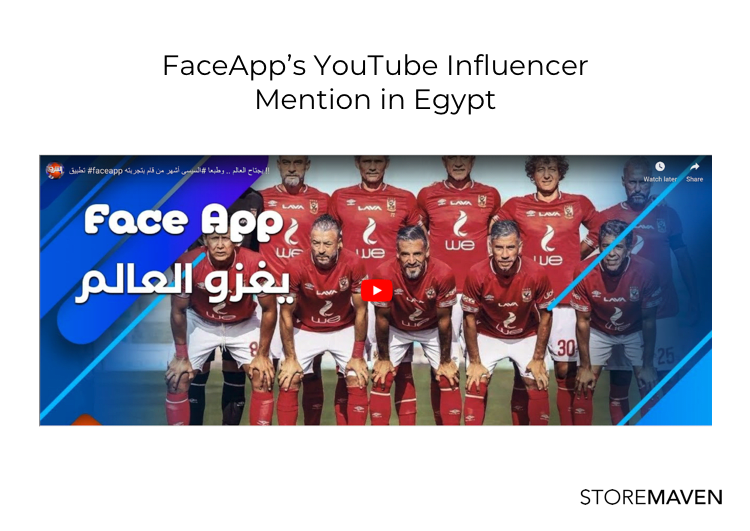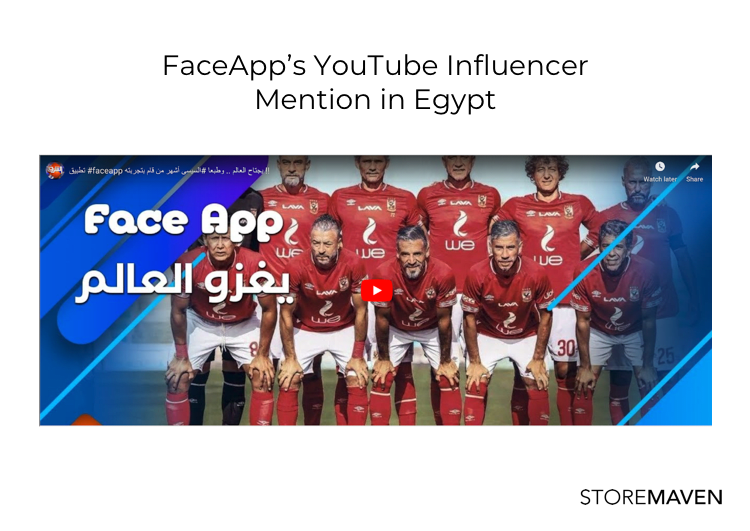 The virality of the images led to significant growth and helped FaceApp climb to the top of the charts in those countries. Having said that, being #1 in one country has no direct impact on the ranking algorithms for another country, not even a neighboring one.
A limited budget goes a lot further in markets that are much less competitive on the UA side; the volume of installs required to reach the top of the overall/category charts is relatively low. And that's exactly what FaceApp did by focusing its influencer strategy in these non-Western markets.
The organic lift achieved by the influencer campaign fueled quick growth in these markets that helped seed the 'FaceApp challenge' term and make it trend on social media. And make this happen:
Phase 2: Western outlets start covering the story
Reporters from various publications and news outlets are always on the lookout for viral stories, and the fact that FaceApp and the FaceApp Challenge was trending on much of the Arab world's social media quickly got their attention in the West.
The fact that anyone can make any photo age on FaceApp meant that it's pretty easy to produce new photos of celebrities. And courtesy of the BuzzFeeds of the world, that's exactly what happened. As celebrities started seeing other celebrities' photos getting coverage, they started actually sharing their own photos as they jumped on the trend.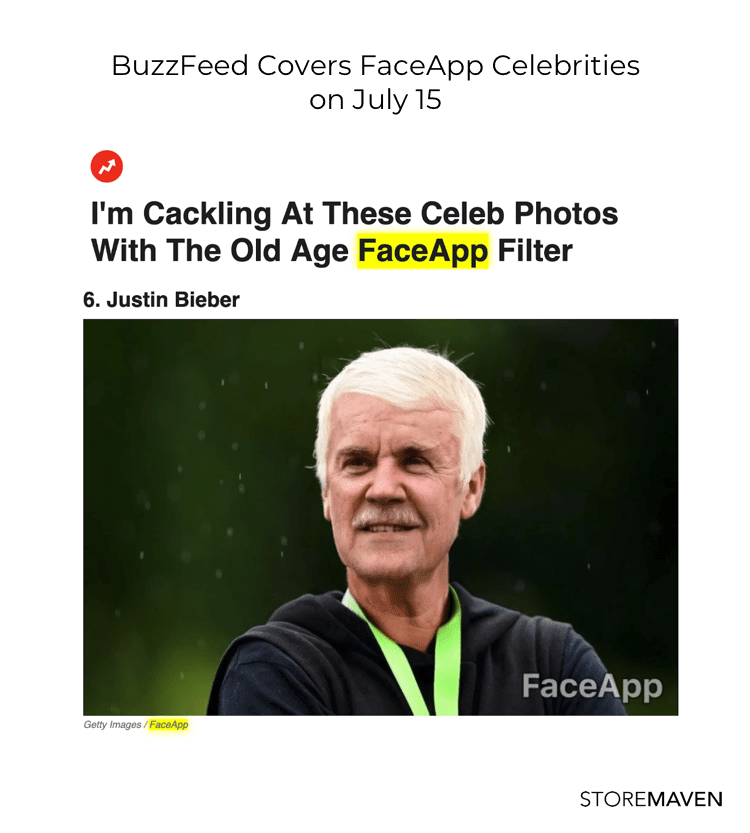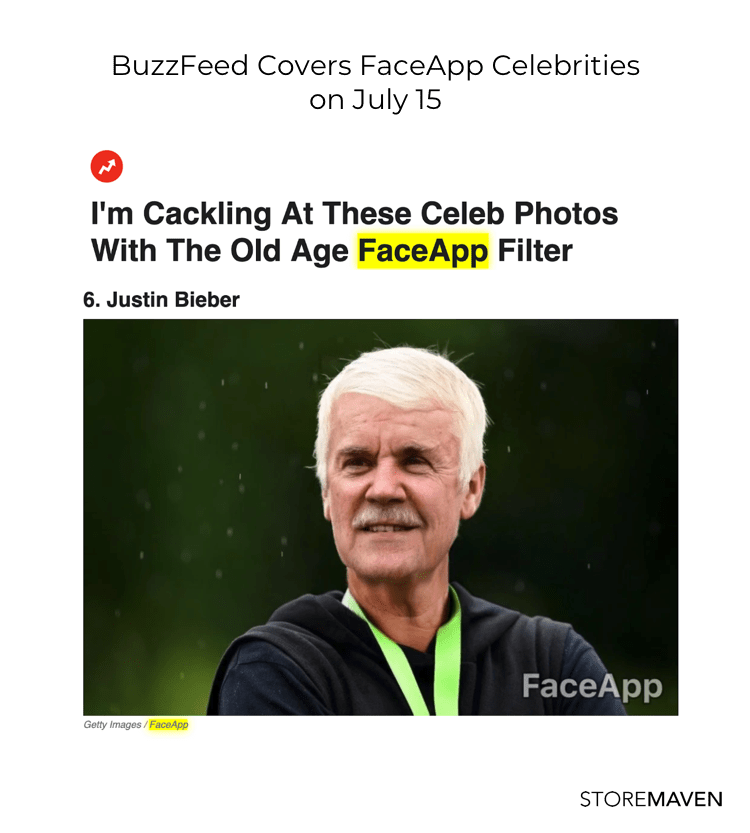 It's unclear if (and then to what extent) FaceApp actually paid Western influencers for exposure. But given the size of their existing business and the fact that a few days before everything happened they had only gotten a few hundred installs a day in each country, I believe it's safe to assume they didn't have the capital for such an extensive influencer campaign in the US (which would have cost millions of dollars).
Phase 3: Organic lift begins in the US
FaceApp climbed from the lowly #1,370 spot to #1 on the Top Free charts in the US in just five days. The unprecedented growth was fueled by media coverage, influencers, and the built-in virality mechanism within the app.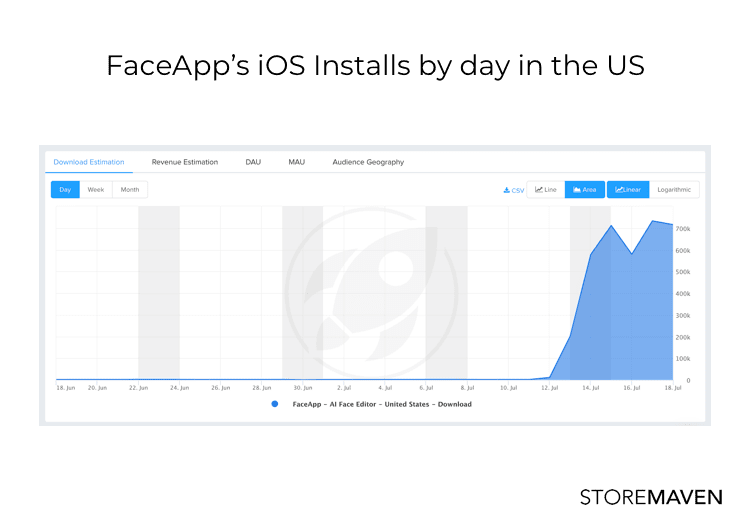 Several publications had slowly begun covering the #FaceAppChallenge and the foreign sports teams that were featured; this drove up search and web referral traffic installs playing a large part in the jump from virtually no installs to 11K.
According to our analysis of billions of impressions and installs in the App Store, we know that one of the key factors contributing to an app's ability to climb in rankings (both on the top charts and for keywords) is the absolute number of App Units, which are defined only as new installs. In this case, given that almost everyone installing the app was a new user, it gave FaceApp a fuel-injected boost up the charts.
Let's look at the growth day-by-day:
11K installs/day already caused FaceApp to quickly climb in the chart and finished July 12th at the #7 on the Top Free chart in the US.
The #7 ranking then began to drive an increase in browse traffic that accelerated the influencer/virality/K factor upward spiral so by July 13th, installs had grown to 200K/day.
That was enough to reach #1 on the Top Free chart, which further catalyzed growth, allowing installs to shoot up to 578K/day and 711K/day on July 14th and 15th, respectively.
Although the process seems to have plateaued in the past few days, FaceApp still gets a constant stream of organic installs due to its #1 rank on the overall chart, high-quality keywords, and its category. This drives significant install volume directly from browse, and branded and non-branded search with each install generating even more installs through the virality mechanism.
Not just in the US. Not just in the Arab world. But in 81 countries across the globe.
From a population viewpoint, FaceApp is now covering more than half of the world, even ranking at #1 in the Overall chart in China, driving hundreds of thousands of further installs every day.
The value of this overall strategy, multiplied by 81 countries is worth about 2.5 million installs per day globally for FaceApp. And still growing.
What can we learn from this?
1. Get the basics right
Not every app or game can reach that level of growth that fast. It cannot happen with low-quality features or low K factors. To grow that fast and that suddenly, you need to have a product with the right characteristics.
2. Seeding growth can come from organic search as opposed to paid UA
At the end of the day, the influencer campaign that the FaceApp team started with isn't a new idea and it's not even the most interesting thing here.
It's the deep understanding of how the stores work, what impacts what and leveraging that knowledge to figure out the most cost-effective levers to create maximum impact.
The FaceApp team not only created the 'seed' for the influencer marketing campaign with the FaceApp Challenge but they were also extremely strategic with who they partnered up with. Instead of getting low-exposure by sponsoring less prominent influencers in the US, they created organic influencer growth in the West via paid influencer growth in countries where sponsorships are cheaper.
I believe that the same budget that got FaceApp national coverage and press in the Arab world would go unnoticed if they tried to spend it in the US.
3. It's all about the organic lift, not the directly measurable effect
By driving strong influencer and virality-based shares, FaceApp reached the top of the charts in dozens of countries, amplifying its growth by driving very significant browse, branded and non-branded search installs that are generating continuous growth.
Only by understanding the chain effect that can follow is it possible to justify certain marketing efforts that seem at first glance to hold little to no value.
Five things you must know about Custom Product Pages

What's next?
With more than 15 million new users after ten days of unprecedented growth, FaceApp is on track to generate meaningful revenues which will allow it to ramp up its UA budgets to amplify and maintain its organic performance. Growth in China has lagged behind the rest of the world but is quickly catching up, allowing FaceApp to scale even further.
FaceApp's monetization is based on a set of Pro features that it sells as an annual subscription for $19.99. Even under conservative LTV and retention/churn assumptions, the value of this growth strategy can be measured in the tens of millions of dollars in annual revenues.
This growth strategy wasn't accidental.
It was driven by a smart team, and it clearly ain't their first rodeo. Back in 2017 FaceApp also went viral but eventually died out, so by my estimate the team learned from their last outing. They experimented in small countries, hypothesized and tested different growth strategies, and eventually executed one of the most impressive mobile marketing feats in living memory.
We can't know if FaceApp will be around a year from now and rising privacy concerns can quickly hurt its growth. Additionally, the skill set required to maintain and grow from their current base is different than the "hack" that got them here. For example, a significant challenge FaceApp has today is to combat copycats that try to rank for the 'faceapp' keyword by conveying through its app store creatives that this is the 'official' app, or the 'right' app that people are looking for.
But FaceApp is not the story here, the story is about how a deep and intuitive understanding of the app stores and the factors at play can create exponential growth and a true competitive edge.
Understanding the value of different marketing activities on all traffic sources — referral, search and browse/explore — can help smart teams see beyond the traditional ways of growing an app. By correctly quantifying the impact, these teams can justify (and execute) spend and activities that other companies could only consider crazy. (How would your VP have responded to a pitch suggesting you sponsor the Egyptian soccer team's posts?)
When dealing with the app stores (and the world) it pays to remember what a certain wise person once said: "Here's to the crazy ones."