App Store Browse
App Store Browse is an organic traffic source which includes all visitors that arrived to an app while browsing Top Charts, Category Charts, the Today tab or Featuring placements. What is App Store Browse
App Store Browse is an organic traffic source that includes all visitors that arrived at an app while browsing Top Charts, Category Charts, the Today tab, or Featuring placements. It's an explorative traffic source, as opposed to a searching traffic source, defined by Apple as users that have found an app "or tapped to download it for the first time while browsing the App Store (for example, in the Featured, Categories, or Top Charts sections)."
There are multiple locations that users can install an app from inside the App Store: directly from the charts, from an app's listing or through a search results page by which they can go into the full product page, explore it further if they wish and complete the process by installing the app.
Why App Store Browse is Important
Browsing traffic is a way of reaching an audience that may not necessarily be the target audience for an app. App Store browse can lead a broader pool of users to discover an app; browsing gives exposure to an audience that, under normal circumstances, wouldn't have been exposed to it for example as part of a highly-targeted ad campaign, which is a tool favoured by UA teams to bring high-quality visitors to a listing.
Browsing traffic is one of the source types that can be analyzed in App Store Connect to measure its impact on overall impressions (from all browse, search and paid user acquisition (UA) traffic), click-through rate (CTR), and conversion rate (CVR).
App Store Browse and ASO
App Store Browse is connected to ASO due to the opportunity it presents for ASO teams looking for new traffic sources that bring new audiences and quality (engaged) visitors to an app listing. 
Browse traffic is unique because by nature it is made up of users who are coming to a product page looking for something new and an explorative mindset, they're browsing for an app to take their fancy, as opposed to being delivered via an ad campaign or from knowing a brand and searching specifically for it. For ASO teams, this segment of users provides them with an opportunity; by optimizing the product page for new and broad audiences, it could be a more efficient journey from visit to install.
Each app has a unique traffic combination that features a mix of browse, search and paid UA traffic. By analyzing the data of what an app's traffic is and where it comes from, app developers and marketers are able to see which of these need attention in order to drive impressions and installs. For any ASO efforts it's vital to understand where users come from and what marketing creatives they're seeing in order to conduct effective A/B testing to see how best to optimize those traffic sources.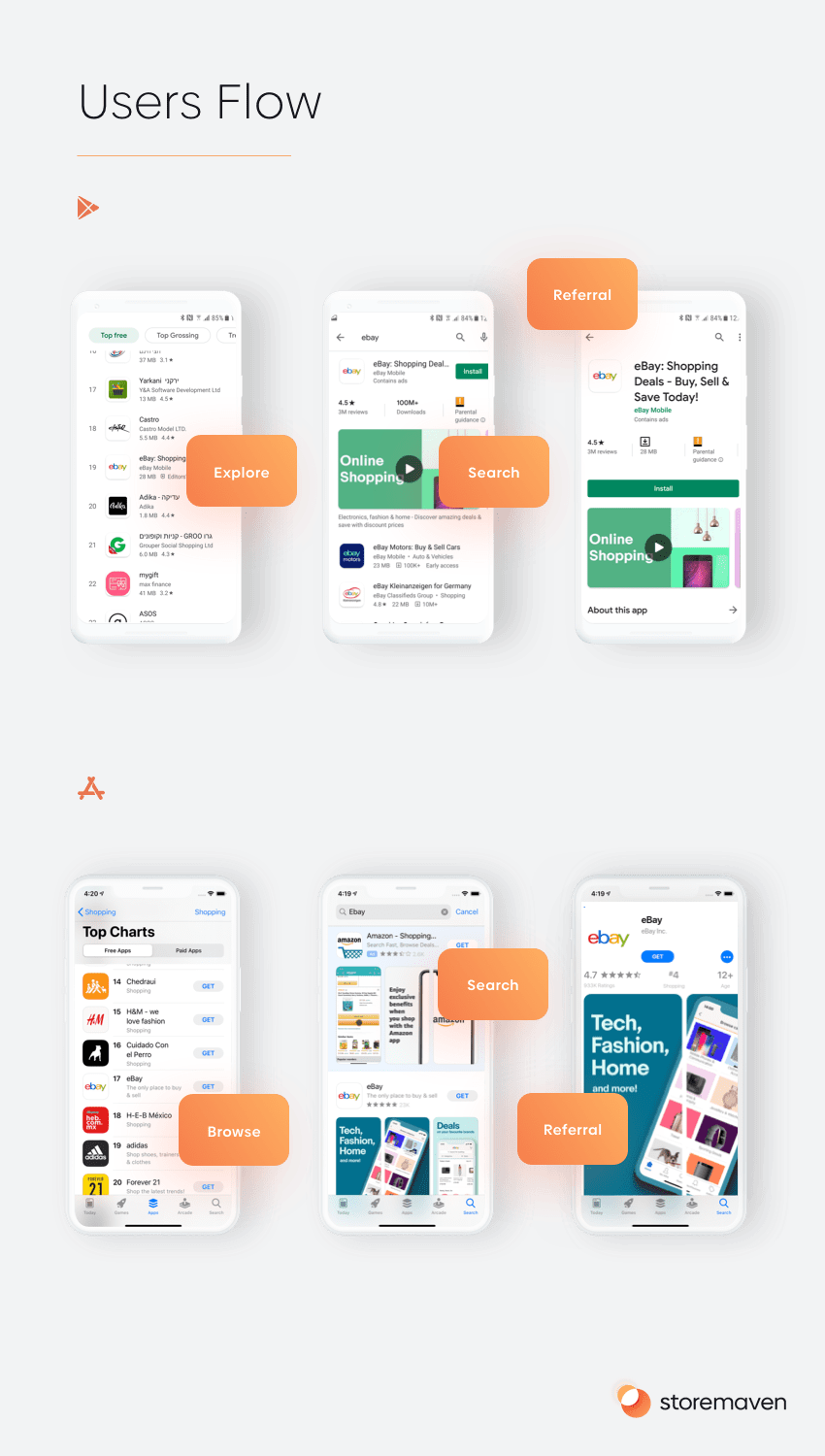 Related Terms
App Store Keywords Research

A keywords research is the process of gathering information to help a mobile marketer decide which keywords to add to an app listing's metadata.

App Store Culturalization

App Store culturalization is the practice of changing an app's product page to be in line textually and visually with the region's unique nuances and values.

App Store Creatives

App store creatives are all the visual elements that appear on an App Store or Google Play product page.