It's been a while since the World Health Organization declared COVID-19 a global pandemic and billions of people are still in lockdown. Although we know that the health situation will eventually recover, the global economy has already started to show the signs of the hit.
Since my first job as a stock analyst on Wall Street, I have constantly seen parallels between marketers and investors.
Both are in charge of deploying specific resources wisely, namely capital and time. Investors have to research potential investments, analyze the potential return. They then start with the most effective investments and work their way down. So too do marketers except instead of investments, they're looking at growth opportunities.
It's all about long-term strategy. Most investors hate traders that try to make a quick buck on day-trades and hacks. Instead they focus on long-term investing and how their actions now will serve them in the future. Great growth marketers know that it's a long haul.
In a downturn, both marketers and investors need to consider adjusting their positions in similar ways:

Identifying leaks – investors identify leaks in their stock portfolio where they have the most exposure to the downturn while marketer looks for growth leaks in their funnel
Preparing for the day after – investors will always try to find great stocks at depressed prices. Marketers too will find strategies that are cheaper during this time. Finding and acting on these opportunities will position the investor and the marketer's portfolio for tremendous success.
As mobile marketers, volatile times call for a cold-hard look at our data and trust in it to outline the way forward. It's time for rapid experimentation that produces quick learnings allowing for a rapid, and smart, response.
What follows is a method for analysis that I believe all mobile game growth teams should be following right now. It's designed to find any growth leaks and enable you to seize on opportunities. Most importantly, it is designed to give growth teams a holistic view of their efforts to have a greater grasp of what's working, what not, and why.
Keep your growth in check: a framework for analysis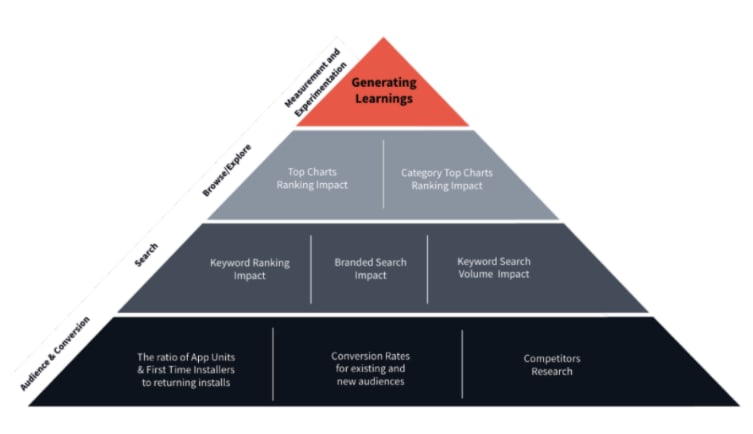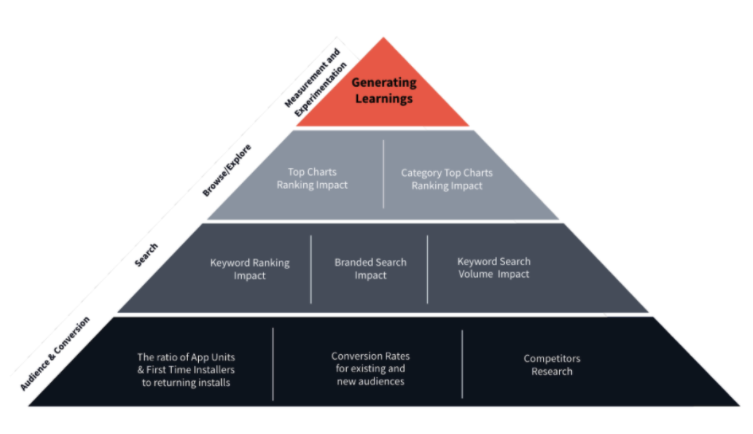 After discussing the current situation with many top game developers, we developed a solid analysis framework. It doesn't involve analyzing any paid UA efforts but focuses on the organic impact of the pandemic.
A great monitoring routine is vital to answering the following questions:
Am I experiencing a drop in performance?
Where exactly is that drop coming from?
What might I do about it?
Step 1: Browse/Explore
Am I experiencing a drop in the Browse /Explore
funnel?
Browse traffic in the App Store and Explore traffic in Google Play represent the audience that gets exposed to your app store listing through featuring in various placements in the stores; the top games charts and the top game category charts.
a+b) Top Charts & Category Ranking Impact
Question: did my ranking on the charts change?
Monitor any ranking changes in the top charts and in your category. Look at the number of impressions and app units/first-time install
ers to identify a rank change.
In many cases, you'll find that a category doesn't behave in the same way across game sub-categories. Charts rely heavily on new install
velocity to determine rankings so changes there can reflect which games are getting the most exposure to new audiences at this time.
New install
velocity is the rate in which your app is growing new install
s.
If we take for example the Casino category, we notice an interesting trend.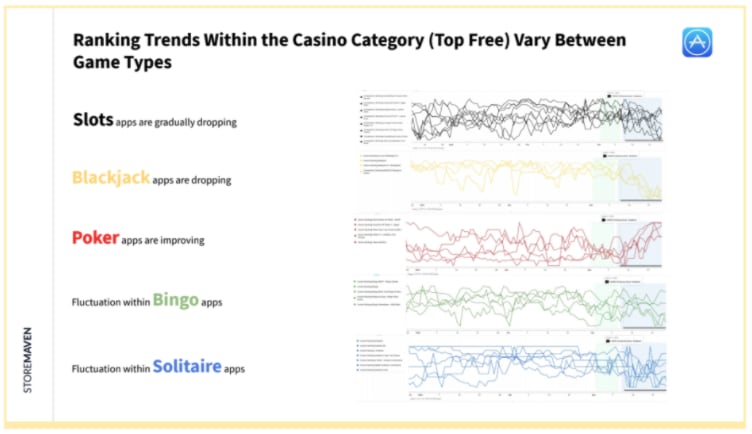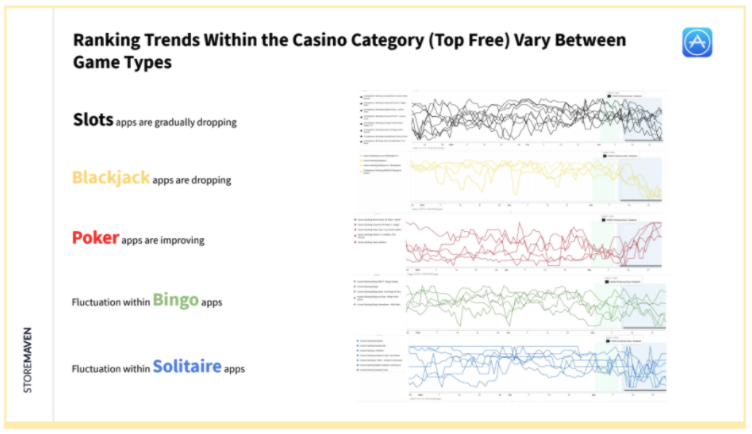 We can see that Slots and Blackjack sub-categories decrease in rank at the same time that the Poker sub-category experiences an increase.
This could be surfacing a change in user preferences. With social distancing having created a lot of new pains for people all around the world, it has affected their gaming behavior. The new audience that the Casino category has attracted (remember the importance of first time install
velocity on this chart) is moving mainly to Poker possibly due to its more social play experience. Another potential effect here could be due to the fact that people aren't visiting physical casinos, they're more open to finding a digital format to replace it with.
Start by trying to identify any category changes as a whole and then break it down to sub-categories to discover what users are valuing most at this time. In this analysis, for example, an analyst at a Blackjack could surface the idea of highlighting the social play element, adopting a new social messaging across your UA and app store creative assets.
Get the ultimate ASO conversion rate optimization eBook
Everything you need to know about icons, screenshots, videos, app reviews & ratings, localization, and seasonality.

Step 2: Search
Am I experiencing a drop in the Search funnel?
A search analysis centers around monitoring the volume of search impressions and app units / first-time install
s. If you notice a change, it's time to go deeper.

a) Keyword Ranking Impact
Did my main keyword rankings experience a significant change?

Not necessarily all keywords contribute the same amount of installs as keyword search volume can vary drastically. By identifying the specific keywords that most significantly affect your performance, you can start to understand what gamers are looking for by comparing which apps are now ranking higher than before.

As the other games generate higher tap-through-rates and conversion rates from a specific keyword query, they'll start ranking higher. Keywords ranking trends can vary within different markets, so try to avoid drawing global conclusions from one market even if it is your top market in terms of search volumes.

b) Keyword Volume Impact
Has the search volume for my main keywords changed?

The past few weeks have seen significantly different search volumes than usual. So much so that both Apple and Google decided to ban the search term 'corona' to prevent developers from trying to leverage it to increase search visibility.

Start by tracking and monitoring your keyword volumes for each term. Keyword volumes are surfaced through the Apple Keyword Search Popularity Score which you can track over time. The score has a range of 5-100; the higher the score, the higher the search volume.

Did the change in search performance stem from a decrease in keyword search volume for your top-performing keywords? A surprising finding could be that you used to drive significant search volume from competitor brand keywords. As these brands got hit themselves, fewer people might be looking for them, leading to a drop in keyword search volume.

If so, what insights could surface? Are users searching less for a specific keyword now? What are they searching for instead?

The main idea when analyzing this is to identify if your keyword strategy is now less effective and to generate ideas for how you should adjust it to the new search behavior.

c) Branded Search
Are fewer people searching for my brand right now?
Many game publishers have cut their user acquisition budgets as a response to the global crisis.
When thinking about branded search, in very simple terms, it usually stems from the following:
A user is exposed to the brand name somewhere (an ad, a billboard, heard on TV or from a friend, etc.) and then goes into the App Store or Google Play to search for an app.
The user encounters a need for a certain type of app and they recall a certain brand they were exposed to in the past.
It's easy to understand that when advertising activities go down, fewer people will search for your game. But there could be other factors at play. Use the Search Popularity Score to monitor your brand keywords across GEOs. Are new competitors now targeting your brand keywords using Search Ads?
If this is the scenario you're experiencing, consider triggering brand advertising activities such as YouTube, TV, or even a broad paid keyword strategy using Apple Search Ads.
At times like this, there is almost an unprecedented opportunity to reach new audiences through these channels as most of the world is flocking to consume entertainment to stay sane in quarantine at the same time that many advertisers are absent from the ad market.
Step 3: Audience and Conversion
a) Lapsed users vs. new users
Am I expanding my reach into a new audience at this time?
Start by analyzing the number of app units or first-time install
s and comparing them to the overall number of install
s (exposed through MMP platforms such as AppsFlyer and Adjust) to track your growth mix. Are you seeing new install
growth?
It could come from your game being distributed to new audiences that you've never targeted before. When user acquisition costs are on a decrease, it offers the opportunity to double-down and try to increase the size of your user base through new audiences.
In this new environment, an investment in growing into new audiences just became much cheaper as advertisers around the world are cutting their ad budgets.
Even if the recession we're looking at will decrease users' disposable income and hence their in-app purchase potential, a wise investment would be to focus resources now in acquiring users (before the acquisition price goes higher again) and then shifting resources to invest in retention, monetization and engagement once their disposable income starts to recover.
Tracking and monitoring the new vs. lapsed mix of your growth would show you if you're currently expanding to new audiences or missing out on that opportunity by still marketing to the same audience you have before.
b) Conversion rates for different audiences
Is the messaging in my advertising and app store creative assets still effective?
As user preferences change (due to the pandemic or otherwise), the messages and creatives that converted them before might not work as well going forward.
Track your conversion rates for paid and organic (Browse /Explore
and Search), to identify whether you're seeing a decrease in conversion. If that's the case, you might want to think about the messaging throughout your funnel, including your app store product page
s.
Alternatively, tapping into new audiences will require marketing messages and app store creatives that speak to that audience. Messaging that targets hard-core gamers, or even lapsed users, might intimidate new users.
c) Competitors analysis
What are my competitors doing that's working for them?
After analyzing your category and top charts ranking you'll be able to identify what your competitors are doing, as well as who is experiencing success right now.
Start by identifying a list of those successful competitors in the market and then ask yourself what are they up to.
How did they adjust their marketing messaging strategy in the app stores?
What features in their games are drawing users in right now?
How are they approaching their UA efforts right now?
By compiling a group of the most successful games currently and understanding the common thread that connects their success, you'll be able to produce insights on what efforts you can borrow and what opportunities they are missing that you can capture to maximize your growth.
Never miss an update in the Mobile Growth industry with Storemaven's newsletter
Join 10,000 mobile marketers that stay on top of their craft

Recap
This analysis provides a way to generate maximum learnings in a volatile situation and be most effective with the deployment of resources. This period offers up an opportunity to expand into new audiences as we gear up towards the calm after the storm. Mobile games have seen both a decrease in performance and impressive increases at the same time. Categories all behave uniquely and so do the sub-categories that make them up.
Just like opportune investors, smart marketing teams will now quickly adjust their strategy to make smart investments to maximize growth in the near term whilst still positioning themselves for success in the long term. Learn more about mobile marketing trends in 2022  and mobile game marketing strategies.