App Store Search
App Store Search is an organic traffic source that includes all users who find an app after searching for a query or keyword in the search tab in the App Store. What is App Store Search
App Store Search is an organic traffic source that includes all users who find an app after searching for a query or keyword in the search tab in the App Store. Search is a high quality traffic source as these users are arriving to an app by specifically searching for a brand or using a keyword that they know will lead them to it; they come with purpose.
There are different types of search methods that will lead users to a listing. A user can search with 'branded' keywords which is the process of a user actively intending and looking to engage with a brand they're familiar with, for example 'Macy's' or 'Starbucks'. Alternatively, users may find an app by searching with 'genre keywords' (the category to which an app is assigned) which relate to the type of app they're looking for, for example a user looking for a game may search using the keywords 'puzzle games' or 'travel games.'
Why App Store Search is Important
A leading target for marketing strategies is to increase traffic to an app listing to bring about the most amount of organic downloads as possible which makes search traffic a key component of this process.
App Store search traffic drives around 70% of installs in the App Store. This large chunk of engaged users are made up of a combination of branded and genre keyword searchers whose visit hasn't needed to be paid for via an ad campaign and neither have these users stumbled upon an app when browsing. So, an app developer or marketer is looking to acquire as much of this traffic as possible. This is where keywords come into play and are considered one of the cornerstones for ensuring an app listing ranks in the search results. Keywords are a major discussion point for experts in the field, read more about keywords here.
Around 65% of app downloads on the App Store occur directly from organic traffic like searches, which further shows the importance of search users as a traffic source.
Developers can use App Store Connect to analyze app store performance. The data-driven platform provides key information on which traffic source a user comes from, including App Store search, and can help to gain a better understanding of how users engage with an app.
App Store Search and ASO
The elements that appear in the search results page in the App Store that have potential to be optimized are app name / icon / subtitle and screenshots (or video if there is one.)
As a traffic source that drives 70% of installs in the App Store, which is clearly a huge portion of the overall traffic, search is one of the areas in the App Store that ASO teams are always looking to increase. The more organic traffic that leads to installs the better. But the competition is fierce as more and more experts look to grab a piece of the pie.
In terms of ASO, search traffic that arrives at an app listing having searched for it with meaning and intent, but doesn't convert to an install, is a red flag that signals a weak product page which may need pivoting or a mismatch between what users are looking for and what they see on the product page. ASO teams from this point would need to analyze and hypothesize in order to understand which aspect of a product page isn't performing, is discouraging a user to download and needs to be optimized.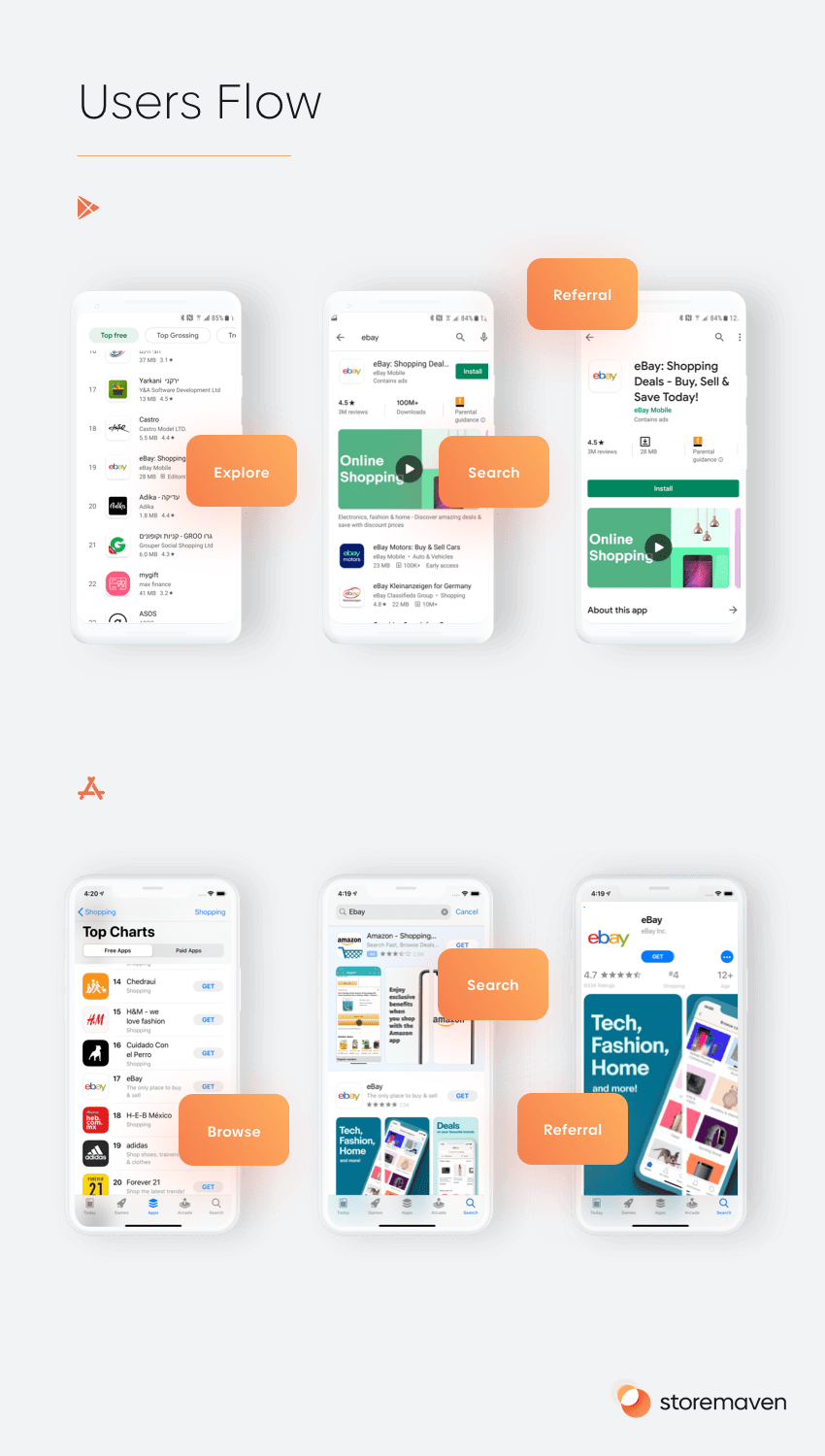 Nail your iOS panoramic screenshot gallery in three easy steps
Related Terms
App Size

Every app has a megabyte size which determines the amount of storage it requires in order to run on on users' devices

App Store Reviews

In the App Store, reviews are presented in the review gallery below-the-fold. This means that only about 20%-25% of users are exposed to it.

App Store Optimization (ASO)

App store optimization, or ASO for short, is the science of improving the performance of an app store listing.