The world seems to be peeking through the gap in the public bathroom stall wondering if it's safe to step outside. That new normal we keep talking about is slowly starting to take shape.
Two roads diverged
When it comes to creative optimization there are many approaches you can take. And many will work. It's a game played in inches, not miles. But those inches add up. It's just a matter of finding what works for what you want right now.
It all starts with understanding how users engage with your store and then you can work out how you want to affect that engagement to end up hitting that install with the right frame of mind.
For some users, they'll open your app store page and give it a half-second glance before deciding yip or nope. For others they'll carefully peruse your offering, taking in all the sights and sounds, reading all the words, and intensely analyzing all the imagery. But for most users it's generally somewhere in between. They'll scroll too quickly through the screenshot gallery to actually discern much detail but they'll notice enough to get an overview of your main value props. They might watch the video but only for a few (about 5-6) seconds. They might read your description but only the first few lines and never the 'read more'.
There are lots of ways they could explore your page if they so choose. And that means you have yourself a nice little choose-your-own-adventure script to write where all the endings end in choosing to install.
Now obviously writing a choose-your-own-adventure narrative isn't as easy as it sounds. If you tried to write every story and every possible journey you quickly find infinite stories to write and well our time is limited.
So how do you approach this? Well, according to Amy Hilman, it's all about the mix.
Step one is always about understanding the situation at hand. How is your current audience behaving in the app store? How many users make quick decisive decisions and how many hang around to have a look-see?
The second rung is working out what those decisions tend to be. Are decisive installers more likely to install or drop? The more explorative ones, do they finish their investment by claiming that install? Or do they realize it's been a waste of however many seconds they've spent on your page and they leave without a second thought?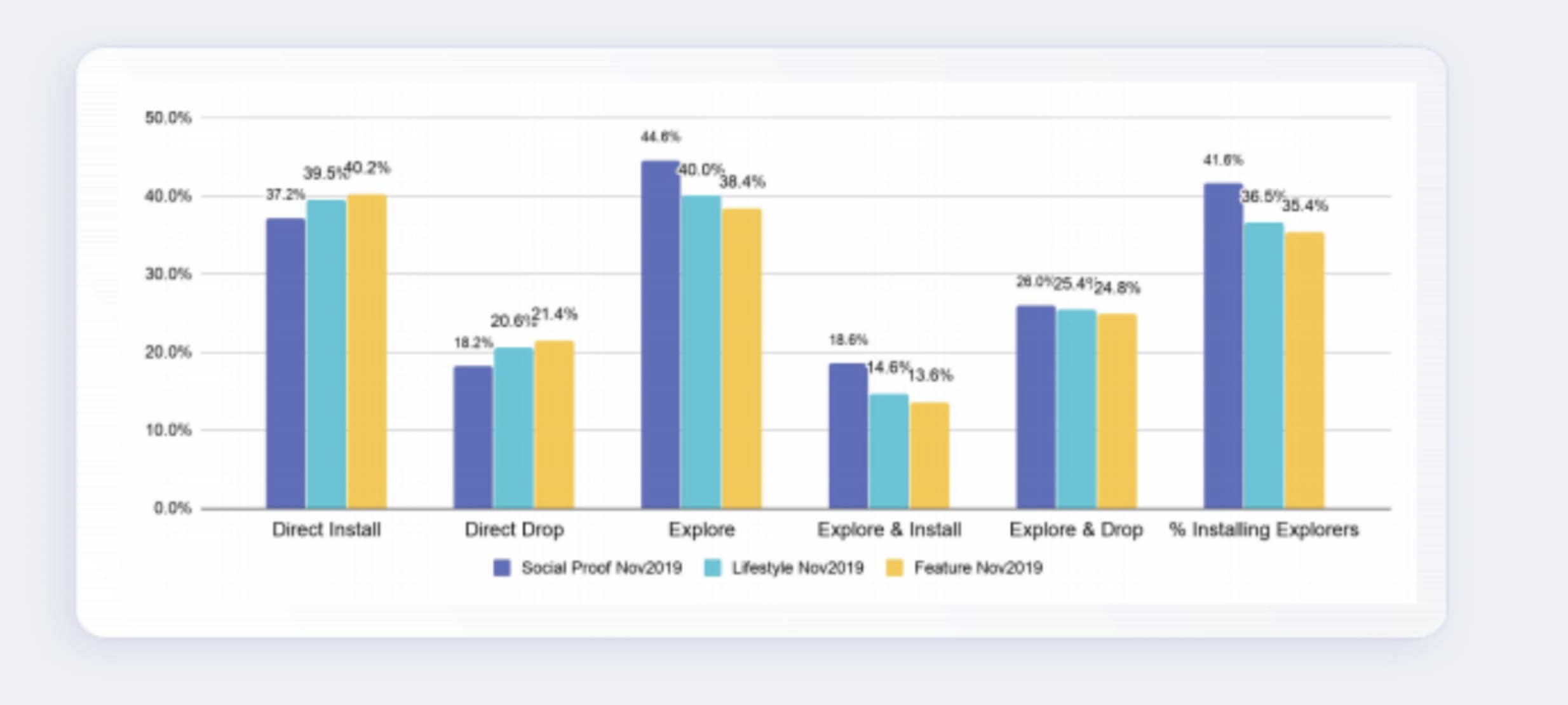 Once you know these things, that's where the fun begins. Because now you get to decide if you want to try influence not just the decision but the journey they take to get there.
The app stores consist of many moving parts. I say moving because on each of the stores your creative assets get shuffled around depending on where in the store they're being shown. Your icon is everywhere but your video could be shown in a search result and your screenshots could be shown in a featuring placement. These assets have to all work together harmoniously wherever they land. And that takes a lot of fiddling to find the perfect assembly of parts that works for multiple scenarios and multiple personas.
Before you start fiddling though, it's important to know who your most valued target audience is and how they specifically behave. Write their adventure story specifically for them and specifically to get them to either explore more (because you've seen that to be most effective) or push them to a snappy decision with a strong first impression.
Every app is different and every app's audience is just as unique. So what works for your competitor might not work for you. This is what worked for Yahoo Finance. But more than that, Danny Spyra, Director of Product Marketing, tells you how they got there.
Creative optimization is a process of playing with the pieces and finding the right mix of forest bramble that allows the best paths for the best users.
Give the people what they want… with a guided hand showing them it's you.
ASA bears fruit
Just like a seed can turn into a tree and bring forth more fruit so too can a single product grow and flower and fruit into a full-on network. That tiny bud of green on your avocado pit you've eagerly been waiting weeks to see? That's the bright clue that there's something big coming your way. As long as you don't kill it in the process. Avocados can be tricky.
So what are those tiny green shoots popping out of Apple's ASA avocado? They're two new campaign parameters in the updated ASA campaign management API. And they indicate that there's room to grow.
The soil is fertile and ripe for new offerings. The dark cloud of deprecating the IDFA and GAID are creating the perfect environment. Apple owns its ecosystem so they'll still maintain access to device identifiers long after IDFA and GAID are gone. This is great news for future attribution accuracy as it cuts out the middle man of ad attribution systems (I guess less great news for them though) shrinking the distance needed to be traced between click and install. More accuracy, better reporting, and improved targeting are all possible outcomes of this move.
Currently, Eric Seufert notes that around 5-8% of developer ad spend is currently funneled through ASA. Apple is looking for more and wants a bigger bite of the mobile advertising pie that is set to grow to $240BN this year.
Apple seems to be preparing the beds for the fruit-bearing gift that is being in the top echelon of mobile app install advertising platforms.
Lipstick luxuries
I've been saying it (mainly because I've been parroting what other smart people worked out themselves for weeks) now but '2020: The Global Pandemic' is still keeping everybody tied up to their phones all hours of the day. Every week my family reviews each other's screentime analysis and we all have a good cry staring longingly out the window at the world outside. It's pretty embarrassing, I didn't think there were that many waking hours in a week.
We know it changed behavior because we all saw our lives changing too. And it seems when we're looking for a mobile game to occupy our time, we have moved past the bored aimless scrolling in search of what we know we're looking for. Browse behavior dropped by 16.6% while search increased by 33%. That's highly focused intent right there. It seems the longer we're forced to stay home, the more certain we are in what we want right now.
While most people's phones might not have permanently melted into their palms like mine, it seems the inordinate amount of home-time has led to an inordinate amount of phone-time. And no one is happier about that than Apple. They just reported their year-over-year growth of 31% for April. This is the strongest growth in two and a half years and we've got COVID to thank. (Most of our bellies have also seen an impressive 30% overall growth too.)
It wasn't just Apple's bottom line, or even just mobile games, that got a lockdown boost of high double-digit revenues and booking growth but publishers too. Match Group saw a 17% increase in revenue in Q1.
A few weeks ago I made the comment that whilst downloads would surely surge, the LTV of these users were probably not what you'd want them to be. It was based on the assumption that with disposable incomes shrinking and audiences growing wider (and less of your core audiences), that fewer people would be willing to make in-app purchases. I was wrong. Seems I forgot about the lipstick effect. Small luxury (or purely recreational in this context) purchases increase when the economy goes sad. We treat ourselves at a low cost instead of the more significant purchases we can't make.
Those extra lives and dance moves and virtual experiences are the small luxuries making our lives worth living.
Five things you must know about Custom Product Pages
Lockdown not letdowns
Get your calendars out and book your favorite spot on the couch as Apple just announced it's taking the WWDC online. It's only a couple weeks away and starts on the 22nd of June. This is one conference where it helps to take notes and not just business cards as any developments in the App Store are going to be announced here.

Any keen beans in the building? You'll soon be rewarded for your eagerness as Google Play is reportedly rolling out the red carpet for users who pre-register for apps and games. It'll also offer the chance to allow automatic installation for those who want to save the arduous task of going back into the store to hit that install button.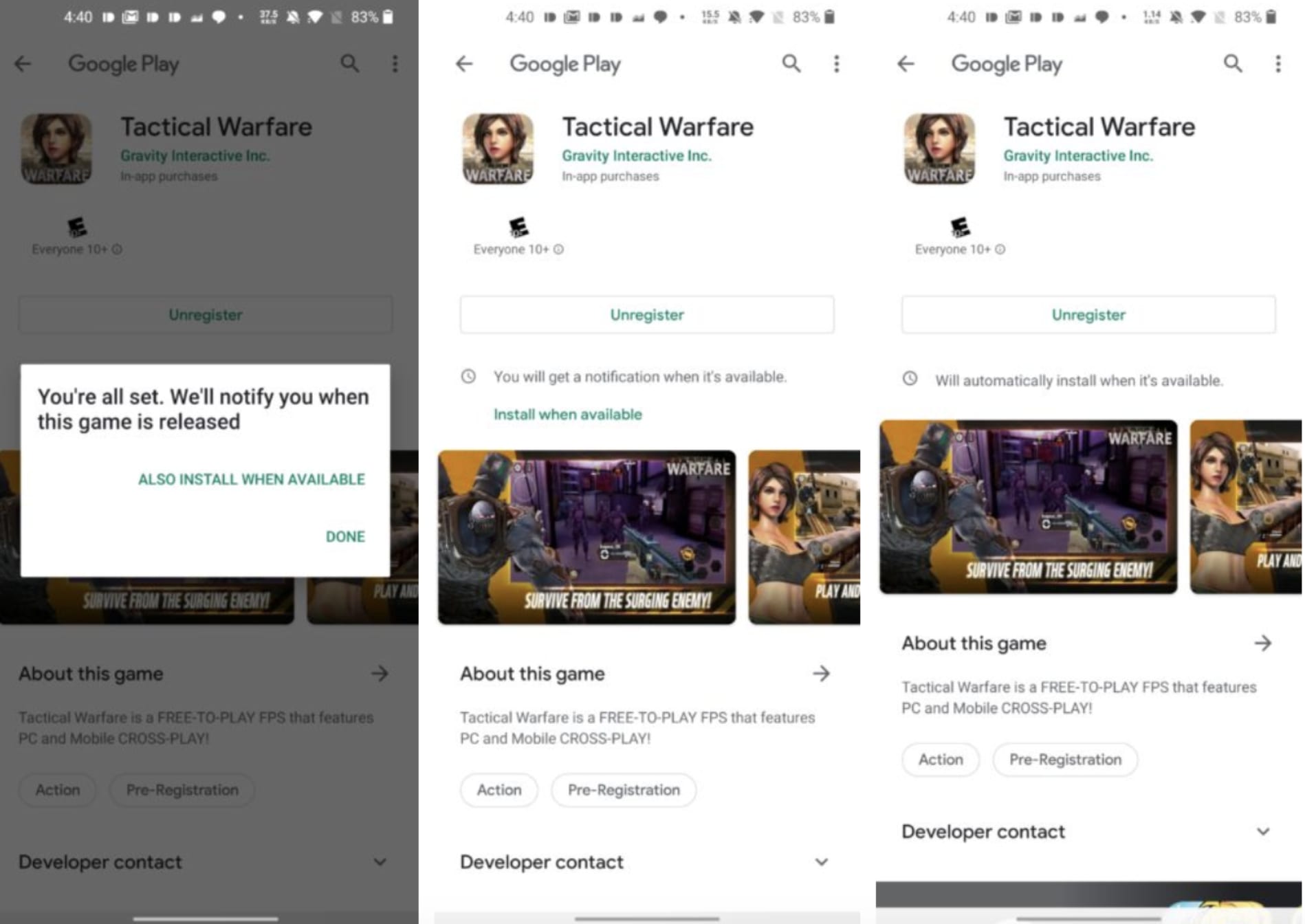 Corona has brought the family back together under one roof and Apple is following suit. The App Store and their big brother the Mac App Store are finally getting together as their categories unify for cross-store distribution. So now we have two new categories in the App Store emerging from the union; Graphics & Design as well as Developer Tools.

Tilting Point's eagle-eyed Nadir Garouche spotted yet another early feature in the Google Play store. The search results page are getting another UAD ad format that looks quite effective: greater real estate, rankings, and a very prominent install button. If your organic ranking is pretty high, be on the lookout for a potential threat from paid search growth.

Know those social distancing regulations you've been conscientiously abiding by for months now? Well, your App Store artwork needs to keep to those rules too. No face-touching, crowds, masks, or cute coronavirus characters. If not, featuring might be as far away as recreational travel.