The time has come to act upon those overly optimistic, overly ambitious, overly confident, overly sincere life-changing resolutions you made more than a week ago.
Not me though, I set up my 2020 to be easy peasy lemon squeezy. I vow to spend more time in bed. Reading or not reading, but definitely in bed. I didn't even repurchase last year's unused gym contract.
Go far, go wide
It's the new year (don't worry I'm already getting sick of hearing it too) and that means it's the perfect time to start gradually sinking back into the serious business of whatever it is you do. And if that business is an app, well then you've come to the right place. (And if it's not and you're just here for the show a) who are you? b) why? and c) slide into my DMs.)
When it comes to hitting the ground running, a successful launch takes plenty of thought. Mobile games are a highly competitive market and those lucky enough to get featured seem to be getting all the cheese. But it's there for the taking should you want it.
It's no longer enough to just sit back and wait until the gods of Apple and Google bestow upon you their omniscience and tell you what keywords you should focus on. It's 2020 and time to take matters into your own hands. Andrew Konovalskyi, Lead iOS Developer at Heatherglade Game Studio, did just that. And for some reason he decided to share it with the competition.
Their stratgey isn't actually all that unique, the bigger kicker though is that they did it. They pulled up their sleeves and went to work. Not only after Apple or Google had done the preliminaries, they got dirty long before. They went back to basics and dug into the core principles of ASO.
They managed a few key things:
They started off by optimizing for English and Russian-speaking audiences
They did ASO keyword research and implemented the most popular search queries into our game metadata
They monitored their competitors and the keywords and CTAs they were using
They monitored their efforts and iterated on new keywords and CTAs
They went global and optimized it for local languages
Spoiler alert: Number 5 was Numero Uno.
By localizing app store content you're expanding your reach. And the more people you reach the more people might possibly download. Math!
Emerging markets are a goldmine. India is on track to three-fold growth in mobile app downloads by 2022. Colonial minds long saw the value (and revenues) these markets presented then and mobile marketers see the value now. For download KPIs, focus on the growing markets. For in-app purchase revenues, focus on the money-maker markets of China, the U.S., Japan, South Korea, Germany and start making it rain.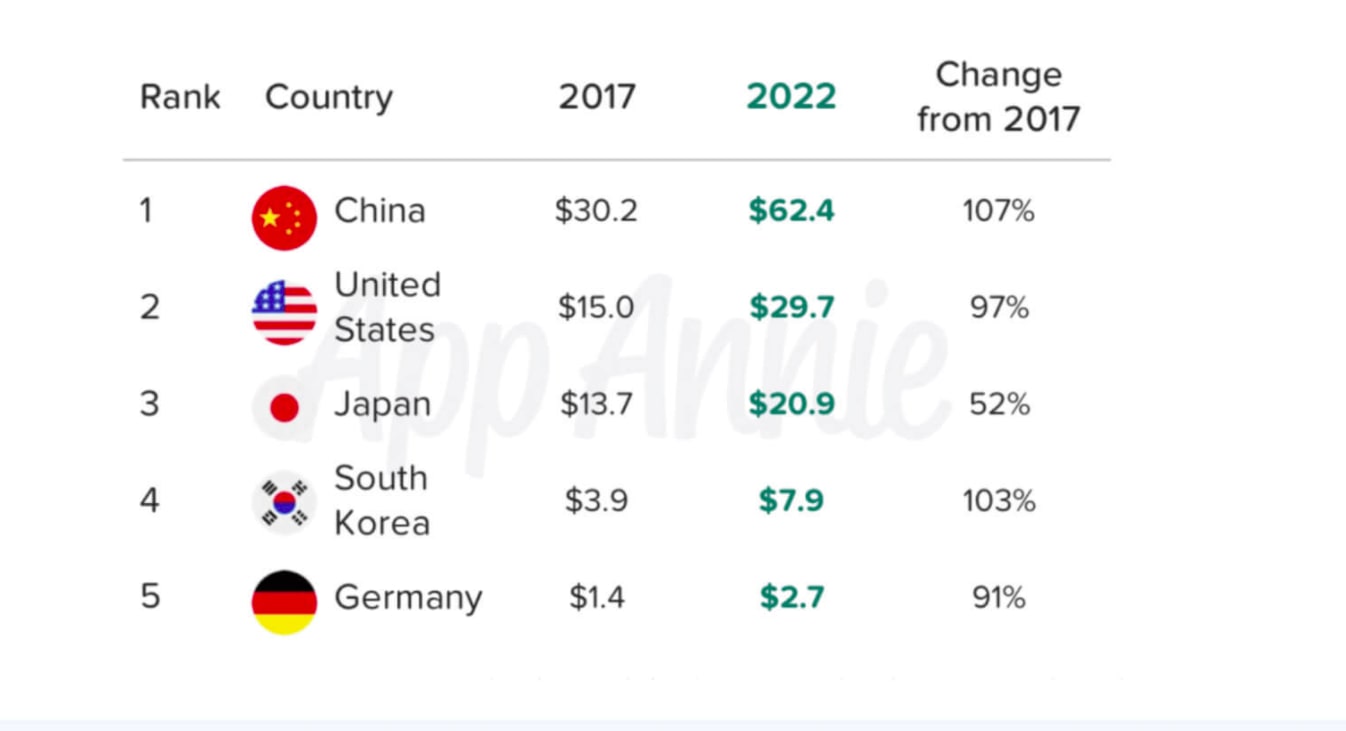 Localization seems hard but it's actually pretty simple. Google translate. Every lost lone traveler's knight in shining armour has a business use too. But we've all seen the horrors of menu translations, why would it work for keywords? Two words: systematic process.
Here's the cheat sheet:
Translate your core keywords.
Check those keywords on App Annie to see if they're actually used in common parlance. (Because as much as 'common parlance' might be the correct translation, how many people actually use 'common parlance' in their everyday lives? Not many (just me?). You need to find the commonly used phrases that mean the same thing as your common English keywords.)
Gather suggestions from your competitors who already rank for these translated keywords.
Expand semantic core with Keyword Suggestion.
Prioritize and implement.
Pop that champagne.
Well maybe hold back on the champagne but you get the idea. By hacking your way to better (or at least attempted) localizations, you've already expanded your audience and potential downloads. Remember: the wider your wingspan, the higher you can fly.
Nail your iOS panoramic screenshot gallery in three easy steps
Apple brings in the bacon
The tinsel has drooped and pine needles are scattered on the floor while we live in denial that it's not high time to start packing up the tree.
But while we sweep up the debris of sad party hats and sticky confetti, Apple Insider already crunched the numbers.
Seems pockets have swelled as users spent 11.3% more for Christmas 2019 than the previous year. Family time is stressful and users want a mobile escape that they can peak at under the table while everyone pretends no one is on their phone. It's basically tradition at this point. A very un-mediocre $277M was spent on Christmas day itself this year bumping up season spend to $5.1B for the month, up from $4.7B in 2018.
Not surprisingly, and exactly as always, iOS outplayed Android when it comes to the bottom-line moola. App Store revenues closed at $193m, growing by 16% and pulling market growth averages up with them. Google Play spend grew by only 2.7% in comparision. Those Apple geniuses and genii-wannabes are spending their Apple Cash.
Games generally rake in most of the cash and that still rang true (76% to be accurate) but non-game apps are tortoise-ing to the front line with Tinder doing the heavy lifting with $2.1M on Christmas day alone.
This is all just more of the same though. Android are the big downloaders and the iCrowd are big spenders. 70% of all market revenues belong to Tim Apple now.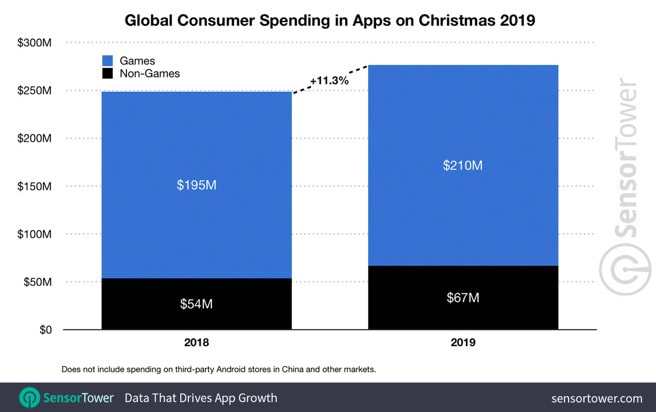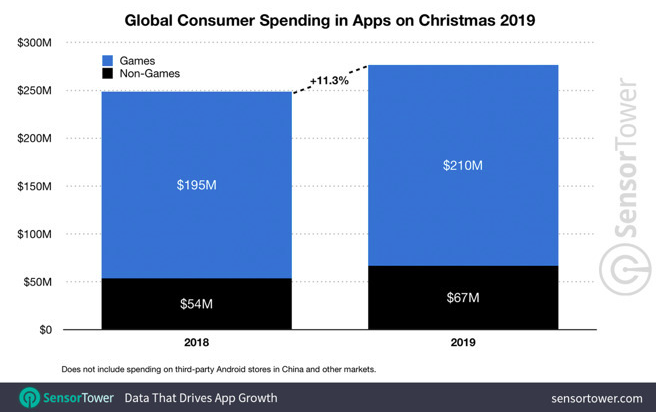 The blooming brilliance of Lily's Garden
The business of making games and the business of selling games have all too often been seen as two very different businesses. And in a lot of ways they are. But as with most things in life, the true magic comes in the combination and complementation (yes, it's a word) of the two. Greater than the sum of their parts etc etc.
And that's what Niek Tuerling, game designer at Wooga, realised in his analysis of Lily's Garden's success for Game Refinery.
Lily's Garden is a match-3 game like many others out there. But they're a little bit different. They saw what was out there and they decided to make a left turn. Their careful, thought-out process can be summed up into 3 easy steps.
Stand out from the crowd and differentiate your device mechanic.
Humans love stories. Give them a telenovela.
Advertise your telenovela, not your game.
Lily's Garden could have been just another burning bush. But this one didn't burn up like all the others. Instead she saw the other bushes burning by swipe and decided to burn by collapsing. The game mechanic at the core of match-3, swiping, was intentionally pushed aside for the more distinct, but still user friendly, collapse mechanic where users tap individual elements. Different interface strokes for different folks as they say. These different folks were eagerly waiting for someone to reach out to them. By focusing on an underrepresented subset of an audience, your chances for success are greatly improved. For more info, rewatch A Beautiful Mind and how Nash Equilibrium works at a bar.
The rarer the compliment, the higher the impact.
Point 2. Everyone loves a telenovela. The romance, the intrigue, the love, the betrayal. Humans love seeing the depth of their experience come to light in front of their eyes, living through their wildest dreams and craziest nightmares. And hey, Tactile Games thinks a match-3 game is just the place to put it. Their dramatic pregnant love-triangle narrative sure is different from a bunch of fruit flying around a screen
And lastly, storytelling is not just for game play. The genius of having a deep and rich narrative is that you have so much meat to bring to the barbeque when you're trying to create ads and marketing funnels and app store experiences. There's just so much more to play with. (Yes, I cringed at that pun too.)
Without understanding what players in this niche are drawn to and what drives them to install, Tactile would have never been able to create such a successful game. But they did. And the answer was simple: humans love a good story and love a good break-from-the-usual.
It's not enough to just have a good game these days, there's just (fortunately for users, unfortunately for developers) too many good games out there. In-depth knowledge of an audience and what drives them is what creates a competitive-edge in the app stores and in life.
Separate yourself from the crowd with trashy stories and appeal to the human in everyone.
Five things you must know about Custom Product Pages
Blink and you'll miss it
If you look closely at your Apple Search Ads, you'll see they come and go with a flutter of a finger. Sylvain Gauchet, Apptamin's Co-Founder, spotted it too.
When a user is served search ads that does not engage them, they scroll down or they may leave the search tab, or they could get so into picking their nose that their phone locks and they have to open it up all over again. But when they go back, the search results they see are different. Rotating search ads are now a thing in the App Store.
FYI these different results count as different impressions. The eagle eyes who spotted the trend noticed it seems to max out at 4 rotations. We're waiting to see what this means for engagement, conversion rates and installs.
This feature is still being rolled out and tested in several key GEOs.