The world is in turmoil, businesses are pivoting like prima-ballerinas and my probably-dead succulent has never felt more love.
I can't wait to tell my grandkids I survived the apocalypse by binging on Netflix and living off a diet of cheese straws and pretzels.
Treat cabin fever, not corona
Tastes change surprisingly quickly when humans are forced into a new lifestyle overnight.
But it's funny how few of us realized that at the time. My money's on denial and eternal optimism. And that's great but businesses don't operate in the future. We operate now. And we need to offer our clients and customers something they need now. Not what they wanted 3 weeks ago. Let's be honest March 2020 was way longer than 31 days.
Jonathan Fishman thinks it's time we stopped slapping COVID-19 to all of our communication and step up to the plate in a real way. It's time to think carefully about an actual COVID-19 strategy. 'Business as usual' won't work. Because life isn't as usual.
The pandemic is growing at exponential rates throughout the world and there are two strong beliefs across the market:
1. The pandemic will pass. Humanity will survive. We'll get healthy and we'll hug our parents again. We're just not sure when but we will.

2. There will be an economic toll and a period of recession. It sucks but it's true.
Times are tough. This is real and we need to do the best we can with the cards we were dealt. As those of us lucky enough to still have businesses with the potential to thrive despite this climate, we need to take our jobs seriously.
In the realm of app store marketing, we've always been faced with uncertainty now more so than ever. At a time like this, when all of us — ourselves, our clients and our potential consumers — are going through massive changes, we need to act with empathy and sensitivity, to acknowledge these changes or risk becoming irrelevant or worse. In order to minimize uncertainty and to understand our consumers, we need to make the right decisions based on more than just our gut instinct. We need to be able to back up our decisions with data. And if it's not being provided to us, we have to find it ourselves.
So what can we do? We can look, learn, strategize, and do.
We need to make sure we're continuously monitoring our app store performance. Not just impressions and installs but everything we can. So we can respond to the market as soon as needed.
Beware of decreasing your UA costs, it might happen, but ASO teams need to understand when it's going down because paid installs affect organic performance. Maintain constant contact between your different teams and you can escape to the bathroom for a 20-minute respite from the kids while you conference call.
Most importantly though, you need to look at your main value proposition in the stores. Some businesses have pivoted entirely (I'm looking at you American Airlines and your cargo-only flights) whilst others could benefit from focusing on new lockdown-centric value propositions.
Like Grab. Jonathan scooped these screenshots three days ago.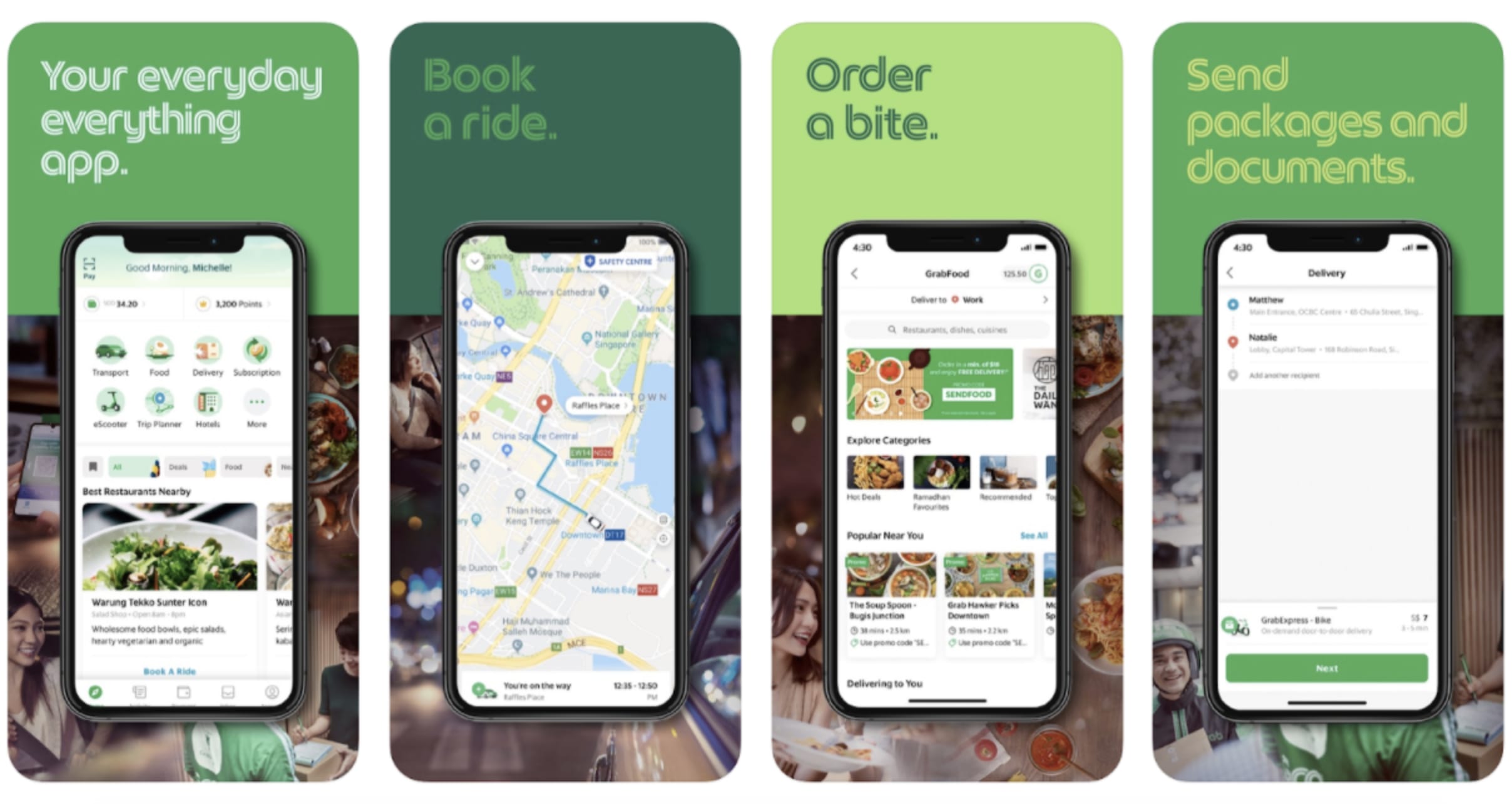 They could try using the first screenshot to push the angle of safe deliveries for important packages and documents. This is a clear message that speaks to what many new WFH-businesses might need now more than ever. All while deprioritizing other features that are less relevant to today's market (like 'book a ride').
Now don't do what I did. Don't just suck your thumb and pick a direction and hope it works. Na-ah.
Before you do anything you need to perform some good ol' fashioned research. How have the lives of your audience changed? Are they still active in your market or did they abandon it altogether? How are your competitors responding? Have any of them pivoted or changed their messaging strategy?
Understanding what the strongest positioning is for your app at this time is vital. Research and data collection are the keys to discovering that, however you choose to conduct it.
It's time to adapt. Update your messaging, just make sure you don't risk it all on a thumb-suck.
Increase conversion rate up to 28% with the ultimate screenshots guide
The first battle has been won
The 30% war rages on and the newest player taking their turn to bat is Amazon. And they seemed to have made it back to base with a little help from the opposing team.
For reasons still to be seen, Apple started waiving the fee by allowing certain 'premium' streaming apps to use their existing payment method. This is the first that a developer hasn't had to guerilla-warfare a way out of it like Netflix. Or take them to court like Spotify.
Oh, it's also worth mentioning that neither Netlfix nor Spotify qualified for Apple's definition of 'premium video entertainment apps'. Prime Video, Altice One, and Canal+ all made the cut though. There is obviously no connection between this point and the paragraph preceding it.
Others excluded from the premium category were small players like HBO and Disney+.
It seems though that the pressure put on platforms by developers to negotiate the fee is beginning to show results. The App Store has set a precedent. We'll see if Google will respond.
Don't just leave on the doorstep
When it comes to ASO we can spend so much time on discoverability that we forget about the importance of that final hurdle. When everyone lands on your app store and all your good work gets judged in an instant. Your app store creatives are vital, they're the only thing stopping a user from dropping off. That or if they've unintentionally clicked an ad and immediately regretted that decision.
But how can you measure the impact between good creative assets, great creative assets and the best possible creative asset combination you can find?
The first approach is testing, following the data and trusting the users themselves. Smart hypotheses and methodology you can trust. Data that will guide you to the light.
That's great and all but testing environments aren't perfect, they're not like the rom coms you dreamed about as a naive youngin'. They are not the real store and aren't affected but a myriad of other events. The real store is more like the reality of being stuck in the same four walls with the person you love most in the world with just not enough doors. Well, it's not that grim but there are other things that can affect the romance beyond a lockdown. You want to make sure your love story is as wonderful and perfect in the real store. And you do that by having methodology and data you can trust.
Understanding the interwovenness of the app store economy is imperative to measuring creative KPIs in the app stores. You need to be able to look at the big picture with all the variables and unpredictability of life.
There are plenty more nuggets of wisdom where that came from (although it lacks my inglorious commentary) if you want to spend about 50 minutes listening to the people who do this — successfully — every day.
Other things are happening too
1. As more people stay at home, more people are looking to screens for help, distraction or entertainment. Installs are up, sessions are longer, non-organic installs are continuing to increase as aggressive UA approaches from certain verticals take affect. AppsFlyer breaks it down. PSA: They update it every week.
2. Google Play plays tag team. Yup, tags are now showing up in search results after being announced months ago. Along with the number of downloads, it's small and it's words the effect on tired eyes remains to be seen. See if you spot any changes.
3. Everywhere there is corona, there is an app store. They're expanding beyond their 155 countries currently served to another 20 this year. Yes, there are that many countries in the world. Yes, that's not even all of them.
Never miss an update in the Mobile Growth industry with Storemaven's newsletter
Join 10,000 mobile marketers that stay on top of their craft
4. Our phones' GPS data is being used to fight the pandemic head-on. According to The Verge, in America, the corona-quashing data is being provided, not by cellphone carriers, but by us mobile ad peeps.