StoreMaven's App Store Testing platform enables app publishers to compare the performance of different App Store Landing Pages and identify the page that performs best. The optimal App Store page has the highest conversion rate (CVR) and App Store Engagement (ASE) rate.
This document explains how app developers / media vendors should set up media campaigns driving traffic to a StoreMaven test from non-Facebook channels.
To set up Facebook ads for StoreMaven Tests please follow this link.
How it works
App developers create mobile-web landing pages (micro sites) that look and feel exactly like the App Store and Google Play store.
Examples
StoreMaven Landing Page for iOS
StoreMaven Landing Page for Google Play
Test Flow
A StoreMaven test usually includes multiple landing pages, each one with it's unique creative assets
Once a test is configured on the StoreMaven dashboard, the app developer or media vendor send paid traffic to the test URL ((i.e. https://api.www.storemaven.com/123456) to understand which page has the highest performance and install rate
The test URL is provided by StoreMaven, who also take care of splitting traffic between the relevant test pages
Here's a diagram to demonstrate the basic user flow: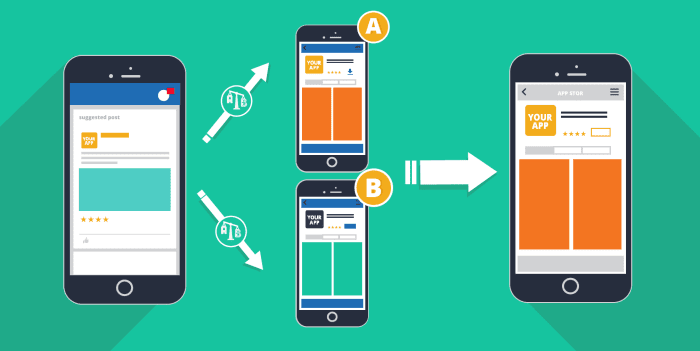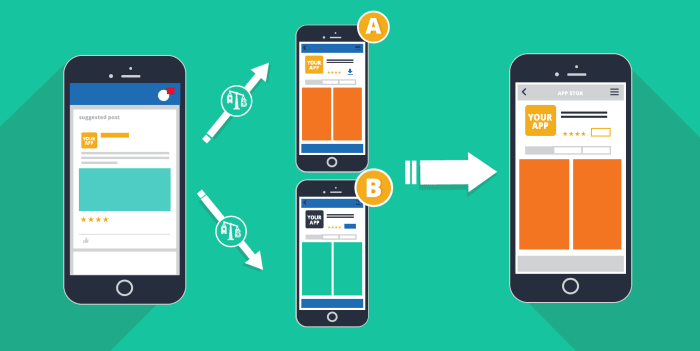 Get the ultimate ASO conversion rate optimization eBook
Everything you need to know about icons, screenshots, videos, app reviews & ratings, localization, and seasonality.

Storemaven Test / UA Campaign Guidelines
Once you get the StoreMaven test URL from StoreMaven or the app developer, you can use it in ANY mobile marketing campaign which supports sending end-users to micro sites (mobile web landing pages).
Campaign setup guidelines
Only target the relevant test device (i.e iPhone, Android, iPad, etc…)
Pace the traffic volume to run for at least 7 days
Make sure to use networks / sources which support mobile web (see comment below)
Sources which do not support mobile web as final destination
Certain networks have a unique configuration which only pings the attribution link (test URL in our case) and sends the end-users directly to the app store (final destination). Such configurations will not work with StoreMaven tests as the user must land on the test URL.
This is how PING ONLY (BAD) campaign flows work:
End-user clicks on the ad
The network performs a Server Side Ping to StoreMaven's test URL
The network sends the end-user directly to the final destination (The App Store or Google Play), skipping the StoreMaven test page completely

This is how traditional (GOOD) campaigns flow work:
End-user clicks on the ad
The network redirects the user to the StoreMaven test URL

The end-user lands on the landing page on his default mobile browser


Have questions? Need help setting up the test? Contact [email protected] or your dedicated client services manager.