With 1.84 million apps in the Apple App Store and 2.87 million in the Google Play Store, competition for new app users is fierce. This fact has forced app developers to double down on App Store Optimization (ASO) techniques.
Why? Because effective ASO results are like any other User Acquisition (UA) channel. Great ASO results not only bring in more installs coming in organically through App Store & Google Play Search, or users browsing the App Store & Google Search but also bring in more users installing the app after they visited an app store product page.

Successful ASO relies on proper keyword research. By implementing the right keywords into your app's product page metadata, you'll be able to drive more organic traffic to your app, increase conversion rates, and generate more revenue for your business.app

While ASO keyword research may seem complicated at first, if you follow a clear, strategic process, it really isn't — especially if you follow the tips and strategies we outline for you in this article. Keep reading to learn how to master the app stores' algorithms and secure new users on a consistent basis without spending large sums of money on expensive marketing initiatives.
What is App Keyword Optimization?
Before we can explain keyword optimization for apps, we first need to define what a keyword is. A keyword is any word or phrase a user enters into a search engine to find relevant content. For our purposes, said relevant content is your company's app.
App keyword optimization is the process of researching and including specific keywords in an app's product page so that the app stores' algorithms include it in their search results. Since approximately 67% of app downloads come from search, this process is very important.
Fortunately, it's also fairly straightforward. App keyword optimization can be broken down into four distinct phases:
Finding Keywords
Validating Keywords
Adding Keywords
Testing Keywords
We'll dive into each of these phases in a later section of this article.
Never miss an update in the Mobile Growth industry with Storemaven's newsletter
Join 10,000 mobile marketers that stay on top of their craft

Mobile ASO Keyword Optimization vs SEO
Many people simplify ASO as "SEO for app stores and mobile devices." It's true that ASO and SEO are based on similar principles. But ASO keyword optimization differs in one key area: search behavior. This key difference must be understood to succeed with ASO.
App store searches are generally shorter than their online counterparts and feature some aspect of desired app functionality. For example, a user might type in "stress reducer" when looking for a meditation app, or "workout plans" for an exercise app.
In addition, many app store searches include brand names. This is because users typically browse app stores in search of specific solutions to the problems they face.
The Keyword Triangle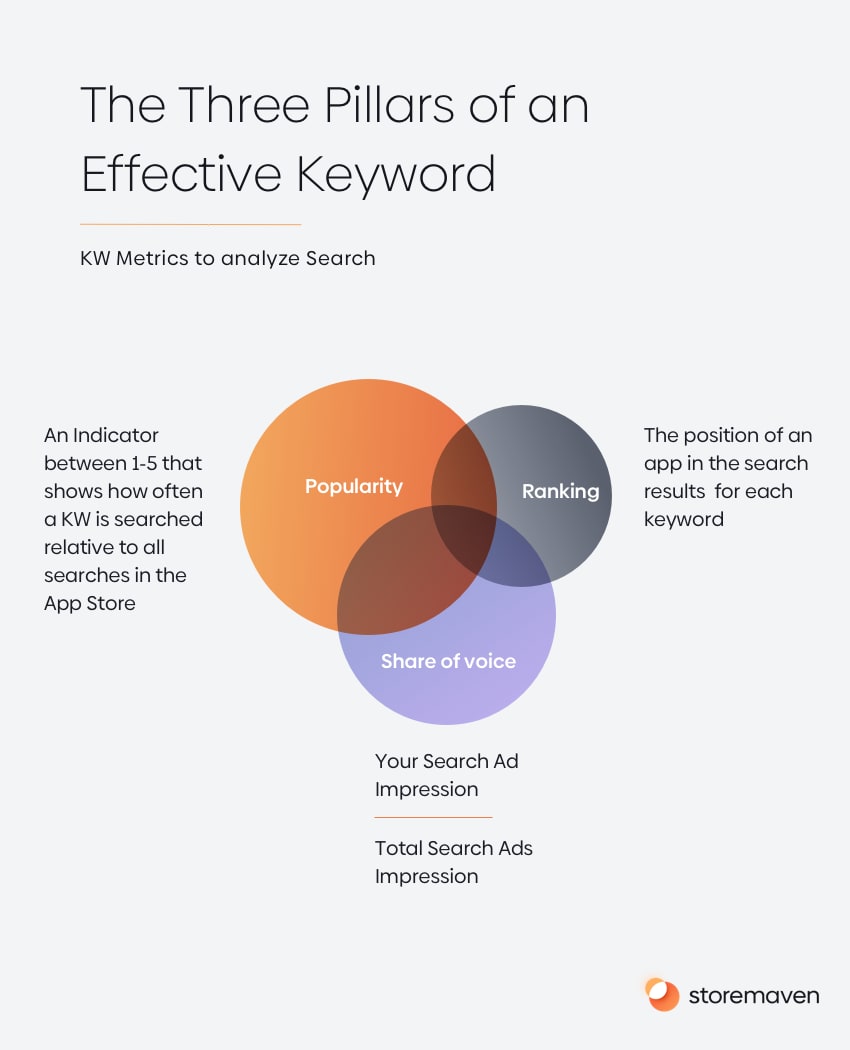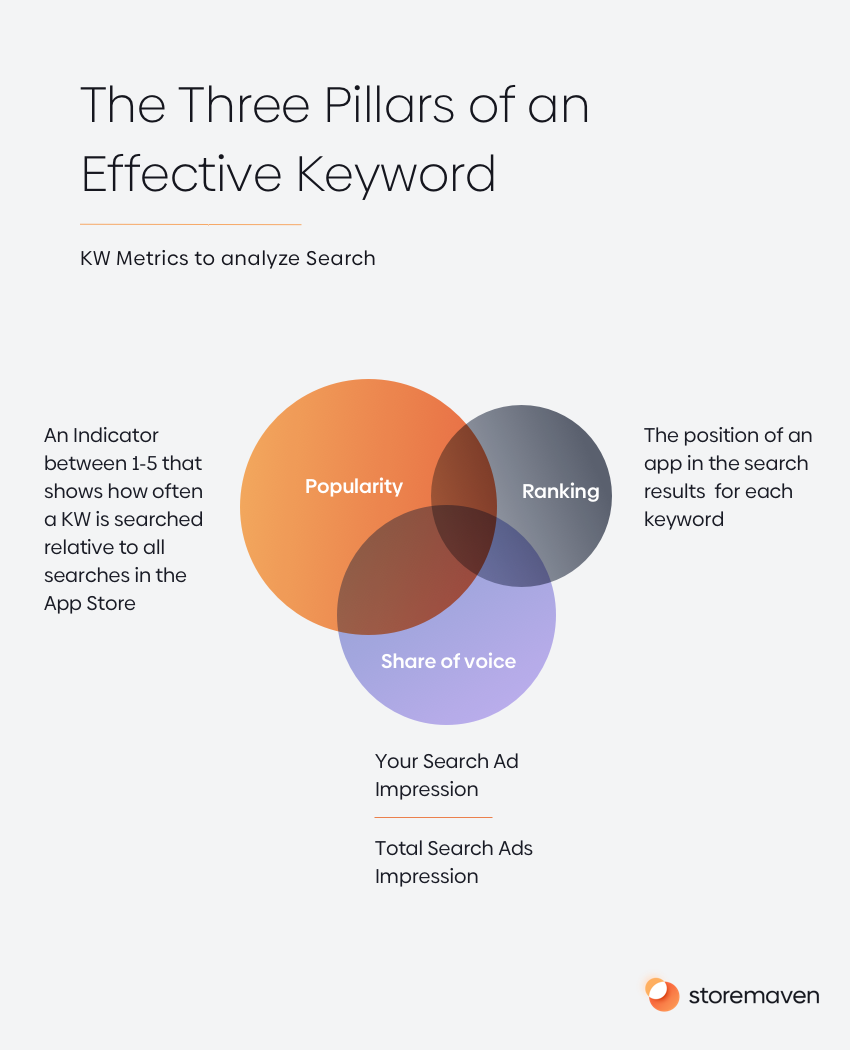 The keyword triangle refers to the three pillars of an effective keyword: relevance, volume, and difficulty. Let's take a look at each in greater detail:
Keyword Relevance: The relevance metric measures how relevant a specific keyword is to an app. It won't usually do you any good to target the keyword "music" if your app has nothing to do with it — even if you find that music is a popular keyword in app stores. The only caveat to this is that search queries with a high affinity to your topic might help you expand your audience. It could be that your app is about art and music lovers will find it valuable.

Keyword Difficulty: Next we have difficulty, a metric that measures how hard it will be to rank (i.e., show up in search results) for a specific keyword. The higher this figure is, the harder it will be for your app to appear in search results related to the keyword. This metric is usually visible through App Store Intelligence tools such as App Annie, Mobile Action, and Sensor Tower.

Keyword Volume: Volume refers to the number of times a specific keyword is searched for. If nobody is looking for a specific phrase, you shouldn't use it, no matter how relevant it is to your app. Pay attention to the volume metric when choosing keywords. This metric is visible through the App Store Search Ads Console.
The key to ASO is choosing keywords that strike the perfect balance between relevance, volume, and difficulty. We'll talk more about this in the next section.
Developing a Foolproof App Store Keyword Optimization Plan
Successful ASO keyword optimization requires forethought and effort. You can't simply choose a few keywords at random, add them to your app's product page, and expect a flood of new users. Here's how to develop a foolproof app keyword optimization plan:
1. Choose the best keywords for your mobile app or game
First things first, you must choose the right keywords to target. Start by brainstorming a list of terms and phrases that relate to your app. Come up with as many as you possibly can, don't hold back, there are no bad ideas at this point.
To structure your process you can follow this framework we developed: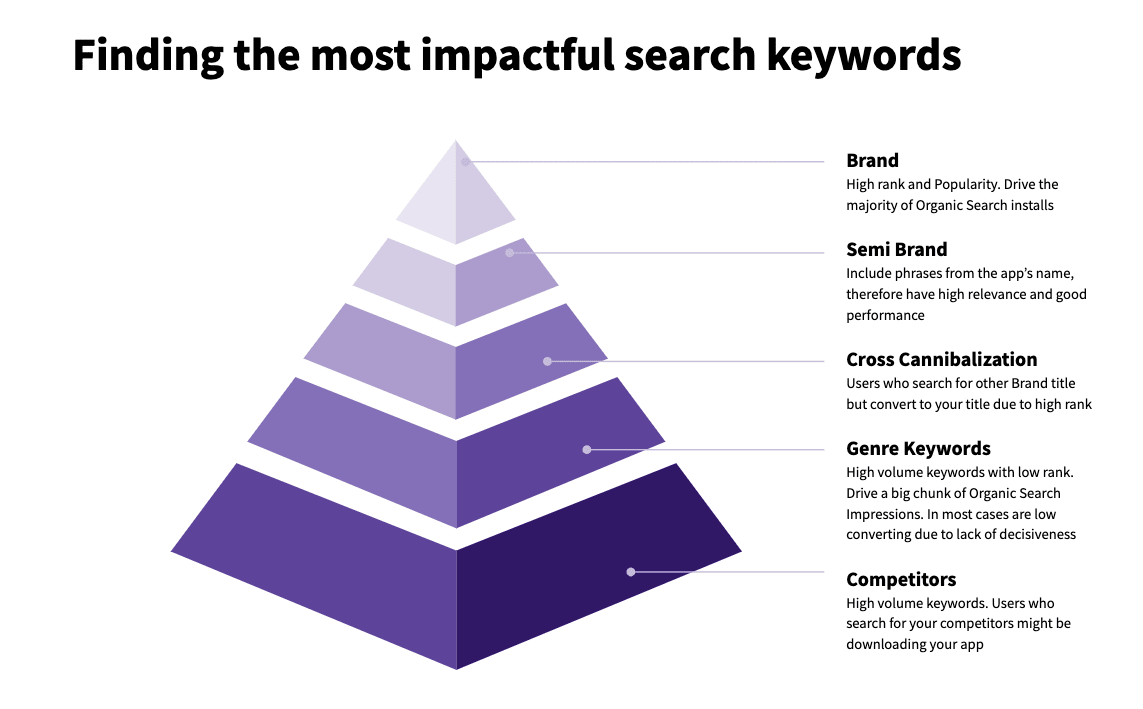 Ask yourself questions like "Who uses my app?" and "Why do they use my app?" and "How do they use my app?" By answering these questions, you should be able to generate a lot of keyword ideas in a short span of time.
For example, if you've created a fitness app, your keyword research at this point might look something like this:
Who uses my app? Athletes, weightlifters, runners, exercise junkies.
Why do they use my app? Get fit, lose weight, improve health, better looks.
How do they use my app? Exercise plan, accountability.
Next, take a look at your competitors. What keywords are they using? While an ASO tool will help you determine this (more on ASO tools at the end of this article) you can get a sense of your competition's keyword choices by looking at the phrases they use in their app titles and descriptions.
You can also generate keyword ideas by reading reviews of your app and including phrases that your customers use, sourcing ideas from traditional SEO tools like Google Keyword Planner, and using app stores' autocomplete feature.
Once you've created a large list of keywords, add to it by including word associations and synonyms. For instance, an "exercise plan" can become a "workout routine".
2. Validate your app keywords set
The keyword triangle (mentioned above) really comes into play during step two: validating keywords. This is the part of the process where you narrow down the list of keywords you just created to the best ones. You do this by assessing the relevance, volume, and difficulty.
Keyword Relevance
Since relevance is the most important keyword optimization pillar, we suggest starting here. Go through your current list of potential keywords and rank them for relevancy on a scale of one to three, with one being the most relevant. This process will be subjective, but if you know your industry and potential customers well, you should be able to grade each keyword accurately.
For example, if you've created an app that teaches people how to play the piano, "piano" would obviously be a hyper-relevant keyword and earn a "one" grade. "Keys" on the other hand might receive a "three" grade because it could easily refer to something non-musical.
If you're not sure which keywords are relevant or not, take a look at your competitor's apps and evaluate which ones they use. If none of your competitors use a specific keyword, it's probably safe to assume that it's not that relevant to your app.
Keyword Difficulty
Next, you'll want to evaluate your list of keywords for difficulty. This process is much easier with a keyword optimization tool. You simply search for a specific term and your keyword solution of choice will instantly give you a difficulty rating.
A proper ASO tool will also help you navigate the Apple Search Ads environment and give you detailed information like who's advertising and at what frequency for each keyword.
Keyword Volume
Lastly, you'll want to check keyword volume, i.e. the number of apps that appear in search results when a specific keyword is queried.
Checking keyword volume is also extremely difficult and time consuming without a keyword optimization tool. These solutions use advanced technology to quickly mine volume data from app stores, though none of them have access to Apple's or Google's exact data.
That being said, Apple Search Ads gives every keyword a Search Popularity score between 5 and 100. An App Store Intelligence tool can analyze this data and accurately discern keyword volume over time.
3. Add Keywords
Once all the keywords on your list have been evaluated, you can choose the ones with the highest potential and add them to your app's product page. Just follow these steps:
First
Start with keywords that received a "one" grade from you. These are the most relevant to your app. Then move to difficulty. If two search terms are equally relevant, prioritize the one that will be easier to rank for. Finally, look at volume data. This criterion is less important than the other two. Just make sure your chosen keywords generate significant search volume.
Second
Now that you have a list of target keywords, you can begin adding them to your app's product page. Where you place them is very important for both the Apple App Store and the Google Play Store. Here's what you need to know:
Apple App Store:
App Title: The app title is the most important keyword area for the Apple App Store. Keywords added here are given the most weight so make sure to include your top keyword choices in this section.

Subtitle: Apple App Store's subtitle section is the second most important keyword area on the Apple platform. Some brands like to include their slogans here. Other brands just add as many relevant keywords as possible.

Keyword Field: The Apple App Store also contains a keyword field. It won't be visible to App Store users, but it will be indexed by the algorithm of the platform. Keywords here aren't given as much weight as other sections, but they're still valuable.
Google Play Store
App Title: Just like in the Apple App Store, the app title is the most important keyword area for the Google Play Store. The keywords you include in this section will be given the most weight so we suggest featuring your top keyword choices in the title.

Short Description: The short description is Google Play Store specific. It's the second most valuable keyword area on the platform and is essentially a preview for the long description. Do your best to make it engaging while including keywords.

Long Description: The long description is also Google Play Store specific. It's the third most important keyword section and it offers app developers up to 4,000 characters to promote their app and include relevant keywords.
Divvy up your list of keywords and place them in each section for the app stores. Save your best ones for the top spots and include less relevant ones in other sections.
4. Test Keywords
The final step is to test the keywords you've chosen. Just because you've added them to your app's product page doesn't mean the work ends. In fact, it's just beginning.
App keyword optimization is an ongoing process. Algorithms change. What works today might not work tomorrow. There's always room for improvement. To succeed in the competitive world of mobile apps, you should commit to constantly testing how effective your keyword strategy is at driving new installs and boosting overall revenue.
Just remember that it can take up to six weeks for app stores to update search results once new keywords have been chosen. Don't give up on keywords too quickly.
Five things you must know about Custom Product Pages

Three Tips for Better App Store Keyword Rankings
If you follow the advice we've shared so far, you should be able to achieve a higher app store keyword rank in the Apple App Store and Google Play Store. But to really push your ASO keyword optimization strategy into high gear, keep these three tips in mind:
Nail Your App Store Page
Both the Apple App Store and the Google Play Store take app performance into account when ranking search results. More specifically, the volume and velocity of first-time installs the app is getting. This means that a low-converting app probably won't rank well.
While keyword research is important, it's only one facet of your app store page that needs to be tested and optimized. Make sure your icons, headlines, videos and images, and descriptions are on point as well. Doing so will improve search performance.
Localize
People in different countries speak in different ways and search for different things. Because of this, a blind transfer of keywords from one language to another usually won't work. Instead, do keyword research for other countries and adjust your app keyword optimization approach to fit.
Monitor and Experiment
As we mentioned, app store keyword optimization is an ongoing process. You need to continually monitor your app's search performance and adjust course when things change — and they will change due to new competitors, changing user search preferences, and many other factors.
More than that, you should also experiment with new keywords and their placements on a regular basis. It's the only way to know if your keyword strategy is as effective as it could be.
ASO Tools
ASO tools help app developers choose, validate, and optimize keyword choices in order to increase conversion rates. Here are a few top options: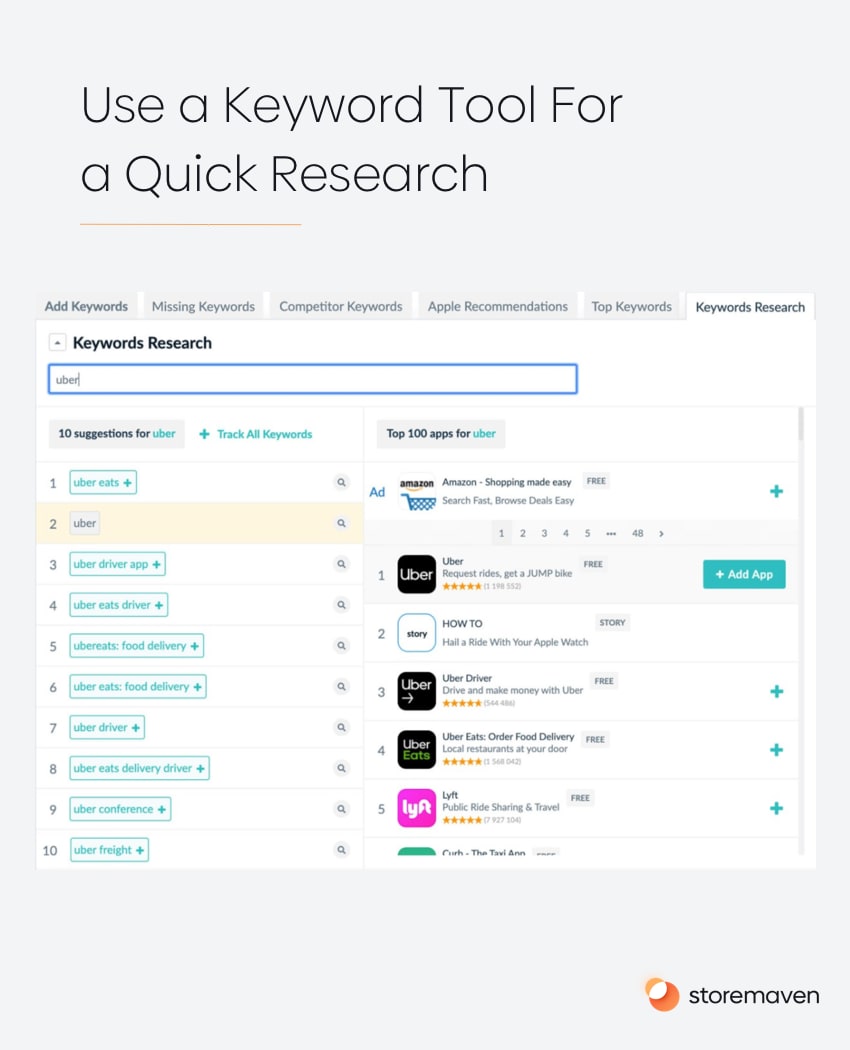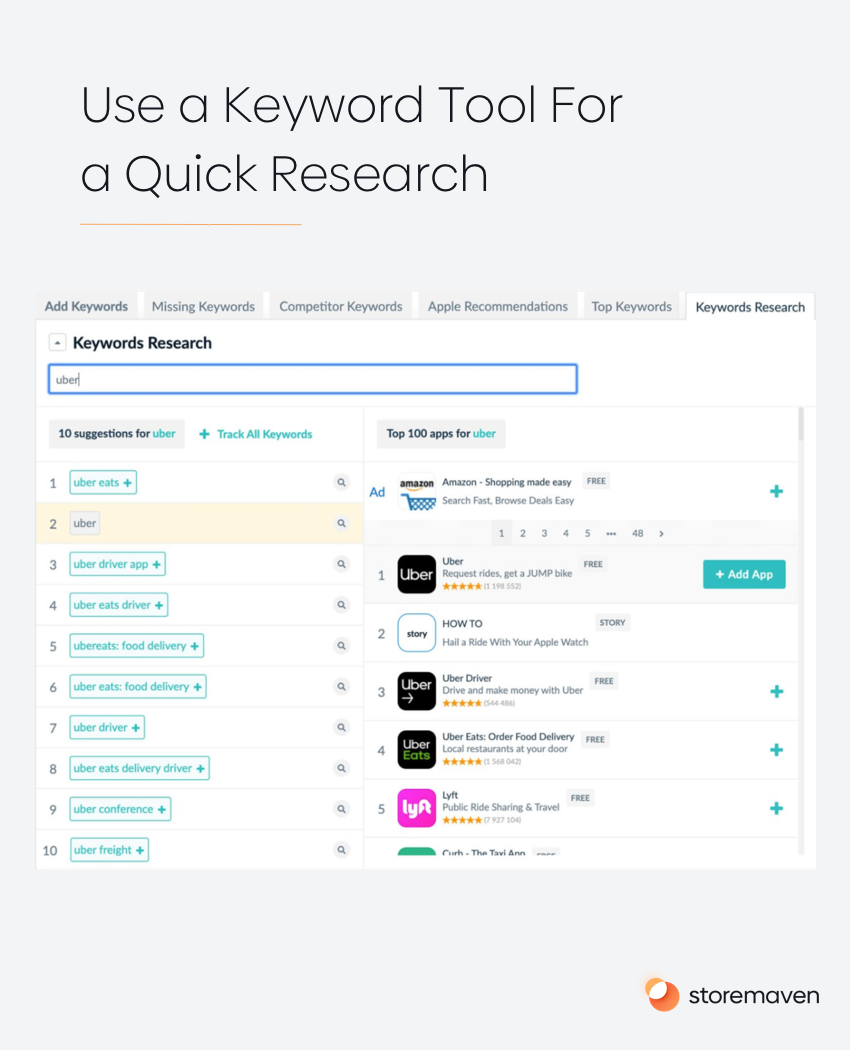 If you're looking to conduct accurate keyword research as quickly as possible, consider investing in one of the tools listed above.
In Conclusion
App keyword optimization is an important piece of the ASO puzzle. Without the right keywords, it will be difficult for users to find your app. Do yourself a favor and implement a proven ASO keyword optimization strategy. It's not rocket science; just:
Find Keywords
Validate Keywords
Add Keywords
Test Keywords
If you follow these four simple steps, you'll be well on your way to better app visibility, more downloads, and greater revenue. Good luck!