In the world of mobile apps, re-engagement is the act of "awakening" a user who's previously shown an interest in the product(s) you've created. By creating web, social media, and in-app advertisements that target lapsed users (i.e. users who downloaded your app in the past, but have since uninstalled it), or dormant users (users that still has the app installed but are not engaging with it) you can tap into a low-hanging fruit growth avenue.
Keep reading to learn why app user re-engagement is important, how to re-engage dormant users, and how to properly optimize your app store pages for re-engagement purposes.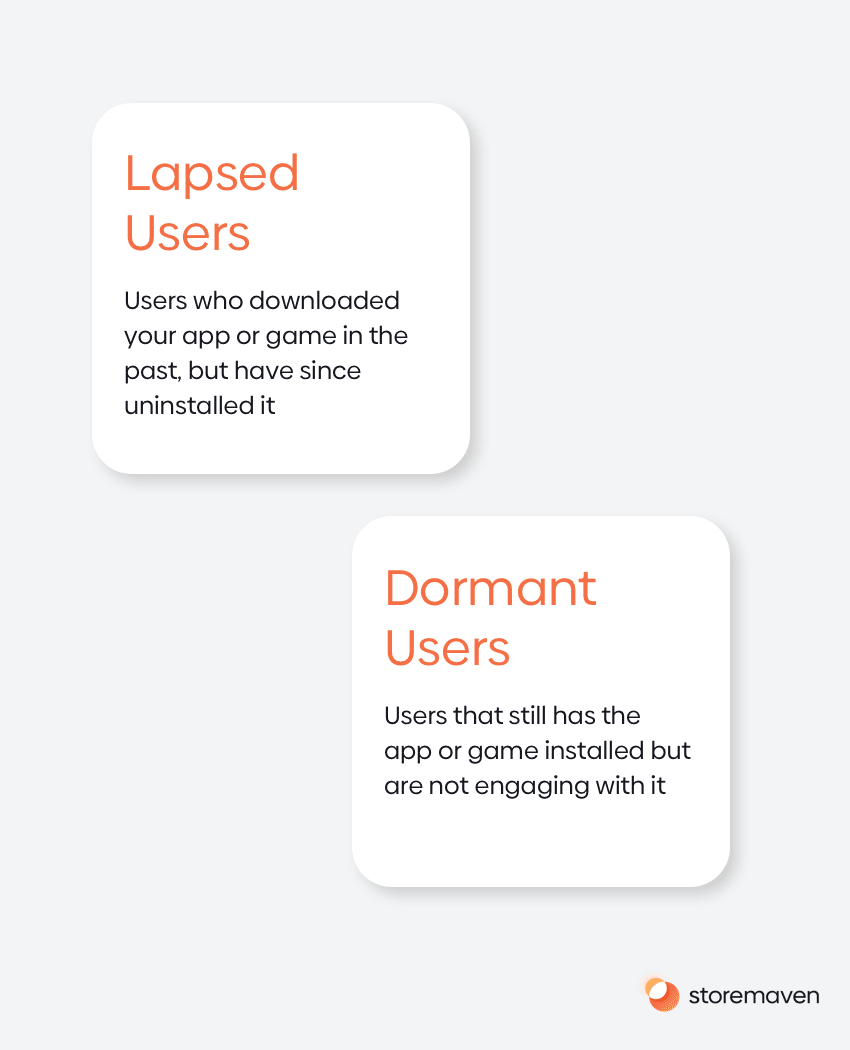 Why is App User Re-Engagement Important?
Studies prove that 25% of users never open the new apps they download. A further 20% of users only use new apps once before abandoning them for different solutions.
Think about all the work that goes into acquiring new users — market research, app store page optimization, ad creation, metrics analysis, etc. Now realize that only 55% of users who actually download your app will use it more than one time.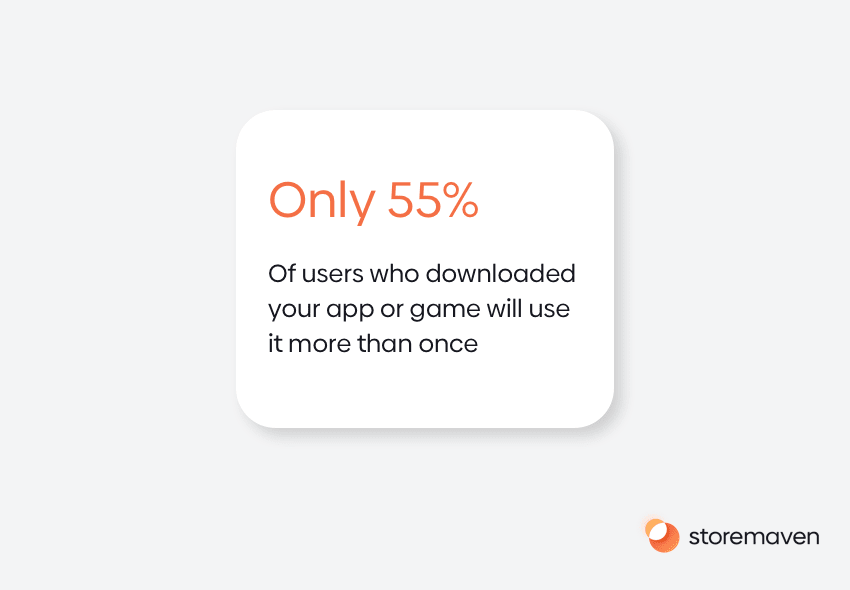 The above statistics show us that while acquiring new app users is necessary, the process of doing so is often time-consuming and expensive.
Fortunately, there's another way to boost growth for your app: re-engagement campaigns.
By using data analytics and BI tools to keep track of installs, uninstalls, and re-downloads, app developers are able to gain a deeper understanding of the value each user represents to their business.
They can then allocate a portion of their company's ad dollars on ads that target previous users, which will likely result in higher conversion metrics. This is because users who have engaged with your app in the past have a familiarity and trust with it that makes them more likely to download your solution a second time if you do it right
Just remember, while re-engagement campaigns can be incredibly effective when implemented properly, they have to be a part of a wider mobile marketing strategy.
In other words, don't put all of your eggs in the re-engagement basket! It's important to attract new users as well. The most successful app developers know the importance of properly splitting their marketing spend between new user and re-engagement campaigns.

How to Re-Engage App Users
The first step toward re-engaging app users is to learn why they've become disengaged. In general, users uninstall apps because they don't understand the product's value. This can be caused by a variety of different things:
Exaggerated ad descriptions
Complex functionality
A confusing interface
A lack of updates
Poor onboarding processes
A lack of trust
Too much in-app advertising
Too many push notifications
Once you've pinpointed the reason(s) for your app's user churn (which can only be done by including analytics and tracking in your app development), as well as researching the cause of churn (many times your app's review section will include a lot of insights on this) you can attempt to re-engage users and drive more sales by implementing the following re-engagement strategies:
Update Your App Icon
One of the easiest ways to re-engage dormant users that still have the app installed is to update your app icon. Our data shows that, in general, higher levels of engagement are reached after an app's icon is updated and users get curious about what changed within the app. This makes sense. A new icon will catch the eyes of users and signal to them that something is different, which, in turn, will drive them to re-explore your app.
Obviously, you can't change your icon too drastically as it has important brand implications. But you can slightly adjust it on occasion to re-engage your users.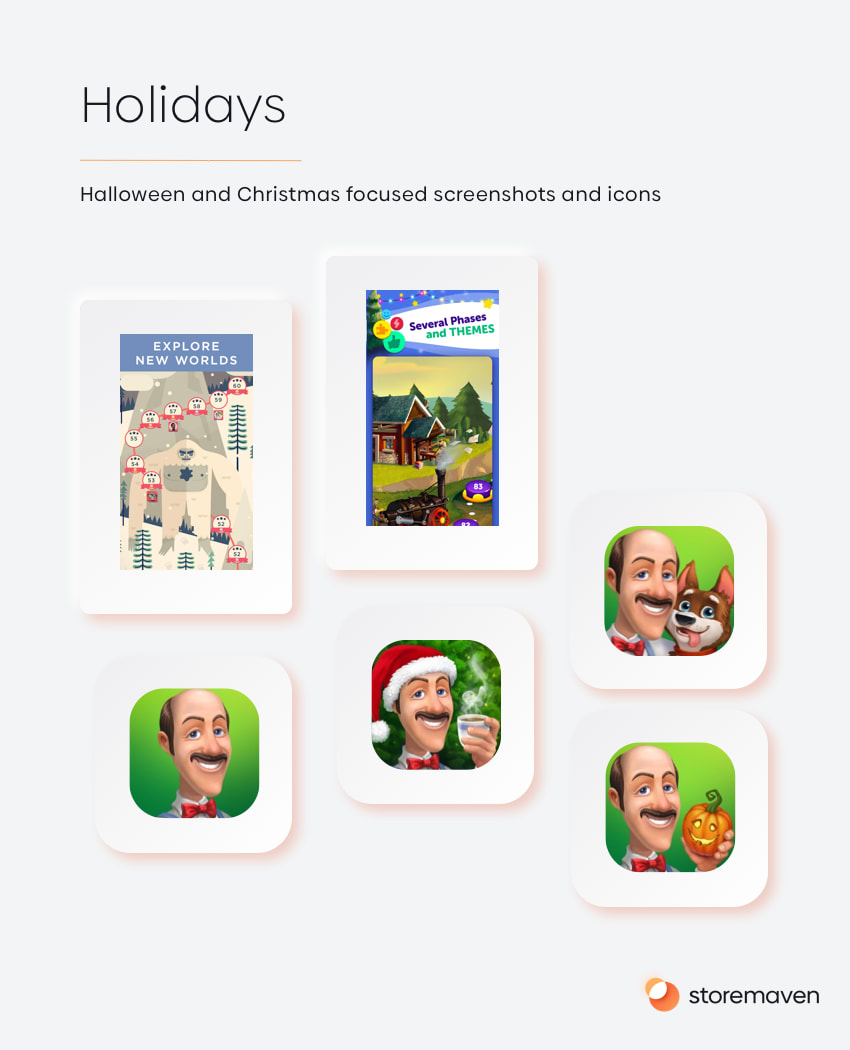 For example, you could tap into a seasonal event to make your app icon appear more festive. Some companies have done this by adding a Santa hat to their icons at Christmas time, a pumpkin at Halloween, fireworks over the fourth of July, etc.
App Icon do's and don'ts plus six steps to testing

Invest in LiveOps
LiveOps refers to active operations on a live app. If you occasionally add new content and features to your solution, levels, and character abilities to your game, or in-app offers and promotions, you're actively conveying to users that there is always new content in the app for them to explore.
Take a quick look at the apps at the top of Apple App and Google Play stores and you'll notice that almost all of them are updated on a regular basis. This isn't coincidence. Frequently updated apps are better received by users and often generate more revenue than apps that are never worked on and improved.
In regards to re-engagement, LiveOps is beneficial because it allows developers to add new capabilities to their apps that dormant users will want to explore.
Send Strategic Push Notifications
Push notifications are a worthwhile strategy because they allow you to reach your users outside of your app — which is perfect when attempting to re-engage dormant users.
Engagement rates will vary depending on your industry, though 40% engagement from a well-targeted and timely push notification isn't unheard of. Considering most email campaigns (talked about in greater detail below) only produce 15%-20% engagement, push notifications can be incredibly valuable to app developers.
Once a user acts on push notification and opens an app, deep linking (also talked about later in this article) can be used to direct users to specific pages and/or in-app experiences.
Create Personalized Emails
Email marketing is another great way to market your app to dormant users and entice them to re-engage. In fact, the average ROI of email, across all industries, is 4,200%.
But simply sending your users a random message won't do the trick. You have to be strategic, send your emails at relevant times, and personalize your communications if you hope to get anywhere near the high ROI mentioned above.
Your users receive A LOT of emails every day. The typical office worker, for example, is sent 121 messages on a daily basis. To succeed with this re-engagement strategy, you have to stand out from the ocean of other emails in your users' inboxes.
That's why sending a series of emails rather than just one message is advised. It will give you more chances to grab user attention and reel them back in.
Use Deep Linking
Deep links allow app developers to send users to specific locations within their apps. If the user in question doesn't already have the app downloaded to their device, the deep link will lead them to the Apple App or Google Play Store.
Using deep links is a great way to re-engage dormant users because you can better control the experience they have once they open your solution.
For example, you could send users to a certain in-app experience or to a specific page where they can explore a new feature you've just added. Because you're giving your audience something specific to do, they're more likely to engage with your app once inside it.
Just remember to thoroughly test your deep links to ensure they work correctly. Both Android and iOS devices have technical specifications that need to be met in order for your deep links to function in the ways you intend them to.
Reconnect on Social Media
Most people have between 60 and 90 apps on their phones, making it easy for yours to get lost in the shuffle. With this in mind, sometimes the best way to spark re-engagement is to simply remind your users that your app exists via social media networks.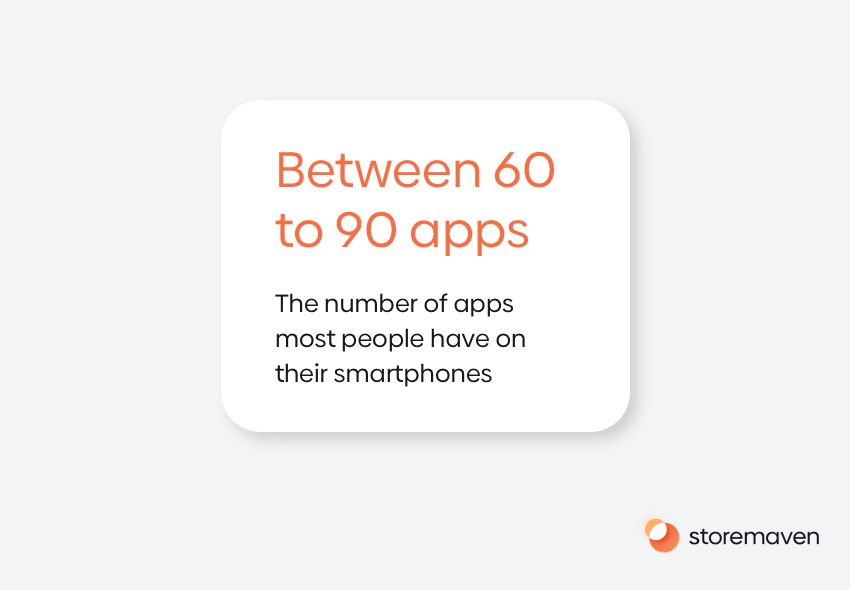 Make sure you have a strong presence on popular platforms like Facebook, Instagram, and Twitter and post to each one consistently. By creating engaging social content, you'll be able to stay top of mind with your users and re-engage them much easier when you release new features and/or capabilities.
Optimize Your App Store Product Page For Lapsed Users
The above re-engagement strategies will help you reel lapsed users back into your app's world. But did you know that you can also optimize your app store product page to lapsed dormant users and get them excited about your app again?
The first thing you need to realize about ASO in terms of re-engagement is your app store page will look different in the Apple App and Google Play Stores for users that previously had your app installed. This means that you need to optimize each store's product page individually.
Second, you need to craft app store page messaging that entices lapsed users to re-engage without discouraging new users to install your app for the very first time.
And third, you need to test your app store pages to ensure they're effective for both re-engagement and new install purposes. For this, we recommend Storemaven's testing platform, a solution that allows app developers to easily A/B test app store pages.
Here's how Storemaven helped Pearl's Peril supercharge its re-engagement efforts: Pearl's Peril is a popular mobile game created by Wooga. Since its inception six years ago, millions of users have been transported back into the roaring 1920s to seek adventure, solve mysteries, play hidden object scene games, and travel across the world as Pearl Wallace.
But like any other app, Pearl's Peril loses users. In an effort to re-engage them, the team at Wooga worked with Storemaven to better showcase new app features to lapsed users. We accomplished the task by focusing on the "A Closer Look" video and "What's New" section in the Apple App Store.
"A Closer Look" videos appear differently to new and lapsed users. Every lapsed user that rediscovers an app in the Apple App Store will automatically see the "A Closer Look" video. New users, however, will only see the video if they decide to explore the app page — something only 10-23% of app store users do.
This means that you can specifically craft your "A Closer Look" video with re-engagement in mind. After all, not many new users will ever see it. Wooga has been able to use this strategy to great effect in its re-engagement campaigns and achieve a 7% increase in lapsed user app store conversion rates.
The "What's New" is also helpful for re-engagement purposes as it will allow you to clearly state the new features, characters, levels, etc. that have recently been added to your app or game. Wooga also used this section to promote its new "Iris Eyes" playing mode to lapsed users.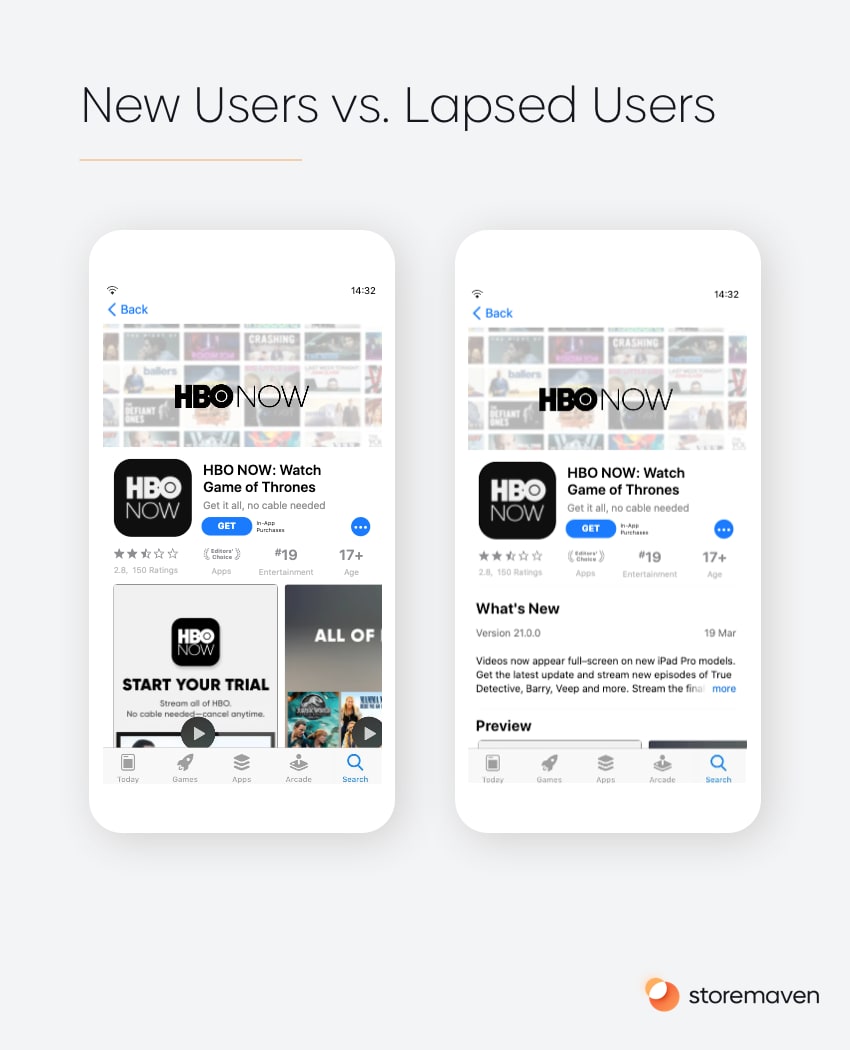 When crafting your own UA campaigns, always remember that the app store experience for new and lapsed users will be different. Use this to your advantage and craft messaging that appeals to each. For lapsed users, specifically, focus on new features and/or capabilities that make your app better using the "A Closer Look" video and "What's New" section.
Need a recap or missed our mobile growth conference? Access videos and decks

Final Thoughts
Re-engaging lapsed users is a fantastic opportunity. Unfortunately, few companies take advantage of it and end up leaving a significant amount of revenue on the table.
We encourage you to invest in re-engagement campaigns. Don't treat it as an afterthought, and definitely don't overlook it! Just because a user uninstalls your app doesn't mean you've lost them forever. Do your best to deploy the strategies above and reel them back in.
ASO, in particular, is an underused re-engagement strategy. By optimizing your product pages (especially in the Apple App Store), you'll have a much easier time convincing lapsed users to reinstall your app.