After launching its first website back in 2012, LeoVegas has transformed into one of Europe's leading mobile gaming companies, positioned as a leader in mobile casino gaming.

This publicly-traded digital entertainment company, based in Stockholm, Sweden, now employs over 900 people worldwide and is highly recognized for its innovative thinking, which led to numerous awards – the latest by IGA (international gaming awards) for "Online Gaming Operator of the year" at 2020.
The challenge: How to reduce customer acquisition costs
LeoVegas sees a lot of organic traffic in Sweden (about 50% of all traffic) and experiences exceptionally high CPIs (cost per install) due to being a real-money gaming app (in which users tend to have a very high lifetime value) with its main market in Sweden (a high CPI region compared to the rest of the world). This mix resulted in high traffic acquisition costs.
Sophie Le Roy, LeoVegas' Mobile Growth Lead, was looking to decrease CPIs through increasing CVR (conversion rates) on their app store page but needed data to help understand what to use in the live store in order to achieve the highest conversion rate lift. All needed to be done in a timely manner.
The strategy: Storemaven's Methodology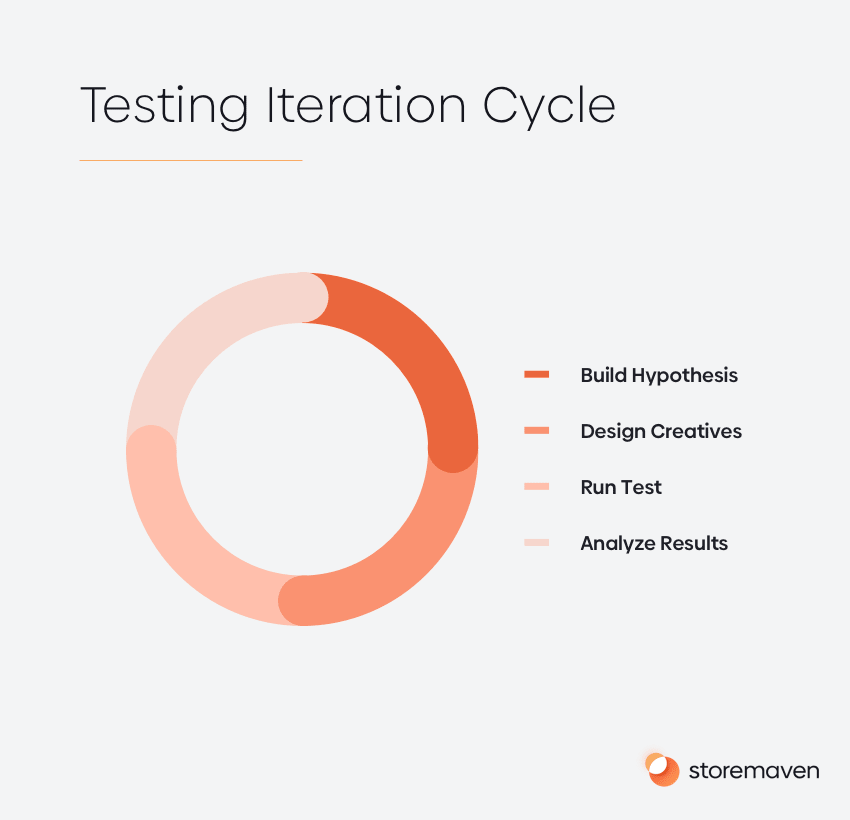 Developing a great test idea
We started our process together with thorough market research using our data and experience gathered from years of working with leading casino brands worldwide.
The research included:
Identifying industry marketing trends
Look into competitors and analyzing their ASO strategies
Exploring local messaging styles of similar games in the App Store and finding the common thread, and how to differentiate and stand out among the rest
Eventually, Storemaven and the LeoVegas team developed several hypotheses:
Hypothesis 1 – Game Variety – Showcase the variety of games in the first screenshot and give prominence to the most popular games in Sweden. Not about the number of games but the different option types e.g. slots, roulette, blackjack, baccarat. This will test the user's interest in the products offered by LeoVegas Casino.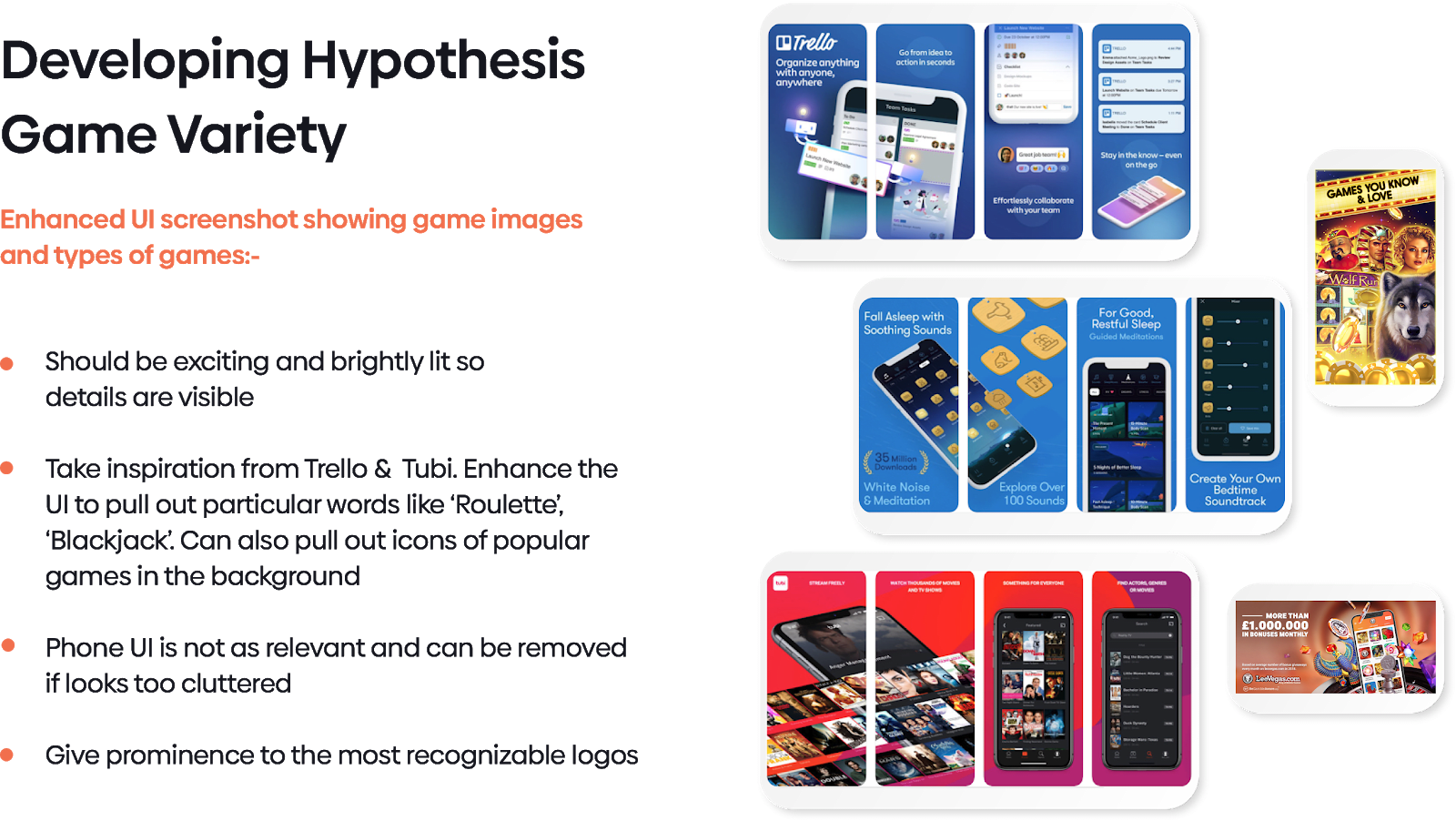 Hypothesis 2 – Money Variation – Focus on what can be won and the prizes rather than a welcome bonus. This hypothesis will test how users respond to creatives that assure them of huge winnings and jackpots
Hypothesis 3 – Swedish Localization – Bring forward the Swedish-speaking. Incorporate local images or flags. This hypothesis will test the users interest in a Swedish specific app that is designed for their language and market
Following the hypotheses development, LeoVegas design team translated them into compelling app store creatives. The focus lied with the first two screenshots as 100% of users get exposed to the first impression (the above the fold area) as opposed to the latter screenshots which get very low view-rates.
Using StoreIQ to reduce testing costs
With Storemaven's StoreIQ, which is Storemaven's proprietary testing algorithm, LeoVegas was able to accurately determine the winning probability that each test variation had based on our sophisticated Bayesian statistical model. Using StoreIQ meant LeoVegas was able to detect the underperforming variations and closing them automatically – resulting in faster test results and substantial traffic cost reduction.
The results: Record-high wins
Users reacted well to creatives showing "Big Win" messaging resulting in CVR uplift of 9% and 8.2% against the control.
The biggest take away from this test was that showcasing users' record-high wins in the LeoVegas product page is very effective. The test showed that this messaging was able to convince significantly more users than a message that focused on the type of casino games offered within the game.
It also showed us that the excitement and the thrill of the potential to win, as illustrated by the lifestyle imagery and people grabbing for the coins, triggered positive emotions and resonated with users.
Applying these insights, LeoVegas increased conversion rates by 9%.

The conclusion: Pushing the boundaries
By using Storemaven creative testing, LeoVegas' growth and UA teams were able to push the boundaries for app store messaging and test concepts they wouldn't have before. By using app store testing, they discovered what creatives will lead to a higher CVR.
The results from this test yielded two equally good options, which is more often than not a blessing in disguise. Having two options that performed better than the control, gave LeoVegas confidence and freedom to choose which one to implement in the store. In this case, it's up to the developers' discretion to consider the market and brand, in order to make the best decision for the company.

LeoVegas' marketing team is now able to take more risks and test new ideas while catering to brand decisions with confidence.
Want to drive improvements to your app store conversion rates?
Join the world's top brands and schedule a call with Storemaven

Increase conversion rate up to 28% with the ultimate screenshots guide