Founded back in 2010 by former MySpace Co-founders, this American video game company is operating today in more than nine studios across the globe – with offices in Berlin, Buenos Aires, Bogota, Toronto, San Diego, and San Francisco among others, headquartered in Los Angeles. The company employs over 500 people worldwide.

Jam City is responsible for some of the highest-grossing, most successful mobile games, winning several entertainment awards. Its global franchise Cookie Jam has generated more than half a billion dollars, and Panda Pop has more than 120 million downloads to date. The company also is the go-to studio for Hollywood, having developed immersive, narrative-rich mobile games around iconic entertainment brands. The Jam City team is known for its creative excellence and technological innovation in key areas including storytelling, data science, and audience insights.
The Challenge: How to attract new users while trying to bring back lapsed players
Jam City has a lot of mature games in their portfolio, which holds an interesting challenge – how can you further optimize them and how do you keep innovating with a brand that's evergreen?
It's that mix of wanting to attract new users, while still retaining old ones – a poser for obviously any company that had games that have been out for a long time; working with a very particular kind of audience, and now in the phase of wanting to attract new users and still kind of maintain a consistent look and feel.
The need here is not only to optimize for first-time users but also to think about retargeting and bringing back lapsed players – users who downloaded your game in the past but have since uninstalled it.
The Strategy: Storemaven App Store Creative Optimization Loop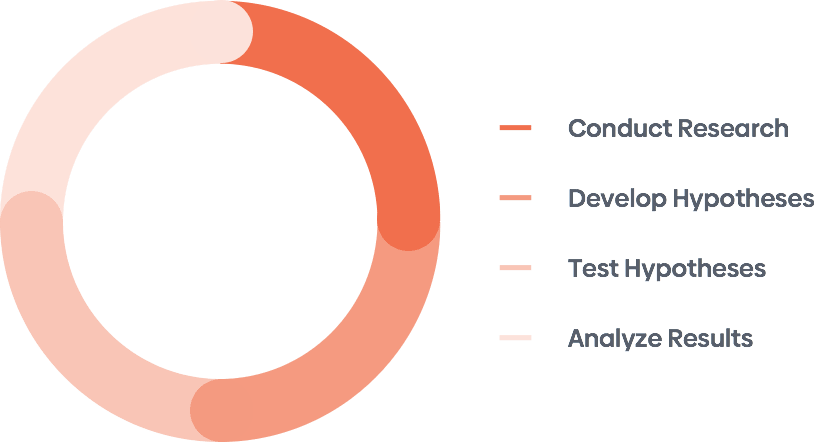 Storemaven has been tackling this set-back in the past and after analyzing hundreds of millions of users, came up with a methodology of how to find the balance between trying to attract new users while proving to lapsed users that the app or game in question has many new features worth looking at.
Working closely with Jam City, we prioritize the company's projects based on a few different factors -First, we prioritized the company's projects, and then after identifying the app in question, we also prioritized the app store's creative assets by their conversion rate lift potential.

Here are some different ideas Jam City implemented in their tests, after going through the necessary stages of market research and hypotheses development:
Showcasing New/upgraded characters
By highlighting things like events, and new levels which all users like, and by showing off graphics in a new way, you can attract lapsed users while still appealing to new users.
Redesigned Icon
Icons are an interesting way of reengaging users who haven't yet deleted the app but aren't logging in – simply changing your icon can pull them back, while designing an appealing icon for new users will rope them in. Here comes the importance of seasonality, which shows users the app is current, cared for, maintained.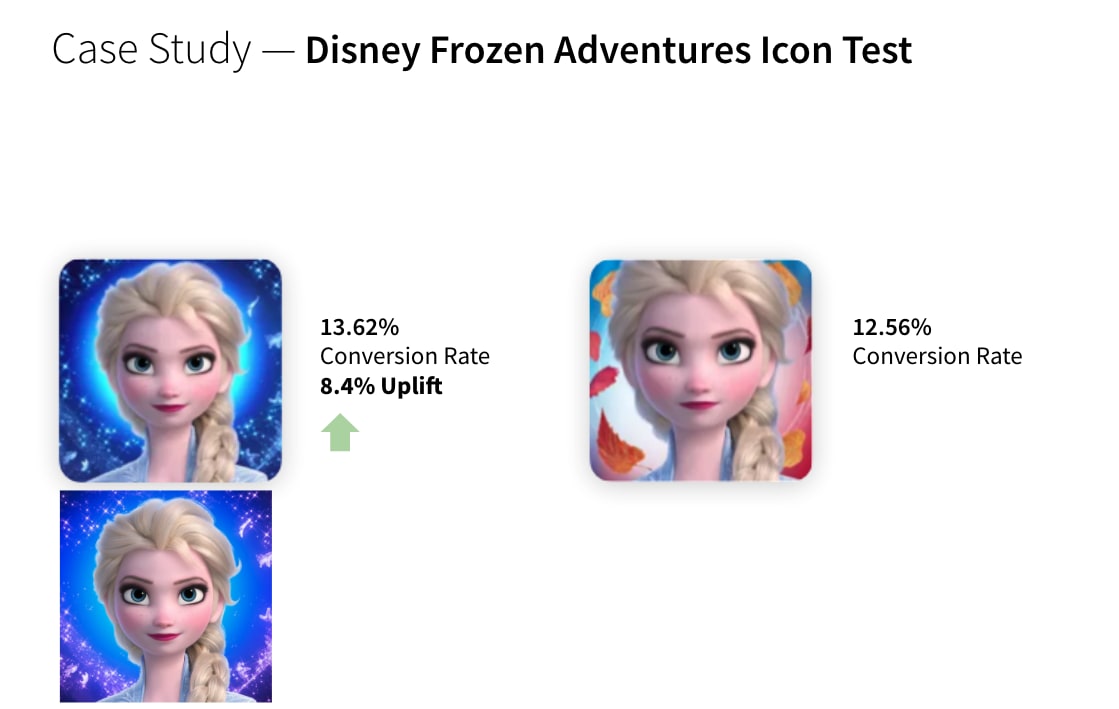 Leveraging the 'What's new' and 'Closer Look' sections
Remember that you have assets that are basically exclusive for lapsed users – the what's new text and the closer look video. The What's new section shows up at the top of the page for lapsed users and way down low for new users. That text should be 100% customized only towards current/lapsed users.
A Closer Look video is an incredibly powerful asset for lapsed users. Closer Look shows up just under what's new for lapsed users and is way down low for new users, so on the product page, it should also be customized towards lapsed users.

However – if you have a closer look video, it shows up in the Search Results page, which new users will see. In the tests we've run, we realized it's unwise to highlight sales or special deals for games on the product page – it turns new users off even if it may entice lapsed users.
Catching users "who still haven't given you a shot"
Even when a game or app is in its maturity phase, you can still test some hypotheses to get better results. Here, with an established game like Vineyard Valley, Jam City looked into first impressions tests, putting some themes together:

Hypothesis 1 – users want to build their dream world.
Hypothesis 2 – users are driven by their need to "save" someone and to solve a crisis.
Hypothesis 3 – users want to create their own stories and enjoy dramatic storylines.
The control here tried to cover a lot of different aspects and rely on the fact that it was a "known" game – you can see how that didn't work for their performance. After this, the Jam City team was able to go asset by asset and create a really strong page.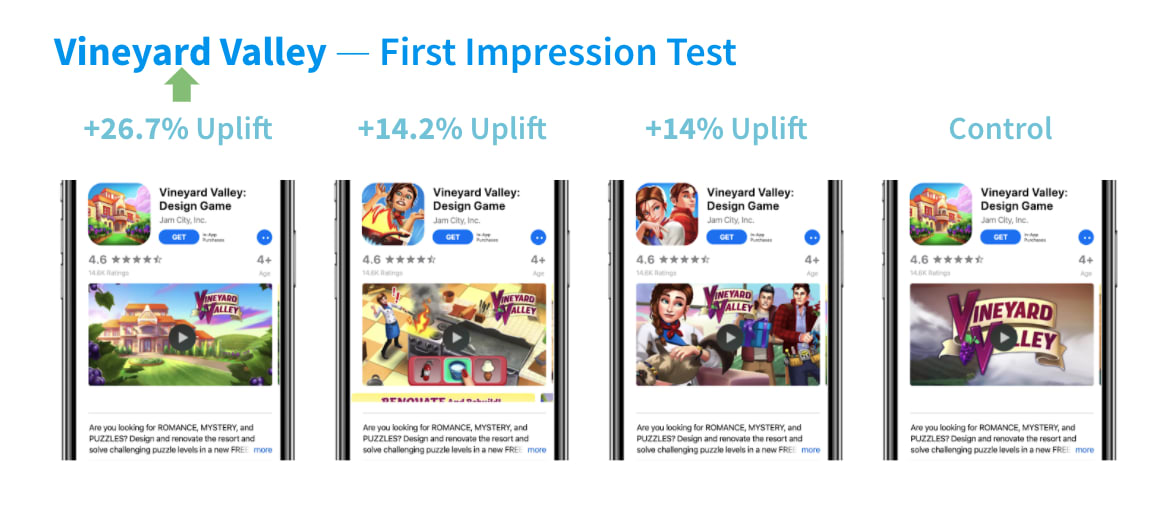 The conclusion: Broadening the reach
This case study demonstrates Jam City's holistic approach to testing and to ASO in general. The test variations shown above were based on a mix of the ideas and methodologies – looking for different elements that obviously are eye-catching or converting, and constantly trying to broaden their reach, to understand if there's a new user segment that might find their game or their concept appealing.
Many companies still approach the testing phase thinking about look-alike audiences that monetize the most. Here, Jam City went with a different kind of strategy, by also often wanting to see what lapsed users do – how they respond to different assets.
Concentrating on lapsed users takes time and is considered a more gutsy move – because despite the fact lapsed users generally monetize well, the platforms still care less about them. New installs are the most important factor in increasing discoverability. But that doesn't mean you can ignore your most loyal fans, and the insights gathered from understanding your most devoted users can be a treasure-trove of data used in the future.
Contributor: Esther Shatz