This is a guest post by Ekaterina Makulova, Marketing Manager at AppFollow, an App Monitoring, App Store Optimization, and Customer Support platform.
If you're in (or moving into) the mobile game business, App Store Optimization (ASO) is something you should plan for long before the launch. We all know this, yet many game developers continue to fall short when crafting an ASO strategy. They rely on luck and simply wait and see which keywords the app stores will use to position their game.
In this post we will explore five techniques that can help you level up your ASO game and help you to be successful from the start.
1. Choose the right title
ASO should cover everything you do in the app store and it should start at the very beginning with choosing the title of your game. If it is a made-up name then you should aim to build a brand around it. Alternatively based on the type of game you are creating, the title could be composed of strategic keywords.
In 2017, for example, Wooga published an all-new hidden object game called June's Journey. It does two things: one, the name sounds good and fits the story of the game, and two, it includes journey as a relevant keyword for the game type.
Also, by choosing the name June's Journey the company gave itself the potential for producing sequels of games with similar names: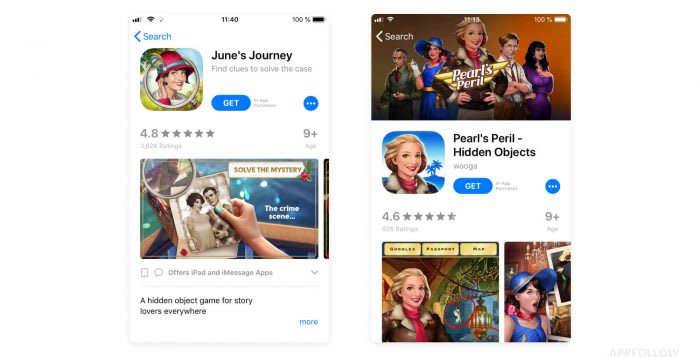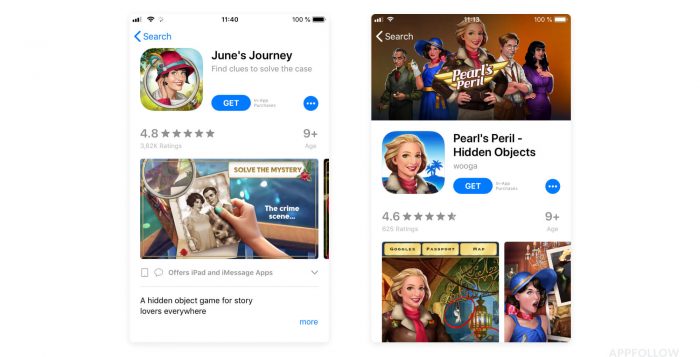 On top of creating a relevant and catchy name, you should work on creating a subtitle that will better explain what your game is actually about as well as distinguish it from the competition. Note that any keywords used in the subtitle will also help boost organic installs and help you rank higher in search results.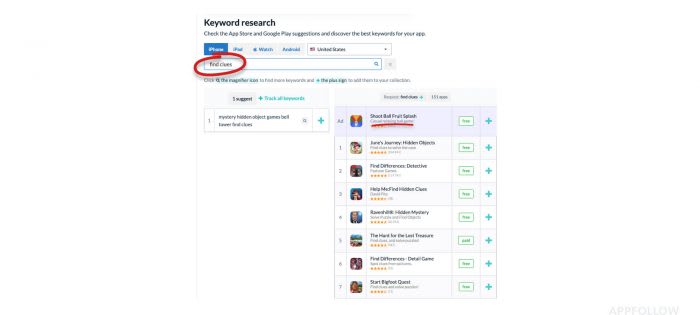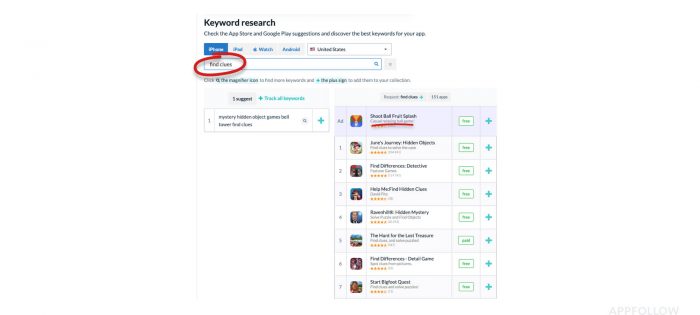 Increase conversion rate up to 28% with the ultimate screenshots guide

2. Optimize visual assets for Browse and Search
Browse and Search are the biggest source of mobile game installs in the App Store and visual optimization (icon, screenshots, and a preview video) plays a huge role in conversions for this group.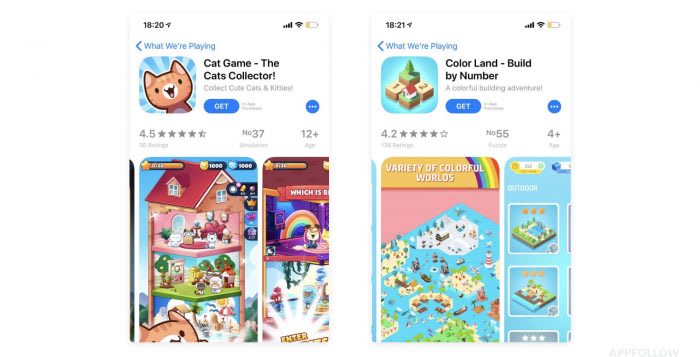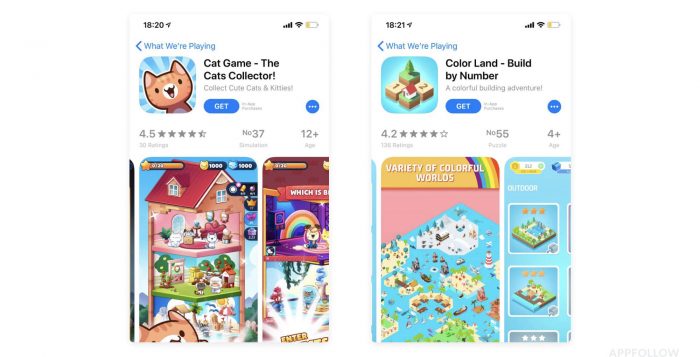 At a glance, your app icon and screenshots should enable app store users to understand what your game is about and why it's so great. Combined with attractive, bright annotations and calls to action, screenshots should showcase players what their experience with the game will be after they download it. For this reason, it's important that screenshots display real gameplay scenes.
Another important asset to consider is the app preview video. For instance, 5 out of 7 games featured in the What We're Playing chart on Games tab have a preview video.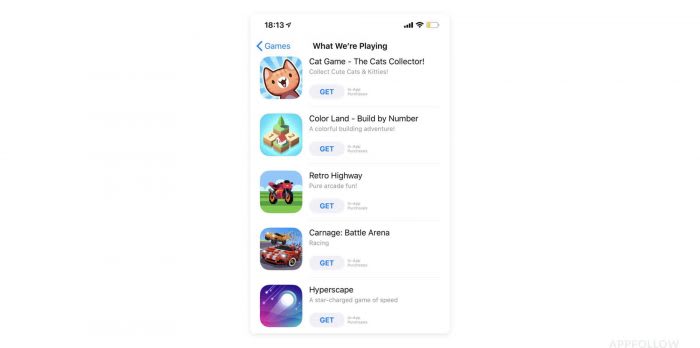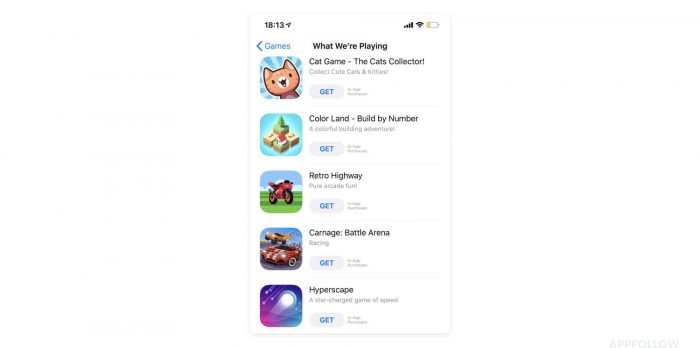 Having standout visual assets doesn't mean that your mobile game will immediately be selected for the Featured, Categories or Top Charts section of the app store but they are required if you want your game to be considered by the editors.
3. Test and Iterate
ASO experts advise that A/B testing should be done strategically and regularly, focusing more on the quality of the tests than the quantity of them. There are lots of options for testing, from icons designed specifically for a new market to simply changing up the order of screenshots. Be bold and consider different strategic approaches – whichever improves your game conversion rate is the one you should move forward with and improve further.
Changes made directly in app stores may not always be enough to draw conclusions as performance within the live app stores is affected by more than just ASO decisions. In order to be sure of a winning variant and gain a higher level of confidence and better insights, you will need to use external testing tools such as StoreMaven.
Also, experts advise that visual assets are tested not only on organic traffic but on paid traffic as well. When users come to your app page from, for example, Facebook ads or other types of ads, they should understand what your game is about and how they will play it. Such tests can then help you increase conversion to install rates, as well as achieve better return on ad spend (ROAS).
4. Reply to reviews on app stores
Many game developers mistakenly believe that ASO is all about keywords and visual assets. In reality, ratings and reviews are another important factor influencing app store performance.
Leaving negative reviews unanswered will quickly have a negative affect your game visibility and conversion rate. Moreover, an average low rating and tons of negative reviews may kill your chances of ever getting featured by the App Store or Google Play.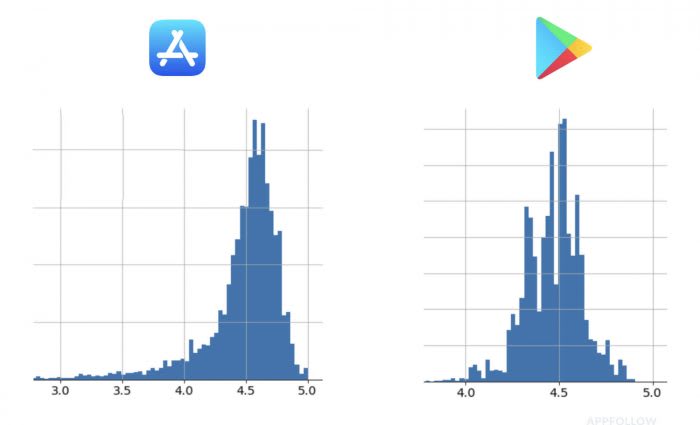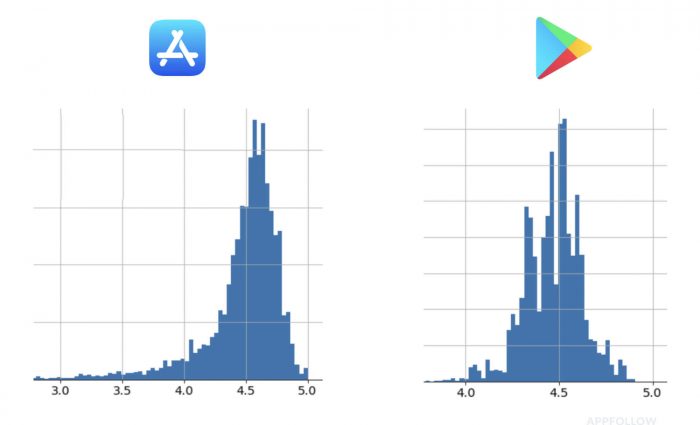 When you have a brand new game you have time to read and reply to every review personally. The moment the amount of user feedback skyrockets, game development companies should prioritize and focus on the specific reviews that have the most impact on the conversion rate, for instance:
Featured reviews. Featured reviews are the first reviews users see on your game page. Make sure you don't ignore a single featured review, it will be a good indication for the game page visitors of your general engagement with other users;
Long reviews. The fact that a user has invested a lot of time in writing a detailed review shows that they are angry or concerned. Your response will make them feel appreciated and show that their feedback was valuable;
Negative reviews. ASO experts note that having a good conversation with users who leave negative reviews can help you turn them into happy clients. After a users' problem is solved, don't hesitate to ask them to update their review and the rating they gave to your game.
A great time-saving trick when working with game reviews is to use services like AppFollow to gather reviews from all the main app stores in one place, filter them by multiple parameters and reply to them instantly.

5. Localize your game into all targeted languages
According to AppAnnie research, the countries with the highest number of mobile game downloads in the world are India, United States, Brazil, China and Russia.


So if you only optimize your App Store listing for English-speaking markets you can lose out on almost 90% of potential game downloads. You also have a much better chance of getting featured by Apple in the countries you target if the game page is localized.
Here's what a minimum viable localization involves:
Game Title, Subtitle, and Keywords;
Screenshots with annotations and CTA;
Game Description – full for Google Play, only the initial visible part for App Store.
With fierce competition in the mobile games field, customers have become more demanding than ever. So after completing the metadata localization you will need to jump quickly onto the interface localization if you want any success with your game outside the English-speaking world.


If you want to be successful on the app stores, you need to understand that ASO is more than just a keyword game. You need to make sure all your creative assets, both visual and textual, are optimized. It is vital to build a solid ASO strategy that combines all the multiple factors that can contribute to app store visibility. The above examples illustrate where to focus and the techniques should help give you ideas on how you can start to improve your own mobile game ASO and attract more users.