2020 is almost midway through. It's been a wild ride so far and we're still not out of the woods yet. But we're definitely seeing the effects of boredom, monotony, and frustration rear their heads and affect our behavior even though we're still in the midst of a pandemic.
Humans are an optimistic bunch. We like to believe we're invincible and we also get bored pretty darn easily. And so too with consumer trends and behaviors in the app stores. It seems the people have spoken and they're done with lockdown. After three months, app store behaviors are starting to return to normal, not the new normal, just the old normal. For better or worse, the hippies hoping for the overthrow of capitalism haven't been appeased yet.
And how do we know this? The data don't lie.
According to Mobile Dev Memo, many of the app categories that experienced COVID-induced decreases in download volumes are slowly inching back towards the pre-corona coup. The inverse is true too, those that saw massive boosts in mid-March are slowly seeing their downloads wane.
What's more interesting to me though (and so I'm projecting and pretending it's what concerns you most too, the perks of having one-way communication), is the why. What do we know about business and human nature that makes this entirely understandable?
Well, human interest wanes pretty easily. We get bored and move on. But we also get really excited really quickly.
So let's head back to March. The predictable categories were hit hard: travel, ridesharing, dating, anything social, or involved leaving the house. The same is true for the obvious winners back then: news, mobile learning, shopping — anything where a screen can replace human connection and enable people to know what's up and allow them to should stay the f**k at home.
I remember myself at the start of all this. All the excitement for the new apps and ideas. Remember Houseparty?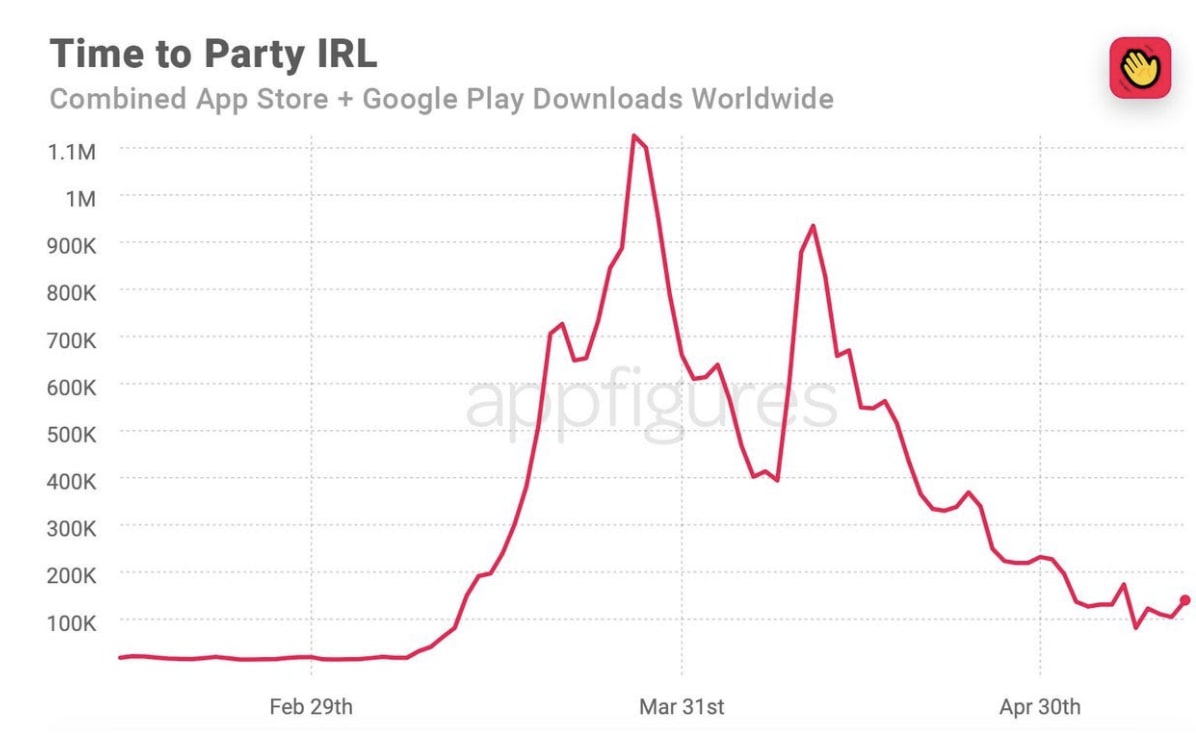 All these new solutions were embraced with open arms and then the infamous zoom fatigue began to creep in. Devices are fun until you have to use them for 16 hours of the day.
But more than that, market saturation is real for a lot of these apps. The rise was steep as everyone jumped to download vital apps for WFH and e-school. But what about news? It's broad enough to conceptually never reach saturation until pretty much every human has access. (This obviously assumes that every human is interested in the news and that's unfortunately — obviously — not the case.)
Most of these apps grew sharply, peaking in mid-March. But news fatigue happened. And general fatigue too. As well as a seeing-the-light-at-the-end-of-the-tunnel moment with shelter in place policies lightening up as talk of reopening began.
The latter effect is more interesting. The industries that were hit hard. Those that declined, hit their lowest point before strangely rising into recovery long before COVID's recovery. Namely, retail, food and restaurants, and most surprisingly, travel.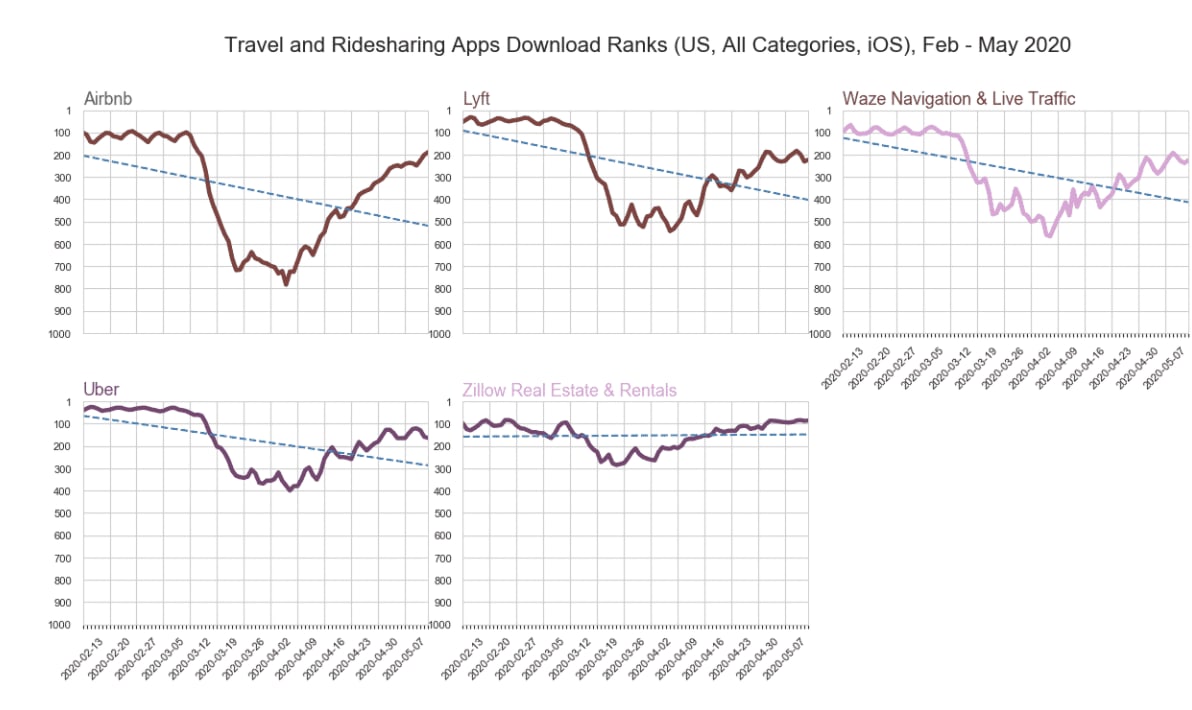 But travel could be large or broad. Ride-sharing makes sense as people slowly enter the world but are still wary of public transport. Domestic travel and small quarantine-vacations began to be possible again and so people begin to plan. And return to browsing Airbnb.
I don't know about you but these v-shaped graphs could very accurately be used to track my mood over the last few months. The initial gung-ho excitement, the stress, the boredom creep, the midpoint jailbreak, the retreat again, the second wave of cabin fever until the eventual plateau of normalized mood a little below how I felt after Veganuary but getting brighter as the weather gets warmer.
We might not be out of the woods yet, COVID-19 will be with us for a long while, but we're starting to learn how to live with it. Humans don't react to change in one fell swoop. New routines take adjustment and then those routines get reassessed as experience alters reality. We don't instantly fall into a new routine, we try something, we assess it. And then we make changes as necessary. Eat. Sleep. Assess. Repeat.
Immediate instincts and run-ons might have been mistaken. And a few weeks later users felt differently and their behaviors changed accordingly.
Increase conversion rate up to 28% with the ultimate screenshots guide
Gold stars for gamers
As discussed previously, game spend has actually increased over the last few months unlike many — my own included — predictions predicting the opposite. In fact, the only corona-age lipstick-luxury discretionary spending that grew during this time was game-related expenses. We needed those games. We needed the entertainment, the escape, and a way to keep our children and ourselves occupied for hours on end staring at the same four walls.
In Q1, the app stores both saw game downloads increase by 35% (Apple) and 38% (Google). And that filtered down into user spending growth. March saw an 8% increase month over month and April then grew by a further 10%.
Smart gaming companies achieved this by taking advantage of two things: lower CPIs and a new audience.
And no one is happier about this than Glu mobile's CEO, Nick Earl, as he explained to investors two weeks ago:
"Global shelter-in-place mandates have provided an opportunity for our current players to spend more time enjoying our games and for new players to discover us, resulting in higher engagement and increased organic downloads… Significantly lower CPIs since mid-March.. has given us the opportunity to invest across our portfolio. These two factors combined have driven sizable DAU growth… These new cohorts so far had similar retention and monetization to our existing players, providing us with the confidence they will continue to enjoy our games in the months and years ahead.״
The ad spending pull lowered demand for ad inventory on major UA channels to the benefit of those that didn't pull spending. That meant that they just got a better deal while at the same time seeing a wider reach of housebound users that were all of a sudden transitioning into gaming out of necessity for their sanity.
Fun and funds? Capitalism ain't all bad.
Search gets testy
Know the joke about how the best thing to do on Netflix is to spend 40 minutes looking for something to watch? We've all experienced it. Search is always a big bug in users' side and improving the functionality is the never-ending dangling carrot in front of our faces.
Choice paralysis is real. And Google knows this. That's why they've begun testing search filters to add to Google Play's current search setup. Ratings, new apps, premiums; the filter options abound.
Once it goes live, we might see a significant impact on rankings. If users search and then filter those results, it doesn't so much matter where you are in the first search. The rankings of the second search are much more important. Higher intent, better satisfaction, and more chance of niche findings.
The filters are also indicators of Google's definitions of good as filter options include 4*+ and 4.5*+ ratings. Quality is where it's at.
We know from experience (and that experience comes with data) that ratings below 4* do have a significant impact on conversion rates in the way we don't want. We already knew 3.7* wasn't great and users knew it too.
But now a 4.4* rating on an app that ranks in the first screen of search results might instantly disappear from the results once a user decides they only want the best of the best — and google defined 'best' when it made the filter options, nudging users towards thresholds that previously weren't explicit.
This will be great for users and their experience in the Google Play store. And should be enough notice for developers and publishers wanting to get seen by those users.
Never miss an update in the Mobile Growth industry with Storemaven's newsletter
Join 10,000 mobile marketers that stay on top of their craft
If ratings were previously lower on the list of priorities, it's time to get your butt into gear. And while you're at it, make sure you're watching out for all potential filters coming just around the corner.
You have been warned.