In-app reviews come to Google Play
It felt like this day would never come. Google Play has finally released the long awaited in-app prompt for ratings and reviews within an app instead of sending the user back to the Google Play store to leave a review. Huzzah! App developers and marketers can breathe a huge sigh of relief; this new feature will allow better user experience which should lead to a better ability to collect reviews and ratings for your apps and games.
If you're unsure about the importance of ratings and reviews in Google Play, Google is gently suggesting you take it more seriously and I'm nodding in agreement with them.
A new feature on Google Play search now allows users to filter through apps that come up in search and show only those with high ratings (more than 4.0 or 4.5). If your app or game has ratings that are lower than that, it will likely start hurting your discoverability on Google Play search.
Below there's an example of a search for an email app. Outlook in this example won't appear for "email", although it's ranked #1, for any user that will hit the 4.5+ filter.

This is certainly something you'll want to think about sooner rather than later. The new feature will bring some big gains but also some big losses.; you don't want to find yourself in a situation where your ratings and reviews are detrimental to your app or game's growth.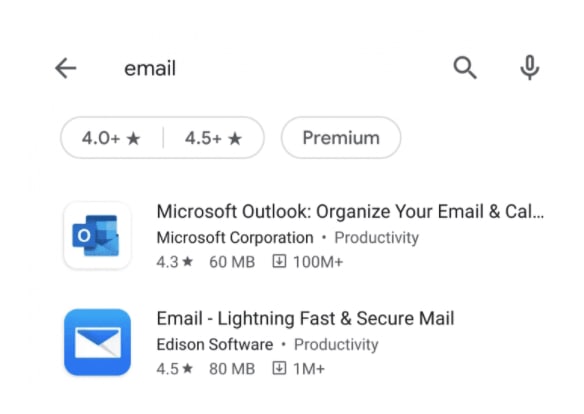 Is your Screenshot Gallery properly optimized to drive conversions? Get help designing a gallery on Google Play
App Store vs. Developers, again
Yes, here I am again detailing the latest in the saga of the developers who are challenging the App Store & Google Play rules. You can get more of this here, and also here. But I really believe that the result of this battle will change the fundamental principles that govern how the stores are run. And you'll thank me later when you're able to follow the critically acclaimed three thousand-part Netflix docuseries about what went down between the parties.
So last week, Epic Games, Microsoft and Facebook voiced their concerns after:
1. After launching an alternative payment option on Fortnite (not through Apple/Google payment system) the App Store and the Google Play store removed Fortnite. Epic Games responded by filing an injunction against Apple and releasing a video launching a campaign against the App Store guidelines.
2. Facebook gaming app was forced to launch without the gaming functionality (yup) after the App Store rejected the app for months. Ouch.
3. Microsoft has pulled its plans to launch its gaming cloud streaming services from iOS after Apple announced that cloud gaming service can't, in their current form, launch on the App Store — that includes Stadia as well. Big ouch.
Apple did comment on Microsoft's decision and said it is mostly connected to the fact they can't review the individual games that will be accessible through these services before users access them.
"The App Store was created to be a safe and trusted place for customers to discover and download apps, and a great business opportunity for all developers," an Apple spokesperson told Business Insider. "Before they go on our store, all apps are reviewed against the same set of guidelines that are intended to protect customers and provide a fair and level playing field to developers."
"Our customers enjoy great apps and games from millions of developers, and gaming services can absolutely launch on the App Store as long as they follow the same set of guidelines applicable to all developers, including submitting games individually for review, and appearing in charts and search," Apple said in a statement to Business Insider. "In addition to the App Store, developers can choose to reach all iPhone and iPad users over the web through Safari and other browsers on the App Store."
You know I'll keep you updated on any new developments, stay tuned.
Instagram and the adjacent user theory
One of the most insightful reads for people in mobile growth came recently from Bangaly Kaba, former VP Growth at Instagram.
The following explanation breaks down the growth thought process that Instagram used to successfully grow to more than 1B users through leveraging the adjacent user theory:
"The Adjacent Users are aware of a product and possibly tried using it, but are not able to successfully become an engaged user. This is typically because the current product positioning or experience has too many barriers to adoption for them."
When thinking about growing your app or game to new audiences, you can apply the adjacent user theory to your app store marketing strategy. Which audiences encounter your app store page but never install? What are their barriers to adopt and install your product?
Never miss an update in the Mobile Growth industry with Storemaven's newsletter
Join 10,000 mobile marketers that stay on top of their craft
By systematically defining your adjacent users, and solving issues for them, you can adjust your app store marketing and ASO strategy to break into new audiences, find more growth and boost your installs. Sounds good, doesn't it? Experimenting with your app store creatives and messaging is a big part of gaining traction with these users, learn more about how to test how different audiences respond to your app store page in this guide.