Mobile Growth and Pancakes
First things first: we've something new and exciting to share.
I want to introduce what's been keeping us busy here in the Storemaven marketing department over the last few months – our first-ever podcast series – Mobile Growth and Pancakes. Mic drop!
Hosted by our very own Esther Shatz, Storemaven's VP Product Marketing and Consultancy, this podcast will break down how and why mobile apps grow.
In each episode, we invite a mobile growth expert to wax lyrical on a specific mobile growth strategy: how it worked, why it worked, and what they would do differently.
And why Pancakes? Well, not only is it a personal favorite of ours here at Storemaven, but it's also the most enjoyable way to add some warm and fuzzies to your day, much like a winning growth strategy. Plus…you can learn a lot about a person by their choice topping we think.
The first episode features the brilliant Lomit Patel, VP Growth at IMVU, who shares how leveraging AI in user acquisition can maximize growth.

Here are the main takeaways:
It's possible to see a surge in activity during the pandemic (yay).
A single team responsible for all growth metrics works better than different teams focusing on different metrics.
User acquisition and retention go hand in hand, either-or won't lead to sustainable growth.
Leveraging digital tech platforms and figuring out how to integrate these together enables AI growth.
It's more important to keep users than to get new ones.
And finally… listen to Lomit! He knows his stuff, having worked with companies like Snapchat, TikTok and others in their alpha and beta stages helping them figure out how to monetize users with different ad models.
Check out all the episodes of Mobile Growth & Pancakes here or listen on:

Apple Podcasts
Google Podcasts
Spotify
The Misbehaviours
One of the most unknown elements standing in the way of any ASO or mobile marketing manager trying to increase App Store/Google Play conversion rates is the fact it's like playing darts with your eyes blindfolded.
Neither Apple nor Google share with developers data on how users behave. Imagine a web marketer trying to optimize a landing page without getting data from Google Analytics, Optimizely and Hotjar on how users respond to the changes they're making?
Without that crucial piece of data, it's impossible to know why a certain variation of a Google Play store listing page converted better.
Did it encourage more users to explore the page before deciding to install?
Did it get more users to watch the video before deciding to install?
Was it so convincing that more users decided to install without even exploring the page?
Without knowing, the unseeing marketer would keep making changes, sometimes taking away exactly what was good about the page.
With the help of our data analysis team, we sifted through tens of millions of user sessions on real app store tests and we're happy to share with you real-world data on how users behave on Google Play store listing pages.

You can find our App Store version here.
Armed with this data you can easily point your ASO efforts where they matter the most.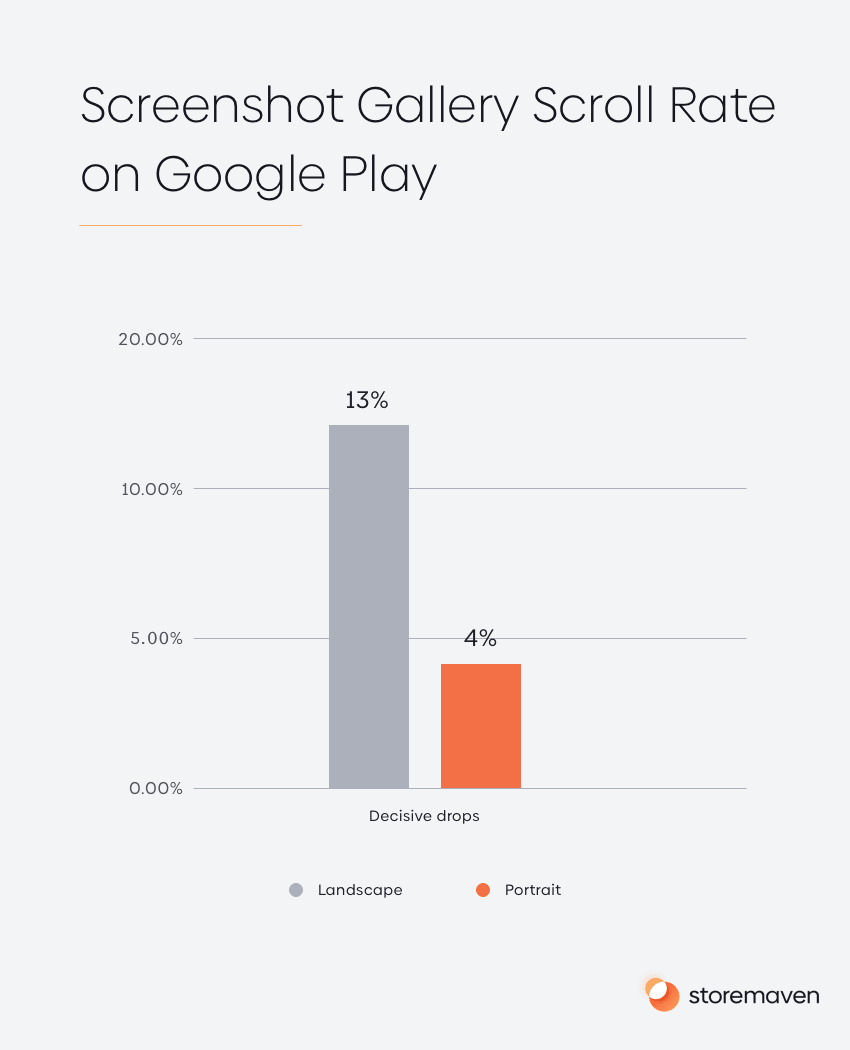 Amazing Grace
Last week Apple confirmed they weren't going to enforce the privacy features announced with iOS 14, requiring all apps to get consent from users before they can access their IDFAs.
The decision was likely driven by many developers, advertisers and ad networks being vocal about having almost no time to prepare for this huge industry change. Whatever the cause, sighs of relief echoed far and wide.
With IDFAs still accessible until early next year (it could be anytime during Q1-21 if you ask me), all mobile marketing and user acquisition teams will get a grace period of a few more months to prepare.
The implications of lack of access to the IDFA are extremely significant: no retargeting, many challenges to calculate ROAS on ad spend, and lack of access to the same targeted, high-quality audiences app developers have used to advertise to.
Yes, the changes are still coming, but at least now you get some more time to simulate the effects of not having access to user-level data for advertising, measurement purposes, and prepare your infrastructure to be able to make decisions around how to allocate your resources and optimize your spend moving forward.
We partnered up with yellowHEAD, Adjust and Playtika to host a webinar discussing the implications and alternatives to prepare — you can watch it on our blog.
In review
Apple has updated its app review process in line with what was announced on WWDC 20. It's a small update but important to take note of.
In short, what you need to know is:
1. Bug fixes updates won't be delayed until you fix guideline violations. Apple will now allow the bug fixes updates to be pushed to the App Store and you'll be able to cure the guideline violation in the next version.
2. You can now appeal against guideline violations that you believe were not violations at all. Better yet, you can appeal against the guideline itself and propose it be changed.
Is Apple building a search engine?
Although highly speculative, some voices in the industry are claiming that Apple is building a search engine of its own. Read this note summarizing the findings so far, including search engine related positions Apple is hiring for, and an Apple Bot that's fearlessly crawling the web (hi Apple Bot!).
If you think about it, it makes a lot of sense. Apple's business in the last few years has been driven by service revenues, and it saw tremendous success with its Search Ads procut. So much so, that they recently expanded search ads to other Apple-owned apps like News and Stocks.
The recent privacy updates have weakened the position of ad networks such as Facebook and Google to sell ads efficiently to app developers by cutting them off of iPhone user-level data. If Apple manages to build a search engine and command significant market share (think a billion iPhone users with built-in search functionality that uses Apple Search), they'll have a hell of a lot more ad inventory to sell through its Search Ads network.
Never miss an update in the Mobile Growth industry with Storemaven's newsletter
Join 10,000 mobile marketers that stay on top of their craft
I don't believe that Apple Search can really be a web alternative to Google (many have tried in the past without success), but they might capture a sizable chunk of search volume coming in from iPhones.