Dating apps have quickly become some of the most lucrative social apps in both the Apple App Store and Google Play. In fact, the Financial Times reports that Tinder, one of the top revenue-generating dating apps, brings monthly app revenues of $30M-$35M. However, the current mobile dating landscape is saturated with competitors, both niche and more broadly targeted apps, who are eager to grab their own piece of the revenue pie.
Based on our experience working with leading companies in the dating industry, we've found that the average conversion rate (CVR) in the dating category is between 13-18%. This means that around 82-87% of visitors land on your page and decide not to install.
The most effective way to cut through the clutter and differentiate your dating app from others is to constantly test your creatives and messaging with target users through App Store Optimization (ASO). Our data has shown that optimized app store creatives can increase your conversion rates by up to 40% for both paid and organic traffic.
We've worked with some of the top mobile dating publishers and used our internal databases, generated by analyzing the behavior of more than 500 million users in the App Store and Google Play, to uncover actionable and valuable ASO tips for dating apps.
1. Identify where your app is positioned in the mobile dating landscape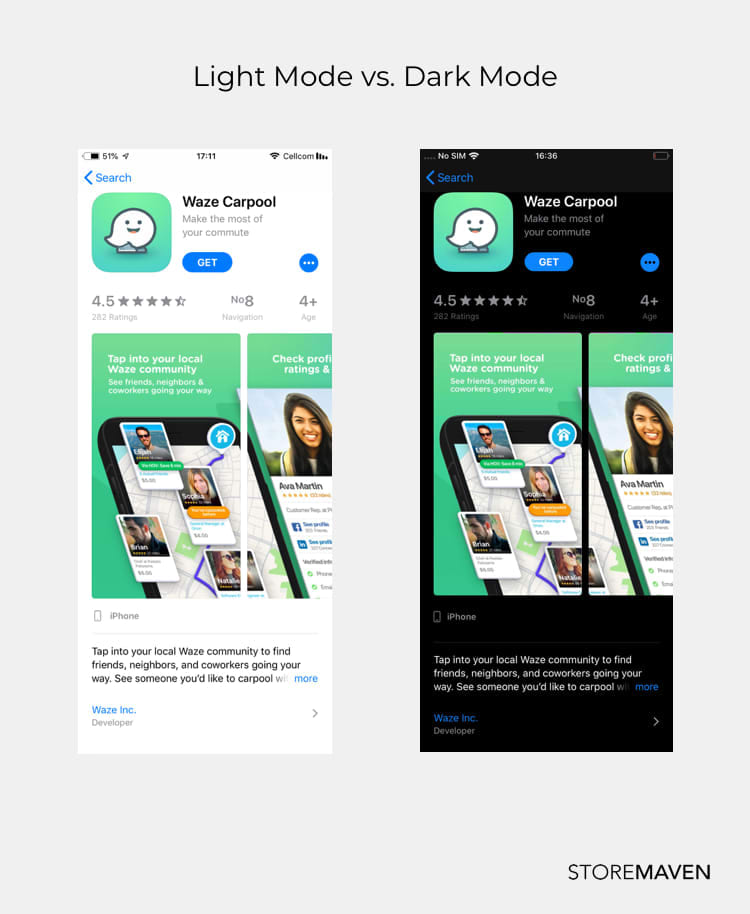 In addition to user base size, we segment the mobile dating industry into two distinct areas based on users' motivation for downloading a specific app:
Relationship-based: apps that are mainly used to find meaningful relationships.
Casual-based: apps that are mainly used to find "hookups" or other casual, non-romantic relationships.
While these are common metrics for all apps in the dating industry, understanding this initial segmentation provides you with insight into where there is high saturation and who your direct competitors are. This allows you to identify key opportunities for differentiating your app through the assets in your app store page.
Five things you must know about Custom Product Pages
2. Define your dating app's unique selling proposition (USP)–this is your competitive edge
Now that you have a general sense of the dating app industry and where your app lies on the spectrum, you need to define your app's USP. This will influence the messaging and creatives you test in your app store page.
There are two main categories used to pinpoint a dating app's competitive advantage: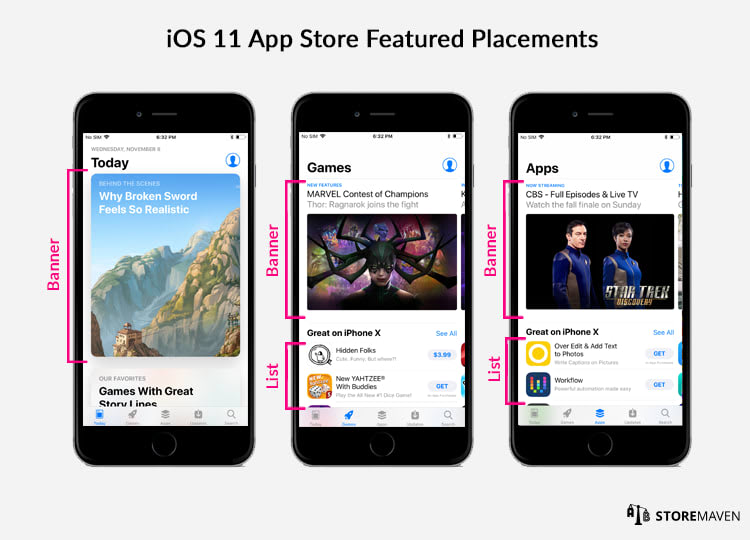 The first category is User Preferences: Does your app target specific users with unique or niche characteristics or interests (e.g., gender, age, religion, locale, dietary restrictions, etcetera)?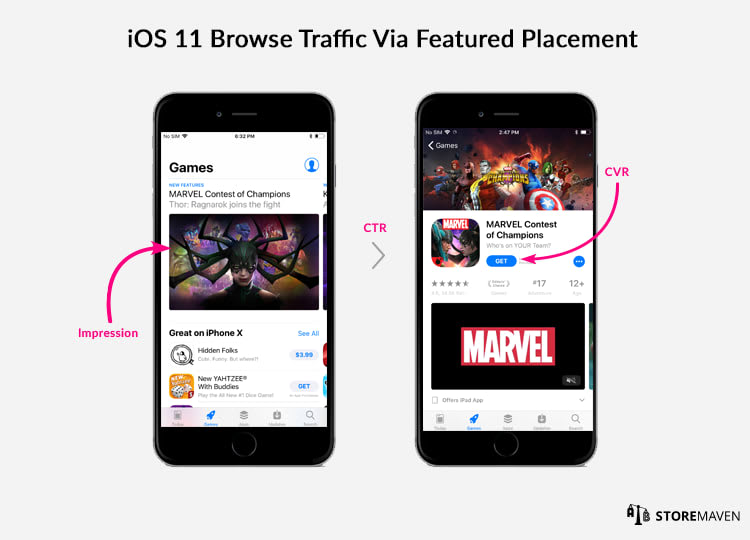 The second category is App Features: Does your app have specific features, functionality, or values that are unique (e.g., Bumble only lets women initiate conversations, and Once only provides one match a day)?
3. Convey your app's unique perceived benefit through optimized app store creatives and messaging
Depending on what you've identified as your app's point of difference, you can begin to design and optimize app store assets and messaging to match the USP.
Based on our research, most dating app Galleries include one of two design styles: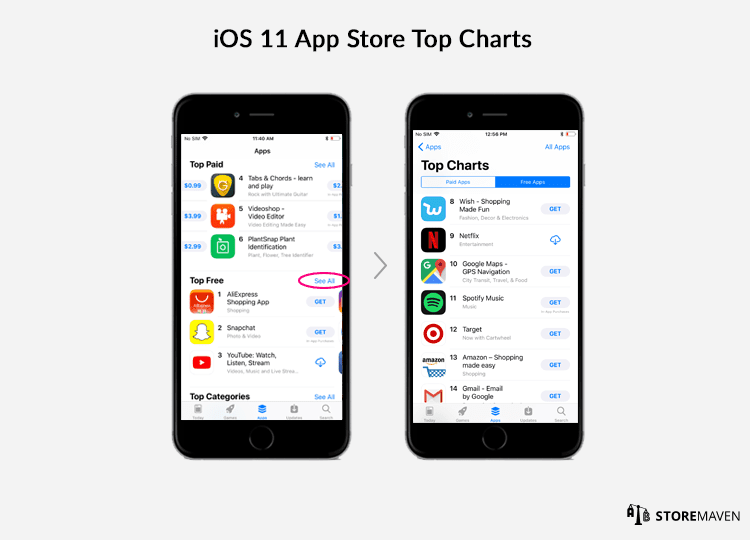 The first style is Screenshots that incorporate lifestyle imagery (e.g., real-life photos of people you can match with in the app) within the app's UI. The second style is Screenshots that showcase the app's UI without the presence of lifestyle images.
With dating apps, you're selling an experience and the idea of finding an emotional connection. This is why we've found that incorporating lifestyle images within app UI screenshots is the most effective. It gives visitors a realistic sense of the people they may meet through your app and helps foster a stronger emotional tie to your brand. To learn more about Screenshot design styles, read this.
Our data has shown that the visitor explore rate for dating app store pages is between 25-35%. Apps that manage to drive visitor exploration and then convert these visitors enjoy a competitive advantage. This is where developing a strong ASO strategy becomes an integral part of success.
But there are a few things to keep in mind…
Put your main messages first
The First Impression Frame (everything above the fold) is important real estate to show visitors exactly what your app can offer them as soon as they land on your page. With just 12% of visitors scrolling through Gallery assets, it's crucial that your top USP(s) are included above the fold and in the first few Screenshots for immediate visibility.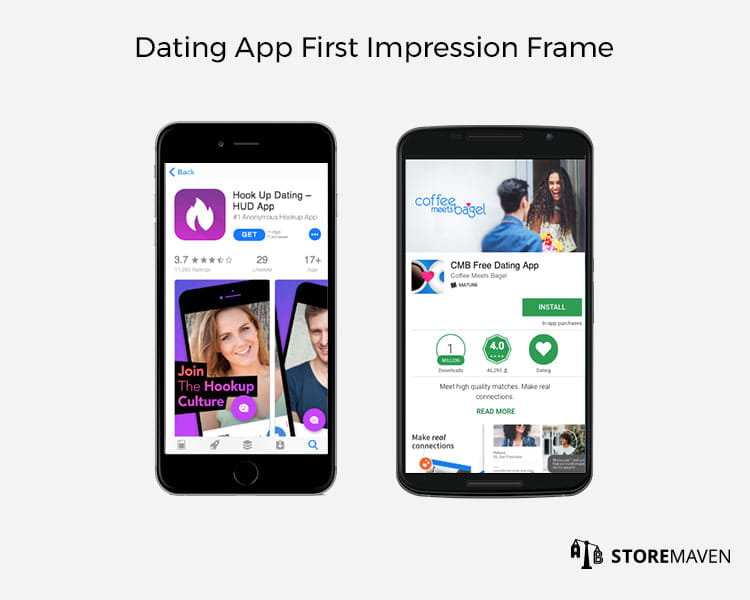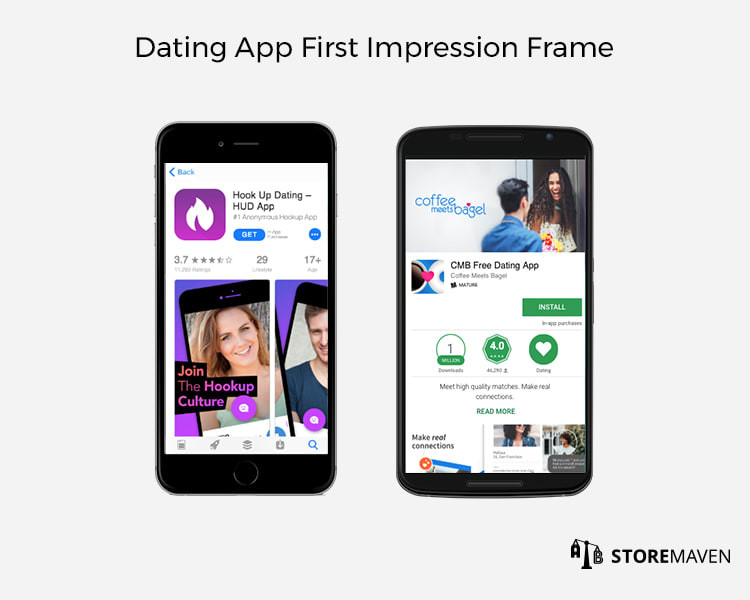 In the example above, Hook Up Dating uses its app title and Screenshot captions to immediately show visitors it's a casual-based app strictly for hookups. In comparison, Coffee Meets Bagel makes it clear through the short description, Screenshot captions, and Feature Graphic that they help users make quality connections.
Localize and culturalize your app store page
Localizing and culturalizing your app can greatly enhance its global visibility and boost CVR.
Beyond translating your app to different languages, it's important to research and identify the most popular dating apps in each country you're trying to target. This gives you insight into what concepts appeal to locals in specific regions and how competitors use their app store assets (i.e., what messages they include in captions, how they showcase their app's functionality in the Gallery, etcetera) to attract users. It also helps you identify subtle cultural nuances that are otherwise hidden. The ASO Tool Box Chrome extension can help you with this type of competitive research.
For example, we've found unique dating insights in France, Russia, and the UK that are reflected in each app store:
France – In dating, it's common for women to make the decisions. The AdopteUnMec app uses this insight and gives women the power to pick a man. They make it especially clear by showing the image of a potential male match in the second Screenshot.
Russia – Russians respond well to chic-looking selfies and, somewhat surprisingly, creative assets that involve cats or cat videos. This insight is evident in Mamba's First Impression Frame in which a high-end photo of a woman is front and center, coupled with tiny cat emojis peeking out from the second Screenshot.
United Kingdom (UK) – Even though the app store is in English, eharmony's Screenshots have been localized so the location of each potential match is a UK city instead of a U.S. city. This helps users connect with the app on a more meaningful level. Many countries share the same language, but this creates a false illusion that they can be treated as one unit in marketing terms.
Read more about best practices for localizing and culturalizing your app.
Keep seasonality in mind
The time of year can largely affect what your users respond well to. For example, during summer months, users may be more receptive to images showcasing outdoor dates. During winter, and more specifically the holiday season, visitors may want to see more direct messaging about finding relationships and companionship during the holidays.
Increase conversion rate up to 28% with the ultimate screenshots guide
ASO Recommendations and Next Steps
The dating app industry attracts millions of users around the world, so it's important to consistently test and optimize your app store page to stay relevant and attract quality users.
Here are some good places to start:
Test the first two Screenshots, and make sure that the unique value proposition that you offer shows up in the First Impression. You can also test using men's profiles to show potential female users the supply in order to build demand. By optimizing your app Screenshots for best practices, you can potentially boost CVR by 28%.
Test different messages in both the Apple App Store and Google Play. We've found that using the same creatives on both platforms can actually lead to a 20%-30% decrease in installs on iOS.
Monitor and analyze visitor interaction on your app store page. For example,

If visitors aren't watching your Video or scrolling through your Gallery assets, focus your creative effort on testing different designs that will encourage exploration.
If visitors are immediately dropping from your page, focus on optimizing different elements and messaging strictly within the First Impression Frame.
If you'd like to start building your ASO strategy and understanding visitors' behavior on your app store, drop us a line at [email protected].

Article's image courtesy of https://onlineforlove.com/