There aren't a ton of issues that spark ASO debates more than app store videos. Some ASO experts can swear that video is the perfect way to increase store conversion rates. Some proudly lead the anti-video movement with the passion that you usually only see in Shakespearean plays.
Lucky for you, and us, it's time to calm down and take a look at the data. Storemaven collected hundreds of millions of data points around how users interact with app store videos, and how they affect app store conversion rates and we're happy to share the findings with you.
When users browse the app marketplace, they see hundreds, if not thousands, of apps tailored to their exact needs. A short video showcasing your app can be a useful differentiator.
Unlike screenshots, videos are significantly more engaging: They demonstrate a dynamic interface and can highlight important and unique features and benefits of the mobile app or game.
Based on our data, we see that the uplift – the percentage increase in the downloads of an app – is about 35% and that users who watch the video are up to 3 times more likely to install the app. There are clear benefits to creating and utilizing video content.
But, there's a but.

That's the case only when a video is done right. Below we'll explore what that means and how you can leverage this asset to amplify the value your ASO activities contribute to your app's growth.
Everything you need to know about how App Store and Google Play videos work
App Store App Preview Videos
The Apple App Store defines an "App Preview" as video content showcasing an app's functionality and features in action. An App Preview is displayed before any other imagery or content both on the App Store search results page and your product page – in both instances, they autoplay for the user – and thus are key to successfully marketing your app. Ultimately, a video is one of your most visible creative assets.
App Store App Preview Videos in the Product Page
Within the App Store product page, videos take the first slot in the screenshot gallery. If you uploaded more than one video to the App Store (you can have up to three) videos will also take the second and third slots and will autoplay automatically.
App Store App Preview Videos in the Search Result page
Within the App Store search results page, videos will also appear in the first slots of the screenshot gallery and play automatically. Given the competitive nature of the search result page (users are presented with several options for apps or games), video autoplaying is a clear way to grab user's attention.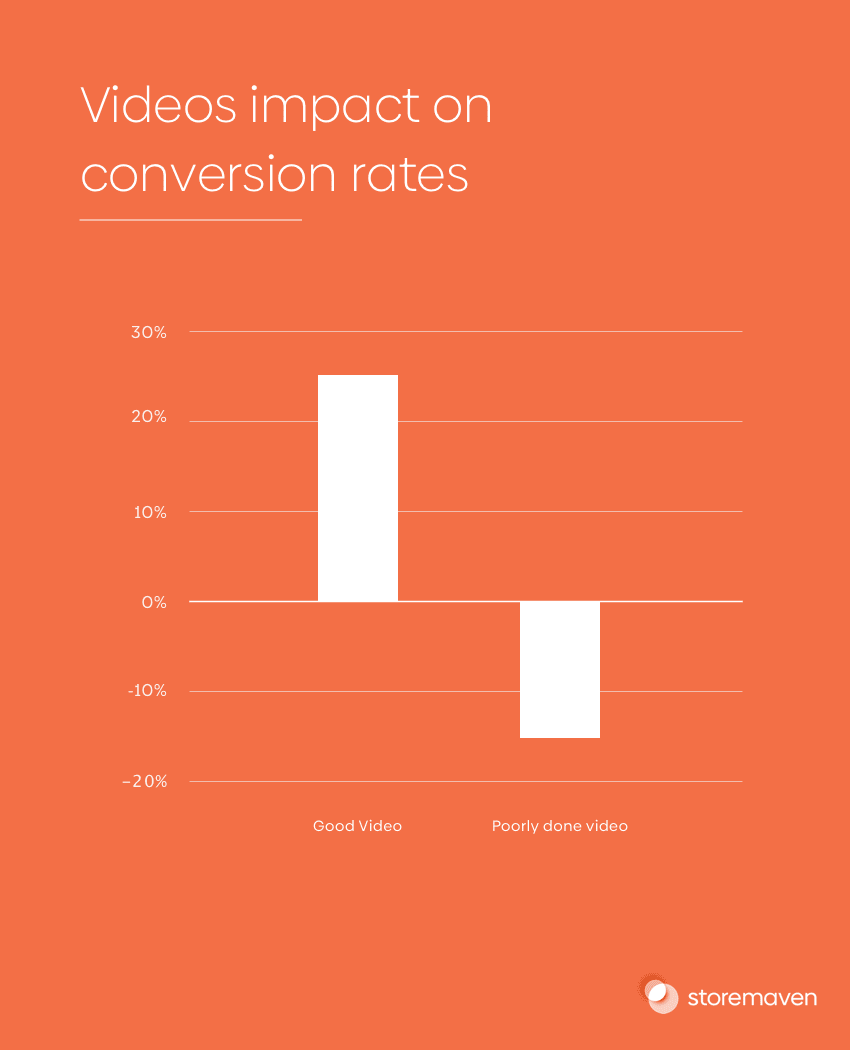 App Store 'A Closer Look' Videos
The Apple App Store also has a feature that's called 'A Closer Look' video. In short, this means that when uploading a video in a different orientation than the screenshot gallery, the video will be pushed down, below the first-impression fold, and will only be visible to users who scroll down.
The great benefit of this section is that it allows you as a mobile marketer to separate the messages you show to decisive users who never scroll past the first impression from the messages you show explorative users who do.
Another advantage is that the 'Closer Look' video will appear above the fold for returning users who previously installed the app (and then uninstalled it). So this also opens up an opportunity to tailor a message almost exclusively for returning users for re-marketing purposes and optimize re-installs conversion rates.
We covered this feature extensively in this article.
The impact of App Store promo videos on localization
The App Store allows marketers to use videos in their app store and localize them to every language and localization the App Store allows. This provides a tremendous opportunity for localization. But, there's a catch. If you do upload a video, it'll be visible on all localizations of your app store page, so if you don't localize it, you need to make sure it doesn't hurt growth in other markets, in other words, when testing a video, you should take into account the most important audiences from all markets you are targeting to evaluate the impact on them. More on that in the testing framework we share below.
Google Play App Promo Videos
The Google Play Store also features video content, called "App Promo Videos." The Google Play store allows greater creative flexibility than the App Store: Rather than simply demonstrate the functionality of an app, GP features stop-motion, motion graphics, and live-action clips. A video on GP presents the unique opportunity to tell an app's story (e.g. what kind of user might be interested in this app? When would this app be useful?). Videos are especially effective for gaming apps, which rely on alluring storylines and interesting gameplay, as videos allow users to immediately immerse themselves in a game. GP video ultimately creates context and action for the viewer, allowing them to better imagine not only the functions and features of an app but also how relevant an app is to a viewer's specific use cases.
Google Play App Promo Videos in the Product Page
The Google Play store has been touting autoplaying videos since the end of 2019, and as of today, the platform started to roll out the feature.

For years pressing on the play button on GP opened a YouTube link. And although talking about allowing autoplay for years, and as of today tapping on the play button within a Google Play product page would start playing the video within its smaller frame, without taking users out of the page.
Google Play App Promo Videos in the Search Results Page
Moreover, when users search for specific brand names on the Google Play search tab, they'll see a branded search result and videos will auto-play within search results.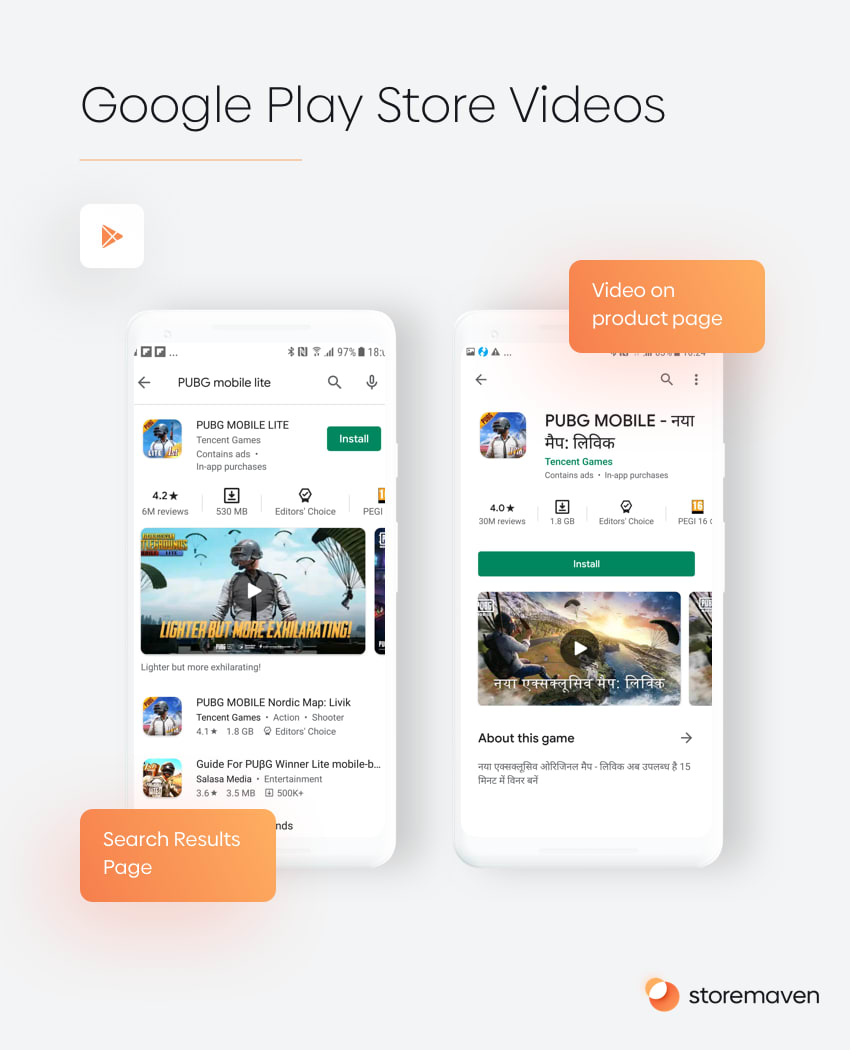 App Icon do's and don'ts plus six steps to testing

How users interact with App Store and Google Play videos?
In the app store, most users are exposed to the autoplaying video unless:
They turned off the autoplaying toggle in their App Store settings
They quickly scrolled through the page before the video started to autoplay
As in the Google Play Store, users aren't exposed to the video content unless they tap the Play button, the numbers are significantly different.
In the Google Play store, the video itself has a second role, acting as a screenshot for the vast majority of users who never hit the play button. This means that the poster frame (the video thumbnail) in itself has a huge effect on users' decision to install, drop, or to explore the page further.
Should you invest in creating a video?
While promotional videos are almost undoubtedly useful, investing in video content is disputed within the ASO industry. Creating a good video involves a relatively high budget. Although half of the ASO industry argues in favor of making a video, the other half believes the money is better spent elsewhere – and that a bad video can actually negatively affect conversion rates.
We've run numerous tests sampling how promotional videos affect user behavior and conversion rates. Should you create and have an App Store video? And if so, should you have one on both the Apple App Store and the Google Play store?
The potential impact of app store videos on app store conversion rates
From observing how tens of millions of users respond to videos, our data tells us that CVR rates increase by 20%-30% when videos are done right, and it can harm conversions by 15%-20% when done poorly.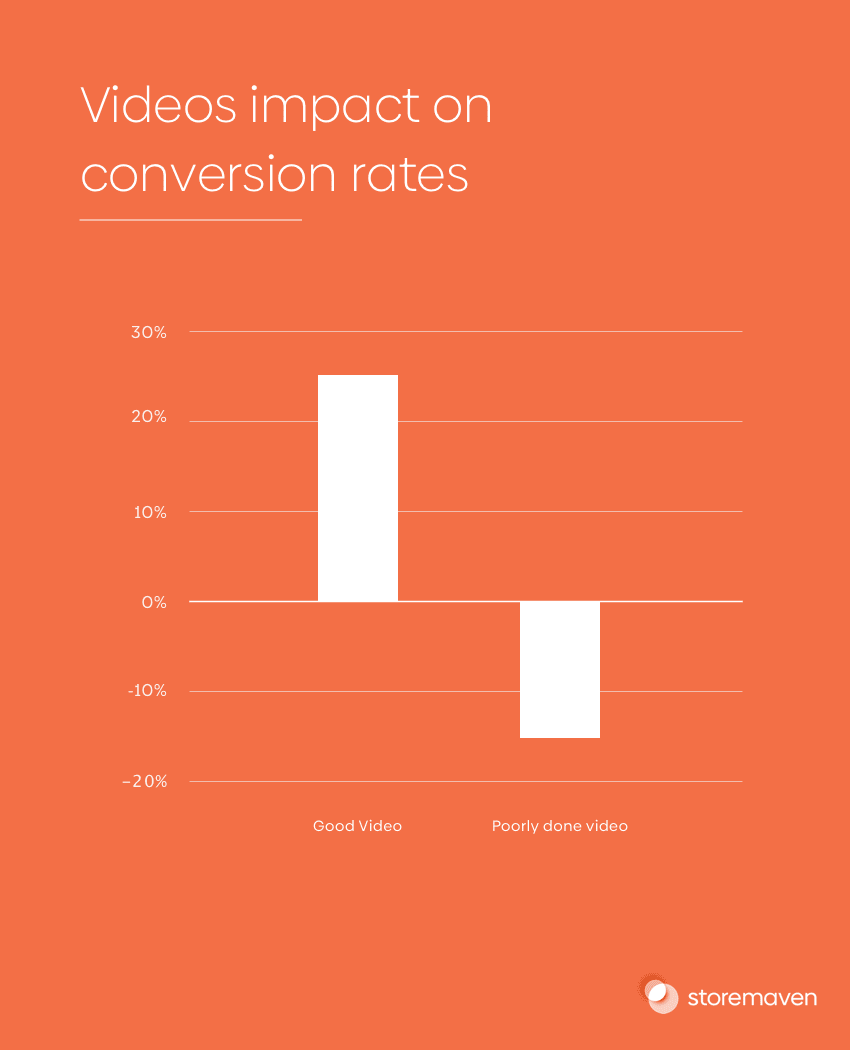 The potential effect of a video on users in different countries
Another aspect that should influence investing in a video or not, is the main GEO your app is targeting. There are certain countries where the cost of data is significantly higher than others and users are less keen on watching videos as it drains their monthly data cap. In other countries where connectivity is an issue, videos will also often fail to load fast enough for users to consume them.
Lastly, users in some categories of apps and games simply like to consume information in a non-video format (static screenshots).
To conclude, if you're targeting tier-1 countries, and are ready to embrace a data-driven approach to creating your video it's definitely a wise move. Following the framework we'll share below, should ensure the video you're creating is optimized and have a much lower chance of impacting conversion rates. 
That being said, it's almost always wise to test the effect of the mere existence of a video by running an a/b test with an app store page that has one versus one that doesn't.
Seven tips for making an effective app store video
Tip 1: The most important part of the video is the first few seconds
In general, it's key to making the first frames as engaging as possible. Users typically only watch the first few seconds (silently, so don't rely on audio), and this short time frame needs to deliver proposed value to the user.
Also, remember that any video is merely a preview to entice users. The goal of the video is to convince users to download and engage with the app, so it should be compelling, concise, and creative. Highlight your most important features, share key details, communicate easily understood value, and call your user to action.
One of the most common mistakes is to use a splash screen that showcases the developer's brand before the video actually starts. This usually "spends" the most valuable time of the video on a message that isn't related to the game or app.
Tip 2: Focus each 'chapter' of the video on one message
Use captions and transition screens, as the clear messaging can help focus users' attention.
Tip 3: Remember you're designing the video for a small screen
Avoid excessive information, small fonts, useless splash screens, and other unnecessary information. Users have a very hard time-consuming information on a small piece of real estate in only a few seconds, making it easier for them to get your message.
Tip 4: Don't neglect the poster frame
On both the App Store and the Google Play store, the poster frame – the thumbnail of the video – is incredibly important. Users might have auto-play turned off or their phones might be on "low power mode," and thus their first impression will only be the poster frame.
Tip 5: Consider the video orientation
Landscape videos occupy the entire width of the screen in the App Store and in the search result page, but they are consequently more engaging and immersive.
From our analysis the impact of the screenshot gallery in the App Store is significant, and we recommend getting the full picture we covered in this report.
Tip 6: Forget about audio
Less than 2% of users ever click the unmute button in app store videos, so the vast majority of them will consume the video without audio. Don't rely on audio to convey your messaging.
Tip 7: Modular videos have a higher chance of success
Lastly, remember to modulate your video so that it's easier to A/B test. Other than the fact that by creating multiple 1-3 second "chapters" – like this example below from Call of Duty – make it easier to tell a multi-message story to users that they're likely to consume, by creating these chapters you can easily edit your video and change the order of chapters to test which one is the most converting and should be placed first.

How to a/b test and optimize app store videos to create a highly converting video
Develop Hypotheses
Before even starting to develop the video itself, whether it's internally or externally, it's crucial to develop strong hypotheses for the messages that will have the highest probability to drive users to install.
To develop these hypotheses you should start by researching your audience, the competitive landscape, which audience you care the most about (where is the growth opportunity), collect product insights from user feedback and reviews to identify the areas in the app/game that are the most loved and used.
These should lead to several great hypotheses for messages that you should incorporate in the video, see below for examples for great videos and the messages they convey.
Design the video
Build a storyboard for the video, with 'chapters', each lasting 1-3 seconds, that focus each one on the message you want to convey. The message should be conveyed both by including text where it makes sense, and through the design style itself (showing gameplay, features, or actual people using the app for example).
By having chapters, creating variants to test the order of the chapters will be almost effortless by easily editing the video.
Run a test on the traffic you care about the most
To understand the impact of a video on your app store conversion rates it isn't enough to know the bottom line conversion rate of each variant. You have to understand why a certain video converted better or not.
It's crucial to use a testing platform that shows you on-page analytics and data such as the length that users are watching the videos, how many users are exposed to each part of the video, and the conversion rate from each section — when users decide to hit the install button?
When setting up app store video tests, it's also important to test against a variation that doesn't have a video at all to isolate the effect of having a video at all.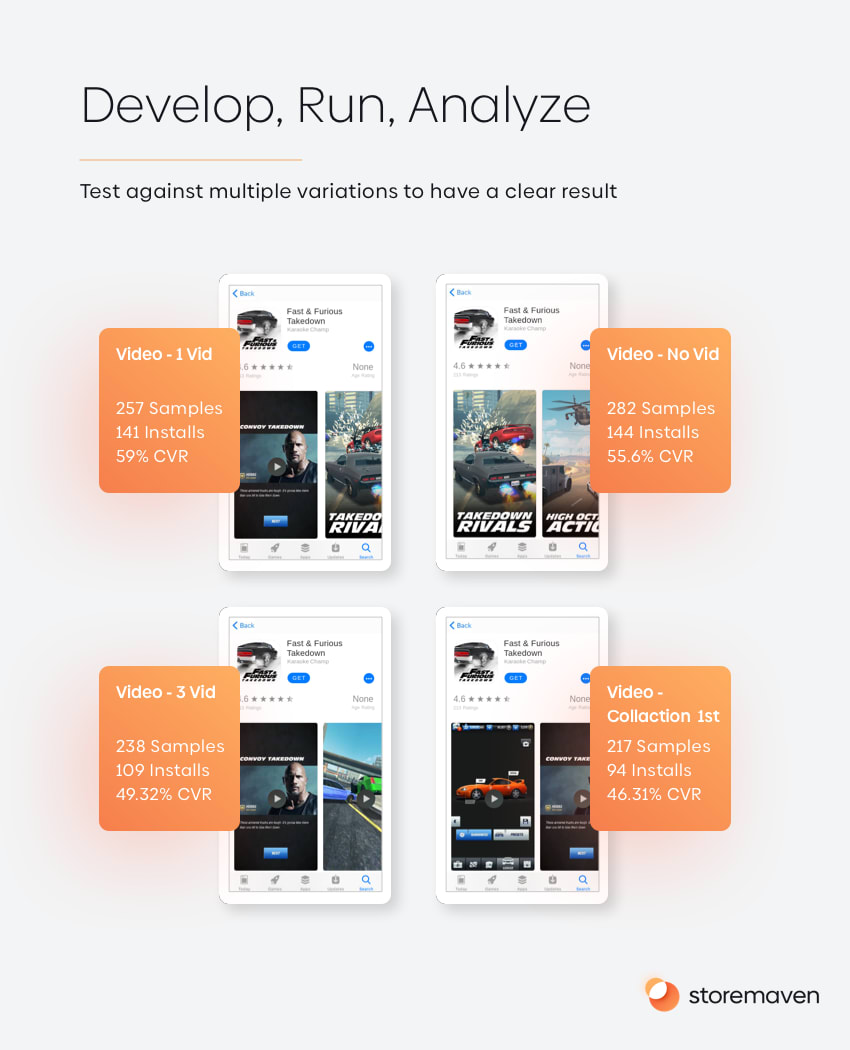 Analyze and act
After running the test and reaching a statistically significant result, it's time to analyze the results and understand why a certain variation one, and produce more insights that'll serve as ideas for the next round of optimization as well as insights you can implement on the live app store for and enjoy the results.
Examples of great app store videos
Example 1: PUBG

A dynamic video, true to the game's tempo, delivering on all the promises. Quick segments (approx 2 seconds each, which is not too fast), with clear captions, showing many aspects of the game itself. No use of any brand images or captions with the brand name to "waste" valuable time.
Example 2: The Sims

The same strategy works here as well – upbeat music and quick changing scenarios (again, make sure it's not too quick), some with clear, easy-to-read captions, describing different features. Again, no need to showcase the brand in any way, as 30 seconds is all you have.
Example 3: TikTok

An interesting creative choice – to go with a portrait video, exemplifying the way most people are using the app – giving the immediate idea of what this is all about. Clear captions. Avoiding the mistake of wasting time on anything but the benefits of using the app.
One Last Thing: Technical Guidelines for App Store and Google Play Videos
App Store Video Guidelines
On the App Store, developers can upload up to three videos, but these videos must only demonstrate the app in action. Live-action videos (e.g. someone using the app) and videos solely based on animations without featuring the app itself are strictly prohibited. Additionally, videos must be between 15 seconds and 30 seconds long, disclose any in-app purchases, and cannot feature platform logos, ads, or pricing, or specific Apple devices. Apple ensures that all App Previews comply with these guidelines by manually approving every video that gets uploaded to its app marketplace.
The Apple App store also requires "device-specific" videos – in other words, your video needs to be uploaded in various resolutions to accommodate Apple's myriad products, including the iPhone (older formats and iPhone X) and the iPad. Although seemingly inconvenient, these various configurations allow developers to perfectly customize videos to a device's format.
Google Play Video Guidelines
On the Google Play store, developers have the almost complete creative freedom of their video. That said, only one video is allowed on the Google Play store, and Google much prefers that only Android devices and the Google Play Store logo are shown in the video. Although approval isn't needed by Google itself, failing to meet their preferences means that your app will not be specially featured.
Unlike the App Store, GP usees YouTube to play the videos, meaning that the video doesn't have to accommodate different device orientations and configurations. That said, YouTube videos are best displayed in landscape orientation. Ironically, although developers have more creative control over their videos on the Google Play Store, there can only be one video for an app, and thus every user views the same features and functionalities regardless of the device they're using.
The end goal of an app video is to improve conversion rates on the app listing and retain engaged users post-install. However, the App Store and Google Play store utilize different formats and developer constraints – a complexity that can be inconvenient (and expensive) to account for.
Five things you must know about Custom Product Pages

Recap
Getting an app store video right requires in-depth ideating, and thoughtful testing and analysis. Getting it right could result in significant increases to conversion rates for anyone working in ASO or mobile growth.
That said, rushing to use a video that isn't optimized can result in significant downside and hurt install growth.
Make sure you get acquainted exactly with how videos work, leverage our data, and rock on. But remember, videos are only one part of your App Store creative strategy, and you should give attention to all other creative assets as well to maximize the value you're driving for your app's growth.