It finally happened. Last week at WWDC 2020, Apple announced that from iOS 14 on apps will no longer be able to process and pass tracking data (without user opt-in consent) on to third parties, including Mobile Measurement Partners (MMPs).
Whilst it's been on the horizon for a while, the official announcement has sent ripples throughout the industry. As with any massive industry change, there's usually a rush to respond. This was no different with every significant player in the mobile install attribution space quick to respond.
With so much being said by so many people I wanted to make it easier for you (you being an ASO, UA, or mobile marketing person) to understand this change and what the industry consensus seems to be.
Below I take a look at what the top industry leaderks are saying but before that let's go over the basics.
First of all, what was announced regarding iOS 14 and privacy?
Apple announced that it will require apps to get opt-in consent from users to track them or access their device's advertising identifier. In the words of Apple:
"Tracking refers to the act of linking user or device data collected from your app with user or device data collected from other companies' apps, websites, or offline properties for targeted advertising or advertising measurement purposes."
This new guideline and requirement make it significantly more challenging to tie users' behavior within the app (such as in-app purchases or other events) with the source of that user. As most attribution companies rely on the Identifier for Advertisers (IDFA) to attribute an install to the ad they tapped on, the process of attribution will need to change.
Moreover, ad networks (such as Facebook and Google) that relied on downstream behavior data (in-app purchases and actions taken within the app) to optimize campaigns for high-quality users will also experience a new challenge. They won't be able to tie in-app behavior with a specific user anymore either unless that user opted-in for tracking within the app.
SKAdNetwork as a replacement
Apple seems to have pushed the pedal on the SKAdNetwork it developed in the last year. The SKAdNetwork will work as follows: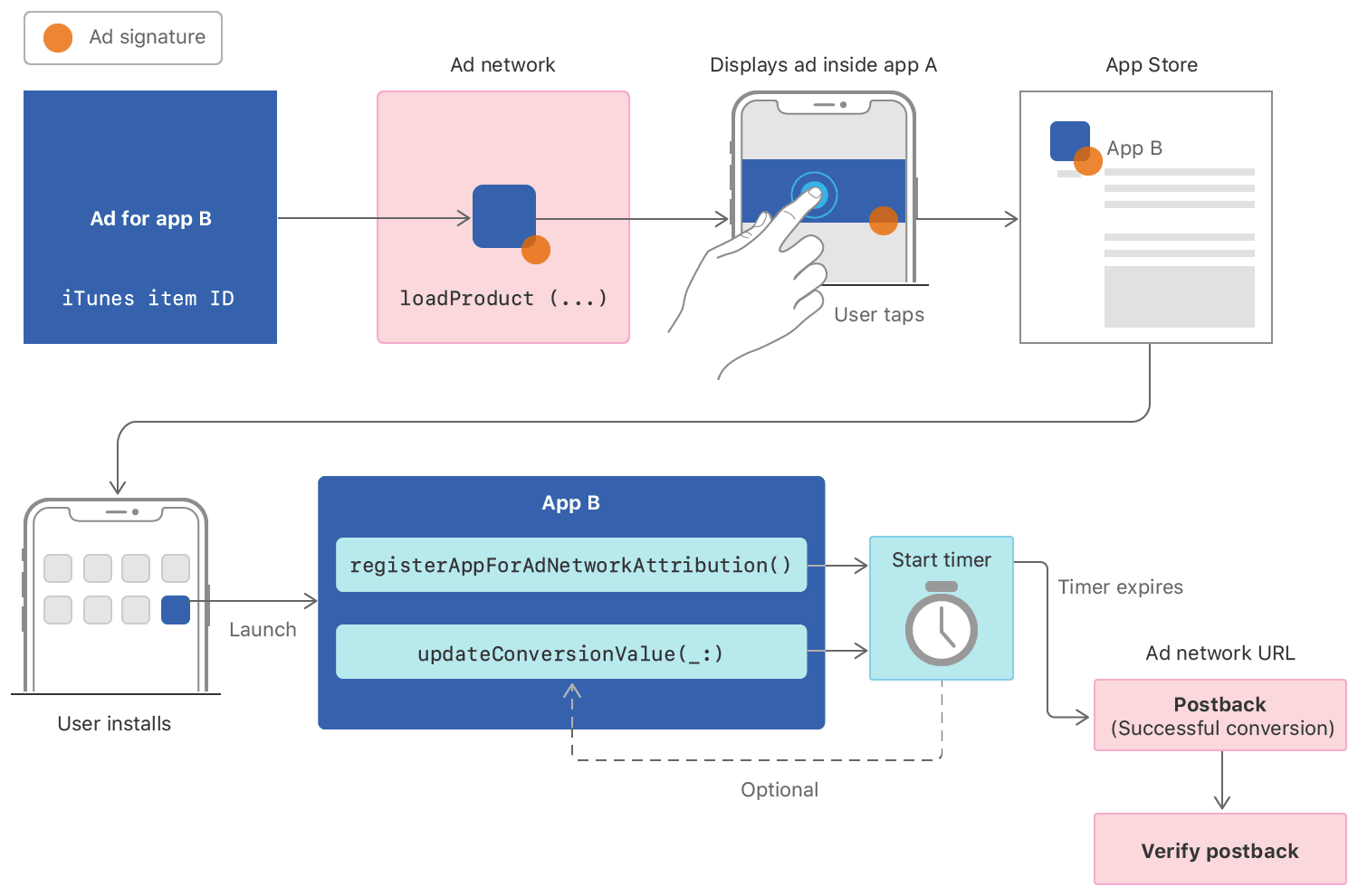 Ad networks that support SKAdNetwork will be able to confirm an install actually occurred through a postback from Apple after said user installed and launched that app. The confirmation will include the campaign they came from, the ad network they came from, and the ID of the app that displayed the ad to the user. Apple does also supports a property called ConversionValue that'll allow passing minimal downstream data through the postback.
That data will go straight to the ad network so they can report the verified install figures back to advertisers on their platforms. What the networks won't get is any user-identifying data that will allow any third party to continue to track the converted user further downstream.
Let's see what the industry has to say:
Attribution Companies' take on IDFA
Adjust: the four scenarios
Adjust's Co-founder and CTO, Paul H. Muller, wrote a piece outlining four possible scenarios for the future of mobile ad measurement.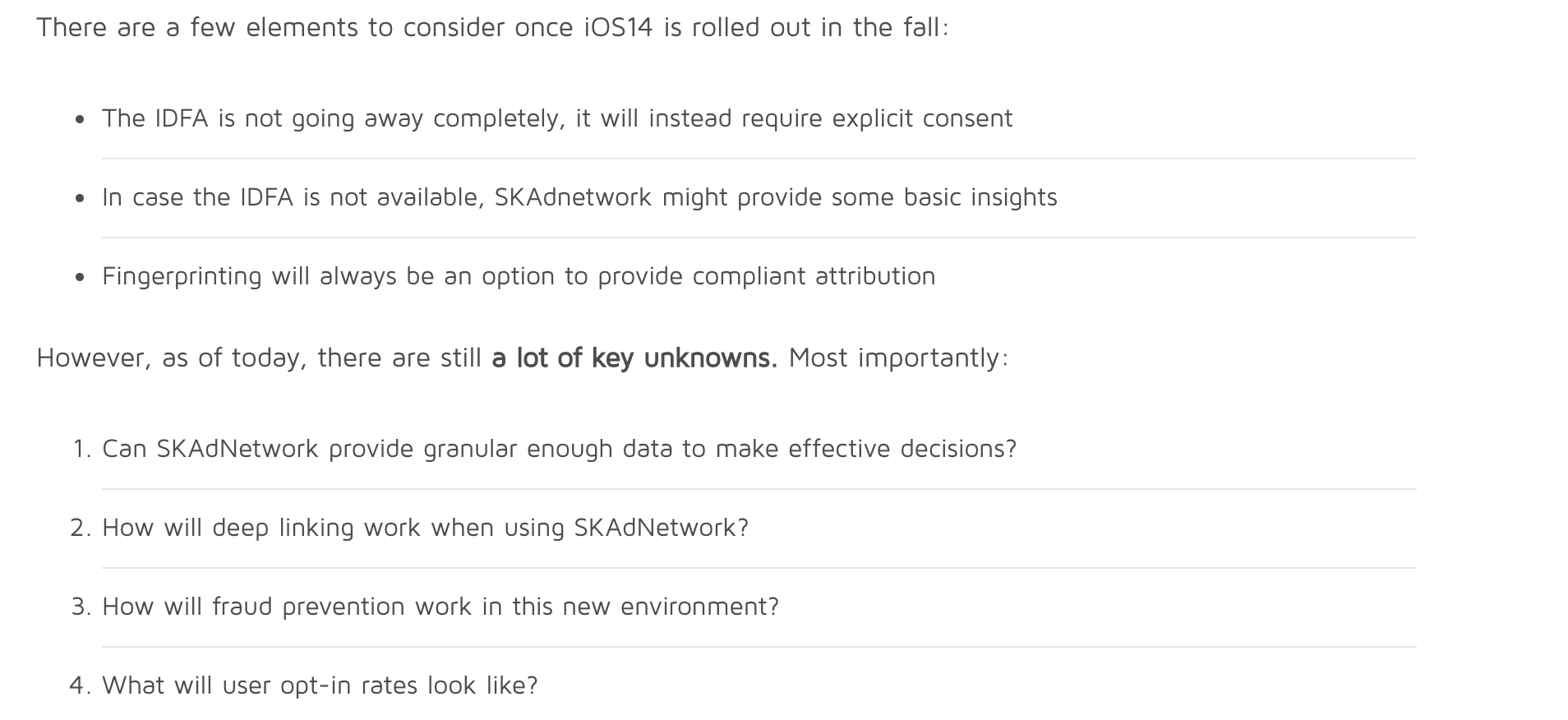 The four scenarios that Adjust lays out are:
iOS Referrer similar to Google PlayStore Referrer: one idea that Adjust raises is that Apple will develop an API that will allow attribution companies to receive the data (in addition to the ad networks) about the source of the install which they will be able to use to attribute installs downstream.

Fingerprinting: a much heavier reliance on fingerprinting technology which uses multiple variables (MMPs don't share information around the variables that they use) to identify a user. Adjust clearly states that this will have significant implications for accuracy and won't be a great scenario, although they are working on a better fingerprinting solution in the post-iOS 14 era.

Mandatory or incentivized opt-in: apps will incentivize users to provide their consent or require them to do so to use the app.

More granular tracking permissions with attribution as an exception: Apple will change its mind and allow attribution providers to track data as an exception to their new guidelines.
Read the full Adjust post here.
Singular: announcing support to SKAdNetowrk
Singular's Founder and CEO, Gadi Eliashiv, was quick to respond to the news by laying out his vision of supporting developers by aggregating and presenting the data that is sent to the Ad Networks in his post here.

According to Singular, their solution will allow developers to analyze their SKAdNetwork data in one place as well as connecting it to spend data.

This note lacks further details on how Singular plans to achieve that link between revenues and SKAdNetwork verified installs but I'm sure more details on this will surface soon.

AppsFlyer is the only attribution company that didn't comment yet in much detail on the situation. Oren Kaniel, AppsFlyer's Founder and CEO wrote a note acknowledging the challenges and opening up a discussion group to better understand the situation.
You can view it here.
UA Experts' take on the IDFA
Eric Seufert, Mobile Dev Memo: MMP apocalypse
Eric Seufert wrote up two analyses on the situation which you can find here and here.
The main gist of Eric's analyses is that Apple basically locked out MMPs from the ecosystem and "killed the IDFA".
In his words:

The reality for MMPs is that their ability to attribute paid users to their ad source and tie in revenue data to calculate ROAS will cease to exist with iOS 14.
Here is a summary of his other points:
Google will follow Apple's steps and require opt-in consent for Android as well. Given the way that both platforms tended to follow each other's footsteps in the past, I think that's extremely likely.
Using attribution data for the 10%-20% of users who will still opt-in will be inherently skewed as users who opt in represent a very specific set of users and any projections made from this dataset will be highly inaccurate.
Retargeting DSPs will not be able to operate as they did so far without the IDFA.
The change will level the playing field in the ad network space, reducing Facebook and Google's ability to optimize towards value (FB's VO campaigns) or events (FB's AEO) in a significant way.
Apps that rely on ads will be hurt as the change will likely decrease CPMs as performance will only be measurable at the campaign level.
The IDFV remains accessible. The IDFV is the unique identifier for vendors that allow companies with a portfolio of apps to continue cross-promotion. The IDFV can't be used for acquisition purposes outside of the company's portfolio of apps.
Nebojsa Radovic, UA at N3work:
Nebosja Radovic, a veteran UA expert from N3work, shared his thoughts on Twitter.
One of the most interesting takes from Nebosja is that we may see mobile brand ramp up M&A to acquire a portfolio of apps they can still use to cross-promote their products using the IDFV.

In the area of MMPs, his take is that MMP won't go extinct, they'll evolve. An interesting direction that he points out is that the need for incrementality tests/lift studies will grow to allow UA and growth teams to measure the effectiveness of their ads on top-level metrics.
So, what now?
In the past several months we have kept a keen eye on the potential of deprecating the IDFA. The change is not surprising but the actual implementation creates many knock-on effects for the industry.
As things stand now, it looks more and more likely that the method and process of measuring the effectiveness of mobile ads will have to change. The reality where any user can be tracked and associated with a paid ad source and then associate the revenue that user is generating with the cost of that ad seems almost impossible under the new guidelines.
The entire industry will need to reshape mobile ad attribution and their way budget allocation decisions are made in the next few months before iOS 14 comes to market. It's too early to say how things will look when the dust settles but it's definitely going to look very different.
The very likely scenario of Google going in the footsteps of Apple means that the same situation will probably reach the Android ecosystem sooner rather than later.
We may see over the next year more M&A of apps and games as companies will view developers with a portfolio of apps with users with a high affinity to their own products (that they can still use for cross-promotion) as an alternative to retargeting as they can still use the IDFV to cross-promote their products to that newly acquired user base.
Get the ultimate ASO conversion rate optimization eBook
Everything you need to know about icons, screenshots, videos, app reviews & ratings, localization, and seasonality.
We will continue to cover this story as it unfolds and analyze how various UA teams are preparing for this seismic shift in the industry.
Exciting times ahead indeed.