iOS 14, WWDC 2020, and what it means for ASO
This past Monday, Apple kicked off its worldwide developer conference WWDC and as industry updates go, this annual event always proves to be a big dinner. Covid-19 might've forced the conference online but that hasn't stopped the tech powerhouse from introducing countless exciting features that will have a real impact on the ASO industry. We want to share our initial research and response to the announcements, and talk you through how iOS 14 affects ASO, UA, and Mobile Growth.

Watch Storemaven's ASO expert explains the changes on iOS 14. You can download the full deck here.
Tighten up. Privacy Guidelines and the IDFA
With the new iOS 14 software, app developers will be required to show more transparency on their data collection practices, including any third-party code that also collects data. From an app's product page prior to downloading, users will see what can best be described as a Privacy Card detailing the permissions they're allowing, including:
what data linked to a user or device is being collected, like contact information
which data types are being shared for tracking purposes across other apps/websites, such as location.
These changes are great for the user, giving them a clearer understanding of exactly what data an app is curating. But what does it mean for mobile growth and user acquisition? The industry relies on data, without it (or at least with less of it) we're at a disadvantage.
User-level attribution relies, amongst other things, on identifying the unique device identifier, the IDFA. Even without it, fingerprinting technology still needs access to user-level data to complete the attribution process. If a user chooses to deny these permissions (and we can safely assume that only 10% or fewer users will actually provide tracking consent), tracking goes into 'Limit Ad Tracking' mode, which puts companies in the dark for understanding the performance of their ads. Without the IDFA, it will make it much harder to evaluate user behaviors and associate revenues with ad costs.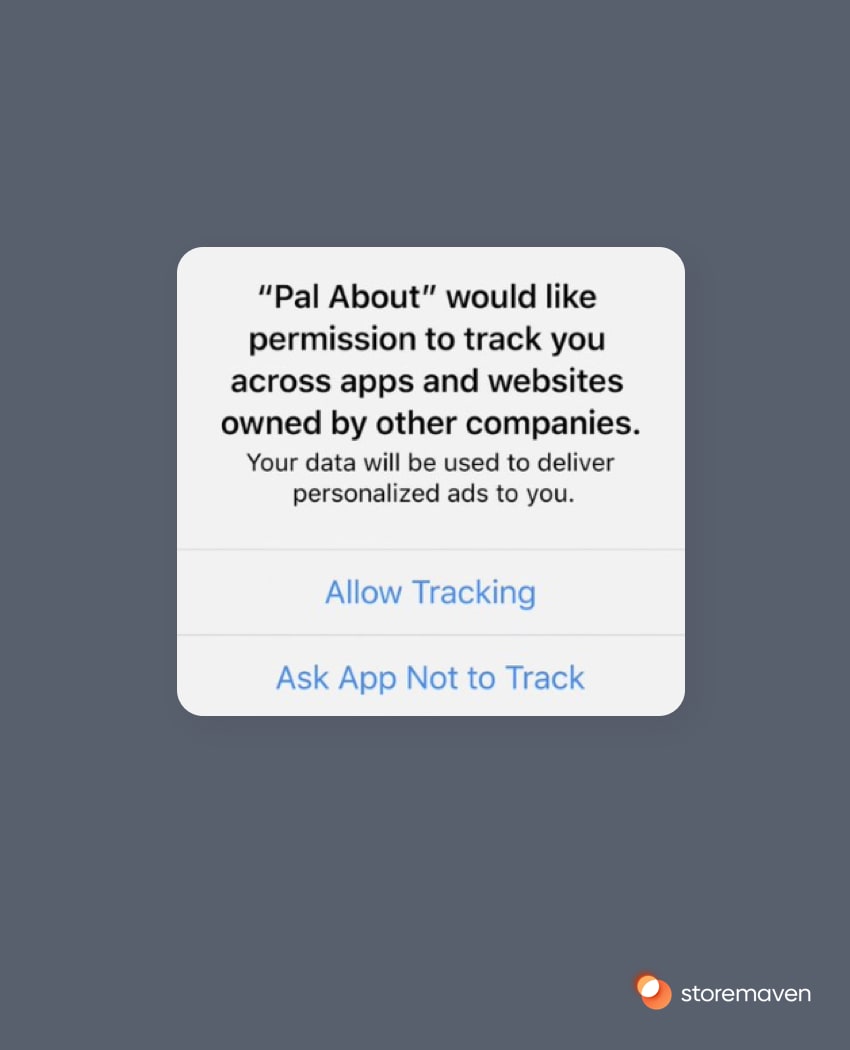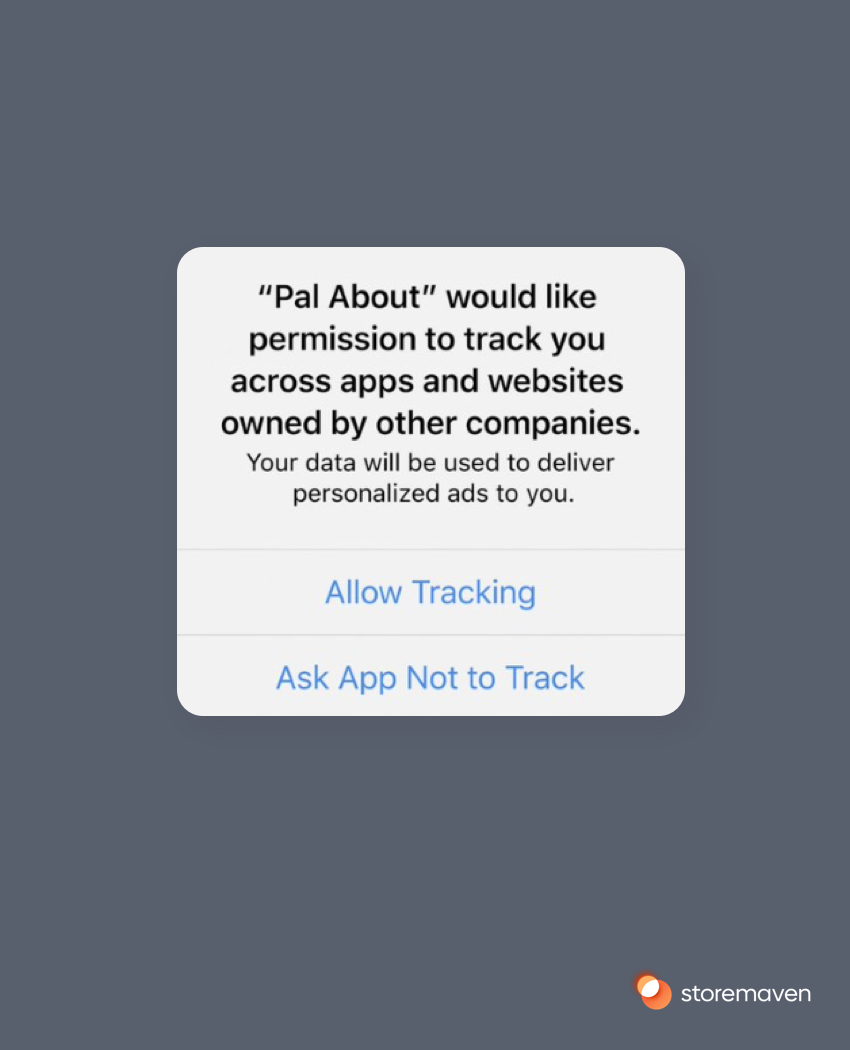 The industry will, therefore, need to find a new way of understanding user acquisition performance; one direction that Apple is pushing is for developers to utilize its SKAdNetwork API which is Apple's take on attribution. Apple also announced updates to the API and we can expect MMPs to work on solutions that incorporate this data. In any case, associating post-install behavior and revenues with attributed installs will be challenging.
We'll cover this topic in more depth in the coming days and weeks to analyze the impact on UA and Growth teams and understand the best course of action moving forward.
Getting To Grips With App Clips
App Clips is designed to speed up 'I-need-an-app-for-that-right-now-but-don't-have-it' moments, like paying for a drink or parking. A quick encounter that would previously call for an app download will be completed by launching a mini version of it. Users will be presented with a small "card" overlay, like a little preview of the app, that can be used to complete a task (Clips is integrated with Apple Pay and SIgn in with Apple for ease of payment and no need for registering details.) Grabbing a coffee? No app needed, tap to launch App Clips. Booking a hotel? Scan a QR code. Renting a car? Use an NFC tag. Apple has designed a special clip code to signify where in the world they can be used.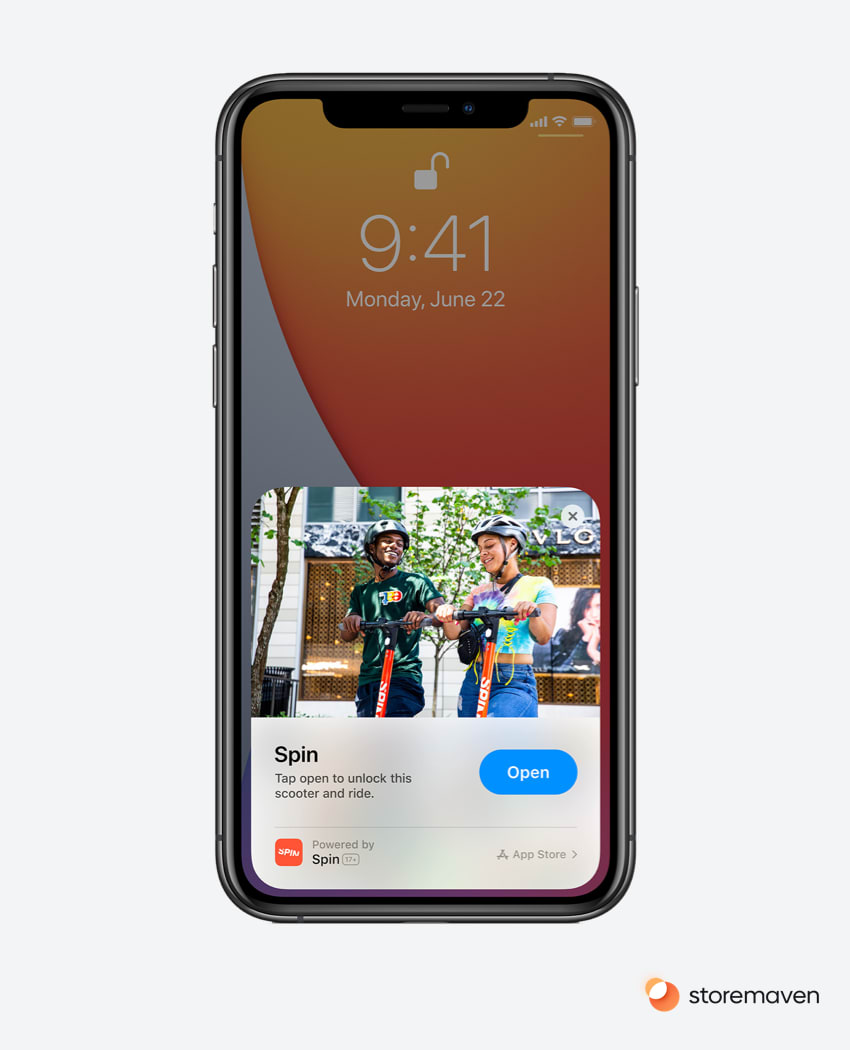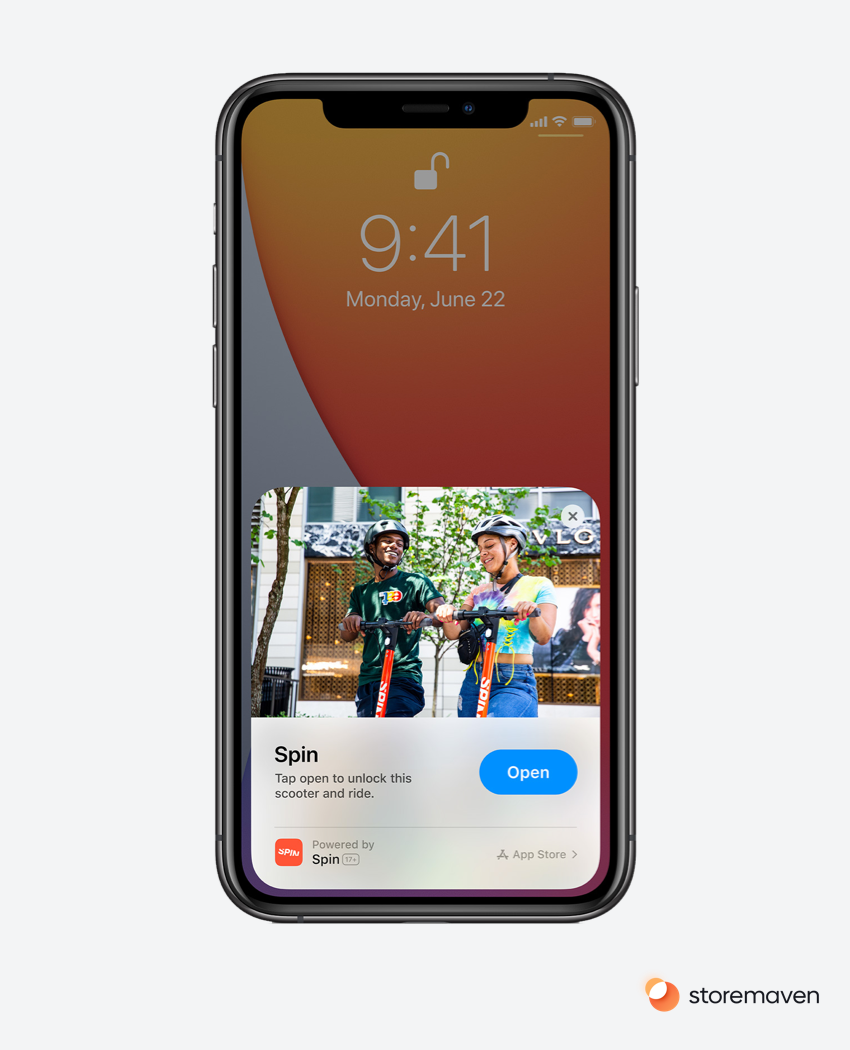 For ASO, this feature offers a great opportunity to get an app noticed in a contextual moment. As Tim Cook CEO explains "It's always easy to download the full app, and this makes App Clips an easy way to discover more of what the App Store has to offer." Clips approach app UX in a whole new way, they can be accessed via a web browser (only safari), from Messages between contacts and from Maps.
With bangin' copy and eye-catching creative assets, the "card" banner can entice users to make a full app download. These mini-apps represent unique demos or teasers, the perfect tool for ASO experts to showcase an app's value.
The App Clip card on itself will have a creative asset, a title, subtitle, and a call to action to open the App Clip. Apple will allow developers to customize the App Clip metadata based on location and the type of user journey (the way they discovered the App Clip).
Seek and Ye Shall Find. Updates to Search Results
There are a few significant changes in the way Search Results will work in the app store for iOS 14. Type detection and automatic correction are being introduced the way Google Search uses the functionality. Autocomplete will occur in the App Store Search bar when querying, which means that searches can only be accurate (unless the users actually tap on the "did you actually mean that" link that you know from Google Search). Developers that capitalized on ranking for mistyped brand names won't be able to use this strategy, a nifty tool some ASO strategists used.
Search results will now include editorial collections (such as Word Games that we love) when users search for genre keywords (such as "word games").
These collections are 100% scrollable and take significant real estate out of the top of the search result page. For certain keywords that will bring up a collection as the first search result, the app or game that ranked #1 for that keyword will be pushed down to rank #3 as in the following example.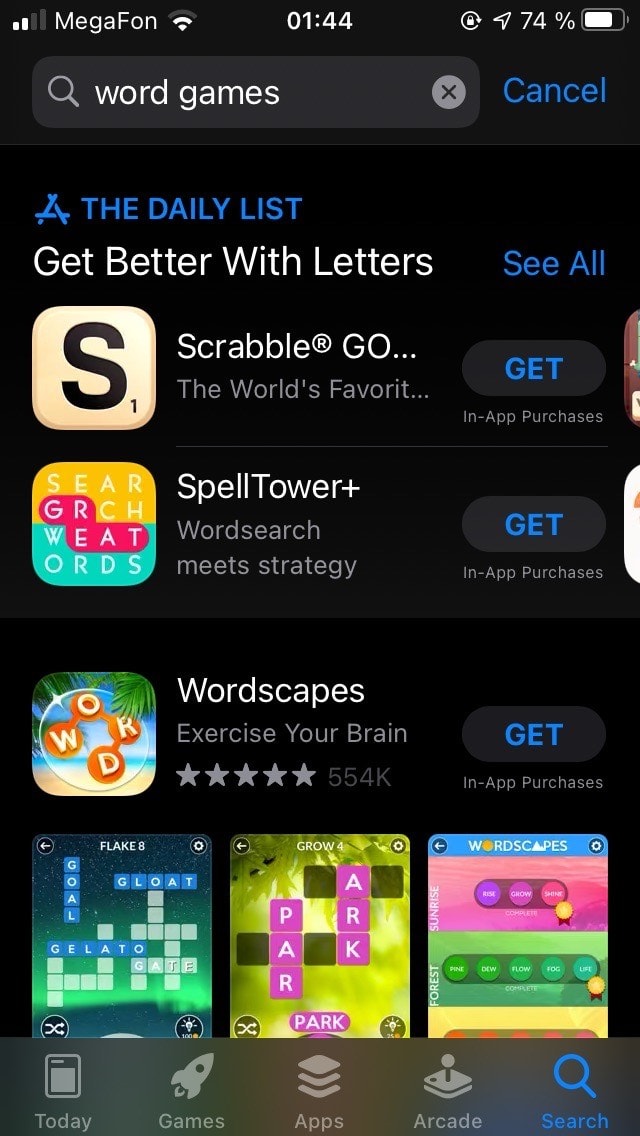 We'll be keeping a close eye for when further details are released.
Five things you must know about Custom Product Pages
Small Fry But Interesting. Updates to Product Pages
The following product page updates play a smaller role in the changes we're seeing in iOS 14, but they're certainly noteworthy, let's take a quick look.
A new information panel below the icon
All app store product pages will show an improved information panel below the icons, incorporating the scroll bar currently featured on Apple Arcade.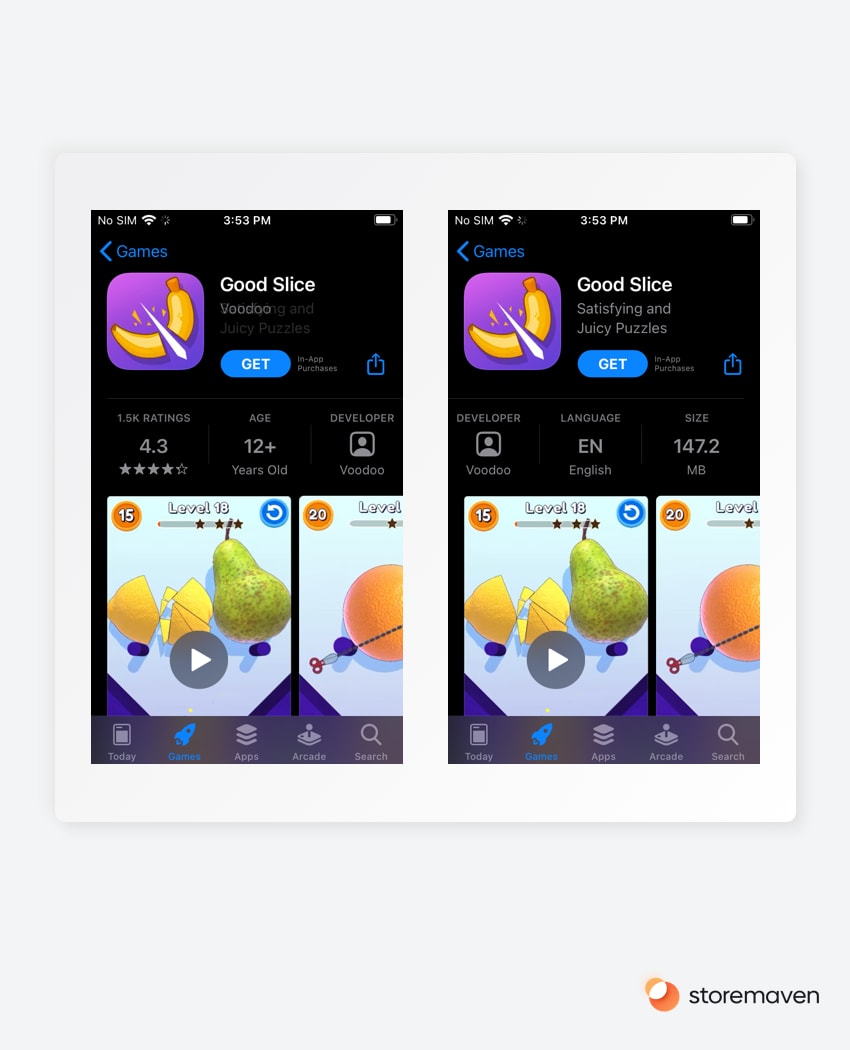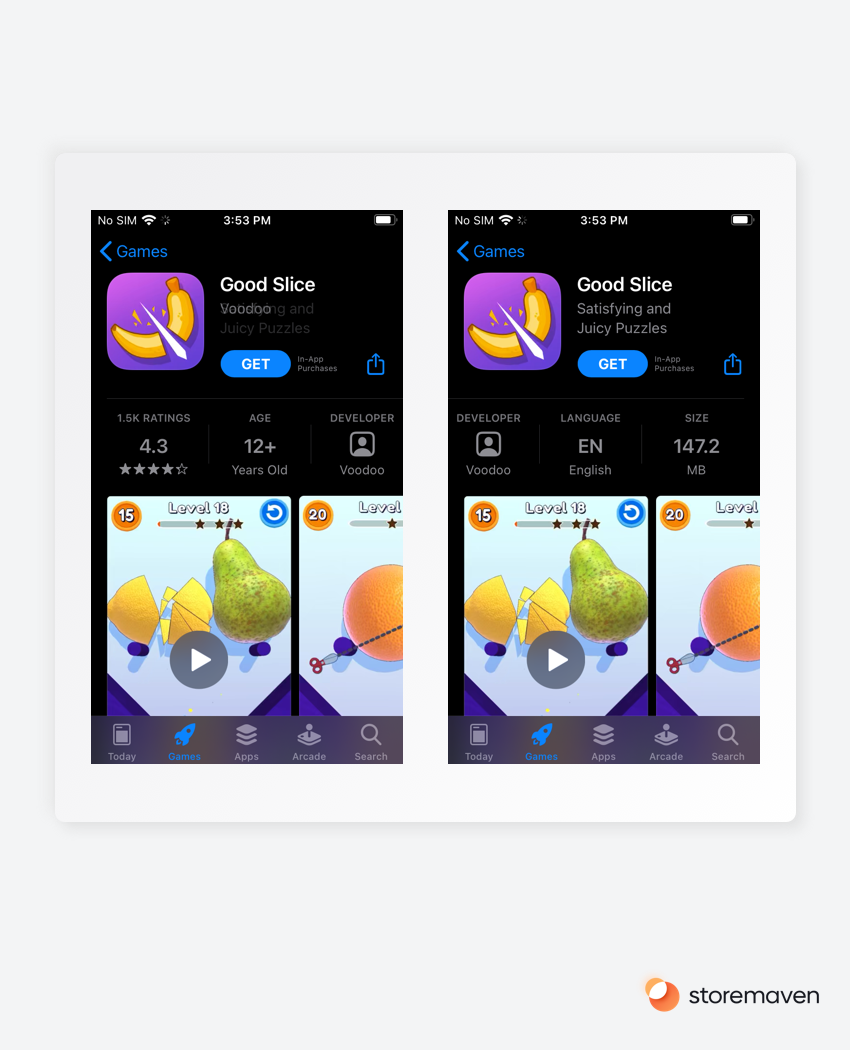 Until this is rolled out in public beta, it's unclear exactly what information will appear here and if it's going to be exactly the same as the Apple Arcade info panel. No doubt details will follow, stay tuned.
Privacy Cards
I've already touched on how Privacy Cards will be used as information labels for improved transparency on what data the app developers are asking for, so I'm now just referring to how the info will be displayed. I can only speculate on simple visuals that show the cards housed on the product page. This change does not appear yet in iOS 14 beta, so where on the page the cards will be included is still unknown.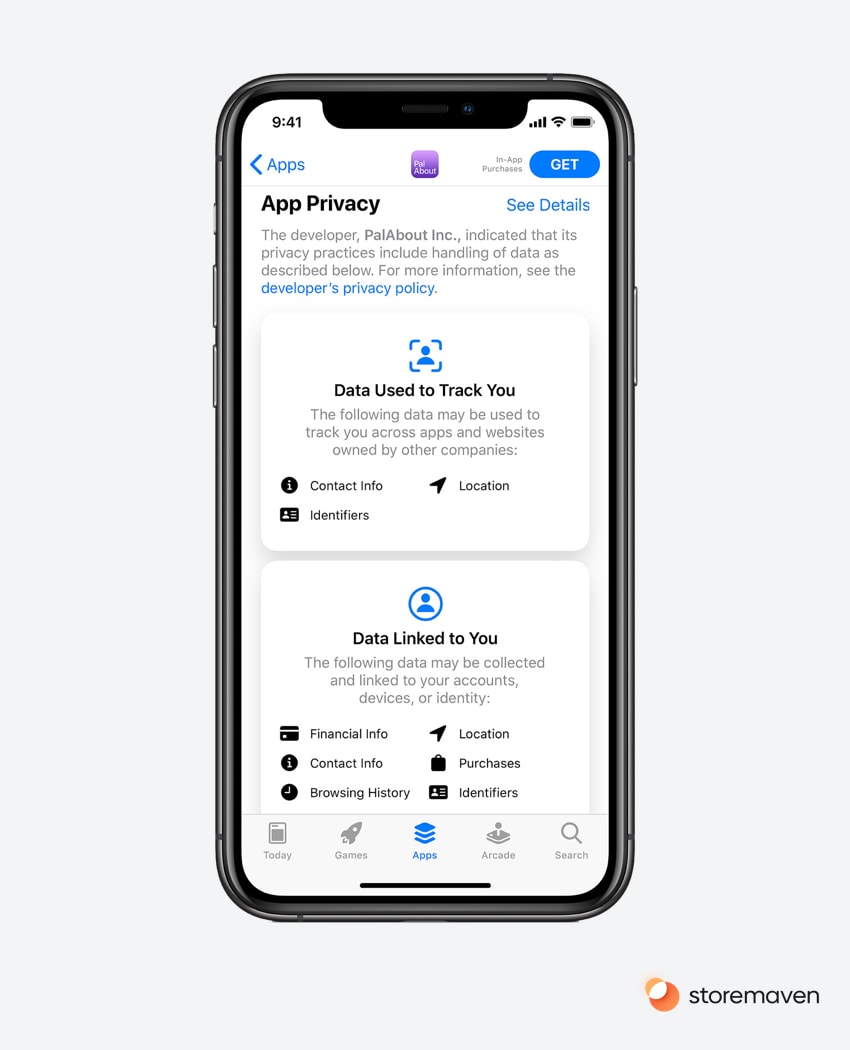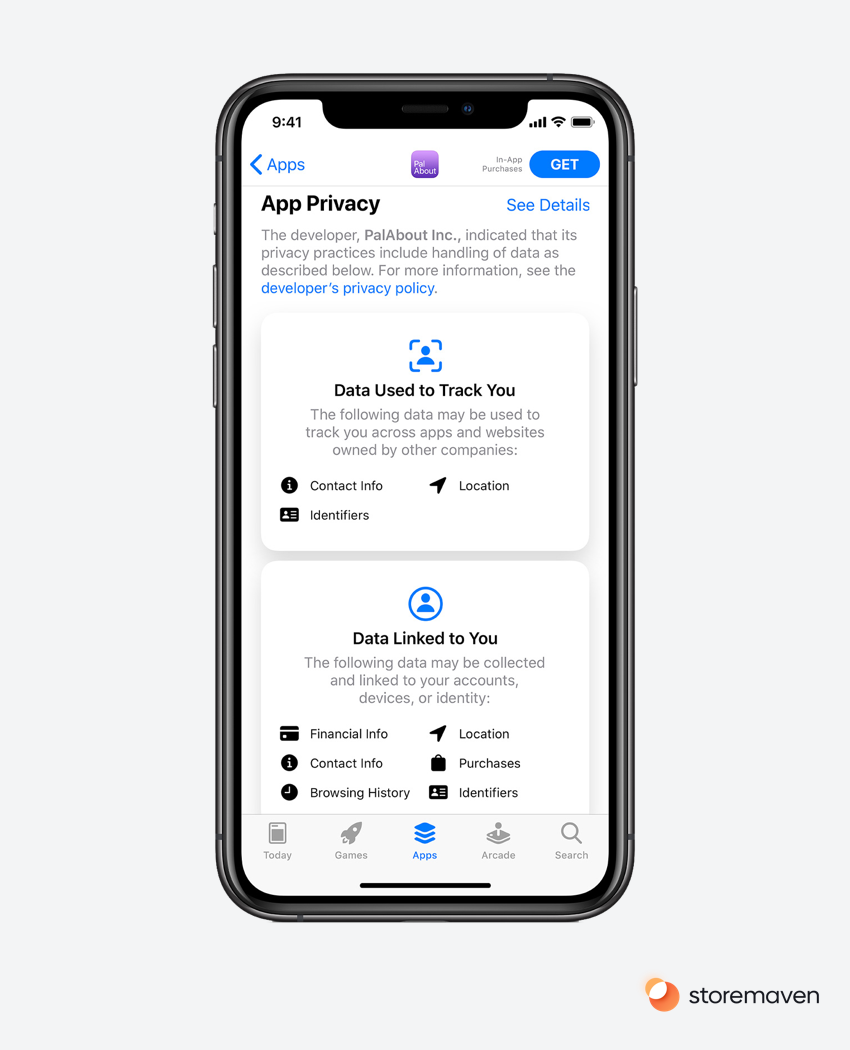 We can assume though that conversion rates won't be too dramatically affected as data shows that users depend on and are driven mostly by visual creative elements to inform their decisions regarding apps. If privacy cards were to sit below the fold and under the reviews section, we can make the data-driven assumption that less than 15%-20% of users will be exposed to it. It's also unclear if this section will be hidden behind a "read more" button or not. In case it is, we can expect that less than 1%-2% of users will open it.
Never miss an update in the Mobile Growth industry with Storemaven's newsletter
Join 10,000 mobile marketers that stay on top of their craft
A Final Chew Over The Changes
Like every Apple software reveal, iOS 14 has been great to unpack. Once fully rolled out later in the year in September, Apple users will enjoy an OS that provides them with a better understanding of the data they're often blindly handing over to app developers. Yes, there may be some aspects of the OS update that have a ripple effect on Mobile Growth and User Acquisition such as data and tracking permissions, but any reshuffle in the App Store provides an opportunity to look for optimization and growth. As Cook himself explains "We haven't stopped innovating. We pushed all of our platforms forward in some amazing new ways." It seems like just as Dorothy tells Toto, we're not in Kansas anymore, or rather, San Jose's McEnery Convention Center.