Know your app store audience
Wide consensus in the industry is that Apple will enforce the iOS 14 IDFA opt-in consent requirement starting from March 2021.
The lack of IDFA will directly hurt your ability to target and retarget users with based on their value and behaviors, making your ad and app store creatives the real "filters" for your audience. Different creatives and messaging would attract different users, so how do you make a decision that'll boost your install growth for the audiences that you really care about (and really drive the KPI you get measured by)?
Let Shamanth Rao, Founder at Rocketship HQ and former VP Growth and Hello Fresh, explain in his interview with Mobile Dev Memo:
"I see a number of key trends appearing on the horizon in 2021.
The current paradigm of iteration-driven production and optimization of ad creatives will become untenable in iOS 14. Creative production and automation at scale becomes less meaningful if there isn't granular data … to make decisions off of.
One of the things that surprises me most … is how infrequently the vast majority of developers test or improve their app store pages. As understanding creative & messaging strategy becomes more critical, having this creative strategy inform app store testing (or CRO) becomes more critical for apps' growth. More publishers recognize this – and start to see enough value to invest time and resources into thinking through and optimizing their app store experiences."
Luckily, we've spent years building the best solution out there in learning what drives different audiences to install apps and games in the app store. With us, you'll always have an "engine" at your fingertips to guide you to the best decisions (and prevent mistakes) for driving install growth.
Nail your growth targets in 2021, read all about our methodology for testing app store creatives on different audiences in the app store, and start planning how you'll improve conversion rates in the store for the audiences that matter most.
The truth is: teams lacking IDFA-ready methodologies and technologies will inevitably fall behind; grab hold of the expertise that's available.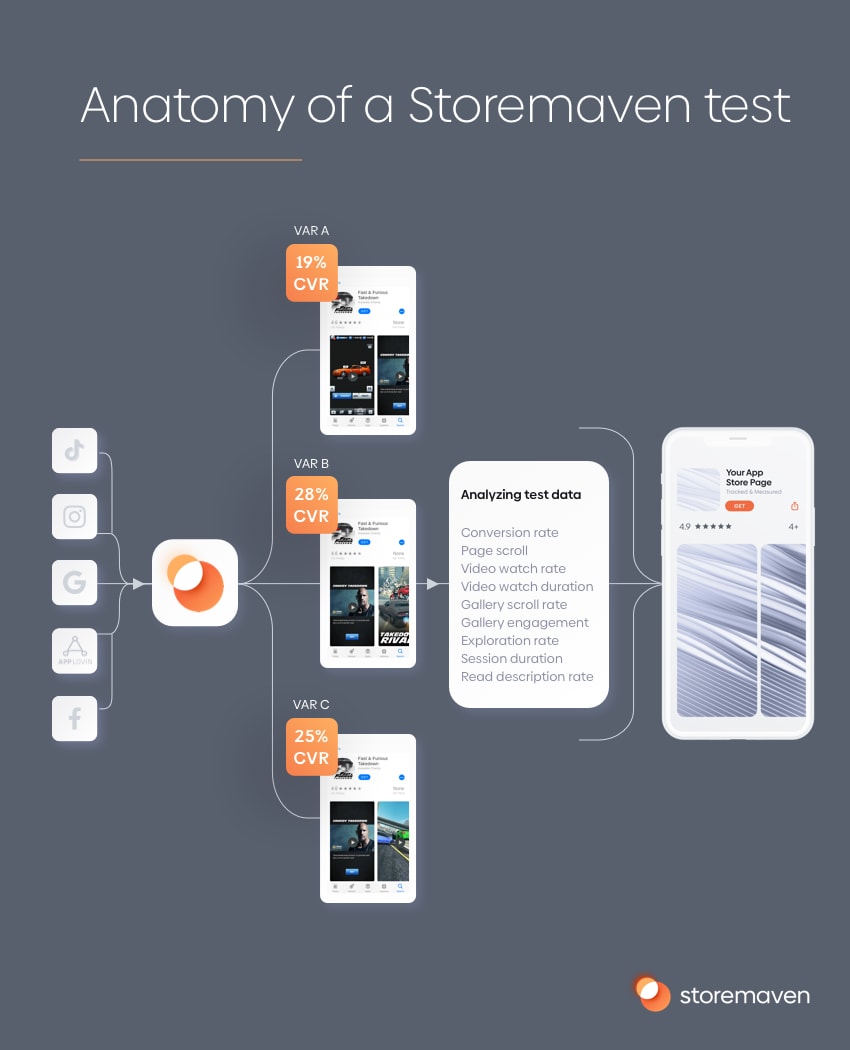 What to expect in the coming year
Whether you're in ASO, UA or mobile growth, as you start executing your plan it's important you understand the overall market conditions.
There were endless data sources on the state of the industry, making it hard to understand what's what. We did some organizing (you're welcome) and curated the data points you need that will help you make sense of where the market is — big shout out to AppsFlyer and Sensor Tower.
According to all estimates, now is the time to fire on all cylinders and capture as much growth as you can by leveling up on ASO, UA and mobile growth.
Let's look at a few figures:
Global App Spending Reached $407 Million at Christmas, Growing 35% Over 2019, says Sensor Tower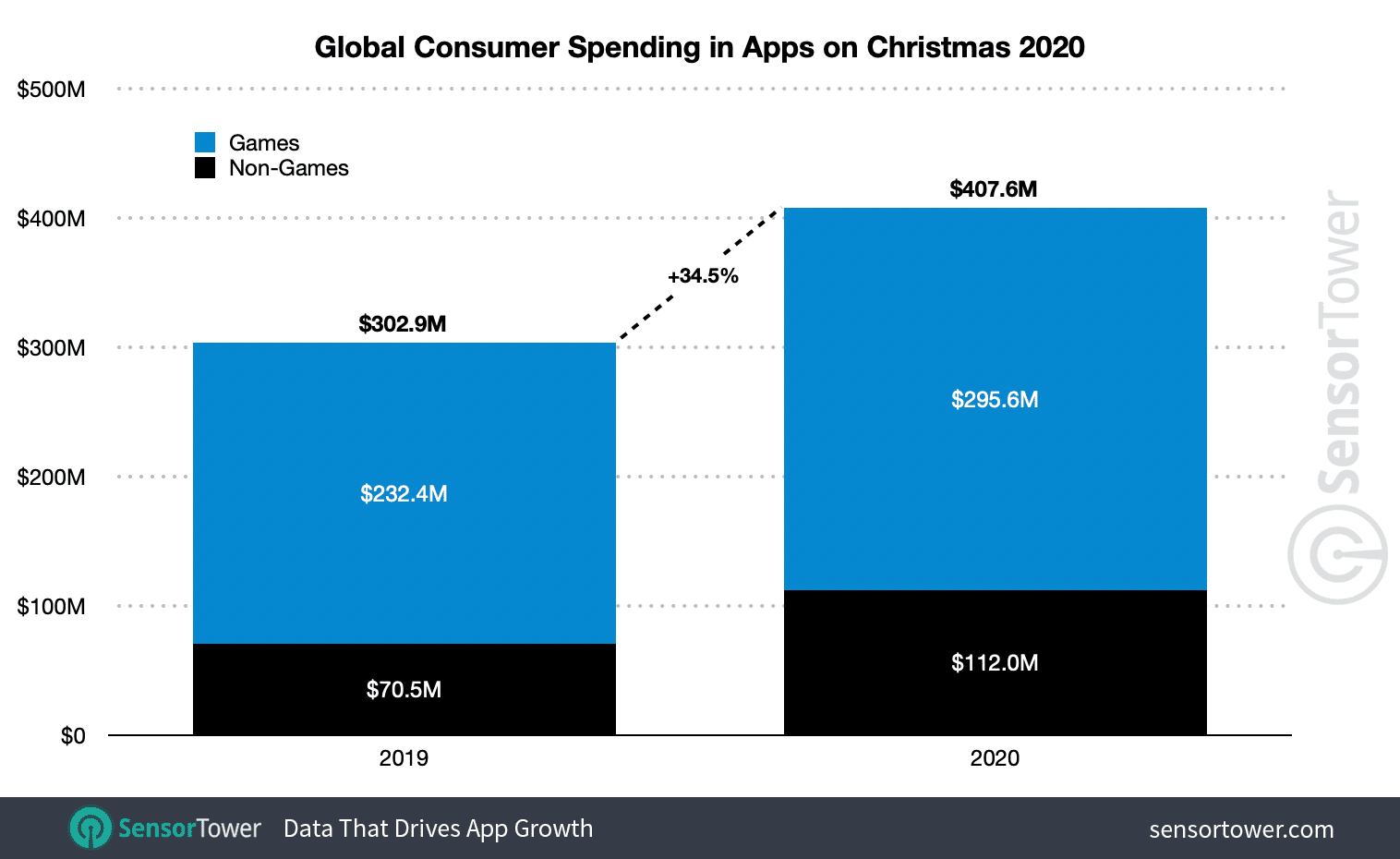 Overall installs grew by 33%, with growth peaking in the March-April timeframe and stabilizing in August-October.

Still maintaining the +30% growth rate of our industry.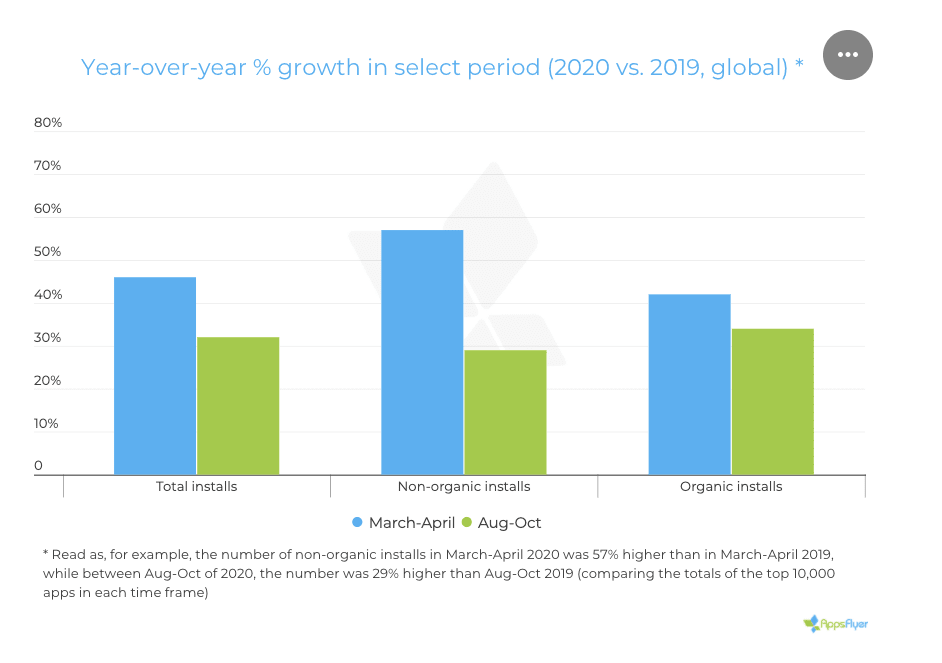 The story of 2021 UA trends
So it appears that the lockdown of March-April led to a drop in CPIs when major brands pulled their budgets and waited to see the lay of the land. Meanwhile, early-responders (mobile game companies) took advantage and scaled UA spend, leading to a boom in paid installs.
Once the major brands rejoined the game, and less digital brands pivoted to digital to cope with the crisis, this drove an increase in CPIs which made UA spend climb, and paid installs to drop.
An additional explanation for this is that user-intent dropped after being flooded with ads in March-April and being spoilt for choice on games and apps offers.
It seems the smart teams out there took advantage of the March-April record-low CPIs to acquire a very large cohort of new users that they could then remarket to, and we see that remarketing conversion grew by 70% from March to November.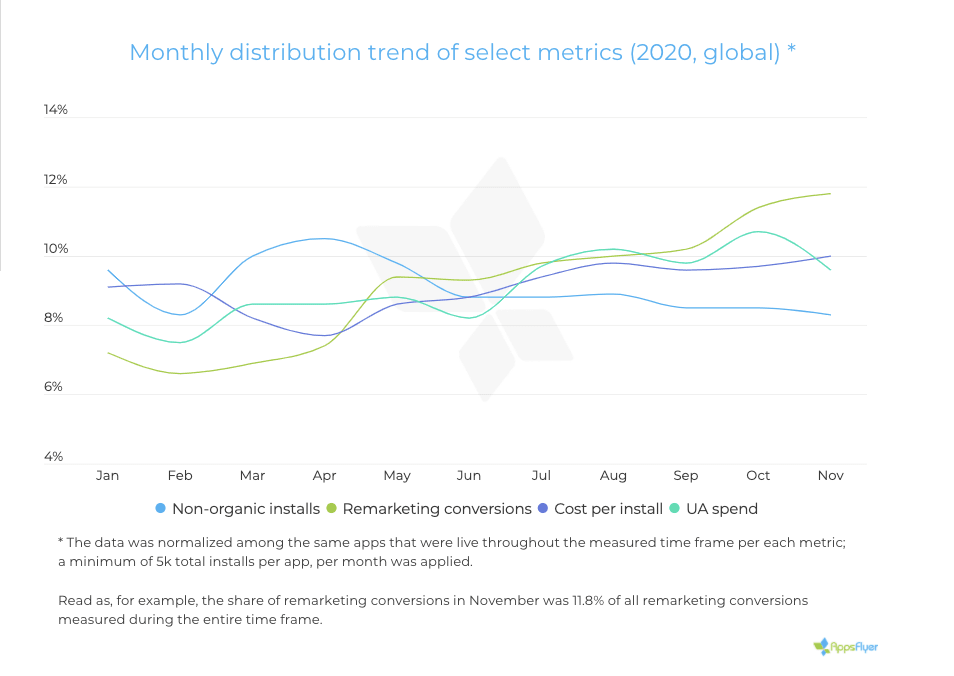 Granular organic and paid install growth by category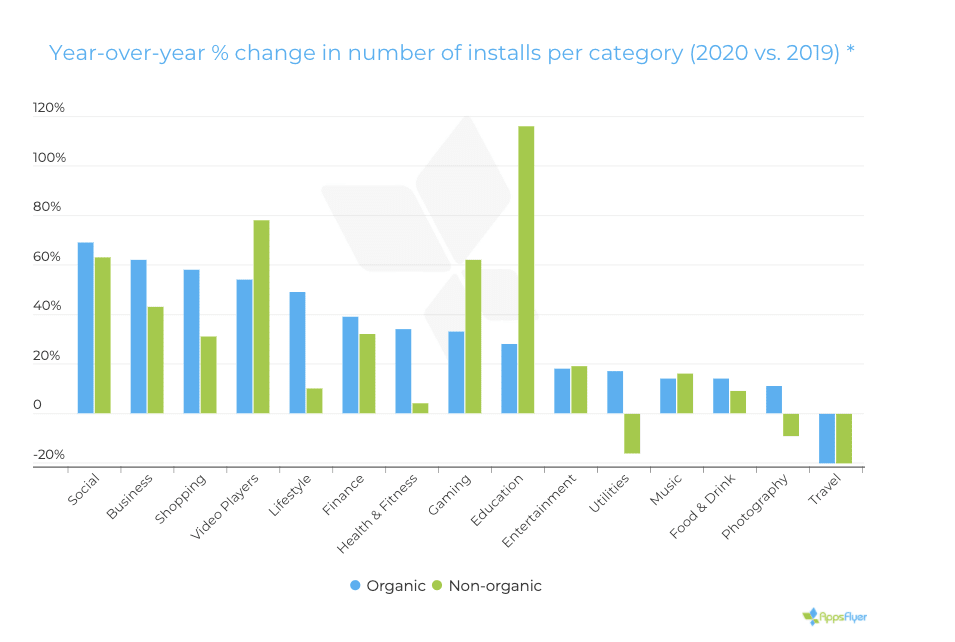 Look at the Education category! Standing head and shoulders above the rest in terms of growth having leveraged our new normal into a growth opportunity, whilst Games with 60% growth in paid installs, and Streaming with almost 80% growth in paid installs, also followed suit.
Overall organic install growth was 30%-60% for Social, Shopping, Business, Streaming, Lifestyle, Finance, Health & Fitness, and Gaming, showing the massive opportunity in capturing the growing volume of users visiting the app store. It's clear that teams that grow faster-than-average are using app store marketing and ASO to maximize their growth potential, and with more than half the growth potential coming from the store, these factors are what can make or break your DAU/MAU growth trend.
Lot's to mull over. Get in touch if you want to chew the fat on any of these topics.
Listening is an art
Since we last spoke, we've been lucky enough to host a couple of really interesting talks:
In episode #8 of our podcast, "Mobile Growth and Pancakes", we talked to the two friends and growth peers Nebojsa Radovic (N3twork) and Joseph Kim (Lila games), who know that combining marketing and product resources is the sweet spot to drive growth; you need both functions at their best if you're to make an impact on the market. Together with our Esther Shatz, they discuss some really useful points on the topic, such as:
If the product isn't a new concept, generally, the focus shifts more towards the marketing side than the product side as demand for the product is proven.
Marketing materials and the product itself should be aligned to attract the right audience (if any marketing materials don't correctly portray the game, the audience generated won't stick around).
Accurately understanding users and their preferences is vital in order to enable your marketing to prioritize the right people (who would play the game) AND also to enable the product team to build a game that users love to play.
Listen to the full talk here.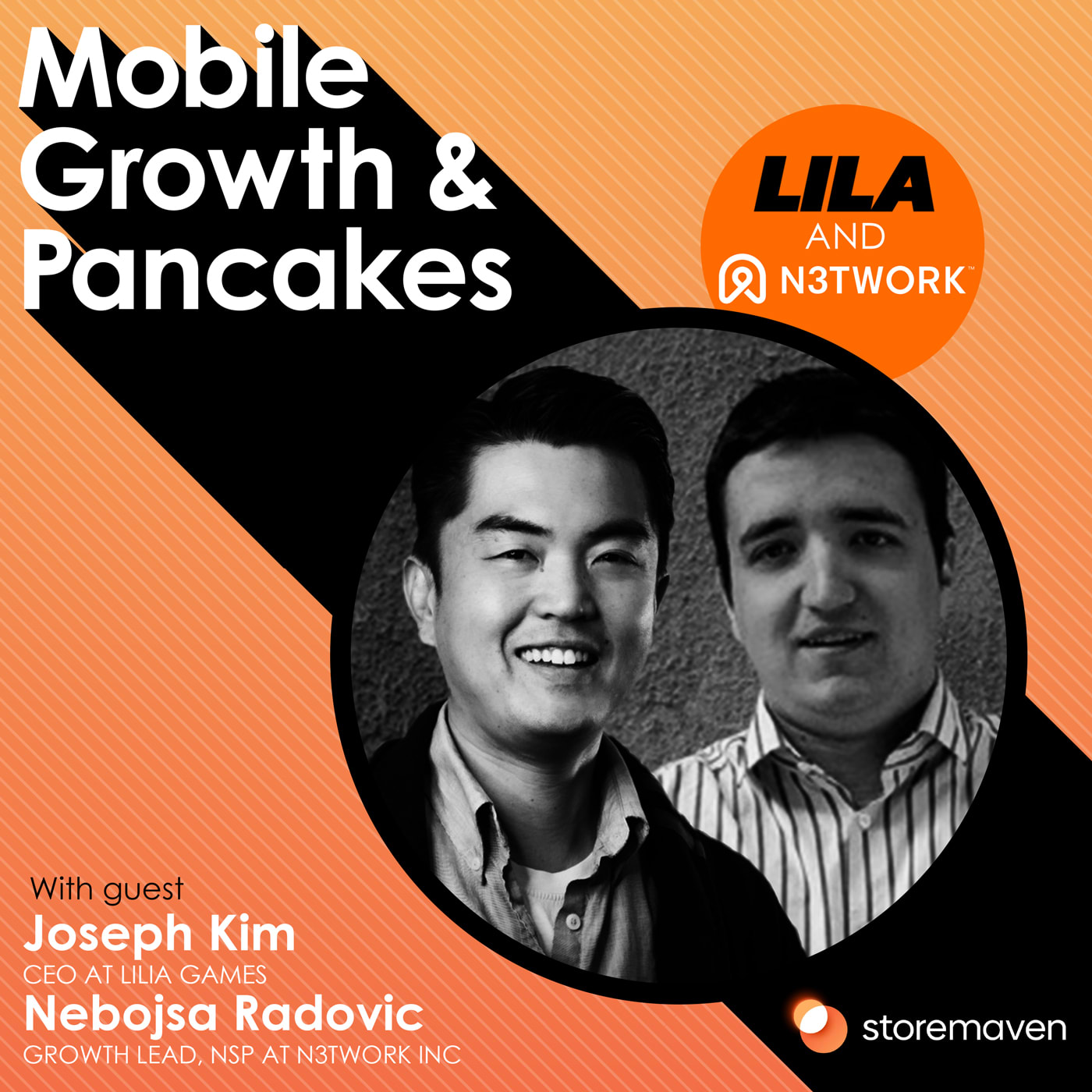 In episode #9 we talked about TV advertising with our guest Fabien-Pierre Nicolas (SmartNews). TV ads is a significant investment (aka a lot of dollar) so you have to make sure you've put some deep thought into it. A couple of recommendations from Fabien-Pierre include:
Finding agencies that really understand how to run a TV campaign with high-level media planning and a few creative concepts, and analyzing each agency through pre-set criteria.
Keeping a weekly feedback loop to assess and analyze things with your team and leadership.
And making sure to discuss, follow-up and track budgets regularly.
Fill your boots on the whole podcast here.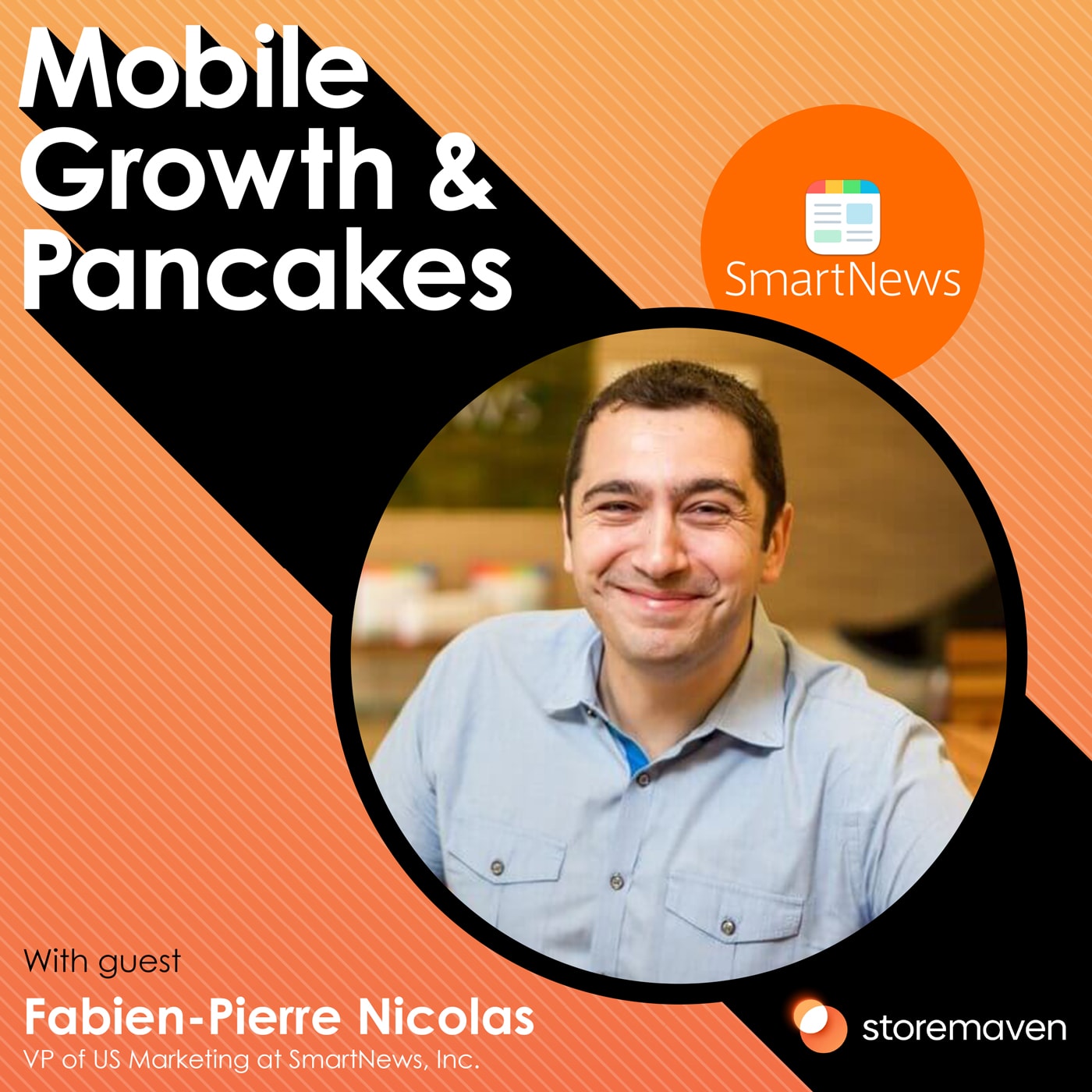 Never miss an update in the Mobile Growth industry with Storemaven's newsletter
Join 10,000 mobile marketers that stay on top of their craft