After the massive changes that iOS 11 and 12 implied for ASO, the ASO community was closely watching as iOS 13 was released at Apple's WWDC 2019, which is coming to iPhones later this year.
Some of the major changes for ASO entail a dark mode for iPhone and a new Apple Watch App Store, while others focused on more technical developments, that don't have a major impact on App Store design. Here is a quick review of all changes, and how they will impact ASO.
Dark Mode is Coming to iPhones in iOS 13
One of the major rumours going around came to fruition: The big announcement made for iPhone was the implementation of Dark Mode. This new look was designed to suit use in darker environments, be easier on the eyes and battery, and definitely is a more dramatic design. Dark Mode will feature on iOS 13, as well as iPad OS, a new operating system developed for iPad, and users can switch it on in settings or set it to turn on automatically at sunset.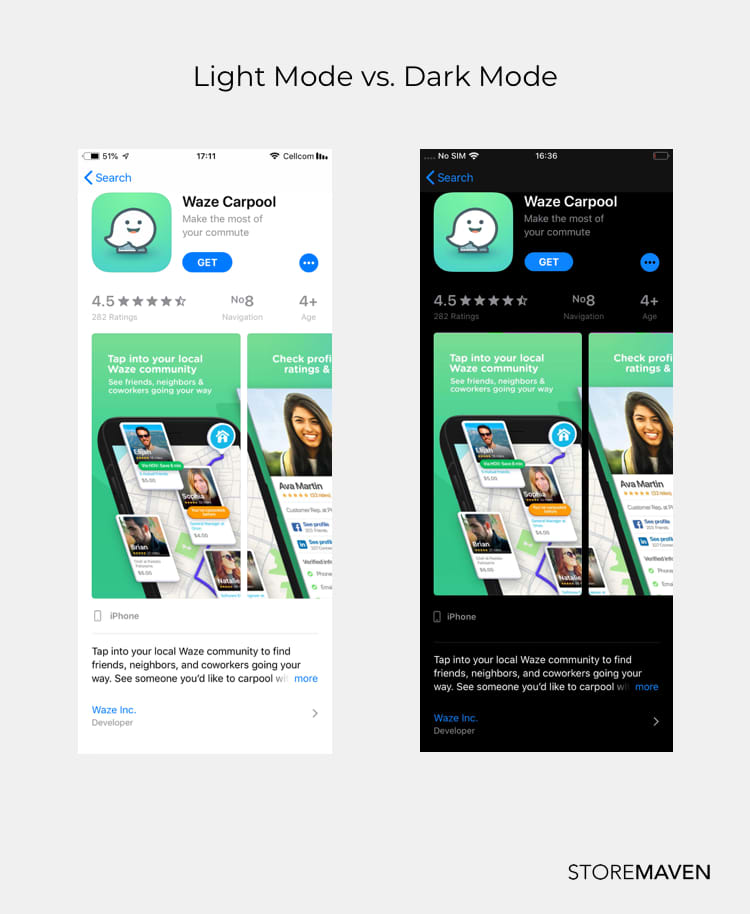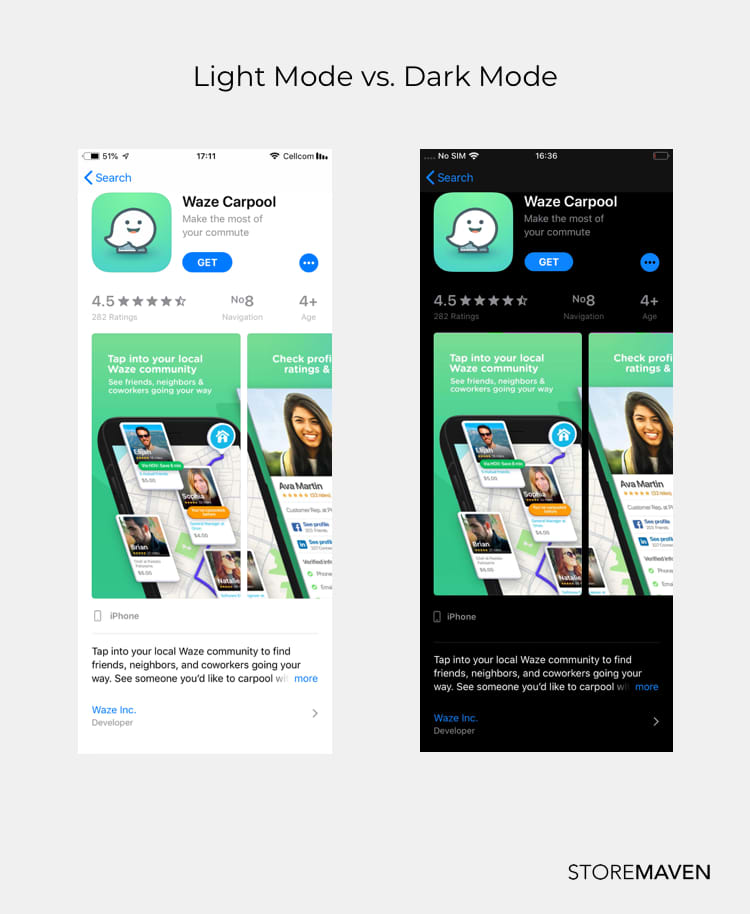 Right now Dark Mode is available for all of Apple's native apps, with others only being included when (and if) their developers decide to enable this feature. For any ASO professionals, this means taking into account the new colour scheme and its visual effects when designing and testing app creatives. While there are no specific numbers out there on how many people already use dark mode on mac, it's definitely a hot topic of the current discussion, and it definitely will be interesting to watch if it gets picked up by iPhone users.
Nail your iOS panoramic screenshot gallery in three easy steps
There is a New App Store in Town
One of the most relevant new developments for ASO was the release of the new Apple Watch App Store. From now on users will only need their smartwatch to access the app store, totally independent of an iPhone, and will have the possibility to download apps directly to this device.
They can search for apps via voice detection, Siri and scribble and, as in the regular App Store, there is an option to install directly from the search result or to go to the app page to explore a little more.
To achieve the best visibility in the Apple Watch App Store, text, graphics and rating & reviews should all be optimized for the Apple Watch App Store's smaller screen. It will be interesting to see if there will be a clear trend towards shorter or longer keywords, given that searching in the Apple Watch App Store might be more voice-oriented than in the iPhone App Store.
While the display will be familiar for iPhone users (the App Store Page here also displays Featured Apps), the devil here lies in the smallest details, so app developers targeting Apple Watch App Store users should really optimize for this new App Store.
With Apple implementing this Apple Watch App Store this definitely opens up exciting ASO opportunities for mobile growth professionals.
Apple's WWDC: More Updates
While Dark Mode and the Apple Watch App Store are definitely the most significant updates for ASO, there were other App Store updates launched that are definitely noteworthy:
Within the App Store the most significant changes were:
A Placeholder being added to the search bar.
Users receiving suggestions for Apple Watch Apps when typing in a search query in the App Store.
Updates are much more "hidden" in the updated search store, which means users won't see release notes anymore.
Bringing iOS Apps to Mac
An interesting update for App Developers is the announcement that Apple's new Project Catalyst technology allows them to now easily import apps or games from iOS to Mac, which means companies can now develop games and apps for Mac, iPad and iPhone with only one development team.
Privacy and Security Measures
Privacy and security are hot topics in the current discussion around digitalization and technology and Apple wants to show it takes them seriously, so they announced a bunch of new privacy and security measures, to make the users feel better protected.
Wi-Fi and Bluetooth location tracking on iPhone is now blocked by Apple. A new feature also allows the option to make an app ask you every time for permission if it wants your location.
SignIn with Apple tries to tackle the privacy issues around signing into apps through user's personal account. It offers the option of logging into any app that offers third-party log-ins with a user's Face or Touch ID instead. Apple will provide developers with sign-in APIs to build this feature into their app.
The App Store Review Guidelines have also been updated for any apps in the kids category. In-app advertising by third parties or sharing data with them is prohibited, effective by September 3rd 2019.
Downloading Apps Faster
Users are impatient and more and more mobile. So after expanding the cellular download limit from 150 MB to 200 MB not long ago, iOS 13 will now give users the opportunity to download even larger apps via the cellular network, after they receive a special request. Especially in gaming, this expands the possibility of increasing conversions as users can now download larger apps on the go, and don't have to remember downloading it once they are connected to Wi-Fi.
Five things you must know about Custom Product Pages
Additionally in iOS13 Apple plans to guarantee 50% smaller app and 60% smaller updates sizes, which, according to them, will make apps download at double the speed. This is a great opportunity to increase downloads and especially the download completion rate.
With all these changes coming into effect, the ASO community has weathered another, more calm year of Apple Updates and can now get to implementing changes to make use of the opportunities that present themselves.