You don't have to be in the ASO industry very long to spot how competitive the games landscape has become. Tons of categories offering up tons of games means finding (and keeping) a prized position is hard. Super hard. So let Storemaven help.
In this teardown we dive into match-3 games, discussing their deeper layers, like storylines, progression, minigames etc, and how strategizing your creatives can give a game a real boost.
Match-3 games are a distinct group worthy of their own analysis even though 'match-3' isn't actually a category in the App Store, they instead sit under the Casual category. For our analysis, we took the top 20 games in the US from the casual category that use match-3 mechanics.
What you can expect from this analysis:
To understand the App Store Optimization messaging strategies of the top Match-3 games apps.
To generate ideas for experiments that you can run on your app store page.
Disclaimer: All data and information in this report are based on publicly available information. All assumptions based on the strategy behind app store creatives are based on Storemaven's expertise, data, and experience.
What are match-3 games?
So these are different types of games where players manipulate tiles to form a specific pattern. In many of the games, the objective is to bring tiles of the same type together for them to create, well, something, anything. The minimum number for activating the game's desired result is often three.
Match-3 games come in a broad range of design styles, mechanics, and experiences – as you'll see in this analysis. In recent years, this category was really affected by the goal to reach a broader audience, with developers going out of their creative minds to offer a game that's a classical match-3 but offers an experience of a much deeper and story-rich game.

There are different types of games in our selected top 20 (whose icons appear below). There are the more complex like Project Makeover, Lily's Garden, and Homescapes which have a rich narrative and many more goals/progress steps built on the simple match-3 mechanics, requiring more than just matching tiles together. Building houses, gardens, renovating, designing, etc is all possible, some even allow you to choose your own adventure and be the decider on a dramatic narrative that lays ahead. Others offer types of mini-games you can play to progress.
Five things you must know about Custom Product Pages
However, these are still essentially match-3 and casual games, appealing to those who enjoy a game without the need to learn how to play it through investing in long play sessions.
Other well-known games are what we call "pure match-3 games" like Toon Blast, Candy Crush, and Cookie Jam where the mechanics are straight-forward match-3 but depending on the tiles-matching mechanics, a player completes increasingly-tougher levels (all offering different themes) to move forward in the game.
Before jumping into the analysis, something important to mention is that though all 20 games are categorized under the Puzzle category as their first category, there are quite a lot of options when looking at their second category choices. Choosing a category is always a matter of delicate balance: if the second category is low on competition then you have a chance to rank higher, but you do so in a much less popular category. Conversely, If the second category is high on competition, it's very hard to rank high, but if you do, it's a massive payoff.
Right, enough context, let's start analyzing.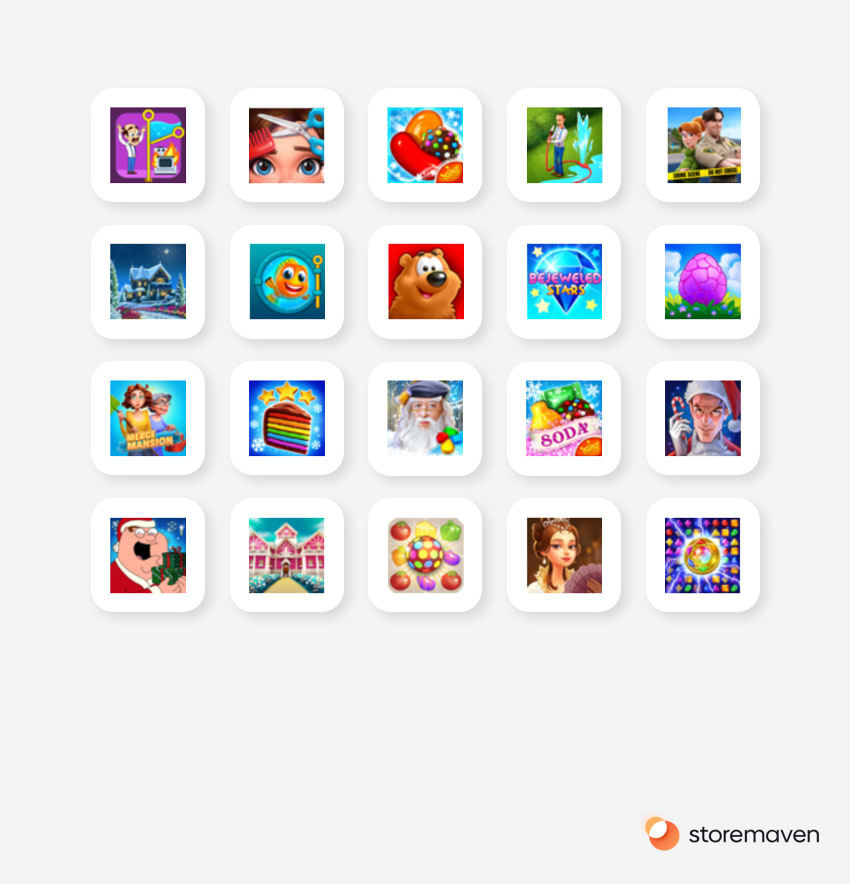 Match-3 Games App Icons: A smorgasbord of ideas
As you can see in the above image of the top 20 match-3 game icons, there are quite a few design strategies floating about. The need to differentiate oneself is important, which is why we see such a wide array of icons:
Game Element Icon– Out of the 20 icons, there are only two icons (Jewels Magic and Matching Madness) showcasing their game boards and therefore highlighting immediately that theirs are match-3 games.

The fact that only a small number of games are using this strategy could indicate that players today maybe aren't looking for a specific match-3 type game, but are more into the narrative or story around it.
This strategy might hint to us that match-3 developers and marketing teams have figured out that to continue to grow in the very crowded category, they must appeal to adjacent audiences who have some affinity to the core match-3 mechanic but are chasing the story/narrative layer as well.
A couple of years ago, Ishai Smadja (then at King, now with Moon Active) posted fascinating research on the topic.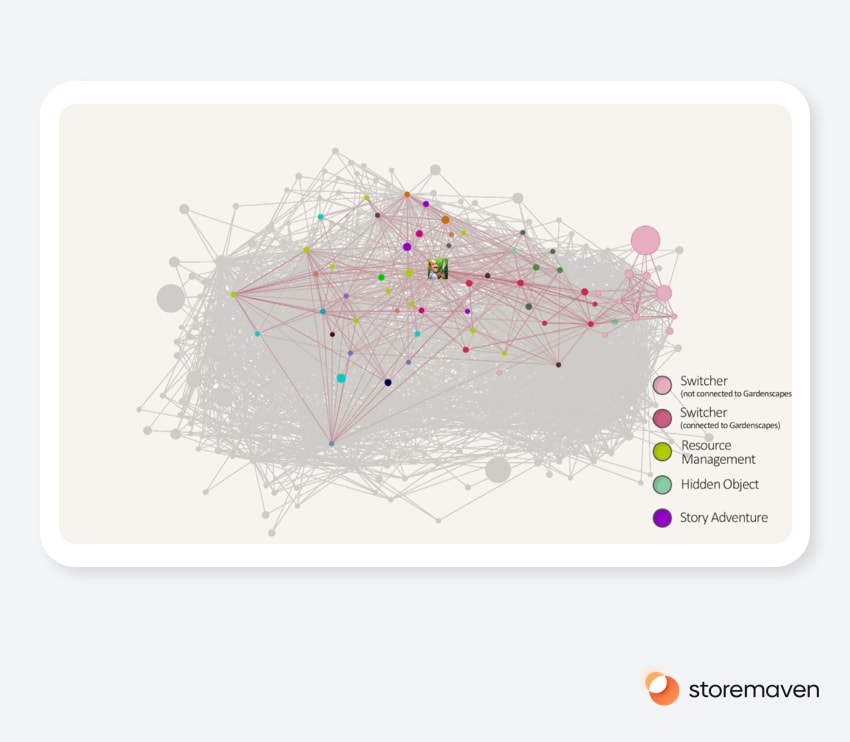 As you can see, he found that Gardenscapes lures Hidden Object, Resource Management, Story Adventure players even though it is still a match-3 game.
As many of the icon designs show elements from other parts of the game, not the tile-matching mechanism, they're accentuating how deep and different the experience they're offering is. This is a non-pure match-3 growth strategy.
Character Icon – If a game is using a known IP (like Family Guy's Peter Griffin), using a character will have the added benefit of appealing to fans familiar with that IP. However, this can create a mismatch of expectations; if a random player sees this icon for the first time they'll fail to see the relevance. Usually, this matter is resolved by the use of a title or subtitle, explaining to the user what type of game it is.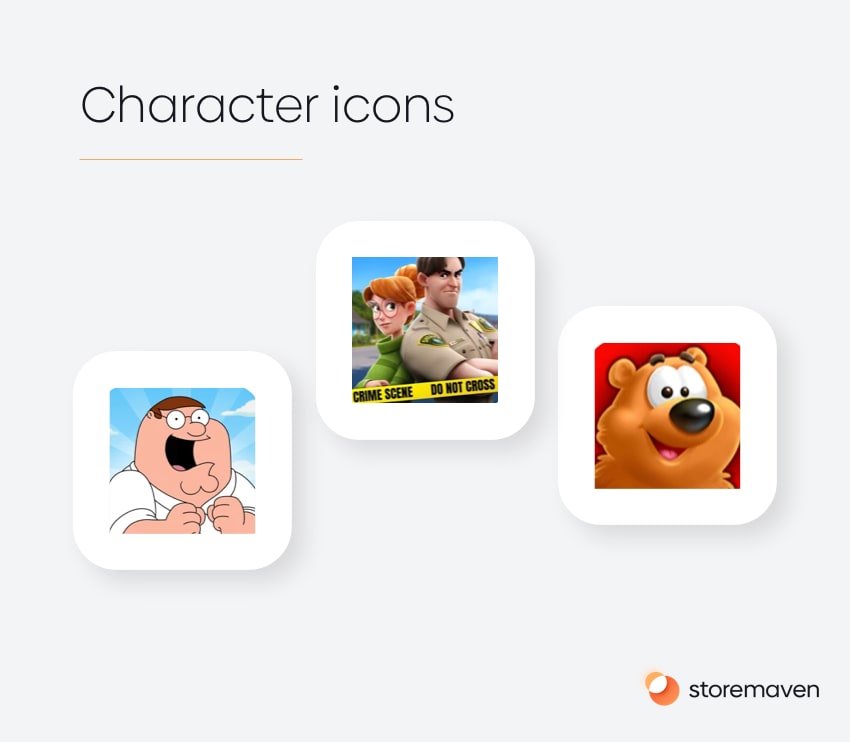 Hybrid Icon


Game Element + Brand – Using a game element within the icon, together with the brand name; for games with known brand names, could create additional appeal. You can see that both Candy Crush franchises (by King) are doing it here.

Game Element + Character – Combining both a character and a game element in the icon could more clearly show to users what type of game it is while still maintaining the power of using a character. Harry Potter Puzzles and Spells hint at being a match-3 game on its icon while showcasing the famous Dumbledore.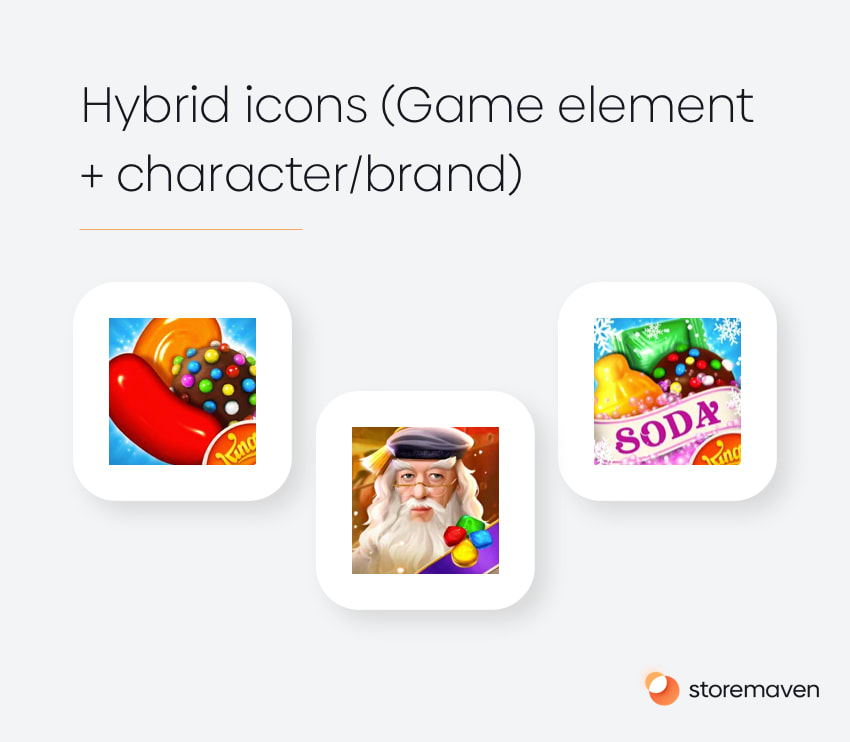 If you're working on ASO for a mobile match-3 game, try experimenting with these styles and measure how users respond to it. What's more powerful for your game, leveraging characters, game elements, or your brand name?
Like other types of games examined here in the past, you need to take into consideration that as the icon is the only element that appears in all user flows, it'll have an impact both on the tap-through-rates from top/category charts, featuring placements, search results, and even on the performance of ads on channels such as Facebook that include the icon in the ad creative.
With the IDFA being deprecated and targeting capabilities becoming much weaker, the icon on the ad can have a significant impact on the type of users you're attracting to your app.
After users are exposed to the full App Store or Google Play store page, the icon can work together with the other elements to tell a cohesive story.
Match-3 games app store videos:
In our previous analyses of finance apps and strategy games, we saw an obvious split between apps and games that had a video and those that didn't. This isn't the case for match-3, a whopping 18 of the 20 games we looked at incorporated a video.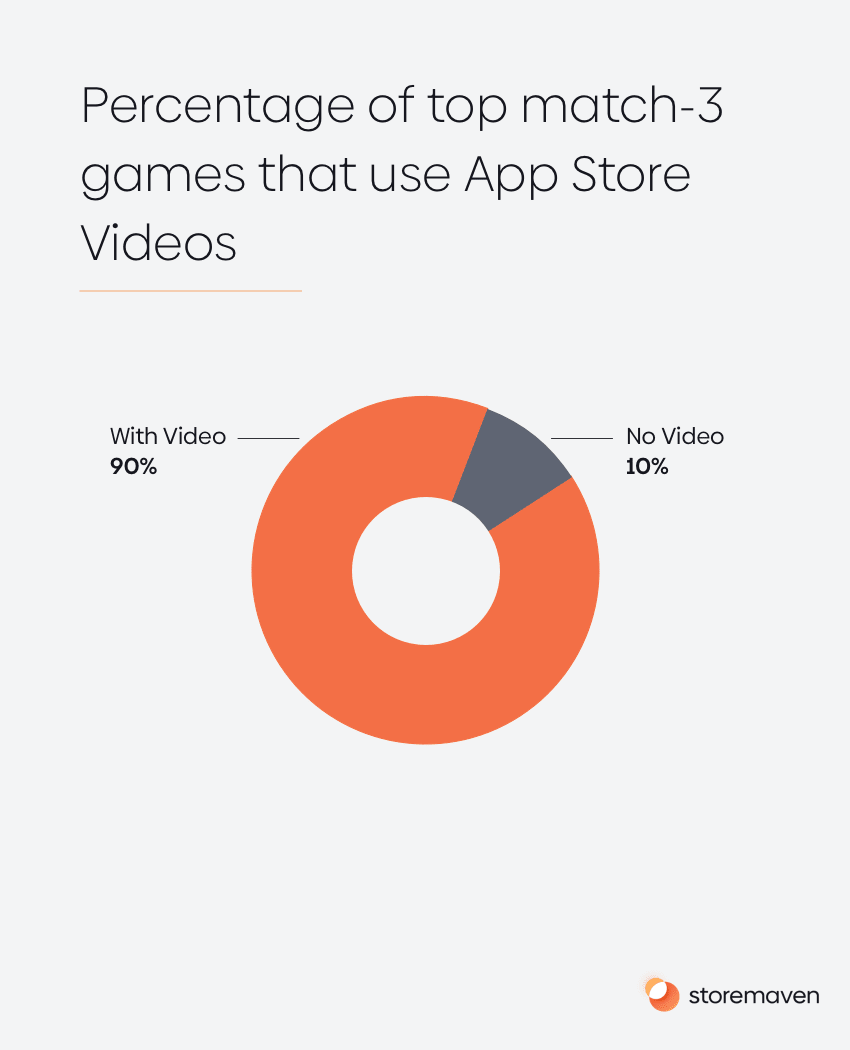 Our data, based on thousands of tests, shows that videos are a great tool for communication and tell the app's story to users. But unless it's done right, they can harm conversion rates. For example if the messaging within the video isn't exciting enough for users, they'll lose interest and drop out yet conversely, too much information can overload users.

According to our data, videos can have an impact of between -20% to +20% on conversion rates, depending on content. So it's a balanced risk/reward ratio, but one that can definitely pay off.
Looking at the video content strategy of the match-3 games that do have one, we see a few common trends:
The unique story setting the tone – Given that the category is extremely competitive, is the match-3 gameplay the most unique thing about the game? Showing the gameplay alone might not be enough to excite potential players. So, the majority of games that do have a video (10 out of 18, or 55%), use the first few seconds to showcase their unique story. Eight of these 10 have the gameplay on the next chapter (a chapter in a video is 2-3 seconds long), with two games not showing gameplay on their videos at all.

The Gameplay rules for pure Match-3 games – Seven of the 18 had a video presenting the gameplay itself. Building on what made them famous and successful (their match-3 mechanics), all seven could be classified as more "pure" match-3 games.
Some common mistakes we identified:

One developer tried to differentiate the game by using the gameplay video before the unique story one. Seeing as the vast majority of users don't even reach the three seconds mark of a video, this is somewhat of a strange decision, considering the unique design of the story which was wasted here.

Another mistake is using the first chapter to portray the brand name, and not jumping into the action. This is wasting precious seconds on just your game logo.

There are more common mini-trends worth mentioning:
Build/Renovate/Decorate/Design – showing the different options and minigames rather than the simple match-3 appeals to players.

Rewards and progression – conveying in the video a sense of progression, breadth of levels, and rewards they can win is also appealing.

Match-3 Games' Screenshots: Don't hold back
App Store Screenshots Messaging Strategies
When we analyzed the messaging strategy of the top match-3 games in the App Store, the trend we saw with the videos continued into the screenshots, including.
Unique Story – This is the most interesting development that happened in this category as we mentioned earlier. Not just showing tiles and game mechanics of a match-3 game, but deep, rich storylines, with adventure and drama, minigames and other options. All the games that had a unique story to offer, showcased the different building options – whether makeup, dress up, renovations, discover & solve… all pointing to the other elements of the game besides the match-3 mechanism.

This really strong trend was partly impacted by game companies starting to use ads that falsely portray the gameplay of their app, sometimes drastically. Users started to demand the development of such games and narratives, and companies applied, thus creating the minigame message. Read more about this phenomenon here.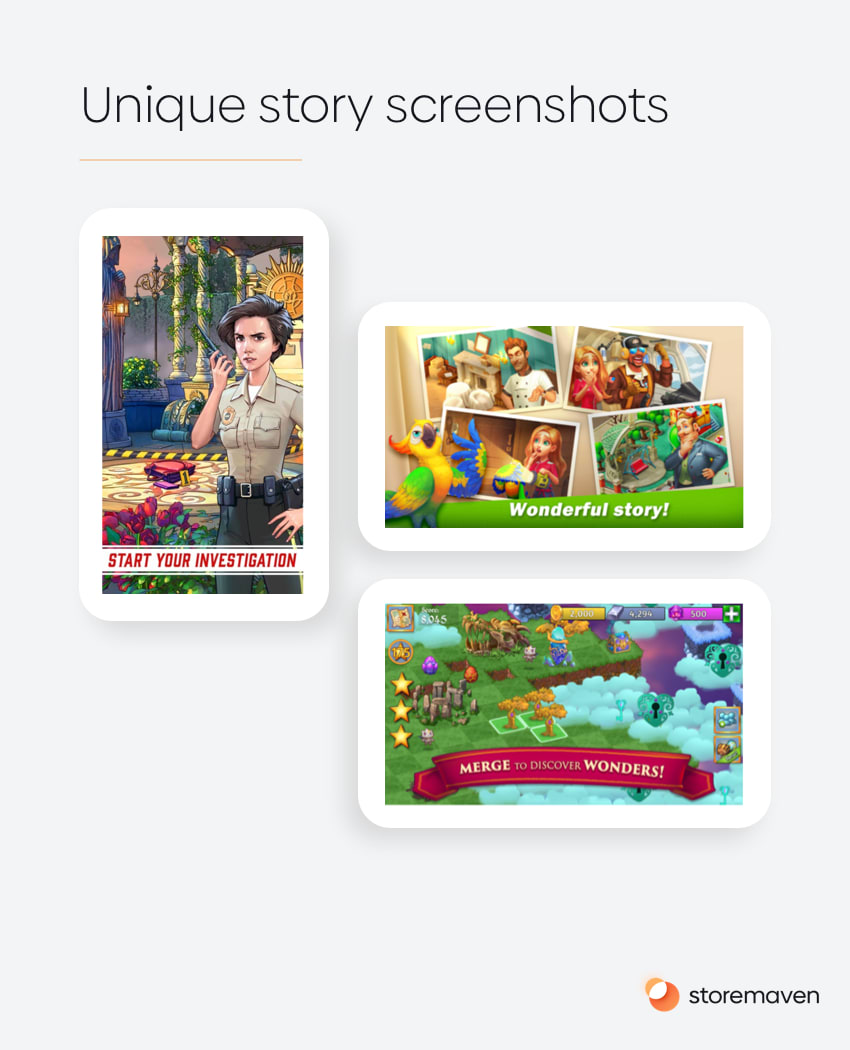 Minigames – We know that many of the games here offer minigames that aren't your typical match-3 mechanics – instead different mechanics to progress and play the game. The most famous is the golden pins maze games, as shown below. Ultimately, these games use the "minigames" messaging to attract different types of players, including those who are attracted to the minigame and not the core mechanic. This trend isn't limited to the match-3 category. "Coin Master" by Moon Active, for example, which is storming the charts now, is also using Village Building, Raiding, and Attacking mechanics on top of a simple slot machine mechanic. Many of the players installing such games might not install if they only see a slot machine / match-3 puzzle. It's a classic example of growth through a resolve for adjacent users – those that can enjoy what's on offer but something else they desire is added to get them to try.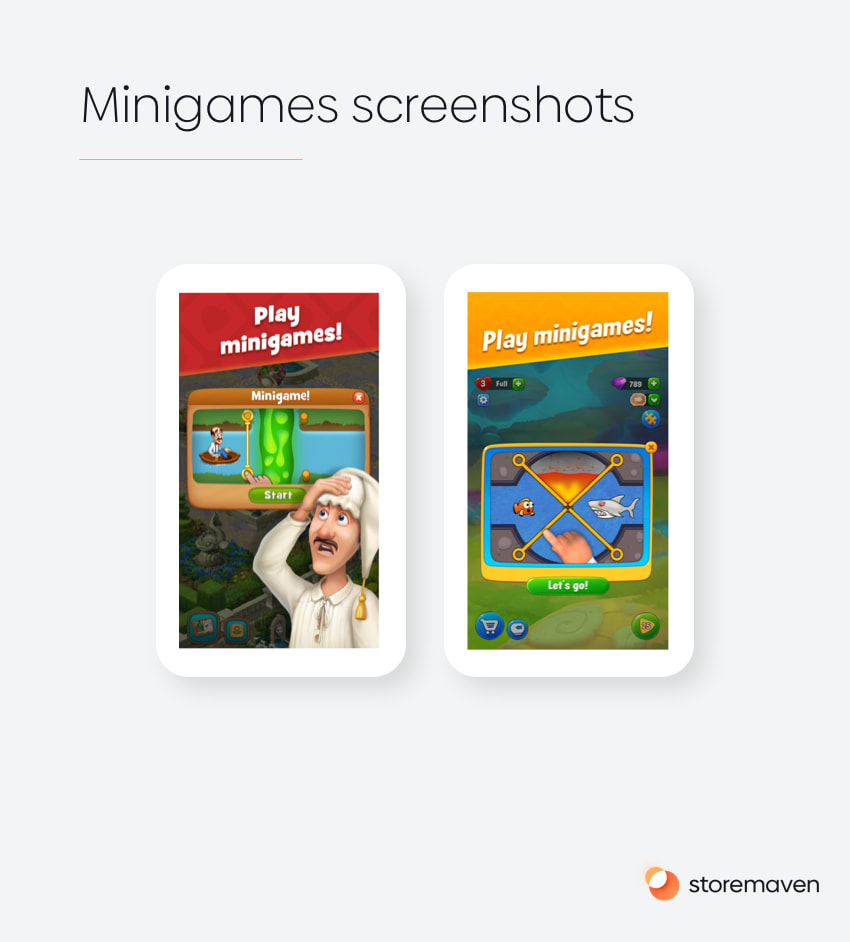 Build/Progression – One of the most common messaging strategies (used by about 60% of games) revolves around progression, conveying to potential players that there's progression over time and plenty of options to grow as a player. Although a match-3 game is more casual in nature, this can still be a powerful message to attract audiences who're looking for games that provide enough hours of entertainment.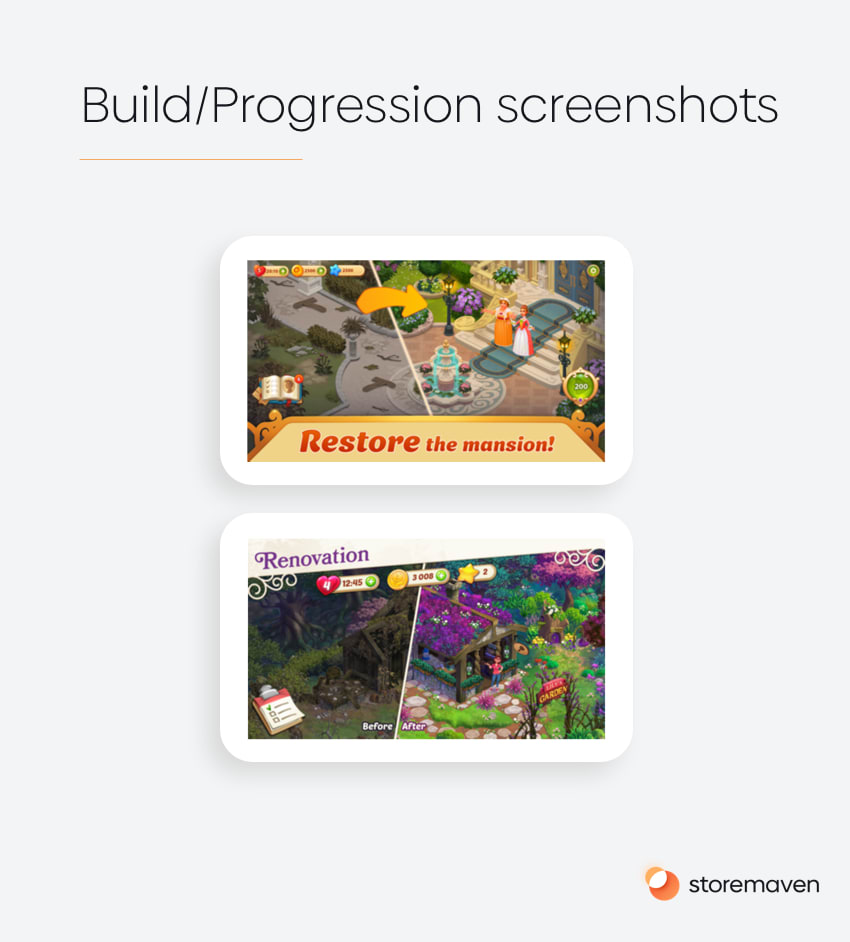 Brand – Some games count on their strong brand to lead the way, emphasising their name and putting it front & centre. In cases where an IP is involved, like with Harry Potter or Family Guy, then this triumphs all other options.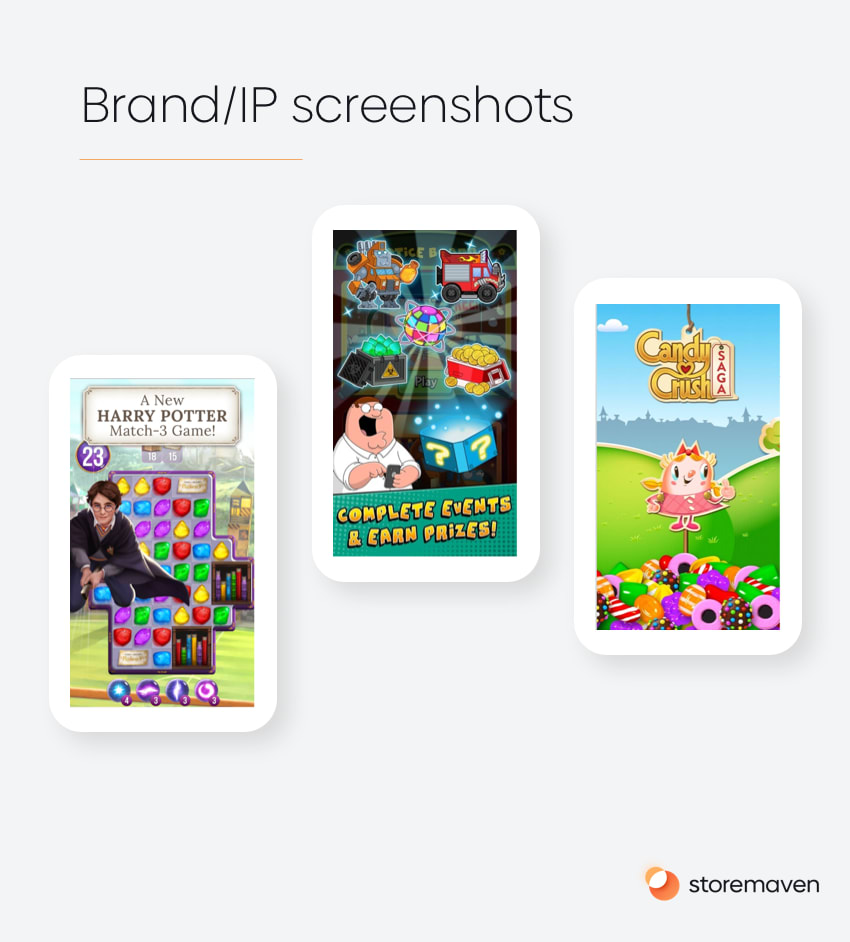 Character – Finally, for games that have strong character-oriented gameplay, we see the usage of characters in the screenshot gallery. As always this will work best if the game actually has strong IP to use, or well-known characters they've developed themselves.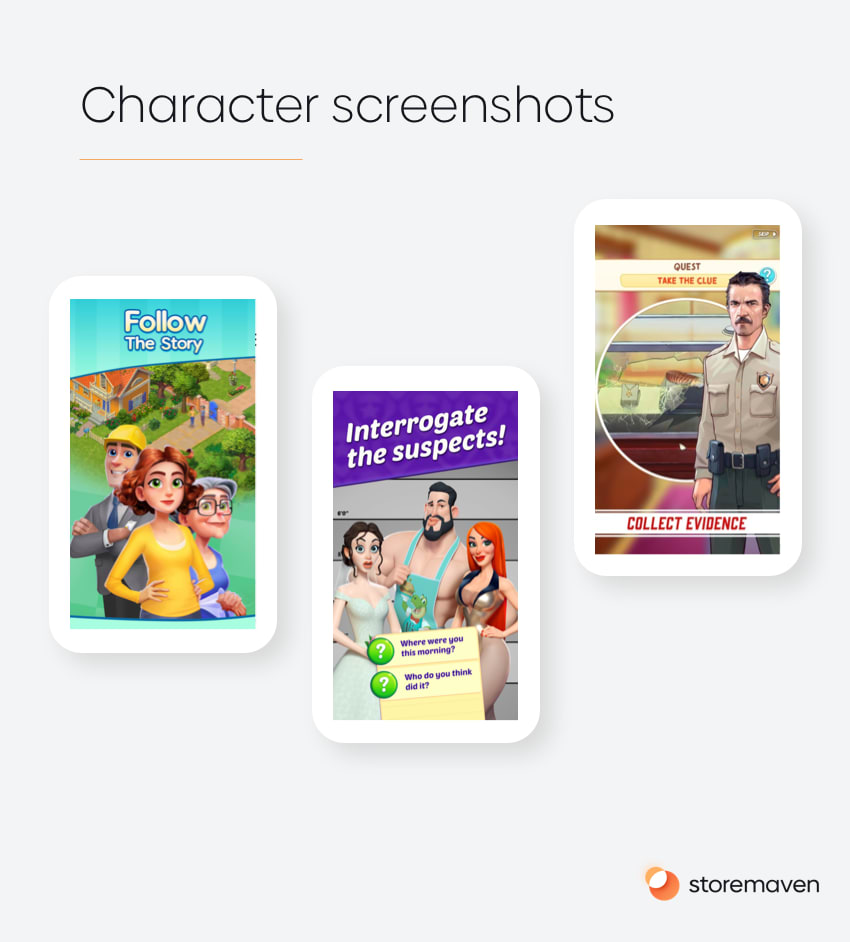 App Store Screenshot design styles
After analyzing the screenshots from a design perspective, we see that although there are several common messaging strategies, there are even more ways of conveying these messages in a visual way. Be aware that design style itself can help, or hurt, the deliverability of the marketing message.
Right off the bat, we see that a high 75% of games (15 of the 20) are using a portrait-type gallery. One game – Small Town Murders: Match-3 – have both portrait and landscape type screenshots, for no apparent reason.
Considering the fact that the view rate drops by more than 500% from the first screenshot to the second (!), and that less than 6% of users who stop and watch the gallery even reach the fifth screenshot (see this graph below), developers need to really think about what they are putting in these first few screenshots.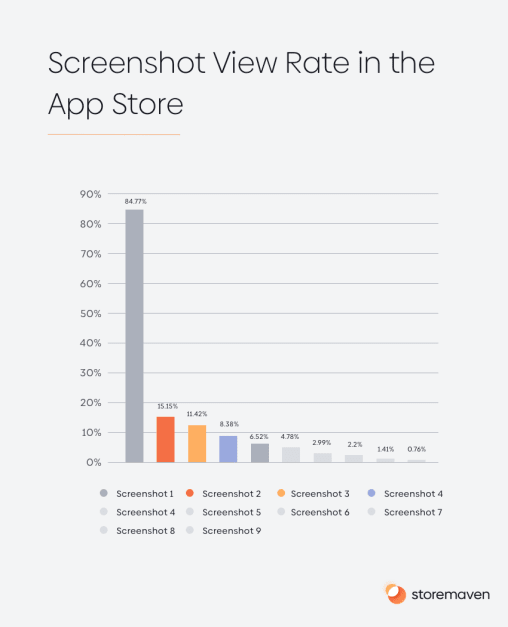 Art – (used by 10% of top games) – Using art to convey a game's theme is an exceptional choice in many categories, but you can clearly see that it's a route few took. The likely reason is the need to use both narrative and gameplay themes which didn't leave space for other alternatives.

Gameplay with captions (used by 50% of top games) – The majority of match-3 took quite a simple design strategy that focuses on the gameplay itself, with supporting captions to deliver an additional message.
Gameplay + captions hybrid, including a character (used by 40% of top games) – This style is the combination of both "gameplay with captions" and the "art" style which includes a game character on the forefront of the screenshot, on top of the gameplay screenshot.
Conclusion: ASO Strategy for match-3 games
Yes, in researching for this report we got to play these addictive match-3 games and smashed some personal top scores, but it was ultimately an exercise to improve our games' App Store conversion rate. Your immediate takeaways from this analysis are as follows:
Experiment with an app icon style that conveys the "meta" layer of your game, and can drive audiences to explore the product page further

Test what drives most of your users to explore your app store page. Measure and understand the potential an icon with a character, game element, or your brand has, on the percent of users who install your app. Just think, the icon can encourage users to explore your page further, so measure different icons' abilities to influence the mix of decisive users and explorative users.

According to our data based on app store tests run by top developers, an icon has a conversion rate lift potential of 11%-18%.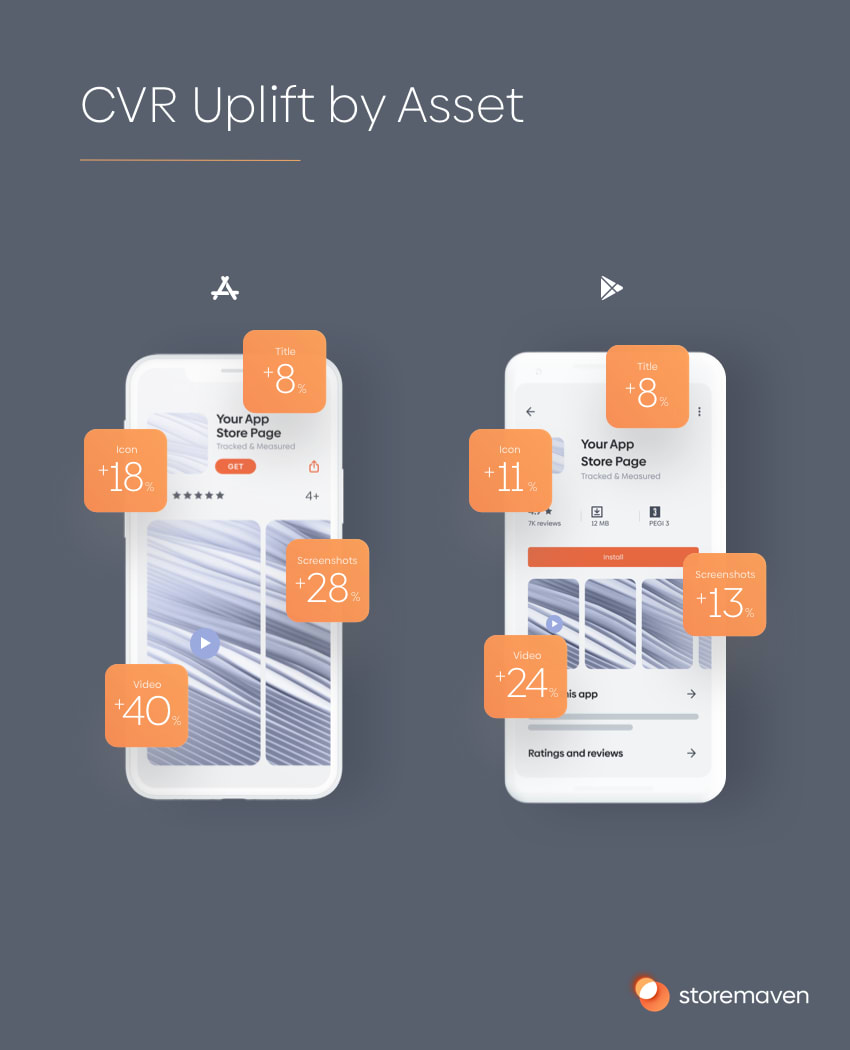 Experiment with the order of your video "chapters", and try to see how they respond to the meta-story layer when you start the video with it

Working on growing a match-3 game? Put some time (and money) aside to create the best video you can. The reality is that a video can improve conversion rates massively, but only if done right, and based on the audience, the GEO, and more to consider.

Learn how your audience is responding to a video by testing a variation of your app store page that includes a video vs. a variation that doesn't. Then continue to optimize the content of the video to maximize its effectiveness. Check our ultimate guide on app store videos here.
Experiment with screenshot messaging

Perhaps one of the more effective areas to drive conversion rate improvements is the screenshot gallery, especially the first 1-2 screenshots as they are visible by 100% of the users landing on your page before they decide to drop or to explore the page further.

By analyzing the competition, test how your audience responds to different messaging. Are they more likely to explore your page and install if you start your story with a message around the building mechanic, progress, the rich story, or even minigames?

Understand which of these messages drive more users to install and explore the page when it's used in the first impression (1st or 2nd screenshot) where 100% of users are exposed to it.
How do you test your app store page?

If you want to start testing your app store page and glean insights into what works best for your mobile strategy game, book a demo with Storemaven.

We'll be happy to guide you through building a strong testing roadmap aimed at increasing your conversion and install growth rates.