IThis week's briefing is packed with items that'll help you improve your mobile growth craft and stay on top of what's happening in the industry. So without further ado, let's dive in.
Sarah Main on being user-centric
Check out the latest installment of our Mobile Growth & Pancakes podcast. This time Sarah Main, the Director of Product at WeatherBug, sat down with Esther Shatz, VP of Consultancy & Product Marketing at Storemaven to talk about WeatherBug's unique feedback system, the significance of partnerships in the industry and more.

The main takeaways are:
WeatherBug's development process is extremely data-driven (samesies!). They use a feedback-based system to help their developers understand how their app is being used; this data is then fed back into the product development process.
WeatherBug's core KPI is the "retention time of an average user".
Sarah uses partnerships to fuel growth. For example, WeatherBug's partnership with Arity, a mobility analytics company, allowed them to provide users an in-depth analysis of how their commute would be impacted by a change in weather.
Excellent communication is the key to a strong partnership. An honest and synchronized collaboration could save the relationship from potential issues. Maintaining an aligned schedule and running all updates past your partners can reduce friction and increase the likelihood that that partnership will thrive.
If Sarah had the chance to go back and do things differently, she would do more user based A/B testing.
And finally… Sarah believes that an aptitude for learning is essential to thriving as a mobile growth professional; she advises growth marketers must always learn.
Check out all the episodes of Mobile Growth & Pancakes here.

Or listen on:
Apple Podcasts
Spotify
Google Podcasts
Creatives as a qualifier
With iOS 14's upcoming demise of the IDFA, one of the most significant implications is losing the ability to run highly targeted mobile ads.
With the inevitable change of campaigns becoming more broad in their targeting, the responsibility for qualifying users coming into your app through paid channels will change from the ad network ensuring the ads are mostly served to high-quality LAL audiences, to you, the mobile marketer.
As ad networks such as Facebook will optimize their campaigns mostly towards installs (or extremely limited in-app events data), it's your role to ensure that the ad creatives and the app store creatives mostly attract your most valuable audience. 
Read this note detailing what effect the upcoming changes will have and why you should (very quickly) start gathering as many learnings as possible about which creatives draw in the most valuable users.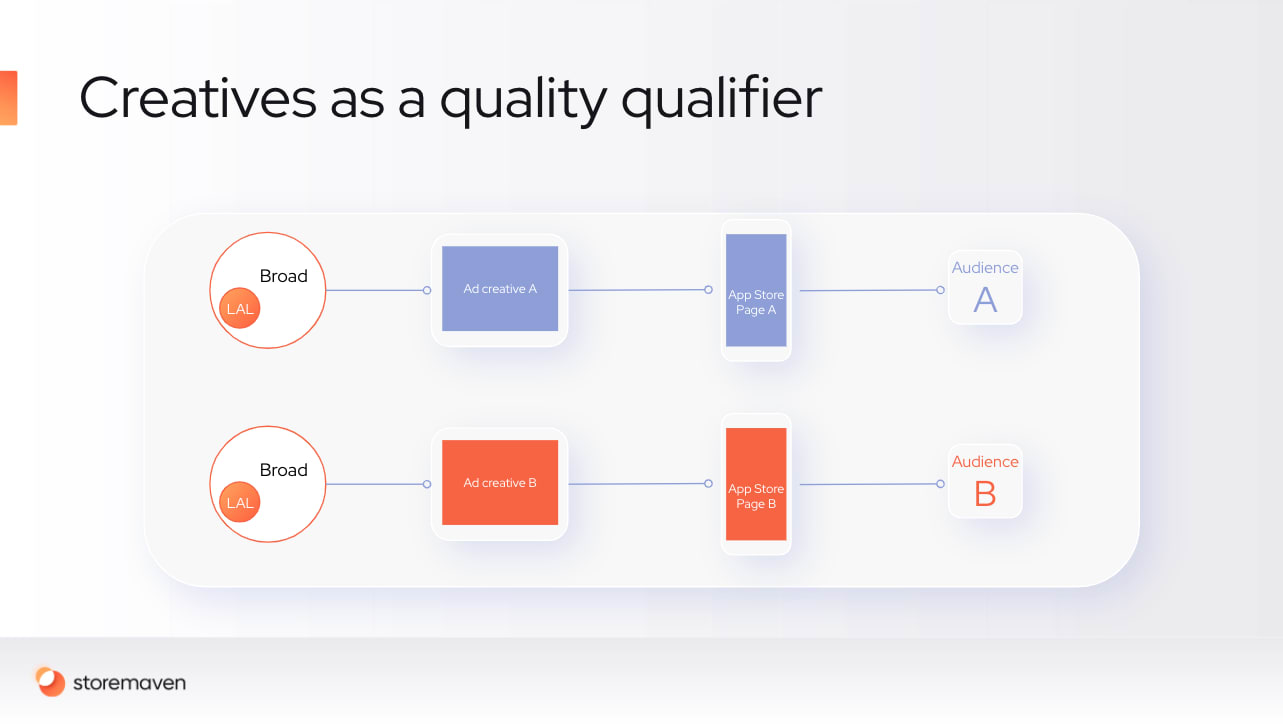 Get the ultimate ASO conversion rate optimization eBook
Everything you need to know about icons, screenshots, videos, app reviews & ratings, localization, and seasonality.
Clips clap
I stumbled upon a really cool proof of concept for App Clips. For those who missed the news on App Clips, these are short snippets of applications that are usable/playable for users without installing the full app.
App Clips were mostly promoted as a non-game tool to showcase apps in contextual places, where their value can be experienced to the fullest (like allowing users to order coffee when they enter a coffee shop, through the app, without installing it).
Yet Firi Games used App Clips to create a playable demo of their game, accessible from their mobile website. If you have an iOS 14 device, use safari and check it out, it's pretty impressive. After allowing the user to play a level or two on the App Clip, the demo prompts the user to install the full app without visiting the full product page. Read more about it here.
App Clips have limitations though, they're only accessible through specific invocation methods. What Firi Games is using is the web browser invocation that only works on Safari. That being said, App Clips can open up a new channel for getting users to experience a game demo and then lead them to install, by driving users to a mobile web page instead of the app store product page.
How's your quarter doing?
Sensor Tower has published its quarterly analysis of the mobile app market. As the world keeps on dealing with the COVID-19 pandemic, the growth of the mobile app market seems uninterrupted as people continue to flock to mobile games and entertainment amidst stay-at-home directives. Both platforms saw an increase of 31%-34% in revenues from last year.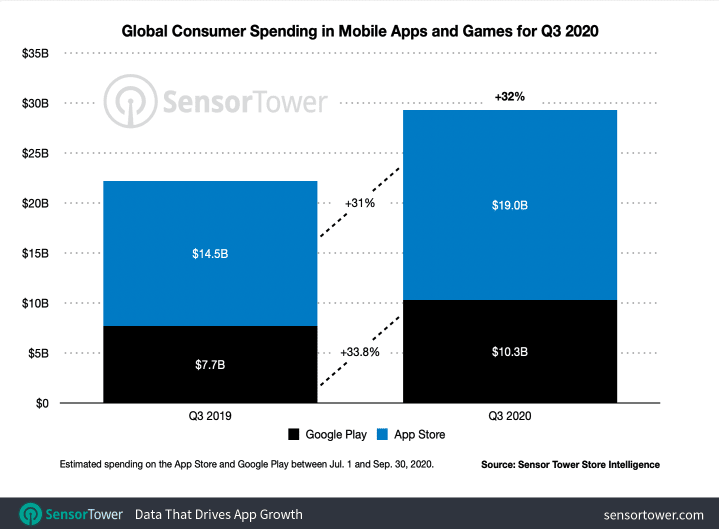 As for first-time installs of apps and games, the worldwide figure grew by 23.3% from last year's Q3 to 36.5 billion. Growth has been driven mostly by Google Play with a 31% increase as opposed to much more modest growth in the App Store at 2.5%.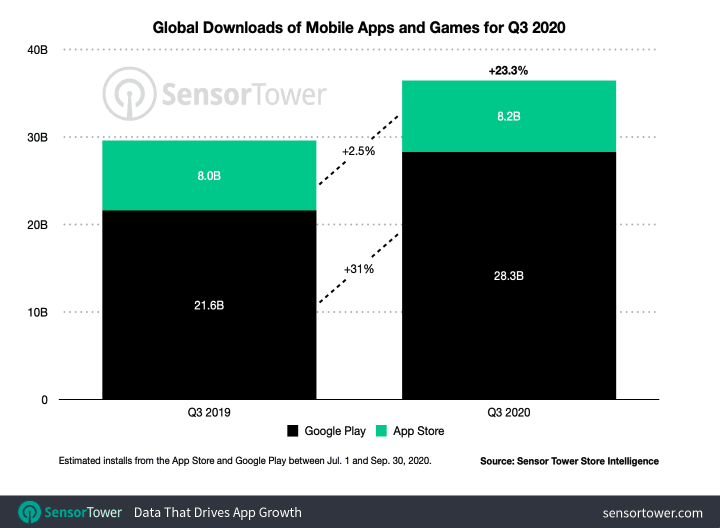 This means that the apps on the App Store are still becoming better at monetizing users, where the App Store sees nearly double the number of revenues than Google Play.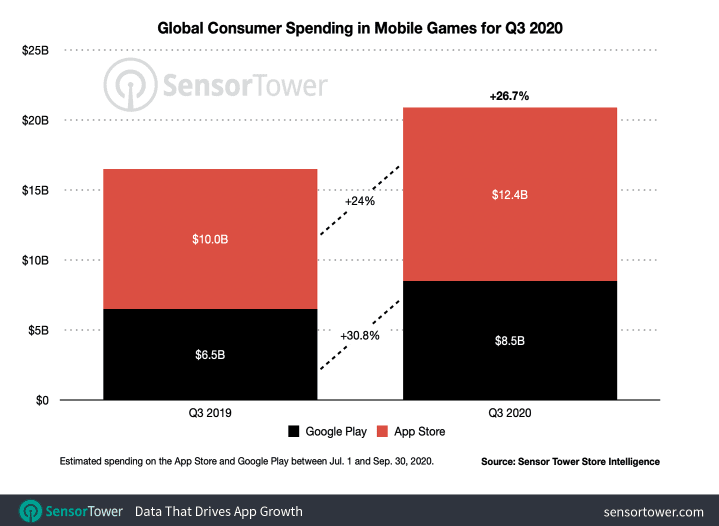 The more fascinating figure comes from looking at mobile games first-time install figures.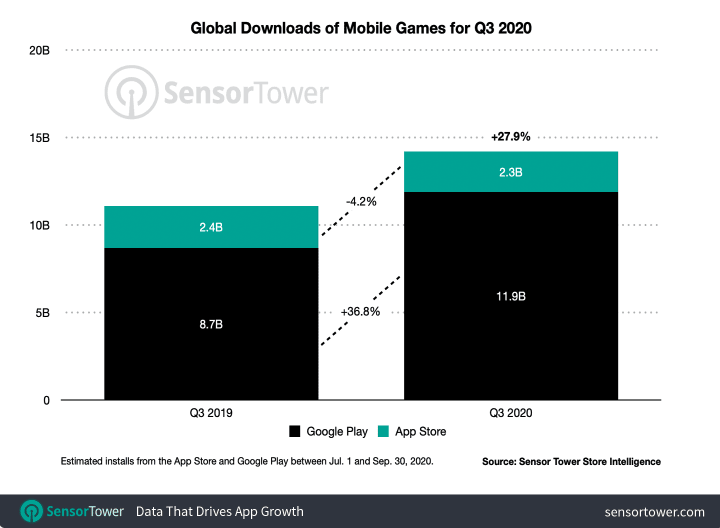 The 27.9% growth in mobile game first-time installers is coming solely from the Google Play side. First time installs of mobile games on the App Store actually declined by 4.2% which might've been driven by the increased discoverability of mobile games in Q2, when the pandemic erupted.
This means that while game revenues on the App Stores are growing, the market is becoming more competitive as the overall install pie is not growing as fast. This means that mobile growth and ASO are bringing a competitive edge, becoming more important tools to drive an increase in mobile game revenues. You need to get your unfair share of the market in order to grow.
Increase conversion rate up to 28% with the ultimate screenshots guide
News roundup
Apple Introduces New Marketing Asset Generator mini website that allows you to easily download app store badges, get Apple branded short links and generate Apple QR codes for your app, branded with your icon.
Apple will temporarily drop its App Store fees for businesses that were impacted by COVID and had to pivot to online-only events. This will allow Facebook, ClassPass and others to sell tickets to online events without paying the 30% fee.
13 app publishers, including Epic Games, Deezer, Basecamp, Tile, Spotify and others, have launched the Coalition for App Fairness that is aimed at fighting the platforms to change their current fee structure.