As Hypercasual as can be
One of the key trends rising from the Post-IDFA era is the strong move by many game developers into the hypercasual category. To cut a long story short (let me try, ok?!), even after losing access to most users' IDFAs, hyper casual games are less sensitive to the anticipated decrease in the targeting capabilities and quality of ad networks. Moreover, the acquisition costs of users for hyper casual games are extremely low in comparison to casual, midcore or hardcore games.
So by entering or increasing presence in this space, these developers can develop their own acquisition channel, acquire high-volumes of users, learn about them as they play the games, and then cross-promote their other apps to that large audience.
To be successful with hyper casuals though, you have to nail the ideation process in order to increase the probability that the games in development will be app store hits.
Which segues me nicely into our latest webinar where we were lucky enough to host Boombit's Head of Publishing Costa Carrega for hypercausal, who shared his thoughts and process for hypercasual game ideation and testing. Check the full recording here.
I harp on about it a lot, but that's because testing plays a crucial part in understanding which types of games, gameplay and themes will command a high conversion rate and a low cost per install before the game is even launched. Through extensive testing for the past few years, the Storemaven team has been helping developers to find hit games – learn more about prelaunch testing here.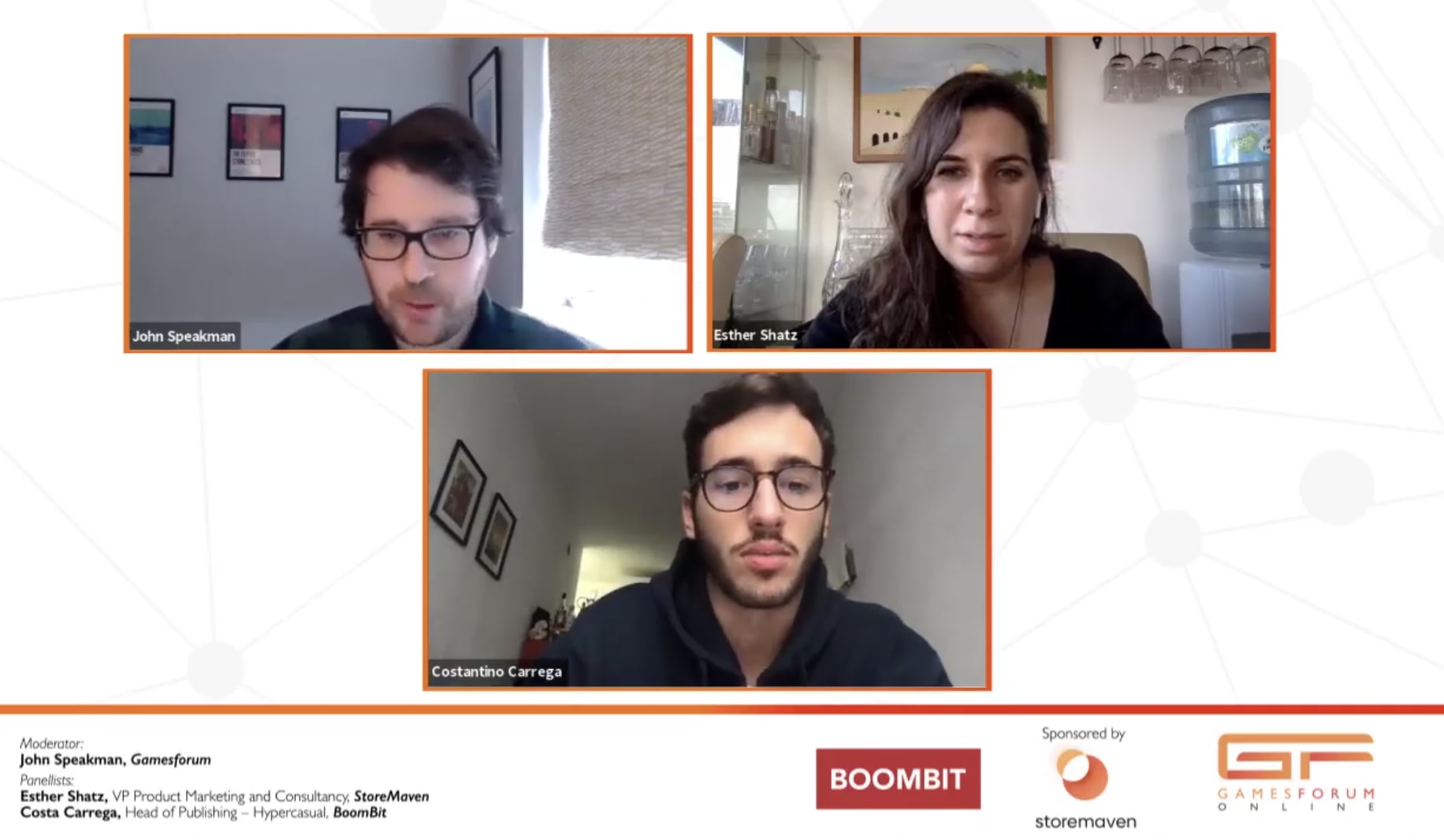 The Hypercasual catwalk
The way that mobile marketers market hypercasual games in the app store is also very distinct and different from casual, midcore, or hardcore game marketing.
To give you a sense of what the current trends are in App Store Optimization for hypercasual games, we analyzed the category (which isn't really a category, but more of that in the piece) to surface the most interesting insights. Like:
Which types of screenshot creatives and messaging work?
Is video a big part of hypercasual ASO?
What are the main strategies being used when designing hypercasual game icons?
And what are the key things to take into account to maximize hypercasual conversion rates for both paid and organic installs?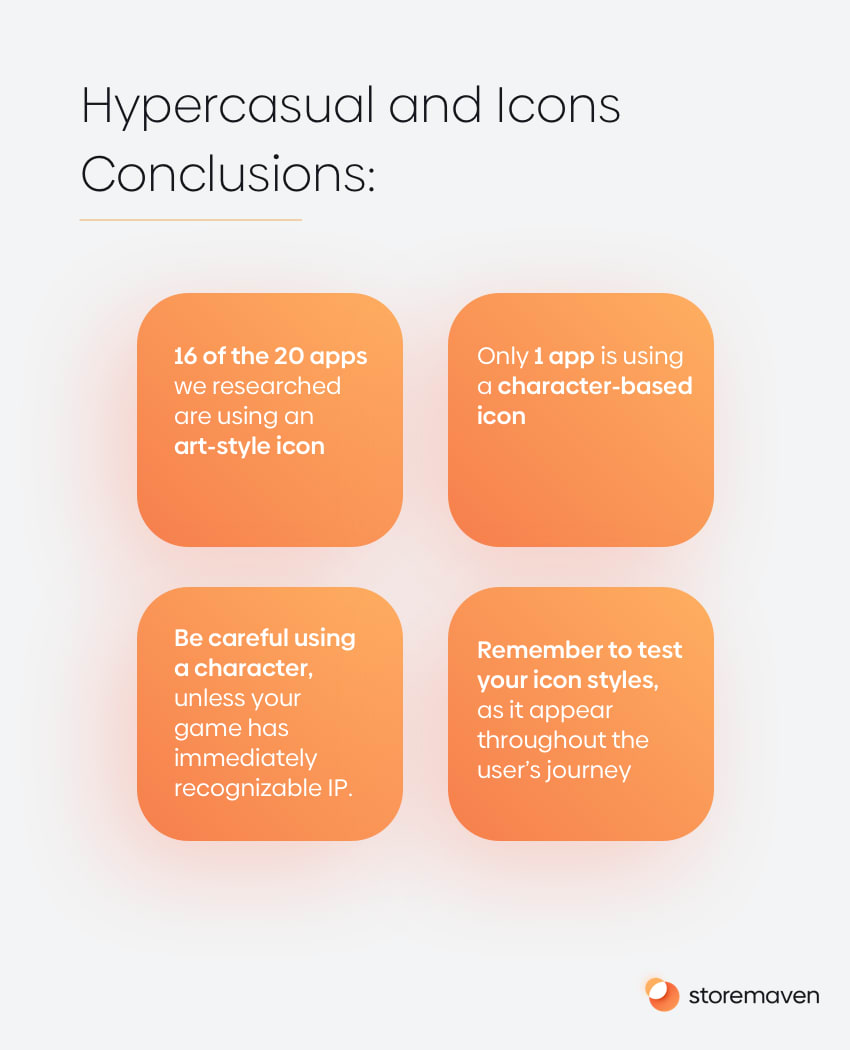 What's going to happen to CPMs post iOS 14.5?
As we head into the post-IDFA era, one of the hypotheses circulating in the industry is that ad networks' CPMs (cost-per-miles) will decrease significantly to reflect the decrease in traffic quality (when hyper-targeting based on in-app events will be all but lost). 
Mobile Dev Memo's analysis on this sheds some light on the possible impact on overall mobile ad spend.
The gist of it is – the loss of hyper-targeting based on in-app events and other behavioral data will potentially degrade the quality of traffic that makes ad impressions for any particular campaign. This will mean that the advertisers bidding high on these impressions will stop doing so because the quality of the resulting traffic won't justify that bid economically. If advertising doesn't carry a positive ROAS, they'll simply cut ad spend by advertising less or lowering their bids.
Therefore the bid that'll win the impression will be lower than what it was pre the IDFA change, and overall ad spend will go down.
To me, this interesting shift may also be dangerous for mobile brands who will lower their spend. There's a delicate dynamic in existence today within the app store ecosystem between paid and organic installs. What drives a significant portion of organic installs, more specifically search installs, are these ads themselves, creating brand capital and awareness. Not only direct response value from users that respond to an ad by tapping on it and installing the app.

In a world where the economics of running these ads is measured only by looking at the direct response ROAS (which will be very difficult to measure anyways), if brands cut ad spend as a result, they might be throwing the baby out with the bath water. More on that in our next newsletter.

Nearby sharing and real money gambling
Google Play now offers another way to share apps with devices close by, called "Nearby sharing". This function allows a user to get a "shared app" directly on their device and easily hit install without visiting the Google Play store first. This might add some more force to social games or apps where users have a high motivation to share with their friends, because now "sharing" or "word of mouth" is smoother between Android users.