SKAdNetwork 2.2 update
Even Jeff Bezos couldn't distract me long enough not to notice some significant Apple news regarding their User Privacy.

Literally hot off the press, I've written it up quickly for you just before scheduling this newsletter.

In the piece, I'm shedding some light on how SKAdNetwork attribution will soon work and the challenges it poses for mobile growth. You can find it here, careful, it's still hot…
Learning through experimentation
One of the issues that haunts anyone whose job it is to optimize digital assets, is how to come up with experimental ideas. In the world of App Store Optimization, this seems to be one of the biggest challenges.
We've all experienced the unfortunate reality of preparing an experiment for weeks -> working on creatives with the design team -> running the test -> then figuring out it wasn't successful. Why? Because we hadn't planned properly. Back to the drawing board. Sigh.
So we picked the brains of the world's most experienced ASO consultants to codify a framework and best practices for how to plan an app store experiment. Following this framework, you'll always be confident that your test has the highest chances of success, no matter how you run your app store page experiments.
In the next few weeks, we're going to publish our "code" for all stages of testing and experimentation (design and creatives, test traffic and management, as well as test analyses and insights).
Read part 1 of our ultimate testing guide: Building Hypotheses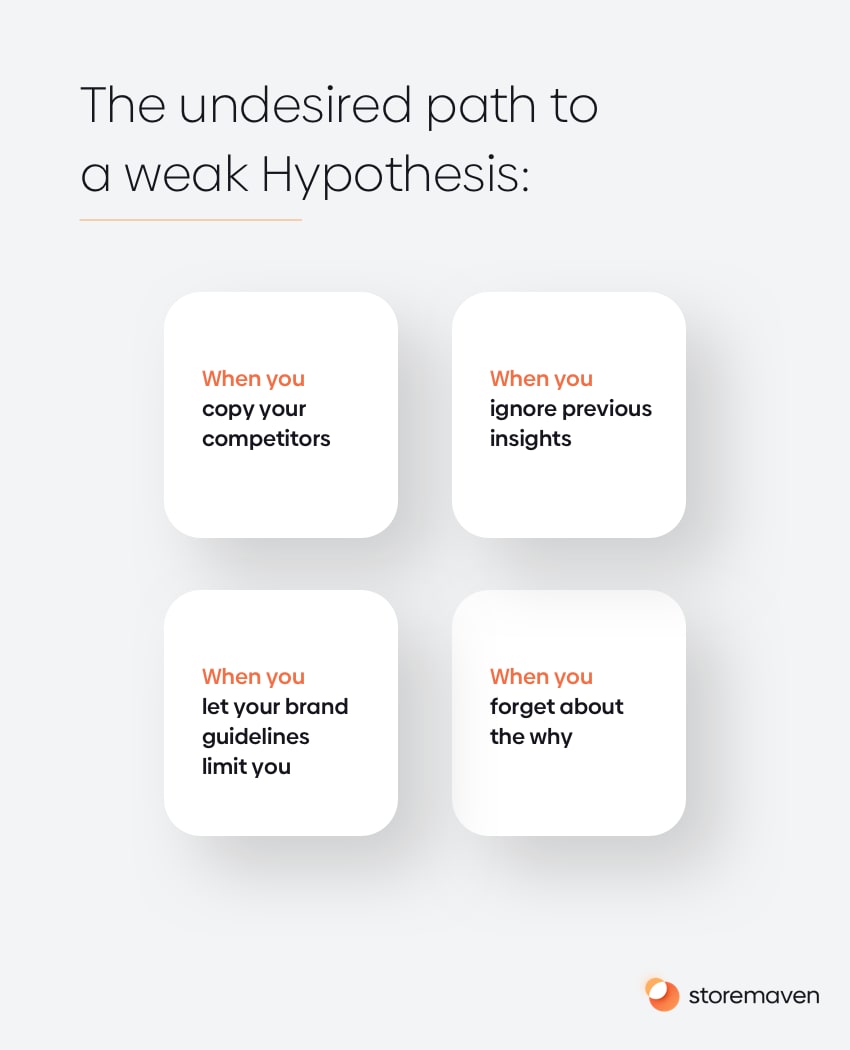 Bonus tip 1:
Another important area of expertise that dictates test results is statistical thinking. In a nutshell: understanding exactly what you need to do to reach a result you can trust in the real app store.
After brainstorming with our ASO consultants, we forced our data scientists into a room to watch Breaking Bad. We then made them detail everything a mobile marketer would need to know about Statistics in order to run great tests and crush KPIs.
Because statistics is well… statistics, we explained the Data Scientists' revelations from the perspective of Walter White and Jessie, as if they were building an ASO empire in your company. But let's not talk about El Camino. Sigh.
Everything you ever wanted to know about testing
Bonus tip 2:
(yep, we've been pretty busy) We invited Head of Growth Marketing at Outplay Entertainment Raphaël Labouré to discuss how he views creative optimization in the app stores with our VP Consultancy Esther Shatz.
They had a great catchup on what makes good creatives, how to measure them and how to run a creative optimization operation. Tons of insights – watch the full webinar by clicking here.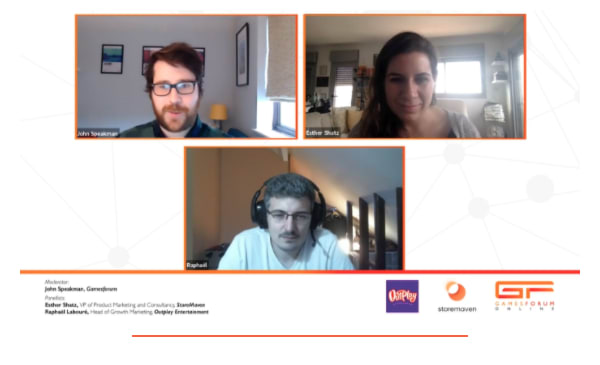 Wallstreetbets effect hits the app stores
Unless you've been living under a rock for the past couple of weeks, you'll have heard about wallstreetbets (not that I have anything against living under rocks; most days I find myself thinking about moving under a warm and cozy one myself).
The spicy subreddit has driven one of the largest and fastest stock price increases we've ever witnessed in stocks such as Gamestop and AMC. I won't get into the financial details, but I thought I'd point you towards how impactful events outside the app store are on growth.
When managing growth for an app, it's crucial to take external events into account for understanding your performance and what drives it. Moreover, by tracking impactful external events you can change your app store marketing to build on top of that and make the most out of the external growth driver.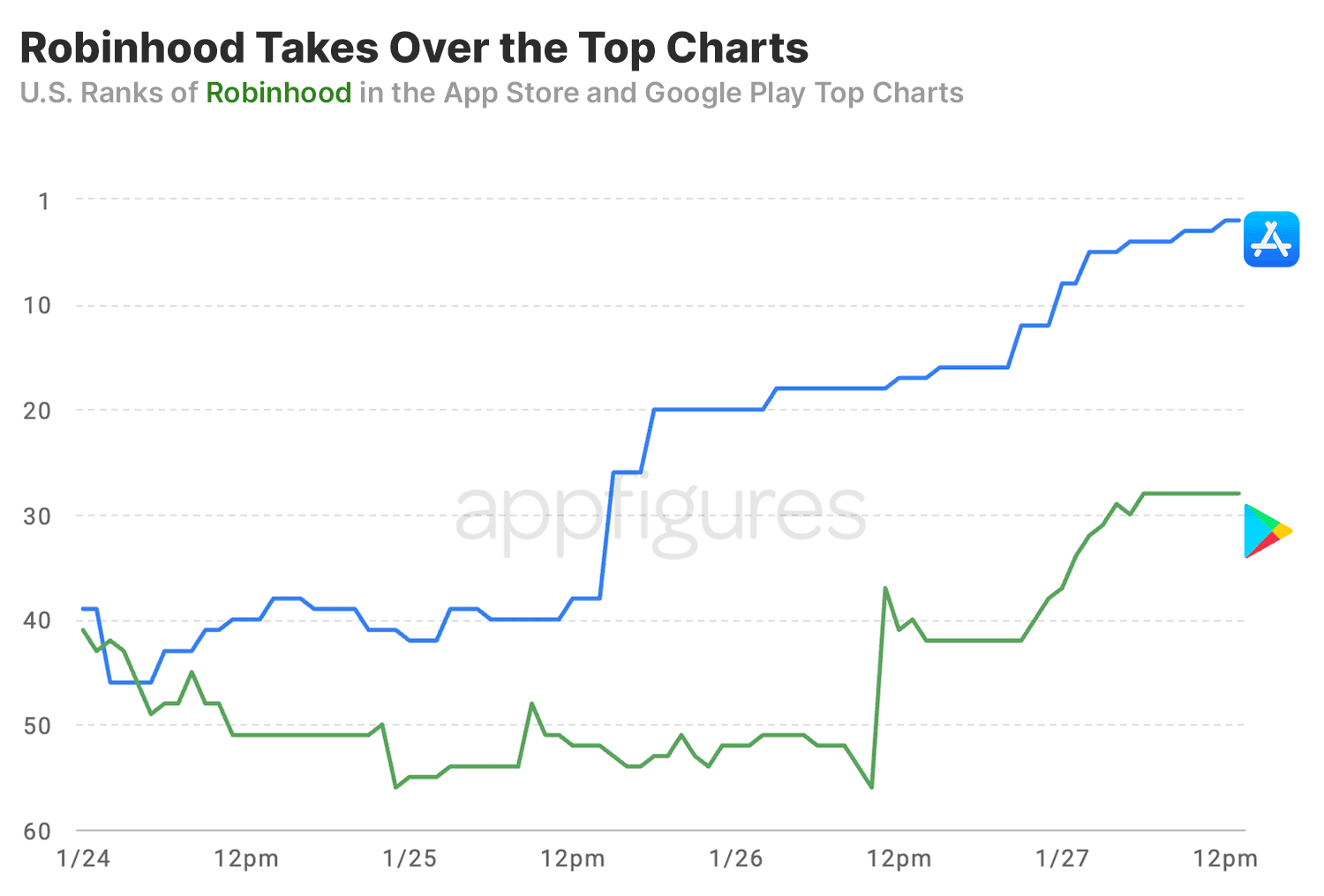 As you can see, Robinhood climbed to the #1 rank in the top charts (together with other trading and finance apps) in a matter of days. When external events do occur, it's crucial to investigate them -> understand the underlying trend -> adjust your message to leverage them. In this case there's a strong movement of retail investors that suddenly found themselves participating in the capital markets for a cause. Finance apps that'll position themselves in line with this movement could command higher conversion rates in the app store and higher growth rates.
Takeaway: never stop monitoring the world for external events that could explain and influence your app's growth.
Read this piece by AppFigures to learn more.
Hint hint, nudge nudge
Recently Apple made two interesting moves in regards to SKAdNetwork.
First, they announced that they'll add view-through attribution by early spring to their SKAdNetwork attribution solution. Then they announced they'll add Private Click Measurement (PCM) to iOS apps through SKAdNetwork.
In a nutshell: PCM would allow app Advertisers (via Apple's attribution solution) to measure the effectiveness of their app by passing through conversion events and possibly other events without compromising user privacy.
According to Eric Seufert, this might hint that Apple's privacy end game is "… to position itself as the clearinghouse of advertising and behavioral data".
Read the full piece and analysis here.
Mobile app industry trends
Sensor Tower prepared a helpful analysis based on their data and portrayed how the recent months have changed general user behavior in mobile, and the app store in particular. Here are some of the highlights:
Younger Users Are Driving Social App Growth – although users aged 30 and above downloaded less social apps in 2020 compared to 2019, installs coming in from younger users about doubled year over year. If you're in social, take note of this massive shift when thinking about messaging for these new audiences.
Mobile Game Publishers Are Flocking to Subscription Models – even before the coronavirus pandemic, in-app subscription revenue was on the rise. As mobile publishers found themselves shifting their strategies to retain and appeal to consumers, subscription models have become even more prevalent. Eight out of the 15 top-grossing mobile games in 2020 offered in-app subscriptions, including the top two grossing games of the year.

Hypercasual Games Continue to Flourish Ahead of IDFA – it's no surprise that hypercasual games boomed as consumers found themselves hunkering down and turning to mobile devices for entertainment. The top 1k titles in the genre collectively grew an incredible 57 percent year-over-year to 10.5 billion installs in 2020. That's even with the risk of IDFA looming over hyper-casual titles that mostly rely on in-app advertising for monetization.