If you haven't already heard that we're hosting our first virtual conference, I have no idea where you've been! Join me (of course) and the team for "That's the Tea on Mobile Growth", in partnership with AppTweak on Wednesday, October 21st.
We'll spend the day discussing industry topics such as best practices, optimization plans, insights and predictions for the future. Hear experts from AppTweak, Wooga, SoundCloud, Jagex, Playtika, Shipt and ourselves rhapsodizing on ASO, UA and everything Mobile Growth. Tickets are free but limited, so get yours now. Just click on the image below.
Get your free ticket here.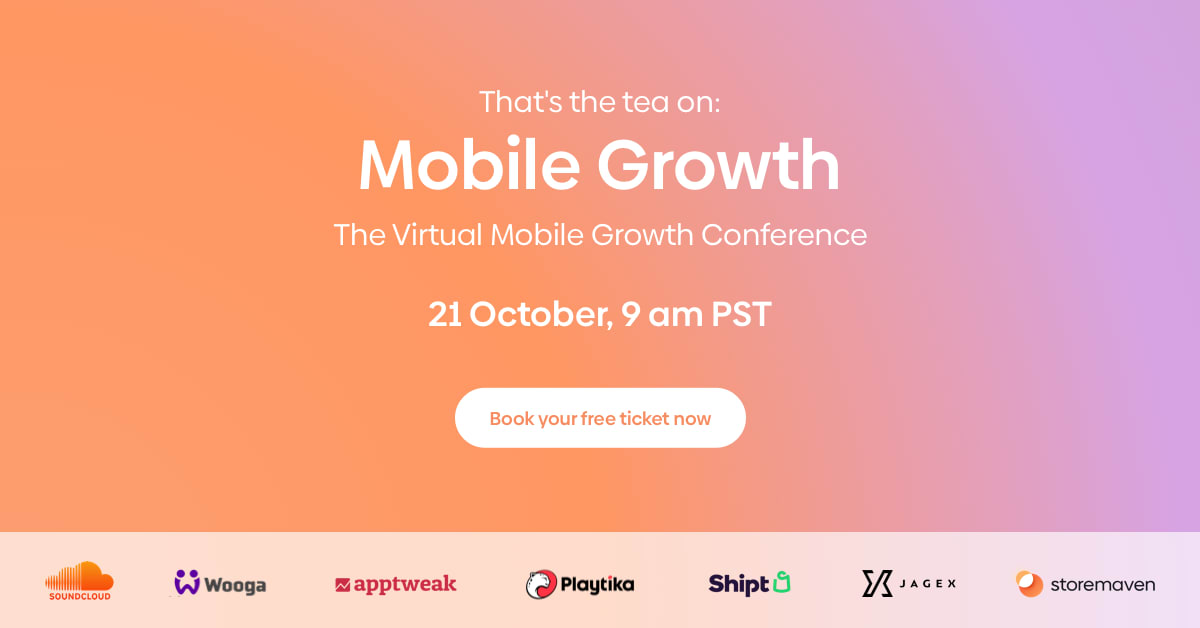 Nadir Garouche on communities and growth
Did you catch the first episode in our podcast series 'Mobile Growth and Pancakes'? Well Esther Shatz, Storemaven's VP Product Marketing and Consultancy, is back with episode two, chatting about how and why mobile apps grow. This time she's joined by her second mobile growth expert, Nadir Garouche, Growth Marketing Manager at French mobile gaming studio Oh BiBi.
Nadir discusses his unique take on how gaming communities help him validate tests, develop new ideas and boost conversion rates.
The main takeaways are:
To drive growth, try enhancing user engagement and dive into communities on social platforms, for qualitative feedback and to source ideas to improve CVR.
There's a 30% to 70% ratio of new ideas being gathered from the community versus being generated by testing, brainstorming and studying competitor's. (Community input should be requested once every 2-4 months).
"Infiltrate" a subReddit for feedback prior to testing in an app, like Nadir did for icons.
Get a general sense of the gaming world, particularly action games. Learn how monetization works, try to understand what the community wants and then leverage digital platforms such as Udemy, Reddit, and YouTube for learning.
Stay up to date with the industry by following hashtags such as #uacritics on Twitter and Linkedin.
And finally… Nadir is at the top of his game after nine years of experience in game marketing. Before Oh BiBi he worked with Tilting Point in Barcelona leading the ASO team, building portfolio games, and working with different clients as part of their growth marketing agency. His previous experience includes managing SEO, UA and ASO for Spil Games and Gameloft.
Check out all the episodes of Mobile Growth & Pancakes here.

Or listen on:
Apple Podcasts
Spotify
Google Podcasts

And it's out of the park
In about three months, 70%-80% of users will upgrade to iOS 14.
According to Mixpanel, almost a third of all users have already adopted the iOS 14 operating system, which means that the impact of the below changes should already be felt in growth data.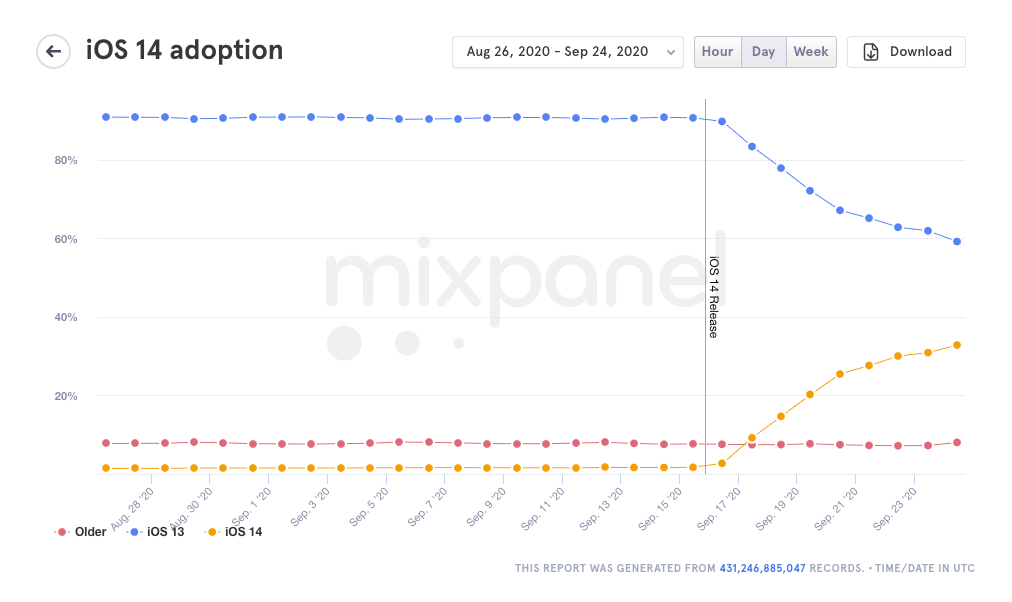 App Store search new features will influence ASO
As we updated back in June, iOS 14 has several implications for App Store Search and ASO. The search functionality has been updated pretty significantly, with:
1. Automated typo detection which prevents apps and games from getting search traffic for their competitors' brand names, a strategy that was used by some ASO teams.
2. Search autocomplete which will complete a users' search query in-line within the search bar.
These two updates have been rolled out in certain countries and it seems that they're not available worldwide just yet, as the App Store is probably managing a phased roll-out of this feature. The App Store search result page now features a scrollable collection of apps and games for certain keywords. Moreover, it seems that Stories (featured listings) are now more prominent in the search result page. Based on early tests, Stories are ranked #1 for many non-brand and brand keywords. For example, for the keyword "pdf" Adobe Acrobat Reader app ranks #1, but is not visible in the above-the-fold area of the search result page as the first spot features a Story about a different pdf app.
Many mobile marketers are already reporting initial findings where they see significant changes (both inclines and declines) to their organic search install volume.
Nail your iOS panoramic screenshot gallery in three easy steps

Take note of the immediate changes (and upcoming changes) to the iOS 14 app store
Soon you'll need to update your product page with privacy information contained in a dedicated section within your product page that we call Privacy cards. This change might impact a small portion of your users that scroll down the page (based on our tests, it's about 15%-30% of users). For privacy-concerned users, the information in those cards might affect conversion rates. The team at Storemaven will continue to monitor and test this feature as it rolls out (later this year) to provide you with the scientific answer around its impact on user behavior and install rates.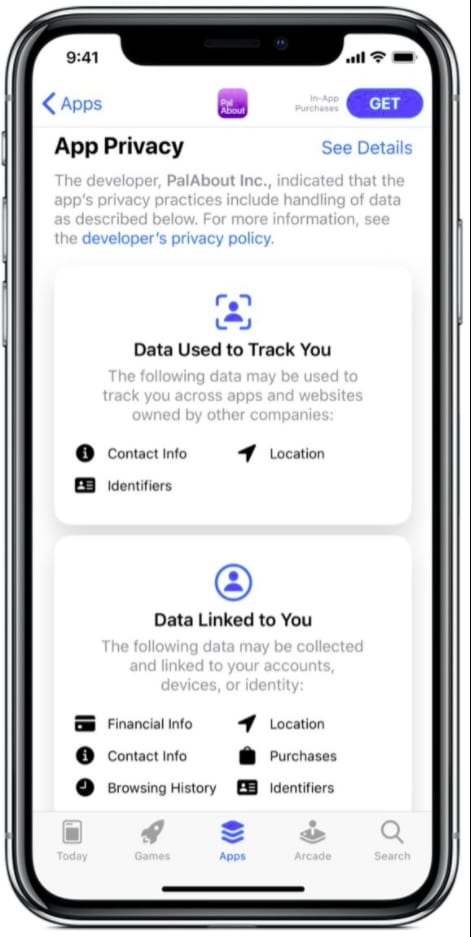 The IDFA grace period is here (with one crucial design flaw)
The entire ecosystem was grateful for Apple's decision to postpone the enforcement of the opt-in tracking consent framework, requiring all apps and games to obtain user consent before they can share the IDFA, as well as other user data, with third parties (ad networks, MMPs, etc.).
With the release of iOS 14, several developers (read this developer note, and this note) reported that although Apple is not enforcing the new framework, they didn't roll back the decision to deprecate the method that checks if a user allowed tracking or not (Limited Ad Tracking ON or OFF). With this method deprecated, this method will return FALSE 100% of the time, preventing any SDK or party to access the IDFA.
These reports seem like a design flaw that went into the first iOS 14 version according to these alert developers. That being said, they still report that several ad networks such as Twitter's MoPub acknowledged the problem. For apps/games that rely on ad networks to generate ad revenues, they are now experiencing a sharp decrease in revenues as these ad networks don't serve a significant volume of ads to these seemingly LAT ON users.
We're monitoring the situation closely and will update on any developments as Apple is expected to help the different parties to access the IDFA until they enforce the opt-in consent requirement.
Start generating learnings to optimize your UA post-IDFA
Assuming that the above bug/design flaw will be fixed in the coming weeks, you still have several months to prepare for the IDFA-less future of 2021.
One interesting idea that came up in talks with UA teams is to start trying to make budget optimization decisions based on non user-level data (through SKAdNetwork) and compare them, throughout the next few months, to the decision that you would've made if you had user-level data and more accurate ROAS figures.
Through this experiment, you can start to fine-tune your decision making as you compare the two decision-making methodologies and try to consolidate them as much as possible.

We wrote a short article explaining this experiment, you should definitely check it out.
Let the games begin
Lastly, Apple responded last week to the backlash it got from Microsoft, Stadia, and Facebook Games on its decision to not allow mobile game streaming apps on the app store.
Apple actually stepped back a bit and changed the App Store guidelines so these apps can actually publish to the App Store, but instead of game streaming services, they can only exist as a "catalogue" of games. Each and every game on these services will need to be published separately to the App Store, go through review, and be available to users through App Store Search and have its own App Store product page.
With this change, Apple might have opened up the option for Stadia and Xbox Cloud to list their apps in the App Store but took away much of the intended value and functionality of these services.

This really interesting read from The Verge analyzes the decision and compares it to other "catalogue" apps like YouTube and Netflix that are not required to upload each and every piece of content (videos, movies, shows) for Apple approval.