The IDFA is (almost) dead
We've been spotting the easter eggs for awhile. We've been talking hypotheticals and what-ifs and when but it's finally time to move from theory to practice. And see if it works the way we predict. (Spoiler alert: It won't. It never does. Never 100% at least. But we'll have to wait and see just how it unfolds.)
Huh?
I'm talking about Apple finally announcing that come September and iOS14, IDFA will be a thing of the past. The future is about privacy. Supposedly. The connecting lines piecing together your usage history across user IDs and devices are being severed. Downstream metrics won't be connected to paid user install sources and thus quality downstream will be hard to target for. You won't be able to see which ads bring the users with the most moolah, just which ads bring the most users.
The general idea is that users will have to opt-in to consent to be tracked. We all know what that means: the vast majority of users won't. Depending on how aggressive the UX is and the journey users actually have to take to opt-in, chances are the results you track for those users who did opt in won't accurately represent the rest of your target audience. Opt-in-ers are a very specific type of crowd. They're not like the rest of us. They're a particular breed and a law unto themselves.
But it's not all doom and gloom. They've lovingly developed an alternative in preparation, SKAdNetworks, and this fancy flow chart explains how.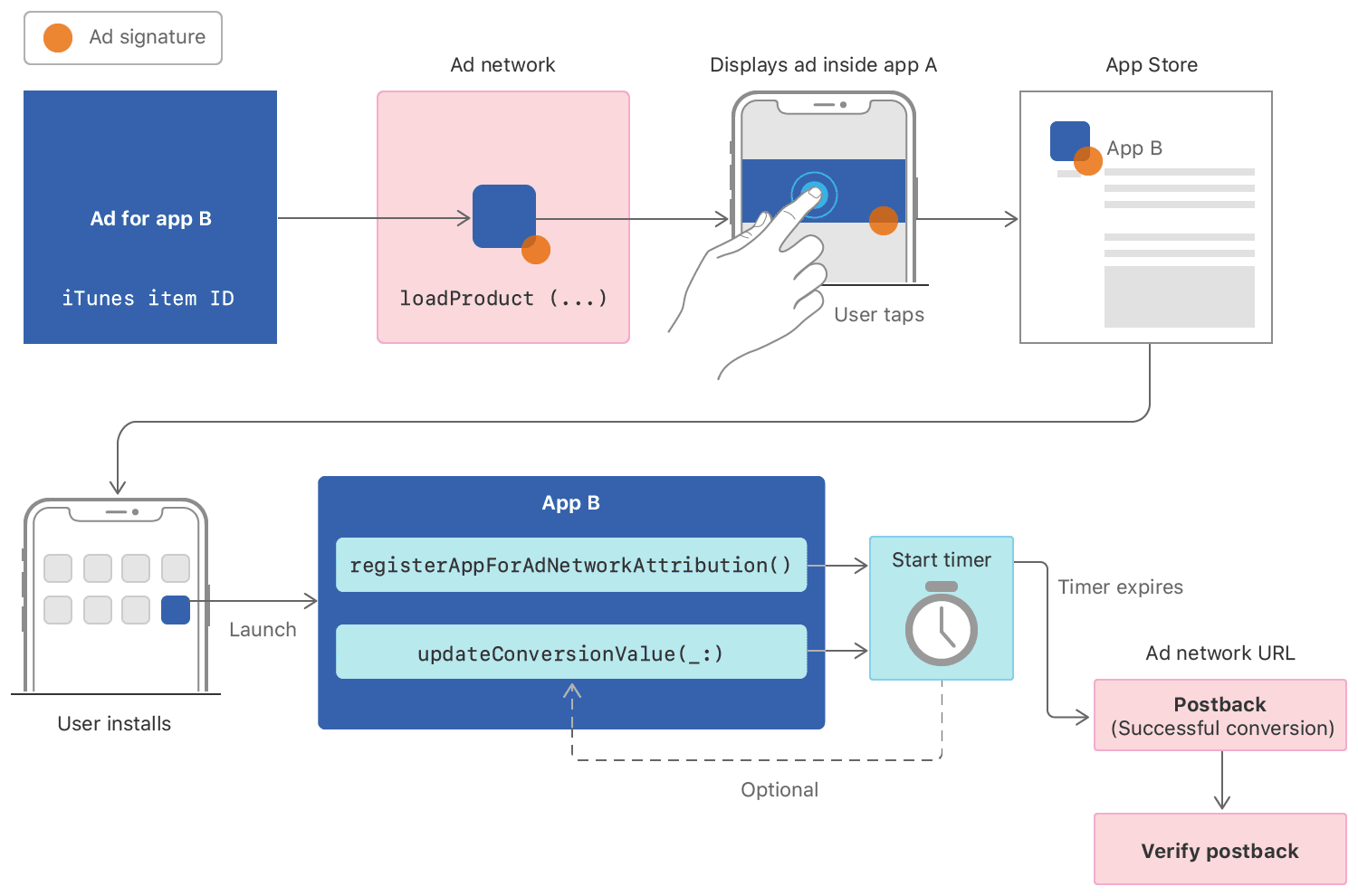 Ad networks that support SKAdNetwork will be able to confirm an install actually occurred through a postback from Apple after said user installed and launched that app. The confirmation will include the campaign they came from, the ad network they came from, and the ID of the app that displayed the ad to the user. Downstream data will be included (albeit very minimal) through the limited ConversionValue field.
So we're not left completely in the dark but what happens after install is now its own baby. And marketing campaigns cannot be validated by pinpointing what attracted the big spenders.
The big players in attribution seem to be receiving the news as a mixed bag. Adjust foresees four possible outcomes, Singular are all for SKAdNetworks, and AppsFlyer is keeping mum for the moment while they think things through. Eric Seufert has been prophesying apocalypse for awhile with MMPs upcoming extinction. Nebosja Radovic, a veteran UA expert from N3work, foresees some major acquisitions happening to make a bigger tent for vendors to access across apps. Jonathan Fishman takes a closer look at what 'the people' are saying.
Apple is cutting off the river that feeds the MMPs' lake. The connection is still there but it's slowly running dry. And the attribution guys are going to have to adapt to the drought.
The impact on ASO: take 14
Besides for IDFA deprecation, there were a few noteworthy announcements us mobile growth folks should be aware of.
1. A new information panel called App Clips
2. Search results will now include a curated collection of suggestions
3. Autocomplete is now a thing in search
4. A new product page inclusion: privacy cards
Most of it boils down to a change in how users are exposed to your app and how they interact with the store itself. In short? User experience. UX design has been buzzy for a while but its true impact will be proven come September and iOS14.
As with all buzz, there's usually some truth to it. UX is vital; not just design (which to be honest Apple takes care of pretty much itself) but writing too. Yes, I'm a biased word person looking out for my own kind but it's not something to sneeze at. Especially in these corona times.
You see the new improvements/updates/features/changes (pick your preferred neutrality) all rely on messaging. Embracing these new changes takes considered thinking about how to best utilize language to entice users into doing what you want. (which, generally, is downloading your full app and spending lots of money there.
The one I find most interesting and the best example of my "words matter" agenda is the introduction of App Clips. It's basically the savior of all of our instantaneous needs for apps. Like. Right. Now. As millennials take flack from the little gen x-ers, instant gratification knows no generational bounds. Neither does data access or cost.
What happens when you need that app right now? When you need it this second to pay for your bus or order a cab or tip the delivery guy or shazaam-ing that song quickly before it finishes? Well, now you can 'mini-download' your required app for immediate use and maybe if you like it enough you can download the whole thing later off someone else's wifi.
It's a handy here-and-now contextual message that is delivered during a user's most high intent moment. And what could be better than that?
It'll be made up of a creative asset, title, subtitle, and a call to action. Developers will also be able to customize the metadata based on location and user journey. Once you've done that, you just need a great value prop and strong CTA and you're good to go. This is when I reinforce the message of words being vital.
Short and sweet and utterly user-centric, good UX copy should not be overlooked. Especially when you only have less than the length of this sentence to play with.
Another wordy change affects search results. Instead of the standard: (Ad,) #1, #2, #3 app rankings list, the not-top-of-the-podium placeholders are relegated below the fold in favor of a curated collection of suggestions aligned to the non-branded topic you searched. The race for the top spot just got hotter. Also, if you were one of those who tried to game the system by ranking for misspellings, those days might be a thing of the past. Autocomplete is seeing to that.
There are a few other announcements that will impact our work but I'll let Matan Naim explain it to you much more succinctly than my newsletter rantings (with an easily scannable and shareable presentation for those non-word people who live amongst us.)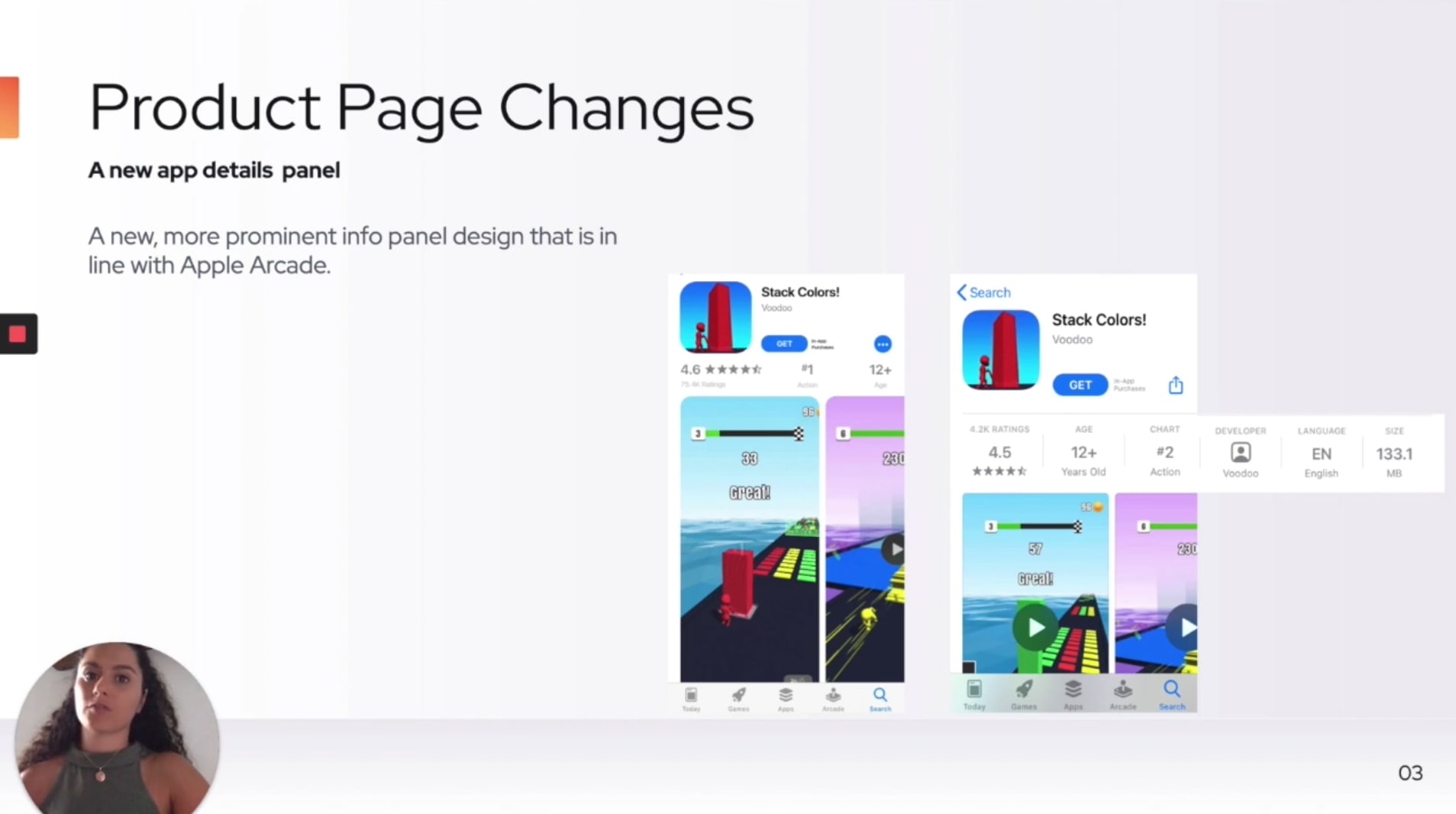 Even with all the much-hyped iOS14 buzz, we'll have to wait and see whether these changes have much effect on CVR. It could go up or down. That is unless you actively react proactively.
The appeal of appeals
It seems Apple is taking some steps in the right direction for all involved. And it's opening up their review system to a (possibly kangaroo?) appeals court. Kinda.
Amongst the other announcements that came out of WWDC2020, an intriguing aside caught our attention: Apple's casual mention of an appeal process allowed for developers.
As low key as they tried to make it, we know it's a two-folded big deal.

1. Developers can now appeal apparent violations to the App Store Review Guidelines.
2. Developers can now appeal the legitimacy of that specific guideline itself.
TL;DR?
Apple is making wiggle room in their guidelines.
What does this mean?
A change is gonna come.
We've been tracking the 30% wars for some time now but now a new big player has entered the fray, Hey. When they refused to share subscription revenue with Apple, they promptly got booted from the platform. Apple is still standing firm. For now.
Never miss an update in the Mobile Growth industry with Storemaven's newsletter
Join 10,000 mobile marketers that stay on top of their craft
The changes announced above seem to indicate a slow erosion of Apple's willingness (or more accurately, antitrust arm-twisting) to deviate from its business model. There are now methods in place to appeal and potentially change guidelines. And who knows maybe those guidelines include monetization and app store fees.
As always, time will tell.