In the past few months, there has been a fascinating case in the app stores. For context, we have an article here explaining that throughout 2019 there was increased usage of mobile ad creatives showcasing certain puzzle-solving gameplay that received a tremendous amount of traction.

The gameplay featured within the ads didn't completely match the gameplay in the underlying games (yes, really), and we covered potential reasons for why developers are using this strategy in the article mentioned above.
Since then, Lion Studios (AppLovin game studio) has developed a mobile game called Save The Girl that is fully based on the gameplay that was featured in these ads. But how successful was it?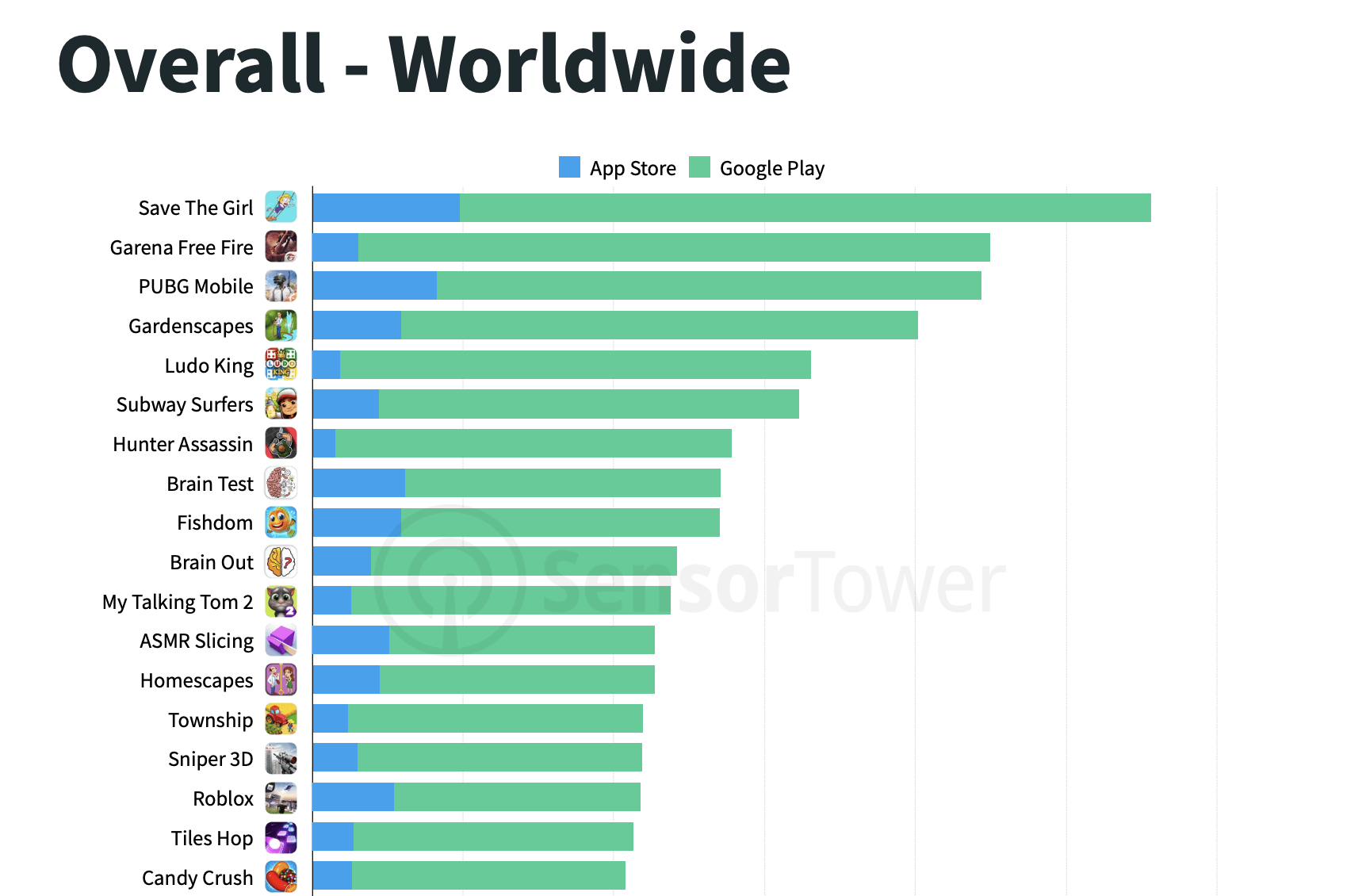 Read the full Q2 Report by Sensor Tower here (it's gated)
Giving credit where credit's due, Save The Girl was the most downloaded game worldwide in Q2-2020, getting more than 100M installs in the quarter, surpassing the record previously set by Call Of Duty Mobile.
This shows the importance of gathering user feedback data through mobile ads and pre-launched app store tests before a game is launched. The traction and success of these innovative ad creatives have led many developers to introduce new meta-games inspired by that gameplay and see incredible success.
Not only did Lion Studios take it to the next level by developing an entire game based on that gameplay, but they also highlight that fact in the messages they're using in their app store marketing. As the Save The Girl description says:

"The tricky and relaxing puzzle game you've been seeing all this time is finally a reality!"

"It is that game from those ads. Yes, it actually is."

It's a clear sign that hitting a home run in the app stores isn't always a mystery. Developers who embrace data-driven game development, leveraging testing through ads or replicated app store pages before a game is live, have a much better chance to know what to develop and how to market it to dominate the stores.

We wrote a guide about everything you need to know to test an app or game idea before launching, check it out.
Prepare for the iOS 14 aftermath
Like the rest of the industry, you're probably wondering how iOS 14 and the post-IDFA era will affect you. I don't have a crystal ball, unfortunately (if I did, and it hadn't warned me about how crazy 2020 was going to be, I'd be demanding a refund). Still, Incipia wrote an interesting team-specific list you can use in preparation for d-day in September.
You can find the list here.
Some bitesize nuggets for what to expect are:
1. Have your advertising reporting delivered via ad networks, not MMPs.
2. Only receive the first ~24 hours after install of ROAS.
3. Lose user-level reporting.
4. Lose reporting below the campaign level.
An exciting piece of info from Incipia relates to a survey they ran (scroll to the bottom of the article) amongst industry leaders to catch the zeitgeist of this time. Something that stands out for me is that 86% expect some negative impact; 65% think ROI will decrease by 20% or worse, and 65% anticipate a small or no decrease in budgets, but 71% expect a decrease in spending.

This supports the recent report from eMarketer that adjusted their mobile ad spending forecasts in the US, who now foresee spend growing only by 4.8% this year as opposed to the previous forecast of 20.7%.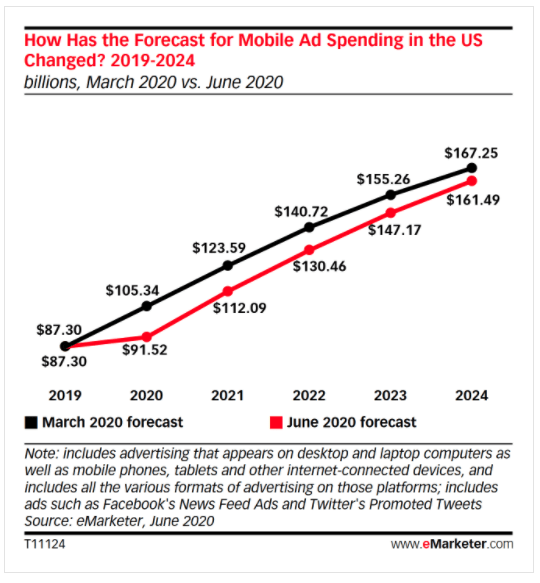 M&As in mobile
Another must-read this week is Deconstructor of Fun article, by Eric Seufert, about the upcoming "Ragnarok" in the mobile marketing industry. The Marvel fans amongst you might be familiar with the term having dragged the kids along to watch Thor (or maybe you went without them, who wants to share popcorn anyway?). If you're in the unfamiliar camp, it means:
"In Norse mythology, Ragnarök is a series of events, including a great battle, foretold to lead to the death of several great figures and gods, natural disasters and the submersion of the world in water. After these events, the world will resurface anew and fertile, the surviving and returning gods will meet, and the world will be repopulated."
The TLDR on this is that the IDFA deprecation will accelerate M&A in the mobile space, as companies with a portfolio of apps will have a significant advantage over smaller developers in their ability to grow and cross-promote between their apps (which is still allowed in iOS 14).
An interesting angle comes from Gamesbeat interview with Chris Akhavan, SVP business development at Glu Mobile. Glu recently raised through a secondary offering, $151.8M, mainly to be used as a war chest for M&A.
From the interview:
"GamesBeat: How does the game industry look for this kind of opportunity now, the M&A opportunity?

Akhavan: "We've seen continued consolidation. Our peers at companies like Scopely and Zynga and Stillfront have all been active. We think there are still many opportunities out there, and we think that the consolidation trend is likely to continue. As the mobile gaming ecosystem evolves, things become more competitive, and scale becomes an increasing advantage. We're seeing many studios that might be doing well today — they're starting to see the benefit of becoming a part of a larger player, where they can tap into shared infrastructure, or even just the capital to fuel investment in things like UA. It can give studios more opportunities to focus on making and operating amazing games. At the same time, they let the parent company help them with a lot of that central infrastructure and support, so they don't have to reinvent the wheel on a lot of these more scalable building blocks.
The fee wars intensify
The ongoing public debate around App Store and Google Play 30%/15% fees seem to be intensifying. Critics are squaring-off against the powerhouse app stores, who aren't looking like they're ready to throw in the fees towel.
After being subject to several probes by regulators in the EU and the US, Apple continues to bob and weave. It commissioned a study into platforms and marketplaces to show a stable position, that its fees are necessary, reasonable, and fair.
Epic's CEO is in the ring too. He is a heavy hitter who continues to suggest that forcing developers to use Apple's payment system and the 30% fee is monopolistic behavior, having Microsoft, Basecamp (Hey email app), Tinder, and several more in his corner.
Never miss an update in the Mobile Growth industry with Storemaven's newsletter
Join 10,000 mobile marketers that stay on top of their craft
We'll continue to follow this story as it unfolds and impacts all of us in the mobile industry. There have been no knockouts yet, but developers certainly aren't looking like they'll dive into this one, and Apple is keeping its guard up, continuing to defend its position.