The app stores user behavior guides
Neither platform (the App Store and Google Play store) shares data with developers and marketers on how people interact with app store pages. As someone trying to increase growth for an app, this makes your work extremely hard.
Improving conversion rates on app store pages involves testing how different audiences interact with your Listing page creatives, but we all know that each test's success depends on the strength of the hypothesis.
After all, why would you spend weeks working on an experiment that attempts to create a better converting version of your app store page, only to find out that the asset you're testing (let's say descriptions) offer very little potential to increase conversion rates.
Luckily, Storemaven analyzed hundreds of millions of user sessions on the App Store & Google Play store listing pages to help focus your experiments and efforts where they matter, the results of which we're happy to share. We've summed up the main insights, such as how many people watch the app store page video, scroll through the screenshot gallery, scroll down the page, read the reviews, and more.
And we did it for both the Google Play store as well as the App Store. You can find the App Store report here and the Google Play report here. You're welcome!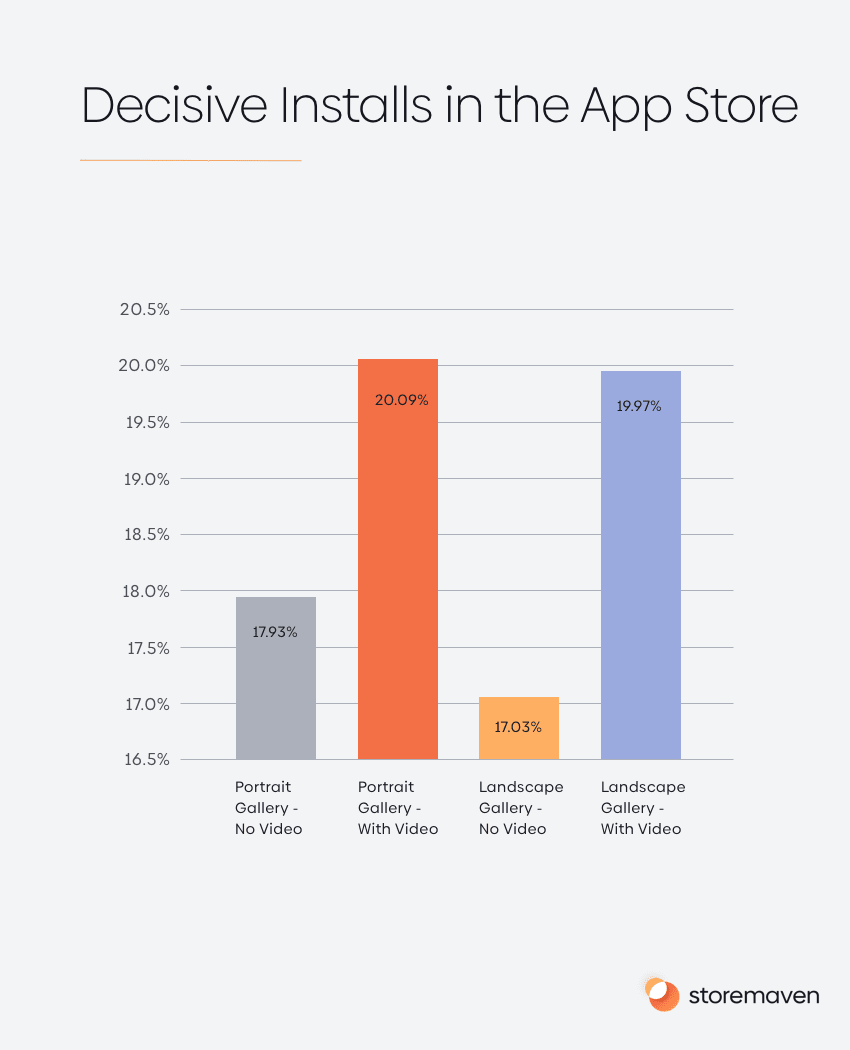 Get the ultimate ASO conversion rate optimization eBook
Everything you need to know about icons, screenshots, videos, app reviews & ratings, localization, and seasonality.
What will Mark do?
An interesting note I recommend reading is by Eric Seufert. With the upcoming loss of the IDFA, the entire industry is looking at Facebook to shed more light on how it'll handle ads after D-day.
Eric points out two main points that we're still in the dark on:  1. ConversionValue management – how will Facebook really manage the conversion values in iOS 14 ad campaigns? Facebook already announced that they'll ask user acquisition teams to provide conversionValues from a predetermined set of possible in-app events, but haven't yet specified which events these will be. This prevents developers from implementing these events (and optimizing the user experience around them). 
 2. The Facebook iOS 14 SDK – how will Facebook's SDK functionality look for opted-out users, and what will happen to the Single-Sign-On (SSO) mechanism for opted-out users (a usage that Apple themselves banned according to their official docs)?
As Facebook represents the biggest spend channel for most mobile UA teams, missing these pieces of the puzzle is still hurting your ability to prepare. Make sure you keep a close eye on any Facebook communication and we'll update you as soon as any info comes in.
Down to zero
According to an AppsFlyer report from yesterday, there is a massive trend already taking place with iOS 14.
In a nutshell, although Apple said it will allow access to IDFAs until early next year, in practice, many iOS 14 users are already (intentionally as well as unintentionally) blocking apps from accessing their IDFAs.
Based on the study by AppsFlyer, developers can't access the IDFAs of 45% of iOS 14 users today. This is the result of the transition from the Limited Ad Tracking framework to the App Transparency Framework as well as several edge cases that were not brought to light prior to iOS 14 launch.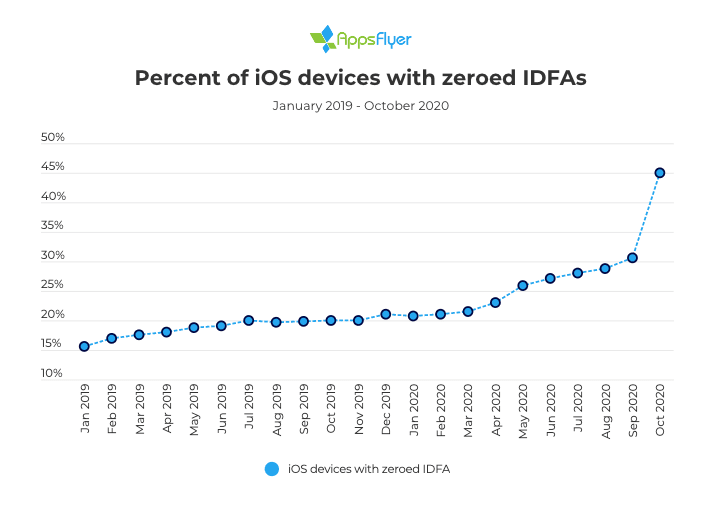 If you're advertising to iOS 14 users, I urge you to read this analysis and start taking action as soon as possible as it is probably already impacting your retargeting, targeting and analytics today.
Shhhhhhhhh!
Everybody's raving about Among Us, a social multiplayer cross-platform game that's taken the world by storm.
US representative AOC even streamed herself playing the game on Twitch which broke the record as the third largest watched Twitch stream ever.
With mobile successes such as this, we have to ask ourselves: "How did it happen?". Among Us is developed by a three-person indie team who most likely aren't spending massive amounts of capital on user acquisition.
So how did they achieve such strong organic growth? It requires a little more analysis to provide a detailed answer (already working on it), but in the meantime, we can make a few clear observations:
1. The power of social play features are still tremendously appealing to existing mobile gamers, as well as to new people that probably don't play much but are looking for ways to connect with their family and friends in better ways.
Think about your own app and game, are you leveraging social features and highlighting them across your user acquisition journey in both ads, and your app store creatives? What would be the impact of showcasing such features on app store conversion rates and growth rates?
2. By having a growth mindset, it's possible to engineer success. The success of Among Us is most likely the result of an extremely strong growth loop:
The game becomes better the more friends you invite — the gameplay is so much better when you're playing with people that you know and can communicate with in voice and chat. Each user has a very strong motivation to get their friends/family to play. Each install drives several new installs through word-of-mouth.
The more people that the first point drives to install (probably people that never installed the game) create App Units (first time installs) for Apple, which is helping the App to trend towards #1 on the charts around the world, getting significant volumes of installs from people that spot it on the charts while browsing the game.
The game is extremely popular for streaming. There is a large audience that enjoys watching fun Among Us streams, hence AOC playing. These streams create an even larger audience that's exposed to the game, who go to try it out for themselves by searching for the brand name on the App Store.
​According to Apptopia the success of Among Us had ripple effects for Discord, as users flocked to install it in order to play the game while communicating with the other players.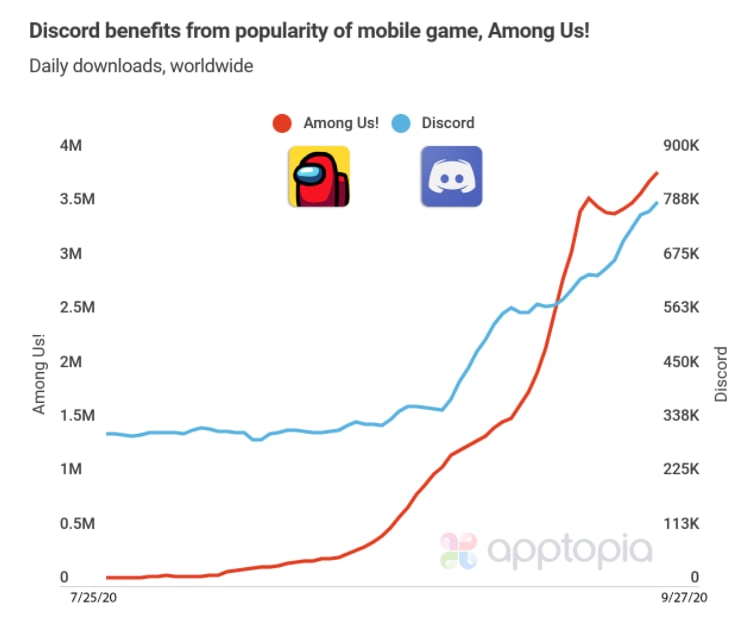 Ask yourself if your app has a strong foundation to build-in these growth loops — does it get better (much better) with users' friends/family using it? Does it have a mechanism to expose a large new audience to the app by getting users to distribute the content (such as on Twitch/Discord in this case)?
Three crucial insights on the connection between organic mobile installs and paid installs
What billions of data points taught us on paid and organic installs?
We'll share a detailed analysis of how Among Us grew soon, and will provide you with the most important insights and takeaways to amplify your own app's growth.