We've had hypercasual games, match-3 games, strategy games and finance apps… now it's time for the next category spotlight: Shopping apps in the App Store. Hold onto your wallets!
How do the biggest brands in the world like Target, Nike, eBay optimize their app store pages to increase conversions? Are they using super-secret, ninja tricks to create better screenshots and videos?
Let's find out. This analysis covers:
The top ASO strategies used by leading shopping apps
How to run better experiments on your own App Store pages
Disclaimer: All of the details in this report are based on publicly available information. The assumptions made regarding each app's individual ASO strategy are based on Storemaven's expertise, benchmarks, and experience.
Check the previous analyses in our category spotlight series:
Hypercasual Games
Match-3 Games
Strategy Games
Finance Apps
What Are Shopping Apps?
A shopping app is exactly what it sounds like: an app that enables you to sift through an eCommerce store's products and purchase the ones that catch your fancy.
These kinds of apps have become increasingly popular in recent years, and naturally COVID-19 accelerated their popularity. According to Retail Dive, retailers have seen a 36% increase in mobile app downloads and a 54% boost in in-app purchases during the pandemic.
There are tons of apps in the "Shopping" category, catering to a range of customers. Like Amazon and Walmart apps which are perfect for budget-minded folks who want to buy, well, basically anything, while SHEIN focuses specifically on women's fashion.
Never miss an update in the Mobile Growth industry with Storemaven's newsletter
Join 10,000 mobile marketers that stay on top of their craft
Regardless of target audience, all the apps we'll look at here are well-known. It's likely you've heard of most, if not all of them.
Before we dive into our analysis, let's remember:
We analyzed 20 apps for this article.
All 20 apps fall into the "Shopping" category.
We're looking exclusively at the US Apple App Store.
The apps have large marketing budgets, which means we're talking top-level ASO strategies and tactics.
Now that we've covered the basics, let's get our analysis on!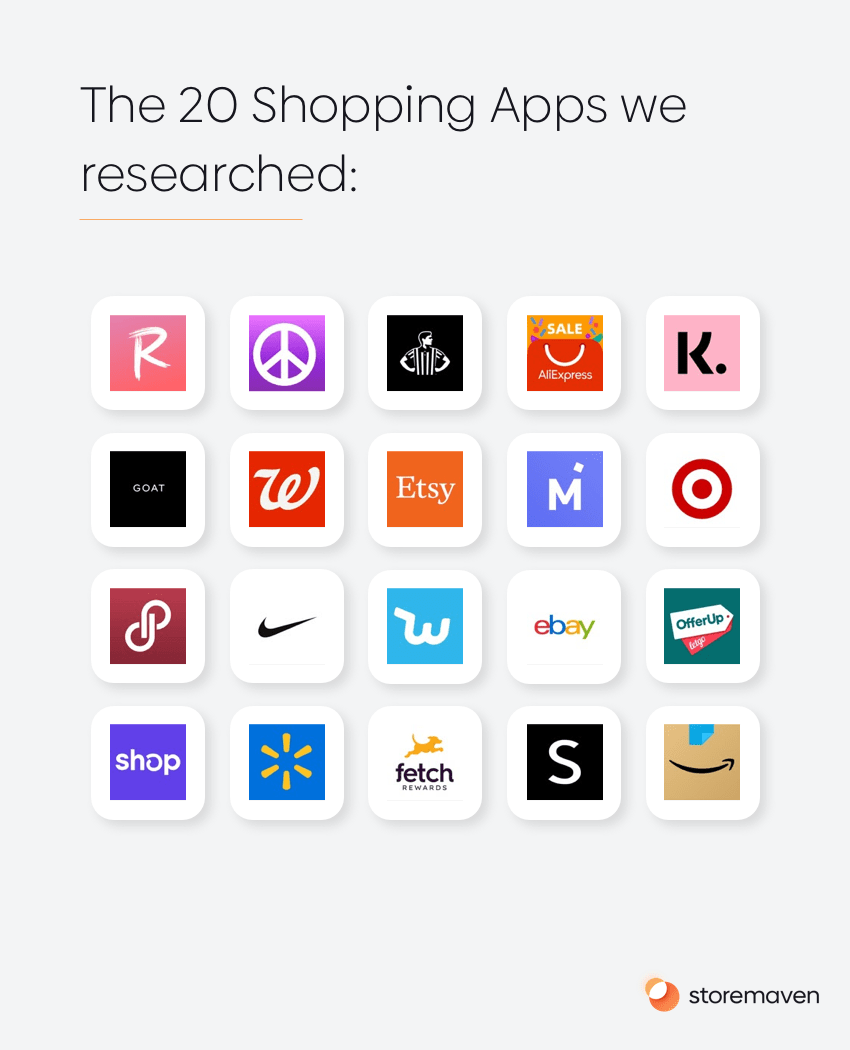 Shopping Apps: Icons
We'll start with icons as these are the only app page creative that appear everywhere: search results, the first impression, Facebook ad campaigns, etc.
An optimized icon can boost conversion by an average of 18%. With this in mind, it's important to choose your icon wisely. Let's see how the top shopping apps approach their icons.
The first thing we notice is that 100% of the apps we analyzed in this category use a branded icon – no big surprise there. By using their logo as their icon, the apps are instantly recognizable to their target audiences.
What about icon color? Our analysis shows that bright colors are used more often than not. Only four of the 20 apps analyzed (20%) use black and white icons. But because every app takes a branded approach to their icons, we don't think this has any relevance.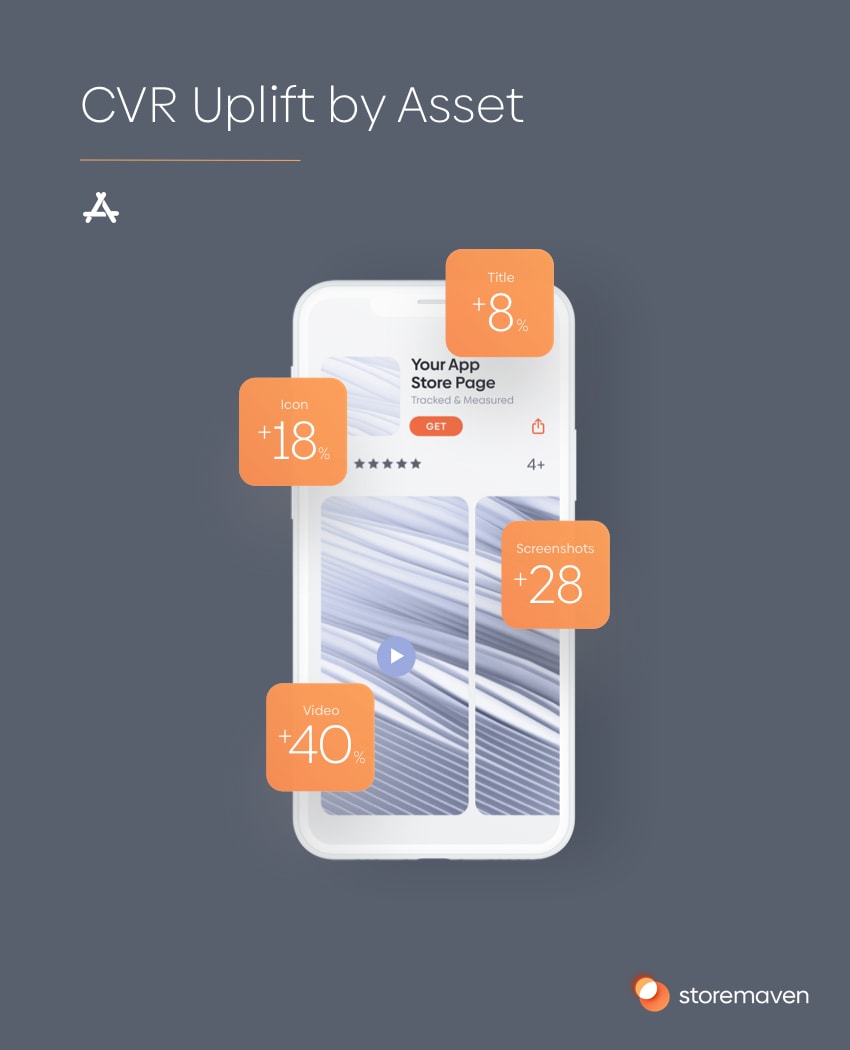 How about something a bit more usable? For that, we need to take a look at subtitles…
The app subtitle is the bit of text that sits to the right of the icon, beneath the app title in the Apple App store. Finally we see some variance in the category!
There are four types of subtitles used: those that define the app as a store, those that highlight the benefits of the app, those that address a specific audience, and those that use a random phrase/slogan. Of the 20 apps analyzed, 85% use a definition or benefits-oriented subtitle.
Only one app, SHEIN-Fashion, uses an audience-oriented subtitle. This leads us to believe that for apps in this category that cater to a specific demographic, an audience-oriented subtitle could be an amazing opportunity to differentiate your product from the competition!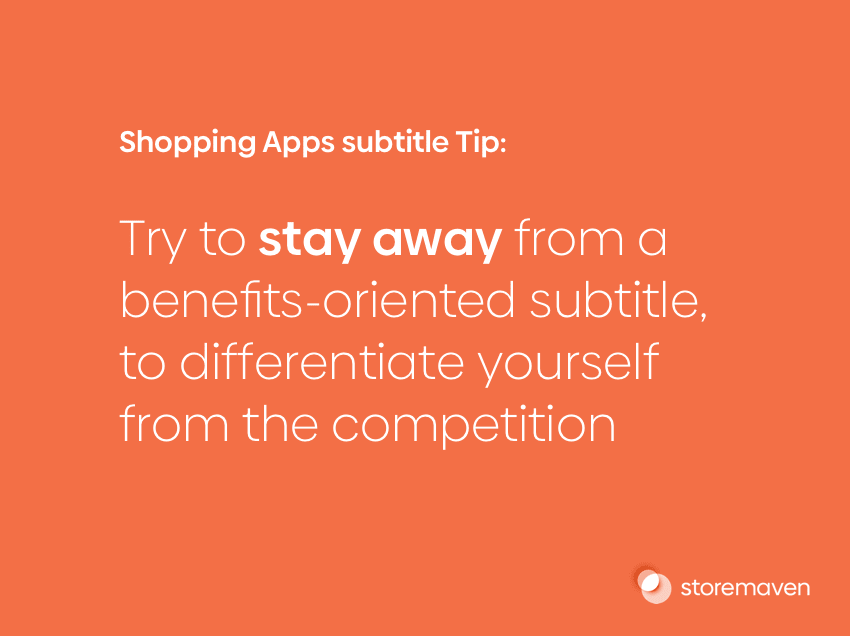 Shopping Apps: Videos
Moving on to videos, we found something interesting: only three of the 20 shopping apps analyzed use a video. They're Walmart, Nike, and GOAT.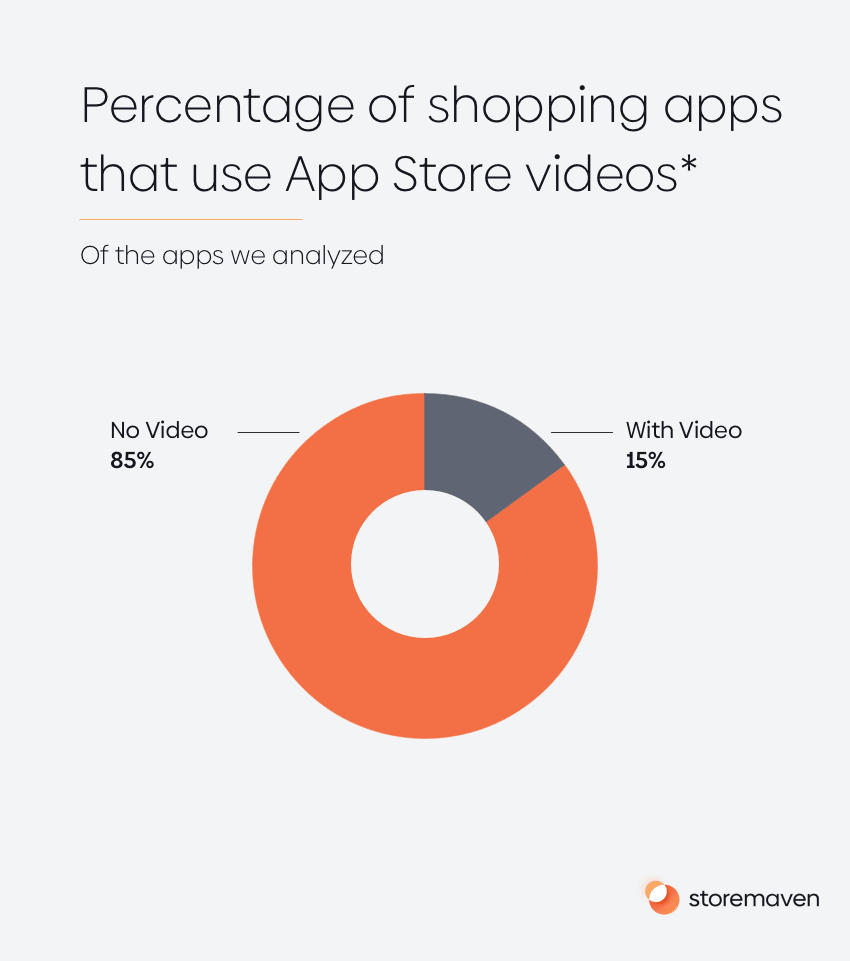 Why interesting? Because our research shows that an optimized video can boost conversions by 20%. So if you own a shopping app, do consider creating a video – not only will it allow you to improve your CVR, but it differentiates your app from your competitors. Win!
Tip – remember to serve the dessert first! Because users only spend 6-8 seconds watching videos in the Apple App Store, don't wait too long to get to the "good stuff". A poorly executed video may actually harm your CVR, rather than boost it.
Actually, each of the three video-using apps in this analysis executed their vids well. None of them wasted time with a brand splash screen and, instead, jumped right into the action. They were all different though – let's discuss.
We noticed that, while all three videos are in portrait mode, each takes a different approach when it comes to messaging. For example, Walmart's video uses a professional voiceover and in-app footage to illustrate the benefits of its app.
This gives the Walmart video a polished, professional feel—if you turn the sound on. Hang on though – unfortunately, 98% of users watch app store videos without sound. 98%! Because Walmart's video relies on the voiceover to convey information, this may be affecting their downloads.
Nike on the other hand favors background music not a voiceover, and focuses on its app's ease of use. We noticed that the video focuses almost exclusively on female products, which may indicate that more women use the Nike app than men. Interesting.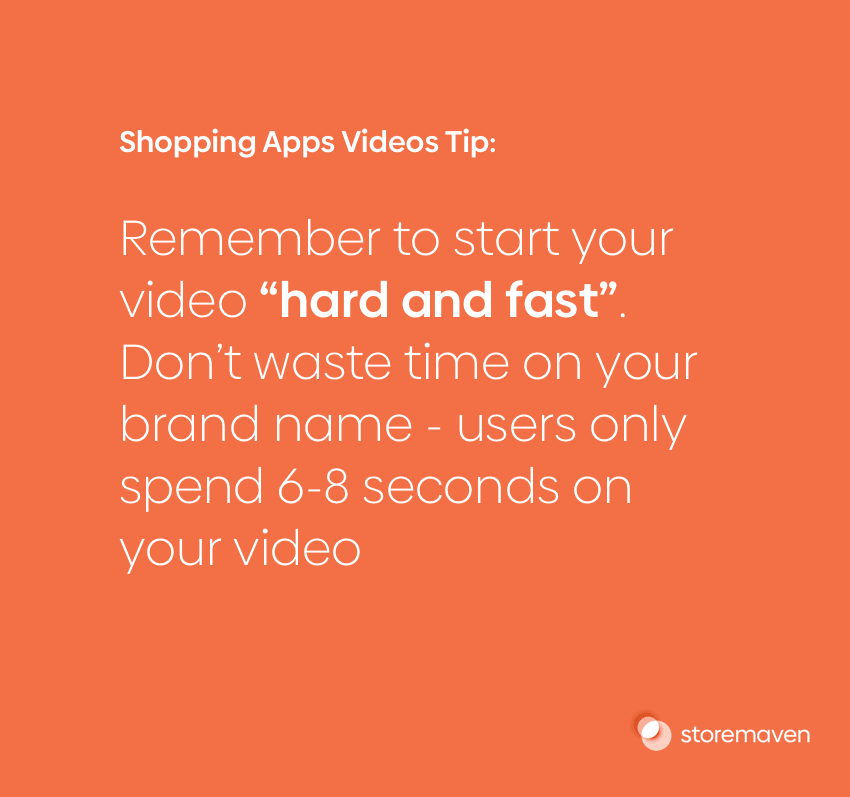 And finally GOAT. Like Nike, GOAT uses background music rather than a voiceover. But its video focuses on app exploration and specific features such as AR. While this approach gives audiences valuable information, it doesn't clarify why that information matters.
The app has AR, which is cool, but how will AR benefit customers? That's what's missing.

Remember – keep your audience in mind when creating app videos!
Shopping Apps: Screenshots
Did you know that optimized screenshots can boost conversions by 28%? Or that untested screenshots can cause a 15-25% drop in downloads? Clearly, the screenshots you choose for your app are vitally important to its success.
When it comes to screenshots for shopping apps, there are a few common strategies that seem to work well. Here's what we found during our analysis:
Go For Portrait Mode: 95% of the apps we analyzed use portrait-styled screenshots. OfferUp is the only app we studied that uses landscape-styled screenshots.
Say "Yes" to Captions: 95% of the apps we looked at use captions to clarify benefits, showcase features, promote ease of use, etc. The lone app to reject this strategy is Craigslist, which doesn't bother with captions at all.
Benefits Over Features: Features are important, but only if their benefits are made clear. That's why 80% of the shopping apps we analyzed use their first screenshot to convey a benefit. Make sure your audience always knows why they should care.
You Have Space, Use It: More than half of the apps we studied (11 out of 20, or 55%) use eight or more screenshots. While it's true that very few users look beyond screenshot #3, it doesn't hurt to add additional images.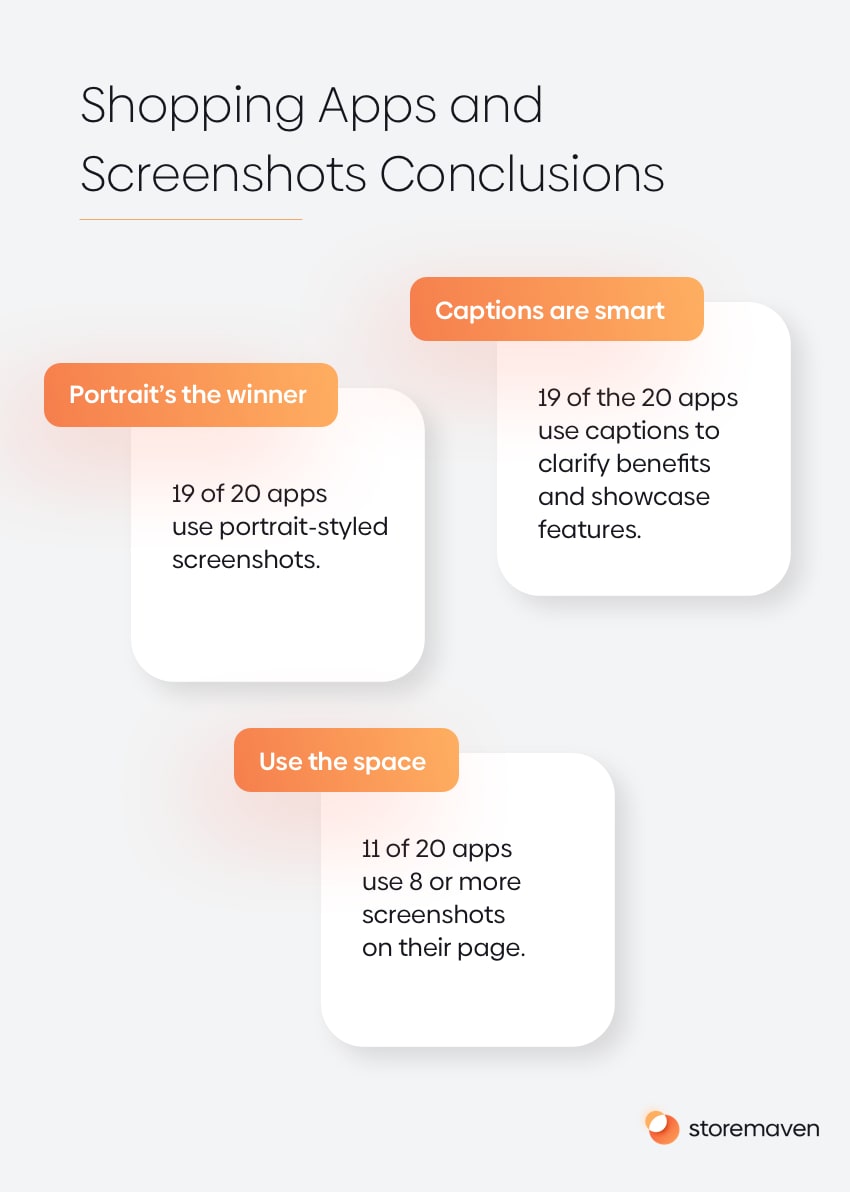 When it comes to screenshot types, a couple of things stand out:
Most developers in this category let their apps do the talking. A huge majority of the images we analyzed depict actual app processes. Lifestyle screenshots are rare.
Panoramic screenshots are popular; eight out of the 20 apps we studied use them. A panoramic screenshot is a continuous design that covers two or more screenshots. These kinds of images encourage users to scroll through a gallery.
Every app store creative is important. But few, if any, will have as much impact on your conversion rates as your screenshots. This is because 60-80% of installs in the App Store come from search, where one to three images are instantly visible.
Add in the fact that users are 10x more likely to look at screenshots than read captions and it's not hard to see why your app's imagery is crucial. Use the above tips to get them right!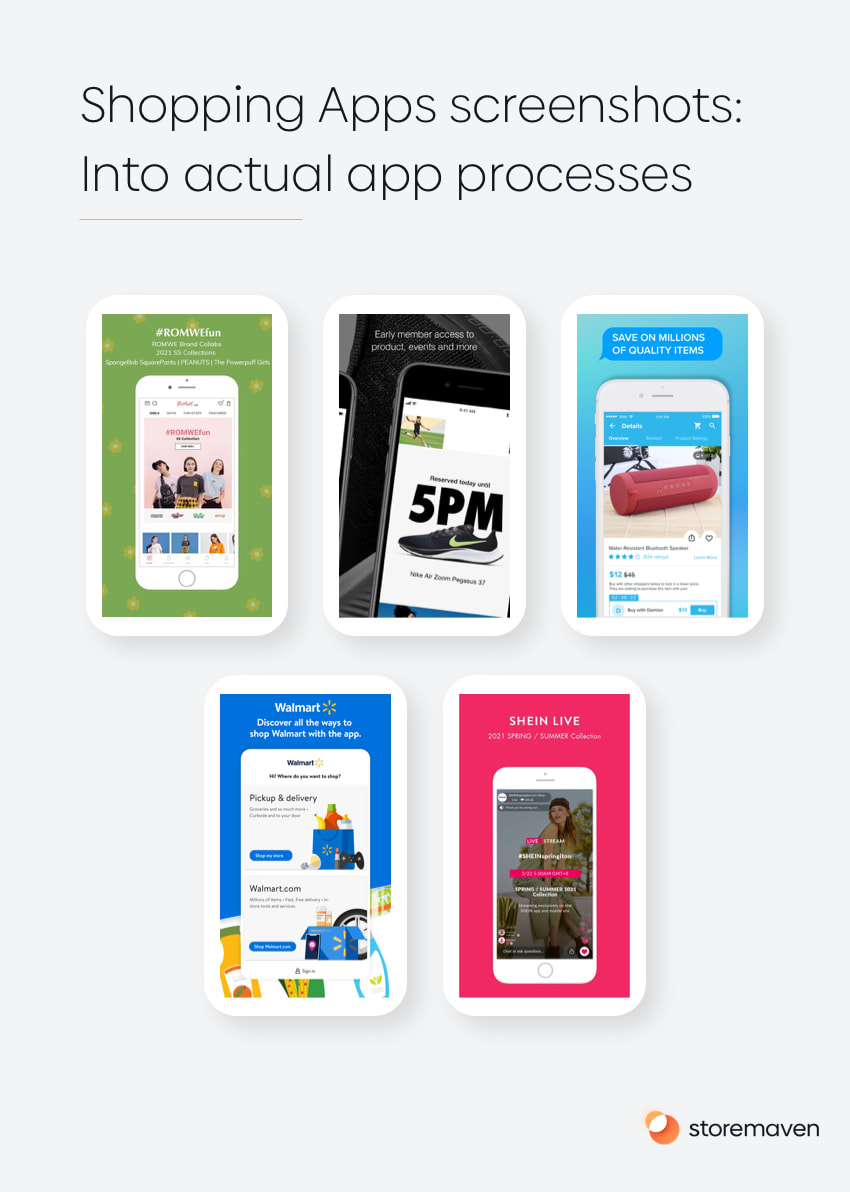 Wrapping Up: ASO Strategy For Shopping Apps
Many of the shopping apps we've covered in this article use similar strategies when it comes to app store creatives. Because of this, we can easily deduce what works, what doesn't, and where you can best differentiate your app from the competition.
While we uncovered a lot of juicy goodness, here are a few main takeaways to keep in mind:
Look to Set Your App Apart: Most shopping apps seem to follow a similar ASO strategy. By looking for differentiation ideas you can help your app stand out in a crowded market. Address your target audience in your subtitle, experiment with videos, and look for new screenshot ideas whenever possible.
Remember the Fundamentals: You want to differentiate your app, but not at the expense of the fundamentals of ASO. For example, App Store users only watch 6-8 seconds of videos. Backloading your video so that it ends with a bang will make it different, but your users won't ever see it because you neglected the basics.
Know Your Audience: This is the foundation of ALL good marketing. If you don't know who your users are, you won't be able to optimize your App Store page to increase conversions. Study the shopping apps market, then make sure your app's icon, videos, and screenshots speak directly to these people.
Prioritize App Benefits: Sure, your app can do X, Y, and Z. But why should your users care? Use your app store creatives to convey benefits, not just features. You can do this with an optimized subtitle, a well-crafted video, captioned screenshots, etc.
And one more thing: what works for one app won't necessarily work for your app, too. You need to test your app store creatives on a regular basis to properly optimize them. Our research indicates that leading apps test their creative assets 2-4x before going live.
Speaking of testing, sign up for a free StoreMaven demo to see how our industry-leading solution can help you quickly optimize your app store creatives and boost conversion rates.
Get the ultimate ASO conversion rate optimization eBook
Everything you need to know about icons, screenshots, videos, app reviews & ratings, localization, and seasonality.