(Updated on December 27, 2021)
The marketing industry has always relied on data and statistics in order to prosper.
Marketers have become accustomed to measuring every junction in the marketing funnel in order to grow. Yet, as the world shifted its media consumption habits to mobile, the most important link in the funnel became a black box, preventing fully optimized conversion rates.
To shed some light on that part of the funnel, we'll share some app store statistics and best practices based on more than 500M sessions and 4+ years of analyzing the leading developers cross-industry (Google, Facebook, Uber, Zynga, Vinted, WB, HBO, EA, and more) to help you regain control of your marketing funnel.
The Role of the App Store
The app store is the last and most crucial point of decision in your app marketing funnel. No matter which channel your visitors come from (cross-promotion, organic search, paid campaigns, or social media) they all land on a single app store and make their decision to bounce or install.
Once you understand your users decision-making process and the reasoning behind their actions, you'll be able to customize your app store messaging, design, and layout choices to match your target audience.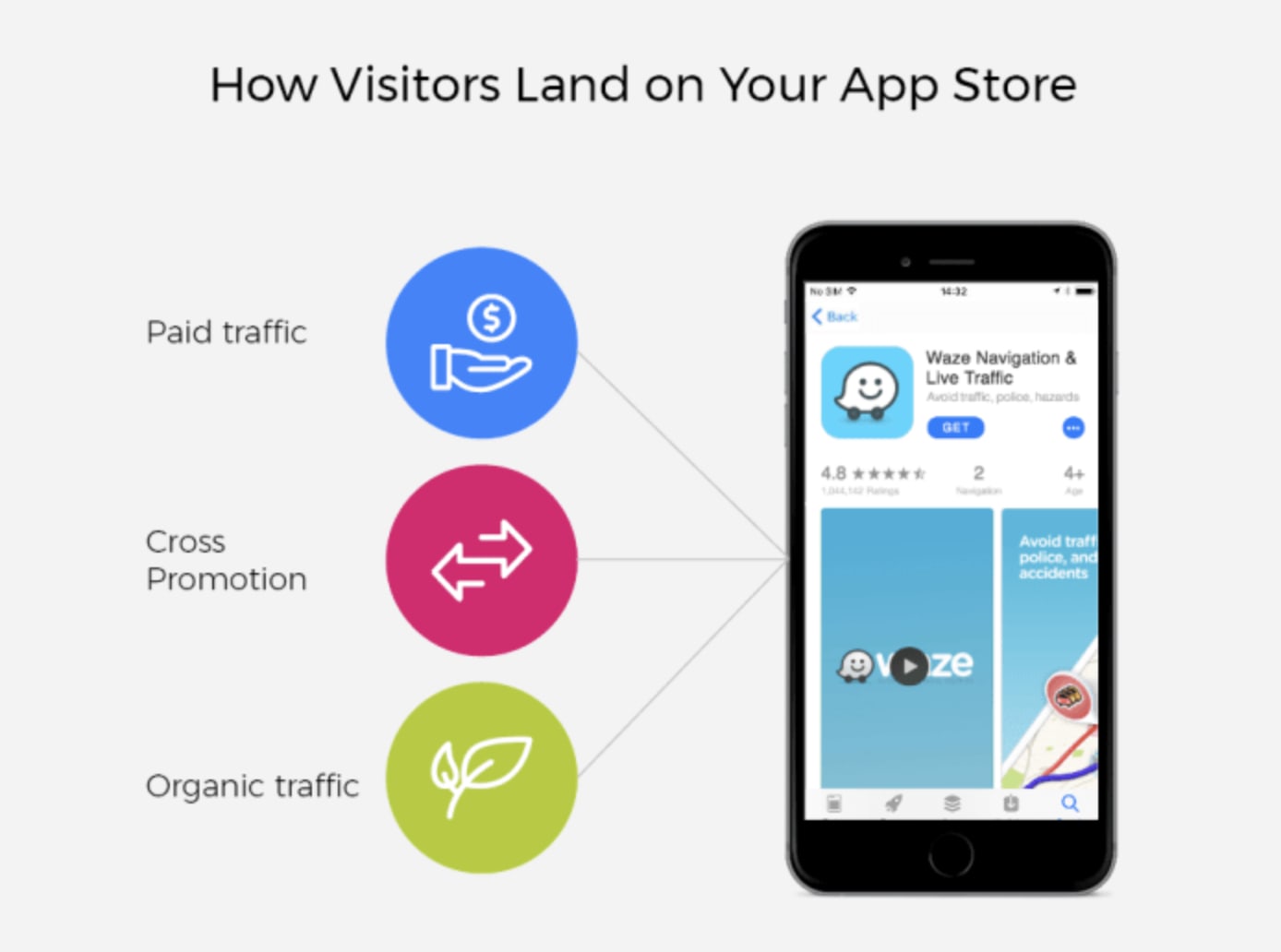 Getting to Know your Visitor Flow
The creatives you use in the First Impression determine how many visitors will fall into each category (Decisive or Explorer).
A good app store page is one that has high install conversion rates for both groups.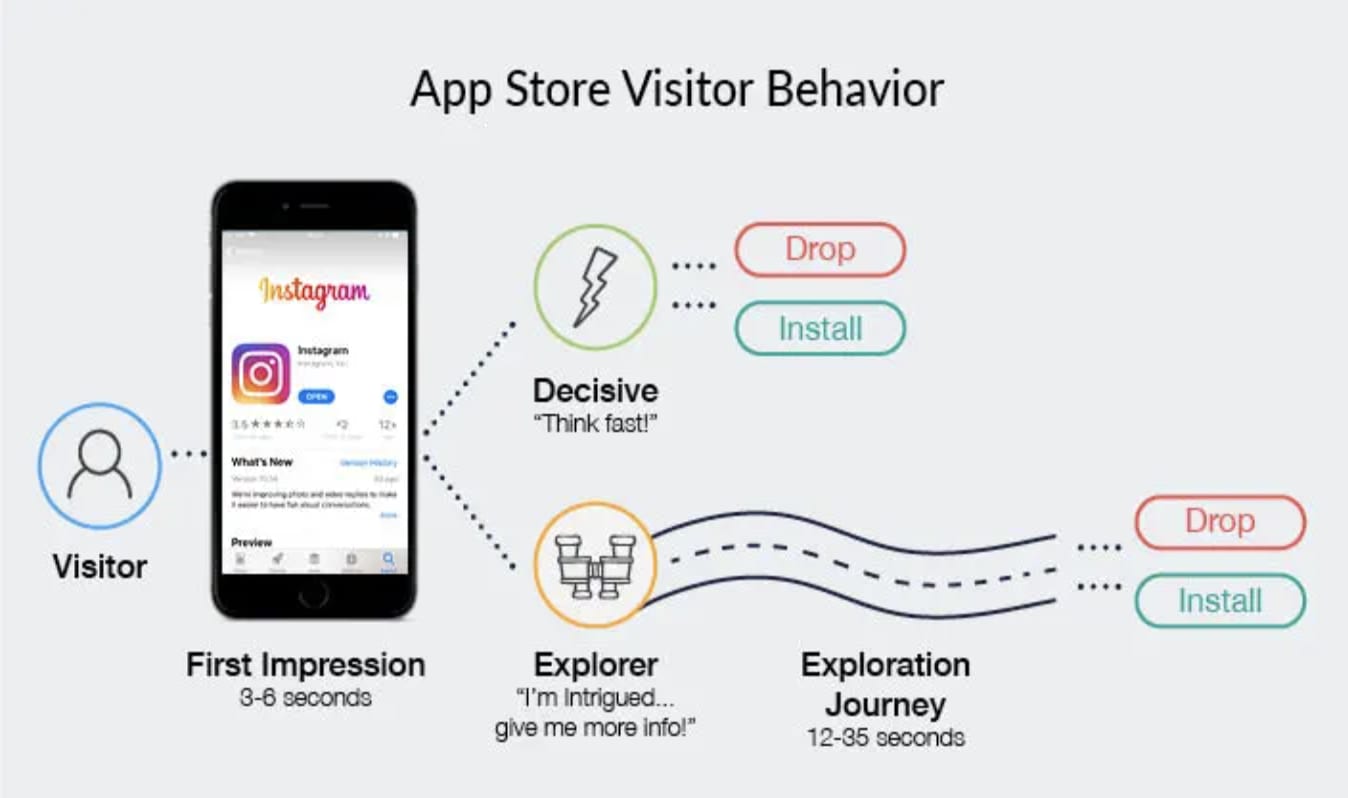 A good First Impression will increase conversions by 35%
Test your First Impression creative to:
Maximize Decisive install rates
Increase Explore rates
Convince more Explorers to install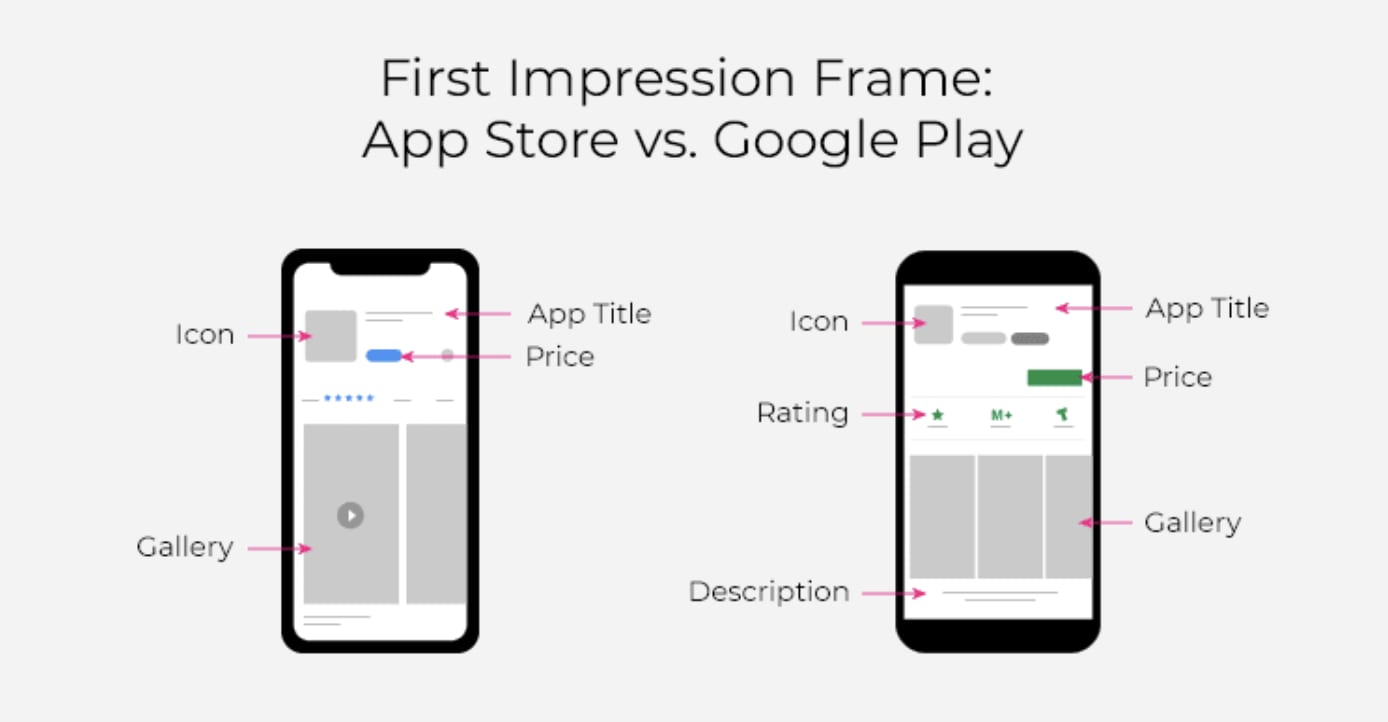 Mobile App First impression frame statistics:

60% of your visitors won't scroll beyond your First Impression.

50% of your installers make their decision based on the First Impression only.

Tell users what your app does in under 3 seconds.

Test screenshots, icons and text to find the optimal combination.
Make sure to convey your strongest message in the First Impression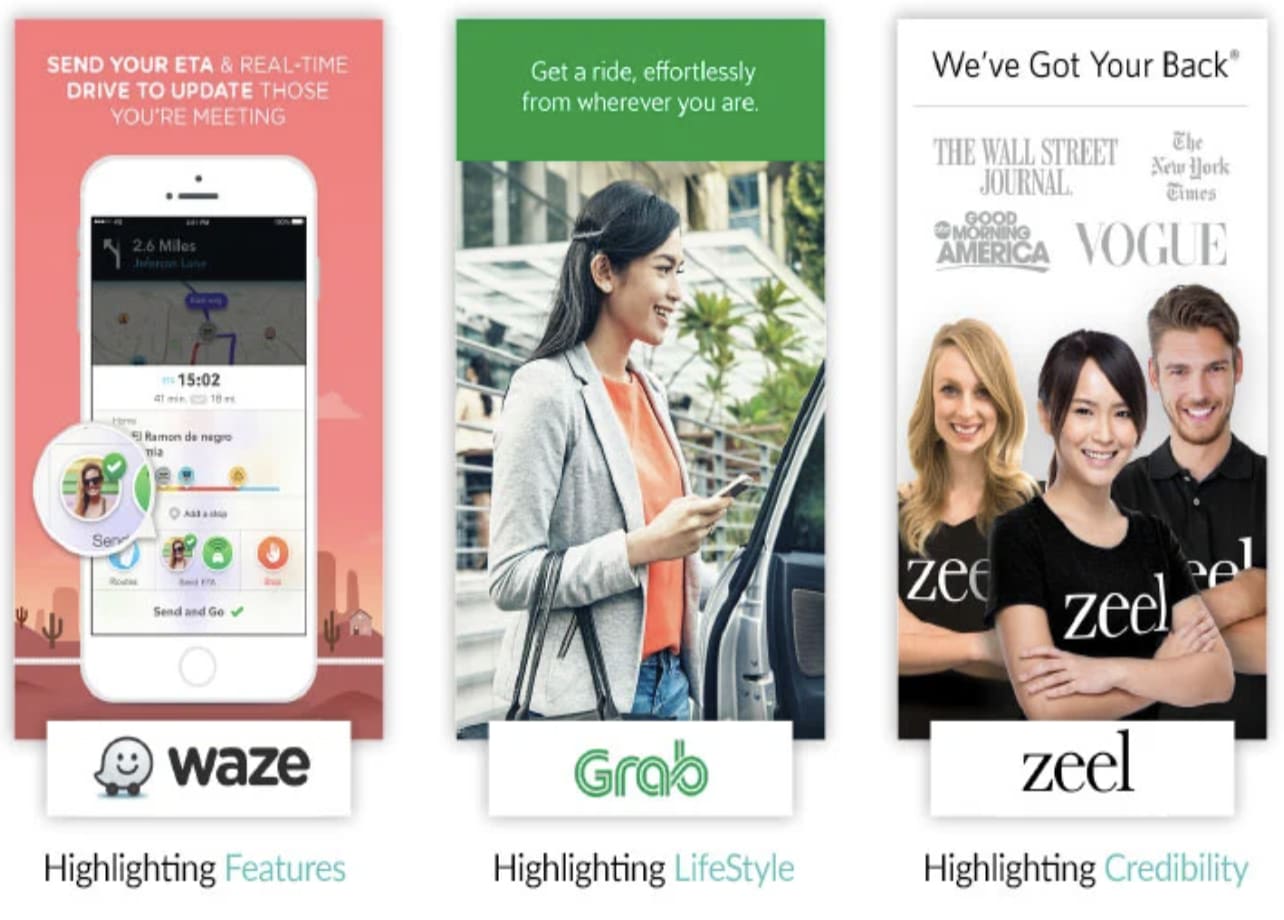 Nail your iOS panoramic screenshot gallery in three easy steps
Use different creatives on Google Play and the App Store
Although the new Google Play Store design looks similar to the App Store, they are fundamentally different platforms, and they should be treated as such in the area of ASO. This is because:
The overall design of the stores are still not the same (e.g., there's no autoplay feature on Google Play videos, image resolutions are different in each store, etcetera). And your App Store vs. Google Play strategy should be tailored accordingly.
Developers often drive different traffic to each store (i.e., different sources, campaigns, and ad banners).
Different apps are popular in each platform, so competition varies
The user base for Google is not the same as iOS—user mindsets and preferences are different.
Testing separately on both app stores will help you identify which messaging strategies and designs work best on each platform. There's no "one size fits all" approach to app store marketing, and we've seen instances in which using the same creatives on both platforms led to a 20%-30% decrease in installs on iOS.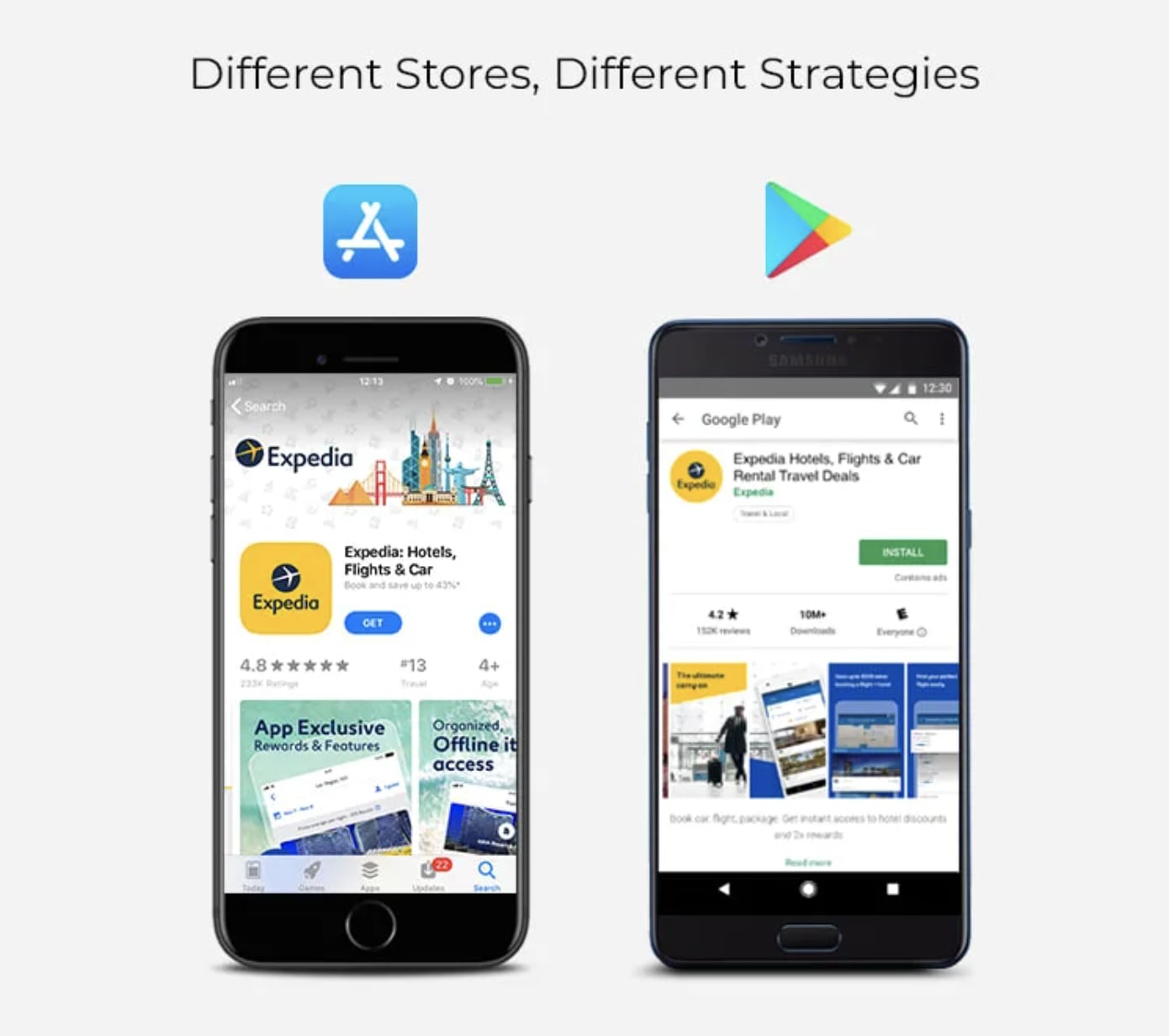 Different app store layouts require special attention
Every change to the First Impression must get extra focus, which is why you should wisely choose Gallery orientation when designing your creatives. You can use portrait-oriented assets, landscape-oriented assets, or a mix of both. Each of the orientations comes with its own set of advantages and disadvantages, but there are a few givens.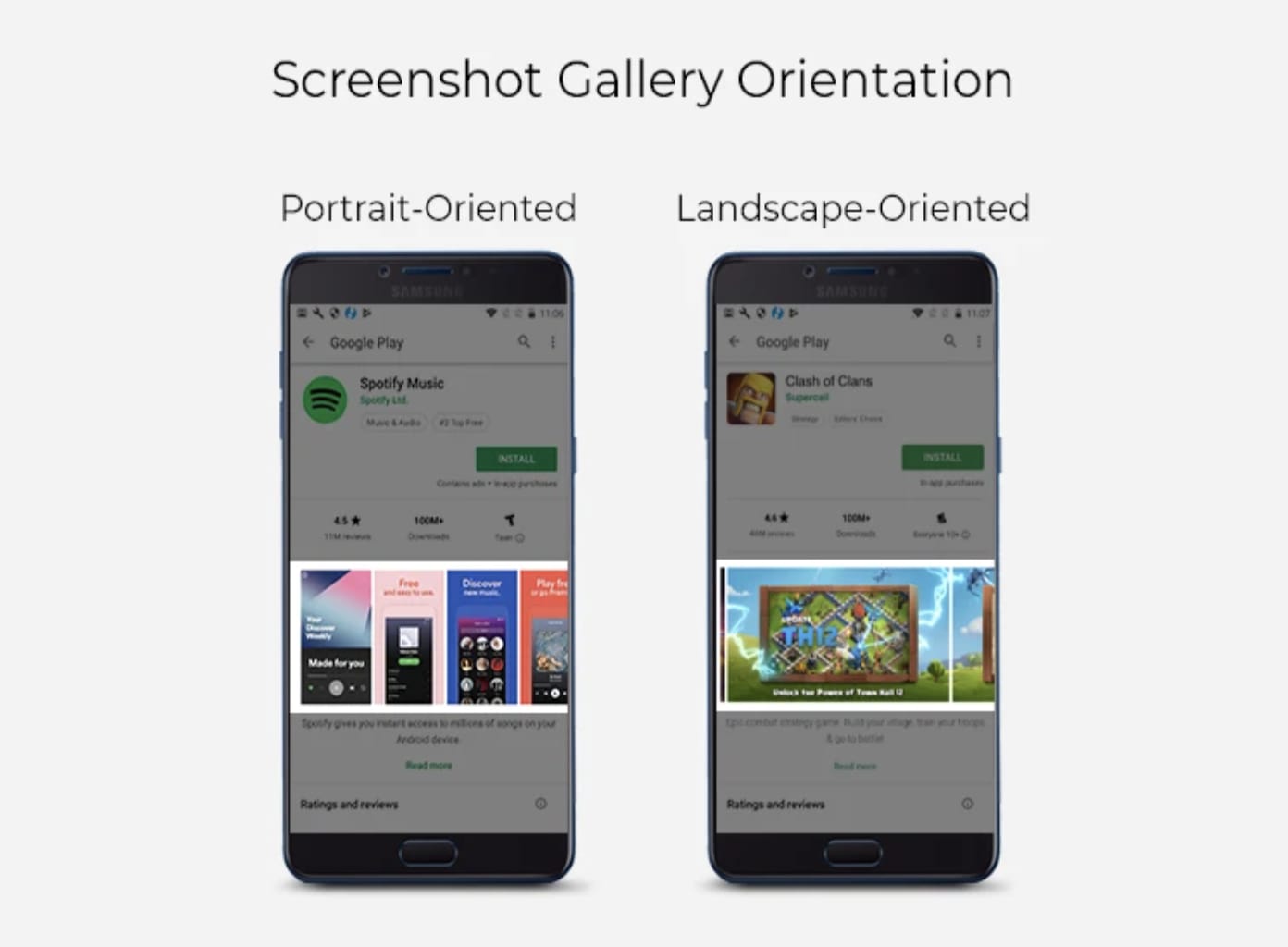 When using landscape Screenshots, you showcase one main message in each frame since landscape assets take up the full width of your Product Page. With portrait Screenshots, you're able to display multiple messages in each frame since more than one asset is visible.
Based on our analyses, apps are more likely to showcase portrait Screenshots because a majority of apps don't support horizontal use or functionality. Games, on the other hand, have a wider mix of Gallery orientations since there's more variety in the way they're played.
Is your Screenshot Gallery properly optimized to drive conversions? Get help designing a gallery on Google Play

An app video can increase install rates by more than 25%
Adding a video increases Exploring behavior and reduces Decisive behavior. Visitors who watch the video are 3x more likely to install.

In iOS, your App Preview Video is on autoplay, which means a majority of visitors will be exposed to it. Use our 5 tips for a better performing Video to make sure it captures quality installs.
How many of the top 50 iOS apps are using video?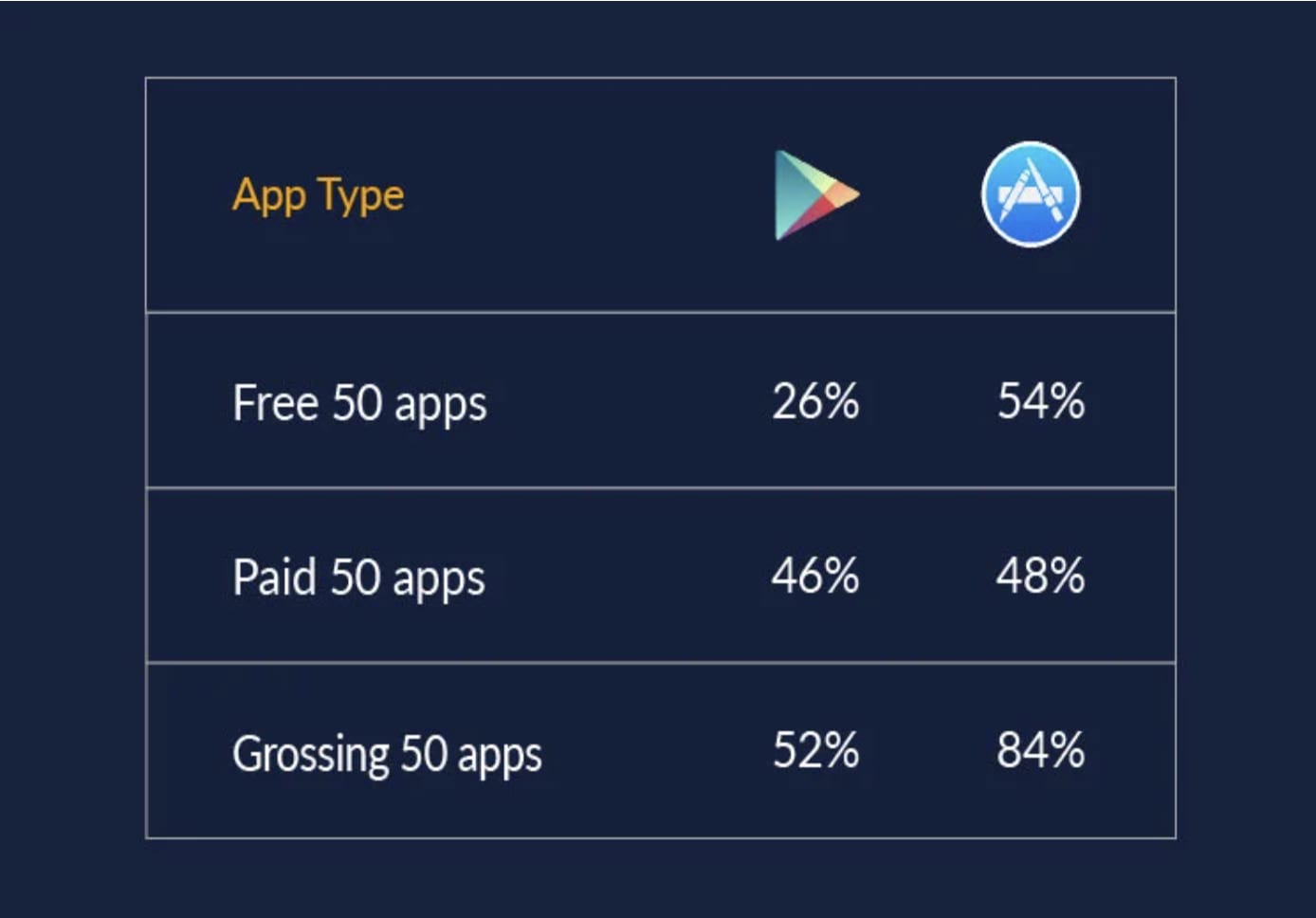 Ingredients for a great app store video
Come Out Strong
It's important to start with your most convincing message. This will draw more engagement and increase the install rate of users that choose to watch your video.
Sound
Engage visitors with subtitles, callouts, and timed transition screens that contextualize the rich visual experience without depending on sound. Why? Because 98% of App Store users watch videos on mute.
Length
Keep it short. Every 5 seconds, 10% of your video watchers will drop.
Localization

Bear in mind that Apple doesn't allow customizing App Previews per geo. Make sure to test the effect of the video on each geo.
Design your Poster Frame to act as a standalone screenshot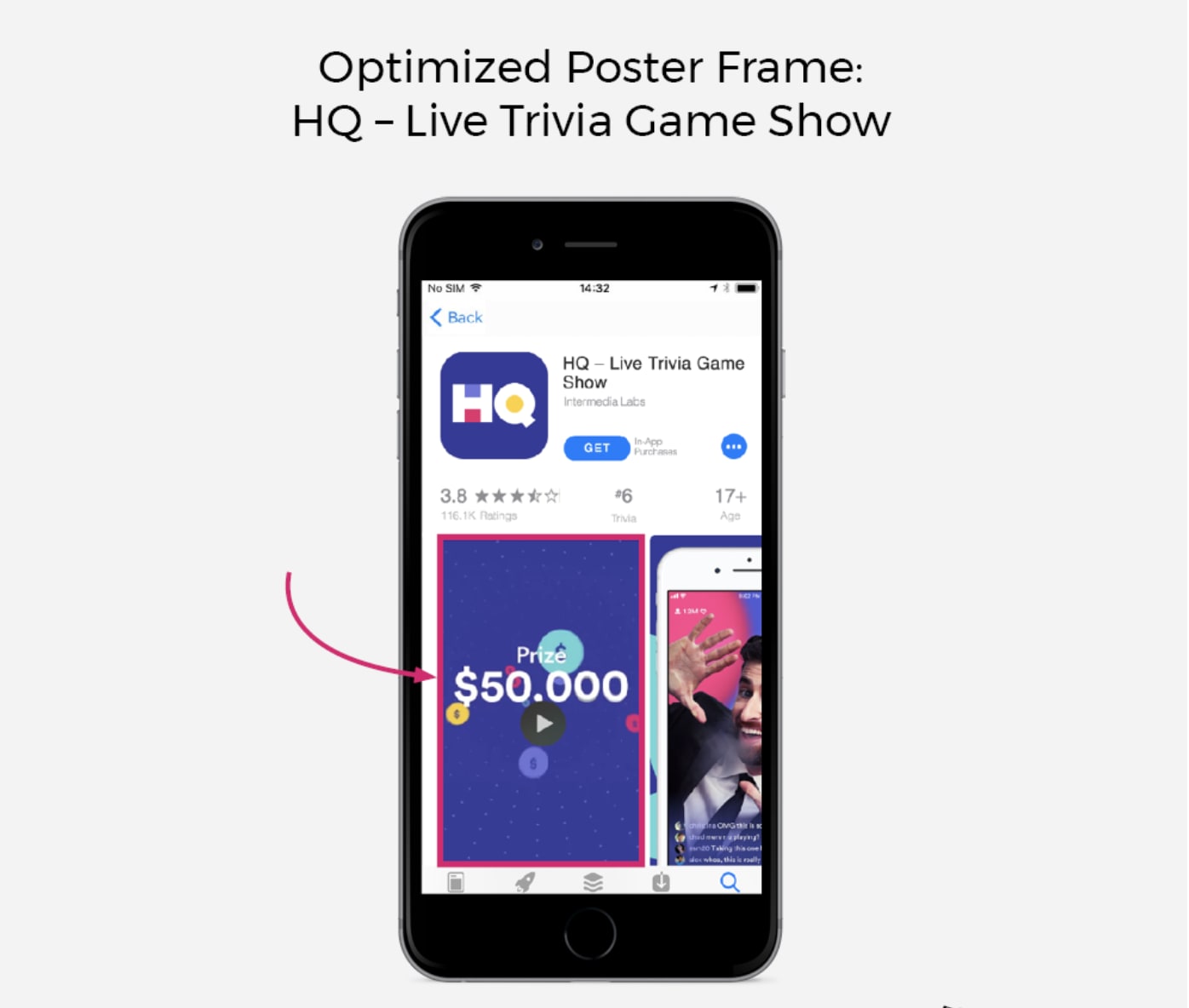 T
The Poster Frame is your Video thumbnail, which plays a dual role for both Decisive Visitors and Exploring Visitors. The Poster Frame should be an important creative consideration as you begin to build your Video since it is taken directly from your Video assets.

You should make sure no important text or visuals are hidden under the play button, and it should effectively convey your app's best USP in a visually-pleasing manner.
Encourage Explorers to continue scrolling along your gallery
App Store: The Gallery is above the fold and takes up the most significant real estate of the page. The Gallery may include up to 10 screenshots.
Google Play: The Gallery is now above the fold, thanks to Google's Play Store design update, so scroll rates are now much higher than before the update and the Gallery is a much more significant aspect of the First Impression Frame. The Gallery may include up to 8 screenshots.
Learn how to design and run better Screenshot tests using best practices from our Screenshot guide.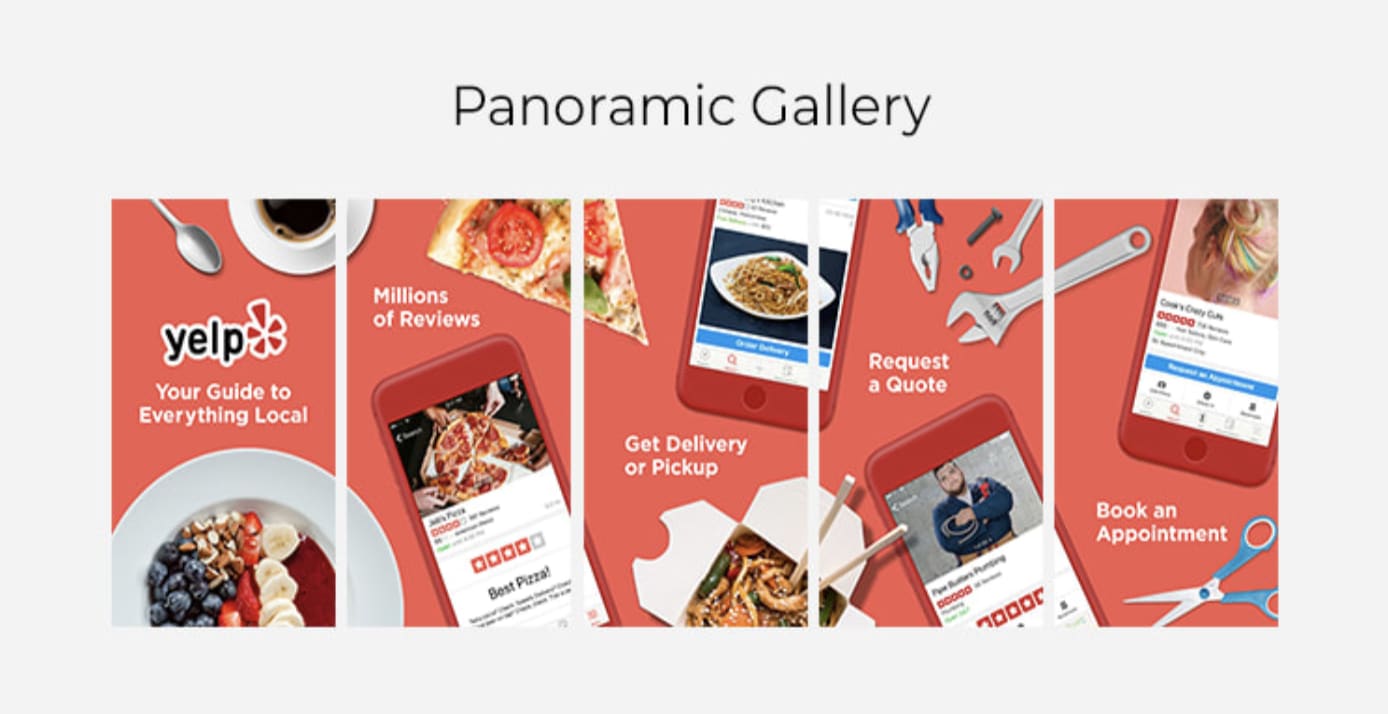 Another design consideration is to implement a Panoramic Gallery that extends across multiple Screenshots. This can be used to encourage additional exploration from visitors.
Localize your app store content. It's your lowest hanging fruit.
Same language – different affinities

Many countries share the same language, creating the illusion they can be treated as one unit in marketing terms. But that is not the case. For example, countless tests of ours have shown that the UK generally has different winning variations than the US.

If your app is available globally, you should expand its reach through localization.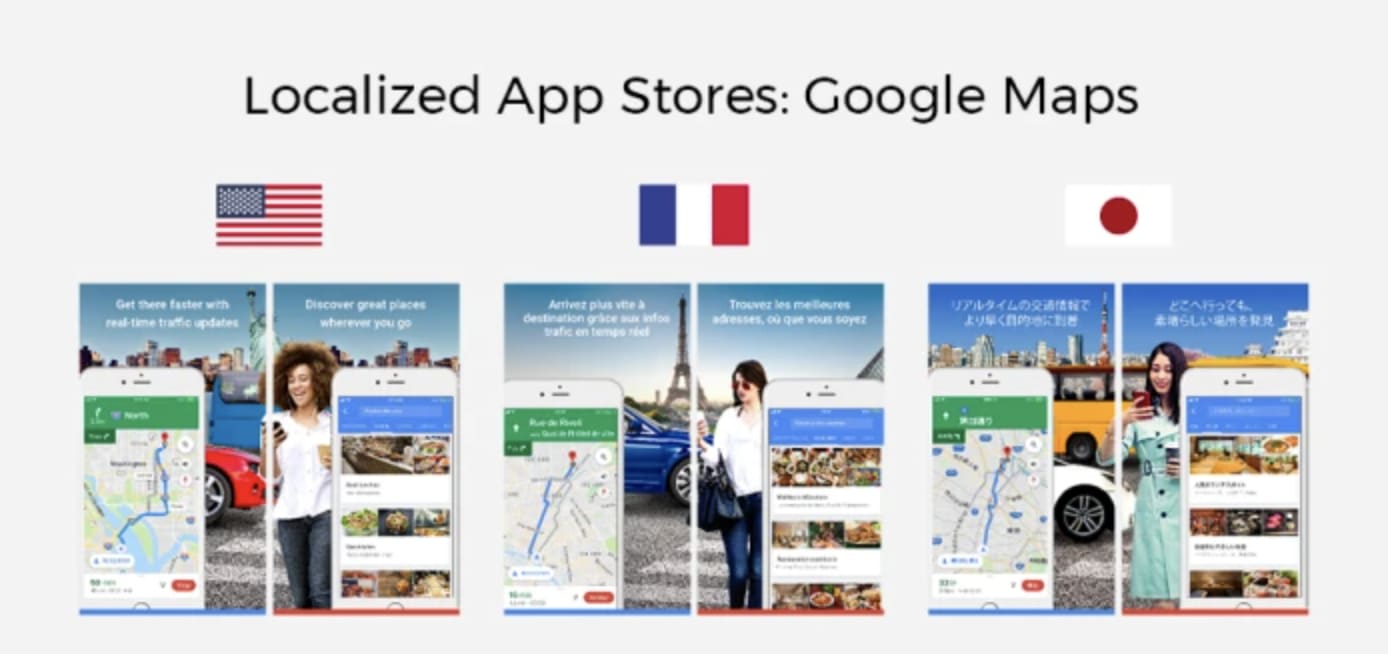 Localizing stores is one thing. Culturalizing them is a whole other story.
Localization = translating the text to different languages
Culturalization = creating a custom store with creatives and messaging that relate to each country's culture and jargon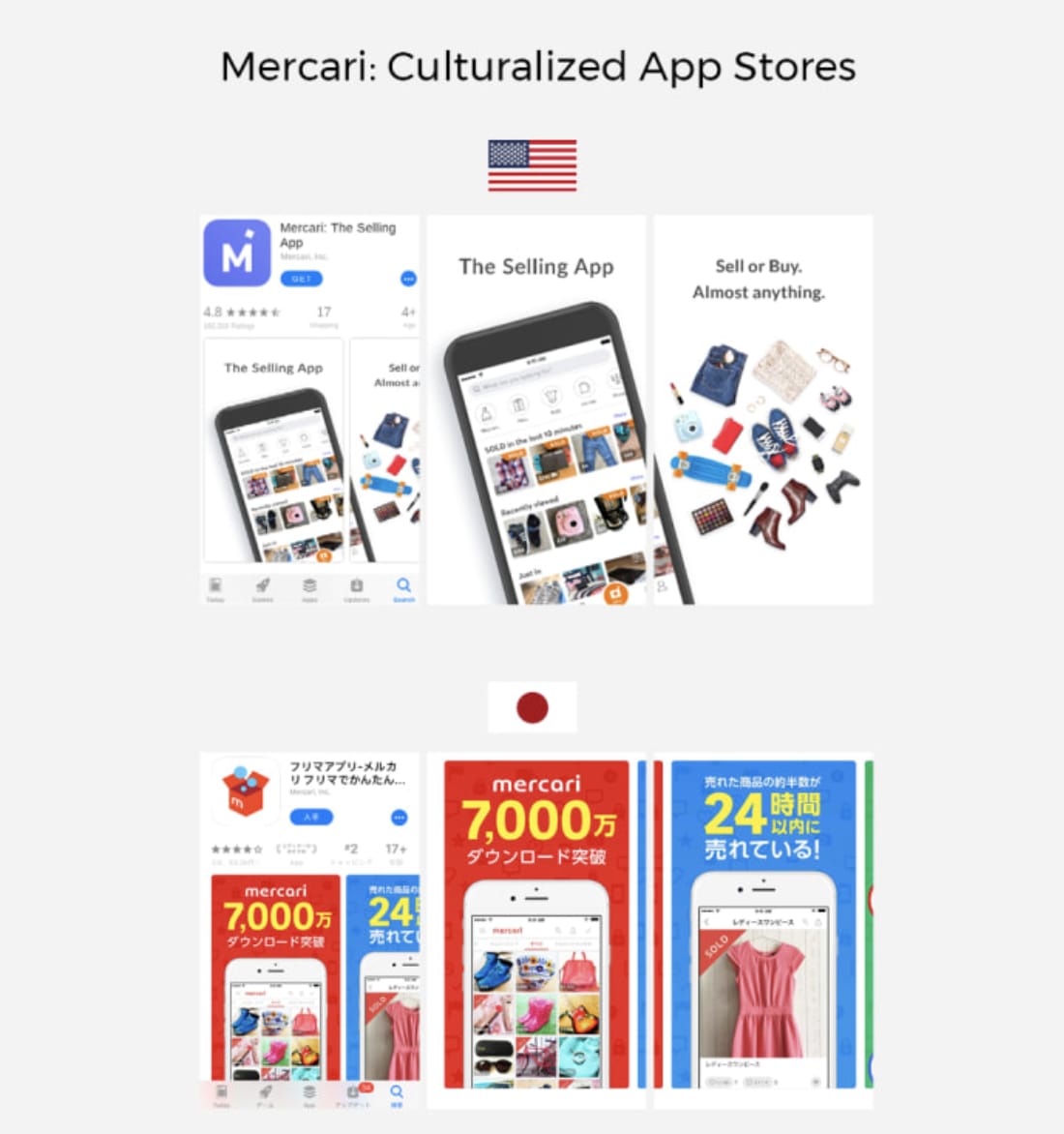 Whenever we test a translated app store variation against a culturalized app store variation, the Whenever we test a translated app store variation against a culturalized app store variation, the culturalized variation always wins. This goes to show that there is an even higher CVR potential for culturalizing app stores.

Read more about our best practices for localizing and culturalizing your app store here.
Markets behave differently
US: Users often have higher explore rates than other regions and are almost 2x more likely to explore than UK users. US visitors are also more likely to scroll through an app's Gallery than other regions.
UK: In more than 50% of tests, the winner in the UK was different than the winner in the US.
Brazil: iPhone owners often prefer English over local Portuguese.
India: Users favor images with locals. Well crafted tests can increase conversions by 80%.
Japan: Users display dramatically different behavior than any other region. They are accustomed to heavy text images and reading descriptions (200% increase from US benchmark).
Refresh your creatives frequently; aim for once a month
The users you're targeting today are not the users you're targeting next month.
Continuously fighting CVR decrease
Developers continuously test their titles on the App Store and Google Play.
They test each element of the page (icons, video, screenshots) multiple times.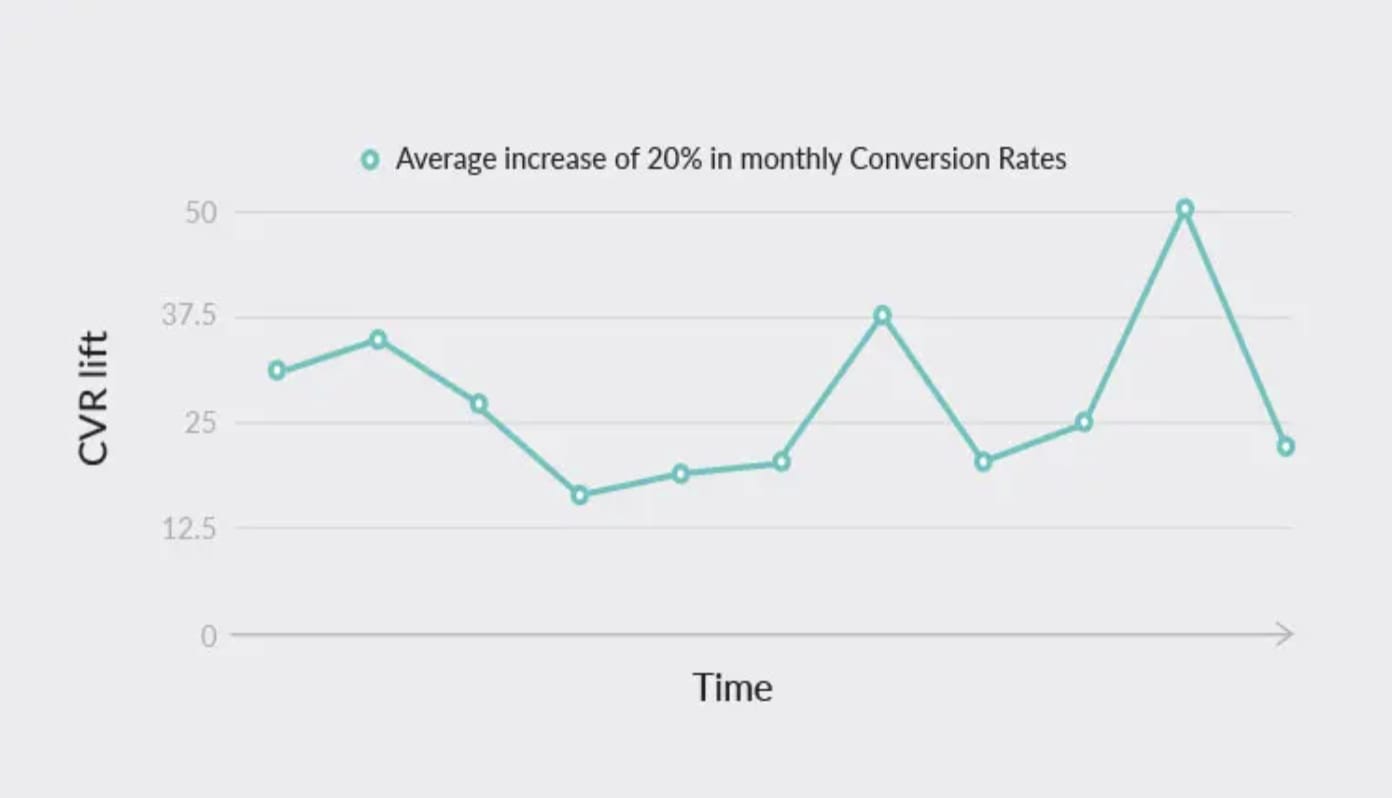 People only read the first line of your description. Make it count
The description is meant to describe the top features and functionalities of your app. It also plays a significant role in App Keyword Optimization.
Both the iOS and Google platforms require developers to add a description of their apps that will be divided into a Short Description (80 characters for Google Play and the first 3 lines for Apple) and an Extended Description (limited to 4000 characters in total for both platforms).

With the iOS 12 update, you can now include emojis in your App Store description. Please note that when using a Portrait Gallery on iOS, your Description may be pushed below the fold.