There are two important facets of App Store Optimization: the first is App discoverability and ASO keyword optimization, and the other is Conversion Rate optimization (more specifically understanding app creative assets in the app stores). 
This learning path will give you a much-needed shortcut into the many different areas of creative optimization. We take pride in the many articles we wrote and published in our ASO Academy on the subject, but if you – like many content consumers online – find yourself experiencing materials overload, bookmark this article so you can come back easily to cross-off another pivotal ASO skill off your list.
---
Let's start with a quick intro.

On the web, businesses can control how they package their messages on their own websites. They can build and craft web pages in order to create the most opportune and effective setting to convert potential clients. Compare that freedom of a webpage to the app stores, you can see how the app stores provide extremely limited flexibility to developers and marketers. So an understanding of the intricacies and nuances of the app stores' layouts and options are vital to optimization.
The creative assets, like Icon, Title, Subtitle, Video, Screenshots, Description and In-app purchases play an important role in any of the main journeys users take to find an app in the store. In the image below you can see how big of an impact these elements have on CVR.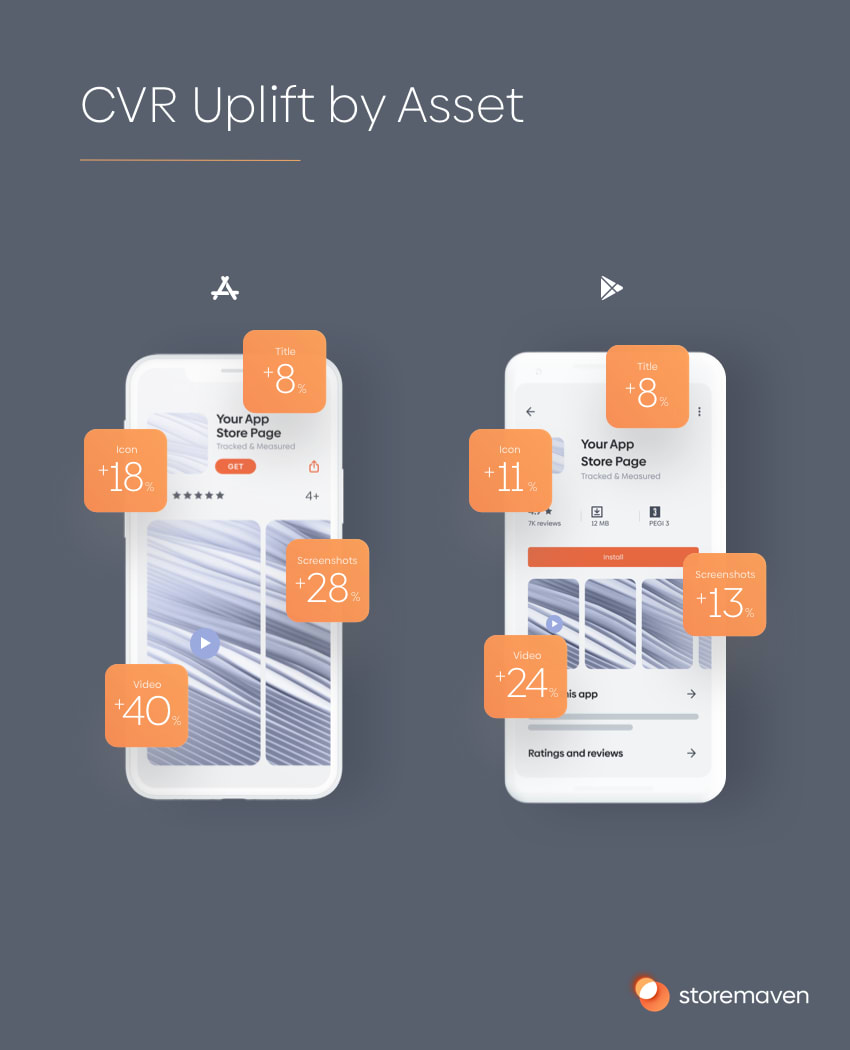 ---
Orange brick #1

: The Complete guide for getting your app icons right

In this article, we look at what makes a great icon – the only element of your app or game that appears throughout the user's journey.

We'll look at the icon's impact on CVR, discuss the design styles and the messaging for your icons with some great examples, memorize five icon design principles and list some do's and don'ts that are important to follow. To sum this all up… get all the ingredients you need to thoroughly test your icon and steps to maximize your tests, including some mistakes to avoid.

It's a long list, we know, but we have to start somewhere, no? Trust us, this is the right place.
---
Orange brick #2

: App Store Screenshots ASO Strategy

This comprehensive guide is all you need to ace your screenshot strategy. They say a picture is worth a thousand words – well here, the right screenshots are worth a lot of money too.

We'll delve into the reasons why screenshots are so important, look at some trends, best practices and secrets, elaborate on the difference between assets on the App Store and Google Play, try to settle the centuries old argument – portrait or landscape, and give a framework to design and run screenshots tests. For desserts, you'll find the screenshots requirements for both stores inside. Enjoy.
---
Orange brick #3

: The Ultimate Guide to App Store Videos

Our next brick in the road looks into one controversial asset – the video on your page. More and more developers are investing in creating and producing great videos, a proven booster for conversion rates – IF DONE RIGHT. If done badly – a video can hurt your CVR by as much as 15%. Yep, that's a lot.

We'll talk about how videos work in both stores, how users interact with them, share seven great tips to making an effective app store video with examples from top apps and games that are doing it right, and we give technical guidelines too.
---
Orange brick #4: Podcast – Video Creative Mastery
Eyes tired? That's fine, join us on audio, starting with this episode of Mobile Growth and Pancakes, our own podcast.

The guest is Bryan Buskas, VP Gaming at Tubescience, a company that puts a lot of eggs into their video strategy basket. Bryan shares the core considerations for analyzing creative performance from video to playable to live-action.
---
Orange brick #5

: Webinar – The Creative Optimization Masterclass

Let's head to one of our webinars.

The job of your creative assets is to make sure you accurately and effectively communicate your value propositions. In this webinar, we sat down with Yahoo's Finance Director of Product Marketing to look at:

– How to develop an app store creative marketing strategy
– How to adapt your marketing strategy by platform
– How to strategize your app store's page to meet different audiences' needs
– And more.
---
Orange brick #6: How to use App Localization and Culturalization to Boost CVR
Here, you can nail your app localization skills. With both stores available today in more than 150 countries that support dozens of languages, it's crucial to understand how to cater your app or game to different markets.
In this piece, we discuss the different levels of localization: from simple translation of a page right through to hardcore culturalization. We give some effective localization tips, a framework to work by, and great strategies to follow.
---
Orange brick #7: Webinar – How Wolt Masters App Store Localization in 23 Different Markets
In this webinar, we sat with Wolt's Performance Marketing Manager to discuss the art and science behind their localization strategy. We looked at:

– What the process of launching the app in a new country is- How to build local teams, and how to manage and work with them
– How to prioritize between different locations and countries
– And more.
---
Orange brick #8: App Conversion Rate Benchmarks – App Store & Google Play
This guide will equip you with everything to understand how to use the app stores CVR benchmarks and improve yours while you're at it.
We touch on how to calculate conversion rates in the App Store and in Google Play, check what app conversion rates are affected by, and look at the conversion benchmarks by categories.
---
Orange brick #9: Ten Tips to Increase your App Store Conversion Rate
This gem of a piece, one of our most engaging, gives you ten simple, honest tips on moving the needle on your CVR gauge in the right direction. From not using the same creatives on both platforms (crucial!) to the impact of a good video; no hacks, just a summary of how easy it can be to see immediate results from implementing the things you learned from these bricks of ASO knowledge.
---
Orange brick #10: ASO Category Analyses Series
If you went through most of the pieces above, and your ASO wisdom is already in place, it's time to see how top apps and games are implementing this dogma into their conversion rate optimization strategies.
Our series of ASO Category analyses looks into different App Store categories, examining developers and companies' MO's and trying to come with different insights and learnings.
So far we published these six analyses:
Finance Apps
Strategy Games
Match-3 Games
Hypercasual Games
Shopping Apps
And Role-Playing Games
---
Bonus orange brick #11: The Complete Guide for Conversion Rate Optimization
As we mentioned, these bits of knowledge are what we decided to curate out of dozens of articles, webinars, and podcast episodes – all available in our academy.
But we do want to point you to our Complete App Store Optimization Guide, which encapsulates most of what was written here, and more, available on a downloadable form right here.